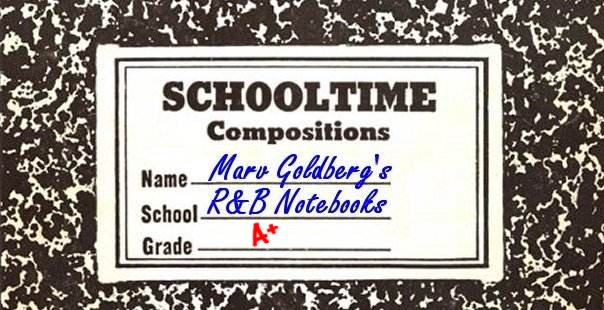 The 4 Bars
By Marv Goldberg

based on an interview with Eddie Daye


© 2005, 2009 by Marv Goldberg
The 4 Bars were hardly a success story in terms of record sales. In spite of this, however, the group existed for almost 15 years.

Eddie Daye (bass) and Melvin Butler (second tenor) were from Washington, D.C. and had sung together in the Spiritualaires in the Army's Special Services. Drawing on Jimmy Ricks and Sonny Til, respectively, as their idols, Eddie and Melvin decided to keep singing once they'd been discharged in 1953. To that end, they recruited two friends from their Southeast Washington neighborhood: first tenor Alphonso Feemster and baritone Francis Henry (who'd been with the Rainbows for a short while).

Calling themselves the 4 Bars Of Rhythm (soon shortened to the 4 Bars), they began singing Pop standards, R&B hits, and gospel, as well as original material. They played all over D.C.: Turner's Arena, the Evans' Grill, the Crossroads, and the Blue Mirror. There was also the Market Inn in Richmond, Virginia and the Durham Armory in North Carolina.


By the end of 1953, the 4 Bars had hooked up with Orioles' manager Deborah Chessler. She helped them produce some demos and secure an audition with Jubilee Records. However, any dreams they had about being managed by her were dashed when the Orioles objected to Deborah being anything less than their full-time manager.


According to a May 1, 1954 press release, the 4 Bars had just been signed by Jubilee's Josie (or Jo-Z) subsidiary. Their first record was the wonderfully bluesy "Grief By Day, Grief By Night" (led by Eddie Daye), released that same month (probably even the same day as the press release). The disc was reviewed on May 8 ("Grief" was rated "good"), along with the Crows' "Baby," Young Jessie's "I Smell A Rat," Amos Milburn's "Milk And Water," Buddy Johnson's "Let's Start All Over Again," Sonny Woods & Twigs' "Song Of India," the Blue Dots' "Don't Do That Baby," the Platters' "Roses Of Picardy," the Du Droppers' "Just Whisper," and Willie Headen's "I Love You Bobby Sox."

[Note that Jimmy Sweeney's 4 Bars, who recorded for Republic, were around at the same time.]


In September, Josie issued "If I Give My Heart To You," the 4 Bars' cover of the Doris Day smash Pop hit. While ads trumpeted that theirs was the "only R&B version," Josie didn't even bother to send it out for review.


Then all was quiet for a year, until Josie released the group's third, and last, record in September 1955: the pretty "Why Do You Treat Me This Way." Once again, it wasn't sent out for review. Josie had clearly lost interest in the 4 Bars.


Actually, everyone seemed to lose interest in them, since they aren't heard of again for three years. In the interim, Francis Henry had been replaced by William Daye, Eddie's brother and they added a fifth member, baritone Ellsworth Grimes (although they retained the "4 Bars" name). This arrangement only lasted a short while (and a photo session) before William Daye left. Then, at the end of 1958, the 4 Bars surfaced again with "Phony Baloney"/"Why Did You Do It" on Philadelphia's tiny Time label (not to be confused with Bob Shad's New York label of the same name). This was actually the beginning of loads of releases on loads of small labels.


A year later, they backed up soloist Shane Hunter on "I'm So Helpless"/"Follow Me," released on the tiny IPS label (at 109 West 42 Street in Manhattan; a division of Industrial Production Studios) in November 1959. They're also credited on Gus Gordon's "Empty Room" on IPS, but not on the flip, "Don't You Think I Ought To Know." This is strange because there's no discernible group on "Room," but there's a very weak one on "Know." (Gordon had been the lead of the Musical Notes and had first sung "Don't You Think I Ought To Know" with them in 1947). All the IPS recordings were done in Washington, D.C.


1960 saw "Love Me Forever More"/"What's On Your Mind?", released on Graham Prince's Cadillac Records, another small label, this time from Detroit. As with the IPS releases, all of this recording was done in D.C., for Ralph Walker, Shane Hunter's manager, who then sold the masters to the various labels. Note that a 4 Bars release on Wow 1003 from this period ("Bus Stop"/"Thanks For Wishin'") seems to be by a different group.


For their next stop, they traveled to Philadelphia and turned out "Just Bid Me Farewell"/"This Game Of Romance" for Len Records in 1961. At this point, Alphonso Feemster left, to be replaced by tenor Otis Grissete. Therefore, by 1961, the 4 Bars were: Otis Grissete, Melvin Butler, Ellsworth Grimes, and Eddie Daye.


Then, in 1962, Eddie Daye decided to start his own label to showcase the group. "Try Me One More Time" was issued (with two different flips: "Comin' On Home" and "What's On Your Mind?") on his Dayco Records.


In 1963, after Dayco had become dormant, Eddie responded to an offer to sell some masters to Clark Galehouse's Shelley label, based in Huntington, New York (on Long Island). Two records were released on Shelley that year ("What's On Your Mind?"/"Try Me One More Time" and "Let The Wedding Bells Ring"/"It's All Over"), but with no greater success than any of the prior issues.


The 4 Bars next release was 1964's "I've Got To Move"/"Waitin' On The Right Guy" on Horace Ott's Falew Records, a small New York label. By this time, Betty Wilson had replaced Otis Grissete. Bouncing from label to label and finding no chart success, brought Eddie to the painful realization that there was no way that they could continue on as full-time singers. So by the time Betty joined, their appearances were pretty much limited to weekend work.


In 1966, they released "Guess Who Loves You"/"What Am I Gonna Do" on D.C.'s legendary Shrine label. The company placed an ad in local papers looking for talent and the 4 Bars were one of the acts that answered it. Alas, there was still no hit forthcoming.


That same year, they were hired to back up a New York singer named Vic Marcel (although the recording was done in D.C.). Released on Donald Butler's DonBut label, the guys back him on a nice Smokey Robinson-sound called "Come Back To These Arms." They don't seem to be on the flip, "That's My Girl."


Eddie reactivated his Dayco label in 1967, with Donnie Hathaway as arranger. There were at least five releases, all in different series (just to make my job that much harder!). The good thing about having your own label is that you can make some bucks by selling your records at personal appearances. Two of the Dayco sides, "We Are Together" and "Speak Now," were sold to Bill Seabrook's Flying Hawk records of Freeport, New York that same year.

By the end of 1967, however, the 4 Bars were pretty much history (although Dayco continued to release sides through 1969). Eddie Daye had opened up the Showboat Lounge nightclub and was no longer able to appear with the group. I have to honestly say that I've never heard any of the group's work from the 60s (basically Soul recordings), but, had they done nothing else, I would still appreciate them for their Josie cuts.


In recent years, Eddie Daye (in his 70s) had been appearing in the D.C. area with his wife, Denise, as "Eddie And Denise and the Good Time Band" (until her untimely death, in March 2008, at age 55). Eddie's signature song was "Sexy Senior Citizen." Eddie Daye, guiding force of the 4 Bars, passed away on August 6, 2009.


Discography courtesy of Ferdie Gonzalez. Special thanks to Jeff Beckman.



THE 4 BARS
JOSIE
762 Grief By Day Grief By Night (ED)/Hey Baby (AF) - 5/54
768 If I Give My Heart To You (ED/AF)/Stop It! Quit It! (AF) - 9/54
783 Why Do You Treat Me This Way (MB)/Let Me Live (MB) - 9/55

UNRELEASED JOSIE
Grandpa's Inn (ED)
How You Move Me (AF)

TIME
4 Phony Baloney (ED)/Why Did You Do It (AF) - 12/58

IPS (Shane Hunter & 4 Bars)
101 I'm So Helpless (SH)/Follow Me (SH) - 11/59

IPS (Gus Gordon & 4 Bars - see text)
102 Empty Room/Don't You Think I Ought To Know (GG) - 11/59

CADILLAC
2006 Love Me Forever More (MB)/What's On Your Mind? (ED) - 60

LEN
1014 Just Bid Me Farewell (ED)/This Game Of Romance (ED) - 61

DAYCO
101 Try Me One More Time (ED)/Comin' On Home (ED) - 7/62
101 Try Me One More Time (ED)/What's On Your Mind? (ED) - 62

SHELLEY
180 What's On Your Mind? (ED)/Try Me One More Time (ED) - 6/63
183 Let The Wedding Bells Ring (ED)/It's All Over - 8/63 (ED)

FALEW
108 I've Got To Move (ED)/Waitin' On The Right Guy (BW) - 8/64

SHRINE
112 Guess Who Loves You (ALL)/What Am I Gonna Do (ED) - 1/66
Also released as Shrine 102

DONBUT (backing Vic Marcel)
17349/17350 Come Back To These Arms (VM)/That's My Girl - 66

DAYCO
104 We Are Together (ED)/Speak Now (ED) - 67
4564 Lean On Me (When Heartaches Get Rough) (ED)/Why (I've Got To Know) (ED) - 67
1631 All Over Again (BW)/I'm Yours (BW) - 67

FLYING HAWK (Eddie "Jasper" Daye & 4 Bars)
15101 We Are Together (ED)/Speak Now (ED) - 67

DAYCO (Eddie Daye's 4 Bars)
2500 Stay On My J.O.B. (ED)/Poor Little Me (ALL) - 69

UNRELEASED DAYCO
Keep On Holding My Baby's Hand (BW)
I Can Fix It (ED)

LEADS:
ED = Eddie Daye; AF = Alphonso Feemster; MB = Melvin Butler; BW = Betty Wilson;
SH = 4 Bars backing Shane Hunter; GG = 4 Bars backing Gus Gordon; VM = 4 Bars backing Vic Marcel




Unca Marvy's Home Page
More Articles