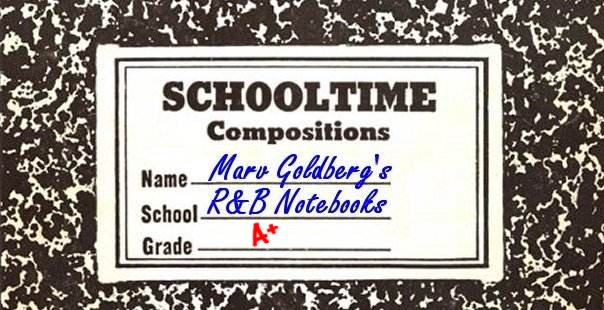 The 4 Bel-Aires

By Marv Goldberg

based on an interview with Vernon Ricks


© 2007, 2009 by Marv Goldberg
The 4 Bel-Aires represent the many, many R&B groups that recorded a single record and then seemingly faded completely out of sight.

The start of the 4 Bel-Aires was at the Mt. Zion United Methodist Church, in Georgetown, D.C. There, in 1955, bass Vernon Ricks and baritone Robert "Slick" Russell started harmonizing on R&B songs when they worked in the kitchen on Sunday mornings. They were eventually joined by first tenor Alfred "Nookie" Robinson (whose name is usually shown, incorrectly, as "Albert").

Finally, when they sounded like they had a shot at fame and fortune, Vernon brought in his cousin, second tenor Warren Ricks, and the 4Bel-Aires were born. Although there were only four singers, a fifth member was guitarist Mike Jackson. The guys ranged in age from 13 (Warren) to 21 (Alfred).

From the start, they concentrated on ballads. "We liked ballads," says Vernon. "Groups like the Flamingos turned us on. We kind of fashioned ourselves as balladeers." Others that they admired were the Moonglows, the Spaniels, and the Heartbeats.

Alfred liked to do arranging, and he took standards like "A Sunday Kind Of Love" and "Bells Of St. Mary's" and made arrangements for the group. "We sang a lot of old ballads that we could arrange to an R&B sound."

There was a local Saturday evening radio program in D.C. called Teenarama (on WOOK, 1340 AM; this was before it moved to TV in 1963). A couple of teenagers (Calvin Hackett and Marjorie Bowman) acted as DJs, spinning hit records and inviting local groups to perform. Sometime around late 1957, the invitation was extended to the 4 Bel-Aires (who sang their arrangement of the Mello-Moods' "Where Are You"). Their singing impressed the "adult" member of Teenarama, Al "Big Boy" Jefferson, a DJ who had a nightly WOOK show, broadcast from the front window of Waxie Maxie Silverman's Quality Music store (located around the corner from the Howard Theater).

Jefferson decided to manage the group and "had some people listen to us," according to Vernon. One of those was a member of the Heartbeats who was in town. They sang one of their songs for him, but nothing ever came of it.

Finally, Al Jefferson introduced them to Herbie Smart, who worked with the Links (a group that was an outgrowth of the Jets/Bachelors, which had contained a different singer named Robert Russell). Since the Links were poised to record for Ben Smith and Bill Gordon's Teenage Records, Smart recommended them to Smith.


Ben Smith had been, with Big Al Sears, a sax player in Andy Kirk's Clouds Of Joy and then lead of the Ben Smith Quartet. Now, aside from Teenage Records, he owned the X-Tra label at 1650 Broadway in New York. It was run out of an office he shared with Al Sears' Sylvia Music Publishing Company.

The 4 Bel-Aires dashed off some demo tapes to Smith and the next thing they knew, they were all piled into Vernon's brother-in-law's Cadillac and off they went to New York. "We never in our wildest dreams thought we'd go to New York to record," says Vernon.

Since three of the guys were underage, Jefferson and Smart had to meet with their parents to get consent for them to go to New York. Vernon, Warren, and Robert sweated it out in the background, but finally their parents gave in.

A session was arranged for 1:00 in the afternoon. It took the guys under three hours to record "Where Are You" and "Tell Me Why," both with Alfred Robinson in the lead. Ben Smith himself led the band and played sax.

"Where Are You" was quite a bit older than the Mello-Moods' 1951 recording. The song had been composed in 1936 by Harold Adamson and Jimmy McHugh. Introduced by George Murphy and Ella Logan in the 1937 musical, Top Of The Town, it was popularized by Gertrude Nielson.


The studio immediately cut a couple of demo discs and the guys took them, piled into the Caddy, and drove as fast as they could to get back to D.C., where Al Jefferson would be on the air until 10:00 that night. With only five minutes left in the program, the Bel-Aires delivered the platter and Jefferson managed to spin "Where Are You." The phones lit up, but it was too late to play it again. He subsequently pushed the songs some more, but they never had anything more than some local chart action.

The record was formally released in the spring of 1958, probably around April. It's hard to be more precise, since it was never sent out for review. Presumably it wasn't distributed much past the New York-D.C. corridor.

The 4 Bel-Aires played many of the venues around Washington, D.C. and southern Maryland. Since Warren and Robert were still students, however, they couldn't treat singing as more than a weekend thing. Also, with underage members, they really couldn't appear at bars. Finally, they didn't belong to the union, which further limited where they could perform. In spite of this, they sang at Sparrows Beach, Carrs Beach, Wilmers Park, and Seagull Beach (in Maryland), as well as many small clubs around the city. Their biggest show was at the Howard Theater, where they appeared for a few days (strangely, not a full week), after their record was released.

Sometime in 1959, they had another session. This time, it was at a local recording studio and they paid for it themselves. They cut two a cappella Christmas songs with Alfred in the lead: "Bells Of St. Mary's" and "The Christmas Song." While they managed to have the tunes played on the radio by Al Jefferson on WOOK and John "Lord Fauntleroy" Bandy on WUST, neither was ever commercially released. At another session, they recorded an a cappella version of "Blue Moon."

After this, the 4 Bel-Aires started practicing at Bo Diddley's studio on Rhode Island Avenue in Northeast D.C. Marvin Gaye was there a lot and he taught them about musical theory. With this knowledge, they began singing modern harmony.

But nothing much was happening with the group and Vernon joined the Air Force in 1961, effectively breaking up the 4 Bel-Aires.

In 1962, Ben Smith sold all his X-Tra masters to Slim Rose of Times Square Records. That's the reason that "Where Are You" and "Tell Me Why" appeared on Times Square in November 1963 (although the group was listed as the "Belairs").

That's the easy part. It gets more complicated because in May of 1963, "Oh Baby" by the "Bel-Airs" appeared on Times Square as the flip side of the Decoys' "It's Going To Be Alright." What makes it complicated is that, although "Oh Baby" was an X-Tra master, it wasn't by the 4 Bel-Aires at all (neither were "The Bells" and "Rosa" found on the Relic X-Tra compilation). The 4 Bel-Aires had only recorded two songs for X-Tra; the others were by someone else.

On August 7, 1976 the 4 Bel-Aires reunited for a show at the Virginia Theater in Alexandria, Virginia. Vernon, Alfred, and Robert were there, but Warren, who was in New York at the time, couldn't make it. His place was taken by Ronald "Poosie" Miles, former lead of the Rainbows. Also on the bill were Sonny Til & the Orioles, the Moonglows, the Velons, and the Donald Watts Sextet. Ron Sutton, a DJ on Howard University's WHUR, was the MC.

And that's the story of the 4 Bel-Aires. We can't say that they made the slightest dent in popular music, but they still managed to exist for about six years, and, in truth, most groups neither recorded nor lasted that long. Alfred Robinson passed away in 2005; Vernon, Robert, and Warren are still with us. Guitarist Mike Jackson is still around too, although he's turned his talents to Jazz.


X-TRA (leads by Alfred Robinson)
113 Where Are You/Tell Me Why - spring 1958

TIMES SQ. (as the "Belairs")
23 Where Are You/Tell Me Why - 11/63


X-TRA masters credited to the 4 Bel-Aires, but actually by some other group
Oh Baby - released on Times Sq. #8 in May 1963
The Bells - unreleased
Rosa - unreleased



Unca Marvy's Home Page
More Articles