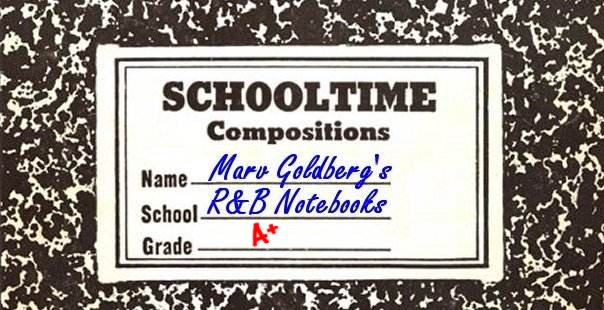 The 4 Deuces
By Marv Goldberg

Based on an interview with Luther McDaniels


© 2008 by Marv Goldberg
One of the seminal drinking songs of our time is "W-P-L-J." Combining a salute to a cheap way to get high (white port mixed with lemon juice) with a tune reminiscent of the Midnighters' "Annie" series, it's no wonder that "W-P-L-J" has endured for over 50 years.

The story of "W-P-L-J" begins with the 4 Deuces, and that story begins with Luther McDaniel. (To get it out of the way at the beginning, he was born "McDaniel," but nowadays spells it "McDaniels"; this is how it will be written from here on.)

Luther was born in Panola County, Texas. He never knew his father, who was killed in an accident soon after Luther was born. Mostly raised by his grandmother, he joined the Mitchell Brothers gospel group when he was about 11 or 12. While Luther had no musical training, he still traveled with the group all over East Texas, appearing in many gospel group "battles."

Around the end of World War 2, his mother remarried and moved to Salinas, California, about a hundred miles south of San Francisco (his new stepfather was stationed at Fort Ord in Monterey, only a few miles away). Luther went to California, decided he didn't like it, went back to Texas, decided California wasn't that bad, and returned to California to stay.

When he was in his 20s, Luther took to hanging around a cafe on Lake Street (the Golden Dragon) on weekends, as did a lot of soldiers from Fort Ord. One of the things that the soldiers did there was feed the jukebox and sing along with it. One evening (probably in late 1954), he was impressed with three guys harmonizing to something and decided to join them.

It turned out that the three soldiers also had gospel backgrounds and they all got together to kill some time. The others were: James Dunbar (first tenor), Orvis Lee Teamer (baritone), and Henry Shufford (bass). This unnamed group started performing in local churches and gaining valuable experience. At the time, Luther was about 23 and attending Hartnell Junior College; the others were a couple of years older.

Luther had a friend named Carl Williamms, who one day invited Luther to accompany him while he checked out some rabbit traps that he'd set. On the way, Carl stopped off at a liquor store and bought a bottle of white port, a relatively inexpensive wine. Mixing it with a can of lemon juice, he offered some to Luther, who was immediately taken with the drink. Pretty soon a song started floating around in his head: a paean to white port and lemon juice.

Luther introduced the other members of the group to the concoction and pretty soon they had their own nickname for it that they used at parties: "WPLJ." They also began adding secular music to their repertoire, including the one Luther had written: "W-P-L-J." Once they had that song down pat, they started calling themselves the "4 Deuces."


The first time they sang it at the Golden Dragon, owner Eugene Coleman loved it. Coincidentally, Mercy Dee Walton (currently recording for Flair) was in town and he and Coleman were friends. Coleman raved about the song. Walton asked to hear it and was also impressed. He suggested that they contact Ray Dobard, owner of Music City Records (on Alcatraz Avenue in Berkeley, across the Bay Bridge from San Francisco).

Around June 1955, the 4 Deuces drove up to see Dobard and auditioned for him. The very next day, he called them back for a recording session. Back they went and in only 44 takes laid down "W-P-L-J." "None of us had any musical knowledge," says Luther. "We were greenhorns. We did 44 takes, but we were having fun." This was the only song they recorded that day.


They were backed up by Johnny Heartsman's Rhythm Rockers, which (at least for that session) consisted of Heartsman (on bass), Ray Cotton (drums), "Mellow" Davis (sax), and a pianist named Otis.

Dobard had a contract all typed up for them. In it, they were promised the fairly standard two cents per copy. Needless to say, they never saw a single penny in royalties. Since Dobard included his name as co-writer on "W-P-L-J," he kept the profits for himself (especially since he registered the song with only his name on it).

Within a month, they had recorded another tune, "Down It Went" (which was essentially the same song as "It Went Down Easy," recorded by Melvin Smith on RCA in 1953). They expected it to be paired with "W-P-L-J," but it was more of a follow-up song than something that could be considered for its flip.


Possibly Dobard thought so too. "W-P-L-J" was released in July 1955, but the flip wasn't "Down It Went," or even by the 4 Deuces at all. It was "Here Lies My Love" by "Mr. Undertaker." This was actually a pretty nice ballad that was by Roy Hawkins (not by Ray Agee as I had previously thought), originally called "Here Lies Love" (although that wasn't as good a title for sales). Dobard would re-release "W-P-L-J" many times over the years, each time with a different flip side (but never one by the 4 Deuces).

About a week after being released, "W-P-L-J" was being played on the two major Bay Area stations: KSAN (in San Francisco) and KWBR (in Oakland). The song received a "good" rating in the trade papers on August 13 (although it was the tune by Mr. Undertaker that the reviewer thought would be the hit). Other reviews that week were for the Nutmegs' "Ship Of Love," the Marigolds' "Two Strangers," "the 5 Royales' "Women About To Make Me Go Crazy," the Gaylarks' "Tell Me Darling," the Turbans' "When You Dance," the Coronets' "The Bible Tells Me So," the Strangers' "Without A Friend," and the Casanovas' "I Don't Want You To Go."

And then they were off making appearances. Dobard promoted concerts all over central and northern California (all Music City artists, of course: they usually appeared with the Gaylarks, the Rovers, and Johnny Heartsman). Their first appearance was at the Palomar Garden, in San Jose. There were also venues like the Oakland Auditorium, the Valejo Fairgrounds, the Fresno Civic Auditorium, and the Blue Mirror Lounge in San Francisco. The 4 Deuces were paid $50 a night for these (that's $12.50 each). "Money wasn't an issue with us," says Luther. Since most of the 4 Deuces were answerable to Uncle Sam, they were mostly limited to weekend work. They played clubs, fair grounds, and civic auditoriums in San Francisco, Oakland, Berkeley, and points south.


One of the results of the popularity of "W-P-L-J" was that the 4 Deuces got to record a jingle, written by Luther, for the Italian Swiss Colony Wine company. Once the jingle started being aired, in late 1955, sales of "W-P-L-J" took off in markets outside California. (Supposedly a copy of the record was included with each bottle of wine sold, but Luther has never been able to confirm this.) Thus, in December, the song started to chart in New York, and in February 1956, eight months after being released, the trade papers listed it as a Tip in Philadelphia. (However, if the record were really being given away, it wouldn't have charted: why would anyone buy the record if they could get it for free?) Dobard kept all the royalties from the jingle as well as the record.

The only other song that they ever recorded for Music City was "The Goose Is Gone," a song Dobard gave them. (Although BMI lists Luther as the sole writer of "The Goose Is Gone," he says he had nothing to do with it.). It was released in July 1956, with "Down It Went" as the flip.

The record was reviewed on August 11, when both sides received "good" ratings. Other reviews that week went to the Tibbs Brothers' "I'm Going Crazy," Little Butchie Saunders' "Rock 'n' Roll Indian Dance," Sonny Knight's "Confidential," and the Nobles' "Who's Been Riding My Mule?".

[Note that Ray Dobard maintained, over the years, that he had a bunch of masters by the 4 Deuces, along with lots of different photos. In truth, they only recorded three tunes for Music City and there was just a single photo ever taken of them.]


And then the 4 Deuces started falling apart. Usually, groups had a problem when members got drafted. Here, the problem was just the opposite. Tenor James Dunbar was the first to be discharged from the Army. Group or not, he couldn't wait to get home to South Carolina. The 4 Deuces replaced him with Walter Simpson, who lived in Salinas. The next to leave was bass Henry Shufford, who returned to Bakersfield, California. He was replaced by Buel Moore. The only ones who stuck it out were Luther and Orvis Lee Teamer (who came from Houston).

Then there was the big tour. A promoter promised them a nationwide tour, including the Apollo Theater. Unfortunately, Orvis' wife wouldn't let him go unless she went also. Since the promoter wasn't willing to take on the extra expense, there was no tour.

Finally, the 4 Deuces ground to a halt. [The 4 Deuces on Everest ("Yellow Shoes"/"Pretty Polly") from 1959 was a different group.]

Luther McDaniels decided to continue on. As he tells it, he started doing some solo work, putting together a small band to back him up. Johnny Heartsman recommended a guitarist named Marvin "Toots" Hawkins; he knew a drummer named Wild Bill Henry (another soldier from Fort Ord); and there was a succession of pianists.

In time Luther acquired a following: "I had a little fan club. They used to follow me around." For whatever reason, when he came out on stage, they'd start chanting "Here comes the lord." Suddenly Luther McDaniels became "Lord Luther."

Since he was already familiar with Music City, he returned there for the first Lord Luther recordings. "I had no other options than Dobard that I knew of," says Luther. "It hadn't set in yet what I was doing, but I was enjoying it." In March 1958, Dobard released "Just One More Chance." Once again, a different artist was on the flip: "Somewhere In This World" by the Gaylarks.

On April 7, 1958, "Just One More Chance" was rated "good," along with Chuck Berry's "Johnny B. Goode," the Rays' "Rags To Riches," Clyde McPhatter's "Come What May," the Bay Bops' "Follow The Rock," the Bobbettes' "Zoomy," The Kuf-Linx' "Eyeballin'," the Ladders' "Counting The Stars," the Moonglows' "Soda Pop," and the Ospreys' "Do You Wanna Jump Children."


Later that year, he teamed up with a couple of songwriters from Carmel: Ric Masten and Don Stevens. The result was "(I Was A) Teenage Creature"/"Turn The Key" on the Frantic label. The top side had the "King's Men," which was Luther's band. The other side gives credit to the "Garnets," a loosely-knit backup group which contained a couple of Buel Moore's sisters.

In May 1959, there was another Frantic record. This time it was "A Thinkin' Man's Girl," backed with "The Truth." The label also credits "The Dave R Band." This was actually Luther's back-up band; Dave Rose was the sax player.

"A Thinkin' Man's Girl" was ranked "fair" on June 1, 1959, along with the Clovers' "Rock & Roll Tango," Chuck Berry's "Memphis, Tennessee," Grady Chapman's "Garden Of Memories," Phil Phillips' "Sea Of Love," and the 5 Satins' "When Your Love Comes Along."

The record started to make some noise and in June, Imperial leased the masters. The sides were re-reviewed on June 29, after Imperial reissued it, but they received the same "fair" ranking. This time, the other reviews were for the Calvaes' "Anna Macora," Brook Benton's "Thank You Pretty Baby," Johnnie & Joe's "Red Sails In The Sunset," the Six Teens' "Why Do I Go To School," and the Shields' "Play The Game Fair."

In 1960, Ray Dobard released "I Can't Get You Out Of My Mind" on Music City. This 1958 Lord Luther master was backed with "What Will The Outcome Be" by Al Lewis and the Modernistics.

Now comes a problem record. Music City 833 purports to be "Tremble" (by Lord Luther and the Esquires), backed with "Tell Ya What" (by Lord Luther with the 5 Hearts), also released in 1960. While Luther did record these songs, they weren't done for Dobard at all. They were "recorded in a garage in Pacific Grove," according to Luther, and were part of the work he was doing with Masten and Stevens. He believes that they were unreleased. Did Masten give the masters to Dobard? Were they put out years later using a Music City number that had been used for some other artist? Is the record even real (it's listed in every Music City discography I've ever seen)? I simply don't know. (What I do know is that both the "Esquires" and the "5 Hearts" back-up groups were roughly the same as the "Garnets.")

There was one other 1960 release by Lord Luther, this one on Bob Geddin's "Gedison's" label. The songs were: "That's What's Happening" and "Someone, Somewhere." On both, he was backed by his band, the Triumphs.

All was quiet until 1964, when Luther released "Two Of A Kind" and "Tough" on his own label, Lusan. The back-up band was called the "Counts" this time.


The final recordings by Lord Luther in this period were on John Shireck's Schireck label in 1968: "My Mistake" and the old blues number, "The House Of The Rising Sun."

By the 70s, Luther's recording days seemed behind him. "I just gave up," he says. But he'd always wanted to own a niteclub and he opened one in Salinas (near where the Golden Dragon used to be). "Lord Luther's" (as it was fittingly called) was originally intended for musicians and had gambling until 2 A.M. After that, the musicians would jam for the rest of the night. Luther would join them, playing the bass or the keyboards (not the sax, as is usually reported). As time went on, he got some topless dancers, and the place even evolved into a disco.

Lately, Luther's given up on real estate and, at 77, is back in the recording business. In 2007 he released a CD called Pure Soul Music. Unfortunately for discographers, there's no label name associated with it. Some of the songs ("W-P-L-J," "I Can't Get You Out Of My Mind," "Thinking Man's Girl," "The Truth," and "Someone, Somewhere") are the original cuts from the 50s and 60s. "Poor Boy's Song" and "You Led Me On" are unreleased cuts from the 60s. The rest are newly-recorded.

2008 saw another CD, called Resurrection. All the material on it had been released in the 50s and 60s. A further two CDs are slated for release later in 2008: Vintage Blues and Vintage Soul. "I wanted to put some more music out there because I've been out of the business so long."


So, after 40 years, Luther has returned to the music scene. Right now, he's only playing local gigs, traveling up to 50 miles from Salinas. In the future? Well, we might just be seeing a whole lot more of Lord Luther.

Sadly, though, Luther McDaniels passed away on December 30, 2017 in Salinas, California. He was 87.




FOUR DEUCES
MUSIC CITY (all leads by Luther McDaniels)
790 W-P-L-J/[Here Lies My Love - Mr. Undertaker (Roy Hawkins)] - 7/55
796 Down It Went/The Goose Is Gone - 7/56

Note: Music City kept re-releasing W-P-L-J over the years (mostly impossible to date), with the same record number and always with a different flip side: "Spingle Spangle" - Kary Maeson, "In The Summer" - 3 Honeydrops, "It's All Over" - Klix, "Ivy League Clothes" - Gaylarks, "Doodle-Doo" - Gaylarks, and "I Envy These Things" - Intervals.



LORD LUTHER
MUSIC CITY
812 Just One More Chance/ [Somewhere In This World - Gaylarks] - 3/58

FRANTIC
107 (I Was A) Teenage Creature [with the King's Men]/Turn The Key [with the Garnets] - 58
112 A Thinkin' Man's Girl/The Truth - 5/59
With the Dave R Band

IMPERIAL
5596 A Thinkin' Man's Girl/The Truth - ca. 6/59

MUSIC CITY
829 I Can't Get You Out Of My Mind/[What Will The Outcome Be - Modernistics] - 60
833 Tremble [with the Esquires]/Tell Ya What [with the 5 Hearts] - 60 [see text]

GEDISON'S (with the Triumphs)
6132 That's What's Happening/Someone, Somewhere - 60

LUSAN (with the Counts) [label owned by Luther McDaniels]
101 Two Of A Kind/Tough - 64

SCHIRECK
CR-101 My Mistake/House Of The Rising Sun - 68

[no label]
44 - Lord Luther - Pure Soul Music - 2007
WPLJ
Rock Me Baby
The Thrill Is Gone
Shadow Of Your Smile
I Can't Get You Out Of My Mind
Thinking Man's Girl
Unforgettable
Hallelujah I Love Her So
The Truth
Big Boss Man
Mona Lisa
I Can't Stand To See A Grown Man Cry
Poor Boy's Song
You Led Me On
Someone, Somewhere

[no label]
[no number] - Four Deuces/Lord Luther - Resurrection - 2008
Tough
WPLJ
Two Of A Kind
Down It Went
I Can't Get You Out Of My Mind
The Nest Is Warm (But The Goose Is Gone)
Someone Somewhere

[no label]
Vintage Blues - 2008 [Tentative titles given]
Two Of A Kind
I Pity The Fool
Big Boss Man
The Thrill Is Gone
Walking By Myself
Someone, Somewhere
Slip Away
You Led Me On
Paying The Cost To Be The Boss

[no label]
Vintage Soul - 2008 [Tentative titles given]
Try A Little Tenderness
W-P-L-J
How Sweet It Is To Be Loved By You
My Girl
These Arms Of Mine
Knock On Wood
Just One More Chance
Sittin' On The Dock Of The Bay
Tremble





Unca Marvy's Home Page
More Articles