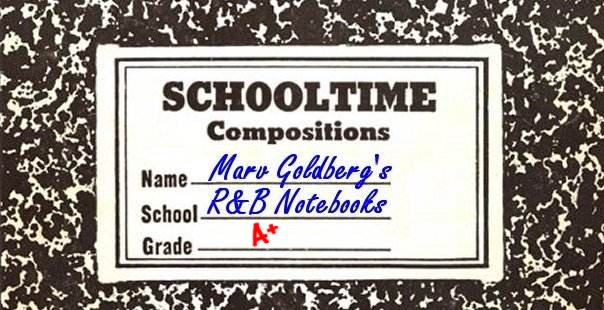 The (Other) 4 Fellows

By Marv Goldberg

based on interviews with Bill Carey
Caswell Bridges, Bobby Thompson, and Roy Battle


© 2007, 2009 by Marv Goldberg
While most of you are familiar with the 4 Fellows who recorded "Soldier Boy" for Glory Records, there was another 4 Fellows group. Both groups came from Brooklyn and existed at the same time. The Glory group has been heavily documented (not least because of lead singer Jimmy McGowan's book, Hear Today, Here To Stay), but the other 4 Fellows have remained in relative obscurity.

Our 4 Fellows formed sometime before 1952 in the Bedford-Stuyvesant section of Brooklyn. By the time they got serious, in 1952, they had all graduated from various high schools. Originally called the "Dreamers," they finally settled on the "4 Fellows." Their main meeting place was on Schenectady, near Fulton. There, they played cards and sang. The original members were: Charlie Witherspoon (tenor lead), Caswell "Cas" Bridges (tenor), Roy Battle (baritone), and Bill Carey (baritone/bass - "I was a baritone who wanted to be a bass"). Just to upset the numbering scheme a bit, there was also a fifth 4 Fellow: guitarist Charlie Moore (who had, according to Cas, "a beautiful bass voice, but never sang with us"). He had played for the Toppers (another group from Bedford-Stuyvesant) for a while and was several years older than the others.

Choosing their idols carefully, they sang songs by the Ravens, the Orioles, the Ink Spots, and, later, the Drifters. "Anything with four-part harmony," says Bill.

Did they take it seriously? Not very, at least in the beginning. According to Bill, it was "just a side thing that we all enjoyed. We weren't doing it to make a lot of money. We just wanted to please the girls and enjoy ourselves." That changed later on, however. Roy says: "We were all looking to make a career out of it." In truth, they didn't make many appearances, playing the Baby Grand (both the one in Manhattan and the one in Brooklyn), the 802 Club, the Gay Hearts Ballroom, Town Hill, and a lot of little clubs with forgettable names in Brooklyn, Manhattan, and Queens. There was the New York Amsterdam News Benefit show, held at the Apollo Theater and some appearances on a radio show on WWRL. They even did a package tour with the Miller Sisters and the Hearts (the group that was soon to become the Heartbeats).

After only a couple of months, Charlie Witherspoon left, to be replaced by tenor John Kelly, who was concurrently singing lead with the Toppers (the same group that Charlie Moore had played guitar for).

In the spring of 1953, the 4 Fellows met up with Larry Smith, owner of Tri-Boro Records. (Cas says: "Larry Smith was a 'smooth talker'; none of us knew what he owned.") It's probable that the label had a connection to the Tri-Boro Record Store in Jamaica, Queens, especially since its vice president was William Henry Miller, father of the Miller Sisters and a resident of the area. Once they were with the label, Larry Smith became their manager (Bill Carey had been managing them until that time).


In July, Tri-Boro issued the 4 Fellows' "Stop Crying"/"Break My Bones." The top side, a Korean War song, was led by Cas Bridges, the flip was fronted by Bill Carey. It was only released on 78 RPM.


While neither Bill nor Cas remembered all that much about either Tri-Boro or Larry Smith, the guys spent a lot of time at William Miller's house. There, they rehearsed with the Miller Sisters for a possible boy/girl group recording that Miller was interested in. Nothing came of that, however.

The trades reviewed the disc on July 25, 1953. "Break My Bones" was rated "fair," while "Stop Crying" only ranked "poor." Other reviews that week went to the Orioles' "Crying In The Chapel," Frankie Ervin's "Dragnet Blues," Little Caesar's "Can't Stand It All Alone," and Tab Smith's "Cherry."


Nothing much happened with the record and the guys went back to their occasional appearances. Then, in late 1953, John Kelly left. It's probable that he was getting ready to hit the big time with his other group, the Toppers. He sang lead on both sides of "Baby Let Me Bang Your Box"/"You're Laughing 'Cause I'm Crying," recorded by the Toppers for Jubilee in December 1953. However, when nothing happened with that record either, he seems to have joined the Air Force. (Too bad, since the Toppers were poised to become the Hurricanes.) John's replacement in the 4 Fellows was tenor Bobby Thompson.

The 4 Fellows continued on, practicing loads of songs, usually switching off leads between Cas Bridges and Bobby Thompson.

As time went on, however, Cas noticed that the 4 Fellows weren't practicing as much as he thought they should be. So sometime in late 1954, he left the group and started working as the singer with a small band run by blind pianist Cliff Driver. Cliff was originally from the Bronx, but had recently relocated to Brooklyn. When they started thinking about making a full group out of it, Cliff rounded up some singers he knew: baritone Al Jackson was also from Brooklyn; Robert Adams (tenor), Nolan ? (tenor), and Hershel Guerrant (bass) were from the Bronx. They called themselves the "Clefftones." After only a short time, however, Nolan dropped out and wasn't replaced.

Old Town Records' files indicate that the Clefftones recorded at least six songs on March 4, 1955: "My Dearest Darling," "The Masquerade Is Over," "Gloria," "Guess Who," "Little Girl," and "The Last Roundup." The Old Town files are a mess, however. They say that these songs were done as the "Whirlpools," but Cas says they were never called that. Additionally, neither Cas nor Cliff Driver remembered "The Last Roundup," a song that was also thought to be by the Supremes (it isn't). Cas listened to the tune and confirmed that it wasn't by the Clefftones. (Old Town had a bad habit of routinely sticking odd songs at the end of a tape used for some other act, but not indicating on the tape box who it was by.)


"My Dearest Darling" (led by Cas)/"The Masquerade Is Over" (fronted by Robert Adams, with Cas on the bridge) were released in March 1955. These failed to take off and that was the end of the Clefftones' recording career. When one of the group was found to be messing around with another's wife, that was also the end of the Clefftones. Finally, in December 1957, Cas was drafted. (Between the army and the reserves, Cas remained in uniform until 1994, when he retired as a master sergeant.)


Meanwhile, back at the 4 Fellows, Cas had been replaced by tenor Tommy Haynes. The 4 Fellows were now Tommy Haynes, Bobby Thompson, Roy Battle, Bill Carey, and Charlie Moore. At the same time, Donnie Sehested, a tenor who was currently with the Heralds (who had also been the Billy Dawn Quartet and the 4 Dukes) started hanging around with them. (Donny had been lead on the 4 Dukes' "Crying In The Chapel.")

However, Jimmy McGowan's 4 Fellows had recently established themselves with their hit of "Soldier Boy" (released in March 1955), so a name change was in order. (Roy Battle says that it was Benny Wells, an associate of Larry Smith, who told the "Soldier Boy" group that it would all right to use the "4 Fellows" name.) This time, they called themselves the "Victorians" (after briefly trying out the "5 Fellows"). Bobby Thompson wanted to have "Victoria Crosses" sown on their uniforms, but that never happened.

They'd met a woman named Randy Evritts through Larry Smith and it seems to have been through her efforts that they next hooked up with Morty Craft. Craft had set up several recording companies since his interest in Bruce Records had been bought out by Leo Rogers in mid-1955. The Victorians came along just in time to be one of the first acts on his new Saxony label.


By this time, however, Tommy Haynes had left and Donnie Sehested joined full time. The Billy Dawn Quartet/4 Dukes/Heralds was pretty much inactive, as Billy Dawn Smith was devoting his time to producing, arranging, songwriting, and being an owner of Hull Records.


In January 1956, the Victorians' "Heartbreaking Moon"/"I'm Rollin'" (with leads by Bobby Thompson) were released on Saxony. The disc was reviewed on January 28 (both sides "good"), along with Chuck Berry's "No Money Down," the Teenagers' "Why Do Fools Fall In Love," the 5 Keys' "You Broke The Rules Of Love," Ruth McFadden's "Darling, Listen To The Words Of This Song," the Empires' "Tell Me Pretty Baby," and the Orioles' "Angel."


Then they hooked up with Neil Sedaka, who gave them a tune he'd written, "Wedding Bells." On May 15, 1956, they recorded "Wedding Bells" (led by Bobby Thompson) and "Please Say You Do" (fronted by Donnie Sehested). These were issued on Selma, another of Morty Craft's labels, in October, but don't seem to have been reviewed. According to Bobby, "Please Say You Do" was originally titled "You," until they found out that Little Anthony and the Duponts had a song with the same name. The guys took a vote and decided to let the Duponts have the name.

After that, the 4 Fellows/Victorians fell apart. Says Bill, "We weren't going anywhere. A lot of arguments came up and we got tired of the fighting." Although they didn't make all that many appearances, Bill remembers: "a lot of times [our day] jobs got in the way of gigs."

1960 saw a Bill Carey single released on Morty Craft's Warwick label: a pleasant ballad entitled "Why Did You Hurt Me," backed with "Won't Let You Go." [A February 1957 Savoy release ("The Padre Of San Antonio"/"You've Broken A Heart") had been by a different Bill Carey.]


In 1971, with the "oldies revival" in full swing, 4 Fellows got back together again: Cas Bridges, Bobby Thompson, Donnie Sehested, and Roy Battle. Bill Carey was unavailable, having joined the reactivated Danleers.


In 1972, the new 4 Fellows recorded for Al Browne's Aljon label. The tune, "Happy Honeymoon," was one that the guys had been practicing in their early days (Bill remembered singing it). Although this group only did a single performance, at a club in Brooklyn, Cas remembers them backing up other art-ists for Al Browne.

The 4 Fellows/Victorians had no real success to speak of. Their records didn't sell and they made relatively few appearances. But they were out there and they're remembered fondly today.



Special thanks to Victor Pearlin, Val Shively, Bruce Grossberg, Lou Sylvani, and Dave Del Monte.




THE 4 FELLOWS
TRI-BORO
101 Stop Crying (CB/BC)/Break My Bones (BC) - 7/53



THE VICTORIANS
SAXONY
103 Heartbreaking Moon (ALL/BT)/I'm Rollin' (BT) - 1/56

SELMA
1002 Wedding Bells (BT)/Please Say You Do (DS) - 10/56



THE 4 FELLOWS (later group)
ALJON
1261 Happy Honeymoon (CB)/[Memories - Decoys] - 72



THE CLEFFTONES, with Cas Bridges
OLD TOWN
1011 My Dearest Darling (CB)/The Masquerade Is Over (RA/CB) - 3/55

UNRELEASED OLD TOWN
Gloria (AJ/CB)
Guess Who (CB/HG)
Little Girl (ALL)
The Last Roundup - From the same master tape, but not by the Clefftones (or the Supremes)



LEADS:
CB = Caswell Bridges; BC = Bill Carey; BT = Bobby Thompson; DS = Donnie Sehested;
RA = Robert Adams; HG = Hershel Guerrant; AJ = Al Jackson



BILL CAREY SOLOS
WARWICK
527 Why Did You Hurt Me/Won't Let You Go - 60




Unca Marvy's Home Page
More Articles