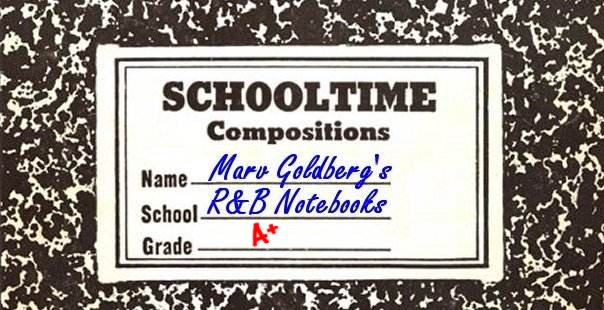 The Four Most

By Marv Goldberg

based on an interview with Bobby Moore


© 2007, 2009 by Marv Goldberg

While I am mostly mired in the 50s, there's the occasional 60s record that catches my ear. That's the case with "The Breeze And I," a nicely executed version of a 40s hit, done by the Four Most.


The Four Most got their start in Newark's Third Ward around 1958. A group of guys would converge on the corners around Spruce Street and warble the hits of the day. The members, all in their early 20s, coalesced to: Bobby Moore (lead), Ronald Mikes (tenor), Charlie Chambers (baritone), and Bobby Frazier (bass). "We got together and had a good sound," says Bobby. Their inspiration was Little Anthony and the Imperials, leading to their own version of "Tears On My Pillow."

As well as on street corners, they practiced at the Morton Street School every night. With all the sounds echoing down the corridors, it's no wonder that they were heard by one of the teachers there: Frank Fenner. He liked what he heard and offered to manage them.

The Four Most didn't follow the regular appearance path too closely. They sang at schools, which was normal. However, there were no club appearances, but, for whatever reason, they sang at reformatories. Their only big show was at the Paterson Armory, where they shared the stage with Chuck Berry. More important, they came in first on one of the Apollo Amateur shows.

Finally, in the summer of 1960, Fenner got them a recording session with Johnny Dee and Joe Flis's Milo Records, operating out of a storefront in Harrison, New Jersey. One of the songs they recorded was "I Love You," a tune written by Bobby Moore. The flip was the old standard, "The Breeze And I."

The melody to "The Breeze And I" was composed in the early 30s by Ernesto Lecuona, as the "Andalucia" portion of his Spanish Suite. [Note that Lecuona's cousin, Margarita, wrote "Babalú", which became Desi Arnaz's trademark song.] In 1940, Jimmy Dorsey's arranger, Tutti Camarata (who would go on to run Disneyland Records for 20 years), worked on a big band arrangement of the tune. With Al Stillman's lyrics and Bob Eberly's vocals, they came up with a #1 hit. (Xavier Cugat's version, with vocal by Dinah Shore, only made it to #13.) Closer to home, "The Breeze And I" was a hit for Vic Damone in a 1954 revival.


The record was released around September 1960, but, according to Bobby, "it didn't get played much." He attributes this to the payola scandal that was unfolding at the time. Let's face it, when a DJ receives a record from a tiny independent label, there had better be some money along with it, or it gets totally ignored.

So here's a familiar story: they get together to fool around singing; they start to sound better and better; they get a recording contract; the record makes them instant local heroes; the record flops; the enthusiasm turns to discouragement; the group falls apart. Did I leave out anything?

By the time the record was reviewed (October 24, 1960) the group had ceased to exist. However, all was not lost for Bobby Moore. When the Four Most had appeared at the Apollo, another act on the bill was the Fiestas, who had recently decided to add a fifth voice. Bobby was working at Fedders (the air conditioner manufacturer) at the time and the other Fiestas (Tommy Bullock, tenor; Sam Ingalls, baritone; Eddie Morris, second tenor; and Preston Lane, bass) just marched in and told him they wanted him for the group.

He started off by giving them a song he'd written, "You Could Be My Girl Friend." They rushed into the studio to record it (along with "So Nice") for their October 1960 Old Town release. Bobby Sang lead on both sides. After that, the Fiestas broke up for a while.

Then, in the early spring of 1961, Preston Lane and Bobby Moore got together with tenor Jimmy Jones (not the one from the Pretenders) and baritone Wesley Lee to record two songs for the Strand label (distributed by Decca) as the Fiestas: "Come On Everybody" and "Julie." Once again, Bobby sang lead on both tunes (he had also written them).

However, by the time the record was finally released (in June 1961), the group had broken up. Jimmy Jones then joined Tommy Bullock, and Eddie Morris, who, along with Tommy's brother, George, and Randall "Randy" Stewart, became the "official" Fiestas on Old Town. Their first release, also in June, was "Mr. Dillon, Mr. Dillon"/"Look At That Girl."

In late 1961, Bobby decided to go out on his own, releasing a record on the Seg-Way label: "Pinky"/"Work With My Love." "Pinky" was used as an advertisement for the Thom McAn shoes of the same name, until they got a better idea and hired Chubby Checker to promote their "Twister" line.

1962 saw Bobby, as "Little Bobby Moore" on King. "The Ginger Snap," backed with "The Clown" were released in June of that year.


Then, in 1963, Eddie Gries started Relic Records as a vehicle for reissuing songs for the newly-emerging collectors market. Interestingly, the first Relic release was by the Four Most. Here's what Donn Fileti wrote in the liner notes to The Groups Of Relic Records, Part 1 (Relic 7107, 1995):


The first Relic single was the Four Most's "I Love You"/"The Breeze And I" (Relic 501), originally released in the winter of 1960 on Joe Flis's Milo label, an adjunct to his tiny recording studio and publishing company in Harrison, New Jersey. "I Love You" was pressed for Relic by Kay Records in Little Ferry, New Jersey in different shades of colored vinyl and, almost miraculously, started to sell throughout the New York area as a result of concentrated airplay on Danny "Katman" [sic] Stiles's WNJR show, partially sponsored by the new Relic Rack shop. "I Love You" was purchased outright from Milo for $150, a handsome sum in those days for a master which had probably not sold one copy upon its initial release.


In 1964, Bobby got together with bass Bobby Frazier, his old pal from the Four Most, to put together a new group called the Fourmost (spelled as a single word this time). The others were tenor Lloyd Williams, and his brother, Sammy Williams, a baritone. (There was another group called the "Fourmost" that had releases on Atco in 1963-4; they were part of the British Invasion.)

Somehow they met up with Jerry Cohen, a part owner of Fantasy Records. "Dance Of The Land"/"You Got To Live For Yourself" appeared on Fantasy in 1964. The next year saw "It Was A Lie"/"Girl, You Do Something To Me" on Cohen's D.W. label (with the group's name misspelled as the "Fourmosts"). These tunes were picked up by Leiber & Stoller's Red Bird label for a 1966 reissue.

Also in 1966, Bobby had some more solo releases. However, now there was another Bobby Moore (from Montgomery, Alabama) recording with the Rhythm Aces on Checker. Therefore, when he released "I Was Born A Loser"/"My Luck Is About To Change" on Juggy Murray's Sue label, he'd been renamed "Bobby Lee." A second Sue release from that year was "I Missed It By That Much"/"I'm Not Afraid." There was one other Bobby Lee record from 1966: "Cut You Loose" (another of Bobby's compositions), backed with "I'm Just A Man," on the Port label.

As well as recording some solos, Bobby was the vocalist with Duke Anderson's band for most of the 60s and early 70s. In the 90s, he sang with a band called Damn Near Home.


And then, in 1996, Bobby reunited with Tommy Bullock in the Fiestas. The others were Kenny Harper (second tenor) and Wendell Scott (baritone). When Tommy died, around 2002, they kept the group together by bringing in tenor Wayne Parham. Since all four of the original members (Tommy Bullock, Preston Lane, Sam Ingalls, and Eddie Morris) are deceased, Bobby carried on the name until his death on April 8, 2013.


Special thanks to Ronnie Italiano and Donn Fileti. Discography by Ferdie Gonzalez.



BOBBY MOORE DISCOGRAPHY
MILO (the Four Most)
107 The Breeze And I (BM)/I Love You (BM) - Fall 1960

OLD TOWN (Bobby Moore, as part of the Fiestas)
1090 So Nice (BM)/You Could Be My Girl Friend (BM) - 10/60

STRAND (Bobby Moore, as part of the "Fiestas")
25046 Come On Everybody (BM)/Julie (BM) - 6/61

SEG-WAY (Bobby Moore solos)
1005 Pinky/Work With My Love - late 61

KING (as Little Bobby Moore)
5668 The Clown/The Ginger Snap - 6/62

RELIC (the Four Most; reissue of Milo)
501 The Breeze And I (BM)/I Love You (BM) - 1963

FANTASY (Bobby Moore & Fourmost)
585 Dance Of The Land (BM)/You Got To Live For Yourself (BM) - 64

D.W. (Bobby Moore & Fourmosts [sic])
105 It Was A Lie (BM)/Girl, You Do Something To Me (BM) - 65

RED BIRD (Bobby Moore & Fourmost)
10-071 It Was A Lie (BM)/Girl, You Do Something To Me (BM) - ca. 6/66

SUE (Bobby Moore, as "Bobby Lee")
144 I Was Born A Loser/My Luck Is About To Change - ca. 7/66
145 I Missed It By That Much/I'm Not Afraid - ca. 8/66

PORT (Bobby Moore, as "Bobby Lee")
3022 Cut You Loose/I'm Just A Man - late 66


BM = lead by Bobby Moore




Unca Marvy's Home Page
More Articles