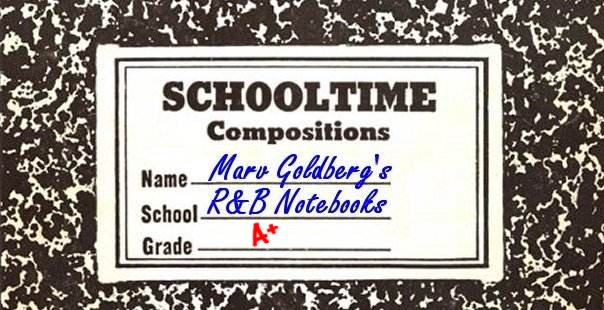 The 5 Blue Notes

By Marv Goldberg

Based on interviews with Andy Magruder,
Moise Vaughn, and Robert Stroud


© 2007, 2009 by Marv Goldberg
It's been said that the 5 Blue Notes were one of the leading exponents of the Chicago Sound. But the group had no roots in Chicago at all, hailing from the Washington, D.C. area.

William Andrew "Andy" Magruder, a student at Francis Junior High School (at 24th and N Streets in Georgetown, Maryland), was always singing. Around 1950, he formed a group, called the Blue Jays, whose members were: Andy Magruder (lead), Waymond Mooney (first tenor), Robert Stroud (second tenor), Moise Vaughn (baritone and bass), and guitarist Melvin Lee. Andy was the youngest; all the others were around a year older.

For rehearsals, they used an indoor swimming pool after it closed for the day, to give them the echo effects that New York City groups found in subway stations. On Fridays, they sang at a Junior Police Citizens Club. They also sang at the Lincoln Colonnade in D.C., at a time when they were too young to mingle with the patrons. There was a Lloyd Price show at Turner's Arena and they also got a chance to do a Sunday morning radio show on station WOL.

The songs they practiced over the years reflected the influence of the most popular groups of the period: "Barbra Lee" (Orioles), "Count Every Star" (Ravens), "Dearest" (Swallows), and "Yes Sir That's My Baby" (5 Keys). The heroes of the day were Sonny Til and the Orioles and somehow Andy persuaded Sonny to bring his group to Francis J.H.S. for a show (no uniforms, though, they sang in their street clothes).

In late 1952, the group entered a city-wide amateur contest singing the Royals' "A Love In My Heart." They were so nervous that they left early, certain they'd lost. In fact, they'd won, and from that point on the career of the Blue Jays began to gather momentum. Other shows followed, along with quarter hops (parties in someone's house where a quarter was charged for admission).

Their passion for singing led them to seek out a studio which would record them cheaply. They finally found the Circle Recording Studio, on Pennsylvania Avenue, between 21st and 22nd, next to the Park Lane Pharmacy. It only charged $1.25 per side and, over time, they cut 30-40 songs. (Two of these, recorded in March 1953, "Could I Adore You" and "Sweet Pauline," were discovered and released by Les Moss' Roadhouse Records in the 70s. They are not only true collectors' items, but beautiful sounds as well done almost a cappella, with only a hint of Melvin's guitar.) [When Andy heard the Roadhouse record, at a party in the 70s, he kept pointing to the phonograph, with tears in his eyes, saying over and over "That's me!"]

Around 1953, a Korean War veteran named Lieutenant Slaughter heard and liked them. They rehearsed at his home and he got them on a Red Cross Tour, singing for Korean War wounded, that took them to military hospitals in Maryland, Washington, and Virginia (including the famous Bethesda Naval Hospital).

Sometime in 1953 they picked up a manager, William "Bosco" Boyd, who handled several local groups (he would go on to manage the Clefs in 1955). With no big local labels available, Boyd suggested that they try for a recording contract in Chicago, an idea that didn't sit well with Waymond Mooney, who left to join the Marines. The guys got tenor Jackie Shedrick to replace him and added lead tenor Fleming Briscoe as a fifth voice. Since they had heard about a professional group called the Blue Jays, they decided to change their name; the one they picked, probably suggested by Andy, was the 5 Blue Notes.

They settled down to some serious practicing and, in October 1953, all six of the 5 Blue Notes piled into Bosco's car and off they went to Chicago. It was only supposed to have been a weekend trip, since Bosco had made all the arrangements with Steve Chandler and Art Sheridan's Chance Records (at 1225 East 47 Street). But things didn't go right with the daily rehearsal sessions and they ended up remaining for a week, eating fried potatoes, onions, and tea three times a day. Lousy nutrition, plus they were crammed into someone's basement. (Worse than their diet, they were missing school.) Initially, it was fun, but as the days wore on, they started to get on each other's nerves. Fortunately, Chance arranged for them to appear at a local club, and that both helped them to practice and broke the monotony.

Finally, on October 21, 1953, they recorded four sides, all eventually released on Chance's Sabre subsidiary: "Ooh Baby" (led by Fleming Briscoe), "My Gal Is Gone" (Andy Magruder), "You Gotta Go Baby" (Moise Vaughn), and "The Beat Of Our Hearts" (Fleming Briscoe). As the 5 Blue Notes walked into the studio, the Flamingos were just leaving. (They could only have been there to practice, since there was no Flamingos session booked for that date.) Then it was time to hurry back to D.C. (Some of them had to return to high school before the truant officers caught up with them; Fleming Briscoe headed home to a wife and child.)

Chance gave them some dubs of "My Gal Is Gone" and "Ooh Baby" to take around to local DJs. A couple of them also ended up in area jukeboxes.

Back home, they waited for the record to be released. They waited and waited. There was nothing to do but wait. After two months, however, Andy got fed up and joined the Marines. [At this point, I'm convinced that there's something wrong with the dating from Andy Magruder. He originally told me that the group formed in 1950, when he was in the seventh grade. If true, in late 1953 he would only have been around 15 and too young for the Marines. It's more probable that he was in the ninth grade in 1950 or else the group formed in 1948. Either of those two choices make more sense. In fact, looking back on the notes I took in 1975, he told me that he was 13 or 14 when the group started; this is more consistent with the ninth grade.] Since then, I've found him in the 1940 census as 3 years old. He (William Andrew Magruder) was actually born on October 15, 1936, so he would have been 17 in late 1953.


Sabre finally released "My Gal Is Gone"/"Ooh Baby" in late December 1953, but by the time they notified the group, Andy was gone. "My Gal Is Gone" did very well locally, quickly reaching #l in the D.C. area. On the strength of the record, the 5 Blue Notes were booked into the Howard Theater. This coincided with Andy being home on leave and he went to see them perform "My Gal Is Gone" with their new lead, Theodore "Cookie" Garner. The group wanted Andy to sing with them, but when it was discovered that he wasn't a union member, he wasn't allowed on stage! He had to be content with watching, from the audience, while someone else sang his song with his group.

In a blurb that Chance Records sent to the trades, we hear that "A new group featured on Sabre 103, the Five Blue Notes, do a fine job on 'Ooh Baby,' backed with 'My Gal Is Gone.' Good reports on this from New York and Los Angeles. Keep your eye on this." Since this was planted in the December trades, it's difficult to see how the record could be doing well in two of the biggest markets so soon after release. (Why, we must ask ourselves wouldn't it be doing better first in Sabre's home town of Chicago or the 5 Blue Notes' D.C. area? Just press agent puffery.)

"My Gal Is Gone" was reviewed on January 2, 1954 (both sides rated good). Other reviews that week were for the Dominoes' "Until The Real Thing Comes Along," the Checkers' "You Never Had It So Good," the Chords' "In The Woods," and Dinah Washington's "My Man's An Undertaker."


Sabre released "The Beat Of Our Hearts"/"You Gotta Go Baby" in June 1954, but the disc doesn't seem to have been sent out for review. It was the next-to-last record on the label, so operations might have been winding down at that point.

The 5 Blue Notes didn't last too much longer. Moise Vaughn became another member to enlist in the Marines (his induction date was March 18, 1954). The group was pretty much dormant by then, and as far as he knows that was the point at which they broke up.

When Andy Magruder was discharged in early 1958, the 5 Blue Notes were ancient history. But he immediately picked up the pieces, re-forming the group with Robert Stroud, Moise Vaughn, Jackie Shedrick, and a new lead tenor, Louis Smalls.


In 1958, the 5 Blue Notes released "My Special Prayer"/"Somethin' Awful" on the local Onda label. Robert Stroud led the former tune; Louis Smalls fronted the latter (pronouncing ugly as "YOU'gly"). In June 1959, Onda re-released "My Special Prayer," but with a different flip. Since "Something Awful" was considered less than tasteful, it was replaced by an instrumental called "The Thunderbird," by the Jammers. The 5 Blue Notes remained together until the end of 1959, when they broke up for good.

In early 1960, Andy joined the Spaniels, which then consisted of: James "Pookie" Hudson (lead), Ernest Warren (second tenor), Andy Magruder (first tenor), William Carey (baritone), Gerald Gregory (bass), and Pete Simmons (guitar). Andy and William Carey took a song that Luther Dixon had written for Dee Clark, worked on it, and turned it into "I Know." It was recorded on March 13, 1960 and, when it was released in June, became the first hit for the Spaniels in a long time (#23 R&B). The flip was "Bus Fare Home," on which Andy and Pookie share a duet lead.

This group also had releases on Neptune ("(I Love You) For Sentimental Reasons"/"Meek Man") in 1961 and on Parkway ("John Brown"/"Turn Out The Lights") in 1962. They stayed together until 1963, when Andy left.


Andy had been toying with the idea of going out on his own for a long time and finally, in 1964, he recorded some solos that were released on Chess, under the name Andy Mack: "Do You Wanta Go"/"Later Than You Think." The record did well in the D.C. area, but Andy felt that it wasn't well promoted.

Although no one would ever call them successful, the 5 Blue Notes gave us not one, but two collectors' classics.



THE 5 BLUE NOTES
ROADHOUSE (demos, as the Blue Jays, recorded March, 1953)
1004 Could I Adore You (AM)/Sweet Pauline (AM) - 72

SABRE (subsidiary of Chance)
103 My Gal Is Gone (AM)/Ooh Baby (FB) - 12/53
108 The Beat Of Our Hearts (FB)/You Gotta Go Baby (MV) - 6/54

ONDA
888 My Special Prayer (RS)/Somethin' Awful (LS) - 58
108 My Special Prayer (RS)/[The Thunderbird - the Jammers] - 6/59

LEADS:
AM = Andy Magruder; FB = Fleming Briscoe; MV = Moise Vaughn; RS = Robert Stroud; LS = Louis Smalls


THE SPANIELS (with Andy Magruder)
VEE-JAY
350 I Know/Bus Fare Home - 6/60

NEPTUNE
124 (I Love You) For Sentimental Reasons/Meek Man - 7/61

PARKWAY
839 John Brown/Turn Out The Lights - 4/62


ANDY MACK (Andy Magruder)
CHESS
1910 Do You Wanta Go/Later Than You Think - 12/64




Unca Marvy's Home Page
More Articles