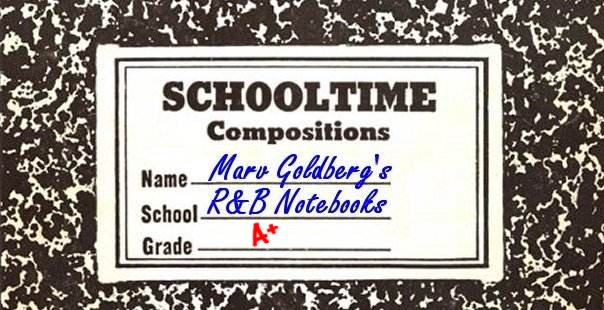 The 5 Emeralds/Downbeats/Elgins
By Marv Goldberg

based on interviews with Norman McLean
and Johnny Dawson

© 2012 by Marv Goldberg
This is the story of a group that started as the 5 Sensations, became the 5 Emeralds, morphed into the Downbeats, and ended up as the Elgins. They soldiered on for a couple of decades, recording under three different names.

In 1953, Norman McLean (neither "Norbert" nor "McClean") and George Claybrooks were singing with a local group in the North End of Detroit. Johnny Dawson worked at the Chrysler tank plant with Thaddeus "Porkchops" William and Curtis Browder. Somehow, Curtis knew Norman and George and introduced them to Johnny and Thaddeus. They met, harmonized for a while and decided that their sound was good. Calling themselves the 5 Sensations (a name taken from Lee's Club Sensation, where they had their first paying gig), they started off as Norman McLean (lead), Curtis Browder (first tenor), Johnny Dawson (second tenor), Thaddeus William (baritone), and George Claybrooks (bass).


After a while, they decided that Thaddeus couldn't stay on his notes too well and needed to be replaced. Another Chrysler worker that Johnny knew was Cleotha "Duke" Miller, who turned out to be the right baritone for the group. Around the end of 1953, they changed their name from the 5 Sensations to the 5 Emeralds.

At the time, Norman was the baby, at around 18. Johnny was 28 and the others were in their mid-20s. The group practiced with a varied repertoire that included R&B, Pop, and show tunes.

In 1954, Johnny met Jesse Carter, who ran S-R-C (State Recording Company) Records in Ferndale, Michigan, a suburb of Detroit (the label was called "State Recording" for its first three releases). He had a small grocery store, but in the back there was a recording studio where they laid down four tunes that they'd written themselves: "I'll Beg," "Let Me Take You Out Tonight," "Darling," and "Pleasure Me." All were led by Norman McLean (with assist from George Claybrooks on "Darling").


Unfortunately, Carter never sent his records out for review so dating them exactly is impossible. However, the combinations of "I'll Beg"/"Let Me Take You Out Tonight" and "Darling"/"Pleasure Me" were both released in 1954. According to Johnny Dawson, groups coming back from tours told him that they'd heard "I'll Beg" on southern radio stations.

Actually, "I'll Beg" did well enough locally to attract the attention of Richard Connor, manager of the Linwood Theater. He approached the group and offered to manage them. Now, they had someone who got them uniforms and gigs.


With some recordings to brag about, the group started appearing all around Detroit and the surrounding areas. There were gigs at Lee's Club Sensation, the Graystone Ballroom, the Strand Lounge, the Linwood Theater (naturally), and the Flame Show Bar. Most of their appearances were local, but Johnny remembered one gig in Toledo.

A sixth member of the group was Robert "Egg" Fleming, a non-singing guitarist (remember the "non-singing" part). Johnny was told about him and went to South Detroit to meet him. Fleming was crazy about roller skating and their initial meeting took place at a local skating rink.

After a couple of years, the guys became aware of another Detroit group called the Emeralds; exit the "5 Emeralds" and enter the "Downbeats." Sometime after the name change, Curtis Browder was replaced by first tenor Thomas Saulsberry. Duke Miller was a barber (as was Johnny by then) and Thomas came into Duke's shop one day. One thing led to another and soon he was part of the group.


The story is told that Ardra "Sonny" Woods, bass of the Royals/Midnighters was arrested because of non-payment of child support and the Midnighters replaced him with baritone Norman Thrasher (formerly of the Serenaders/Royal Jokers). After Sonny cleared up his troubles, he saw the Downbeats at an appearance (Johnny Dawson had known him for a few years) and started rehearsing with them (as their pianist; he never sang with them).


Somehow, Sonny Woods knew Don Robey, owner of Duke and Peacock Records in Houston, Texas. Sonny arranged for Robey to come to Detroit to hear them and set up a session at the studios of WCHB (1200 on your AM dial); they never went to Houston. The Downbeats ended up recording a couple of sides ("Let's Go Steady" and "So Many Tears") that Sonny had written and which he had Robey release as by "Sonny Woods and His Downbeats" (in truth, Norman McLean led both sides; he led all the 5 Emeralds and Downbeats tunes.) These were released on Peacock in July 1957, but were neither sent out for review nor promoted.

After this, Sonny Woods pretty much wandered away from the Downbeats; Norman can't remember him ever appearing with the group. He would eventually end up with Billy Davis and the Legends, another Detroit group. By the early 60s, Sonny was a DJ on WJLD, in Birmingham, Alabama. (Note that he wasn't the Sonny Woods who was with the Twigs and the 4 Winds; that was a California tenor.)


The Downbeats then hooked up with Robert West, owner of several small Detroit labels and manager of the Falcons. While the Downbeats supposedly backed up Marv Johnson on "Once Upon A Time" and "My Baby-o" (released in May 1958 on West's Kudo label), Johnny says this isn't true. Since Sonny Woods produced the session, he may have gotten another group and called them the "Downbeats."

For the next two years, they continued to work locally. "Gigs were plentiful then," said Johnny, "but we hadn't quit our day jobs."


Then it was back to Don Robey, where the guys recorded another pair of tunes for Peacock: "Someday She'll Come Along" (another song written by Sonny Woods) and "You're So Fine"; these were released in March 1959. It wasn't an accident that they covered the Falcons' big hit. The Downbeats had switched management to Robert West, who also managed the Falcons (whose original version of "You're So Fine" had been released on West's Flick label in January 1959). Once again, Norman led both sides.


With high hopes, Robey sent this one out for review, but it didn't do very well. According to Johnny, they had recorded two versions of the song, and Robey released the "wrong" version. Johnny says Robey could have fixed it, but he ended up doing nothing about it. On April 6, 1959, both sides were rated "fair." Other reviews that week were for Brook Benton's "Endlessly," Little Richard's "Kansas City," the Ideals' "Knee Socks," Thurston Harris' "Runk Bunk," the 5 Royales' "I Know It's Hard, But It's Fair," the Shirelles' "Dedicated To The One I Love," the Jewels' "The Wind," and the Velours' "Blue Velvet." Once again, the record wasn't pushed much. However, Norman said, "I never liked covering other people's songs."


After this, the Downbeats just continued working around Detroit for another couple of years. Amazingly, they were still getting gigs from 1954's "I'll Beg." Then, with nothing happening, George Claybrooks decided to quit. Since, as Norman said, "they stopped using basses as much as they used to," George wasn't replaced.


Johnny had known Motown's Berry Gordy for a number of years (he was Gordy's barber), and the Downbeats hooked up with him, making Tamla Records (a Motown subsidiary) their next home.


Their first recording was "Request Of A Fool," on September 19, 1961. Around two months later, they recorded the Berry Gordy-penned "Your Baby's Back" (Norman did lead chores on both). These were released on Tamla in February 1962. The record failed to make any waves, but the group continued to record through mid-1964 (although nothing further was released by them). Actually, "Do You Know What I'm Talkin' About" and "You Say You Love Me" were scheduled for release on Motown's new V.I.P. subsidiary in 1964, but for some reason, they were never issued. Unreleased tracks, recorded between September 1961 and June 1964, include: "Don't You Know I Love You Baby," "First Try At Love," "Party Time," "Until I Lost You," "Lonely Boy," "I Feel So Fine," "I Want To Be With You," "Let The Groove Roll On," "You Say You Love Me," "They Say You Don't Care," and "Do You Know What I'm Talkin' About." As usual, all leads were done by Norman McLean.


After all these recordings, Thomas Saulsberry got sick and had to drop out. This left the Downbeats as the trio of Norman McLean, Johnny Dawson, and Duke Miller (along with guitarist Robert Fleming). Berry Gordy suggested that what the group needed was a female lead singer (he told them, "If you'd like, I've got the right young lady for you"). Enter Saundra Edwards, who had recorded "Camel Walk"/"It's Gonna Be Hard Times" for Tamla (as Saundra Mallett, backed up by the Vandellas) back in 1962.


In April 1965, the revamped Downbeats recorded "Put Yourself In My Place," followed by "Darling Baby" in October. These two tunes were issued in mid-December 1965 on Motown's V.I.P. subsidiary. They featured Saundra Edwards on lead (as would most of the group's released sides for the rest of their Motown career).

(This is probably a good time to note that the recording industry had changed a great deal since the 1950s. In the early part of that decade, Atlantic Records could pile the desks on top of each other in their offices and turn the whole room into a recording studio. By the mid-60s, the instrumental tracks were recorded at one session, the lead singer at another, and the rest of the group at a third. So the question of "when was this song recorded?" is not an easy one to answer.)


However, no sooner had the record been released (at least the review copies) than Gordy realized that there was another Downbeats group around; time for a new name. Johnny Dawson saw a sign for the Elgin Watch Company, and next day he said "I thought of a good name for us." They all agreed on "The Elgins" (not knowing that the Temptations had started off by calling themselves the Elgins, necessitating a name change because there was another Elgins group around at that time - round and round and round). They told Gordy about their decision and he was pleased with it. Downbeats promos were quickly re-labeled with stickers saying "Elgins" until a production run could be made.


The disc was formally reissued a couple of weeks later (at the very end of December 1965) and the Elgins were on their way. It doesn't seem to have been reviewed, but by January 29, 1966, it was #31 in St. Louis. By the time the dust had settled, "Darling Baby" had peaked at #4 on the national R&B charts (#72 Pop).


This was more like it. The Downbeats/Elgins finally got to make major appearances including the Apollo, the Howard, the Royal, the Regal, the Uptown, and venues in Los Angeles and Bermuda, as well as lots and lots of clubs all over the country. (They appeared at the Apollo on April 22, 1966, along with Solomon Burke, Little Milton, Fontella Bass, the Velvelettes, Slim Harpo, and Tommy Hunt.)


In August 1966, V.I.P. released the second Elgins record: "Heaven Must Have Sent You," backed with "Stay In My Lonely Arms" (both recorded in June of that year). Once again, Motown didn't send it out for review; once again an Elgins song was a big hit. By the time it had finished its run, "Heaven Must Have Sent You" had reached the #9 spot on the national R&B charts (#50 Pop). On these sides, Motown's songwriting/production team of Holland, Dozier, and Holland had used Motown's ubiquitous Andantes to fill out the sound (which ended up resembling the Supremes more than anything else).


Since the Elgins had been doing well (and continually recording), V.I.P. decided to release an album in October 1966 (with the stereo version issued the following February). All the leads were done by Saundra Edwards, except for "634-5789" and "When A Man Loves A Woman," fronted by Norman McLean. One problem with the album was that the liner notes credited Robert Fleming (the group's non-singing guitarist) with being a singing member, while omitting Norman McLean's name altogether!


In December 1966, Billboard listed the top R&B singles for the year. On it, "Darling Baby" was #41 and "Heaven Must Have Sent You" was #54 (in case you're interested, #1 was "Hold On! I'm Comin'," by Sam & Dave).


In June 1967, V.I.P. put out "It's Been A Long Long Time"/"I Understand My Man" (once again, an Elgins record wasn't sent out for review). "Time" had been recorded in February; "Understand" was from June of 1966. However, the top side only made it to #35 (#92 Pop), and Motown never released another original recording by the group. However, they continued to record prodigiously (at least through the end of 1968), and there were many unreleased tracks.


In the fall of 1967, Saundra Edwards, who had "personal problems" according to Norman, left the group and they replaced her with Yvonne Allen. Yvonne was introduced to them by the songwriting/production team of James Dean and William Weatherspoon (Weatherspoon had been a member of Stanley Mitchell's Tornados). As Yvonne Vernee, she'd had releases on Brent (as lead of the Donays), SonBert, and Correc-Tone, from 1962 through 1965.

The group, now with Yvonne, made a few recordings for V.I.P. ("we were in the studio quite a bit," remembered Norman), but nothing more was released. With Saundra, they'd recorded from about April 1965 through April 1967; with Yvonne, the only datable recordings were done in April and December 1968.

Finally, things just slowed down for the Elgins. With Motown no longer releasing any of their work, they went their separate ways (Yvonne had even moved to Portland, Oregon). But that was about to change.

In the spring of 1971, Motown re-released "Heaven Must Have Sent You" in England and it became a tremendous smash (on June 12 of that year, it was #3 on the British charts). In September 1971, V.I.P. re-released it in the U.S. (although there was no chart action here). It was such a big hit in England, in fact, that the Elgins got to make a tour of the British Isles ("We were superstars in England," said Norman. "We weren't getting rich or anything, but it was good for the ego.") They were sent for three weeks and ended up staying for a few months.

The Elgins were back home in time for Christmas, but there was such demand that they returned to England again for another four months. This time, Norman McLean didn't go, being replaced by Jimmy Charles, who was introduced to the group through Robert Fleming.


In 1989, Ian Levine, who had started up Motorcity Records in England to record former Soul singers, made contact with the Elgins in order to record an album with them. Yvonne Allen, Norman McLean, Jimmy Charles, and Johnny Dawson reunited. (Since Duke Miller had passed away in 1985, Jimmy was now taking his place instead of Norman's.) The resulting album (The Elgins - Take The Train), recorded at United Sound Studios in Detroit and issued in 1990, featured nine brand-new songs and a re-working of "Heaven Must Have Sent You."


In 1992, Levine had them come over to England, where they recorded a second album (The Elgins - Sensational), with ten additional new songs. Since then, Motorcity has released some CDs with tunes from the first two compilations (for example, The Very Best Of The Elgins).


I suppose it's some sort of tribute to the popularity of the Elgins: in the 21st Century, there's a phony Elgins group that appears in the Philadelphia area. They've even recorded some of the Elgins' tunes to make themselves more credible.


Finally, in 2007, Universal-Island Records (in the United Kingdom) issued a double CD called The Elgins - Motown Anthology. This contained all the released sides by the Downbeats and the Elgins, as well as many previously-unreleased tracks: 11 by the Downbeats, 4 by Norman McLean and the Elgins, 7 by Saundra Edwards and the Elgins, and 3 by Yvonne Allen and the Elgins. Because of this release, the Elgins made one last tour of England. However, neither Norman nor Johnny went this time. The Elgins appeared as the trio of Yvonne Allen, Jimmy Charles, and Percy Williams.


In 2012, most of the old cast is gone: George Claybrooks, Thomas Saulsberry, Duke Miller, Robert Fleming, and Saundra Edwards are all deceased; Curtis Browder probably is. Would Norman do one more show with the Elgins? "No, I wouldn't do it. All my life I was singing. I gave it my best shot. Music was my life, but there comes a time when you have to say, 'It's over for me'." And how about Johnny? "No. Uh-uh. Unless they made me an offer I couldn't refuse. I've retired."


Discography courtesy of Ferdie Gonzalez. Special thanks to Victor Pearlin, Bob Leszczak, and Steve of Motown Junkies .



THE 5 EMERALDS
S-R-C
106 I'll Beg (NM)/Let Me Take You Out Tonight (NM) - 54
107 Darling (NM)/Pleasure Me (NM) - 54



SONNY WOODS & HIS DOWNBEATS
PEACOCK
1679 Let's Go Steady (NM)/So Many Tears (NM) - 7/57



THE DOWNBEATS
PEACOCK
1689 You're So Fine (NM)/Someday She'll Come Along (NM) - 3/59

TAMLA
54056 Your Baby's Back (NM)/Request Of A Fool (NM) - 2/62

V.I.P. (subsidiary of Motown)
25007 Do You Know What I'm Talkin' About (NM)/You Say You Love Me (NM)
(the above was scheduled for 1964, but it was never released)
25025 Darling Baby (SE)/Put Yourself In My Place (SE) - 12/65



THE ELGINS
V.I.P.
25029 Darling Baby (SE)/Put Yourself In My Place (SE) - 12/65
25037 Heaven Must Have Sent You (SE)/Stay In My Lonely Arms (SE) - 8/66
Re-released as V.I.P. 25065 - 9/71

VM-400 Darling Baby - 10/66 (stereo version released 2/67)
Darling Baby (SE)
In The Midnight Hour (SE)
Heaven Must Have Sent You (SE)
I Understand My Man (SE)
Good Lovin' (SE)
It's Gonna Be Hard Times (SE)
Put Yourself In My Place (SE)
634-5789 (NM)
No Time For Tears (SE)
How Sweet It Is (To Be Loved By You) (SE)
Stay In My Lonely Arms (SE)
When A Man Loves A Woman (NM)

25043 It's Been A Long Long Time (SE)/I Understand My Man (SE) - 6/67
25065 Heaven Must Have Sent You (SE)/Stay In My Lonely Arms (SE) - 9/71

MOTORCITY
MOTCLP 39 (and CDMOTCLP 39) The Elgins - Take The Train - 90
Take The Train (YA)
Oooh Honey Baby (YA)
Look What You've Done To My Heart (YA)
Souvenirs Of Love (YA)
Brand New Feeling (YA)
Closer To Your Heart (YA)
Don't Wait Around (YA)
Heading Away From Heartache (YA)
Stop Dead In My Tracks (YA)
Heaven Must Have Sent You (YA)

12 MOTC 43 (a 12" 45RPM single)
It's Sensational/Take The Train - 92

MOTCCD 75 The Elgins - Sensational - 92
Two Wrongs Don't Make A Right (YA)
It's Sensational (YA)
Is That Too Much (YA)
Look Up To The Sky (YA)
What's Going Wrong (YA)
You Got Emotion (YA)
Nothing's Worse Than Being Alone (YA)
Make You My Own (YA)
My World Is Ending (YA)
Ten Out Of Ten (YA)

HTCD 7733-2 - The Best Of The Elgins - 92
Take The Train (YA)
Don't Wait Around (YA)
Nothing's Worse Than Being Alone (YA)
Brand New Feeling (YA)
Look Up To The Sky (YA)
Heading Away From Heartache (YA)
It's Sensational (YA)
Souvenirs Of Love (YA)
Closer To Your Heart (YA)
You Got Emotion (YA)
Oooh Honey Baby (YA)
Make You My Own (YA)
Stop Dead In My Tracks (YA)
Look What You've Done To My Heart (YA)
Heaven Must Have Sent You (YA)
Two Wrongs Don't Make A Right (YA)
Ten Out Of Ten (YA)
Didn't You Know You'd Have To Cry Sometime (YA)

UNIVERSAL-ISLAND
980 089-2 The Elgins - Motown Anthology - 5/2007

Contains all the released V.I.P. tracks from 45s and from the LP. In addition, there are the two released
tracks (on Tamla) by the Downbeats, two tracks by Saundra Mallett & Vandellas, and three unreleased solo
tracks by Saundra Mallett. Finally, there are the unreleased tracks: by the Downbeats, the Elgins with
Saundra Mallett Edwards, and the Elgins with Yvonne Vernee Allen. Only the unreleased tracks by the
Downbeats and the Elgins are listed:

DOWNBEATS
Don't You Know I Love You Baby (NM) - Downbeats
First Try At Love (NM) - Downbeats
Party Time (NM) - Downbeats
Until I Lost You (NM) - Downbeats
Lonely Boy (NM) - Downbeats
I Feel So Fine (NM) - Downbeats
I Want To Be With You (NM) - Downbeats
Let The Groove Roll On (NM) - Downbeats
You Say You Love Me (NM) - Downbeats
They Say You Don't Care (NM) - Downbeats
Do You Know What I'm Talkin' About (NM) - Downbeats

ELGINS
It's A Man's Man's Man's World (NM) - Elgins
For Your Precious Love (NM) - Elgins
Another Hurt Like This (NM) - Elgins
When You Are Available (NM) - Elgins
I Still Love You (SE) - Elgins
That's The Night The Love Died (SE) - Elgins
Love (Is The Answer) (SE) - Elgins
Let's Give Love Another Chance (SE) - Elgins
My 2 Arms - You = Tears (SE) - Elgins (this had been on a Motown LP)
All For Just Lovin' You (SE) - Elgins
Thank You Love (SE) - Elgins
Life Can Be Beautiful When You're In Love (YA) - Elgins
My Love For Your Love (YA) - Elgins
Love Where Are You Hiding (YA) - Elgins


LEADS: NM = Norman McLean; SE = Saundra Edwards; YA = Yvonne Allen



AND BEFORE THEY WERE ELGINS
SAUNDRA MALLETT & VANDELLAS

TAMLA
54067 Camel Walk/It's Gonna Be Hard Times - 7/62


YVONNE VERNEE

BRENT (as lead of the Donays)
7033 Devil In His Heart/Bad Boy - 7/62

SONBERT
3475 Your Touch/It's Been A Long Time - 63

CORREC-TONE
3178 Does He Love Me Anymore/So Much In Love - 64

SONBERT
5842 Just Like You Did Me/I'm In Love - 65




Unca Marvy's Home Page
More Articles