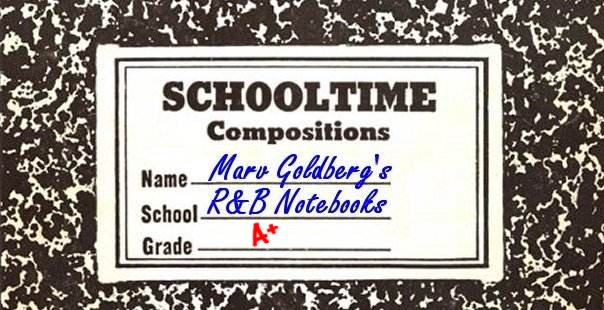 Bernice Gooden
By Marv Goldberg

© 2022 by Marv Goldberg
This is one of those biographies wherein I know more about the singer as a person than as a performer. Actually, other than eight released recordings, one appearance on a radio show, and one limited engagement stage revue, Bernice Gooden didn't seem to have a career in entertainment at all. This will be short.




Bernice Rebecca Bridges was born on January 31, 1912, in Montgomery, Alabama, to Smith Bridges (a painter) and Sarah Nelson Bridges. The youngest of three children, Bernice's siblings were Ernest Earle and Ruby Nanette.

In the 1920 census, the whole family was still living in Montgomery. When Smith Bridges died in 1927, the rest of the family (except for Ernest) moved to Pasadena (a suburb of Los Angeles) for unknown reasons. After World War 2, Ernest would join the rest there, although by that time, Ruby had passed away (1943).


In the 1930 census, Bernice was a roomer in a Pasadena household (not with any of her family), while attending John Muir High School. After graduating in 1931, she attended Pasadena Junior College. I can find her photo in the 1932 Pasadena Junior College yearbook (although not as a graduate), but when it came time for declaring her education for the 1940 census, she herself said she'd only completed four years of high school. Her obituary said she'd graduated from Pasadena City College and had also attended Los Angeles State College. Just another Bernice mystery.

In the early 1930s, Bernice Bridges was often mentioned in Los Angeles papers, as an entertainer or attendee at various social functions. Once she married, "Bernice Gooden" continued this trend.

For example, the November 13, 1931 California Eagle talked about the members and pledges of the Delphi Club meeting for a tea. They said: "Pledges Elsie Ellis, Coletta Moore, and Bernice Bridges were made to give a popular vocal number in trio harmony." ("Hot chocolate, marshmallows and cakes were served.") In spite of this, the January 27, 1933 California Eagle had a column called "Keeping Up With The Class Of '31" (graduates of John Muir High). Of Bernice, it said: "Planning to attend J.C. [Junior College] in Spring".

On June 11, 1933 Eddie Driver And His 10 Clouds Of Joy appeared at Los Angeles' Lincoln Theater. One of the accompanying acts was the 3 Chords ("a talented trio of local girls"): Bernice Bridges and sisters Lydia and Florence Thompson.

The Intentions To Wed column in the August 28, 1936 Pasadena Post said: "Announcement of intentions to wed were filed here yesterday afternoon by ... Charles Rodney Gooden, 22, of 132 Glorietta Street and Bernice Rebecca Bridges, 26 [sic; she was actually 24], of 661 Cypress Avenue, both Pasadena." I can't find the exact date of the marriage; it was either in August or September 1936. Since he was also at John Muir High School in 1931, it's possible that's where they met. They'd remain married for just short of 68 years.

What confuses me is his name. His birth record, his marriage announcement, the 1940 census, and his burial record all show him as "Charles Rodney Gooden"; everything else (including his World War 2 draft registration, Social Security, 1950 census, and obituary) has "Carl Rodney Gooden". I suppose there's a good reason. However, Gooden almost didn't make it to the wedding. The headline in the July 11, 1933 Los Angeles Times read: "Pasadenans Buried Alive":


PASADENA, July 10 - Buried alive when a drainage ditch in which they were working on Blanche street caved in, Richard Ackerman and Carl Gooden, street-department employees, were saved today by fellow workmen who dug them out as they were turning blue from threatened suffocation.

The two accident victims were revived by Dr. Thomas Harter in the Pasadena Emergency Hospital. The ditch in which they were working was eight feet deep and Gooden expressed the belief that he owes his life not only to the promptness with which he was dug from the living grave, but also to the fact that he was wearing a stiff-brimmed hat that formed an air pocket above his head.


After that experience, he quit the street-maintenance profession and became a janitor and porter for a couple of years. By 1939, he'd become a letter carrier for the Post Office, a position he'd hold for 31 years.

The 1940 census showed Charles and Bernice in Pasadena, along with their 2-year-old daughter, Nanette Alverta Gooden. When he registered for the draft on October 16, 1940, it was as Carl Rodney Gooden. Soon after, in November 1940, their son Charles Rodney Gooden (never, to my knowledge, called "Carl") was born. I hope you're as confused as I am. (According to Steve Propes, the junior Rodney was the lead on "Chapel Of Love" by the Hitmakers on Original Sound in 1958.)

The April 4, 1942 Metropolitan Pasadena Star-News had a list of tax delinquents in Pasadena for fiscal year 1941-2. Proudly listed were Carl & Bernice Gooden, who owed the wallet-busting sum of $11.23 for Improvements and Personal Property. They would appear on the list twice more (1947 - $12.40 and 1949 - $18.51).

On a sadder note, daughter Nanette died on June 22, 1945. Born on January 12, 1938, she was only 7 years old. The Metropolitan Pasadena Star-News notice didn't say what she'd died from.

More than a singer, Bernice was a songwriter. In 1950 alone, she copyrighted five songs that I can find: "It's Too Late Now", "It Has To Be You", "Love To Be Had", "Thanks For A Merry Xmas", and "You're Not Mine". I don't know if any of them were ever recorded by anyone.


Four more followed in 1951: "Strange Feeling", "What Did You Do To My Heart", "I'm Yours For Tonight", and "Baby You're Wrong". The latter two were recorded by Bob Williams for RCA (released around February 1952).

On July 27, 1952, she was one of the artists who appeared in a "Talent Showcase" held at the Crescendo Club. While I didn't recognize any of the other singers on the list, the band was composed of Louis Revere (piano), Chico Hamilton (drums), Claude McLin (saxophone), Irving Ashby (guitar), and Wesley Prince (bass). Both Ashby and Prince had been in the King Cole Trio. Claude McLin had just relocated from Chicago, where he'd recorded for Aristocrat and Chess. Chico Hamilton had appeared with Count Basie, Lionel Hampton, and Duke Ellington. Not a bad bunch to work with.

It was only mentioned in Bernice's obituary, but aside from singing, she played the piano, saxophone, and guitar.


Finally, a recording. Sometime in either late 1952 or very early 1953, she joined the Drifters to record "Three Lies" (as "Berni Gooden"). These aren't, of course, the famous Clyde McPhatter Atlantic Drifters (which hadn't yet formed), but one of those Pre-Atlantic Drifters groups, this one led by Oscar Mack Lollie (who called himself "Oscar McLollie"). [Fortunately, I'm not writing about him, because in December 1942, he told the draft board that he didn't have a middle name.] This was the first release on Leon René's new Class label in February 1953 (René had written "Three Lies"). The flip, "That Lazy Mood" didn't feature Bernice.

Why were they called the Drifters? I have no idea. Who were these Drifters? The personnel I've had for years are: Oscar McLollie, Lloyd Phillips, and Jerry Wallace, but I have no memory of where I got those names from. My only hesitation is that, once "The Honey Jump" (McLollie's next Class release, purchased by and also released by Modern) became popular, McLollie renamed his group the Honey Jumpers. Neither Phillips nor Wallace ever seemed to have been associated with them.

Bernice copyrighted more songs in 1953: "The Letter", "The Tavern", "Golden Lavalier", "I'll Never Be Lonely", and "That's How I Feel About You". I'll throw two more in here because I don't know what year they were written: "It's Too Late Now" and "Lover's Prayer".


The biggie here was "The Tavern", which Peggy Lee recorded for Decca, on September 14, 1953. Released in 1954, it's a real soap opera weeper in which the singer seems to be telling the man she's with in the tavern that it's been wonderful, but he'd better go home to his wife.


On June 30, 1954, Bernice was part of the cast of a musical revue, called "Going Up", that opened, for a limited run, at the Troupers' Auditorium in Los Angeles. Put on to showcase young, professional talent, it was scheduled for six performances from June 30 through July 11. It got very favorable reviews, but Bernice wasn't one of the "stars" and wasn't specifically mentioned.


The February 19, 1955 Cash Box said: "The tune 'Slow But Sure', which was written by Benny Carter and Adeline Hanson, is being released on the Forecast label by Bernice Gooden." And sure enough, that song, backed with "The Letter" (one of Bernice's compositions), was issued that month. The record, probably the first Forecast release, wasn't reviewed by either Cash Box or Billboard. (It only took Cash Box until April 23 to tell us that Jose Granson had started Forecast Records.) The one review was in the April 20 Down Beat:


This independent label has a good thing here, but it may be a little too hip for the record buying mass. Slow hits a good beat and is sold attractively by Miss Gooden [they gave it 3 stars]; Letter is a weakish blues that inclines to drag [it got 2 stars].


On May 19, 1955, Bernice copyrighted a song with the strange title "Fifteen Happy Songs For Little People". It doesn't seem to have ever been recorded by anyone.

A new magazine, Record Whirl, mentioned her in its May 1955 edition: "Forecast has a fine prospect in Bernice Gooden". However, while it's good to be recognized and associated with a record company, there would be no further Forecast releases.


Instead, on June 1, 1955, she recorded "Tweedlee Dee" for Capitol, backed up by the Nuggets (Herman McCoy, Handel Sutton, O'Reese Corporal, Charles Patillo, and Arvel Johnson). It was included on the Arthur Murray Rock 'N' Roll LP (with a free dance lesson certificate included). Released around August 1955, the main artist was Big Dave Cavanaugh and His Orchestra (most of the tunes were instrumentals). The LP was also divided up into a three-EP set, with "Tweedlee Dee" on disc two.

At an unknown date in late November, Bernice recorded "Just Wanna Be Near You" (and probably other, unknown, titles) for Capitol.


Capitol held another session on November 23, 1955. At it, Bernice recorded "What Did I Do To You", "Penny, Nickel, Dime, Quarter (On A Teen-Age Date)", and "When I Go Away (The Uh Huh Song)". On the last two, she was once again accompanied by the Nuggets. Of course, there might have been other tunes we don't know about. "Penny" was written by songsmiths Frank Slay and Bob Crewe and "Away" by veterans Rose Marie McCoy and Charles Singleton.

Now that she'd recorded at least five titles for them, Capitol graciously announced her signing in the December 17 Cash Box. She was on a list of "girl singers", which included Kathy Lloyd, Carole Bennett, and Meg Myles.


In December, Capitol released "Penny, Nickel, Dime, Quarter (On A Teen-Age Date)", backed with "When I Go Away (The Uh Huh Song)". Both catchy tunes are pure Rock 'N Roll and I find it strange that "Penny" wasn't a hit. They were reviewed in the December 24 editions of both Billboard and Cash Box:


Uh-huh (BB; 72): This is fine r.&b. material. Gal sings about how faithful she'll be. Male group backs with hopeful, repetitive "uh-huh" sound. Miss Gooden fits the r.&b. pattern in good form.

Penny Nickle [sic] (BB; 71): More swingy rock and rollin' here with gal showing to good effect all over again. She gives it a nice rough, tough sound and the "teen-age date" reference will grab attention in that market.

Penny, Nickel, Dime, Quarter (CB; B+): Bernice Gooden, a swinging newcomer, makes an impressive debut on the Capitol label with a terrific, driving deck that'll keep the youngsters jumping. A spirited performance of some top drawer rock and roll material. Commercial item that could catch on.

When I Go Away (CB; C+): Another catchy rockin' ditty with a beaty up-tempo backing by Ernie Freeman's band. Good coupling for the [juke]boxes.


The Lafayette, Indiana Journal And Courier of January 14, 1956 ran what was the most extensive biography ever printed at the time:


Capitol has added another new member to its ever-growing roster, Bernice Gooden of Montgomery, Ala. She sings "Penny, Nickel, Dime, Quarter" on one side and "When I Go Away (The Uh Huh Song)" on the flip side. Miss Gooden has been guided by veteran musician Benny Carter, long one of the top jazz stars. Teen-age record collectors will like this one.


This is the only time her name was associated in the press with Benny Carter, although he'd written her Forecast release of "Slow But Sure".


Bernice's second (and last) Capitol release was "Just Wanna Be Near You", coupled with "What Did I Do To You", from March 1956. They were reviewed in the March 24 Billboard:


What Did I Do To You (74): Bernice Gooden chants a ballad with charm and heart, with solid if conventional backing. Will get good exposure.

Just Wanna Be Near You (73): This Rosemary McCoy-Charley Singleton ditty gets nice production here, with the thrush's vocal backed by solid instrumentation.


May 19 found Bernice as the guest star (along with Count Basie and Joe Williams) on Alan Freed's Saturday night CBS radio show, "Camel Rock 'N' Roll Dance Party". On it, she sang "What Did I Do To You" and "Just Wanna Be Near You". These Freed shows were live (that is, the guests were actually in the studio before an audience). Usually broadcast from New York City, that week's show was, according to the announcer, "from Hollywood, California". Possibly Freed was there filming his scenes for the movie "Rock, Rock, Rock".

And that was it. The end of Bernice Gooden's career. We don't hear of her again until June 21, 2004, when she passed away at the age of 92. I guess she didn't get much in the way of record royalties and her non-appearances didn't bring in any cash either. That could go a long way towards explaining why she didn't apply for a Social Security number until 1962.

I find so few of them, I was surprised and pleased that there was actually an obituary. It appeared in the June 24, 2004 Pasadena Star News and even mentioned her barely-existent show business career


GOODEN - Bernice R. Gooden, born January 31, 1912 in Montgomery, Alabama, passed away peacefully Monday, June 21, 2004 at Royal Palms Home in Glendale, California. She is survived by her husband Carl R. Gooden, her son Charles Rodney Gooden, four grandchildren, and four great-grandchildren. She had been a resident of Pasadena, California for 78 years. She graduated from John Muir High School, Pasadena City College and attended LA State College. After 32 years of service she retired from the Pasadena Board of Education where she worked in child development as a music teacher. Bernice was an accomplished classical and pop musician. She played the piano, saxophone and guitar. In the late 1950's she recorded for Capitol Records as a pianist, singer, and song writer. She also had bit parts in feature films. She was married to Carl Gooden for over 69 years. She was a lifetime member of the International Geranium Society and had been an active participant in volunteer support groups for many years. In addition to flowers, please make donations to the Alzheimer's Foundation, Inc.


It's therefore possible that she never did anything much with singing because she was a teacher (in the 1950 census, which has recently become available, she was a "nursery school teacher"). This is also the only time movies were mentioned, but I can't find any that she was in. They were off a bit on their dates: she and Carl were coming up on their 68th anniversary and she'd probably only been in Pasadena for 77 years (I'm just being picky; these are nice numbers).

Husband Carl Rodney Gooden died about six months later (January 16, 2005). He'd been with the Post Office for 31 years and was also a lifetime member of the International Geranium Society.

It's hard to form a conclusion about Bernice Gooden. I like her recordings, but she seems to have deliberately avoided a career in show business.


Special thanks to Victor Pearlin.


CLASS (The Drifters and Berni Gooden)
500 Three Lies / [That Lazy Mood - Drifters] - 2/53

FORECAST (Bernice Gooden)
101 / 102 Slow But Sure / The Letter - 2/55

CAPITOL (Bernice Gooden)
EAP 2-640 Arthur Murray Rock 'N' Roll Part 2 - ca. 8/55 - part of a 3-EP set
Tweedlee Dee (Bernice Gooden & The Nuggets) - the only song with Bernice
T 640 Arthur Murray Rock 'N' Roll - contains all 12 songs on the 3 EPs - ca. 8/55
F3306 Penny, Nickel, Dime, Quarter (On A Teen-Age Date) / When I Go Away (The Uh Huh Song) - 12/55 (both with the Nuggets)
F3379 Just Wanna Be Near You / What Did I Do To You - 3/56






Unca Marvy's Home Page
More Articles