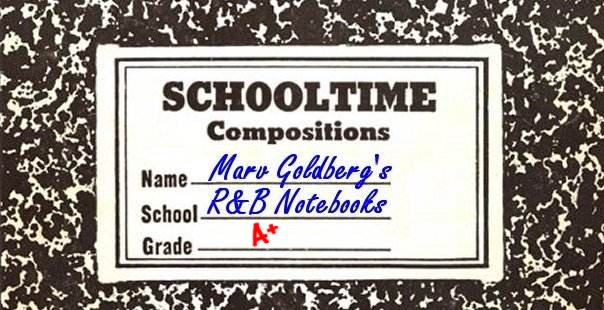 BIG BOY GROVES
By Marv Goldberg

© 2019 by Marv Goldberg
There are various reasons why I choose the subjects I write about. Sometimes I'm asked to do a story, sometimes I meet someone who sang with a group, sometimes I find a particular song interesting and realize I know nothing about the singer, and sometimes I really like some or all of the singer's output and decide to find out more.

This last reason is why I looked into the life of Ervin "Big Boy" Groves. I've always loved "I Gotta New Car"; later on, I discovered "You Can't Beat The Horses" and "Traffic Ticket". So I started researching Big Boy and found that it's amazing how much information doesn't exist about his musical career. I think that, for the first time, I've found out more about a singer's personal life than about his musical one.

Groves was essentially a pianist and bandleader (who mostly talked his vocals), but, except for Roland Mitchell and "Guitar Red" (mentioned on record labels), not one of the members of his band was ever named. Band singers were Little Margie and Little Eve, both with no last names. There was a female group, the Grovettes, but they were never identified either (although it's reasonable to suspect that Little Margie and Little Eve were members).

Here we go.





Perry Ervin Minor Groves, Jr. was born on January 20, 1927 in Muskogee, Oklahoma. By 1940, his parents had relocated to San Diego, California and Ervin (he never seemed to use the "Perry") was living with his grandparents in Tulsa. Grandpa Perry Decate Matthew Groves had been in Company H of the 51st Iowa Infantry during the Spanish American War. (I'm guessing you needed to know that.)

In the early 1940s, Ervin joined his parents, attending junior high school in La Jolla, in San Diego County, where he began playing the trombone. [At the time, San Diego directories covered La Jolla also.] He attended San Diego High School, but there's no photo of him in the school's 1945 yearbook; it just lists his name under "Other Graduates".

When he registered for the draft in 1945, his home was in La Jolla. Drafted on September 18 of that year, he was sent to Japan, where he formed a Special Services band and began learning the piano, as well as how to arrange music. Upon his discharge from the army (on January 29, 1947), he enrolled at San Diego City College to study music. After that, it was the La Jolla Art Conservatory (since he also had artistic talent) and the Westlake College Of Music.

Supposedly he'd written a tune (title unknown) that had won first prize on Peter Potter's "Search For A Song" program on KNXT-TV. I don't know what year that was, but probably 1954.

By early 1955 he'd formed his own band and had written "I Gotta New Car" (which, I'm sure, pleased the Westlake College Of Music no end). Both this and "Midnight Special" (another song he wrote) were released on Leiber & Stoller's Spark Records in late April. He was now "Big Boy Groves".

There's a female group backing him on "Midnight Special" (presumably his Grovettes) and a male group on "I Gotta New Car". All these years we've thought that they were the Robins and that the recordings were actually done for Spark.

However, I asked Mike Stoller what he could remember about Big Boy Groves and I got this surprising answer: Spark licensed the sides (he couldn't remember from whom) and they never even met Groves. He furthermore said, "I really don't think it sounds like the Robins." This means that, even though the Groves master numbers are contiguous with the Robins' "I Love Paris", "Smokey Joe's Cafe", "Whadaya Want", and "If Teardrops Were Kisses" (all done at a session overseen by Leiber & Stoller), it's not the Robins on the song, and, like most other things about personnel on Big Boy Groves recordings, the group remains a mystery. (It turns out that, for reasons long forgotten, Spark master numbers weren't issued chronologically.)


The record was reviewed in the May 7 Cash Box. Midnight Special got a C+: "Big Boy Groves and his band etch a middle tempo blues about the midnight train that took his girl away. A rhythmic jump dance item." I Gotta New Car received a "B": "Big Boy Groves has a cute jump ditty on this side. Groves tells of the financial woes of owning a new car on a small salary. Some great lines in the lyric." The punch line, of course, was his vow that "Next time I buy a car, I'm gonna get one that I can afford. And when I say 'afford', I mean 'a Ford'."


Those reviews were mirrored in the May 14 Billboard. I Gotta New Car was rated 80: "An exuberant warbling stint with an exciting beat and amusing lyrics about the financial vicissitudes of buying a Cadillac on time. Should catch juke coin." Midnight Special received a 72: "A zippy paced little ditty receives a happy vocal job, with a beat that moves right along."


The first of Groves' "talking" records, "I Gotta New Car" was a mild hit in Philadelphia, where it was #10 on June 4, #9 on June 11, and #8 on June 18. It also appeared as #8 in Cleveland on June 25.

Sometime in early August, Groves and the Penguins supposedly toured the Pacific Northwest, but no specific appearances were mentioned. I can find the Penguins performing in Oakland and San Francisco, but their back-up band was Big Jay McNeely's, not Big Boy Groves'.


The first appearance I can find for him was at the Riverside Ballroom in Phoenix, Arizona on September 1, 1955. He shared the stage with "Pee Wee Creighton" (singing "Eyes Full Of Tears").


On September 17, he, the Medallions, (Vernon Green paired with the Dootones), and Johnny Watson appeared at the Armory in Albuquerque, New Mexico. (Hurry. All tickets must be picked up by noon Saturday.)


November 13 found Groves and his band at Billy Berg's Savoy Ballroom in Los Angeles, where they (and Dinah Washington) were guests on the very first Savoy Rhythm And Blues show, broadcast over KCOP-TV (Channel 13). The MC was local DJ Charles Trammel. (Tune in an hour earlier to watch Polka Parade.)

Only three documented 1955 appearances, but they're the last I can find for Ervin Groves until 1969!

In late 1955, Ervin Groves married Leihua Florence Lupenui Riveroll, who had four children: Lenora Luana, Elena, Theodore, and James Riveroll. Known as "Lei" or "Florence", she and Ervin would have three children of their own: Janice, Kim, and Stephen Groves.


[Later on, Lenora Luana Riveroll would become the singer known as "Lani Groves" and usually referred to Ervin as her father. In 1974, she was one of the writers of "That's What Friends Are For" (recorded by Deniece Williams). The credit was given to "Lani Groves (Lenora Luana Riveroll)". There were other, similar, 1974 copyright credits.]


In February 1956, another record. This time on Larry Mead and Mike Gradny's Vita label, it was credited to "Ervin (Big Boy) Groves", although the February 4 Billboard list of Vita artists identified him as "Irving (Big Boy) Groves". (It's embarrassing when your own record company doesn't know your name.)

No cars this time; Big Boy had found a different road to disaster: "You Can't Beat The Horses", another "talking" record in which Big Boy bemoans his fate. This time, the punch line was: "Since I've been playing them horses, I ain't got a bit of sense. And when I say 'sense', I mean C-E-N-T-S, 'cents'." The flip was the instrumental "Big Boy's Bounce".

You Can't Beat The Horses got a 70 in the March 3 Billboard: "Humorous hard-luck story of a hapless horse player gets a good play by the Big Boy. Lots of chuckles here." Big Boy's Bounce received a 65: "Groves' group offers instrumental jump stuff. Sax solos get most of the spotlight." I'll make a guess (you'll see why soon) and say that the frantic sax player was San Franciscan Roland Mitchell.

It took until May 18 for Cash Box to review the record. Big Boy's Bounce got a "C+": "Groves etches a middle beat rhythmic instrumental side. Deck moves well. Good beat." (If that's what the reviewer considered a "middle beat", a fast one would probably kill him.) You Can't Beat The Horses got a "B": "Groves offers good advice in narrative fashion about playing the horses. But, while the horse player will undoubtedly like the tune, he will be very unlikely to heed his warning. Good deck."


A second 1956 record: "Traffic Ticket" appeared on John Dolphin's Money label around May. It was another "talking" record, backed by a female group (presumably the Grovettes). This one told all about his troubles with the law as a bad driver: "One thing that puzzles me from day to day / Is how robbers and killers sometimes get away / And every time I run a red light or do anything petty / The whole police department is there before quick gets ready." The flip was the instrumental "The Solid Rock" (also known as "Heavy Artillery"). The label of "The Solid Rock" says "featuring Roland Mitchell" (who'd had his own jazz band in Oakland in 1953 and would have the Tear Drops Of Rhythm in 1957). The record wasn't reviewed in either trade publication.

There were several unreleased Money sides:

Uh-Huh (vocal by Big Boy Groves)
Years And Tears Ago (vocal by Little Margie)
Teenagers Only (vocal by Little Margie)
Yes It's You (vocal by Little Margie)
Lonely Lonely Woman (vocal by Little Eve)
A Little Bit Of You (vocal by Little Eve)
Traffic Ticket (vocal by Big Boy Groves & Little Margie)

The last item is the same song as the released version, but with a faster beat and with only Little Margie singing along, not the entire group of Grovettes. It was released on a 2009 CD as "Another Ticket".

On October 21, 1957, Ervin Groves, Jr. copyrighted a song called "Mid-December"; I don't know if anyone ever recorded it.


There was a Los Angeles group called the De Villes, who had a 1958 record on Aladdin ("Do Wop" / "Kiss Me Again And Again"). One of their members was Little Margie Newton, but I don't know if she's Groves' Little Margie.

The next time we hear of Big Boy Groves is in 1962, by which time he'd started his own label, GME (it's both "Grove Music Enterprises" and his initials "Ervin Minor Groves", backwards). Where was he in the interim? The 1959 and 1961 San Diego directories list Ervin Groves (with wife Florence) as a painter (remember that art was his other love).


His first GME record was from around November 1962. One side is another "talkie" called "Bucket O Blood" about a chicken shack with dangerous clientele. No punch line here; it's just a place you really want to stay out of. The flip, called "Teenage Party", had a vocal by Lennie Groves. (It seems to me that this is one of the worst pairings of songs in history, but what do I know?) Both sides got three stars in the December 29, 1962 Billboard (although no reviews at all).

Who's Lennie Groves? She's his step-daughter, Lani, who used many aliases: Lani, Lany, Loni, Lonie, Lonnie, and Lennie.


Another GME record, this one from around December 1962, was "Tucson Blues", an instrumental by the Groves band, featuring "Guitar Red", whoever he might have been. The flip was "A Million Tears Ago" by the "Grovettes, Featuring Little Margie". Ervin wrote it and produced it, but didn't take credit for having the band on it.


Sometime in 1963, there was another Big Boy Groves record, this time on Lonnie (guess who that was named after). One side was a re-done version of "I Gotta New Car", credited to Groves. The flip was called "No Down Payment", credited to the Big Boys. Groves' name isn't on that side at all; not as writer, producer, or performer. In fact, I don't even know if it's a vocal or an instrumental. Was the "Big Boys" the name of his band? Nothing ever said.

Seemingly abandoning "painter", Ervin Groves is in the 1964, 1965, and 1967 San Diego directories as "musician". In spite of this, there's not a single ad for him appearing anywhere as a musician (or even as a painter).

In October 1967, Ervin and Leihua Florence Lupenui divorced.


We next hear of Ervin Groves when he turns up in Hawaii. The October 6, 1969 Honolulu Star-Bulletin said: "Lani Groves, young Capitol recording artist is visiting her father, Ervin Groves, who lives in Lahaina. Groves, who writes and arranged [sic] music, will work with Lani on a new album, 'Songs Written By My Father,' to be released next spring." However, when the album was released (on Groves' GME label), it's title had been changed to Composer In Paradise - Ervin Groves.

This was in the October 30, 1969 Honolulu Star-Bulletin:


Youthful Lani Groves (who can be heard several nights a week at the Royal Lahaina Hotel) has had so many requests for a song titled 'Welcome To Paradise' that she has agreed to record it. Ervin Groves (pianist at the hotel) is the proud father - and composer. Lani, whose grandmother was born on Maui, is now busy adding some Hawaiian songs to her repertoire and just recently flew back from Hollywood to spend some time studying with her father - in preparation for a new album to be released in the spring. Her current album 'Afro Brazil Oba' is on the Tower label."


There was a large article about Ervin Groves in the May 18, 1970 Honolulu Advertiser. It really doesn't say much, but it seems to be the only article ever written about him. It started with a recap of his hectic schedule:


Ervin Groves is a pianist on the move at the Royal Lahaina Hotel here.

The Maui musician performs at Moby Dick's from 5 to 6 p.m., moves to Coconut Willie from 7:30 to 9 p.m., and finishes up his hectic evening on the hotel terrace from 9:15 to the wee hours.

He's been welcoming visitors in his inimitable way, and now he's promoting a tune, "Welcome To Paradise," which he composed because it musically says what's in his heart.

And that is this: aloha no ka oi. There is no place like Hawaii - his paradise found.

I caught his show recently at Coconut Willie. When he's performing for dinner audiences, he sticks to the basics of his business: the cream of the pops.

Hence, he waltzes over the keyboard, tapping some nostalgic oldies (examples "Star Dust," "Smoke Gets In Your Eyes", "I'm In The Mood For Love").

But he has a pulse on what's happening, and programs some recent and current gems ("Alfie," "Raindrops Keep Fallin' On My Head").

Because he is aware of his audience - mostly tourists who expect to get a dose of Hawaiiana - he even goes on a local groove ("To You, Sweetheart, Aloha," "Tiny Bubbles," "Sweet Leilani," "Hukilau"). [I wonder why he didn't throw in "I Gotta New Car" or "Bucket O Blood".]

He recently issued an album themed "Composer In Paradise" (now, that is a revealing title) in which he is composer, lyricist, arranger, artist). I have a feeling he'd like to include some of his originals in his act, but is waiting for the proper moment to spring his ditties onto his listeners.

The problem, of course, is not so much unfamiliarity, but personnel. His LP features several good voices, including that of his daughter, Lani Groves, who is harmonic on "Welcome To Paradise."

As a musical entity, however, the LP is a mild disappointment. It cannot capture the warmth, the charm, the immediacy of Groves, the pianist composer. It was recorded both in Hollywood and in Honolulu, and some of the voids can be attributed to regional differences. There's soul, there's blues, there's a lot of sentiments non-Hawaiian in the set.

In person, however, it's a different story. Groves grows on you. Ask any Royal Lahaina visitor.


In case you're confused by the paragraph talking about personnel on the LP, there were many voices on the album, none of them Ervin's. "Welcome To Paradise", "Have A Laugh On Me", and "Sweet Sixteen" were sung by Lani Groves; "Lucky Guy In Paradise" was by Garnett Scott; "Sunset Strip" and "Distance And Time" were duets between Lani and Garnett; "All Goes Up Must Come Down" was by Viola Mills; "The Price I Had To Pay" was by Dede Copeland; "Steppin' Stone" was by Mary Staten; and "This Is Goodbye" was by Yvonne Butler.

Note that, although all the write-ups were in Honolulu newspapers, the venues he played were actually on the island of Maui, not Oahu. Strangely, he was never included in any Maui directories.

By 1971, Ervin had married Taeko Hiraishi Holt, probably having met her in Hawaii. I don't know a lot about her. For example, where was she from? She wasn't born in the United States, because, in October 1971 (by which time she was already Taeko Groves), she declared her intention to become a U.S. citizen (granted in August 1977). My guess is that she was Japanese; if she were Hawaiian, she would have become a citizen automatically in 1959 when Hawaii became a state. They had a daughter, Paula in August 1974.

As appealing as Hawaii was, the Ervin Groves Combo ("Featuring the Sounds of Hawaii and Japan") appeared at the Stardust Motor Hotel's Galaxy Room (Yuma, Arizona) from October 12-17, 1971. I don't know about you, but I find it boggles my mind that someone could be playing Hawaiian and Japanese songs in a motel in Yuma, Arizona. Including his stay at the Royal Lahaina Hotel, this is only the fifth, and last, appearance I could find for him in 17 years!

Lani, too, had abandoned paradise and had become part of Stevie Wonder's backup group. On his 1973 hit, "You Are The Sunshine Of My Life", the first line is sung by Jim Gilstrap, the second ("You are the apple of my eye / Forever you'll stay in my heart") by Lani.


Enter Ervin "Big Daddy" Rucker. Repeat after me: "Ervin Rucker IS NOT Ervin Groves" (louder; I want the whole Internet to hear you). Rucker was another entertainer from San Diego (at least in 1972). When Rucker married in 1969, he gave his age as 34, therefore born in 1935 and several years younger than Groves. He had releases on Groves' Musette and GME Records (for example, "She's Alright" & "Kids Together", both written by Groves). In 1972, when Groves was in Hawaii, Rucker was part of Johnny Otis' entourage. Exit Ervin Rucker (pursued by a bear, no doubt).

The July 1, 1974 Honolulu Star-Bulletin had this under "Bankruptcy Pleas Filed": "Ervin Groves Jr. of Wilder Avenue, unemployed musician. Debts $12,735; assets $600." The July 7 edition gave a more complete address: 1330 Wilder Avenue. The Honolulu Advertiser of July 7 was a lot more accurate in listing his debts: $12,735.17.

This is interesting, because he and his wife, Taeko, were living in San Diego (per the 1974 phone directory, created in late 1973). However, the Wilder Avenue address is in Honolulu, even though he had lived in Lahaina, which is on a different island. I'm confused.

In October 1977, Ervin copyrighted a song called "Hypnotized (By Your Love)". It was recorded, on GME, by Janella Swan and the Groves Sound in the following year. The record number (5484) corresponded to Groves' San Diego house number.


Also in 1978, a new Big Boy Groves record (on GME, of course): "Brand New Car", backed with the instrumental "Ride On". I assume it's one of his "talking" records, but I've never heard it.

And that's the last we hear of Ervin "Big Boy" Groves. He died of leukemia on July 21, 1982 in San Diego.

In 2009, Ace Records released the Toast Of The Coast CD, which had unreleased tracks from the 1956 Money sessions: "Another Ticket", "Yes It's You", "Years And Tears Ago", "Uh-Huh", and "A Little Bit Of You". "Another Ticket" is the alternate take of "Traffic Ticket", with only Little Margie instead of the female group.

In 2015, there was another Ace CD: Wow Wow Baby. This one contained "Heavy Artillery" (the full length version of "The Solid Rock"), Little Margie's "Years And Tears Ago", Big Boy Groves' "Traffic Ticket", Little Eve's "Lonely Lonely Woman", and Little Margie's "Teenagers Only".


Also in 2015, "Another Ticket" and "Yes It's You" were taken from the 2009 Ace CD and put on a "Cash" 45.

So now you know as little as I do about Ervin "Big Boy" Groves. As I stated at the beginning, I really like his "talking" records; I wish I could find out more about him.


Special thanks to Mike Stoller, Peter Stoller, and Todd Baptista.



SPARK (Big Boy Groves)
114 I Gotta New Car (with a male group) / Midnight Special (with a female group) - 5/55

VITA (Ervin (Big Boy) Groves)
120 You Can't Beat The Horses / Big Boy's Bounce (instrumental) - 2/56

MONEY (Big Boy Groves)
217 Traffic Ticket (with a female group) / The Solid Rock [instrumental featuring Roland Mitchell; it's also known as "Heavy Artillery"] - ca. 5/56

UNRELEASED MONEY
Uh-Huh (Big Boy Groves)
Years And Tears Ago (vocal: Little Margie)
Teenagers Only (vocal: Little Margie)
Yes It's You (vocal: Little Margie)
A Little Bit Of You (vocal: Little Eve)
Lonely Lonely Woman (vocal: Little Eve)
Traffic Ticket (vocal by Big Boy Groves & Little Margie; alternate version)

GME (Big Boy Groves)
227 Bucket O Blood / Teenage Party (vocal: Lennie Groves) - ca. 11/62
229 Tucson Blues (instrumental featuring Guitar Red) / [A Million Tears Ago - Margie & Grovettes] - ca 12/62

LONNIE (Big Boy Groves)
5004 I Gotta New Car (re-recorded) / [No Down Payment - the Big Boys] - 63

GME GLP-872 Composer In Paradise - Ervin Groves - ca. 3/70
Welcome To Paradise (vocal: Lani Groves)
Sunset Strip (vocal: Garnett Scott & Lani Groves)
All Goes Up Must Come Down (vocal: Viola Mills)
Distance And Time (vocal: Garnett Scott & Lani Groves)
Have A Laugh On Me (vocal: Lani Groves)
The Price I Had To Pay (vocal: Dede Copeland)
Steppin' Stone (vocal: Mary Staten)
Lucky Guy In Paradise (vocal: Garnett Scott)
Sweet Sixteen (vocal: Lani Groves)
This Is Goodbye (vocal: Yvonne Butler)

GME (Big Boy Groves)
5485 Brand New Car / Ride On - 78

CASH (Big Boy Groves & Little Margie)
1060 Another Ticket / [Yes It's You - Little Margie] - 2015
Money masters from 1956




Unca Marvy's Home Page
More Articles