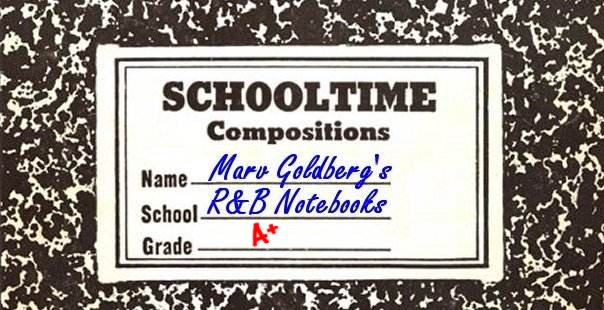 Bubber Johnson
By Marv Goldberg

© 2021 by Marv Goldberg
It's very hard to characterize Bubber Johnson. As far as I'm concerned, he has a very nice voice. But that's only part of the story on a recording. Most of his records have violins, a harp, and [shudder] the Dread Chorus. Because of this, it's hard to determine who his audience was (or was supposed to be). That sound couldn't have been directed at teenagers. Based on record reviews, he was supposed to have competed with Nat "King" Cole; if that was the intention, it wasn't successful. King Records, however, was determined to make a star out of him; almost every track he ever recorded for them was released on a single.

[WHAT'S IN A NAME? I've heard the nickname "Bubba" for most of my life. It seems to be an affectionate term meaning "little brother". When I first discovered Bubber Johnson, in the dim mists of my past, I had never encountered that spelling before and wrote it off as an anomaly. Boy, was I wrong. As soon as I started my research, I realized that, not only was "Bubber" a very common alternate spelling, but "Bubber Johnson" was actually a fairly common name. Examples include a golfer, a minor league ball player, and even a politician. Even worse, there was a violent career criminal in Raleigh, North Carolina named Bubber Johnson, who was constantly being arrested from at least 1944 through 1963.]




Robert Edward Johnson was born in Winston-Salem, North Carolina to Edward Johnson and Annabelle (or Annie Bell) Murrell. When he registered with Social Security in August 1937, he gave his birthdate as August 15, 1919; when he registered for the draft in February 1942, he told them he was born on August 15, 1921. The latter is the real date; he wasn't in the 1920 census. I guess he didn't like "Robert" all that much, he seems to have only used it on those two registrations (and the 1950 census). The rest of the time, he was usually just "Edward Johnson". Interestingly, in May 1957, he registered his name as "Bubber Johnson" with Social Security.

My troubles started with the 1930 census. In the Johnson household were, among others, sons "Edward" and "Robert H." I suppose the census taker misheard the name of the youngest son, Marvin Henry Johnson. Edward (also called that in 1940) is the future Bubber.

On November 5, 1942, Edward Johnson married Marjorie Brewer in Winston-Salem. They'd have two sons, Daryll and Kenneth.

Sometime after that, Bubber and his family moved to Queens, New York. Possibly the first mention of Bubber Johnson was in the December 10, 1949 New York Age:


Bill Tolliver, who is Mister Long Island, is putting on a regular Monday night "Song Writers and Performers Festival" at his popular Crystal Casino out on New York Blvd. [in Queens] under the sponsorship of Alonzo Govern, the old-time songwriter. The committee includes Bubber Johnson, Rudy Williams, Count Basie, Perry Bradford, Clarence Williams, James P. Johnson, Marlowe Morris [who'd been with the Spirits Of Rhythm 10 years earlier], Walter Holmes, Spencer Williams, Jean and Ovie Alston, and Fess Williams. "Every afternoon will be showfolks time," Bill told me. "My back room is open for free rehearsals for kids who need a place to get an act together."


Note that, in his first mention, Bubber was billed before Count Basie and James P. Johnson. Not only was Bubber a singer and pianist, he was also a songwriter.


He only turns up once in 1950, when the August 8 Ohio Daily Express (Dayton) said: "'Bubber' Johnson, a riot of fun with his clever trio, is playing currently at 'The Lamplighter,' Rockaway Ave., at 57th street, Valley Stream, Long Island." Why an appearance in Valley Stream (right across the New York City border in Nassau County) is mentioned in a Dayton, Ohio paper is beyond me. However, it did introduce us to the Bubber Johnson Trio, which was still at the Lampliter (the correct spelling) in January 1951.

So who were the members of the Bubber Johnson Trio? I have no idea; their names were never mentioned. We'll see who some of them were in 1952, but I don't know if any of those were carryovers from 1951.


Speaking of 1951, the Trio recorded five songs for Mercury Records around October of that year: "Bumble Bee", "Four Rum Bottles", "You're Driving Me Crazy", "Magic Is The Night", and "Time Was". "Bumble Bee" is a cute, if formulaic, combo performance, with vocals by the entire group (which also played piano, guitar, and bass). "Time Was" had Bubber soloing on the vocals. Those two were released, as the Bubber Johnson Trio, in November 1951 and Billboard reviewed them in its November 24 edition:


Bumble Bee (73): Johnson and his compatriots reel off an amusing double-entendre novelty of ancient derivation. Not likely to make the air lanes, but should draw coin in city locations.

Time Was (71): Johnson does a neat turn in reviving a Latin-derived ballad of the early '40s.


Here's one I have no explanation for: the Hollywood Citizen-News of October 26, 1951 announced


Sidney Poitier, Negro actor who played the doctor in "No Way Out" and "Bubber" Johnson, nightclub entertainer, have been signed for roles in U-I's "Red Ball Express".


It was true, but why was Bubber signed? There was never any hint that he'd done any acting in his life, nor had he ever, as far as I can tell, appeared in California up to this point. At the time of the announcement, his first record hadn't even been released. The role ("Taffy") called for a black singer, but Los Angeles was full of black singers.

"Red Ball Express" was the fictionalized account of the origin of a truck convoy system that became famous during World War 2. It was created to be a non-stop supply line, bringing gasoline and ammunition to tank units and other front-line forces. At least 75% of all Red Ball Express soldiers were black. ("Red Ball" was a railroad term for express priority shipments.)

"Red Ball Express" was released by Universal-International on May 24, 1952. While Bubber's is not an Academy Award performance, it's creditable. Mostly, though, while the men are unloading gasoline cans from the trucks, he leads them in a work song that goes:


Lift and load
Lift and load
One for Hitler
And one for the road.


Although it was played up for years, this was his only movie role. There was a single other acting part, which you'll have to wait five years to learn about.

A second Mercury session took place in late May 1952. While the Bubber Johnson Trio isn't credited on the label, they may have been present, since .... Well, hang on for a couple of paragraphs.

Digression: high tenor Joe Van Loan, currently a member of the Ravens (who were recording for Mercury), supposedly put together a group to back Wini Brown on some Mercury recordings. The songs ("Here In My Heart" "and "Your Happiness Is Mine") were credited to Wini Brown & Her Boyfriends. However, Van Loan's distinctive voice is completely missing from these, so is it really true or were they a group that Mercury itself threw together?.

More to the point, the master numbers immediately after those were for Bubber Johnson's session. At it, Bubber recorded four songs: "Forget If You Can", "A Million Times Ago", "I've Got An Invitation To A Dance", and "You're Driving Me Crazy". On "Forget If You Can", Bubber is backed up by the "Dreamers", who kind of sound like the same bunch that was backing up Wini Brown, although Mercury managed to reduce them to Dread Chorus status. (They weren't the Warren Suttles Dreamers, which were also recording for Mercury.)

Was the Bubber Johnson Trio on these? It's possible, since the instrumentation is pretty basic (although a vibes player was brought in to supplement them). Both songs have an electric violin, played by Richard Otto, who was certainly a member of the group by August 1952. Since his violin hadn't been on the first Mercury sides, I'll assume he wasn't there then.


In June, Mercury released "Forget If You Can", coupled with "I've Got An Invitation To A Dance". They were never reviewed.



Finally, some names. An August 26, 1952 ad for the Terrace Room of the Park Hotel in Great Falls, Montana has a photo of the "Bubber Johnson Quartet" ("starting TONIGHT"), mentions all four of the Mercury titles, and actually names the members:


Bubber Johnson - Piano and vocal stylist

Richard Otto - Magnificent violin virtuoso and ballad singer

Jimmy Kennedy - New York's outstanding guitarist - vocals. Since I had erroneously used that name for Jimmy Cannady in my Ink Spots book, I spent a lot of time comparing photos. I can't convince myself that it's Cannady, so I guess there really was a guitarist named Jimmy Kennedy in New York.

George Tucker - Bassist - vocals


The August 30 Great Falls Tribune said:


Now currently at the PARK HOTEL'S beautiful TERRACE ROOM is a nationally famous recording band the "BUBBER JOHNSON QUARTET." This is really an outstanding ORCHESTRA not only for their music alone, but their arrangements, novelty numbers, and vocals are tops . . . this band is definitely a must, as Orchestras such as this do not happen along every day.


That really was a pathetic write-up by a press agent. Since the Bubber Johnson Trio's record didn't sell (and remember, their name wasn't on the second one), they couldn't have been "nationally famous" (we'll even forget that there never was a record by the "Bubber Johnson Quartet").

The ad said "direct from Melody Club in New York City", but "direct" is another word that doesn't mean what you think it does in ads. All it means is that an act had once played there; it might have been years before.


But by late September, the Bubber Johnson Quartet was relegated to the Scrap Heap Of History, when the Bubber Johnson Trio reemerged to play two weeks at the Victory Club in Eureka, California. A photo ran with the ad and I can pick out Bubber and Richard Otto, but it's not clear enough to tell if the third one is Jimmy Kennedy or George Tucker. Remember that photo sessions are expensive and the Bubber Johnson Quartet photo was professionally posed. My feeling is that a photo of the Quartet was manipulated to cut out the member on the far right and overlay him with text (you'll notice that Bubber's piano goes farther to the right). Unfortunately, the other members aren't standing in the same positions as in the first photo. And, to prove my last point, they were still "Direct From Melody Club, N.Y.C."

The Trio got a glowing review in Eureka's Times Standard on September 20:


Another violinist here now is Richard Otto who really knows his stuff being featured with the Bubber Johnson Trio at the VICTORY CLUB And that ain't all, he can really sing too! Bubber Johnson the man at the piano was recently featured in the movie 'Red Ball Express with Jeff Chandler If you wanna hear something out of this world ask Richard Otto to play 'Humoresque. [I don't really think the writer of that blurb actually got the hang of punctuation. I've gone over it three times and that's exactly how it was presented.]


On October 7, the Trio ("Direct from New York City" - ho-hum) opened at the El Cabana in Salt Lake City. There was only the single ad for them, so I don't know how long the engagement was for.


Jet Magazine, always the first to let you know what's happening, had this in their November 6, 1952 issue: "Newest singing foursome to be formed on the West Coast is the Bubber Johnson Quartet, organized by actor-pianist Bubber Johnson who was last seen in Universal-International's film, Red Ball Express. Several of its numbers have been recorded by Mercury." At least they got the punctuation right.


From January 30 through February 1, 1953, "Bubber Johnson And Orch" appeared at the El Mombo club in Franklin Square, Long Island. Was this the Trio? Who knows?



And that's the last we hear of Bubber for an entire year, until he turned up at the Coronet Lounge (Baltimore) in February 1954. The ad said: "recently featured in Universal Pix' Red Ball Express and One Hour Before Dawn". (However, the only movie called "One Hour Before Dawn" was a 1920 silent film.) The ad didn't mention "trio" or "orchestra"; from now on, he was on his own. [Richard Otto, by the way, would go on to team up with Sarah McLawler.]


And that's the last we hear of Bubber for another entire year, until he turned up to record a single song ("Goody Good Love") at a King Records session in New York, on March 8, 1955. Here's what I said in my Otis Williams & the Charms article about that session:


On that date, bandleader Lucky Millinder recorded some sides for King. For some reason, one of the songs, "Goody Good Love," was recorded three times, using different vocalists, all backed by the Admirals [who were also the Sultans on Duke]. One version featured Bubber Johnson, another, Otis Williams, and the third, Earl 'Connelly' King. When the record came out, in May, it was Bubber's version that had been chosen. (The flip was led by Cathy Ryan.)


I haven't learned anything over the years that can be added to that.

A few days later, on March 11, 1955, Bubber had his own King session, once again with the Admirals. None of the musicians (including guitarist Mickey Baker and drummer Bugs Hunter) had been members of Bubber's trio. The four songs were: "Ding Dang Doo", "A Crazy Afternoon", "Drop Me A Line", and an unreleased version of "I Lost Track Of Everything". These are good showcases for his voice and the Admirals are so far above the Dread Chorus (who are coming; be afraid, be very afraid) that they might as well be from another planet.


King released "Ding Dang Doo", backed with "Drop Me A Line" in April 1955. The Admirals weren't mentioned on the label, not even as the generic "and vocal group". Cash Box reviewed them in their May 7 issue:


Ding Dang Doo ("B"): Bubber Johnson rocks out a rhythmic jump tune with a novelty romantic lyric. Infectious bouncer with group support and a driving ork in the break.

Drop Me A Line ("B+"): Johnson changes pace with a slow blues pretty. Tune has good pop possibilities. Voice has a bit of Nat Cole in it. [Many of Bubber's reviews will compare him to Cole.]


The following month, King put out Lucky Millinder's "Goody Good Love" (and no, the Admirals weren't mentioned on that label either). The June 11 Billboard gave it a 75 and said: "Spiritual feeling of this happy opus is projected effectively by the Lucky Millinder ork, while Bubber chants infectiously. A good side for the coin boxes. Material is retentive."

Bubber's next King session was held on July 12, but he wasn't singing on this one, just playing piano, as one of the musicians behind Earl (Connelly) King. That session produced "I Get So Happy", "Someone Who Cares", "Big Blue Diamonds", and "Look Me In The Eye".

But Bubber was back a few days later for his own session. With Betty Glamann's harp and the Hurricanes backing him, Bubber recorded "Have A Little Faith In Me", "Come Home", "There'll Be No One", and "My Lonely Heart". I've always liked "Come Home"; I thought the harp was an interesting touch (of course, that was before I heard all the rest of his harp-infused tunes). And, it's really only on "Come Home" that the Hurricanes don't sound like the Dread Chorus.


King issued "Come Home" and "There'll Be No One" in August 1955. Hedging their bets, they also issued a version of "Come Home" by Cathy Ryan.

Cash Box gave both sides a "B" in their September 10 issue:


There'll Be No One: Bubber Johnson offers a velvety vocal of a slow melodic blues. Sad romantic lyric is delivered with feeling. Johnson bears a similarity to "King" Cole in portions of his delivery, tho the resemblance is not overpowering. The singer has his own style. Material and presentation should hit both pop and r&b markets.

Come Home: Similar comments. Pretty tune well done. Two easy to listen to sides.


On September 20, he did another backup session, this time plunking the keys behind Little Willie John on "Home At Last", "I'm Stickin' With You Baby", and "Need Your Love So Bad".

Bubber was back in the studio on October 20 to record a couple of holiday tunes: "Let's Make Every Day A Christmas Day" and "It's Christmas Time". The harp is there, as is the Dread Chorus.


It's been a long time since I reported any appearances for Bubber. This was mostly caused by my not being able to find any. Only in mid-November did he begin appearing again, starting a week at the Copa (Pittsburgh) on November 14.

The Pittsburgh Sun-Telegraph of November 2 wrote about the upcoming show:


A double jolt of rhythm and blues will take over the Copa, opening Nov. 14, when Bubber Johnson, currently riding high on his "Q" label [???] waxing of "Come Home", and the Turbans, who have hit the best seller list with their Herald platter, "When We Dance," [why do they even bother?], open on a combined bill. It will be the first time the Copa has devoted a full show to rhythm and blues.


November 18 found Bubber, along with Bobby Charles, at the Winter Fantasy Dance at Midland High School in East Liverpool, Ohio, not all that far from Pittsburgh (where he was still appearing at the Copa). Bubber was described as a "topflight 'rock 'n roll' performer". I hope he remembered to pack the harp. Actually, now that I look at it again, the Copa ad called him "The Real Thing In Rock & Roll". Go figure.

Here's one I haven't been able to confirm. The Scranton, Pennsylvania Times-Tribune of November 18 had this in Dorothy Kilgallen's syndicated column:


Spin Pan Alley expects George Treadwell to make a fortune with his hot new singing discovery, Bubber Johnson. Bubber's an ex-gravedigger out of Winston-Salem, N.C. King records has signed him to a long-term contract.


This is the only time Bubber was ever referred to as a gravedigger. It's not completely far-fetched; Joe Tex was one too. I'd love to be able to confirm it, though. At least this blurb proves that Dorothy Kilgallen knew the entertainment industry and was honest about it: George Treadwell (who also managed the Drifters and the Cues) was poised to make a fortune with Bubber; she says nothing about Bubber being poised to make one.


King released "Let's Make Every Day A Christmas Day" and "It's Christmas Time" in November. Their DJ copies were festive with "Season's Greetings from Bubber Johnson" on the green and red labels.

Bubber started a week at the New Marina Restaurant (Washington, DC) on November 21, 1955.

"Come Home" entered the national charts on November 22, 1955, staying for five weeks, and reaching #9. It was to be his only national hit.


Bubber then spent four days at the Veterans' Club (Sewickley, PA), starting December 1. From there, it was off to the Chatterbox (Cleveland) on December 5 for a week, along with Ralph Wilson's Orchestra.


Right after that, Bubber traveled to Philadelphia for a big Rock 'N Roll show at the Mastbaum Theater the week of December 12, 1955. Others on the bill were Lavern Baker, the 4 Lads, the El Dorados, Gloria Mann, the Valentines, and Screamin' Jay Hawkins. The MC was DJ Georgie Woods.

If a song is popular, someone's got to cover it. "Come Home" was waxed by Eileen Barton on Coral. She is, of course, remembered for "If I Knew You Were Comin' I'd've Baked A Cake". Actually, her version of "Come Home" (flip of her cover of Julie London's "Cry Me A River"), harp included, wasn't all that bad (and she's a lot prettier than Bubber).

Bubber held another King session on December 22, 1955; this time, the harp was played by Ruth Berman. The songs were "Keep A Light In The Window For Me", "I Lost Track Of Everything" (a remake of the song he'd done at his first King session), "My One Desire", and "A Wonderful Thing Happens". The Dread Chorus is dreadfully present, as are a plethora of violins, flutes, oboes, and even a flugelhorn.

Again, I have to say that Bubber's voice is pleasant; King was just trying to push him into a Pop market and they didn't seem to know how. (The rule is: keep doing what you're doing until people accept it, whether they like it or not. It's the "Firings will continue until morale improves" concept.) They're definitely trying to compete with Nat "King" Cole.


The week beginning December 30, 1955 found Bubber at Washington's Howard Theater, along with Lloyd Price, the Turbans, and the Cardinals.



January 1956 began with King issuing "Keep A Light In The Window For Me", backed with "A Wonderful Thing Happens". It was also released on Parlophone in the United Kingdom.



An ad in the February 3 Miami Herald announced that these were the last three days you could see Bubber and Barbara McNair at the Club Calvert. However, it was the only mention of him there; nothing said when he'd started.

This from the February 4 Pittsburgh Courier: Bubber Johnson doesn't have to depend on his singing if the tune 'Come Home' is any indication of his composing ability. But manager George Treadwell won't let him write for other crooners as he keeps him busy on the niteclub circuit."

Speaking of songwriting. The February 4 Cincinnati Enquirer devoted a lot of space to an article about Ruth and Art van Gelder, locals who'd written "A Wonderful Thing Happens". Since King Records was headquartered in Cincinnati, it was probably no big thing to have someone listen to the tune. The blurb ended with this paragraph. I know it's homey, but sometimes they provide too much information:


The van Gelders live at 7608 Castleton Pl., Roselawn. They have a son, James, 13, and a daughter, Maureen, 10. And Mr. van Gelder is much more busy as a sales representative for a watch company than he is in music. Mrs. Van G. is active in PTA and Variety Club Auxiliary work for the Heart Fund and retarded children.


It's hard to imagine anyone printing personal details like that today. In spite of Ruth's husband being named Art, the label credits "R. van Gelder-J. van Gelder". I assume that the "J" was for son James.


Bubber made his only appearance at the Apollo Theater the week of February 10, 1956. Also on the bill were Lloyd Price, the Drifters, the Spiders, Mickey & Sylvia, and Bunny Briggs. I guess George Treadwell gave Frank Schiffman a bargain price for booking two of his acts. [pause for uproarious laughter] And what did Frank Schiffman have to say about Bubber's performance? Nothing; there's no index card for Bubber.


On March 30, he was part of the show at the Boulevard (Queens, New York), probably lasting a week. The Bonnie Sisters and Lavern Baker were also on the bill. The first 500 guests that showed up to the Sunday 1:30 PM performance had a choice of a free Rainbow, King, or Atlantic record.


In April 1956, King issued the remake of "I Lost Track Of Everything", coupled with "My One Desire". They were reviewed in the April 28 Cash Box:


I Lost Track Of Everything ("B"): Bubber Johnson comes through with another winning performance as he tenderly fashions a touching love ballad. Ork in chorus [sic] supply a lush, dreamy backdrop. Pretty piece.

My One Desire ("C+"): Another warm and beautiful love song emotionally styled by the gifted warbler.


We were kept up to date on Bubber's career by the June 9, 1956 New York Age: "Talk about versatility - In addition to being a singer, composer, pianist and arranger, Bubber Johnson emerges as an actor in the 'Red Ball Express,' for which he also wrote the theme music." Note the use of the present tense ("emerges") for a four-year-old move. While I can't find out who wrote the theme music to the movie, I really don't believe it was Bubber; The music played over the credits definitely came from a Hollywood score composer. However, since the film closes with the "Lift and load" verse, that's what they may have meant (assuming Bubber wrote it).


King released "My Lonely Heart" and "Have A Little Faith In Me" (both with the Hurricanes) in June. They were reviewed in the June 30 Billboard:


My Lonely Heart (77): A tender ballad, and Bubber Johnson does it with fine diction, reminiscent of [Nat "King"] Cole. A harp gives a fancy-schmancy touch. Will have above-average appeal for pop customers, too.

Have A Little Faith In Me (74): Another of similar type - slow in tempo and very sentimental. Another tasty vocal.


Cash Box gave the results of its Disk Jockey R&B Poll in their July 14, 1956 edition. In the category "Which Up And Coming Male Vocalist Do You Think Is Most Promising?", Little Willie John and Little Richard were tied for first place. Right behind them was Bubber, who beat out Nolan Lewis, Carl Perkins, James Brown, Larry Birdsong, Joe Tex, and Elvis Presley.


Ruth Berman's harp was back on Bubber's October 5, 1956 King session at which he recorded "Let's Take A Walk" and a cover version of Sonny Knight's "Confidential". They were released later that month. I don't have a date, but "Confidential", backed with "Have A Little Faith In Me" (his prior release) were issued on Parlophone in the UK.

The record was the subject of a Billboard Review Spotlight on October 27:


Johnson's styling of "Confidential" is a smooth, pop-ish job of A-1 quality. On this and on the flip his intimate, silky tones (a la Nat Cole) make a strong impression. Johnson is a favorite of many pop deejays; this ought to extent his circle of admirers.


Now we come to something that has me puzzled. "Confidential" was listed in Cash Box's Best Bets column in the same October 27 issue. No problem there, but here are all the other records that were "Best Bets" that week:


New York's My Home - Sammy Davis, Jr.
If'n - Richard Hayes
5 Months, 2 Weeks, 2 Days - Louis Prima
Do You Love Me - Johnny Brandon
The Right Kind Of Love - Annette Warren
Suez Canal - Jay Meyer
You Oughta Be Mine - Peggy Lee
Goin' Home - Bob Winn


Maybe you know more recordings than I do, but I admit that I never heard of a single one of them. Weren't the reviewers at Cash Box supposed to know what they were doing in picking potential hits? How could they get every one wrong?

In November 1956, King reissued "Let's Make Every Day A Christmas Day" and "It's Christmas Time". Never reviewed originally, this time around, Cash Box gave them both a "B".


Let's Make Every Day A Christmas Day: Bubber Johnson lends his rich voice to a beautiful inspirational Christmas tune with great meaning. Vivid delivery of a potent ballad.

It's Christmas Time: On this half the crooner glides thru another velvety Yuletide ballad. This one was penned by the vocalist.


On January 4, 1957, Bubber was the pianist on another Little Willie John session: "I've Got To Go Cry", "Love, Life, And Money", "Look What You've Done To Me", and "You Got To Get Up Early In The Morning".

A few days later (January 9), he was back for his own King session (with, of course, Ruth Berman's harp and the Dread Chorus, sounding dread-ier than ever). They did "Little Girl Don't Cry", "Butterfly" (not the Charlie Gracie song), "The Search", and "Too Many Hearts".


"Butterfly" and "Too Many Hearts" came out later that month and were reviewed in the February 16 Cash Box (both "B"):


Butterfly: Bubber Johnson's warm and fragile voice fashions a tender new romantic ballad in winning style. (This song should not be confused with a current rock & roll tune bearing the same title.) Another fine showing by the gifted Mr. J.

Too Many Hearts: The dulcet toned star has a tear in his voice once again as he chants another lovely sentimental romancer. Strong coupling.


Still in the New York area, Bubber played piano on the February 26 Herb Lance session that produced: "It's Over", "Goodbye, Good Luck My Love", "Drifting Waters", and "Close Your Eyes".


King issued "The Search", coupled with "Little Girl Don't Cry" in March 1957. Late that month, Bubber was at the Zanzibar Lounge in Buffalo, New York, along with Jerry Phipps and his Calypso Band. It seemed to be for the week starting March 26. The April 6 Buffalo Criterion had an interesting review of the show: "The Zanzibar's presentation last week was both pleasant and unpleasant in my opinion. It featured two acts - Bubber Johnson and an authentic Calypso group. Bubber sang nicely but this authentic calypso group was too authentic."

As long as he was in Buffalo, he appeared on Pat Fagan's TV Dance Party (WGR-TV) on March 30. They advertised that he was going to sing "Butterfly" and I'll bet that most of the kids who tuned in thought it was the Charlie Gracie song.

Cash Box reviewed his latest record on April 13:


The Search ("B+"): The mellow voice of Bubber Johnson is in top form as the talented vocalist chants a tender and beautiful love song set to a R&R beat. Johnson is an artist who's gotta make the grade sooner or later. This one could turn the trick.

Little Girl Don't Cry ("C+"): Another strong love tale portrayed with deep feeling by the star.


In that same issue, "The Search" made it to the Cash Box list of Best Bets. Again I'll ask: how many of these have you ever heard of (my own answer is "none")?


On The Outside (Lookin' In) - Bill Hayes
Evangeline - Russell Arms
Wishbone - Trudy Richards
That's Love - Gene Austin
I'd Crawl Back If I Could - Shorty Long
Souvenir d'Italie - Leroy Holmes
Rockin' Fiddle - Richard Maltby


Now comes Bubber Johnson's second known foray into the acting field. On April 21, 1957, he was part of the cast of the Goodyear Playhouse's presentation of "The Gene Austin Story". Here's the write-up from the April 20 New York Age:


Composer, musician and actor Bubber Johnson will portray "Tubbs" [Norman Tubbs], a Harlem character in the NBC-TV life story of Gene Austin Sunday. Also slated to appear are Jerome Cowan, Phyllis Newman, Alonzo Boson, and George Gruzzard [sic; s/b "Grizzard"].

Austin, a white blues singer, who was brought up in New Orleans, learned how to sing the blues by hanging out in the Negro section. He came to New York and signed up with a big record company and was a hit.

He loved a good time and spent a large part of his life in the Harlem speakies. Each morning "Tubbs" would deliver him to his wife, drunk as usual. Austin scored a big hit when he waxed "My Blue Heaven", "Ain't She Sweet" and "Look Down That Lonesome Road". It's an hour long.


Note that Austin wrote "The Lonesome Road", as well as "When My Sugar Walks Down The Street". Someone referred to him as the "Elvis of the 1920s".

This was in the June 15, 1957 New York Age: "Bubber Johnson, the pianist-composer who appeared at [bandleader] Teddy Powell's Newark, N.J. Cafe, will perform in Houston, Tex." Didn't bother to say where.

But he was back in New York in time to record "One Good Reason" and "So Much Tonight" on June 27. Amazingly, there was no harp or Dread Chorus on either. "So Much Tonight" was actually kind of a Rock 'N Roll sound. These are so much more listenable than his run-of-the mill King recordings.


In July, King released "So Much Tonight", paired with an oldie: "A Crazy Afternoon", which Bubber had recorded with the Admirals back in March 1955. They were reviewed in the July 22 Billboard:


So Much Tonight [couldn't read rating]: Strong selling by Johnson on a cute, medium-tempo country-style rocker. Choice vocal here should cop a fair share of coin.

A Crazy Afternoon (68): Artist tells of plans for a cozy afternoon. Tune is a blues-ballad with ork and chorus support. Has a special-material flavor.


Another trip to hear Ruth Berman play her harp to the accompaniment of the Dread Chorus: On October 16, 1957, Bubber recorded "The Whisperers" and "Muddy Water". Amazingly, "Muddy Water" not only doesn't have a harp, but the chorus sounds black.

Also done at that session were the Velvet Keys' recordings of "My Baby's Gone" and "Let's Stay After School". For some reason, "My Baby's Gone" was recorded immediately before "The Whisperers" and "Let's Stay After School" was waxed after "Muddy Water". As far as I can determine, Bubber had no part in either Velvet Keys song: Dave "Baby" Cortez played piano that day and Bubber didn't write either of the tunes. I suppose it's possible that the Velvet Keys, a white group from Queens, New York, needed more time to practice "School" and King recorded both of Bubber's songs in the interim.

On November 5, 1957, Bubber copyrighted a song called "When I Found You". It was published by Marjorie Publishing Company, seemingly indicating that he was still married to Marjorie at that point.


King issued "The Whisperers" and "Muddy Water" in November 1957. They were reviewed in the November 30 Cash Box:


The Whisperers ("B+"): One of the most beautiful love ballads to hit the market in quite some time is this superb offering by the soft, sincere voice of Bubber Johnson. Johnson has a great feeling that comes over brilliantly. Dee jays interesting in breaking a class sleeper, oughta listen to this one.

Muddy Water ("C+"): The artist gives out with the blues on this end and does an effective job. A chorus assists.


"The Whisperers" was a Cash Box Best Bet in the same issue. However, someone on the reviewing staff slipped up and the Sam Cooke record actually became a hit in spite of being on the list. I'm not sure about Jo-Ann Campbell's "Wait A Minute"; it doesn't seem to have been a national hit, but it got a lot of airplay in New York. Someone's gotta have a talk with those reviewers.


I'll Come Running Back To You - Sam Cooke
The Best Dream Of All - Vaughn Monroe
I - Lillian Briggs
Charm Bracelet - Bob Crewe & Rays
You're The Greatest - Billy Scott
Did You Close Your Eyes - Joyce Hahn
The Next Time Around - Sarah Vaughan
Wait A Minute - Jo-Ann Campbell
Where's My Baby - Chuck Alaimo


February 3, 1958 found Bubber back in the studio to record a soul-less version of "Dedicated To The One I Love" (written and recently released by the 5 Royales, another King act), "Prince Of Players" (a "religioso" tune originally done by Tommy Frederick), and the old standard "I'm Confessin'". Should I mention Ruth Berman and the Dread Chorus? (Probably not.) "I'm Confessin'" is definitely the best of the batch, featuring a flute.


"Prince Of Players" and "Dedicated To The One I Love" came out in February 1958. They were reviewed in the February 22 Cash Box, both rated "B":


Prince Of Players: A dramatic rock and roll beat number with an inspirational lyric, is belted with strength and emotion by Johnson. Pretty side that could catch.

Dedicated To The One I Love: Another well rendered rock and roll beat item. This one is in the romantic category.


It's been a long time since I could find Bubber appearing anywhere. But on March 30, 1958, he was part of the Easter Ball at the Greystone Ballroom in Cincinnati, along with Big Maybelle and Ruth Brown. The show was still being advertised on April 5.

After that, Bubber had another session in New York. The date is seen as April 4, but that can't be right because the Greystone Ballroom show was still going on. It was probably the following week. Reunited with his beloved Ruth Berman and the Dread Chorus, he recorded: "I Can't See Why", "Finger Tips", and "As Long As I Live".


"I'm Confessin'" and "Finger Tips" were issued in late April 1958 and reviewed in the May 17, 1958 Cash Box (both rated "B"):


I'm Confessin': A great oldie is revised for today's market by the soft, soothing voice of Bubber Johnson. Warm, rock-a-ballad reading with interesting flute and choral backing. Fine vocal effort by Johnson.

Finger Tips: A well-written new ballad with a fragile melody is chanted with heart by the mellow-voiced crooner. Johnson sings with a tear in his voice that makes a number very appealing. Dee jays interested in a ballad without an R&R beat oughta listen in to this one.


Also in May, King released Bubber's first LP (Come Home - Bubber Johnson); see the discography.


Another King session. On June 13, he recorded "I Surrender Dear", "Welcome Home", "Everybody's With You When You're Winning", and "Time Was". (However, "Time Was", a reprise of his very first Mercury record, is a non-contiguous master number and was possibly recorded the following day.) Need I even mention Ruth Berman and her friends in the Dread Chorus? At least these had Billy Valentine on piano, Skeeter Best and Austin Powell on guitar, and Panama Francis on drums.


The next King record was "I Surrender Dear", backed with "Everybody's With You When You're Winning", released in July 1958. The next month, they were also released on the Delta label in Canada (and mentioned in the September 10 Windsor [Ontario] Star). The sides were reviewed (both "B") in the August 2 Cash Box:


I Surrender Dear: The stylist leans into a great oldie and brings it up-to-date via a smooth shuffle beat treatment. Rendition has appeal for all age groups.

Everybody's With You When You're Winning: Bubber Johnson, a lad destined to make the grade one of these days, could make big noise with this heavy hearted blues item. Side has a good melody, lyric and beat which Johnson weaves together wonderfully.


Notice how often reviewers say Bubber's destined for big things. They never stop to realize that it's the material and presentation that's holding him back.

Bubber entertained at a "Blue Monday" party on July 28, 1958 given by the Old Smugglers Social Club at the Shangri La restaurant in Queens, New York. Notice that the reports of his appearances are getting fewer and fewer.


King didn't wait long to issue Bubber's next record. "I Can't See Why" and "As Long As I Live" came out in August 1958.


Another venture: In October, Larry Darnell released "Flame Of Love" / "One More Chance" on MAP 501 (Mark Alan Presents). The label says "Directed By Bubber Johnson". So does the label of MAP 502: "Drop Me A Line" / "Mermaid In My Cellar" by Billy Vance. Presumably "Directed By" means that he produced the sessions.


January 1959 saw the release of "Time Was", backed with "One Good Reason". They were reviewed in the January 31 Cash Box. Note that the Flamingos would record a version of "Time Was" the following month.


Time Was ("B+"): A soft-beat recognition of the fine oldie by the songster, that has strength. Johnson takes the tune's sentiments smoothly and the combo-chorus backdrop is nicely relaxed. Jocks ought to get on this in a big way. Could make it.

One Good Reason ("C+"): Effective blues reading by the performer. Upper lid is the portion to look out for.


Someone had had a good talk with the guy who created the Cash Box Best Bets list. "Time Was" made it, as did 13 other songs I never heard of:


The 20th Of May - Joe Leahy
I Love You Much Too Much - Milton Grayson
Loyalty - Fran Warren, Eileen Barton, Kay Brown
Wagon Train - Ron Goodwin
Take Me To Your Leader Cha Cha - Sam Space & Cadets
Leftover Love - Andy Philippe
I Don't Want To Walk Without You Baby - Startime Kids
Easy - Arlene Fontana
Power Of A Prayer - Tina Robin
Jolie - Roy Orbison
Solitude - Bonnie Guitar
King Of My Heart - Laura Leslie
You're The Only One I Care For - Upbeats


King held another Bubber Johnson session on March 11, 1959: "To Never Return", "Until Sunrise", "I Do (Love You)", and "House Of Love". Surprise, surprise, there's no harp in sight and the chorus sounds like they know what they're doing. The songs are much more in the Rock 'N Roll vein and are quite pleasant. "Until Sunrise" and "House of Love" were issued later in March.


It's been about a year since we've been to see Bubber perform anywhere. On June 1, 1959, he opened at the Ovolon in Wilkes-Barre, Pennsylvania for a week. Actually, it wasn't Bubber Johnson who opened but the "Bubber Johnson Duo". Of course, nothing ever said who the other half of the act was. (A moot point, perhaps; they were never mentioned again.)


In July 1959, King issued another LP: Sweet Love Songs - Bubber Johnson (see the discography).



Also in July, "I Do (Love You)" was paired with a reissue of "Come Home". "I Do (Love You)" sounds a lot like Nat "King" Cole's "Send For Me". They were reviewed in the August 15 issue of Cash Box:


I Do (Love You) ("B+"): An infectious declaration from Johnson and important combo-chorus support. Could break in both pop and r&b circles.

Come Home ("B"): The songster shows up fine on the attractive soft pleader. Two Commercial sides.


Bubber's last King session took place on September 7, 1959. Ruth Berman has moved her harp to another studio, but the chorus is still there, although less annoying than in the past. The songs were: "Tell Me Who", "I Know My Baby", "Atlanta", and "Those Who Dream". ("Atlanta" sounds like it would have made a great blues many years before, but by someone with a grittier voice, like Joe Turner.)


King released "Tell Me Who" and "I Know My Baby" in October; they were reviewed in the October 31 Cash Box:


Tell Me Who ("B+"): R&B songster has appealing pop words on this light rhythm romancer. Sound can catch on.

I Know My Baby ("B"): A blues caress by the performer. Male chorus has good chant gimmick. Fine mood session.


One more left: King issued Bubber's last single, "Atlanta", backed with "Those Who Dream", in December. They were reviewed in the January 9, 1960 Cash Box:


Atlanta ("B+"): The songster offers a brisk blueser in the "Kansas City"-beat manner. Pleasant light-beat stuff.

Those Who Dream ("B"): Against a legit, cozy combo backdrop, the performer warbles a wistful one.


Not sure why this should be mentioned in California, but the August 25, 1960 California Eagle reported that "Bubber Johnson and his Trio are pleasing the customers at the Shalimar [on 140th Street in Harlem]...." (They had opened on March 29.) This is the only mention of the "Bubber Johnson Trio" in the 1960s (and naturally there's no hint as to who's in it).

But, it was a transitory thing, because a December 11, 1960 listing of restaurants showed "Bubber Johnson nitely at the keyboard" at Milton's in The Bronx.

Since I can't find any record of when it happened, I'll stick this here. Somewhere along the way, Bubber was no longer with wife Marjorie. Were they divorced? Did she die? I can't find any answers. He then married Ruby DuPont, with whom he had a son, Kevin. Again, I don't know when these events took place.


In 1962, Bubber's name appeared on a record by the Keynoters: "I Wanna Know Who", backed with "Come Back Home". Released in October, the Keynote label says "arranged and conducted by Bubber Johnson". These soul sides were by a Brooklyn group that was also known as the Fantastics: William "Sonny" Forrest (lead), Nick Nicholson (first tenor), Billy Sutton (second tenor), Freddy Warner (baritone), and Larry Lawrence (bass).

The January 24, 1963 Smithtown (Long Island, New York) News told us more than we've heard in a while about Bubber's activities:


Bregers's, on Rt. 110 opposite Macy's, not only features good food and drink (steaks the specialty) but also top entertainment. Bubber Johnson who just played the Crystal Room and the Living Room in N.Y. is at the intimate piano bar, and on weekends the music is continuous with Tony Monte a local favorite playing opposite him. Incidentally Edie Corme has recently recorded some of Bubber's songs. [Yeah, yeah, I know; they couldn't spell Eydie Gormé.]


[Here's one of my best stories and the perfect place to tell it. In February 1997, I had an interview with the station manager at Sachem High School (Long Island) about presenting my own radio show. Most of the DJs on that station were high school students and most of what they played was pop and jazz, two genres with which they weren't particularly familiar. During the interview, the current show was playing in the background and the DJ said: "And that one was by "Eydie Gorm". The station manager ran into the studio and told the kid that it was pronounced "Gor-MAY" because of the "E" at the end. Not too long after that, the kid announced a Lena Horne record as by Lena Hor-NAY. Got to hand it to the announcer; he knew how to follow instructions!]

By mid-March 1963, Bubber was playing at the piano bar at the Silhouette in Brooklyn. He was backed up, said the blurb in the March 15 Brooklyn Daily Eagle, "by a complete Broadway Revue".


In late July 1965, Bubber was at Trinchi's in Yonkers, New York; he was still there in October.



In 1966, King released the final Bubber Johnson LP: Mr. Johnson: 24 Great Songs - Bubber Johnson.

The March 14, 1969 Coney Island Times had this: "This reporter's favorite performer at the 87, Bubber Johnson, will open a 3-week engagement in Penthouse 'C' March 18th." Was "87" a misprint of "88", or was there a club called the "87"? Beats me.


September 1969 found him at Andirons Continental Steak House in Plainview, New York (in Long Island). He was still there in July 1970.


Four years go by before Bubber is heard from again. On June 4, 1974, he started at Feathers In The Park, on the World's Fair grounds in Flushing Meadow Park, Queens. The original three-week gig was extended through Labor Day (September 2).


The last time Bubber's name is mentioned as a performer is in July 1977, when he was playing Jim's Steak House in Jamaica, Queens. The photo in the ad was over 20 years old at the time.

Robert Edward "Bubber" Johnson passed away on May 15, 1987. There was an obituary in the May 23 New York Daily News:


Musician, composer and band leader Robert (Bubber) Johnson, 65, of St. Albans [Queens], ... died Wednesday after a long illness.

Johnson was a native of Winston-Salem, N.C., who was considered a prodigy when he began playing the piano publicly at the age of 6. He was graduated from Winston-Salem State Teachers College and began writing jazz and ballads, many of which were recorded by Billy Eckstine, Eydie Gorme, Johnny Mathis and Arthur Prysock.

He also led his own band in places such as the Waldorf-Astoria, the Versailles and in several nightclubs in Paris. He was featured in "The Red Ball Express" in 1952 with Sidney Poitier.

His survivors include sons, Daryll, Kevin and Kenneth and 15 grandchildren.


Note that his three sons were mentioned, but not wife Ruby. Again, I don't know anything about her. Nor can I account for much of what was mentioned. His being a child piano prodigy was never mentioned anywhere before. Neither were the Waldorf-Astoria, the Versailles, or any performances outside the country. To be fair, nothing personal was ever written about him over his long career, other than that he came from Winston-Salem.

Not much of a summation here. I certainly like Bubber Johnson's voice, otherwise I wouldn't have written this article. However, I feel that King destroyed any potential he might have had. I'm sure I would have enjoyed listening to him at a piano bar far more than listing to his King records.


Special thanks to Noal Cohen and Victor Pearlin.



MERCURY
8254 Bumble Bee / Time Was - 11/51
Above as Bubber Johnson Trio
8285 Forget If You Can / I've Got An Invitation To A Dance - 6/52
Above as Bubber Johnson (with the Dreamers on "Forget If You Can")

UNRELEASED MERCURY
Four Rum Bottles (Bubber Johnson Trio; 1951)
You're Driving Me Crazy (Bubber Johnson Trio; 1951)
Magic Is The Night (Bubber Johnson Trio; 1951)
A Million Times Ago (Bubber Johnson; 1952)
You're Driving Me Crazy (Bubber Johnson; 1952)

KING (Bubber Johnson)
4793 Ding Dang Doo / Drop Me A Line - 4/55 (both with the Admirals)
4803 Goody Good Love (with Lucky Millinder Ork & the Admirals) / [I'm Here Love - Lucky Millinder (voc by Cathy Ryan)] - 5/55
4822 Come Home / There'll Be No One - 8/55 (both with the Hurricanes)
4855 Let's Make Every Day A Christmas Day / It's Christmas Time - 11/55
4872 Keep A Light In The Window For Me / A Wonderful Thing Happens - 1/56
also issued on Parlophone 4161 in the UK
4924 I Lost Track Of Everything / My One Desire - 4/56
4939 Have A Little Faith In Me / My Lonely Heart - 6/56 (both with the Hurricanes)
"Faith" also issued on Parlophone 4259 in the UK
4988 Confidential / Let's Take A Walk - 10/56
"Confidential" also issued on Parlophone 4259 in the UK
4855 Let's Make Every Day A Christmas Day / It's Christmas Time - 11/56 (reissue)
5014 Butterfly / Too Many Hearts - 1/57
5034 Little Girl Don't Cry / The Search - 3/57
5068 A Crazy Afternoon / So Much Tonight - 7/57 ("Afternoon" with the Admirals)
5089 The Whisperers / Muddy Water - 11/57
5117 Dedicated To The One I Love / Prince Of Players - 2/58
5132 I'm Confessin' / Finger Tips - 4/58
5143 I Surrender Dear / Everybody's With You When You're Winning - 7/58
also issued on DELTA 3045 in Canada - 8/58
5148 I Can't See Why / As Long As I Live - 8/58
5174 Time Was / One Good Reason - 1/59
5193 Until Sunrise / House of Love - 3/59
5232 I Do (Love You) / Come Home - 7/59 ("Come Home" is a reissue)
5267 Tell Me Who / I Know My Baby - 10/59
5298 Atlanta / Those Who Dream - 12/59

UNRELEASED KING
I Lost Track Of Everything (1955; first version, with the Admirals)
Welcome Home (1958; on LP 960)
To Never Return (1959)

KING LPs
569 Come Home - Bubber Johnson - ca. 5/58
Come Home
The Search
There'll Be No One
I Lost Track Of Everything
Have A Little Faith In Me
Too Many Hearts
The Whisperers
My Lonely Heart
A Crazy Afternoon
Keep A Light In The Window For Me
My One Desire
Muddy Water

624 Sweet Love Songs - Bubber Johnson - 7/59
I Surrender Dear
Drop Me a Line
Butterfly
Dedicated To the One I Love
Confidential
As Long As I Live
I'm Confessin'
Time Was
Finger Tips
Wonderful Thing Happens
Little Girl Don't Cry
One Good Reason

960 Mr. Johnson: 24 Great Songs - Bubber Johnson - 66
Atlanta
I Know My Baby
Tell Me Who
Come Home
I Do (Love You)
Welcome Home
As Long As I Live
Finger Tips
Dedicated To The One I Love
Muddy Water
So Much Tonight
One Good Reason
Too Many Hearts
The Search
Butterfly
Little Girl, Don't Cry
A Wonderful Thing Happens
My One Desire
I Lost Track Of Everything
Keep A Light In The Window For Me
My Lonely Heart
There'll Be No One
Have A Little Faith In Me
Drop Me A Line

PRESIDENT (France)
PRC64 (EP) - Confidential - 58
Confidential
My One Desire
My Lonely Heart
Little Girl Don't Cry

PRC167 (EP) - Come Home - 59
Come Home
The Search
The Whisperers
I Lost Track Of Everything





Unca Marvy's Home Page
More Articles