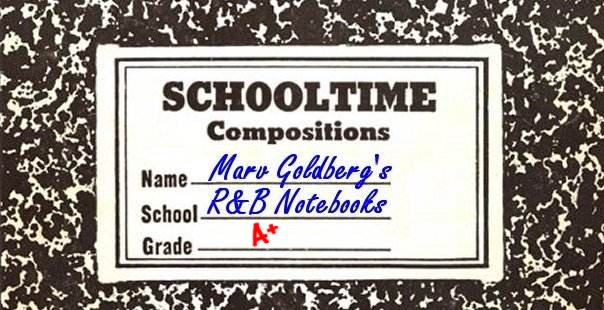 The Clovers - Part 1

By Marv Goldberg

based on interviews with Harold Lucas, Harold Winley,
Matthew McQuater, Billy Mitchell,
Johnny Mason, and John Bowie


(Note: the original of this article appeared in
Discoveries #113 - 10/97)

© 1999, 2009 by Marv Goldberg


[The first article I ever wrote (in August 1964) was on the Clovers. To call it bad is being charitable, but you can read it here.]


One of the most enduringly popular R&B groups has been the "Mighty Clovers" (as they were tagged by Dr. Jive). Extremely successful in the early- and mid-50s, the Clovers placed 21 tunes on the R&B charts, 19 of them in the top 10. Not only were they favorites of record buyers, but also of their peers. In addition, the Clovers were also one of the most popular live acts during the early to mid 50s. They continually played the theater circuits, and were in demand to appear in the package shows which toured the country.

In fact, the Clovers were the most popular group between 1951 and 1955. One measure of popularity is how long a record remains on the charts. (This really should be computed by assigning points for how long a record stays at which position on the charts, but the following is a reasonable approximation.) The Dominoes, who started at almost the exact same time as the Clovers, managed to place 11 tunes on the R&B charts from 1951 to 1955; the combined time on the charts was 103 weeks (including 30 weeks for "Sixty Minute Man"). The Drifters had 10 songs, for a total of 107 weeks. (However, since the Drifters weren't formed until May 1953, let's bend the rules a bit and compute totals for the first 5 years of their existence. Using that method, there were 15 charted songs, for a grand total of 124 weeks; this includes 23 weeks for "Honey Love.") The only other group that had any similar impact during this period was the Midnighters. However, in their first 5 years, they placed only 7 songs on the charts for a total of 69 weeks (although "Work With Me Annie" was there for 26 of them). Even the Orioles, who were no longer a force to be reckoned with by this time, had had only 62 weeks of chart hits in their first 5 years. The Ravens had had a dismal 34. And what about the Clovers? In the first 5 years of their existence, they had 17 R&B hits, for a total of 191 weeks on the charts. It's true that "Sixty Minute Man," "Honey Love," and "Work With Me Annie" were bigger hits than any Clovers tune, but "Don't You Know I Love You," "Fool, Fool, Fool," and "Lovey Dovey," were each on the charts for over 20 weeks. You can add to this the fact that 5 of their records during this period were double-sided hits, with 3 of them in a row! Actually, as far as vocal groups go, the Clovers, Dominoes, Drifters, and Midnighters pretty much had the charts tied up during this period.

The Clovers were originally a trio, which was formed about 1946 in Washington, D.C.'s Armstrong High School. Tenor/Baritone Harold "Hal" Lucas was both the lead and the originator of the name "Clovers," feeling it would be lucky for them; the others were tenor Billy Shelton and bass Thomas Woods. After a while, tenor John "Buddy" Bailey, another Armstrong High student, was added, and the group became known as the "4 Clovers." As time went on, Buddy took over the lead, with Harold switching down to baritone. According to Lucas, their influences were the Charioteers, the Ravens, the Cap-Tans, the Syncopators, and the Orioles.

Sometime around 1948, neighborhood friend Matthew McQuater was returning home from football practice at Howard University, when he spotted the Clovers practicing on the street. Hearing something wrong with their harmony (his "ear" had been formed by singing in church), he stopped to offer some advice. He was invited to some rehearsals, and soon Billy Shelton was out and Matthew was in.

The guys did the rounds of amateur shows, and it was at one of these that they met bass Harold Winley. Sometime in 1948, Winley (whose influences ranged from the Delta Rhythm Boys' Lee Gaines and the Ravens' Jimmy Ricks to gospel bass Jimmy Jones) was listening to DJ Jackson Lowe's amateur show on WWDC, when he heard the 4 Clovers win with their version of "Yes Sir, That's My Baby." Winley was impressed with their sound, and the next week found him appearing on the show too (singing his baritone arrangement of "That Lucky Old Sun"). After the show, which Harold won, he and the 4 Clovers started singing in the bathroom and they found (while harmonizing on the Ravens' arrangement of "Old Man River") that he had a very deep bass voice. Soon, Thomas Woods found himself out of the 4 Clovers (Winley simply showed up to their practice sessions and kept right on singing). According to Lucas, their music wasn't aimed at anyone in particular; but they did sing around schools, just to meet girls.

At the beginning, they sang mainly Pop songs, primarily at area clubs. One place they worked a lot was Washington's Old Rose Social Club (an old bootleg joint dating back to the 20s, frequented by performers from the Howard Theater). The Clovers sang there for nothing and even became the custodians simply to have a place to sing and rehearse!


In the fall of 1950, the Clovers were finally "discovered." They knew "Waxie Maxie" Silverman, owner of a record store called Quality Music (right down the block from the Old Rose Social Club) and Maxie played cards with a "sportsman" (the term at the time for a gambler) named Earl Thomas in the back of his store. While Maxie was actually a silent partner with Ahmet Ertegun and Herb Abramson in Atlantic Records (according to Atlantic maven Pete Grendysa), he knew that vocal groups weren't the thing for Atlantic at the time. Instead, Earl Thomas introduced them to Lou Krefetz, a salesman for Gimbel Brothers Record Distributors in Baltimore, who agreed to be their manager.

Krefetz started his long association with the Clovers by getting them a recording session with Eddie Heller's Rainbow Records in New York. They journeyed up to the Big Apple, where Heller had a small studio in lower Manhattan. It was there that they recorded two songs ("Yes Sir, That's My Baby" and "When You Come Back To Me"), with Buddy Bailey displaying a beautiful, never-repeated high-tenor-lead ballad style. The counterpoint of Harold Winley's bass on these make it, in my opinion, one of the best two-sided records of the 50s. Jerome Carrington, pianist at the Old Rose, coached them on these songs; as yet they had no accompanist. Heller released the record in November 1950, but Rainbow never seems to have promoted it, or even sent it out for review (although they did submit the titles to Billboard's Advance Record Releases, where it appeared on November 25).

"Yes Sir, That's My Baby" had been written in 1925 by Gus Kahn and Walter Donaldson, expressly for Eddie Cantor. "When You Come Back To Me," given to them by Krefetz, was subsequently done by Savannah Churchill and the Striders (in January 1951), Steve Gibson and the Red Caps (in July 1951), and the Mills Brothers (in June 1952). As far as I can tell, the Clovers made the first recording of this tune. Note that Buddy Bailey made a mistake on the second bridge. The line should be: "How lonely I have been/How much I cried you'll never know." Instead, he sings: "How lonely I have cried/How much I cried you'll never know." The fluff was either never caught or Rainbow decided not to do any more takes.

When it was released, "Yes Sir, That's My Baby" faced competition from the Orioles' "Can't Seem To Laugh Anymore," the Blenders' "I'm So Crazy For Love," the Ravens' "I'm So Crazy For Love," the Shadows' "Jitterbug Special," the Drifters' "And I Shook," the 4 Barons' "Lemon Squeezer," and the Cap-Tans' "Chief Turn The Hose On Me."


While Buddy Bailey could play the guitar somewhat, it proved too much for him to learn all the tunes in their repertoire. One night, in late 1950, they went to a jazz club and saw Bill Harris perform. Harris, a native of Nashville, North Carolina, played classical, jazz, and blues guitar, and had travelled around the country with Irvin C. Miller's Brownskin Models. Said Winley, "We went to his house and sang every song we knew; he was completely unimpressed." They finally interested him in their arrangement of "That Old Black Magic," and he agreed to join them.


Ahmet Ertegun, one of the owners of burgeoning Atlantic Records (along with Herb Abramson and "Waxie Maxie" Silverman), was always on the lookout for talent, and Krefetz invited him down to Washington to see the group perform. This happened at exactly the right time. While Ahmet had had little interest in vocal groups before, a new phenomenon, Federal Records' Dominoes (with tenor sensation Clyde McPhatter and booming bass Bill Brown), were tearing up the charts with "Do Something For Me" and "Chicken Blues"; Ahmet wanted to compete. (As the 50s progressed, Atlantic would rise to the top of the heap of independent R&B labels; its only serious competition came from the complex of King/Federal/DeLuxe Records).

Ahmet listened to the Clovers singing "Pennies From Heaven," "How High The Moon," and "What Is Thing Called Love" and, like Bill Harris before him, wasn't particularly impressed. Of course, he was trying to sell records, and he had a pretty good grasp of what his audience wanted. The Clovers' style wasn't it!

He was, however, interested in the group, and he gave them a song he had written on the plane from New York: "Don't You Know I Love You." Ahmet sang it for them himself, evoking peals of laughter from the group (at which Krefetz panicked). Finally, however, a deal was worked out, and it was announced, in early February 1951, that the Clovers had been signed to Atlantic. The same announcement said that they had been picked up by Billy Shaw's Shaw Artists Corporation, which would handle their bookings. (Probably during the same trip, Ahmet signed the Mellotones and the Oakeneers. The Mellotones soon changed their name to the Cardinals, becoming another of Atlantic's finest groups. No one knows who the Oakeneers were, but they never recorded for Atlantic under that name.)


Shaw first booked the Clovers' into the Apollo Theater the week beginning February 15, 1951. (Note that they'd only had the Rainbow release at this point.) They came to their first rehearsal with no arrangements (only Bill Harris had any notion of their music). Apollo owner Frank Schiffman, after hearing them rehearse, didn't like their material any more than Ahmet Ertegun or Bill Harris had (a definite trend here). Schiffman had them come to his office and go through their entire repertoire. (He even looked at Harold Lucas and said, "You're a nice-looking fellow; smile!")

They didn't even know how to walk out on a stage that big! The night before their first appearance, after the Dominoes (the prior week's guest act) had done their last performance, Schiffman had them come out onto the stage for practice. Then, during the week, "Porto Rico," the crazed stagehand (who, wearing a dress, would chase amateurs around the stage shooting off a starter's pistol), said "Who told you you could sing?" Even comedian Pigmeat Markham got on their case: "You tell Schiffman to get you some damned clothes!" Their uniforms were blue serge suits with gingham ties (featuring a big "C" stitched on them) and blue suede shoes. They also had no stage routines to go with their songs. Says Harold Winley, "We stood flatfooted and sang.... We had no presence." While other groups (like the Mills Brothers and Delta Rhythm Boys) had presence, only Leonard Puzey, of the Ravens, threw in some dance steps; Sonny Til and George Nelson, first and second leads of the Orioles, had a little step when they switched places at the lead mike.

At the beginning of the week, Schiffman was yelling at Irving Seidel (representative of the Shaw Agency) for sending him an act with so little to recommend it. But, "By the end of the week, we had a little fan club; eight to ten girls from Brooklyn," remembers Winley. Although they began to find favor with the audiences, Schiffman assured them that they'd never work there again. Boy, would he be proven wrong!

The songs they sang that week were "Yes Sir, That's My Baby," "When You Come Back To Me," "Mona Lisa," and "That Old Black Magic." For their first week of glory, they received $100 each. The other acts on the show that week were Buddy Rich, Slim Gaillard (formerly of Slim & Slam), Edna May Harris, and Pigmeat Markham.

Another early Shaw booking that Harold Winley remembers was in Greenville, North Carolina. They substituted for Charles Brown in a tobacco warehouse, performing on two flatbed trucks!

Their first Atlantic session took place on February 22, 1951, at the Apex Recording Studios in New York. With Buddy Bailey in the lead, and the Frank "Floorshow" Culley band behind them (along with Bill Harris, who always played on their sessions), they recorded only two sides: the bouncy "Don't You Know I Love You" and the ballad "Skylark." The first of these was credited to Ahmet Ertegun under his reverse pen name "Nugetre"; the other tune was a 1942 opus by Hoagy Carmichael and Johnny Mercer, which had been popularized by Ray Eberle, along with the Glenn Miller Orchestra. In an R&B vein, it had been done previously by Billy Eckstine, singing with the Earl Hines Orchestra. "Skylark," which was given to them by Atlantic (although the Clovers were familiar with the song), was basically done as a Pop tune; this is the way the Clovers wanted to sound. Once the flip took off, however, it would be a long time before the Clovers would get back to their favorite way of singing. Most of the Clovers' up-tempo tunes would be only medium-fast, rather than driving, and with minimal instrumentation. For several years this was kind of a Clovers trademark.

(Just as an aside, R&B vocal group singing might have been a wasteland if groups could have chosen their own material and style. So many groups wanted to sing Pop or modern harmony; they simply weren't allowed to by the record companies.)

Then it was on to the Howard Theater in Washington, where, after they'd sung "Yes Sir, That's My Baby" and "When You Come Back To Me," bandleader Lucky Millinder told the audience to go out and buy the record. This was probably more publicity than Eddie Heller had given the songs! (According to Harold Winley, after they'd had a couple of hits on Atlantic, Millinder approached Ahmet Ertegun and asked him why he'd ruined their sound!)


Atlantic released "Don't You Know I Love You" and "Skylark" in March 1951. The Clovers were playing the Royal Theater in Baltimore, and Lou Krefetz came by with a copy. When they heard it, they immediately phoned Ahmet and begged him to recall all the copies. They were under the impression that a different take was going to be issued, and they hated the released version. It was the second Clovers record in a row that wasn't sent out for review, but its competition was the 4 Buddies' "I Will Wait," the Orioles' "I Miss You So," Charles Brown's "Black Night," the Ravens' "Midnight Blues" and "Lilacs In The Rain," Little Esther & the Dominoes' "The Deacon Moves In," and Jackie Brenston's "Rocket 88."


By the week of May 19, 1951, "Don't You Know I Love You" was a Territorial Tip in Los Angeles. This was the same week that some of their stablemates at Atlantic got reviewed: the Cardinals' "Shouldn't I Know," Joe Turner's "Chains Of Love," Joe Morris' "Midnight Grinder," and Stick McGhee's "One Monkey Don't Stop The Show."

By June, "Don't You Know I Love You" had entered the national charts, where it stayed for five months, rising to the #1 slot (after a leisurely 15 weeks). The disk sold around 250,000 copies, a lot of wax for an R&B song in 1951, when most activity was on juke boxes (don't believe the tall tales about "million sellers" back then). On June 17, the Clovers journeyed to Cleveland to open at the famed Gleason's Musical Bar.


Now, Frank Schiffman called up Shaw Artists pleading to get them back to the Apollo. Suddenly, his story was, "I gave them their chance." Fortunately, everything was smoothed over and the Clovers would appear many times at the Apollo.

On July 12, 1951 they held their second recording session; this time, at the WHOM Studios. They did "Needless" and "Fool, Fool, Fool," two more tunes led by Buddy Bailey. "Needless" was credited to Lou Krefetz, Bill Harris, and Matthew McQuater, while "Fool, Fool, Fool" was another Ahmet Ertegun opus. Additionally, two other songs were recorded that day: "Better Be On My Way" and "All Night Boogie." The latter has recently surfaced on the second Rhino Atlantic collection, and is of decidedly poor quality. Neither the vocals nor the instrumental backing is polished; this may have been done as more of a test recording than anything, since "Needless" and "Fool, Fool, Fool" were up to the usual Atlantic professional standards. (After listening to "All Night Boogie," Harold Winley still didn't remember it.) It's probable that "Better Be On My Way" was of the same low quality, since it was never released either.

While people were always offering them songs, Atlantic's Ahmet Ertegun and Herb Abramson kept a tight rein on what was recorded (at least in the beginning). This resulted in a certain "Clovers' Sound," which provided an identity for the group.


In July 1951, the Clovers did a Midwest tour along with Memphis Slim. In August, "Needless" and "Fool, Fool, Fool" were released. Once again, the magic worked, with "Fool, Fool, Fool" hitting the charts in September. Selling about 500,000 copies, it too, charted for five months, and was also a #1 R&B hit. In mid-1952, Kay Starr, backed by the Lancers, had a decent-sized Pop hit with the tune (although for some reason she left out the line that went "When you walked down the street/I said 'there goes my meat'"; in fact, most of the lyrics were re-written for her). Though it's often cited as one of the times when the white "cover" outsold the black original, Kay Starr's version wasn't a cover at all, being released nearly a year later. "Needless" is a beautiful ballad which failed to chart, but should have.


In September, it was reported that the Clovers were doing so well that Lou Krefetz had resigned his position as salesman for Gimbel Brothers Record Distributors, in order to concentrate on their career.

At this point, the recording industry was feeling the first "explosion" of R&B vocal groups. Where once there was only a modest number of groups, now, in addition to the Ravens and Orioles, there were the Clovers, Dominoes, 5 Keys, 4 Buddies, and Swallows, all with recent chart hits. It wouldn't stop here!


"Fool, Fool, Fool" and "Needless" were reviewed the week of September 15, 1951, both receiving excellent reviews. The only other R&B group record reviewed that week was the Hollywood Four Flames' version of "The Glory Of Love." By September 29, "Fool, Fool, Fool" was a Territorial Tip in Dallas.

A trade paper item, dated September 24, 1951, proclaimed:
Lou Krefetz has signed Charlie White, lead [sic] of the Dominoes, to a personal management contract. White will join the Clovers and will also record as a single for Atlantic.
This would happen, as we'll see, but the notice was a bit premature. First, Charlie would become a member of the Checkers, who would soon start recording for King Records.


On October 4, the Clovers and Slim Gaillard (author, with Slam Stewart, of "The Flat Foot Floogie (With The Floy-Floy)") began a week at Philadelphia's Earle Theater. Then, it was into the Apollo, the week of October 19, along with the Griffin Brothers, Sy Oliver, and Janet Sayre. Not only were they back at the Apollo (in spite of their less-than-stellar debut there only eight months before), but they were now headlining the show. The blurb that was released by the Apollo said, "The Clovers are a young, personable, energetic and talented group of boys. Their stage manner is eager, their harmony smooth, their renditions exciting, their personalities sparkling." At least Schiffman knew how to admit he was wrong.

The Clovers had an Atlantic session on October 26, 1951, from which nothing was ever issued. They recorded "Blue Moon," as well as the original takes of "Middle Of The Night" and "Comin' On."

November 1951 saw Atlantic moving once again. Here was a company that kept outgrowing its offices! This time they headed two blocks north of their 54th Street office to 234 West 56th Street. Also in November, "Fool, Fool, Fool" was taking the country by storm. It was #9 in Chicago, #8 in Los Angeles, #6 in Harlem, #5 in Dallas, and #4 in New Orleans. On November 17, the Clovers were featured on the cover of Cash Box, having been photographed in front of the Apollo during their October appearance.

December 19 found the Clovers in the Atlantic Recording Studios, re-recording "Middle Of The Night" and "Comin' On." The third tune this time wasn't "Blue Moon," but a song that was soon to become a standard in its own right: "One Mint Julep." "Middle Of The Night" and "Comin' On" were penned by Ahmet Ertegun, while "One Mint Julep" was by veteran R&B tunesmith Rudolph Toombs. From now until April of 1954, all of the Clovers' recordings would be done at the Atlantic Studios. (Actually, calling them "studios" is being kind. Considering that Atlantic used their offices, with desks pushed out of the way and piled on top of each other, they got an amazingly professional sound out of their acts.)

And then their first year was over. Atlantic had only issued two Clovers records in 1951, and they both shot straight to #1 hits. How could a new group ask for better than that?


In January 1952, Atlantic announced that Lou Krefetz had been made a National Sales Representative. (At the same time, Jack Walker was named Publicity and Promotion Director; in another year, Walker would also become a DJ on WOV.)


In March 1952, Atlantic released "One Mint Julep" and "Middle Of The Night." Could lightening strike thrice? It sure could! While neither side reached #1, both sides charted, with "One Mint Julep" reaching #2 and "Middle Of The Night" right behind it at #3. To me, one of the great "hooks" in Clovers' recordings is the tinkly piano of Harry Van Walls, heard to perfection on "One Mint Julep." Of course, it didn't hurt to have Harold Winley lament, "I got six extra children from gettin' frisky." This was one of the Clovers' cautionary drinking songs. Would any listener really believe that just one mint julep was the cause of it all? I think not! The Rudolph Toombs tune was a sensation then, and has since become a classic. (If you only know the instrumental version by Ray Charles, you don't know the song at all!)

"Middle Of The Night" was one of the light sexual songs around at the time. This one was helped by having a driving, pounding beat (unusual in what was a very slow up-tempo tune).


The record was reviewed the week of March 15, 1952, along with Ruth Brown's "5-10-15 Hours," Joe Turner's "Sweet Sixteen," the Dominoes' "That's What You're Doing To Me," the Larks' "Stolen Love," Tab Smith's "Moon Dream," and the Heartbreakers' "You're So Necessary To Me." (Both "One Mint Julep" and "5-10-15 Hours" would be big chart hits for writer Rudy Toombs.) "One Mint Julep" would go on to be covered by Buddy Morrow and Louis Prima.


The next session was held on March 18, 1952. This time they recorded "Wonder Where My Baby's Gone" (by Lou Krefetz and Bill Harris), "I Played The Fool" (credited to Diane Alexis, the daughter of Lee Magid, who had actually written the song), "Ting-A-Ling" (also by Ahmet), and "Pretty Woman." All were led by Buddy Bailey. The session was timed to take advantage of them being in town for another Apollo Theater engagement that began on March 28. Others on the bill were Eddie Heywood, James Moody, Tina Dixon, and Danny Alexander.


The Clovers rarely worked on arrangements on their own. When they were in town for a while, Ahmet would bring them into the studio, hand them a few songs, and let them spend several days rehearsing with brilliant arranger Jesse Stone. (Stone, one of the true unsung heroes of R&B, wrote "Shake, Rattle, And Roll," under the pseudonym "Charles Calhoun.")

The week of April 5 found "Middle Of The Night" as a territorial Tip in New Orleans. Two weeks later, "One Mint Julep" was a Tip in Atlanta. The April results of the Pittsburgh Courier's yearly talent poll had the Clovers placing third, right behind the Dominoes and the 5 Keys, but ahead of the Ravens and the Ink Spots.

In May, the Clovers went on a southern tour, along with the Billy Ford Orchestra and Mr. Google Eyes (Joe August).

In June 1952, Atlantic issued "Ting-A-Ling," backed with "Wonder Where My Baby's Gone." "Ting-A-Ling" was destined to become the Clovers' third (and last) national #1 R&B hit. "Wonder Where My Baby's Gone" wasn't far behind it, peaking at #7.

"Wonder Where My Baby's Gone" is another slow bouncer, with sax work that makes you feel that the girl hopped a freight train out of town (it was probably heavily influenced by "Night Train," which was a current hit at the time). "Ting-A-Ling" picks up the tempo a bit, and its lyrics "I'm just a poor young boy and these girls are bound to drive me wild" must have played havoc with lots of emerging libidos. It also has a great sax break.

The record was reviewed the week of July 5, 1952, with excellent ratings for both sides. Other reviews that week were Tiny Bradshaw's "Lay It On The Line," the Ravens' "Mam'selle," Piano Red's "Sales Tax Boogie," and Big Boy Crudup's "Worried 'Bout You Baby." The week of July 19 found "Ting-A-Ling" a Tip in Philadelphia.

In July, the Clovers and Roscoe Gordon began a 27-day tour of Texas, promoted by Brisk Enterprises, a newly-formed promotional agency, which was headed up by Lester Sill and Ralph Bass.


On August 9, the Clovers were booked on a Saturday night riverboat cruise up the Potomac River on the S.S. Bear Mountain. Promoted by Irving Feld, the gig also starred Charles Brown and Lester Young. They then headed back to New York, where, on August 7, 1952 they recorded four more songs: "One More Kiss," "Crawlin'" (by Rudolph Toombs), "Yes, It's You" (by Ahmet), and "Hey Miss Fannie" (also by Ahmet). All leads were, once again by Buddy.


Unfortunately, Buddy Bailey had received his draft notice, and right after this session he left to serve in the army. Initially, his place was taken by soloist and guitarist John Phillip, who was from West Virginia. When the Clovers found out that Buddy had been drafted, they immediately began looking for a replacement. They met John Phillip when they played a dance in West Virginia, and again the next day at their hotel, where they heard him sing and play. The guys were interested and brought him to the attention of Lou Krefetz, who had the final say; Phillip was hired.

On August 10, the Clovers and Bullmoose Jackson began a week at Weeke's (that's Weeke's Cafe in Atlantic City). Later that month, they played Akron Ohio's Summit Beach Ballroom in a show hosted by Alan Freed, and co-starring Charles Brown. As usual, with a Freed show, at least a thousand people had to be turned away due to the demand.

On September 1, 1952, the Clovers began another tour with Roscoe Gordon, this time starting on the West Coast. September 30 found both acts playing Joe Morris' Club Alabam in Los Angeles. When the tour ended, the Clovers played one-nighters back across the country.


In October 1952, "Hey Miss Fannie" and "I Played The Fool" were released. This became another double-sided triumph for the guys, with "Hey Miss Fannie" going up to #2, and "I Played The Fool" (the first straight ballad to chart for the Clovers) right behind it at #3. The record was reviewed the week of October 18, along with Ruth Brown's "Three Letters," the Dominoes' "I'd Be Satisfied," Tab Smith's "You Belong To Me," Ray Charles' "Roll With My Baby," Earl Bostic's "Smoke Gets In Your Eyes," and Shirley & Lee's "I'm Gone." "Hey Miss Fannie" became a Tip in Atlanta, the week of October 25.

"You've become my heart's disease" and "I don't care what your mama says/Let's have a good time anyways" were lyrics that helped make "Hey Miss Fannie" a tremendous hit. "I Played The Fool" has second tenor Matthew McQuater adding an echo effect to Buddy's lead, and "I'll drink a toast to a memory/I'll chase it down with tears" are outstanding lyrics.

The week of November 1 found "I Played The Fool" a Tip in Newark. Other Tips that week were "You Know I Know" (the 5 Royales, in New York) and "I'd Be Satisfied" (the Dominoes, in Philadelphia). November 22 saw the tune as a Tip in New York, while the Dominoes' "I'm Lonely" was a Tip in San Francisco.


On December 14, the Clovers performed at the W.C. Handy Theater in Memphis. Also in December, it was announced that Lou Krefetz had been promoted to Atlantic's National Sales Manager. Sometime in late 1952 (or possibly early 1953), Atlantic released the first of three EPs featuring the Clovers. Since EPs are difficult to date, they'll only be listed in the discography, not in the text.


On January 15, 1953, the Clovers and Fats Domino began a two-week series of one-nighters. It started out in Roanoke, Virginia, and ended up at Virginia Beach on February 1. Then it was on to a week at Philadelphia's Earle Theater on the 5th, and another week at Washington's Howard on the 13th. This was followed by another series of one-nighters throughout the Carolinas, Georgia, Alabama, and Virginia. Also in January, Herb Abramson, Ahmet Ertegun's partner in Atlantic Records, was drafted. He had been schooled as a dentist, and the Korean War created a need for medical men in uniform. This would ultimately prove to be detrimental to the Clovers, but that was still in the future.

Atlantic next issued "Yes, It's You" and "Crawlin'" in February 1953. "Crawlin'" was a wildly funny song that had "hit" written all over it (it peaked at #3). It tells the story of a poor lad, who (innocently?) "stopped to have a little drink with the lady down the street." By the time "her husband broke in and threw me out in the street," he's so sloshed with the "sneaky pete" concoctions that he's mixed, that he "was crawlin', instead of ballin'." Another Clovers' cautionary tale! "Yes, It's You" was another of the Clovers' great overlooked ballads, with wonderful Van Walls tinkly piano work.

The record got excellent ratings the week of February 28, when it was reviewed along with Sonny Til's "Lonely Wine," the Crickets' "You're Mine," Edna McGriff's "Why, Oh Why," and Hadda Brooks' "When I Leave The World Behind." Also in February, Bill Darnell and Cathy Ryan (with Art Mooney's Orchestra) released Pop cover versions of "I Played The Fool."


Sometime around the beginning of the year, John Phillip left the group (he was still mentioned in a February 1953 Clovers ad - but so was Buddy Bailey). He had been with the Clovers for less than six months, and had never recorded with them. Says Winley, "He was never really into the group.... People in DC didn't accept him at all. He just didn't fit in." This time, Lou Krefetz brought in Charlie White (remember when he'd almost joined back in September 1951?). Charlie, a second tenor who was under personal contract to Krefetz, had been one of the original Dominoes (along with Clyde McPhatter, Bill Brown, and Joe Lamont), and had recently been in the Checkers along with Bill Brown.

The next Clovers session was on March 4, 1953. There were only two songs recorded, both led by Charlie White: "Good Lovin'" (by Danny "Run Joe" Taylor, Leroy Kirkland, and "Jesmet"), and "I Confess" (by Ahmet).

On March 13, they started a tour with the Choker Campbell Orchestra, hitting Florida, and other points south, before heading out to Texas and California.

A blurb in the trades in early March lauded the Clovers for placing their sixth straight record on the R&B charts, with three of the records being double-sided smashes. By the time they had their first chart "miss," their string had grown to the first twelve releases, with five of them being double-sided hits.

According to the Atlantic files, on April 8, 1953, they were back in the studio, recording "Here Goes A Fool" (by Gladys DeJesus), "The Feeling Is So Good" (by Charlie Singleton and Ahmet), and "I Confess" (the second, unreleased version). This is a mystery session: the problem is that at least the first two tunes were led by Buddy Bailey, who was still in the army. According to Harold Winley, however, Buddy never did any Clovers sessions while on leave. However, there was a blurb in the trades indicating that the group was in New York at this time for a session, so it can't be a mix-up in the Atlantic files. According to this notice, while the Clovers were in New York to record, Atlantic presented them with a gold record for having had accumulated sales of over 2,000,000 records to date. This averaged out to over 330,000 copies of each of their first 6 records, a staggering feat for the time. According to Winley, they not only regularly got royalties from Atlantic, but are still getting them.

In 1953's Pittsburgh Courier Theatrical Poll, the Clovers beat out those upstart Dominoes, but still had to settle for second place, behind the Ravens.

In May, it was reported that Lou Krefetz was leaving his Sales Manager position with Atlantic in order to concentrate on his managerial duties with the Clovers.

June 1953 saw the release of "Here Goes A Fool," coupled with "Good Lovin'," which would chart at #2. "Good Lovin'" the first release featuring Charlie White's gritty lead has the interesting lyrics (on the 78 version): "now's the time for our midnight creep." (Note, however, that the original 45 version says "now's the time for that midnight creep.") "Here Goes A Fool" is an incredibly sad tune, about a guy who knows she's going to hurt him again, just as she always does. But "The moment that I'm close to you, I know I'll forgive you again."

On June 12, while driving from Houston, Texas to Clovis, New Mexico, the Clovers' car was hit by a truck and its rear end completely ripped up. They had just passed the tractor part of a cattle truck (which was going in the opposite direction), when it swerved off the road with the trailer part snapping around to hit their car from the rear. While Harold Winley got some glass in his eyes, the rest escaped unharmed. They returned to Houston to rest up for a few days, while Lou Krefetz, who had flown down, purchased a new car for them (a Chrysler station wagon). Some of their engagements had to be cancelled, but they soon resumed the tour in Phoenix, before heading off to California.

"Good Lovin'" and "Here Goes A Fool" were reviewed the week of July 4, 1953, both sides receiving excellent ratings. Other reviews that week included Ray Charles' "Mess Around," the Blenders' "Please Take Me Back," Willis "Gator Tail" Jackson's "Shake Dance," the 4 Bells' "Please Tell It To Me," and the Rocketeers' "Foolish One" (rated very poorly). By July 18, the new release was being touted as a sure thing in the trades.


On July 17, the Clovers joined the Gale Agency's "Biggest Rhythm And Blues Show," which also featured Joe Louis, Ruth Brown, Wynonie Harris, Leonard Reed, the tap dancing Edwards Sisters, Dusty Fletcher, Stuffy Bryant, and the Buddy Johnson Orchestra (with Ella Johnson and Nolan Lewis). It kicked off in Boston, then swung through Newark, Buffalo, Cleveland (where promotion was handled by Alan Freed), Detroit, Flint (Michigan), Cincinnati, Evansville (Indiana), and St. Louis. Six weeks and four days after it began, the show ended up in New Orleans.


On September 11, 1953, the Clovers began a week at the Apollo. They shared the stage with the Lucky Millinder Orchestra, Edna McGriff, Wingy Manone, and Stump & Stumpy. A reviewer for the New York Age saw them (as well as the Dominoes during the prior week) and came to an interesting conclusion. He'd sat in the front row and could barely make out the lyrics of the songs they sang. Their "recordings and vocal styles are so much alike that they defy identification." He went on to say that they (and many other groups) were bemoaning the fact that they were stuck in an R&B rut when they wanted to sing Pop, but "One listen at their vocal calisthenics will illustrate why."


While they were at the Apollo, they received a couple of awards. They got a scroll from Cash Box for being the Most Programmed R&B Vocal Group and a record plaque (I don't know if it was gold) for having sold 3,000,000 records. On hand for the presentation were three of the Atlantic staff: Ahmet Ertegun, Jerry Wexler (Herb Abramson's replacement), and chief recording engineer Tom Dowd. Nice, but I'd like to know how much actual money they received for bringing these honors to Atlantic.

Their next Atlantic session was on September 24, 1953, at which time they recorded three tracks led by Charlie White: "Lovey Dovey" (written by Memphis Curtis and Ahmet), "I've Got My Eyes On You" (by Charlie Singleton and Harold Winley's brother, Paul), and "Little Mama" (by the mob of Carmen Taylor, Willis Carroll, Jerry Wexler, and Ahmet Ertegun). This would be the last song written for them by Ahmet, as he started to concentrate more and more on the business end of Atlantic, leaving the production to Jerry Wexler. (Wexler had been brought on board about a year before, to replace the drafted Herb Abramson. Unfortunately, the group that he favored was the one he helped put together and would guide for the next few years, the Drifters.)

Around November 1953, Charlie White left the Clovers. According to Harold Winley "He had a problem that we couldn't tolerate. He wasn't taking care of business at home." Charlie was let go after a performance at Detroit's Graystone Ballroom.

Charlie stayed with Atlantic, however, and ended up recording for their Cat subsidiary. He would later record some sides for the Winley label (owned by Harold's brother, Paul). Charlie's voice had brought a new sound to the Clovers; a tough, down-and-dirty sound that Buddy Bailey just didn't have. It's a shame that his contributions to the group were so limited and that he couldn't have remained with them. Unfortunately, Charlie's best work (with the Dominoes, Checkers, and Clovers) was now behind him.


Charlie's replacement was tenor Billy "Long-Tall" Mitchell. Billy had been a vocalist with the Joe Morris Blues Cavalcade, and had turned out some great bluesy sides for Atlantic (see discography). Back in November, 1951, an Atlantic ad had Joe Morris saying: "I am really proud of the record my two vocalists have made in the new popular duet style. Billy Mitchell and [female vocalist] Teddy Smith do a great job on 'If I Had Known'.... The reverse side, 'Verna Lee,' shows off Billy Mitchell to his best advantage and he can really wail those blues." Also from D.C., Billy was a neighborhood friend of the Clovers ("We used to sing on street corners"). He had recently been discharged from the army (after having served in Korea), and was once again appearing with Joe Morris. The Clovers ran into him at a show in Gary, Indiana, but they didn't know that Charlie was a short-timer at that point. The Clovers went on to Cleveland and Detroit, where Charlie was let go.

When they came back to DC, Harold Winley looked up Billy Mitchell and told him there was now an opening in the Clovers; Billy was approved by both Lou Krefetz and the rest of the group. More of a soloist, Billy had to change his style to lead the Clovers: "Singing with a group was a blocking thing; I had to sing like Buddy."


In November, Atlantic released the lazy "Comin' On" (recorded back in December 1951) and the rocker "The Feeling Is So Good." While still a substantial hit, "Comin' On" (which has the memorable line: "I'm the latest edition to the Woman's Home Companion") would only rise as far as #9 on the R&B charts. It was reviewed the week of November 7, along with the Dominoes' "Rags To Riches," the Checkers' "White Cliffs Of Dover," the Ebonaires' "Baby, You're The One," and Little Esther's "Stop Cryin'." It was touted as a "Best Buy" the week of December 5, since it was doing so well in Philadelphia, Upstate New York, Cleveland, Nashville, St. Louis, Dallas, Pittsburgh, and Detroit.

It was reported in the trades that the Clovers would take a two-week vacation in December, before going off on a Texas and California tour with Fats Domino, on December 21. It couldn't have been much of a vacation, because they needed the time to thoroughly rehearse Billy Mitchell for their next recording session, held on December 15, 1953. With Billy in the lead, they recorded: the first, unreleased, version of "Only While I Dream"; the first version of "Your Cash Ain't Nothin' But Trash" (by "Charles E. Calhoun" [pseudonym of Atlantic arranger Jesse Stone]), which shows up on some albums; and the first, unreleased, version of "Down In The Alley" (also by Jesse Stone).




Unca Marvy's Home Page
The Clovers - Part 2
The Clovers - Part 3
More Articles