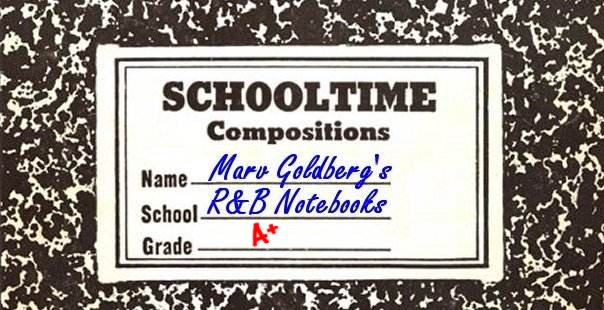 The Debonairs
By Marv Goldberg

based on an interview with Virgil Talbert


© 2011 by Marv Goldberg
The Debonairs were one of several groups that came from Altgeld Gardens, a housing project on Chicago's South Side (others were the 4 Gents and the Quintones, both of whom recorded for Park). While there was plenty of talent, none of these groups made it big.

First tenor Virgil "Nip" Talbert remembers that the group was already in existence (as the "Kinglets") when some of them heard him sing in the George Washington Carver High School choir and asked him to join. Virgil says that they were all about 15 or 16 at the time and, since he's 69 at the time of this interview (December 2010), that means that he joined them sometime in 1956.

According to Virgil, there were five others in the group at the time: Ralph Johnson (lead), Richard "Ricky" James (second tenor), Earl "Poochie" Vanorsby (baritone), William "Sonny Boy" Nelson (baritone and tenor), and Edward Johnson (bass; no relation to Ralph Johnson). Now, they were a sextet, but Ricky was more of a fill-in member and wasn't on their Ping recordings.

Possibly because of their new member, the Kinglets decided on a name change. Since they thought of themselves as young and debonair, what better than the "Debonairs"? (They, themselves, never spelled it "De'Bonairs"; that was the record company.)

"We sang anything," remembers Virgil. They especially liked the Hi-Los and the 4 Freshmen with their modern harmony arrangements, but they would also practice songs by the Flamingos, Moonglows, and Spaniels.

They, along with the 4 Gents, rehearsed at the "Children's Building" in a nearby park. There, they'd "battle" the 4 Gents, as well as any other groups that showed up.


One day, DJ Herb Kent ("The Kool Gent") heard them. He thought about managing them, but instead introduced them to Larry "Legree" Cox, who took over managerial duties. Was he any good? "We had the right sound, but not the right management," says Virgil. At least Cox remembered to add his name to their songwriting credits, although Ralph actually wrote most of them..


It was probably Cox, though, who got them a recording session with Frank Evans' Ping Records, which operated out of his Cottage Grove record shop. Sometime in October 1956, the Debonairs had a session at Universal Studios, backed up by the Andrew Hill Combo (Andrew Hill, piano, Malachi Favors, bass; Earl "Von" Freeman, tenor sax; Pat Patrick, baritone sax; Wilbur Campbell, drums). The four songs recorded were: "Lanky Linda," "Mother's Son," "Say A Prayer For Me," and "Cracker-Jack Daddy." All were led by Ralph Johnson, except for "Lanky Linda," which was fronted by Edward Johnson.


"Mother's Son" (which lost its apostrophe when the labels were pressed) and "Lanky Linda" were released in November 1956 and promptly went nowhere (except in the mind of Frank Evans, whose ads [which put the apostrophe back into "Mother's Son"] made you believe that the songs would be fighting each other for the #1 spot within days).


The record was reviewed the week of December 8 ("Lanky Linda" was rated "fair," while "Mother's Son" got a "poor" ranking). Over reviews that week went to the Fi-Tones' "Waiting For Your Call," the Moonglows' "Over And Over Again," the Schoolboys' "Please Say You Want Me," the Clovers' "A Lonely Fool," Nappy Brown's "Little By Little," the Flamingos' "Would I Be Crying," the Copesetics' "Believe In Me," the Jaguars' "The Way You Look Tonight," the Danderliers' "My Love," the Marquis' "Bohemian Daddy," and the Baltineers' "Moments Like This."

Virgil says: "There was hardly any response. We didn't have good management. Nothing worked out."


When it was evident that the record was headed for oblivion, Evans released "Say A Prayer For Me" and "Cracker-Jack Daddy" in December. "Say A Prayer For Me" is a pretty ballad that features a tinkling celesta, one of my favorite instruments. The trades reviewed it the week of December 29 (with "Cracker-Jack Daddy" rated "good" and "Say A Prayer For Me" ranked "fair"). Other reviews that week were for Joe Turner's "Midnight Special Train," the Orioles' "Never Leave Me Baby," the Ravens' "A Simple Prayer," the Ramblers' "The Heaven And Earth," and the Hepsters' "This-A-Way."


Probably because Herb "Kool Gent" Kent was still somewhere in the background, he got the group he managed, the Kool Gents, to record "Mother's Son" for Vee-Jay in February 1957. (It's possible that Vee-Jay was also in negotiations to purchase Ping at this time.) It was released, as by the "Delegates," in April. Because of this, Ping printed the "Breaking Out Big" ad in the April 20 issue of Billboard (probably long after they'd had a single sale of the Debonairs original). Even with Vee-Jay behind it, "Mother's Son" did as poorly for the Delegates as it had for the Debonairs.

April also saw them as part of a Herb Kent show at Hyde Park High School, along with Dee Clark (who'd been part of Herb's Kool Gents and was now being turned into a soloist), the Magnificents, the Dells, The Moroccos, the Danderliers, the Debs, the Kings Men, the great (but out-of-place) jazzman Ahmad Jamal (the silent audience couldn't wait for him to get off), Charles Jones, and the Roy Gaines Band. I certainly wish I'd been there.

Even with nothing happening, the Debonairs soldiered on. According to the Red Saunders Research Foundation, in January 1958, the Debonairs backed up Lula Reed in a session for Chess. The songs were "Anything To Say You're Mine" and "Give Me The Right," which were credited to "Lulu Reed and the Teeners." (As far as I can tell, there are copies both with and without the "Teeners" credit.) These came out on Chess' Argo subsidiary in April 1958. However, Virgil has no memory of this session and didn't recognize the songs when he heard them. It's possible, however, that he wasn't with the group at that point.


But finally, things slowed down and, as Virgil says, "The whole thing just fizzled out." But not entirely. Sometime in 1958, Virgil's brother, Homer "Pepi" Talbert, came into the group to replace Edward Johnson. He could sing bass, but mostly brought his piano-playing skills to the group. Also in 1958, Earl Vanorsby left, to be replaced by fill-in member Richard "Ricky" James. They were now: Ralph Johnson (lead), Virgil "Nip" Talbert (first tenor), Richard "Ricky" James (second tenor and baritone), William "Sonny Boy" Nelson (baritone and tenor), and Homer Talbert (bass and piano).

The Debonairs were still around on August 8, 1959, when they were part of the Chicago Defender's annual Bud Billiken celebration. This event had originated 30 years previously as an outing for newsboys who sold the Defender. (Billiken was a fictional character who was seen as a guardian of young people.) The second largest parade in the U.S., it's still going strong.


Along the way, the Debonairs had played the Club DeLisa and the London House in Chicago. They'd appeared at the Colonial Theater in Milwaukee, along with the Spaniels and the El Dorados. They also were seen on Jim Lounsbury's Bandstand Matinee over WGN, and possibly his "Record Hop" on WBKB. There were also appearances on the "Time For Teens" show, hosted by Stan Howard and broadcast from the Chez Paree niteclub.


In 1961, they met singer/songwriter Billy "The Kid" Emerson, who produced a session for them for Bud Brandon's B&F label. (B&F was so pleased that they spelled his name "Emmerson" all over the label, although they finally spelled "Debonairs" correctly.) The two songs recorded were: "Fool's Love" (led by Ralph and once again missing the apostrophe on the label) and "Ah-La-La" (a Billy Emerson composition [nimbly aided by Larry Cox], fronted by William Nelson).

But by 1964, it was all over. Ralph Johnson wandered off to form the Ti-Chauns (along with his sister, Betty Stamps, Andrea Jones, and Clarence Johnson). They had a single record on Sonar that year ("I Don't Wanna"/"What You Wanna Say").

It's possible that Ralph was a member of the Topics on Dream ("Have Your Fun"/"A Man Ain't Supposed To Cry"). His name appears as one of the writers on both of these 1967 tunes and he later recorded "Have Your Fun" as a 1971 solo effort on Master Key (the flip was an instrumental version).

And that's the story of the Debonairs. Their name was spelled wrong, their one backup session had them credited as a completely different group, and their management left a lot to be desired. In spite of this, they lasted almost ten years.




THE DEBONAIRS
PING (as "De'BONAIRS" [record company spelling])
1000 Mothers Son (RJ)/Lanky Linda (EJ) - 11/56
1001 Say A Prayer For Me (RJ)/Cracker-Jack Daddy (RJ/EJ) - 12/56

ARGO (as the "Teeners," backing Lula Reed [as "Lulu Reed"])
5298 Anything To Say You're Mine/Give Me The Right - 4/58

B&F (as "Debonairs")
1353 Fool's Love (RJ)/Ah-La-La (WN) - 7/61

LEADS:
RJ = Ralph Johnson; EJ = Edward Johnson; WN = William "Sonny Boy" Nelson




Unca Marvy's Home Page
More Articles