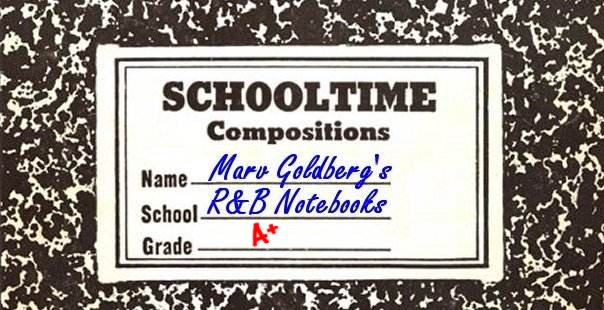 The Dovers/Vocaltones
By Marv Goldberg

based on interviews with Wyndham Porter
and Eddie Quinones


© 2011 by Marv Goldberg
With a couple of switches in personnel, the Dovers and Vocaltones were essentially the same group. The Dovers turned out sweet ballads in the vein of the Mellows. The Vocaltones gave us some great rocking tunes, as well as their R&B ballads.

The Dovers formed around 1953 at the St. Nicholas Projects on 129th Street in Harlem. There were benches outside and the members would drink beer as they sat around and sang. There were only four of them at the outset: Roland Martinez (first tenor; brother of Vocaleers' lead singer Joe Duncan), Eddie Quinones (tenor), Wyndham "Corky" Porter (baritone), and James Sneed (bass). James picked the name "Dovers" from "The White Cliffs Of Dover." While their ages varied, they were all still in school.

As time went on, they added a fifth member, tenor Charlie Richardson. A friend of the Chords, he'd heard about the Dovers and come down from the Bronx to look them up.

Aside from the benches, the group would practice at Wyndham's sister's apartment at 212 West 129th Street. Did they annoy the neighbors? "The neighbors loved it," says Wyndham. Not only that, but the Cadillacs sang in the same building.

The Dovers were influenced by several local groups (the Harptones, the Cadillacs, and the Sparrows), as well as the Heartbeats, the Spaniels, and the Dominoes. For a manager, they turned to Hiram Johnson, brother of bandleader Buddy Johnson and thrush Ella Johnson. (He'd go on to manage the Dubs and have his own Johnson label, but since Wyndham continually refers to him as their "half-assed manager," we'll take it for granted that he didn't do much for the Dovers.)


After having won a Police Athletic League talent contest, the Dovers appeared as guests on the "Harlem At Noon" radio show over WLIB (with hosts Sara Lou Harris and Buddy Bowser) in late January 1955. At the time, Eddie Quniones and James Sneed were 14, Wyndham Porter was 15, Charlie Richardson was 16, and Roland Martinez was 18.


Soon after this, there were some personnel changes: Roland Martinez was replaced by 14-year old Miriam Grate (he'll be back later). Charlie Richardson also wandered off and was replaced by Bobby Johnson (whose real name was Bobby Robinson); he, too, was around 15.

Eddie Quinones relates the story of how they got Miriam and Bobby:

Initially, the Dovers practiced at Corky's (Wyndham's) sister's apartment at 212 West 129th St. Lillian Leach [and the Mellows] had just come out with 'Smoke From Your Cigarette'. We knew Tommy Grate, who lived in the same building, and, in conversation, we found that his sister, Miriam, sang and played some piano. Tommy's mom had a piano in her apartment and had been teaching Miriam and Tommy how to play. So when Roland dropped out, we asked Miriam to show up at practice to see if we could get a sound like the Mellows. She preferred us to show up at her mom's apartment; so we did. Corky gave her a couple of songs to sing that we later recorded, and that was it. We practiced at Miriam's apartment after that. We took advantage of her piano and learned chords and harmony changes, etc.

Charlie Richardson left because he didn't like traveling from the Bronx every day and he had also found a part-time job. Through some mutual friends, we heard of Bobby Johnson and invited him to practice. We found that Bobby had a good voice, he lived in the neighborhood, and we had the female lead covered. So, Bobby did tenor while Miriam sang lead. However, after we recorded, Miriam was afraid to sing in front of crowds. So, after the Dovers broke up, we stuck with Bobby and had him do the lead. A lot of little things went down. Miriam went out with Bobby and then, after they broke up, Jim Sneed; it was a real mess.

Says Eddie: "We sang in the Apollo amateur hour three times, coming in third, second, and second. We were beaten by the likes of Roy Hamilton. That's when we realized we were ready." James Sneed, the go-getter of the group, got them an audition with Bess Berman's Apollo Records. The Dovers passed their audition and were on their way.


On March 3, 1955, the Dovers recorded two songs: "My Angel" (led by Miriam Grate) and "Please Squeeze" (led by Bobby Johnson). These were the songs that they'd used for their audition. They were also used as backup to white Pop singer Lou Bartel on "(Zoom) Give Me Your Love Tonight" and "I Pray." Apollo released all four of these tunes in April 1955.

Both "My Angel" and "Please Squeeze" received "good" ratings on April 23 1955. Other reviews that week were for Bip & Bop's "Ding Dong Ding," the Du Droppers' "Talk That Talk," the Charms' "Let The Happenings Happen," Pearl Reaves' "I'm Not Ashamed," Jesse Belvin's "Gone," and the Quails' "The Things She Used To Do."

Lou Bartel's "I Pray" was ranked "good" on April 30, 1955 (the flip, criticized for having suggestive lyrics, was rated "fair"). Other songs reviewed that week were Wynonie Harris' "Fishtail Blues," the Aladdins' "Remember," Hank & Sugar Pie's "I'm So Lonely," the Inspirators' "If Loving You Is Wrong," the Marigolds' "Rolling Stone," the Spence Sisters' "Do Bop Sha Bam," and the Feathers' "Why Don't You Write Me."

The Dovers made only a few appearances. Hiram Johnson got them mostly bar gigs. (He also, according to Wyndham, would tell them that he didn't receive any money for the gig and therefore there was none for them.)

Sometime in the summer or fall of 1955, the Dovers recorded five a cappella songs that were found on an undated Apollo tape reel: "Sweet As A Flower," "The Sentence," "My Love," "Only Heaven Knows," and "Your Love." However, Eddie Quinones never made it to the session: "The reason I didn't show up to the recording studio was, I was jumped by a gang while entering the subway entrance. It was mistaken identity; they thought I was another person. Later they found out they had made a big mistake. Meantime, I went home to mend my wounds. Harlem was a rough place to live in those days. But, there was a lot of musical talent all going to waste." The group quickly got tenor Charles "Keno" Stapleton for the session

[Ray Hulbert, lead singer of the Mello-Tones (Decca) claimed that his group was the backup for Miriam Grate, as the Dovers had broken up by then. However, after listening to them, Wyndham Porter insists that the tunes are by the real Dovers group (and that he can pick out Keno's voice).]

After this, the Dovers broke up due to what Wyndham characterized as "conflicts." Miriam Grate and James Sneed acted like "dictators" and the other guys "couldn't stand the pressure." Eddie concurs.

Just at that time, Roland Martinez re-enters the picture with the idea of starting his own group (called, probably as a nod to his brother, the "Vocaltones"). The offer was accepted and the Vocaltones became: Bobby Johnson (lead), Roland Martinez (first tenor), Eddie Quinones (tenor), Wyndham "Corky" Porter (baritone), and Tommy Grate (bass).

Tommy had been the bass of the 5 Wings (another group managed by Hiram Johnson), who were in the process of breaking up (they'd have one more session on November 10, 1955). Coincidentally, Tommy was the older (by two years) brother of Miriam Grate. Didn't that cause any problems? Not according to Wyndham: "They never got along anyway."


Since they already had an "in" at Apollo Records, that's where the Vocaltones ended up. On November 1, 1955 (exactly 56 years, to the day, before I began writing this article), the Vocaltones recorded four tunes: "I'm Gonna Get That Girl," "My Girl," "Three Kinds Of People" (the first, unreleased, version), and "Please Don't Leave Me" (all were led by Bobby Johnson). (Note that Tommy Grate would still record once more with the 5 Wings nine days later.) Apollo waited three months to release anything by the Vocaltones. My feeling is that the Dovers had been signed to a one-year contract and Apollo was wisely waiting for it to expire before releasing any Vocaltones songs (they'd already had two legal battles - over the 5 Royales and Mahalia Jackson).


On December 22, 1955, the Vocaltones had their second Apollo session. They recorded two backups to a powerful singer named Brenda Lee (no not that one) from Dayton, Ohio: "I Ain't Gonna Give Nobody None (Of My Love)" and "My Last Goodbye To You." A few years after that, Brenda Lee Jones (later Brenda Lee Melson) teamed up with Welton Young (of the King Toppers), to record as "Dean & Jean." (They had some chart hits with "Tra La La La Suzy" and "Hey Dean, Hey Jean.")

At the same session, the Vocaltones recorded "Darling (You Know I Love You)" (led by Bobby) and the second, released version of "Three Kinds Of People" (for some reason Apollo used the same master number that they had assigned at the first session).


Apollo finally released "My Girl," backed with "I'm Gonna Get That Girl" in February 1956. (Unfortunately, this was a time of great upheaval at Apollo. While Bess Berman was president of the company and pretty much ran it by herself, her husband, Ike Berman, died on February 5. This had to have had some impact on how much the record was promoted by Apollo.) They were reviewed on February 25, both receiving "good" ratings. Other reviews that week were for the Coasters' "Down In Mexico," the Smooth Tones' "Dear Diary," Sugar & Spice's "Hey Joe," the Willows' "Church Bells May Ring," the Lamplighters' "Bo Peep," the Twilighters' "Half Angel," and the 4 Winds' "Do You Love Me."

The third, and last Vocaltones Apollo session took place on February 26, 1956. The two songs recorded were: "I'll Never Let You Go" and "My Version Of Love," both led by Bobby.

In March, Eddie Quinones saw that the group "wasn't making any headway" and enlisted in the Air Force. He adds, "The months of waiting for the release of our records was very instrumental in my decision to join the USAF. I also had a girlfriend, whose mother was forever calling me a bum. I aimed to prove her wrong. I did." He was posted to McGuire Air Force Base, near Trenton, New Jersey (where he'd end up singing with the Glowtones after they'd recorded "The Girl I Love"). Eddie was replaced by tenor Bobby Moore, a member of Jimmy Jones' Pretenders (although he seems to have been singing with both groups at the same time).


Also in March, Apollo released Brenda Lee's "I Ain't Gonna Give Nobody None (Of My Love)," backed with "I'll Never Get Rich Again" (a solo effort). The disc was reviewed (both sides "good") on March 31, along with Fats Domino's "I'm In Love Again," Joe Turner's "Corrine, Corrina," the Moonglows' "We Go Together," the 5 Dollars' "So Strange," the Delltones' "My Special Love," the Cadillacs' "Zoom," the Hearts' "Disappointed Bride," the Premiers' "Baby," the Fi-Tones' "I Call To You," the Cadets' "Church Bells May Ring," and the Chromatics' "Devil Blues." "I Ain't Gonna Give Nobody None (Of My Love)" should have been a big hit; again, I would theorize that Ike Berman's death had an effect on the company.


"Darling (You Know I Love You)" and "Three Kinds Of People" were released in April, but weren't reviewed until June 30 (both sides "good"). Other reviews that week were for the Pretenders' "I've Got To Have You Baby," the Cadets' "Stranded In The Jungle," the Valentines' "I'll Never Let You Go," Richard Berry's "Yama Yama Pretty Mama," the Nitecaps' "Bamboo Rock And Roll," and the Meadowlarks' "Please Love A Fool."


Apollo released the final Vocaltones record in August 1956: "My Version Of Love" (with Bobby singing "searching for life's desterny"), coupled with "I'll Never Let You Go." They were both rated "good" on September 1, 1956, along with Lavern Baker's "I Can't Love You Enough," the Teen Queens' "Red Top," the Hearts' "He Drives Me Crazy," the Penguins' Mercury remake of "Earth Angel," the Falcons' "This Day," the Pyramids' "Okay Baby," the Keynotes' "Zup Zup," the 5 Lyrics' "I'm Traveling Light," and the Clouds' "I Do."

With no national chart action, Apollo didn't renew the Vocaltones' contract. Tommy Grate wandered off to join the Dubs (managed, coincidentally, by Hiram Johnson). He was replaced by Irving Lee Gail, who'd been the bass with Jimmy Jones' Pretenders for a while in 1956.


Therefore, by the time the Vocaltones had a session for legendary record company owner George Goldner (who'd owned Tico, Rama, Gee, and Roulette once and who now owned End and Gone, among others), they were Bobby Johnson (lead), Roland Martinez (first tenor), Bobby Moore (second tenor), Wyndham "Corky" Porter (baritone), and Irving Lee Gail (bass).

They recorded at least five sides for Goldner in 1957: ("Walkin' With My Baby," "Wanna Lee," "Come Dance With Me," Sugar Lump," and "Answer To My Dreams"). All were led by Bobby Johnson, except for "Wanna Lee," which was fronted by Roland Martinez.

Goldner released "Walkin' With My Baby" and "Wanna Lee" (a calypso song about someone from Honolulu coming to New York and going to a Rock 'N' Roll show!) on his Cindy label, in August 1957. However, he re-titled "Wanna Lee" to "Hawaiian Rock And Roll." The sides weren't sent out for review.

Why wasn't the record reviewed? This was taken from my article on the Orlandos, who also appeared on Cindy:

Thanks to Pittsburgh's Fred Bohn, I got some insight into what may have happened with Cindy. It seems that Goldner set up the label for [Pittsburgh DJ] Jay Michael, who had a financial interest in it (it was even named after Michael's daughter, Cindy). It's therefore possible that Goldner deliberately didn't send out review copies: Jay Michael would push a local group's record in Pittsburgh, he'd make a few bucks off it for his trouble, and Goldner could end up taking a loss on the label (since there were no national sales). Ain't the music business wonderful?


Goldner re-released "Walkin' With My Baby" and "Hawaiian Rock And Roll" (now with its original title of "Wanna Lee") on his new Juanita label around September 1958. Probably a typo, the label credited the "Vocal Tones." Since not a single release on Juanita was sent out for review either, it's possible that "Juanita" was also the name of someone's relative. Goldner was just too much of a professional to "forget" a thing like that.

Just like the Dovers, the Vocaltones had mostly small-time appearances: schools, dances, and bars. The only one that stands out in Wyndham's mind is a TV show in Philadelphia, where they lip-synched "Darling (You Know I Love You)." At least the Vocaltones managed themselves, ensuring that they got a few bucks out of appearances.


But "people got distracted," says Wyndham, and by late 1958, the Vocaltones were history. Time for the Dovers to reappear. By this time, James Sneed and Miriam Grate had gotten married and were looking to re-form the group. Wyndham returned, as did Eddie Quinones who was still in the Air Force, but was close by in New Jersey. A new member, replacing Bobby Johnson, was tenor Frank Edwards, who'd been in the 5 Wings with Tommy Grate. There was also a sixth member for several months, a white guitarist whose name has been forgotten. (James Sneed was a milkman and the guitarist was the son of his boss.)


In early 1959, the Dovers hooked up with Joe Davis, another legendary name in the recording industry. They recorded four songs for Davis: "Boy In My Life," "Sweet As A Flower," "The Sentence," and "Devil You May Be," all led by Miriam.


"Sweet As A Flower" and "Boy In My Life" were released on the Davis label in March 1959. They were both rated "fair" on March 23, 1959. Other reviews that week went to Clyde McPhatter's "The Masquerade Is Over," the Pearls' "Ugly Face," the Cubans' "Tell Me," the Impressions' "Lovely One," Priscilla Bowman's "A Rockin' Good Way," and the Velvetones' "Penalty Of Love."

When the record went nowhere, the Dovers were pretty much history. The Air Force shipped Eddie Quinones to Japan in April 1959 and that was that.


Joe Davis issued the other two Dovers tunes ("Devil You May Be" and "The Sentence") on his New Horizon label in February 1961. These two really pretty songs featured a hopelessly outdated sound in 1961 (although they might have garnered a few bucks with the newly-emerging "oldies" crowd). As far as I can tell, they weren't sent out for review. They'd be competing with Jimmy Jones' "I Told You So," Ernie K-Doe's "Mother-In-Law," the Shirelles' reissue of "I Met Him On A Sunday," the Falcons' "Workin' Man's Song," the Harptones' "All In Your Mind," Chuck Berry's "Little Star," Harvey's "The First Time," Gene McDaniels' "A Hundred Pounds Of Clay," Ruth McFadden's "Lovin' Time," Earl Grant's "Ebb Tide," Ray Charles' "One Mint Julep," and the Dells' "Win Yourself A Lover."

And that was it for both the Dovers and the Vocaltones. Some really great sounds and absolutely no success whatever.

Wyndham Porter became an artist ("Wyndham Porter Fine Art"; he even received a patent for a three-dimensional picture assembly process). In the same vein, Frank Edwards became a professional photographer. Roland Martinez sang with many other groups and even played guitar for Aretha Franklin. Eddie Quinones, who did most of the arranging for the Dovers and Vocaltones, worked as a Customer Engineer for IBM. Tommy Grate sang with the Dubs through the mid-60s; he subsequently owned a bar and worked for the New York City Department Of Sanitation. Miriam Grate and James Sneed were divorced at some point. James became a songwriter and a talent scout. Miriam remarried and, says Eddie, "We tried to coax her into singing for fun at gatherings, and she said 'No way'."

In 2011, most of the Dovers and Vocaltones are still alive. Bobby Johnson had died of a heart attack by 1961 and Bobby Moore has also passed away. Wyndham isn't sure about Irving Lee Gail and Charles Stapleton, but all the others that we've talked about are still around.



THE DOVERS
APOLLO
472 My Angel (MG)/Please Squeeze (BJ) - 4/55
473 I Pray (LB)/(Zoom) Give Me Your Love Tonight (LB) - 4/55

APOLLO UNRELEASED (all recorded in the summer or fall of 1955)
Sweet As A Flower (MG)
The Sentence (MG)
My Love (MG)
Only Heaven Knows (MG)
Your Love (MG)

DAVIS
465 Sweet As A Flower (MG)/Boy In My Life (MG) - 3/59

NEW HORIZON (a Davis label - from the 1959 session)
501 Devil You May Be (MG)/The Sentence (MG) - 2/61



THE VOCALTONES
APOLLO
488 My Girl (BJ)/I'm Gonna Get That Girl (BJ) - 2/56
490 I Ain't Gonna Give Nobody None (Of My Love) (BL)/[I'll Never Get Rich Again - Brenda Lee] - 3/56
492 Darling (You Know I Love You) (BJ)/Three Kinds Of People (BJ) - 4/56
497 My Version Of Love (BJ)/I'll Never Let You Go (BJ) - 8/56

APOLLO UNRELEASED
Three Kinds Of People (BJ) (first version; recorded 11/01/55)
Please Don't Leave Me (BJ) (recorded 11/01/55)
My Last Goodbye To You (BL) (recorded 12/22/55)

CINDY (A GEORGE GOLDNER LABEL)
3004 Walkin' With My Baby (BJ)/Hawaiian Rock And Roll (RM) - 8/57

JUANITA (A GEORGE GOLDNER LABEL - AS "VOCAL TONES")
100 Walkin' With My Baby (BJ)/Wanna Lee (RM) - ca. 9/58

UNRELEASED SONGS RECORDED FOR GEORGE GOLDNER
Come Dance With Me (BJ) - recorded 57
Answer To My Dreams (BJ) - recorded 57
Sugar Lump (BJ) - recorded 57

LEADS
MG = Miriam Grate; BJ = Bobby Johnson; RM = Roland Martinez;
LB = Lou Bartel, backed by the Dovers; BL = Brenda Lee, backed by the Vocaltones




Unca Marvy's Home Page
More Articles