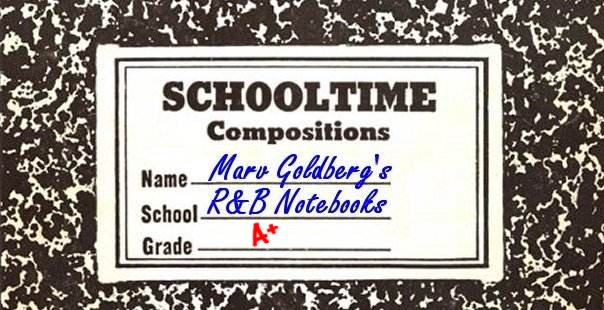 Fat Man Robinson
By Marv Goldberg

© 2022 by Marv Goldberg
If his recordings are any indication, saxophonist Paul "Fat Man" Robinson must have been a fun guy to know and to see in person. They're raucous and light; no heartache, no angst, just having a fun time. Although he started by playing the alto saxophone, most photos show him with either a tenor or baritone sax.






Paul Robinson was born on June 8, 1911 in Cleveland, Ohio. While you can find a date of 1918 and a location of Louisiana, those are incorrect. When he got married in May 1933, he said he was born in Cleveland and was 21 (penciled in next to that was "6-8-32", the date he'd turned 21 - therefore, born in 1911). On his World War 2 draft registration, he said he was born June 8, 1911, in Cleveland. In the 1940 census, he said he was born in Ohio and was 28 (1911, considering he was born in June and the census was in April). However, on his Social Security registration in May 1937, he said his birthday was June 8, 1912. I'll stick with 1911.

Paul was the son of Spencer Robinson, a barber, and Rose Thompson Robinson. They and their parents were also born in Ohio (according to the 1910 census), so Louisiana really doesn't make any sense. In that census, Spencer and Rose had three children, all daughters: Edna, Stella, and Dorothy. Unfortunately, I can't find the family in either 1920 or 1930, so I don't know the total number of siblings Paul had. Spencer's wife was named May in 1910, but, when Edna got married in 1925, she said her mother was Rose Thompson. Therefore, I imagine her name was either Rose May or May Rose.

In that 1933 marriage, Paul said his parents were Spencer Robinson and Rose Thompson, but in May 1937, he told Social Security that his parents were Spencer Robinson and Rose Yewell. I suppose this means that his mother had remarried; either his parents had been divorced or his father had died, but I can't find any records to support either case. There are other choices, but the disturbing lack of census data prevents me from digging further.

Back to his marriage. On May 17, 1933, Paul (a musician) married Mahale Allen in Cleveland. I suppose he was a member of someone's local aggregation, because I can't find any mention of a Paul Robinson band.

But there was in 1939. The May 11 Cleveland Call And Post talked about a meeting of the Twelve Orchidettes, a social club. Among the guests were "members of Paul Robinson's orchestra" (no names, of course).

By the way, the March 16, 1939 "Mose Of The Roaring Third" column in the Cleveland Call And Post said: "Paul Robinson, internationally famous actor and singer hez decided to mak independent flickers war he cin express hizself, be sincere and worthwhile." Columnist Mose Winchell was so intent on being stupidly cutesy, that he forgot he was talking about Paul Robeson.

The first mention of Paul actually doing something musical was in the January 18, 1940 Cleveland Call And Post, which talked about the Central High School Senior Prom, held at Grace Hopkins Ballroom on January 11: "The music and entertainment was furnished by Paul Robinson with Jimmy Falcon rendering his version of vocal arrangements...." The sentence is somewhat ambiguous, but Jimmy Falcon was a separate act, not a member of the band.

Paul appeared in the 1940 Cleveland City Directory as a musician. (And, since the entry didn't say "Robinson, Paul (Mahale)", we can infer that he and his wife had been separated as early as 1939. (Directories were prepared late in the year prior to the date on them.)

And, in fact, in the 1940 census, both he and Mahale were living separate lives as lodgers in different households. What surprised me was that he wasn't enumerated as a musician, but as a "smoke inspector - city". I guess having an orchestra didn't pay all the bills.

Mahale's 1940 census record (as "Mahlae" - don't get me started), shows her with a daughter, Gloria Jean Robinson (who'd been born on October 11, 1933 and who would die on November 24, 2005).

Let's take a look at Paul Robinson's October 16, 1940 draft registration. Trust me, it'll be fun. First, his smoke inspector job with the city had gone up in smoke, since he was now unemployed (no, that's not amusing). You need to keep in mind that October 16, 1940 was declared a national holiday by President Roosevelt. On that day, every male between 21-35 had to register for the draft. For weeks, papers had been printing the questions that would be asked, so as little time as possible would be wasted in thinking about responses. (The questions were asked by a registrar, who then wrote down the answers. The registrant only signed the form.) Among other questions, registrar Marie Heysler asked these two of Paul Robinson:


"Name Of Person Who Will Always Know Your Address". His answer was "Mrs. Dorothy Winston".

"Relationship Of That Person". I can't even imagine what he told poor Marie, but she ended up writing down "his child's mother". To top it off, although he gave a Cleveland address for her, there was no "Mrs. Dorothy Winston" living in Cleveland in 1940 according to the 1940 census.


I think my last statement is important. It seems to go along with not being able to find Paul's family at all in 1920 or 1930. Either there was a plot against the Robinsons or Cleveland's black population was being seriously undercounted.

And, Paul was well on his way to becoming "Fat Man". His draft registration showed him to be 5' 6" and 180 pounds.

On December 4, 1941, Paul Robinson appeared at the Lyric Theater in Fitchburg, Massachusetts. However, that one was a popular vaudeville harmonica player in the Boston area.

Paul Robinson was drafted in April 1943. His "Enlistment Record" says he's separated, without dependents. (I suppose he wasn't helping to support daughter Gloria.) Note that, regardless of whether someone enlisted or was drafted, the form was called an "Enlistment Record". However, it said "Selectees", which meant drafted. His Civil Occupation category was "Musicians and teachers of music". By the time he was discharged, he'd become a corporal.

At some point, he'd get a divorce; Mahale married again in 1948.

I guess he figured that Boston needed another entertainer named Paul Robinson, since he moved there after being discharged from the army, although nothing ever said why. But once there, he started assembling a band, which included Oscar Dunham (trumpet), Henry McCoy (piano), Clinton Jackson (drums), Bill Tanner (bass), and Robinson (sax). (These names were, per Richard Vacca, in the March 25, 1949 issue of Down Beat.) As was true with both large and small bands, musicians were in and out (and usually never mentioned in ads or write-ups); I won't even try to follow them. From here on in, anytime he was mentioned as performing (in either a newspaper blurb or an ad), it's as "Fat Man", never as "Paul".

As Richard Vacca wrote in "Fat Man Robinson: 'There's Life Here'" (see the citation at the end of the article):


Starting in 1948, Robinson worked regularly in clubs in both the Theater District and the South End, the two centers of Boston nightlife. His personality was exuberant, his philosophy was 'let the good times roll', and his music was boisterous. So was his audience. In those years, the Boston Navy Yard overflowed with sailors and marines, and they flooded the Theater District clubs - drinking, battling the Shore Patrol, and rockin' with the bar bands. The action centered around the corner of Tremont and Stuart, at the Petty Lounge, the Rio Casino, the 1,2,3 Lounge, the Knickerbocker Cafe, the Silhouette Room. Fat Man played them all.


In March 1949, the orchestra, now called the "Fat Man Robinson Quintet" appeared at the Rio Casino for around six months. Unfortunately, I don't have access to the Boston papers that ran most of Fat Man's ads. The March 25 Down Beat said: "The Paul (Fat Man) Robinson combo is receiving top billing at the Rio Casino since leaving the Petty Lounge, the first musical attraction to receive such billing at the Casino since Billy Eckstine's engagement."

The March 26, 1949 Cash Box noted the formation of a new label, Motif Records of Boston; its proprietors were Reuben Moulds and Charles Richmond. The blurb said: "The firm will concentrate in the race and progressive jazz fields, and has already scheduled its first release, 'All I Want Is A Lavender Coffin' and 'Don't Drink' by the Fat Man Robinson Quintet." Remember, industry practice was that a signing was never announced until the artist had already recorded some tunes.

Therefore, probably in February or early March 1949, the band made a series of recordings, for Motif, at Boston's Ace Recording Studios, run by Herb and Milton Yakus. Several of them exist as two-sided dubs, but, unfortunately, I haven't heard any of them. There could be others (I'm betting that there is, or was, one for "Lavender Coffin" and "Don't Drink"). The ones I know about are:


Crying The Blues / Ride That Train (both sides have vocals by Elaine Johnson)
Joy Juice / It's Raining
Jelly Doughnuts / Gotta Be A Man
Fill That Gap in Your Mouth with Teeth (Cause Daddy's Tired of Kissin' Gums) / You Can't Live On Love


I can't find out anything about Elaine Johnson. Was she a member of the band or were they just used to back her on these two recordings? She's never mentioned again. On all the others, the vocals were by Robinson.


And, by the time that March 26 item ran, Motif had already released "Lavender Coffin" and "Don't Drink"; they were reviewed in the April 2 Cash Box:


One of the most modernistic and beautiful labels in the field is this new Motif label [they were talking about the label's design] and, at the same time, offering one of the very best in race tunes with the Fat Man Robinson Quintet givin' 'em a hand clappin', toe tappin', beatenest beatin' rhythm in "Lavender Coffin." A side that's a surefire clickeroo with plenty of coin pressed into it. And the flip, "Don't Drink," is another grand cutting by this quintet. Get with this disk - it's a moneymaker. [Think they liked it?]


Although "Lavender Coffin" got most of the attention, "Don't Drink" deserved a lot too. It dealt with all the various kinds of liquor and their pitfalls. On both, you can hear Fat Man's alto sax.

Remember that Paul's sister, Edna, got married in 1925? (You probably don't, but I really did mention it a while back.) It wasn't a particularly successful marriage, since the April 23, 1949 Cleveland Call And Post had this tearjerker:


A hubby who left home nineteen years ago is the target in a divorce suit filed by Mrs. Edna Grier, of 3948 Cedar Ave., in Cleveland Common Pleas court.

The husband who is accused of absconding is Arthur Grier, of 3282 E. 130th St. Mrs. Grier says that during the time, her mate has refused to support her. They were married here in 1925 and have no children. Atty. Gerald Lavelle is handling the case.


Hope she'd had gainful employment all those years.

The May 5, 1949 Billboard reported:


"Lavender Coffin" a new rhythm novelty, has been taken over by Leeds Music from Motif Music in Boston. The latter firm is owned by Reuben Moulds and Charles Richmond. The tune was cut originally for Motif Records by Fat Man Robinson. Lionel Hampton is waxing it for Decca.


Hampton's version (with vocals by Hampton and Joe James) was released that same month, as the flip of "The Huckle-Buck". Another cover was by Joe Thomas on King. It's a really good song and I like all three versions.

Billboard finally got around to reviewing the record on May 21:


Don't Drink (81): New group is exciting in both vocal and instrumental departments, swinging a small storm on a jump novelty in boogie woogie.

Lavender Coffin (87): A rare, imaginative piece of material, chanted with persuasive fervor and backed up smartly. Could be a very important item.


"Lavender Coffin" was only on Billboard's national charts for a single week (Juke Box #9), beating out Hampton's version (Juke Box, #13, also charting for one week). However, it did well in several locations, according to Cash Box:


St. Paul, Minnesota - #9
Birmingham, Alabama - #3
Cleveland, Ohio - #2
Detroit, Michigan - #3
Atlanta, Georgia - #2
Savannah, Georgia - #2
Dallas, Texas - #8
(They never printed any results from Boston)


Over the summer of 1949, Fat Man appeared at the Red Roof in Revere Beach, northeast of Boston. Says Richard Vacca: "One night a week his show included a talent contest, with volunteers stepping up to sing with the band. That's how Fat Man met his wife, Barbara - she was one of those singers, and she did it more than once, even sitting in on drums when the band's drummer was late."


In August, Motif released another Fat Man Robinson Quintet record: "Fill That Gap in Your Mouth with Teeth 'Cause Daddy's Tired of Kissing Gum" (note slight title change from the Ace label), backed with "You Can't Live On Love". Although I haven't heard the Ace cuts, they were the masters Motif used. The Ace labels, on that disc only, were marked "A Side" and "B Side". Victor Pearlin, who owns both the Ace dubs and the Motif release, is convinced that they were pressed from the same masters (although he says that the Ace disc is of better sound quality than the Motif).

"Fill That Gap" gets all the print, probably because of its title. I find some of the lyrics hard to understand, and I'm actually partial to the flip, a Louis Jordan-type tune in which he addresses the audience about how important it is to have money ("folding green") if you want to eat. Billboard reviewed the songs on September 10:


Fill That Gap (81): Robinson has plenty on the ball. In a Louis Jordan vein, he knocks out a solid novelty with a rocking small ork backing.

You Can't Live On Love (81): More fine wax by the guy who started off "Lavender Coffin".


But by the time that review was printed, Robinson had already recorded a couple of tunes for Regent, a subsidiary of Savoy Records. "Bye, Bye, Roberta" and "Sophronia Jones" were released in September (as by "Fat Man" Robinson, no mention of the band). "Sophronia Jones" was the kind of wild and raucous presentation that Fat Man's fans came to expect. "Bye, Bye, Roberta" (just as wild) tells the heart-warming story of a man who comes home from a hard day's work to find his wife still in bed. He tells her to "get out of that bed before I whoop your head". But she wouldn't, so "I took me a stick and I whooped Roberta's head". Then, the police came and took him off to jail because "Roberta had died". But they had to set him free because "I found out Roberta had died before". While that makes no sense at all, it's still one of my favorite two-sided records. (Note that the song had been done the year before, by the Velvetones, as "Roberta, Get Out Of That Bed".) The songs were reviewed in the October 8, 1949 Cash Box:


Pair of hot, howlin' sides by Fat Man Robinson, and the set-up of "Sophronia Jones" and "Bye, Bye, Roberta" in the offing for music operators [juke box owners, but the sentence doesn't make any sense]. Both sides are styled in the same vein, with Fat Man warbling the mellow lyrics of this coupling in fair voice. Tempo of the music is decidedly hot, which should meet with the approval of the jump crowd. Music ops will remember the success Fat Man scored with "Lavender Coffin"; this pair might do the same.


But Robinson wasn't sticking around at Regent. On November 15, 1949, he recorded six sides for Decca: "Kangaroo's Birthday Party", "Was I Right?", "My Bucket's Got A Hole In It", "Blues Stay Away From Me", a re-make of "Bye Bye Roberta", and "Gimme A Pound O' Ground Round". All Decca releases would be by the "Fat Man" Robinson Quintet. I suppose it's possible that the Regent and Decca sides were all cut at Ace Studios also.

So far, I haven't mentioned many members of Fat Man's band. But, thanks to the November 15 Washington Afro-American, I can tell you who's on that Decca session (and probably on Regent too, although I can't be sure about Motif): Fat Man Robinson (sax), Charlie Cox (piano, arranger), Oscar Dunham (trumpet), Bill Tanner (bass), and Eddie Feggans (drums). However, they misspelled the last two names as "Bill Turner" and "Eddie Fagan".

Note that Decca's press agent was really busy; the blurb said: "'Fat Man' Robinson, new sax and vocal discovery, who recently signed with Decca Records, cut his first platters for that label this week...." Actually, they were cut on the same date that blurb appeared in the paper!

The December 3 New York Age got the names right:


"Fat Man" Robinson, new sax and vocal discovery, whose recently-formed quintet has won acclaim in night spots and ballrooms in the East. [I know that's not a complete sentence.] The rest of the combo consists of Charlie Cox, piano; Oscar Dunham, trumpet; Eddie Feggans, drums; and Bill Tanner, bass. "Fat Man" has waxed "Blues Stay Away From Me" coupled with "My Bucket's Got A Hole In It" for his first Decca release.


Now that the recordings were safely in the can, Decca could announce Robinson's signing. This was in the December 10 Billboard:


Decca Records last week signed "Fat Man" Robinson and his quintet to a waxing pact as another step in the diskery's drive to hype its Blues and Rhythm department. Robinson caused considerable stir with "Lavender Coffin" on the Motif label.


The first Decca release was December's "My Bucket's Got A Hole In It" and "Blues Stay Away From Me". "Bucket" is the sad tale of a man with a damaged growler. (A "growler" was a bucket that was used to bring beer home from a bar in the days before the stuff was bottled.) He laments "My bucket's got a hole in it, can't buy no beer." The flip is a ballad, unusual for Robinson, but he handles it well. They were reviewed in the December 31 Cash Box:


Just listen to the "Fat Man" take over on a hill ["hillbilly"] tune and turn it into one of the grandest sides he's ever yet cut. It's sure to go anywhere it's placed and it's sure to win ever more fans for the "Fat Man" Robinson Quintet as they take off on "My Bucket's Got A Hole In It." And on the flip, just as great a side, with the "Fat Man" producing a slow, tantalizing and teasing blues hunk of wax with a humming effect that's gonna catch on. Here's a platter that sets the "Fat Man" Robinson Quintet up for top spot in 1950.


Great review, but not much sales action. The record was also released on the Decca American series in Belgium, presumably in early 1950.


In January, Decca issued his remake of "Bye Bye Roberta", coupled with "Was I Right", a song that sounds a bit like gospel, but glorifies "the end justifies the means". They were reviewed in the February 4, 1950 Billboard:


Bye, Bye, Roberta (80; the label has no commas): Jumpin' Jordan typer [the kind of a sound Louis Jordan would have] is shouted with spirit by Robinson in the least inhibited of his recent efforts.

Was I Right (75): Comic patter piece is also effective with old-timey rhythm riding underneath.


Robinson's third, and last, Decca release came in May 1950: "Kangaroo's Birthday Party" (a real Louis Jordan sound), backed with "Gimme A Pound O' Ground Round". They were reviewed in the April 8, 1950 Cash Box:


Some hot wax in the offing for music ops has Fat Man Robinson on tap. Both sides of this platter should do exceptionally well in those rhythm and blues locations. Wax has a good vocal on both ends by the maestro, with the group coming in for some pleasing licks in the background. We like the top deck [Kangaroo].


Although there would never be another Fat Man Robinson record on Decca, his name still appeared in an August 1950 Decca ad. One problem might have been that his sound was something like Louis Jordan's, and Decca already had one performer who sounded like Louis Jordan: Louis Jordan. He was one of the label's biggest money-makers and they weren't about to really push someone who could cut into that.

It's been a long time since we've heard of the band appearing anywhere, but over the Labor Day weekend, Fat Man was part of a celebration on Boston Common. At the time, he was at the Hi-Hat.

Sometime in mid-1951, famed trombonist J. C. "Higgy" Higginbotham was added to the band, although who the others were is a mystery. They were then, presumably, a sextet, but Higginbotham would leave the following year.


Finally, an appearance ad. In September 1951, there was an ad proclaiming that he'd been held over at the Hi-Hat.


When Higginbotham left, Fat Man replaced him with saxophonist Sam Rivers, although there may have been an overlap. Since I can't hear a trombone, I guess Rivers was on the two recordings Robinson made for the Cavalcade label in the late spring of 1952. (Although it's possible that they used a studio band behind Robinson.) While I can't find out anything about Cavalcade, it was one of those El Cheapo budget labels offering 4-song EPs that covered hits of the day. They were usually sung by relatively unknown artists who were then given pseudonyms. In this case, however, they used Fat Man's name.


The first Cavalcade song was a lackluster version of Lloyd Price's "Lawdy Miss Clawdy" (which, to be fair, really wasn't his type of song). Based on the four titles (see discography), it was issued around July 1952. The other was a cover of the Dominoes' "Have Mercy Baby". On that one (nowhere near the exciting performance of Clyde McPhatter), he was backed up by a group billed as the Esquires. This one would have been released around August.

Sam Rivers didn't last all that long and, in 1953, was replaced by another tenor saxman, Andy McGhee, who'd remain for around four years. McGhee would later say of Robinson (Boston Globe, July 21, 2006):


This guy had it all down; all of Louis' stuff [the reference is to Louis Jordan]. And I did some whooping and hollering things, like "Flying Home".


On October 10, the band appeared at the Flamingo Lounge in Lowell, Massachusetts. They were advertised as "Fat Man Robinson and his TV Band". The MC was comedian Jack Soo. If the band had ever appeared on TV, nothing else ever mentioned it.


On November 25, 1953 (according to the date on the labels), Fat Man recorded a couple of demos at the Radax Studios in Boston: "Jive With Jack & Jill" and "Look Out Jack". I don't know their intended purpose, but they were never commercially released. These were his last known recordings. (Although the labels were marked "instrumental", they have vocals. Also, some copies say "Jiving With Jack & Jill".)

At the same time, he was playing the Knickerbocker in Boston (the December 2 Down Beat said that he'd been held over).

By 1954, Paul had married Barbara and their daughter, Paula, was born in early 1955.


Either Fat Man was back at the Flamingo Lounge on March 5, 1955, or he'd never left. This time, Manhattan Paul's 1954 Sepia Review was also there. June 29 found the band at the EM club in Newport, Rhode Island. The blurb didn't say how long the engagement was for. On July 2, "Paul Robinson And His Rock 'N Roll Orch." were at the Armory in Lebanon, Ohio. However, I doubt this is him, since he only seemed to appear as "Fat Man".


But Fat Man was at Bucky Gray's Rocking MB Lounge in Miami Beach from late July to late August 1955. Then, it was back to Lowell, Massachusetts, where they appeared for two weeks at the Flamingo Lounge, starting on September 30.


On February 17, 1956 the band opened at the Esquire Show Bar in Montreal, along with saxman Walkin' Willie Smith and his Swinging Bluesmen. The Robinson Crew was now being advertised as a Rock 'N Roll act.


I don't know exactly when the photo was taken, but around 1956, the sextet was comprised of Fat Man (now playing a baritone sax), Andy McGhee (tenor sax), Emmy Johnson (drums), Roland Lee (bass), Tom Brown (guitar), and Charlie Cox, the only holdover from the early days (piano and arranger). As I've said, band membership tends to be quite fluid.


Back to the Flamingo Lounge they went, where they appeared from September 7-9.



Nothing more until January 14, 1957, when they opened at the Bates Hotel ("Hotel", not "Motel"!) in Lewiston, Maine. On February 7, 1957, they opened at the Rocking MB Lounge in Miami Beach again. And, then, they were back at the Esquire Show Bar (Montreal) in mid-May, this time with Willis Jackson's band. They were still there on May 21, when the Montreal Gazette said: "The Esquire Show Bar, despite the challenge of calypso all over town, continues to pack in the customers with rock 'n roll. Currently beating out are the Hilleray [sic; should be Hillary] Rose Quintet and Fat Man Robinson And His Rollers."


Fat Man isn't heard from again for some two and a half years. Then, he turned up at the Esquire Show Bar once again, on November 30, 1959, in a battle of the bands against Willis Jackson.



May 1, 1960 found the Fat Man Robinson Quintet "Featuring The Dynamic Barbara Scott" appearing at the Village Nite Club in Lancaster, Pennsylvania. It was her only mention with the band. Is this the Barbara to whom Fat Man was married? I haven't been able to find out.


He returned (said the ad) to the Four Leaf Clover Lounge in Tyngsboro, Massachusetts on December 18, 1960 (although there don't seem to be any ads for a prior engagement). The band was back there on March 2, 1961.

However, that was the last we hear of Fat Man having his own band. In 1960, he and Barbara were living at the same address, per the Boston City Directory; in 1963, they weren't. (Actually, they're hard to track, since he doesn't appear in many Boston Directories.) With his marriage over, he left Boston for good and returned to Cleveland.


By 1964, he'd joined J.C. Akins' band in Cleveland. In October of that year, they appeared at Fox's Lounge. From there, they went to the Corner Tavern in early January 1965. There are no further mentions of Fat Man Robinson.

Paul Robinson died, in Cleveland, on October 22, 1979. I don't know what he did with the last 14 years of his life, since there was no obituary, either in Cleveland or in Boston. The only Paul Robinson who made the Cleveland Call And Post in those years was a car salesman. Charlie Cox, Fat Man's former pianist and arranger, told Dan Kochakian that he thought Robinson ended up driving a cab.

Fat Man Robinson had a happy sound. He's fun to listen to and, I imagine, would have been great to see in person. His records should have sold better than they did.



Thanks to Richard Vacca for his article "Fat Man Robinson: 'There's Life Here'"

Special thanks to Victor Pearlin, Dan Kochakian, Jay Bruder, Tommie Schider, and Paul Gruber.



ACE RECORDING STUDIOS - Motif dubs
---- Crying The Blues / Ride That Train (vocals by Elaine Johnson) - early 49
---- Joy Juice / It's Raining - early 49
---- Jelly Doughnuts / Gotta Be A Man - early 49
---- Fill That Gap in Your Mouth with Teeth (Cause Daddy's Tired of Kissin' Gums) / You Can't Live On Love - early 49

MOTIF (Fat Man Robinson Quintet)
2001 Lavender Coffin / Don't Drink - 3/49
2002 Fill That Gap in Your Mouth with Teeth 'Cause Daddy's Tired of Kissing Gum / You Can't Live On Love - 8/49

REGENT ("Fat Man" Robinson)
1005 Bye, Bye, Roberta / Sophronia Jones - 9/49

DECCA ("Fat Man" Robinson Quintet)
48125 My Bucket's Got A Hole In It / Blues Stay Away From Me - 12/49
48130 Bye Bye Roberta / Was I Right - 1/50
48145 Gimme A Pound O' Ground Round / Kangaroo's Birthday Party - 3/50

DECCA - AMERICAN SERIES (Belgium) - "Fat Man" Robinson & His Quintet
60.427 My Bucket's Got A Hole In It / Blues Stay Away From Me - 50

CAVALCADE (four-song EPs)
402 - ca. 7/52
Lawdy Miss Clawdy (Have Mercy) - Fat Man Robinson /
Ting-A-Ling - Clarence Johnson & Esquires //
Operator 210 - Jimmy Wood /
Goin' Home - Jimmy Wood
403 - ca. 8/52
Have Mercy, Baby - Fat Man Robinson & Esquires /
Take It Easy - Margie Anderson //
I'll Drown In My Tears - Margie Anderson /
Mary Jo - Clarence Johnson & Esquires

RADAX RECORDING (Fat Man Robinson) - demos
---- Jive With Jack & Jill / Look Out Jack - recorded 11/25/53





Unca Marvy's Home Page
More Articles