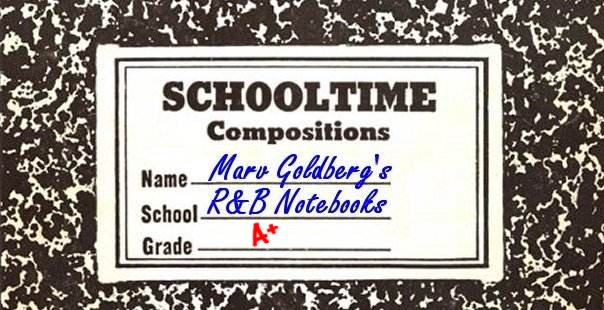 The Gardenias
By Marv Goldberg

Based on interviews with Richard Ingram and Archie Ingram


© 2011 by Marv Goldberg


While having been around for a number of years, the Gardenias (and their predecessor group, the Midwest Crusaders) really had no impact on the world of R&B. (Well, almost no impact. Their lead singer was Luther Ingram. You may have heard of him.)

The Ingram family originally came from Jackson, Tennessee. Richard Lee and Callie Ingram had nine children: Archie, Richard, Luther, Jesse, Frank, Thomas, and Allie were the boys; Georgia Lee and Daisy were the girls. In 1947, the family moved to Alton, Illinois (on the Mississippi River, about 25 miles from St. Louis, Missouri and East St. Louis, Illinois). Once they were resettled, three of the brothers (Archie, born in 1932; Richard, born in 1935; and Luther, born in 1937) began putting together a gospel group. Archie was the bass, Richard was a baritone/tenor, and Luther was a tenor. Rounding out the group were some neighborhood friends: high tenor Connie Perry and lead tenor Joe Brooks. They called themselves the Illinois Jubilee Quartet.


Around 1948, Joe Brooks left, to be replaced by baritone Lawrence Witherspoon. With Luther now in the lead, they decided to rename themselves. According to Archie, they pulled names out of a hat and became the "Midwest Crusaders." An occasional sixth member was second tenor Bilbert Caldwell, who joined them around 1950, after his own group had broken up.

Around 1952, Archie Ingram and Lawrence Witherspoon were drafted. Archie was 20 at the time and still legally not an adult. So, although he was an MP who carried a rifle and could shoot people, his Army ID card was stamped "minor" and he couldn't get a drink! The Midwest Crusaders had just had an audition with Ted Mack's Original Amateur Hour, but the draft notices kept them from appearing.

Luther Ingram, too, dropped out of the group, as did Bilbert Caldwell, leaving Richard Ingram and Connie Perry to continue the Midwest Crusaders with some new members: Will Minnows (lead tenor), and the Hodges Brothers: Tommy "Floogie" Hodges (lead tenor) and Melvin Hodges (bass). The Crusaders had met Will, Tommy, and Melvin when they'd played venues in East St. Louis.

While Archie and Lawrence were gone, Luther spent some time with the El Corados (the future El Torros)). By 1953, the El Corados had felt the need for a strong lead singer and had recruited Luther. The group consisted of Luther Ingram (lead tenor), George Davis (first tenor), Johnny Stimage (second tenor), Lloyd Lockett (baritone), Odis Hearon (baritone/bass), and Van Bracken (pianist/arranger).

Archie and Lawrence were back by late 1954, and so was the original lineup of the Midwest Crusaders: Archie Ingram, Richard Ingram, Luther Ingram, Lawrence Witherspoon, and Connie Perry.


In 1956, word got around that Ralph Bass, who ran the Federal subsidiary of King Records, was coming to the St. Louis area to scout out new talent for the label. The Midwest Crusaders eagerly sought him out. Bass liked their sound, but insisted that they sing R&B instead of gospel. To confirm his opinion of the group, he sent them to a local bandleader who was making a lot of noise in the East St. Louis club scene: Ike Turner.


Izear Luster "Ike" Turner was from Clarksdale, Mississippi, but by the summer of 1954, he and his band, the Kings Of Rhythm, had relocated to the St. Louis area. The members of the band were: Ike Turner (guitar), Jackie Brenston (baritone sax), Raymond Hill (tenor sax), Eddie Jones (tenor sax), Fred Sample (piano), Jesse Knight, Jr. (bass), Eugene Washington (drums), and Billy Gayles (vocals). By 1956, they'd become fixtures at the Club Manhattan, at 1312 Broadway, in East St. Louis. (East St. Louis, just across the Mississippi River from St. Louis, had more relaxed regulations for clubs, which, consequently, stayed open later than their St. Louis counterparts.)

Since "Midwest Crusaders" wasn't much of a name for an R&B group, someone came up with "Gardenias." However, they used this as a disguise, and continued to call themselves the Midwest Crusaders when performing as gospel artists.

The newly-christened Gardenias went to Ike Turner's house to audition for him. This came at just the right time: Turner had been using Art Lassiter and the Rockers as a vocal group at the Club Manhattan, but at the moment, they were off on a tour. The Gardenias were tapped and appeared for a while with Turner.

Other East St. Louis clubs that they appeared in included the Red Top and the Blue Note. In St. Louis, there were the Glass Bar, the Bird Cage, and the Riviera Club.

On September 13, 1956, the Gardenias went to the Federal Studios in Cincinnati to record four songs: "My Baby's Tops" (written by Lawrence Witherspoon), "Flaming Love" (by Ike Turner and Sylvester Cooley), "(All Alone And) Miserable" (by Richard Ingram), and "You Found The Time" (by Lawrence Witherspoon and Luther Ingram). All leads were handled by Luther and they were backed by Ike Turner's Kings Of Rhythm.


In November, Federal issued "Flaming Love"/"My Baby's Tops." Both sides were rated "good" in the November 10 trades. Other reviews that week went to the Avalons' "It's Funny But It's True," Lavern Baker's "Jim Dandy," the Medallions' "Did You Have Fun," Johnnie & Joe's "I'll Be Spinning," the Cadet's "I'll Be Spinning," and Robert & Johnny's "Million Dollar Bills."

The other two songs, "(All Alone And) Miserable" and "You Found The Time" languished in the Federal vaults until becoming part of an Ike Turner CD (Trailblazers) in 1991. Strangely, however, Richard Ingram received a $10 royalty check for "Miserable" in 1962 (he remembers that because he'd recently gotten married). He never cashed the check and presumably still has it. Considering that Syd Nathan, president of King/Federal, was reluctant to part with even a penny in royalties, it's a mystery why they would pay the princely sum of $10 for a song that hadn't even been issued.

There was nothing much happening with the Gardenias in 1957, even though they still occasionally appeared with Ike Turner, and even though they were still singing gospel as the Midwest Crusaders. Soon, the group simply fell apart. Archie, who'd just gotten married and had a job with Douglas Aircraft, didn't like going around to clubs and wanted to concentrate on gospel. Connie felt the same way and left too. Richard went into the military in 1958 and Lawrence moved to Detroit. Luther wanted to be a soloist anyway and joined up with harmonica player Little Walter Westbrook's band. It's possible that he's singing on their two Bobbin releases: "Bring Your Clothes Back Home"/"Midnight Jump" (1958) and "Darling I Cried All Night Long"/"Why Did She Leave Me?" (1959).


Luther Ingram, of course, went on to become a household name. Although he had a job at Douglas Aircraft, he followed his dream of becoming a soloist. Relocating to New York in the mid-60s, he had releases on Decca, Smash, HIB, and Hurdy-Gurdy. But most of his hits (and there were twenty R&B chart singles between 1969 and 1987) were on KoKo, a label owned by ex-boxer Johnny "KoKo" Baylor. This included his #1 smash, "(If Loving You Is Wrong) I Don't Want To Be Right." Later, there were releases on Profile, Platinum Plus, Urgent, and High Stacks.

Unfortunately, Luther suffered from diabetes and had a series of medical problems. Both kidneys failed him in 1998, followed by blindness in one eye and the necessity of having a leg amputated. Luther fought back, but he finally succumbed on March 19, 2007. Connie Perry, who was older than the others, has also passed on. Even the Club Manhattan, under its new name, the Four Aces Club is gone, having burned down in January 2010.

The Gardenias made good music, but theirs was a minor career. Who knows what might have happened if they'd stayed together?

NOTE: The Gardenias on Hi-Q ("I'm Laughing At You") are a different group.




THE GARDENIAS
(all leads by Luther Ingram)
FEDERAL
12284 Flaming Love/My Baby's Tops - 11/56

CHARLEY
CD 263 Trailblazers - 1991
A compilation of Ike Turner recordings, it contains the two unreleased Federal Gardenias cuts:

(All Alone And) Miserable (recorded 9/13/56)
You Found The Time (recorded 9/13/56)





Unca Marvy's Home Page
More Articles