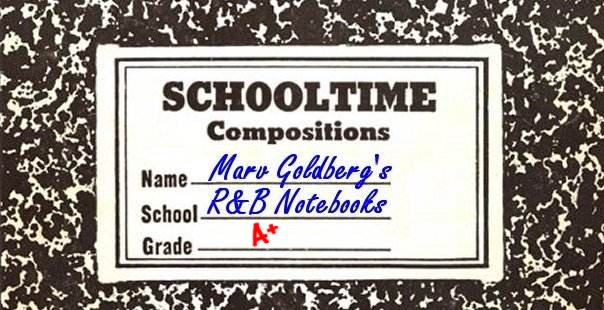 The Goldenrods

By Marv Goldberg

Based on an interview with Hiawatha Burnett


© 2004, 2009 by Marv Goldberg
There were many groups from Gary, Indiana (a scant 30 miles from Chicago), and most of them owed their existence to the success of the Spaniels.

The Goldenrods were no exception to this rule: the Spaniels were their idols. As the Spaniels had, the Goldenrods attended Roosevelt High School. Around 1955, when "there were numerous groups on the street corners" of Gary, a new group began to form. And form. And form. Actually, by the time they'd finished forming, there were eight of them.

The original members were: Crosby Harris (tenor, lead on ballads), Hiawatha Burnett (tenor, lead on uptempo and novelty tunes), Robert Garth (tenor), Cleve Denham (tenor), Sylvester Armont (baritone), Jerome Armont (his brother; baritone), Jesse Rodgers (baritone), and Clarence McClam, Junior (bass). There were so many of them that they found themselves doubling or tripling up on parts. While selecting school supplies at a local five and dime one day, Hiawatha purchased a Goldenrod writing tablet; this became the basis for the group's name.

This singing mob practiced, but were all too young for the club scene; their only appearances were at school talent shows. They had a "secret weapon" in Clarence McClam, who was so short that it amazed everyone that he could hit bass notes (he also emulated Eddie Cantor's "banjo eyes"). Note that Clarence was both Hiawatha's cousin and the son of Clarence "Pro" McClam, a local blues singer whom the Spaniels backed up on "Boot-um."

But it couldn't go on. There were just too many of them. By 1957, says Hiawatha, "we downsized." When the dust had settled, the Goldenrods were Crosby Harris (tenor), Hiawatha Burnett (tenor), Cleve Denham (tenor), Jesse Rodgers (baritone), and new bass Charles Colquitt.

They had a succession of managers who all had the "I'll make you a star" syndrome. In truth, none of them ever did anything much for the group.

The Goldenrods had plenty of idols. The Spaniels have already been mentioned, and there were also the Orioles, the 5 Royales, the Dominoes, the Clovers, the Dells, the El Dorados, the Flamingos, and the Moroccos. Their repertoire included a couple of songs from each of these groups, plus "The Glory Of Love," which all the groups sang to perfect their harmony.


Now it was time to get serious. Vivian Carter (the "Vee" in Vee-Jay) was from Gary. She owned a record shop there and broadcast her "Living With Vivian" radio show over WWCA (located in the Gary Hotel) each evening. The guys took to hanging around her store, annoying her until she agreed to listen to them sing. She liked their sound, but told them to get lost until they could come up with some original songs; they were told the same thing by United Records. This isn't surprising, there was a lot of money for record companies to make by owning the publishing rights to a hit song.

Therefore, it was time to start working on new material. Someone pointed out to Hiawatha that the era of the straight rendition of a song was passing. Novelty records, like those by the Coasters and Olympics, were the big thing now. So Hiawatha sat down and wrote a few novelty songs, including "Color Cartoons."

Now, when they auditioned for Vivian Carter, she was more attentive and scheduled a Vee-Jay session for November 4, 1958.

On the big day, the Goldenrods recorded four original songs. "Work, You Lazy Bones, Work" and "Wish I Was Back In School" both featured duet leads by Hiawatha and Crosby. "Color Cartoons" and "At The Football Game" were led by Hiawatha alone.

Vee-Jay issued "Color Cartoons" and "Wish I Was Back In School" in December 1958. Vivian played them on the "Living With Vivian" show (of course) and the Goldenrods were, seemingly, on their way. They played Hyde Park (with the Impressions), Barbara's Playhouse (a Gary skating rink, where they opened for Jimmy Reed, the El Dorados, the Danderliers, and Jackie Wilson), and Gary's Palace Theater.

However, for unknown reasons, Vee-Jay didn't send the disc out for review (all the Vee-Jay records, from 304 to 309 were reviewed, except this one), and they certainly didn't do much to push it. It might have only been released in the Chicago area, as a test pressing. With only some local sales to its credit, "Color Cartoons" remains one of the rarest Vee-Jay releases.

And then, in early 1959, wedding bells (and tragedy) struck. Crosby Harris and Jesse Rodgers both got married and left the group. This signaled the end for the Goldenrods. Hiawatha had thought the group had a shot and the results were devastating to him. He was so depressed that "I didn't turn on the radio or listen to a record for three or four years."

Today, Hiawatha can look back at the Goldenrods and remember that "we had fun." Crosby Harris and Cleve Denham are both deceased. Jesse Rodgers is a preacher. Charles Colquitt has joined the idolized Spaniels, as the replacement for bass Gerald Gregory.

In May 2004, Hiawatha Burnett and Charles Colquitt appeared at a UGHA show as part of a reconstituted Goldenrods. The others were Donald Porter (of the mid-50s Spaniels), his son, Daniel Porter, and Billy Shelton (who had sung with Pookie Hudson in his days before the Spaniels).



THE GOLDENRODS
VEE-JAY
307 Color Cartoons (HB)/Wish I Was Back In School (HB/CH) - 12/58

UNRELEASED VEE JAY
At The Football Game (HB)
Work, You Lazy Bones, Work (HB/CH)

LEADS:
HB = Hiawatha Burnett; CH = Crosby Harris



Unca Marvy's Home Page
More Articles