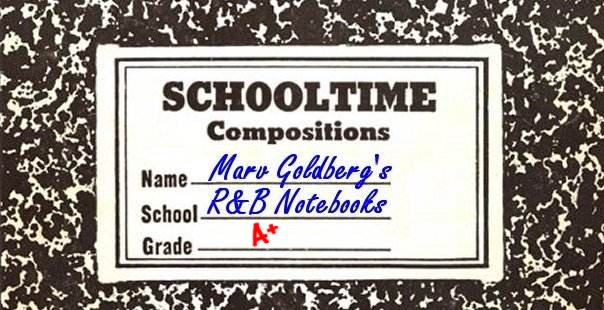 H-Bomb Ferguson
By Marv Goldberg

© 2020 by Marv Goldberg
If you like Wynonie Harris, you'll love H-Bomb Ferguson. "H" (as he was known to friends) spent his early recording years emulating Harris (and did it very well). This story will end in the early 1960s; after that, H-Bomb gravitated more and more towards Blues and changed to a flashy stage persona.





Robert Percell Ferguson was born on May 9, 1929, in Charleston, South Carolina, to Alonzo "Lonnie" Ferguson and Irene Thomas (although Bob's Social Security record calls her "Irene Smith"). (Note that his father's name is also seen as "Alonza", but he, himself, signed "Alonzo".)

Alonzo Ferguson was a part-time minister. In the 1930 census, he gave his occupation as chauffeur for the Port Utilities Commission of Charleston; in 1940 it was "attendant" for the same outfit; his death certificate said he was a janitor. Mother Irene died in February 1936 and Alonzo then married Albertha Taylor. The family had 12 children and Robert was Alonzo's seventh-born, not the next-to-last as he later claimed. While Irene's death certificate says she was still married to Alonzo, some of his children in the 1940 census, born prior to Irene's death, were by Albertha.

Starting at an early age, Robert played the piano in his father's storefront Baptist church, but his interest was the Blues (not, of course, played while his father was around). His father paid for piano lessons so that Robert could play in the church. "But", said H-Bomb years later, "after church was over, while the people was all standing outside talking, me and my friends would run back inside and I'd play the blues on the piano." The October 17, 1985 Cincinnati Enquirer had an article about him and this is how H-Bomb talked about his childhood:


"My daddy had a storefront church in Charleston, S.C. I'd play for him every Sunday.... The church was divided into two rooms. In the front my daddy would be preaching. But in the back I'd sneak off with the other kids and beat out a boogie-woogie every chance I got." How did his father take this? "Ooooooo, weeeeee, he'd come back and hit me across the hands with the first thing he could find. He'd make me straighten up and go back to playing religious music.... I left town [in 1946] and we didn't see each other for five or six years, but he heard about me through my records. So he wrote me and told me that the devil got me. He wished me all the luck in the world, but I was going straight to hell. I'll tell you this, I may be on my way, but he's already gone." [His father had died in 1961.]


However, Robert didn't play the piano in his recordings. He later said: "I wasn't playing piano in most of these recordings. At the time, they said my voice came out much better if I stood at the mike and didn't play the piano."

H-Bomb was married four times that I know of. I'll just list them here:


1. Probably in 1954, he married Estella. They appear in the Cincinnati City Directory from at least 1956 through 1960 (the last year I have access to). They'd be divorced on November 8, 1963, after 9 years of marriage. (Ohio divorce records indicate the duration of the marriage, but dates seem to overlap a bit.)

2. He then married Sadie Lee Swope. They'd be divorced on October 17, 1975, after 13 years of marriage and three children: Terri (born in 1966), Tara (born in 1970), and Ethan (born in 1973).

3. He then married Lorene Woods on November 5, 1977. They'd be divorced on August 4, 1988, after 12 years of marriage.

4. Finally, he married Christine Marie Schroer (on September 24, 1988), to whom he was still married at the time of his death. They had a single child, Robert Hamilton Ferguson (born in 1988).


I've read that he was in the Merchant Marine, briefly, towards the end of World War 2, so I went looking for a military record.


There's a Robert P. Ferguson who appears on the May 10, 1945 ship's muster (attendance record) aboard the U.S.S. Wilmette (IX-29), a former merchant ship that had been converted for training duty. On that date, it left Chicago for a one-day midshipman training cruise on Lake Michigan. (A midshipman is the lowest naval officer rank.) You can watch a 1942 video of training aboard the Wilmette here. [If you've ever wanted to know how to load and fire a .30 caliber water-cooled machine gun or a 4" deck gun (don't forget to put that cotton in your ears), this is the video for you.] However, since all the men on the muster list, including Ferguson, were midshipmen, this couldn't have been him, since blacks weren't made officers until the US armed services were integrated in 1948. While any other author would now remove this paragraph from the article and not bother you with it, I did the work; I find it interesting; and I'm leaving it in. So there!


Although there doesn't seem to be any documentation for it, Bob Ferguson started singing in Charleston around 1946. Trumpeter Cat Anderson gave him a chance to sing with his band and was impressed enough to recommend him to bandleader Joe Liggins, who fronted the Honeydrippers. At only 17, Bob was taken along on a tour that ended in New York City. Liggins had a tour in March, April, and May 1947, but New York wasn't mentioned. There was another one talked about in March 1948 that would include New York, before the band returned to Los Angeles. That tour brought Liggins to the Apollo Theater the week of April 9. He was there again the week of November 5, 1948. It could have been any (or none) of these tours, but Bob Ferguson was never mentioned at all.

Whenever it was, when the New York gig had ended, Bob decided to remain in the Big Apple. By July 1949, he'd met comedian Nipsey Russell, who'd become the MC at Harlem's Club Baby Grand on 125th Street. (Russell had, earlier that year, been the MC at the Cafe St. Michel in Montreal, where he was known for making jokes in both English and French.) Nipsey recognized his talent and got him a spot there.

The October 29, 1949 New York Age went through the list of performers currently at the Baby Grand (which included Melrose Colbert), but it didn't include Bob. An ad from a couple of weeks later had the Jive Bombers, but still no Bob. A March 11, 1950 list still comes up empty. Same for September 2, 1950. So, while I'm sure he was there, he wasn't considered a big enough draw to be listed in ads.

Chet Patterson, who fancied himself a talent manager, saw Bob and decided to manage him. However, he didn't (the story goes) like the name "Bobby Ferguson" and picked out the somewhat silly "Cobra Kid". Note that I can't find a trace of anyone named Chet (or Chester) Patterson who could be him; nor could I find a trace of any performance by someone called the "Cobra Kid". When Patterson died (again, no record), the "Cobra Kid" was gone and Bobby Ferguson re-emerged. [It's not that I particularly doubt these stories, but it would be nice to see something in print.] Note that, from 1948-1951, there was a well-known white burlesque comedian named Bob Ferguson who featured in many advertisements.


Then, Bobby Ferguson took up with drummer and bandleader Jack "The Bear" Parker in some fashion. I phrase it that way because, although Parker would back him on several recording sessions, I can't find any appearances that they made together.


Supposedly it was Parker who gave him the nickname "H-Bomb". This confused me for a while, since he used it in late 1951, but the first H-bomb wasn't tested until November 1, 1952. However, I discovered that papers were full of the term as early as 1950.

Parker has some extensive credits, drumming for the Cliff Jackson Quartet, Eddie Heywood, Don Byas, Eddie South, Hot Lips Page, Mary Lou Williams, Pete Johnson, Leo Parker, and Babs Gonzales. He also appeared on Louis Armstrong's "Because Of You" and Nat King Cole's "The Christmas Song".


Through Parker, Bob was able to get a recording contract with Larry Newton's Derby Records. In a March 1951 session, he recorded four songs: "Wine Head", "Hard Lovin' Women" (a title misprint; he says "woman" in the lyrics), "I'm Gone, I'm Gone", and "Jumpin' And Shoutin'". The first two, credited to "Bob Ferguson with Jack Parker's Orchestra" came out in April. They weren't reviewed.

The other two Derby masters were issued in August 1951 (with the same artist credit) and weren't reviewed either. There would be no further "Bob Ferguson" releases.


After these didn't take off, Bob was approached by Thomas Robinson, owner of Atlas Records. Once again, there were four songs recorded (all written by Bob): "Rock H-Bomb Rock", "I Love My Baby", "On My Way", and "Good Time Gal". There are no master numbers on the labels, so I don't know if they were all done at the same session. Presumably they were, because he's backed up by the Charlie Singleton Orchestra on all of them. [Singleton, not to be confused with the songwriter of the same name (although many sites make that error), was a saxophonist from Kansas City.] From now on, with one 1953 exception, Bob Ferguson would be known as "H-Bomb".


Atlas released "I Love My Baby", backed with "Rock H-Bomb Rock" in December 1951. They were reviewed in the December 22, 1951 Cash Box:


A great sounding jump tune is taken over the coals by H-Bomb Ferguson and the Charlie Singleton orchestra. A fine vocal and some terrific sax playing mark this end ["I Love My Baby"]. The under siding is a similar number and the boys bring it home with ease. We like the first dish.


That same issue also had this: "Savoy has signed Billy Fitzgerald, Everett LeGall and 'H-Bomb' Ferguson." Of course, in keeping with industry standards, the announcement came after H-Bomb had already done some recording.

With Jack Parker drumming, a December 12, 1951 Savoy session saw the recording of "Slowly Goin' Crazy", "Preachin' The Blues", "Sundown Blues", and "Good Lovin'". It looks like Parker simply put together a bunch of musicians for both this and the subsequent session. With the exception of Parker and alto sax player Ernest "Pinky" Williams, both sessions have completely different musicians. Parker's name doesn't appear on any Savoy labels.


Also in December 1951, H-Bomb and Jack Parker recorded a couple of sides for the Prestige label: "Feel Like I Do" and "My Love". These were issued in January 1952, but not reviewed. They also came out on Esquire, in the UK, in 1953. Supposedly there were eight other tracks recorded for Prestige, but they remain undocumented and unissued.


To further delight H-Bomb Ferguson fans (and confuse historians), Savoy released "Good Lovin'" and "Slowly Goin' Crazy" in January 1952.

Also in January (the 10th) there was another Savoy session. This time, H-Bomb recorded seven tunes: "Give It Up", "Big City Blues", "My Brown Frame Baby", "New Way Blues", "Bookie's Blues", "Life Is Hard", and "Hot Kisses".

On January 19, Billboard reviewed the Savoy release:


Good Lovin' (83): Ferguson hits about as hard as his name implies in shouting a pounding good rocker. The double entendres add to the coin attraction, tho the beat is immense. Has a winning quality.

Slowly Goin' Crazy (76): Ferguson unwinds an acceptable slow blues but doesn't stir the excitement he creates on the topside.


In spite of subsequent hype about "Good Lovin'", it never made any national charts (nor did any other of his records). The song was #8 on Cash Box's Hot In Atlanta list on February 2, 1952, but that was it.

A month after its review in Cash Box, Billboard reviewed the Atlas release in their January 26 issue:


I Love My Baby (79): This one drives hard and the pounding beat is spiked with low-down sax and fog-horn tricks as H-Bomb shouts the repetitious lyrics. He gets so deep in the groove he can't let go, and the etched side finally cuts him off in the middle of a word.

Rock H-Bomb Rock (77): Pulse beat thumping by the ork is the solid base upon which the singer, who has since moved to the Savoy label, shouts it high and hoarse for exciting effects.


In February 1952, Atlas issued the other two sides: "On My Way", backed with "Good Time Gal". They weren't reviewed.



Also in February, a second Savoy release: "Bookie's Blues", coupled with "Big City Blues". It wasn't reviewed in Billboard, but ended up on the "R&B Records To Watch" list in their February 9 edition. Cash Box reviewed them on February 23:


H-Bomb Ferguson brings two likely tunes to market that will do much to enhance his steadily growing reputation. The top portion ["Bookie's Blues"] is a beaty [sic] jump number that H-Bomb drives home excitingly. Strong instrumental backing provides a fitting foundation for this novelty. Flip is a slow blues item that H-Bomb handles with ease and assurance. Ops have two strong sides here.


In case you're wondering why bookies have the blues, the federal government enacted a law, effective November 1, 1951 which called for a $50 yearly fee and a 10% tax on every dollar they handled. They had 30 days to register and get a stamp saying they had. Bookies avoided this in droves, many continuing without complying and many going out of business. However, there were so many small ones (like the ones who ran the numbers games), that enforcing this became problematic. It was a no-win situation in New York, according to the November 2 Louisville, Kentucky Courier-Journal:


Officers in New York are planning a one-two punch against suspects.

When local police pick up a bookmaking suspect, they will notify federal agents. If he has a stamp, he is subject to prosecution under State law. If he is an operator and has no stamp, federal officials get him.


The federal government expected to haul in $400,000,000 from this tax, but by June 1952, that figure had been downsized to $9,000,000. (You don't really think the corner bookie actually paid, do you?) While the tax rate has been lowered to between 0.25% and 2%, this excise tax is still in effect.

So, to sum up, in the period between April 1951 and February 1952, Ferguson had seven records released on four different labels.


Finally, an appearance! On March 20, 1952, H-Bomb appeared at Holly Hall, in Florence, South Carolina, along with Tiny Bradshaw and B.B. King. The ad called him a "radio artist", although I can't find any radio shows he might have been on.


Those three artists toured together for a while, also appearing at Chilhowee Park Auditorium, in Knoxville, Tennessee, on March 27; the Charlotte Armory, in Charlotte, North Carolina on March 28; and Rebels Retreat, in Bristol, Tennessee, on April 1.


After this, announced the April 12, 1952 Cash Box: "B.B. King, Milt Larkin and H-Bomb Ferguson begin a series of one nighters on April 15." Venues included the Roosevelt Theater (Pittsburgh) on April 16; the Lincoln Theater (Columbus, Ohio) on May 4; and the Hippodrome (Richmond, Virginia) on May 13-14.

In the October 17, 1985 Cincinnati Enquirer, H-Bomb reminisced about that tour:


"... it lasted 31 dates. We didn't get much money. We had to rent a car and when we'd get to a town we'd rent one room with a double bed. We'd eat baloney sandwiches and crackers. When the money ran low, we'd start missing meals and sharing a can of sardines or a can of pork and beans and one of those small 10-cent bottles of Coke. To this day I can eat a baloney sandwich every once in a while, but I still don't care for pork and beans."


On May 17, H-Bomb got to be part of Alan Freed's Moondog Maytime Ball at the Cleveland Arena. The show starred the Dominoes, and also featured Todd Rhodes, Freddie Mitchell, Little Jimmy Scott, Fats Thomas, Joan Shaw, the Kalvin Brothers, and Morris Lane.


In June 1952, Savoy released "Preachin' The Blues", backed with "Hot Kisses". The pairing also came out on Canada's Quality label.

In July, H-Bomb was at Harlem's Baby Grand. While he was in New York, he recorded some more songs for Savoy on July 18: "Tortured Love" (a "duet" with Varetta Dillard, in which he calls her name several times and she speaks a couple of lines), "Work For My Baby" (a solo), and "Double Crossing Daddy" (the reverse of the first "duet", in which Varetta sings and H-Bomb speaks some lines). At the same session, Varetta recorded "Them There Eyes", a solo effort.

[I only know about the three Savoy sessions I've documented. However, a Savoy compilation also included "I Need You Baby" and "My Baby's Blues", recorded at an unknown date.]

Then, it was off on a seven-week tour with Todd Rhodes, Wini Brown, Little Miss Sharecropper (Lavern Baker), and the Swallows. However, the only appearance I can find is at the Gala Day celebration sponsored by the "Ancient Egyptian Arabic Order Of Nobles Of The Mystic Shrine Of North And South America And Its Jurisdiction, Inc." (Definitely sounds like something out of Amos & Andy, doesn't it?) It was held on September 1 at the Amvets Home in Waterloo, Iowa.


In October 1952, Savoy issued "Tortured Love", backed with "Give It Up". Later that month (the 24th), H-Bomb was at the Apollo Theater, along with Little Walter, Duke Hampton, and Crackshot Hackley's comedy company.

Cash Box was totally confused in its review of the latest Savoy record on October 25. If it was printed correctly, there's no way the reviewer had actually listened to the songs.


Give It Up (B+): H-Bomb Ferguson does a personality job of a fast big beat number with a chorus backing. Assisting with the vocal in a smallish fashion is thrush Varetta Dillard. This side should stir up loads of action.

Tortured Love (B): The under deck is a slow rhythmic tune impressively fashioned by H-Bomb as he gives a verbal picture of a tortured lover.


The problem, of course, is that Varetta Dillard was on "Tortured Love", not "Give It Up"


By late 1952, H-Bomb was being handled by Universal Attractions. They booked him into the Ebony Club (Cleveland) from December 22-28.



He was at the Delux [sic] Bar, in Sanford, Florida, on February 10, 1953, along with Tab Smith and Little Esther. All three acts were at the Manhattan Casino (St. Petersburg, Florida) on February 13, Baker's Patio (Fort Pierce, Florida) on February 21, and the VFW Legion Clubhouse (Key West) some time after that (it was reported on February 28 that they'd been there). March 1 found them all at the Paradise Amusement Club (Nashville). Actually, most of his appearances in 1953 were with Tab Smith.

They took some time off after that, since, on March 30, H-Bomb recorded several songs in Atlanta. I don't know who they were recorded for, however. The five known songs were: "You Made Me Baby", "She's Been Gone", "Josephine", "Nobody Knows", and "Baby Don't Go".


Somehow, Johnny Vincent (future owner of Ace Records) was involved and he sold "You Made Me Baby" and "She's Been Gone" to Specialty Records. They were scheduled for a July release, but cancelled at the last minute. Possibly Herman Lubinsky, owner of Savoy records, made a big stink about H-Bomb still being under contract to him (although there'd never be another Savoy release). All these titles ended up on various compilations many years later.


Tab Smith, Little Esther, and H-Bomb were back together, at the Sunset Terrace Ballroom (Indianapolis), on April 19 and the Superior Ballroom (Cleveland) on June 5. In between, H-Bomb was at the Whispering Pines Inn (Heightstown, New Jersey) in mid-May. There was an appearance at Carr's Beach (Annapolis, Maryland) on August 2, along with Tab Smith and the 5 Keys.


On October 8-11, 1953, H-Bomb reunited with Tab Smith to appear at the Club Trocaveria (Columbus, Ohio). His name is in the show's write-up, but not the ad.

Possibly to try and fool Savoy, H-Bomb recorded a couple of sides for Sunset Records (which seems to have been a New York company) on October 26, 1953: "Nanny Miss Fanny" and "Everynight". Released by the end of the year as by "Mr. Ferguson & His Piano", they weren't reviewed. Since Charlie Singleton had the previous Sunset release, it's reasonable to assume his band backed "Mr. Ferguson" on these (although, since I haven't heard them, they could just be by H-Bomb and his piano.).


Starting on November 9, H-Bomb and Tab Smith (and Big Maybelle) appeared at Gleason's Musical Bar (Cleveland) for a week.



On March 31, 1954, H-Bomb recorded a single known song with Andy Kirk's Orchestra in New York: "Hole In The Wall". Released on Decca in June (with the Andy Kirk Orchestra being the featured label artist), it was mildly reminiscent of his Wynonie Harris imitations. (The flip, "Mind If I Remind You?", had a vocal by Mel Moore.) I've been unable to find out why this pairing occurred; there's no record of him ever appearing with Kirk's band. It was reviewed in the June 19 Billboard:


Jump opus moves well in a fashion calculated to please young jitterbugs. Mildly suggestive, it might grab some juke nickels. H-Bomb Ferguson is the featured shouter.


This is the last we hear of H-Bomb Ferguson for another two and a half years, by which time he'd moved to Cincinnati. The Cincinnati Enquirer of January 11, 1957 advertised:


HERE IT IS . . . HERE IT IS - KING OF THE ROCK AND ROLLERS - H-BOMB FERGUSON AND HIS WILDCATS BAND (Savoy Records). Every Friday and Saturday, 68 Club, Mt. Orab, Ohio. Route 74 out of Cincinnati to Levy, stay on 74 to Mt. Orab, Ohio, turn right on 68 - 3 miles to 68 Club. [I included the directions in case you're planning to go.]
Nothing further until September, when he ("King Of Rock 'n' Roll") was advertised at the Hilltop Nite Club in Dayton, Ohio. In October and November, he was at the Hitching Post, also in Dayton (although it was called his first appearance in that city).

In case you think that H-Bomb played and sang from night till morn, here's what he really did: he (and wife Estella) are in the Cincinnati City Directory in 1956, 1958, and 1960. However, Robt P Ferguson isn't listed as a musician, but as a driver for the American Barrel And Cooperage Company.


But he did manage to sneak out occasionally. On January 23, 1958, he started at the Dude Ranch (Hamilton, Ohio). H-Bomb Ferguson "and his Rock 'n' Rollers" would do battle with Carl "The Soul" Cowen and his Flying Home Band on Thursday through Sunday. I don't know how long Cowen lasted, but he's gone from Dude Ranch ads from February 14 on. Also, H-Bomb's band is now identified as the "Mad Lads", a name he'd keep for several years. A March 13 ad tells us H-Bomb has been held over and is now in his eighth week at the Dude Ranch.


Around March 1958, he recorded a couple of sides for John Marshall Finch's Cincinnati-based Finch label: "She Don't Want Me" and "Don't Leave Me". Casting around for a new sound, "She Don't Want Me" is a rocker, while "Don't Leave Me" is a real Blues.


On May 1, he was at the Big 4 Supper Club in Hamilton, Ohio.



In June or July, he recorded some sides for the Big Bang label of Hamilton, Ohio. (Can you think of a better label for "H-Bomb" than "Big Bang"?) It was owned by William D. "Bang" Meyer, who went on to own a restaurant and a sandwich truck. The sides were: "Spaghetti, And Meat Ball", "No-Sackie-Sack", "Rain Rain Rain", and "Boogie Down". Big Bang released "Spaghetti, And Meat Ball" and "No-Sackie-Sack" in July. The latter song is in the same mold as Gerry Granahan's "No Chemise Please", but I can't understand many of the lyrics. They were reviewed in the July 7 Billboard and the July 26 Cash Box:


No-Sackie-Sack ((BB; 72): Frantic rhythm item gets listenable treatment from lead and group.

Spaghetti, And Meat Ball (BB; 74): Ferguson's own rocker quotes lines from song hits of 1938-42. Amusing and has a beat. Rates jockey spins.

No-Sackie-Sack ((CB; C+): Like the man said on the "No Chemise Please" clicker so does H-Bomb Ferguson on this Big Bang 'sack' slicing. However H-Bomb reacts in more violent fashion as he triggers this frenzied earth shaker.

Spaghetti, And Meat Ball (CB; C+): Under side is a captivating novelty set to a mambo-rock beat. The Mad Lads ably back up on both rocking halves.


He was back at the Dude Ranch from August 22, 1958 through mid-October. On August 26, the Cincinnati Enquirer reported on the arrest of guitarist Edison Roosevelt Thompson, one of the Mad Lads, for drug possession. This is the only time we learn the name of anyone in the band, but the article did say that there were five of them, including H-Bomb. The main thrust of the article was that Thompson had wrists so big that handcuffs wouldn't fit on them.


From November 5 through the end of the year, the group appeared at the Club Laredo in Dayton, Ohio.



Later in 1958, H-Bomb did some more recording, this time for Carl Burkhardt's Cincinnati-based Arc Records. The result was "Little Tiger", backed with "Crying Over You". As far as I can tell, they were released that year.

A colorful character, Burkhardt was characterized (during a United States Senate Rackets Committee hearing) by the February 22, 1959 Cincinnati Enquirer as "an ex-convict and record manufacturer". The February 24 Akron Beacon Journal said of him "A one-time dealer in obscene records invoked the Fifth Amendment today on whether he played a role in a reported gangster plot to flood the Midwest with counterfeit jukebox records." Just another fun day in the entertainment business.


They were back at the Dude Ranch on January 30. There was only the single ad, so I don't know how long the engagement was for. However, they were gone by February 22, when the Fabulous Ink Spots started.

Sometime in early 1959 Big Bang released the other two songs: "Rain Rain Rain" and "Boogie Down". They weren't sent out for review.


July 14 found H-Bomb at the Lone Pine Inn in Alpha, Ohio. Although the ad said "Every Tuesday Night", his name was only in the ad of that date. There are no other Lone Pine ads until mid-October, when someone else was there.


From November 4-8, 1959, H-Bomb was at Spatz's Show Bar in Hamilton, Ohio. From then on, he appeared there every Sunday, for a jam session, until early December.


Not sure how he managed it, but he overlapped Spatz's with an engagement at the Rendezvous in Dayton, Ohio. While Hamilton is about 30 miles from Cincinnati, Dayton is another 40 miles. Hope he had good tires. He appeared at the Rendezvous on Thursday through Sunday (November 12-15).


The only 1960 engagement I can find is at the Lone Pine Inn (Alpha, Ohio) on May 17, 19, 20, 21, and 22.

Since he lived in Cincinnati, it's surprising that it took him so long to record for King records (even though many sources incorrectly say he did it in 1957). But in a single mid-December 1960 session, he waxed six tunes for King's Federal subsidiary: "Midnight Ramblin' Tonight", "Boo Hoo", "Mary Little Mary", "I'm So Lonely", "The Mess Around", and "Lady Queen".


Federal released "Midnight Ramblin' Tonight" and "Boo Hoo" in February 1961, but they weren't reviewed.



Also in February 1961, ten years after their initial release, Atlas records reissued "Rock H-Bomb Rock" and "I Love My Baby".



In March, Federal issued "Mary Little Mary, coupled with "I'm So Lonely". They were reviewed in the April 3 Billboard:


Mary Little Mary (three stars): A blues in medium beat rhythm. Chanter pleads with the gal to be his steady. Fair sound. [I'll never understand these things. If it's only a "fair sound", why give it three stars?]

I'm So Lonely (two stars): Ferguson delivers a weeper in the traditional r&b vein. The chanter has an okay sound but the material is a bit on the ordinary side.


Another Rendezvous ad (for H-Bomb "and His Bad Lads [sic]") had him there from July 27-30. It says every Thursday, Friday, Saturday, and Sunday, but this is the only week he's advertised.


Sometime in early 1962, all six of his known Federal sides were released on an Audio Lab LP called A Little Rock & Roll For Everybody. (Audio Lab was a King subsidiary.) The other six tracks were by the Escos and the Mascots.


The week of May 14, 1962, H-Bomb and Jimmy Reed appeared at Dayton's Rendezvous Club. June 15 found him at the New Sportsman's Club in Newport, Kentucky. (Celebrity And Twist Night On Wednesday.)


He and the Mad Lads were advertised at the Rendezvous Club again from June 29 through July 5.

The last appearance I can find in this phase of his career was at the Muncie (Indiana) Armory on August 25, 1963. Also on the bill was Rufus Thomas and the Johnny Smith Orchestra.

After this, H-Bomb Ferguson retired from music for around 20 years. He told an interviewer in 1984 that the work had pretty much dried up. He then took to driving a garbage truck. "I'm the garbage man. I just drive the truck; I don't pick up no cans."


I can't find any mention of him again until 1985. However, those performances are beyond the scope of this article. Two new facets of his career: he'd pretty much switched to straight blues and he became an outrageous performer, wearing bizarre wigs onstage. There were also more recordings, again beyond this article's scope.

The October 17, 1985 Cincinnati Enquirer had a big article about him (although they referred to his original nickname as the "Copa Kid" instead of the "Cobra Kid"). Here's an interesting quote from his then-wife, Lorene: "He used to sing with a monkey he had around the house and he had a snake - he named it Boo-Boo - that I had to sleep with."

Another October 17 event (but this one in 2006): Cincinnati Mayor Mark Mallory proclaimed it "H-Bomb Ferguson Day". As an added bonus, a documentary directed by John Parker, "Blues Legend: The Life and Times of H-Bomb Ferguson", debuted. In his last major public performance, on that day, he had an oxygen tank with him to help combat the effects of emphysema.

After enjoying his renaissance, Robert Percell "H-Bomb" Ferguson passed away around a month later (November 26, 2006) at the Hospice Of Cincinnati in Blue Ash, Ohio. The cause of death was emphysema and cardiopulmonary disease. He was 77 and performed, with his group (the Medicine Men), until two weeks prior to his death.

Since I like Wynonie Harris, how could I not like H-Bomb Ferguson? Of course, there's something very wrong with that summary, isn't there? An artist should have his own identifiable style, not someone else's. Doesn't matter; I still like H-Bomb.


Special thanks to Victor Pearlin and Dan Kochakian.



DERBY (Bob Ferguson with Jack Parker's Orchestra)
759 Wine Head / Hard Lovin' Women - 4/51
769 I'm Gone, I'm Gone / Jumpin' And Shoutin' - ca 8/51

ATLAS (H-Bomb Ferguson with the Charlie Singleton Ork)
1001 Rock H-Bomb Rock / I Love My Baby - 12/51

PRESTIGE (H-Bomb Ferguson with Jack "The Bear" Parker Orchestra)
918 Feel Like I Do / My Love - 1/52
released in the UK on ESQUIRE 10-372 in 1953

SAVOY (H-Bomb Ferguson)
830 Good Lovin' / Slowly Goin' Crazy - 1/52
836 Bookie's Blues / Big City Blues - 2/52

ATLAS (H-Bomb Ferguson with the Charlie Singleton Ork)
1005 On My Way / Good Time Gal - 2/52

SAVOY (H-Bomb Ferguson)
848 Preachin' The Blues / Hot Kisses - 6/52
Released in Canada on QUALITY K1072 - 52
865 Tortured Love (with Varetta Dillard) / Give It Up - 10/52

SAVOY UNISSUED
Sundown Blues (12/51)
Life Is Hard (1/52)
My Brown Frame Baby (1/52)
New Way Blues (1/52)
Double Crossing Daddy (with Varetta Dillard) (7/52)
Work For My Baby (7/52)
I Need You Baby (?????)
My Baby's Blues (?????)

SPECIALTY (H-Bomb Ferguson)
467 You Made Me Baby / She's Been Gone (scheduled for July 1953, but cancelled)

UNISSUED MARCH 1953 SESSION (the prior two songs were also done then)
Josephine
Nobody Knows
Baby Don't Go

SUNSET (Mr. Ferguson & His Piano)
107 Nanny Miss Fanny / Everynight - ca 11/53

DECCA (Andy Kirk & His Orchestra, Vocal By "H" Bomb Ferguson)
29167 Hole In The Wall / [Mind If I Remind You? - vocal by Mel Moore] - 6/54

FINCH (H-Bomb Ferguson And His Mad Lads)
354 She Don't Want Me / Don't Leave Me - ca. 3/58

BIG BANG (H-Bomb Ferguson And His Mad Lads)
103 Spaghetti, And Meat Ball / No-Sackie-Sack - 7/58

ARC (H-Bomb Ferguson And His Mad Lads)
9001 Little Tiger / Crying Over You - 58

BIG BANG (H-Bomb Ferguson And His Mad Lads)
105 Rain Rain Rain / Boogie Down - 59

ATLAS (H-Bomb Ferguson)
1250 Rock H-Bomb Rock / I Love My Baby - 2/61
re-release of the 1951 sides

FEDERAL (H-Bomb Ferguson)
12399 Midnight Ramblin' Tonight / Boo Hoo - 2/61
12411 Mary Little Mary / I'm So Lonely - 3/61

AUDIO LAB (subsidary of King/Federal)
1567 A Little Rock & Roll For Everybody - early 62
Mary Little Mary
I'm So Lonely
The Mess Around
I'm Crying Boo-Boo Hoo
Lady Queen
Midnight Ramblin' Tonite
(All other tracks are by the Escos and the Mascots)





Unca Marvy's Home Page
More Articles