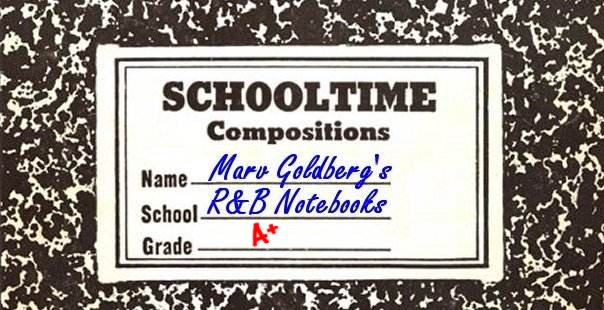 THE LITTLE FOUR
By Marv Goldberg



© 2016 by Marv Goldberg
[NOTE: I usually use the number rather than the word in writing a group's name (in other words, I would tend to call them the "Little 4"). However, that doesn't look right here, so I'll just write it this once so that search engines will pick it up in the usual way.]


The Little Four (or the Little Four Quartet, as they were sometimes known) was probably one of the most talented groups you've never heard of. They certainly weren't successful as a recording group, having had only a single released record, but for some five years they kept very busy with appearances in (mostly) New York and Pennsylvania. In spite of this, there was never a single article written about them. Their names come from a photo in the December 16, 1944 Afro-American, which, as far as I can tell, never mentioned them again. Unusually, I found out more about what the members did before the group formed than during or after its existence.

Most citations for the "Little Four Quartet" concern a female group from Kokomo, Indiana in the early 30s (and still around in the mid-40s) or a gospel group from Kingsport, Tennessee in the early 1950s. There were also many references to the "Little Four" as being a sports team, certain members of a team, or a local grouping of teams. (Don't even ask how many articles referred to "little four-year-old" children or "little four-room apartments".)

The guys called themselves the "Little Four" because they were all at least 6 feet tall. (Although that sounds like press agent nonsense, it's actually true this time.) As you'll see by their birth dates, all of the singers were in their 40s by the time the first appearance of the Little Four was documented in 1942. Because of this, all the members had extensive singing experience prior to the formation of the group. Here are the members and some of what they did prior to the Little Four:


Charles Earl Skanks (first tenor) was born in Lynn, Massachusetts on August 27, 1894. His 1917 WW1 draft registration said that he was a laborer for the city of Lynn. (He was in the U.S. Army at the tail end of WW1, starting on September 1, 1918.) In the 1930 census, he was living in Manhattan and was a "stage actor". In 1940, he was a singing waiter in a night club and a singer in theaters. Interestingly, his father was born in Nova Scotia and his mother in Bermuda. His 1942 WW2 draft registration says he worked at Ryan's Rendezvous in Kew Gardens, Queens, NY (whose owner would be jailed the following year for tax evasion). Presumably, this was right before the group's formation.

In 1924 (as Chas. E. Skanks), he was with the Shuffle Along Four, a fairly popular Vaudeville group. He seems to have stayed with them until early 1927. Then, he was part of a March 1, 1928 radio broadcast for the Florence Mills Memorial Fund over WABC. After that, he became the singer for the Norman Thomas Quintette. [This was a strange aggregation: Norman Thomas on piano; Freddie "Rastus" Crump on drums; two dancers: Stanley Brown and Alphonse Kennedy; and Skanks as the vocalist.] The Quintette appeared in the May 1929 Warner Brothers short "Harlem-Mania", in which they performed "Sleep, Baby, Sleep" (sung by Skanks), "Listen To The Mockingbird" (mostly Thomas' piano), and "Melody In F" (mostly Crump's drumming). The real star of the Quintette was drummer Crump. As "Earl Skanks", he was in the cast of "Fast And Furious", a musical at the New Yorker Theater in September 1931. Sharing the stage with him, were a couple of names you might know: Clinton "Dusty" Fletcher, Jackie (the future "Moms") Mabley, Tim (the future "Kingfish") Moore, Etta Moten, and Orlando Roberson. Also in the cast was Clarence Todd, whom you'll meet in a moment. On December 25, 1931, Earl Skanks was part of Eva Jessye's Dixie Jubilee Choir broadcasting over New York's WEAF. In July 1934, Earl had the lead in the road company production of "Harlem Scandals"; on the 12th, they played Zanesville, Ohio (also in the cast was the Norman Thomas Quintette and Mosby's Dixie Blue Blowers [whose leader was Curtis Mosby, brother of Esvan Mosby of the 3 Chocolateers]).

There was a strange article that appeared in the February 27, 1932 Pittsburgh Courier relating to his association with Eva Jessye (who would become the choral director for the original production of "Porgy And Bess" in 1935). It was headed "Skanks First To Imitate Nordic In Radio Play". [Keep in mind that press agents in the 1930s were just as absurdly creative as the ones in the 1940s; note how vague and weaseling the wording is and that most of it contradicts its title.] It went like this:



Miss Eva Jessye, director of the Dixie Jubilee Singers ... has just revealed that so far as she knows, Earl Skanks, tenor, a member of her singing group, is the first Negro to impersonate a white man over the radio in an accredited folk play. Mr. Skanks' impersonation was so well done that at the close of the program a white man, who stages wild west sketches over the N. B. C. stations, came to the studio to meet the white man who took the part of the "Hill Billy." When told the part was taken by a Negro he remarked that it was the first time he had ever known a Negro to impersonate a white man in an important part on the radio, and that the impersonation was extremely well done. Contrary to what might be expected, Mr. Skanks was not born in the South, but is a native of Lynn, Mass., and was educated in the Lynn English High School. He played semi-pro baseball as a youth throughout New England. He came to New York in 1920 but has been a professional singer since 1914. His voice is tenor. In addition to being a member of the Dixie Jubilee Singers, he is also a member of Miss Jessye's Male Choir. He has had a varied career on the stage, appearing in "Brown Buddies," with the "Shuffle Along Four," the "Norman Thomas Quintet," and other theatrical and musical aggregations. He is at present being featured with the Four Wallace Brothers who are appearing at the Hot Feet Club in Greenwich Village [described as "Greenwich Village's only colored night club"].



Clarence E. Todd (second tenor) was born on February 23, 1895 in New Orleans. In his 1917 draft registration, he was a porter at the Pickwick Club. In the 1930 census, he was a "restaurant entertainer" living in Brooklyn. In 1940, he'd moved to Queens and was a "night club entertainer".

According to his ASCAP biography, Clarence Todd had been a corporal and a bandleader in World War 1. Through much of the 1920s and early 1930s, he was part of the Clarence Williams Trio (pianist/composer Clarence Williams, his wife, Eva Taylor, and Clarence Todd) . He'd been with them, for example, when they'd recorded "Santa Claus Blues" for Okeh in 1925. Also on that session was Narcisse "Buddy" Christian, a banjo player who'd been an original member of King Oliver's Band, and that new kid on the block, Louis Armstrong (some kind of horn player, I believe). The trio also recorded in 1930, and again in 1933, when they'd changed their name to the Lowland Singers.

Clarence was mentioned as singing in a church function on June 13, 1922. He was part of "Jimmie Cooper's Revue" in June 1924 and with the Clarence Williams Trio at the Citizen's Forum on October 13 1925. Todd was in "Rang Tang" a musical that opened on July 12, 1927 at the Majestic Theater and ran for over 100 performances. He wrote some of the music for "Keep Shufflin'", which played from February to May of 1928 (other music was supplied by Fats Waller and Andy Razaf). Then, Todd was in the drama "Pay Day", which opened at the Orpheum Theater in Newark in January 1929. August 1930 found him and Frank Radcliff ("colored comics") at the RKO Fifty-Eighth Street Theater's Vaudeville show. On January 16, 1933, Clarence was one of the entertainers at a dinner given at Harlem's 135th Street YMCA. There were some other, minor, artists performing too: Mrs. Louis [Lil] Armstrong, Cab Calloway, and the Southernaires. Sometime in June 1933, Clarence performed at a Negro Scholarship Fund benefit. As part of the Clarence Williams Trio, he performed at the Witoka Democratic Club in Jamaica Queens on June 24, 1933. In 1937, Clarence Todd and Carmen Lombardo (Guy Lombardo's brother) collaborated on "Oooh Look-a There, Ain't She Pretty". He was also one of the writers of "Papa De-Da-Da", which was featured in Lew Leslie's "Blackbirds Of 1930".

There was a large write-up on Clarence Todd in the New York Sun of July 20, 1939. He was described as "a big, tall Negro waiter who dances down the aisles of the Kit Kat Club balancing trays of drinks and food...." He'd just written "Love Grows On The White Oak Tree" which was featured in the Kit Kat's floor show. Among all his other activities, he'd been a waiter at that club since it had opened on December 24, 1935. The owner even said that Todd was the favorite waiter of Franklin D. Roosevelt, Jr. Another article called him a "man mountain of a waiter".

George W. Timber (baritone) was born on February 14, 1902 in New Bedford, Massachusetts. In the 1940 census he was living in the Bronx and was a waiter in a night club.

In 1934, George was in the Eva Jessye Choir as a baritone soloist. On July 7 of that year, he was part of the 4 Squires Quartet giving a concert at the Harlem Academy. The other members were James M. Watkins, Charles, Alford, and Cecil Murray (future member of the Rhythm Kings). George was mentioned in a blurb in the February 12, 1936 Decatur Daily Review:



Like to listen to George Timber and his Four Squires on a local radio station. Network caliber. They sing the spirituals of the old South with feeling and appreciation. But Timber has never been south. His father, who came from St. Kitts, settled in Massachusetts a half century ago. He [presumably George] was graduated from the New England Conservatory of Music. Is now working as a waiter, and broadcasting, to earn money enough to obtain a degree of Doctor of Music from Columbia.



Raymond Herbert Giles (bass) was born on June 9, 1900 in Baltimore, Maryland. His 1917 draft registration (when he was living in Newark, Delaware) said that he was a laborer for a contractor. In the 1940 census, he was an entertainer in a night club living in Manhattan.

The February 2, 1935 New York Age mentioned the [January 22] wedding of Raymond Giles and Jewell A. Thomas.

Ray appeared in the cast of "Goin' Home" at the Masque Theater in August 1928, and then "Bomboola" at the Royale Theater in June 1929. In "Bomboola", he got to play two roles: the Deputy Sheriff and the Preacher (also in the cast was Dusty Fletcher). September 1930 found him and Jim Robinson ("funny men and singers"), along with Margaret Sims and Harold Reed, in the musical comedy "Daffydils" at the Alhambra Theater for a week-long engagement. In December 1932, he was part of a road company of "Show Boat" that appeared at the Nixon Theater in Pittsburgh. There was a team called "Wilson & Giles" appearing at a show that Clarence Todd was on, but I've been unable to find out either what kind of act it was or if this was even Ray Giles.


While I don't know how they initially got together, it's clear that they were all part of the Harlem music scene in the 1920s and 1930s. As such, they had probably all known each other for years.


The first mention of the Little Four in the press was on October 11, 1942, when they appeared at the Coffee Hour of the Harlem Recreation Center (a weekly show put on to entertain soldiers and defense workers). Nothing was written about them; they were just one of the acts. (That, in itself, is significant; it was assumed that readers knew who they were.) They were back on the Coffee Hour on November 1, this time in the company of singer/comedienne Amanda Randolph.

They're next mentioned in the May 1, 1943 Billboard, which tells us that they were a "vocal quartet of six-footers" (which, for a change, wasn't press agent nonsense), had signed with Consolidated Radio Artists, and were due to open at the Windmill (Charleston, West Virginia) on May 3. The engagement was supposed to be for 20 weeks, however, on July 10, Billboard reported that they were now booked into the Ringside in Manhattan. (This is why I never trust accounts of really long engagements.)

I don't know what happened to their deal with Consolidated Radio Artists, but in the July 24, 1943 Billboard, a blurb said that they'd switched to the Special Attractions Agency (run by someone who called himself "Mike Special"). You'll see what I think of Special's publicity handling when we get to 1944.

A blurb in the October 16, 1943 Billboard said that they'd been appearing at Bently's (in Manhattan) and had been held over for an additional eight weeks. They were still there in mid-November, so maybe this one was true.

And then, the Biggest Of Big Time: on Tuesday, November 16, 1943 they actually appeared as one of the acts (and the only named one) on a variety television program! It was broadcast from 8:30 to 9:45 over station W2XWV (since it was all still experimental, station call letters were somewhat different than they are today). The show seems to have had no name (at least none was given in the review) and was sustaining (which means it had no sponsor). Since there probably weren't 100 television sets around that could have picked up the program, this was truly pioneering work. It was broadcast on Election Day, and some of the hosts read election returns. (There probably weren't many to read. These were local elections with reported light turnout.) Here's the review of the Little Four: "Negro male quartet who have appeared on these programs before, offered Paper Doll, Your Time Is My Time, Ain't She Pretty and Cha-Chi-Man acceptably. Cameras kept the swaying group in frame and focus." Such was the state of TV in 1943 that having a steady camera was a big thing! If the reviewer had his facts straight, the Little Four had appeared on other TV shows in the past (the ones on W2XWV had been broadcast since May), in spite of their own families not being able to see them!

On December 13, 1943, the Little Four opened at the Jai-Lai Club in Columbus, Ohio. They were reportedly paid $450 per week. The Special Attractions Agency reported in the January 29, 1944 Billboard that they'd been renewed for 14 weeks.


Now, because I'm big on Public Service, I'm going to teach you a new word: "indefinitely". It probably sounds like a word you already know, but somehow, as used by the Special Attractions Agency, it takes on a whole new meaning. Take a look at the accompanying graphic. It's something I constructed from various Special Attractions ads in Billboard. Next to each, I put the date and the ad has the location. Note that each of these ads (and every other Special ad for the Little Four, but not Special's other acts) claimed that they were "Held Indefinitely". You wouldn't normally think that "indefinitely" could be applied to really short-term appearances. Oh, well, it's my job to educate.


Around the beginning of April, they began a stay at Bill Martin's, in York, Pennsylvania. After that, it was the Peters Cabaret in Hanover, Pennsylvania. In August, they were at Fred Sindel's Stable in Coney Island. Appearing with them were Jerry Montana's orchestra and Vince Mondi ("one-man band and singer").


In early September 1944, they did three Filmcraft Productions videos in New York (subsequently sold to Soundies). The vocals for those videos were recorded (according to Mark Cantor of Celluloid Improvisations Music Film Archive) around September 8, 1944. The actual filming took place sometime later that week. The three titles were: "Cha-Chi-Man" (released 11/13/44), "Love Grows On A White Oak Tree" (released 1/1/45) and "Chilly 'N' Cold" (released 4/23/45). According to Cantor: "Only Shanks and Todd are referred to in contract materials. Charles E. Skanks is described on the contract as 'owner Little Four'." The band that's seen in "Love Grows On A White Oak Tree" seems to be Skeets Tolberts' (without Skeets himself). The band was filmed in October 1944 (since they were on the set filming their own videos) and inserted into the Little Four's video (not appearing together with the group). The guys were paid $200 for the videos.

Note that "Love Grows On A White Oak Tree", a Clarence Todd composition, is the same song that the 3 Peppers recorded as "Love Grows On The White Oak Tree".

Let's talk, for a moment, about sidelining. Since musical tracks to Soundies (as well as movies) were pre-recorded, the people you see on-screen aren't necessarily those who made the recordings; the ones you see are "sidelining". A case in point is the guitarist seen in "Love Grows On The White Oak Tree". He's Ebenezer Paul, who's really a bassist and his fingering has nothing to do with the sounds you hear from the music track. The four musicians you see were members of Skeets Tolbert's band (minus Skeets) and were filmed separately from the Little Four. Probably, since the Little Four weren't a very animated group, the musicians were just stuck in for visual appeal, even though they probably weren't the ones who were heard on the original recorded track.

"Cha-Chi-Man" was mentioned in the December 2, 1944 Billboard as being part of Soundies program 1188: "The Little Four Quartet sings Chi Cha Man [sic]. Setting is a sea food bar, with the foursome singing about red hot buttered crawfish and other delicacies."


A December 16, 1944 Afro-American blurb said that they'd recently recorded for both Decca and Spotlight. They'd had a session for Decca on October 24, at which time they'd recorded "You Gonna Outsmart Yourself" and "Don't Forget To Be True". Neither was released. This Spotlight label remains unknown. (The one in Hollywood wouldn't begin operations for another nine months or so.) There are no known releases on it.

On January 13, 1945, Billboard reviewed Soundies program 1194: "The Little Four Quartet sings Love Grows On A White Oak Tree, which concerns an imaginary land where gold also flows like water."

On January 31, they re-recorded "Your [sic] Gonna Outsmart Yourself" and "Don't Forget To Be True" for Decca. Once again, neither was released.

In February, they began a stay at the Pelican, in Bethlehem, Pennsylvania. After that, they hit the Vaudeville circuit, appearing at various Loew's theaters in Brooklyn. On March 4, they were at the Loew's Premier, followed by the Tilyou, the Prospect, and the Orpheum.


Sometime in 1945, the Little Four made their only known record, waxing for J. Mayo Williams' Southern Records. Williams had been head of Decca's "Race Music" department for a number of years. He'd left Decca at the beginning of 1945 to start his own labels in New York: Southern and Harlem. While the Little Four's masters were probably recorded in New York, by the time of the record's release, Williams had moved his operations to Chicago (the label says: "manufactured and licensed by Southern Record Corporation, Chicago, U.S.A."). Both tunes were written by Clarence Todd: "TEE-U-Eee" [capitalization used on the label] and "Don't Forget To Be True". The guys were accompanied by the Haynes Trio.

December 1945 found the Little Four at the Three Acre Grill in Lynhurst, New Jersey.


In January 1946, Southern released their record. It wasn't sent out for review, but was mentioned in a Southern ad that ran in February. January also found them at Al & Brownies, in Rochester, New York. A Billboard blurb from January 18, 1947 said that they were "doing third return engagement at Brownie's, Rochester [New York].", although there were never any earlier indications that they'd ever been there before.


Then, with their new record having been released, they headed to the Crystal Bar in Troy, New York in February 1946. On October 29, they opened at the Dubonnet, in Newark, New Jersey.

Ray Giles's son, Ray, Jr., told me that they'd played in Wildwood, New Jersey over at least one summer season and that they'd had an Australian tour, but these weren't documented anywhere that I could find.


And that's it. The rest is silence. There's no mention of the group or any of its members after 1947, except for a photo of Skanks and his wife in 1955. Clarence Todd died in August 1962; Charles Skanks on May 6, 1966; Ray Giles in December 1966; and George Timber on May 11, 1995.

At least I know a lot more about the Little Four now than when I started.

Special thanks to Mark Cantor (Celluloid Improvisations Music Film Archive), Ray Giles, Jr., and Ray Giles III.



THE LITTLE FOUR
SOUNDIES (all recorded September 1944)
18808 Cha-Chi-Man (released 11/13/44)
19408 Love Grows On A White Oak Tree (released 1/1/45)
10M Chilly 'N' Cold (released 4/23/45).

UNRELEASED DECCA
You Gonna Outsmart Yourself (recorded 10/24/1944)
Don't Forget To Be True (recorded 10/24/1944)
Your [sic] Gonna Outsmart Yourself (recorded 1/31/1945)
Don't Forget To Be True (recorded 1/31/1945)

SOUTHERN
122 TEE-U-Eee/Don't Forget To Be True - ca. 1/46
With the Haynes Trio




Unca Marvy's Home Page
More Articles