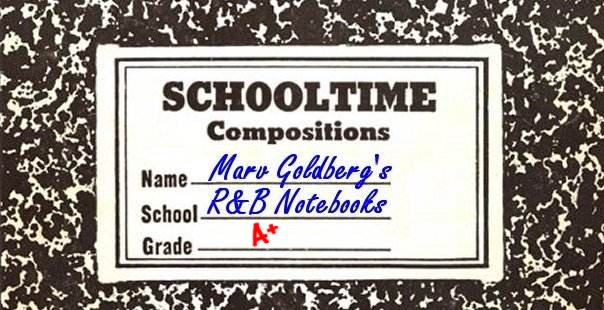 The Magic-Tones

By Marv Goldberg

© 2007, 2009 by Marv Goldberg
The Magic-Tones were another of the many, many groups from the Baltimore/DC area that formed in the wake of the Orioles' success. Most, of course, never made it to wax. The Magic-Tones, however, not only recorded, but turned out two superior ballads, along with a couple of fine rockers.

The origins of the Magic-Tones can be traced back to the 5 Kings, a group that formed in Baltimore in early 1951. The members were: Joe "Rico" Reed (lead tenor), Arthur "Boxy" Williams (first tenor), Gene Hawkins (second tenor and guitar), James Williams (baritone), and Willie "Ricky" Stokes (bass).

Things seemed to start off great when they talked their way into their first nightclub gig. They were standing backstage, nervous as only first-timers can be, when they heard the call for the 5 Kings. However, by the time they got onstage, there was another group at the mike (you may have heard of them: a less-than-obscure Baltimore act called Bobby Hall and the Kings). It was an honest mistake; the club owner had forgotten that the Kings had also been booked. By the time they finally got to sing, they'd been hastily renamed the "Dreamers."

So now they were the Dreamers; a name no one could take away from them (right up until the day they met up with another Dreamers group). Now they were really frustrated. They determined to get a name that no one else could come up with. The result was the "Magic-Tones." This time they'd done it. There wouldn't be another group with that name (although without the hyphen) until 1966.

Part of the reason that they considered themselves "magic" was that everyone in the group could sing all the parts (including Stokes, who could sound like Jimmy Ricks or Clyde McPhatter!). Of course, they practiced loads of bass-lead songs because of Stokes' deep, deep bass.


The Magic-Tones sang wherever they could: street corners, parties, and clubs (loads of clubs). One of these was the Pythian Castle, along with another local group, the Tilters (who had recorded "Ee-Til-Ya-Dee" for Atlantic in 1952). The Tilters' managers (Bill Robertson and Homer Murray) were impressed with the Magic-Tones and offered to manage them. Robertson and Murray were also songwriters, having written all of the tunes the Marylanders had recorded (although they weren't the Marylanders' managers).

Turned out that Robertson and Murray had a few more songs up their collective sleeve and these they gave to the Magic-Tones (although Gene Hawkins later claimed that he and Willie Stokes wrote them all). Robertson and Murray also secured a contract for the guys with King records and, on August 21, 1953, the Magic-Tones recorded four songs in a New York session. These all had Joe Reed in the lead, since R&M decided that there was no reason for the Magic-Tones to try and sound like the Ravens (they were right, of course). The songs were: "When I Kneel Down To Pray," "Cool, Cool, Baby," "Good Googa Mooga," and "How Can You Treat Me This Way."

King released "When I Kneel Down To Pray," backed with "Good Googa Mooga" in September 1953. While the disc wasn't sent out to the trades, it would have been reviewed in October, along with the 5 Royales' "I Want To Thank You," Otis Blackwell's "Daddy Rolling Stone," the Royals' "Hello Miss Fine," the Wanderers' "Hey Mae Ethel," and the Blue Jays' "White Cliffs Of Dover."


"Good Googa Mooga" was one of the expressions of DJ Maurice "Hot Rod" Hulbert (WITH, Baltimore), who's mentioned in the song. Hot Rod had loads of slang patter that he graced the airwaves with. He also had a protégé who ended up swiping most of his routines (and would go on to become "Jocko" Henderson).


When neither side set the world on fire (which they probably should have), King released "How Can You Treat Me This Way" and "Cool, Cool, Baby" in October. The record was reviewed on December 12 (both sides "good"), along with Amos Milburn's "Good, Good Whiskey," the 5 Keys' "My Saddest Hour," the Prisonaires' "A Prisoner's Prayer," the Moonglows' "Just A Lonely Christmas," and Guitar Slim's "The Things That I Used To Do."

And that was it for the Magic-Tones' recording career. They had a twelve-song contract, but they were never asked to record again.

In early 1954, Willie Stokes was drafted and replaced by Henry Abrams, who was also the bass of the somewhat-dormant Marylanders.

The Magic-Tones supposedly appeared at the Apollo Theater with a 1954 King Records tour that also featured the Midnighters, the Checkers, and Bull Moose Jackson. However, there's not a single 1954 Apollo show that has those three acts, let alone the Magic-Tones. Actually, neither Bull Moose Jackson nor the Checkers appeared there that year. This was supposed to be just one stop on a tour, but bass Henry Abrams had his commitments to the not-quite-defunct Marylanders and couldn't continue on.

The Magic-Tones pretty much fell apart at that point. As far as I know, only Gene Hawkins continued on in the business, mostly as a guitarist.


In early 1956, when Willie Stokes was discharged, he, Gene Hawkins, and Arthur Williams teamed up again to give the Magic-Tones one more shot. The other members that they got were Bobby "Trey" Jackson (lead tenor) and Robert "Shue" McGhee (second tenor). Note that Stokes, Hawkins, and Williams completely changed parts this time around: Stokes was first tenor (originally bass), Hawkins was bass (originally second tenor), and Williams was baritone (originally first tenor).

In the fall of 1958 they once again traveled to New York, this time to record for the tiny Howfum label. They waxed at least two songs: "Spanish Love Song" and "Tears In My Eyes," which were released late that same year.

It would have been a miracle if a minuscule label like Howfum could have made anything into a hit. They were, however, fresh out of miracles. Today, the disc is a multi-thousand dollar record.

And that was it (again) for the Magic-Tones. Gene Hawkins, Willie Stokes, and Arthur Williams had given it their all, not once, but twice. Shame they couldn't have made it big, but at least we've gotten some great music out of their efforts.

Discography courtesy of Ferdie Gonzalez.




THE MAGIC-TONES
KING (all leads by Joe Reed)
4665 When I Kneel Down To Pray/Good Googa Mooga - 9/53
4681 How Can You Treat Me This Way/Cool Cool Baby - 10/53

HOWFUM (no number on label; all leads by Bobby Jackson)
---- Spanish Love Song/Tears In My Eyes - 58



Unca Marvy's Home Page
More Articles