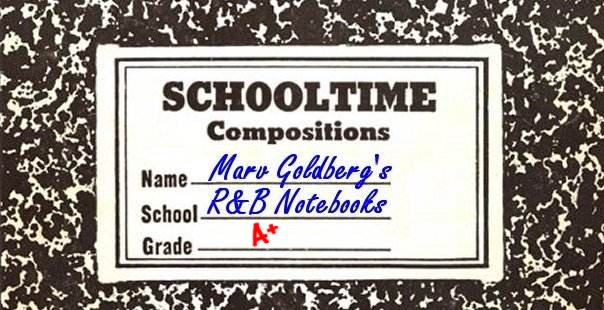 The Marcels

By Marv Goldberg

© 2006, 2009 by Marv Goldberg
[AUTHOR'S NOTE: This was written as liner notes for a project that never materialized. Might as well share it.]


I admit it: as rooted as I am in the R&B sound of the 40s and 50s, I still get a kick out of the Marcels' "Blue Moon." It was a great sound in 1961 and it's weathered well over all these years.

The Marcels began their career in Pittsburgh, Pennsylvania in 1959. Forming at Oliver Allegheny High School, they originally consisted of Cornelius "Nini" Harp (lead and guitar), Ronald "Bingo" Mundy (first tenor), Gene Bricker (second tenor), Richard Knauss (baritone), and Fred Johnson (bass). [A racially-mixed group, Cornelius, Ronald, and Fred were black; Gene and Richard were white.] The name came from the wavy "marcelled" hairstyle (think back to early Dick Powell movies).

After a year's worth of practicing, they made some demos that manager Jules Kruspir sent off to Colpix (a recording subsidiary of Columbia Pictures). These demos reflected the Marcels' love of R&B hits of years gone by, as well as established standards. After Fats Domino had had three monster hits in a row with "My Blue Heaven," "When My Dreamboat Comes Home," and "Blueberry Hill," standards became part of every group's repertoire.


Colpix was impressed, and the Marcels came to New York to record. Here's how the session went, according to A&R man Stu Phillips (this is paraphrased from his book, "Stu Who?"). It was February 1961. It was snowing; a raging snowstorm. The Marcels called that they were at the Lincoln Tunnel and would walk to Colpix (it would have been a long, but pleasant walk in June). The problem was, Stu Phillips was under orders to only work with the Skyliners. When the Marcels showed up, he had to hide them so they could rehearse. A session was arranged (quietly) for the next day (February 15).

They spent the day practicing. However, there was one song that Phillips didn't like. It was the Collegians' "Zoom, Zoom, Zoom," with Fred Johnson doing a fantastic bass riff. Phillips loved the riff, but the rest of it didn't appeal to him. He thought that the background would fit in with "Heart And Soul," but they didn't know it. Then he suggested "Blue Moon," which, fortunately, Nini knew.

That night they did the session. At the end, there was just ten minutes left to record "Blue Moon." They nailed it on the first take (a second take wasn't as good). One of Phillips' colleagues, Danny Winchell, was so taken with it that within a couple of hours, he had a demo made and took it to Murray "The K" Kaufman, the all-night DJ on WINS. Kaufman flipped over it, too, playing it at least 15 times that night. The next day, orders started pouring in for the non-existent record.


"Blue Moon" was a Richard Rodgers & Lorenz Hart tune that had first seen the light of day in 1933, when it was written for Jean Harlow and called "Prayer." Not used in the intended movie (neither was Harlow), Rogers & Hart kept the melody and rewrote the lyrics as the title tune from 1934's Manhattan Melodrama. That version didn't fly either, being cut from the film prior to the its release. However, it was reworked again and made it into the film as "The Bad In Every Man." Finally, in 1934, Hart came up with the fourth set of lyrics and "Blue Moon" was born. [For those of you who appreciate totally useless trivia, Manhattan Melodrama was the movie that John Dillinger had just seen when he was shot by FBI agents. "The Bad In Every Man" was sung in the film by Shirley Ross, in a hideous wig and with her skin artificially darkened to look like she belonged in front of a black band (she was the one who would sing "Thanks For The Memory" with Bob Hope in The Big Broadcast Of 1938).]

Down through the years, many singers had recorded "Blue Moon," and it became a cherished standard. However, in 1961, Richard Rogers was aghast at the treatment the Marcels gave it, taking out newspaper ads urging people not to buy the record! His pleas fell on deaf ears (I suppose he would have agreed!) and, driven by Fred Johnson's frenetic bass riffs (which he based on the Collegians "Zoom, Zoom, Zoom"), "Blue Moon" zoomed to the top of the Pop charts. [NOTE: Although this is what I'd originally written, when I was questioned about the newspaper ads statement, I had no idea where I'd come up with it. When I started digging, I found no ads, but there was an article in the July 10, 1982 Billboard, based on an interview with Richard Rodgers' widow. She said, speaking of Peggy Lee's version of "Lover," that "Dick thought it was wild and wonderful. He didn't object at all. He was always open to completely new sounds." The writer went on to say "She also says Rodgers shared a similar feeling with the Marcels' doo-wop rock version of "Blue Moon, a No. 1 record in 1961." So is this true? It could be; whether he actually liked it or not, it brought a lot of royalty money into his coffers. On the other hand, she might have just been portraying her husband as an open-minded individual. I prefer to believe that, for whatever reason, he had no problem with it.]

The Marcels' second session was on March 16. This time they recorded "Two People In The World," "A Fallen Tear," and "Sweet Was The Wine." None of these was released on a single. "Teeter Totter Love," "Over The Rainbow," and "Crazy Bells" were recorded at a second session that month.

The Marcels' next session, in April 1961, saw them record "Summertime," as well as "You Are My Sunshine," "Find Another Fool," "Footprints In The Sand," "Hold Up," and "Loved Her The Whole Week Through." Released that same month, "Summertime" couldn't recapture the magic, only rising to #78 on the Pop charts.

In the summer of 1961, Colpix released the Blue Moon album, Almost all its songs were oldies that the guys had grown up singing. At about the same time, their third single was issued, but "You Are My Sunshine" sank without a trace. The Marcels had issued three singles and an LP, based on 18 songs recorded in under two months.


At this point, both Gene Bricker and Richard Knauss left. Fred Johnson brought in his brother, Allen, as baritone, and tenor Walt Maddox replaced Bricker. The Marcels started the next phase of their career as an all-black group.

On September 1, they recorded another old standard: "Heartaches." Once again, Fred Johnson poured his mighty bass voice into the arrangement and this one made it to #7. Other songs from that session were "My Love For You," "Flowerpot," and "All Right, Okay, You Win."

By their October session, there had been another defection: Bingo Mundy left the group. He doesn't seem to have been immediately replaced, although I get the feeling that there were many singers in and out of the group from then on. At that session, they recorded "Don't Cry For Me this Christmas," "Merry Twist-Mas," and "Twistin' Fever."


In late 1961, the Marcels became part of the cast of Twist Around The Clock, in which they sang "Blue Moon" and their latest Colpix release, "Merry Twist-Mas." The movie, which also featured Chubby Checker and Dion, was essentially an updated Rock Around The Clock. Released to first-run theaters in time for the holidays, it was paired with The Three Stooges Meet Hercules, for a January 26, 1962 general release.

On December 21, there was another session, at which the guys recorded "My Melancholy Baby" and "Really Need Your Love." Released that same month, "My Melancholy Baby" became their last chart hit, although it only reached #58.

On April 16, 1962, the Marcels recorded "That Old Black Magic," "Don't Turn Your Back On Me," and "Give Me Back Your Love." A July 23 session produced "Lollipop Baby," "Friendly Loans," and "Blue Heartaches." Sometime after this session, lead singer Cornelius Harp left and Walt Maddox moved up to the front spot.

Their last Colpix efforts occurred in 1963, when they recorded "I Wanna Be The Leader" and "One Last Kiss" at one or two undated sessions. "I Wanna Be The Leader" was kind of a take-off on "Mr. Bass Man," which had come into being because of "Blue Moon."

Colpix continued to issue Marcels records through the middle of 1963, but nothing clicked. By that time, however, almost all the discs contained tracks that had been in the can for a year or two.


Fred Johnson and Walt Maddox kept the group going and, as the decade wore on, the Marcels became a quartet consisting of Walt Maddox (lead), Billy Herndon (tenor), Richard Harris (baritone), and Fred Johnson (bass). (Herndon and Harris had been members of Pittsburgh's Altairs.) After Colpix, they recorded for 888 ("How Deep Is The Ocean"/"Lonely Boy") in 1964, and then for Chartbound in 1967: "Letter Full Of Tears" (with Billy Herndon in the lead)/"Tell Me."

This group, with Walt Maddox on lead, recorded a song called "Bells" to be used in the movie "I'll Take Sweden" (starring Bob Hope, Dina Merrill, Frankie Avalon, and Tuesday Weld), released in June 1965.


The 1973 release on the Scepter subsidiary, Queen Bee ("In The Still Of The Night"/"High On A Hill"), had Bingo Mundy and Richard Knauss, along with Robert Earl Kelly, George Johnson, and Edward Lee. The deal was set up by Ed Salamon, who says: "The original Queen Bee records were on styrene, but it was booted on vinyl and blue vinyl - a rare case where the boot was better quality than the original."

In 1975, a group billed as the "Fabulous Marcels" had Nini Harp back on lead. They (the other members are unknown) recorded "That Lucky Old Sun"/"Peace Of Mind" for St. Clair. The only other known member is another Johnson brother, Louis, singing bass in place of Fred.

The Walt Maddox group did a remake of "Blue Moon" in 1978 on the All Ears label. The disc, whose flip was "Clap Your Hands (When I Clap My Hands)," credited the "Marcells." The other members were Rodney Williams (tenor), Richard Harris (baritone), Eddie Hicks (baritone), and George Taliaferro (bass). Hicks and Taliaferro had been in the Capitols (on Gateway).

1982 saw a release by "Walt Maddox and the Marcels" on Walt's Super label: a remake of "A Letter Full Of Tears" (the flip was "How Do You Speak To An Angel"). This had the same four voices as on 888 and Chartbound (Walt Maddox, Billy Herndon, Richard Harris, and Fred Johnson). In 1983 the All Ears cut of "Blue Moon" was reissued on Super M; its flip was a Walt Maddox solo: "Send In The Clowns."

In 2007, Walt Maddox is managing a new group of Marcels: Julius "Jules" Hopson (lead), Richie Merritt (tenor), Richard Harris (formerly of the Altairs (baritone), and Ted "Reno" Smith (bass).

Overall, you can't really say that the Marcels made much of a dent in American music. Overall. But there's still "Blue Moon," a song that was good enough to knock Elvis' "Surrender" out of the #1 spot on the charts and become a necessary part of every street corner group's repertoire.


Special thanks to Ed Salamon, Todd Baptista, and Walt Maddox. Discography courtesy of Ferdie Gonzalez.



THE MARCELS
COLPIX
186 Blue Moon / Goodbye To Love - 2/61
196 Summertime / Teeter Totter Love - 4/61
CP-416 Blue Moon - 61
Blue Moon
Goodbye To Love
Sweet Was The Wine
Peace Of Mind
A Fallen Tear
Over The Rainbow
I'll Be Forever Loving You
Two People In The World
Most Of All
Teeter Totter Love
Sunday Kind Of Love
Crazy Bells
606 You Are My Sunshine / Find Another Fool - 7/61
612 Heartaches / My Love For You - 9/61
617 Don't Cry For Me This Christmas / Merry Twist-mas - 11/61
624 My Melancholy Baby / Really Need Your Love - 12/61
629 Footprints In The Sand / Twistin' Fever - 3/62
640 Flowerpot / Hold Up - 6/62
651 Loved Her The Whole Week Through / Friendly Loans - 7/62
665 All Right, Okay, You Win / Lollipop Baby - 10/62
683 That Old Black Magic / Don't Turn Your Back On Me - 3/63
687 Give Me Back Your Love / I Wanna Be The Leader - 5/63
694 One Last Kiss / Teeter Totter Love - 6/63
TL-147 Blue Moon / Friendly Loans - 9/63

888
101 How Deep Is The Ocean / Lonely Boy - 64

I'll TAKE SWEDEN (movie)
Bells - 65

CHARTBOUND
009 Letter Full Of Tears / Tell Me - 4/67

QUEEN BEE
4 In The Still Of The Night / High On A Hill - 73

ST. CLAIR (the "Fabulous Marcels")
13711 That Lucky Old Sun / Peace Of Mind - 75
(re-released on Rocky, with the same number, at an unknown date)

ALL EARS (The "Marcells")
810085 Blue Moon / Clap Your Hands (When I Clap My Hands) - 78

SUPER (Walt Maddox & Marcels)
232 A Letter Full Of Tears / How Do You Speak To An Angel - 82

SUPER M (Walt Maddox & Marcels)
30427 Blue Moon / [Send In The Clowns - Walt Maddox] - 83
30427 Blue Moon / Clap Your Hands (When I Clap My Hands) - 83
("Blue Moon" and "Clap Your Hands" are reissues of the All Ears masters)

Murray Hill 000229 The Best Of The Marcels - 86
Blue Moon
I'll Be Forever Loving You
Blue Heartaches
Find Another Fool
Footprints In The Sand
My Melancholy Baby
My Love For You
Heartaches
Loved Her The Whole Week Through
That Old Black Magic
Goodbye To Love
Summertime
Friendly Loans
Alright, Okay, You Win




Unca Marvy's Home Page
More Articles