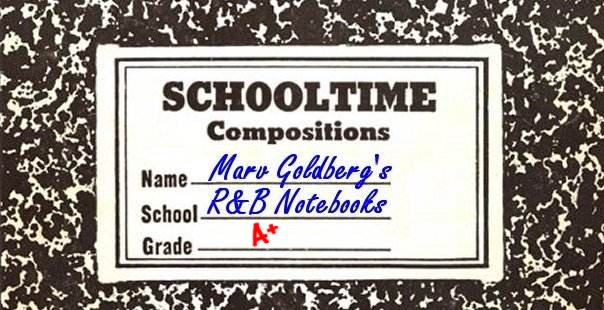 The Master-Tones

By Marv Goldberg

Based on interviews with Emanuel "Doc" Robinson
and Charles "Stony" Dimbo

© 2004, 2009 by Marv Goldberg
From the first tentative organ notes, to Doc Robinson's "Darling, you are the peg of my heart," to Pop Gray's falsetto lead, the Master-Tones' "Tell Me" has been on the short list of 500 or so songs that I've crammed into my top 10. Ever since I first heard it in the 1960s, I've always loved it. There have only been two questions: why is the song called "Tell Me" (those words only appear once, and not as a command or a plea; if I were guessing at the title from the lyrics, it would be "They Say") and who were the Master-Tones. At least I've got the answer to one of my questions.

The Master-Tones formed in 1951 or 1952, in White Plains (only a few miles north of New York City). All the guys were attending various high schools at the time, but they met when they attended night roller skating held at Battle Hill Elementary School. While they could have skated, they usually ended up harmonizing in the school's hallways.

The five guys who haunted the corridors of Battle Hill were: Clarence "Pop" Gray (tenor lead and guitar), George "Bronx" Rivers (first tenor), Emanuel "Doc" Robinson (second tenor), Frank McRae (baritone), and Charles "Stony" Dimbo (bass). They all lived in White Plains, except for George Rivers, who lived in nearby Greenburgh. (Since the Bronx River runs through this area, it isn't hard to account for George's nickname. "Bronx" was also a cousin of Harold Winley, bass of the Clovers.)

Calling themselves the Hearts (because they loved romantic songs), they practiced the R&B and Pop hits of the day (especially those of the Orioles, the 5 Keys, and any group with Clyde McPhatter). The Hearts played lots of little clubs in the White Plains and New Rochelle area: Doc recalled the Little Red Rose, the Parkway Casino, and the Pathfinders Club. A friend of theirs, Billy Barrels, acted as their manager and got them bookings.


Finally in the late Spring of 1954, they felt they were ready for the big time and entered the Apollo Theater's Wednesday night Amateur Show. Nervously singing their arrangement of the Drifters' "Money Honey," they won first place. There were always talent scouts backstage at the Apollo, and this night was no exception. They met a representative of Bruce Records (owned by Monte Bruce, Morty Craft, and Leo Rogers), who set up an audition for them.

When the big day came, they showed up with four original songs, from which Bruce's management picked out "Tell Me" (written by Pop Gray's brother Gene) and "What'll You Do?" (written by George Rivers and Pop Gray). School was out for the summer and the Hearts spent four nights a week at Bruce's offices (at 1650 Broadway in Manhattan) practicing. Doc Robinson's brother, Robert, was the one who drove them down to the City.

The only problem for the Hearts at this point was the persistent rumors that there was another group with the same name. (This was, of course, Joyce West and the Hearts, who would go on to record "Lonely Nights" for Baton in another six months or so; it's possible that they'd already auditioned for Monte Bruce.) Therefore, the guys needed a new name. The "tones" part was almost a given, since Bruce's own Harptones were their favorite group. Pretty soon, someone suggested the "Master-Tones" and everyone agreed on it.

In June 1954, Morty Craft announced the signing of the Master-Tones (knowing how these things work, it's possible that they'd already recorded their tunes before the signing was reported).

The night of the session, the Master-Tones were happy to see that their idols the Harptones were at the Bruce studios (in the same building as their offices). There's no way to tell the exact date, so the Harptones could have been recording "Forever Mine" or "Since I Fell For You" that night. Harptones' arranger Raoul Cita helped set up the Master-Tones' session, which was backed up by a small combo (organ and drums is all that can be heard on the songs) led by bandleader Jimmy Smith (whose recording of "Dancing On The Ceiling" would be released right after "Tell Me").

Since they'd been practicing a lot, both songs were knocked off in two or three takes. The most memorable thing about the session to Doc is that, since he's short, he had to stand on a box to reach the overhead microphone.

Soon after the session, the Master-Tones joined the Harptones and Jimmy Smith at a show at the Englewood (New Jersey) Jewish Community Center. Other appearances were at the Hotel Theresa (in Harlem), the Forest Hotel in Greenwich (Connecticut), the Armory in Stamford (Connecticut) and the Hotel Hugenot (in New Rochelle, New York).

As long as it was a school-free summer, Bruce arranged a Southern tour for the Master-Tones. A road manager and band (from Chester, Pennsylvania) accompanied them through North Carolina, South Carolina, and Virginia. However, because Frank McRae's mother was ill, he couldn't make the tour and was replaced by Ray Roberts, a baritone who'd been the lead singer on the Swans' "My True Love." (The Swans hailed from Greenburgh also.) Remember, at this point, "Tell Me" hadn't yet been released.

When they played Durham, North Carolina, the Clovers were staying in the same hotel, so George Rivers got to have a reunion with his cousin, Harold Winley. Doc remembers that at one of their appearances, there were about 6 patrons inside the club and possibly 100 outside. Then someone realized that the windows had been left open and everyone outside could hear the show for free. Once the windows were closed, the customers started filing in.

Since R&B acts typically made money from appearances (few took royalties seriously), the Master-Tones tour would seem to have been a good thing. In reality, the tour spelled the end of the group. They had a valet, whose function was to watch their things while they were on stage. One night they came back to their dressing room to find him so drunk that he'd passed out; their money, clothes, and some instruments had been stolen.

To say they were discouraged would be an understatement. They didn't even come back together; everyone made it home as best he could. The Master-Tones (whose record hadn't even been issued yet) never appeared again.

In an August press release, the Master-Tones were listed with other new Bruce talent: the Shytans, Don Gardner, and Herb Lance. By the time of the announcement, however, it's possible that the Master-Tones didn't even exist anymore.

"Tell Me" (led by Pop Gray) and "What'll You Do" (fronted by Pop Gray and Stony Dimbo) were finally released, as Bruce 111, in October 1954 (the same month that Stony joined the Air Force), although it's probable that DJ copies were released a month earlier. For whatever reason, the record doesn't seem to have been sent out for review (possibly Bruce management had finally found out that the group had broken up). Considering how popular the Harptones were in New York, no one was running to play the Master-Tones' record. Doc only remembers hearing "What'll You Do" a couple of times on the radio; "Tell Me" may not have gotten any airplay.

After graduation from high school, Doc got a job with a greeting card company. But the urge to sing was strong and he joined up with three former members of the Swans (first tenor Donald Sledge, second tenor/baritone James Bradham, and high tenor Charlie Drew) to become the Partners. The fifth member was bass Buddy Lucas, Junior, son of the famous bandleader. These guys all knew each other from playing basketball and pool together.

The Partners did a few shows together (one in Lodi, New Jersey) and then got their big chance. They were heard by a wealthy lady who wanted them to sing a song she'd written. They practiced it for several nights at her house and then appeared at a party that she gave for her friends. While the song went over well, something happened at the party and she broke off all relations with the Partners (a shame, since she was trying to get them booked on the Perry Como Show).

After this, Doc Robinson, Charlie Drew, and James Bradham joined a resurrected Swans group, along with Charlie Sherock and Ray Roberts. They spent their time rehearsing a couple of songs ("Believe In Me" and "In The Morning"). However, Doc left them before the songs were recorded for Buddy Lucas' Steamboat label around 1957. (This was a good choice for a label name; Buddy had written "Steamboat" for the Drifters.)

When the Air Force sent Stony Dimbo to North Africa, he formed a Master-Tones group that included Reuben Wright and Eddie Warner, both of the Gotham Capris; another member was future actor George Sierra. After that, he was reassigned to the state of Washington, where he became a member of the Emanon Trio, a jazz combo: Stony on bass and vocals, Jarrett Stout on piano, and Don Lavoy on drums.

Around 1959, Doc heard some guys singing in his building and wandered in to join them. Thus was born the 5 Sounds. The others were: Leon Carter (lead), Joe Ruff (second tenor), William Riley (baritone), and Charles Blakely (bass). They entered the Apollo Amateur Show, but were beaten by a blind boy, around 10 years old, who sang and played the harmonica. (Did Stevie Wonder play the Apollo in 1960?) After the show, someone took them to Smalls Paradise to sing. They were offered a contract, but they weren't happy with some of the wording and refused to sign it. They were a group with no manager and no direction, therefore, since Charles Blakely's mother really wanted him to sing in the Church, the 5 Sounds realized they weren't going anywhere and broke up.

Meanwhile, in the early 60s, "Tell Me" was discovered by the crowd at Times Square Records. This led owner Slim Rose to get Leo Rogers (who owned the Bruce masters, having bought out Monte Bruce and Morty Craft in May of 1955) to reissue the record. By the end of 1962, Slim had probably sold more copies of "Tell Me" than Bruce had in the record's initial release. For the second time, the group wasn't around to appreciate it! Because of poor initial sales, an original copy is extremely rare today, fetching a couple of thousand dollars.

Here's an interesting addition from Donn Fileti:

Wayne Stierle reminded me of something I forgot.

When Wayne and I had our "distributing business" in 1960-61 and bought 45s from Leo Rogers to resell to Slim, etc., Leo gave us copies of a new release on his Reliable label by Clarence Gray: "Ain't Nobody's Business" (the old blues standard). Wayne recalls Leo telling us that Clarence was in the Master-Tones (which makes sense, since we encouraged him to repress their record for us then).

I do recall taking the record to WNJR in Newark. I was met outside by Georgie Hudson and the program director, since they had a post-payola rule that no record pluggers could enter the station! George remembered Leo from Bruce, Tip Top, etc., and played the record a few times, most likely the only plays it ever got!


Like most vocal groups of the 50s, the Master-Tones had a short career. They only had a single record. But what a record! I wish they'd released a dozen more.


Special thanks to Jerry Skokandish and Ronnie Italiano.



THE MASTER-TONES
BRUCE
111 Tell Me (CG)/What'll You Do (CG/CD) - 10/54

LEADS: CG = Clarence "Pop" Gray; CD = Charles "Stony" Dimbo



Unca Marvy's Home Page
More Articles