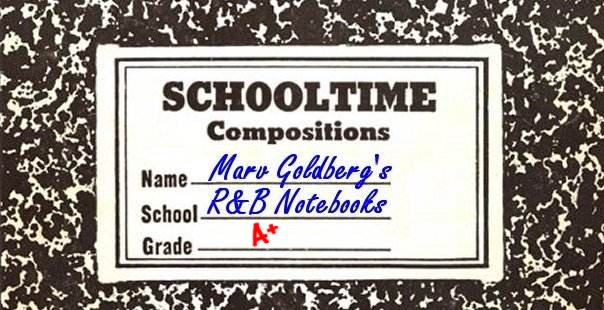 The Mondellos

By Marv Goldberg

Based on interviews with Ron Lawson
and Ollie McClay


© 2006, 2009 by Marv Goldberg
You could probably name several R&B groups from Pittsburgh, Pennsylvania. But how about Pittsburg, California? That's where the Mondellos came from. It's a town about 50 miles northeast of San Francisco, and not nearly as well-known.

In 1956, a nameless trio started singing under the streetlights in Pittsburg: Ron Lawson (tenor), Charles Jackson (tenor and bass), and Ollie "Yul" McClay (tenor and sax; he picked up his nickname by shaving his head to emulate movie star Yul Brynner). They weren't together too long before second tenor Alfred Trap was added, and a more traditional (although still nameless) quartet was formed.

After a while, they found that Alfred wasn't working out and Ron brought in a girl who sang with him in the Pittsburg High choir: soprano Alice Jean Wilton.

Finally, they decided to add a fifth voice to the group. Ollie and Charles were both attending Contra Costa College, where they met tenor Gary Williams (who was white). Says Ollie, "We needed another member to strengthen the sound of the group."


Through it all, the group still had no name. When they made appearances, they were simply billed as "a local group." Their idols were Jesse Belvin, the Penguins, and (amazingly enough) the Cadillacs. However, most of the songs they sang were their own arrangements of tunes by Ella Fitzgerald and Dinah Washington. Another song in the mix was "A Hundred Years From Today," which had been introduced by Ethel Waters in the Broadway musical, "Blackbirds Of 1933."


Ollie was going out with a girl named Pat Sims and mentioned to her father that he was singing with a group. This interested Mr. Sims, who ended up managing them and, in early 1957, introducing them to Don Barksdale.

Barksdale was a true phenomenon. The first black DJ in the San Francisco area, he was currently on KWBR (Warner Brothers Radio) in Oakland (right across the river from SF), where he was known as "Big Don Barksdale, The Long, Tall One." This probably had something to do with him being 6'8" and a former member of the Boston Celtics basketball team. Barksdale was into many facets of entertainment, owning the Sportsman Club and having recently purchased Rhythm Records from Bob Geddins.

Barksdale came to see them at a talent show and invited them to the station. When the dust had settled, Barksdale had dubbed them the "Mondellos" (for reasons known only to himself); at least the group now had a name.


In March 1957, Rhythm Records (with offices at 270 Sixth Street in San Francisco; call Underhill 3-1511) released "Come Back Home"/"100 Years From Today" by "15 Year Old Alice Jean, With The Mondellos" as Rhythm 102. As far as I can tell, this is the only one of their discs that Barksdale bothered to send out to be reviewed. (Although the platter was released in March, Barksdale only announced the formation of Rhythm Records in May.)

However, there was a problem: Barksdale was unhappy with the way both songs sounded (they had been taped at his KWBR studios). Although he released them anyway, he had the group re-record them and the re-done tracks became the second pressing of Rhythm 102.

The record was finally reviewed on May 20, 1957. Other reviews that week went to the Drifters' "Hypnotized," the Mellokings' "Tonite, Tonite," Aaron Collins' "Pretty Evey," the Channels' "What Do You Do," and the Titans' "G'win Home Calypso." Everything seemed to be backward here: on May 13, the week before it was reviewed, "100 Years From Today" was listed as a Tip in San Francisco. All this indicates that Barksdale probably took his time sending it to the trades.

Along the way, the group made a lot of appearances, mostly in California and Washington (but not in Oregon). These included the Elks Club, the Filmore Auditorium (San Francisco), Sweet's Ballroom (in Oakland), the 5-4 Club (Oakland), the California Ballroom (Oakland), and many, many little clubs. They reached the big time when they got to open for Little Richard at the Fox Theater in San Jose.

In May, while "100 Years From Today" was being reviewed, Barksdale released the Mondellos' second effort: "Never Leave Me Alone"/"Over The Rainbow." These were credited to "Yul McClay And The Mondellos" (although, on "Over The Rainbow" he shares the lead with Alice Jean).

In June 1957, Rhythm issued "That's What I Call Love"/"Daylight Saving Time," two more tunes featuring the still 15-year-old Alice Jean in the lead. Like all subsequent Mondellos recordings, this one wasn't sent out for review.

Sometime in the fall, the Mondellos got to do some backup work. Little Willie Littlefield, originator of "Kansas City" (as "K.C. Loving" in 1953), had been in a serious automobile accident in 1954. This kept him out of recording studios for a few years and sharply limited his appearances during that time. In 1957, Don Barksdale found him appearing with Charles Brown in Oakland and immediately signed him to the Rhythm label. He cut at least five platters for Rhythm and, on the second of these, "Ruby-Ruby", he's backed up by the Mondellos (the flip is an instrumental).

Released in November or December 1957, it took until February 17, 1958 for the trades to choose "Ruby-Ruby" as a Tip in San Francisco.

In late 1957, tragedy struck the Mondellos when the group was returning home after a gig in Stockton. Gary Williams' auto, in front, was hit by a tractor coming out of a field and he was killed. Ollie and a friend were also in the car, but weren't hurt; the others, in a second car, weren't part of the accident. Carrying on, the Mondellos recruited bass Robert Fields, whom they knew from Pittsburg. Why replace a tenor with a bass? By this time, Ollie was pretty discouraged with the whole thing: "My heart wasn't in it. Barksdale always lied to us. I began to feel that we were just being used." Ollie was the principal arranger for the group (and for a lot of Barksdale's other acts) and he knew the group wouldn't last without him. However, it was worth a shot to line up another bass to take his place. By this time, though, the Mondellos' recording days had passed and Robert Fields only made some appearances with the group.

The next Mondellos record came out in December 1957. A birthday had come and gone and "Happiness Street," backed with "Hard To Please" were now by "16 Year Old Alice Jean, With The Mondellos."

However, by this time, there was no more Mondellos. As time went on, they had become more and more unhappy with Barksdale as their manager. Mercury Records had expressed interest in taking over their contract, but Barksdale refused to give it up. The final straw came after they played the Del Webb TV show on San Francisco's KPIX (Channel 5) and Barksdale kept the money. This caused Ron Lawson to join the Air Force in late 1957, closely followed by Charles Jackson joining the Army. That was the end of the group. As Ollie says, "We didn't get paid. Barksdale kept all of the money."


But along the way, Barksdale had the Mondellos back up some of his other acts. They're behind Bob Jeffries on "Never Let Me Go" (the Johnny Ace song) and "Take Me Back" (on Rhythm's Jody Records subsidiary). That's also them on "Raised On Rock And Roll"/"Rock It To The Moon" by rockabilly artist Jackie Gotroe and his band, the Scamps.

They also backed up soloist Rudy Lambert on "My Heart"/"That's What I Call Love" (the same song that the Mondellos had done). It was released in the Spring of 1958. (However, to me it sounds like different people leading each side of the record.)


Probably in the 80s or 90s, record collector Dave Antrell got hold of an unreleased Mondellos master ("You'll Never Know," with Ollie in the lead) and issued it on the "Rhythm" label, as number 118. The flip is a formerly unreleased Marcels tune ("Hard To Please," the same song that the Mondellos had released in December 1957). Note that this was not the "Blue Moon" Marcels, but another local Pittsburg group.

Most of the Mondellos are still around. Ollie, the only one who remained in show business, is currently in the Washington/Oregon area. Ron Lawson, Charles Jackson, and Robert Fields count their singing days behind them. Alice Jean Wilton has passed away, as has Don Barksdale.


Special thanks to Opal Louis Nations, Kirk Roberts, and Kate Karp. Discography from Ferdie Gonzalez' Disco-File. The ad is from the 1957 edition of Galen Gart's First Pressings series.




THE MONDELLOS
RHYTHM
102 Alice Jean & Mondellos - 100 Years From Today (AJ)/ Come Back Home (AJ) - 3/57
105 Yul McClay & Mondellos - Never Leave Me Alone (OM)/Over The Rainbow (OM/AJ) - 5/57
106 Alice Jean & Mondellos - Daylight Saving Time (AJ)/That's What I Call Love (AJ) - 6/57
108 Little Willie Littlefield [backed by the Mondellos] - Ruby-Ruby (WL)/[Easy Go (instrumental)] - ca. 11/57
109 Alice Jean & Mondellos - Happiness Street (AJ)/Hard To Please (AJ) - 12/57
110 Bob Jeffries [backed by the Mondellos] - Never Let Me Go (BJ)/[Irma Special - Roland Mitchell] - early 58
111 Jackie Gotroe [backed by the Mondellos] - Raised On Rock And Roll (JG)/Rock It To The Moon (JG) - early 58
114 Rudy Lambert & Mondellos - My Heart (RL)/That's What I Call Love (RL) - 58
118 Mondellos - You'll Never Know (OM)/[Hard To Please - Marcels] - ca. 90

JODY (subsidiary of Rhythm)
123 Bob Jeffries & Marcels - Take Me Back (BJ)/[Betty Lou - Bob Jeffries, backed by the Marcels] - 58


LEADS
AJ = Alice Jean Wilton; OM = Ollie "Yul" McClay;
RL = Rudy Lambert, backed by the Mondellos;
WL = Little Willie Littlefield, backed by the Mondellos;
BJ = Bob Jeffries, backed by the Mondellos (although the Jody label says "Marcels")




Unca Marvy's Home Page
More Articles