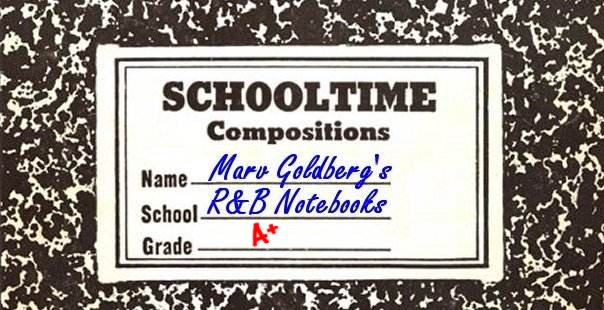 The Parakeets
By Marv Goldberg

based on interviews with Gerald Highsmith
and James "Petey" Martin


© 2013 by Marv Goldberg
The Parakeets, from Newark and Elizabeth, were one of the mainstays of Tommy Robinson's Atlas label for about a year.

Back in 1954, James "Petey" Martin lived in Newark, New Jersey, where he'd been singing with some friends, Willie Curry and Preston Fields. They'd just been fooling around, but Petey had it in his mind to form a real group. At the time, Petey was dating a girl who lived in nearby Elizabeth. She, in turn, had heard Gerald Highsmith singing with some friends and told Petey about him. They met, sang a bit together, and Gerald ended up bringing in a friend, Leroy Williams.

Petey (first tenor, piano, and songwriter) had attended Bordentown High School, graduating the year before and coming north to Newark. Willie Curry (baritone/bass, originally from Georgia) and Preston Fields (second tenor, originally from Jacksonville, Florida) both attended Newark's South Side High. Gerald Highsmith (bass) and Leroy Williams (lead tenor; originally from Aiken, South Carolina) both attended Thomas Jefferson High in Elizabeth.

Calling themselves the Parakeets, they began practicing in earnest for the next year or so. Gerald says they played "little hops and amateur shows," all of which were too minor to remember. They admired the big stars of the day like the Flamingos and the Moonglows, as well as the more local Harptones.

Finally, in 1955, they headed for the Big Time: the Apollo Theater Amateur Night contest. This is from my article on the Vocaleers:

To get on the Apollo Amateur Show, the procedure was this: an aspiring act would go to the theater, sign in, and audition for owner Bobby Schiffman. If you were accepted, you'd be sent a post card telling you what Wednesday night you'd be appearing. The Amateur Show started at 10:00 pm, and was in the middle of the regular show being held that week. It could be daunting, singing at the Apollo. There was always someone heckling, and the audience waited to see how you'd respond to it. If he sensed you couldn't handle it, there was always "Porto Rico" waiting in the wings to try to drive you off the stage (he would sometimes fire blanks out of a pistol after sneaking up on an act; if that didn't work, he had a huge hook that he'd use to snare the unwary). But, as Joe [Duncan, lead of the Vocaleers] says, "If you could get past the first eight bars, you were home free." The audiences "were tougher then than they are now. They play a very big part. They sense if you have butterflies and if you can handle it."

The main Apollo act that week was Duke Ellington, but my listings for 1955 are incomplete and I don't know when he was there. Gerald thinks it was in the spring or summer, because they were wearing light jackets. [Interestingly, both Gerald and Petey remember that another of the amateur acts waiting to perform was the Teenagers (who were still called the Premiers at that time). The show ran long and they were told that there wasn't time for them to go on. Frankie Lymon (one of the greatest hams of all time) didn't take that well.] The Parakeets went on to capture third place in the contest.

Now that they'd survived the Apollo, it was time to think about a recording career. One day, in early 1956, they journeyed into Manhattan to audition for some record companies. The first on their list was Hy Weiss' Old Town. However, at the time, Hy had the Solitaires, the Clefftones, the Supremes, and the Royaltones, so he wasn't looking to add any more groups to his roster. He was interested in Leroy Williams, but only as a soloist. However, Leroy's mother, who had accompanied them, quickly squashed that, saying, in effect, you came together and you'll stay together.


After that, they went to Tommy Robinson's Atlas label, headquartered in the Bishop Building, at 271 West 125th Street, in Harlem, just down the block from the Apollo Theater. Robinson (no relation to Red Robin's Bobby Robinson) was originally a jazz trumpet player from Detroit. He had migrated to in New York in the 40s and set up Atlas Records in 1951, mostly to record urban blues and jazz instrumentals. Robinson was impressed and, according to Gerald, there was "no sense in going any further."

Robinson, of whom Gerald said "He was a nice guy," agreed to manage them (along with his wife). However, he never did all that much for them. "We were young kids; we didn't know any better," lamented Gerald.

While the Parakeets practiced the hits of the day, when it came time to record, they were armed with four songs Petey had written: "I Have A Love," "The Rain Starts To Fall," "My Heart Tells Me," and "Yvonne." These were all done at a single session, probably in early or mid-March, 1956. (Robinson announced the group's signing in the March 31 edition of Billboard, and it was a standard practice to only announce an act's signing after they'd already recorded for you.) Billboard's reaction to the announcement was: "What, another bird group?"


The first Parakeets record was issued in April 1956: "I Have A Love" (led by Preston Fields and Leroy Williams, with Petey Martin on the bridge), paired with "The Rain Starts To Fall" (led by Willie Curry, singing bass, with Gerald Highsmith doing the baritone second lead).

The record was reviewed on May 26, 1956 (both sides rated "good"), along with the Clovers' "Your Tender Lips," Little Esther's "Tain't Whatcha Do," James Brown's "I Don't Know," Big Maybelle's "Candy," Shirley Gunter & the Flairs' "I Want You," the Spaniels' "Dear Heart," the Magnificents' "Up On The Mountain," and the Colts' "Never No More."


Not waiting for fame and fortune, Willie Curry joined the Marines around June 1956, when he graduated from high school. He was replaced by baritone Bob Harris.


Nothing much happened with "I Have A Love," and in September, Atlas issued the other two songs, both of which were led by Leroy Williams. "My Heart Tells Me" and "Yvonne" both received "good" ratings in the October 20 trades. Other reviews that week were for Ann Cole's "In The Chapel," James Brown's "Chonnie-On-Chon," the Angels' "The Glory Of Love," the Cubs' "Why Did You Make Me Cry," the Meadowlarks' "I'm A Believer," the Keystoners' "The Magic Kiss," the Youngsters' "You're An Angel," the Romancers' "Jump And Hop," and Boogaloo's "Clothes Line."


Tommy Robinson really believed in the Parakeets. A couple of members of the Fi-Tones told me that Robinson lost interest in them when the Parakeets came along. However, the only vote that counted was that of the record-buying public, and they just weren't buying the Parakeets in any great numbers.


There was a songwriter named Phil Perry (who'd written some tunes for the Fi-Tones). He managed a 14-year old Brooklynite, named Vic Donna, who'd fronted a non-recording group called the Emaralds [sic]. Now, it was late 1956 and time for the "teen idol" phase of Rock 'N Roll to kick in. Perry brought Donna to Robinson, and Robinson put Donna together with the Parakeets.

In late December 1956 or early January 1957, they had a single session that produced four tunes: "Teenage Rose" (a Phil Perry song), "Silly & Sappy" (a song that the Fi-Tones had previously done for Atlas; it had been written by the Fi-Tones' Gene Redd), "Love Was A Stranger To Me" (composed by the Fi-Tones' Lloyd Davis) and "Count The Tears" (another one by Phil Perry).


The first two of these came out in January 1957. However, while the label was supposed to have said "Vic Donna, with the Parakeets" (or something to that effect), it ended up as "Vic Donna & Parakeets." Now the two acts had been blended and had to appear together.


"Teenage Rose" and "Silly & Sappy" were reviewed the week of February 23, 1957 (the top side was rated "fair," the flip "poor"). Other reviews that week were for Fats Domino's "I'm Walkin'," Lloyd Price's "Just Because," Larry Williams' "Just Because," the G-Clefs' "Symbol Of Love," the Gladiolas' "Little Darlin'," the 5 Keys' "Tiger Lily," and the Miller Sisters' "Sugar Candy." Note that an Atlas ad for "Teenage Rose" spelled the flip "Filly And Fally."

It didn't take long for the teenage crowd to discover Vic Donna. There was a publication called "Teenage Voice: Written By And For Teenagers." The only issue I've ever seen, dated February 1957, featured a photo and a couple of columns on Vic, including addresses of four of his fan club presidents (three of whom just happened to be assistant editors of the publication). While hardly a threat to Life magazine, it actually contained a photo of the Parakeets and half a column of biographies of the members, most of which are more accurate than those printed on King labels or given to trade publications. However, although the Vic Donna fan club promoted him breathlessly, they don't seem to have convinced many people to actually buy any of his Atlas records. [Of course, this may have been due to Atlas having been strictly an R&B label up to now. Atlas would have had a certain set of distribution channels that may not have reached the record stores that Vic Donna's white audience normally frequented. Incorrect, or incomplete, distribution would ruin a record's chances of becoming a hit (of course, in this case, the poor reviews didn't help).]

One result of this recording was getting to appear, for six days, on a Dr. Jive show at the Adams Theater in Newark. The Parakeets sang their own songs and then backed Vic Donna on his. Also on the bill were Mickey & Sylvia, the Dells, the Del Vikings, the Paragons, Eddie Cochran, and, not one, but two Cadillacs groups (they'd just split up and both were recording for Josie; since no one really knew who owned the name at this point, both groups were sent to the show, but appeared on different days).

When a tour took Vic Donna and the Parakeets down to Charleston, South Carolina, Donna discovered that, segregation being in full swing, he couldn't stay in the same hotel as the Parakeets or eat in the same restaurants. He was so upset by this that he left the tour.


The second Vic Donna record came out in April 1957 ("Love Was A Stranger To Me"/"Count The Tears"), but fared no better than the first. (This time, the label said "backed by Parakeets and orchestra.") Both sides were rated "fair" the week of May 27. Other reviews that week were for Little Richard's "Jenny Jenny," the Dominoes' "Star Dust," Larry Williams' "Short Fat Fanny," the 5 Royales' "Think," the Colonaires' "Sandy," the Tempo-Tones' "On Your Radio," the Love Letters' "Walking The Streets Alone," the Bill Johnson Quintet's "So Sweet Of You," the Planets' "Stand There Mountain," and the Whirlers' "Magic Mirror."

There was one further Vic Donna Atlas session, with the Parakeets, that produced "Dear God (Make My Dream Come True)" and "High School Ring." However, Donna and Phil Perry had a falling out and the sides were never released. At some point, he recorded a couple of tunes backed up by the Fi-Tones ("The Pair Of Heart And Soul" and "My Life Is In Your Hands"); these, too, were never issued.

Tommy Robinson had once recorded a local jazz soloist named Al Jackson, backed up by the Fi-Tones; however, the two songs, "I'll Be Around" and "The Last One To Know" were never released. Now, Robinson brought Jackson back to wax some more tunes, this time backed by the Parakeets. The results, "No Wedding Today" (a song done by Johnnie Ray) and "Y-O-U" suffered the same unreleased fate (even though both Gerald and Petey remembered "No Wedding Today" as being a nice song that should have been issued). They'd never met Jackson before and never worked with him. Petey remembered him as having a pleasant mellow baritone voice.

I asked Gerald why the Parakeets never recorded for Atlas again. His answer: "I really don't know." After the above sessions, they never had any further contact with Tommy Robinson.

The group soldiered on, making small-time appearances, but by 1959, Preston Fields and Gerald Highsmith had joined the army and the Parakeets were no more.


James "Petey" Martin and Leroy Williams decided to keep going and formed the Butanes with Willie's brother, Howard Curry (bass), Nelson Lamb (high tenor), and Bobby Jones (baritone). This group had a single record on Teddy McRae's Enrica label in May 1961: "Don't Forget I Love You," backed with the old standard, "That's My Desire." "Don't Forget I Love You" made the Pop charts (#98) for a couple of weeks, before fading away.) After this, Petey turned to spiritual singing.

And that's the story of the Parakeets. A good group; a nice sound; not much promotion from the recording company; and no hits. Sadly, a common story. However, the Parakeets went on to better things: Gerald Highsmith and Willie Curry became firemen; Petey Martin, a policeman; Preston Fields, a teacher; Leroy Williams, a chef; and Bobby Harris worked on Wall Street.

In 2013, Leroy Williams, Willie Curry, and Preston Fields have all passed on, as has Tommy Robinson.

Special thanks to Ferdie Gonzalez and Victor Pearlin.


THE PARAKEETS
ATLAS
1068 I Have A Love (PF & LW/JM)/The Rain Starts To Fall (WC/GH) - 4/56
Re-released on Angle Tone 1068 in 1973
1069 My Heart Tells Me (LW)/Yvonne (LW) - 9/56
Label says "Parakeets Quintet"


AL JACKSON, BACKED BY THE PARAKEETS
UNRELEASED ATLAS
No Wedding Today
Y-O-U


VIC DONNA, BACKED BY THE PARAKEETS
ATLAS
1071 Teenage Rose/Silly & Sappy - 1/57
1075 Love Was A Stranger To Me/Count The Tears - 4/57

UNRELEASED ATLAS
Dear God (Make My Dream Come True)
High School Ring


NOTE: They were not the group on the unreleased "The Pair Of Heart And Soul" and "My Life Is In Your Hands"; that was Vic Donna, backed by the Fi-Tones

LEADS
GH = Gerald Highsmith; LW = Leroy Williams; PF = Preston Fields; WC = Willie Curry; JM = James "Petey" Martin



BUTANES
ENRICA
1007 Don't Forget I Love You/That's My Desire - 5/61





Unca Marvy's Home Page
More Articles