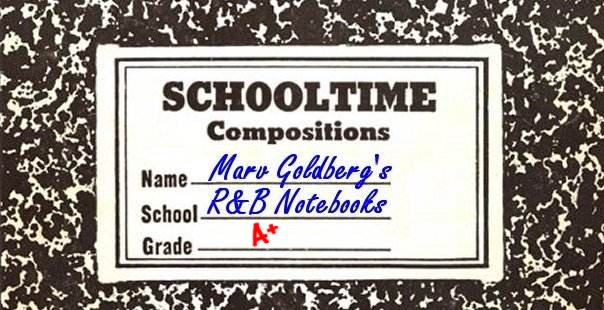 The Rainbows
By Marvin Podd and Marv Goldberg

Based on interviews with Ronald Miles,
John Berry, Henry Womble, and Reese Palmer.


© 2008 by Marv Goldberg
[NOTE: The original version of the Rainbows story was written by Marvin Podd for Yesterday's Memories, back in 1975 (I helped with some of the interviewing). Marvin has graciously allowed me to update the story. Some of the words are still his.]


The Rainbows were a fixture of the Washington, D.C. music scene for many years. In their heyday (which lasted only a little more than a year), they managed to turn out several collector favorites.

Let's start our story by going back to 1951 and the Serenaders, a quintet from the Lincoln Heights area of Northeast Washington D.C. The group consisted of Henry "Lamont" Mont (lead), Henry "Shorty" Womble (first tenor), Robert Neil (second tenor and lead), Leroy Henderson (baritone), and Frank "Jake" Hardy (bass). All of them were in the 15-16 age range.


Lillian Claiborne owned a local recording studio and DC Records. She seemed to be determined to record anyone and anything that entered her studio. However, unlike most record company owners, she wasn't a very good judge of talent, so most of what she recorded remained unreleased. [Sometimes, she would manage to sell some masters to other companies. For example, she sold "Heartbreaker" and "Wanda" (by the Heartbreakers) to RCA Victor. However, while the company saw some promise in the group, they immediately trashed the masters and had the guys come to New York to re-record them.]

The Serenaders were one of those groups that recorded for Lillian Claiborne, but, with one exception that we'll get to in a minute, none of their tunes was ever released until the mid-70s, when Les Moss put them out on his Roadhouse label.

While we can't say that the Serenaders made the slightest dent in R&B, it's interesting to see what happened to them when they broke up in March 1953. Henry Mont joined the Carusos, who also recorded for Claiborne (unreleased, as usual). The same two songs ("Haunting Memories" and "Confessions Of Love") were re-sung for George Goldner's Juanita label in 1958 (and released as the "Halliquins"). Leroy Henderson joined the Topps, who recorded for Red Robin; they were an offshoot of the Heartbreakers. Robert Neil joined the Phelps Playboys, a group that never recorded.

That leaves Henry "Shorty" Womble (first tenor) and Frank "Jake" Hardy (bass), who decided to stay together (why not? they both lived in the same housing complex) and form a new group, which they called the "Rainbows." They somehow came up with baritone James "Sally" Nolan, who brought in his friend, second tenor Ronald "Poosie" Miles. Then they recruited John "J.B." Berry, another second tenor, along with pianist Donald Watts.

In August 1953, Lillian Claiborne sold two masters to the Gem label: "Can't You See I Love You"/"My Heart Is Yours"; they were released as the "Rainbows." These are, most probably, Serenaders masters. If so, why were they called the Rainbows? I'm not sure. It could be because she learned that Hardy and Womble were now in a group called the Rainbows. She might have renamed the group before sending the masters to Gem (which, in turn, might have influenced Hardy and Womble to use the name for their new group). It might have been pure coincidence. It might have even been because they really were recorded by some other group called the Rainbows. At least one other old master by this group found its way to the Baron label in the mid-70s: "It's Terrific."

At the time, the Rainbows' managers were bandleader Que Martyn and "Hamp" Hampton, at whose aunt's house the group rehearsed.


In early 1954, the Rainbows decided to try their luck in New York. Venturing up to Harlem, they found Bobby's Record Shop at 125th Street and 8th Avenue, just down the block from the Apollo Theater. Its owner, Bobby Robinson, also owned Red Robin Records. (Since Leroy Henderson's Topps were recording for Red Robin at the time, it's a bet that Henderson was the one who recommended that the Rainbows audition for Robinson.) Robinson politely listened to the Rainbows and then turned them down flat!

But the Rainbows didn't give up. They returned to D.C. to practice, and several months later (probably in October 1954), they went back to Robinson. When they sang their own arrangement of "Honey Hush" and an original composition called "Evening," Bobby Robinson's opinion changed and he offered to record them.

While preparations for the recording were taking place, the group fooled around with another original composition, entitled "Mary Lee," a song composed, as a joke, about Marion Lee, someone's girlfriend and the only female permitted to come to rehearsals. Robinson was so impressed that he had them record that, and "Honey Hush" was never released.


"Mary Lee" features interchanging lead singers. Ronald Miles starts the vocalizing with that now famous "Mary Lee" refrain and he does all subsequent refrains while John Berry sings the main lyric. Henry Womble gets in the last word as he puts the falsetto lid on the song. Amazingly, it was done in one take. The flip, "Evening," is led by John Berry. The tunes were issued on Red Robin in November 1954 and "Mary Lee" instantly started climbing the local Baltimore/Washington DC charts. On December 18, Billboard listed it as #6 in that area, for the week ended December 8. (That same week, the Charms' "Hearts Of Stone" was #1 in the territory, closely followed by the Spaniels' "Let's Make Up", the 5 Keys' "Ling Ting Tong", the Drifters' "White Christmas", and B.B. King's "You Upset Me Baby".)

Ronald recalled that "Mary Lee" was very popular when it was released, making the top 10 in the New York and Washington, D.C. markets. We can only hope that Bobby Robinson paid enough DJs to play it, because he didn't bother to send it out for review. (Actually, he didn't send out any Red Robin records for review until October 1955.)

Sometime during the summer of 1955, Henry Womble left the group to go to college. He did, however, make occasional appearances with the group when he was on vacation or home for the weekend. This caused the group to start drifting apart. In truth, they had pretty much ceased to exist by the end of 1955. Why this should be is a mystery. "Mary Lee" did well for Robinson, in spite of not being a national hit. It's strange that he never invited them back for another session.


And then, a miracle. In February 1956, Bobby Robinson leased the masters of "Mary Lee" and "Evening" to Cecil Steen in Boston, to be re-released on his Pilgrim label. (Robinson would also recycle a couple of Velvets records through Pilgrim that year.) At least this time the record was sent out for review: "Mary Lee" was rated "good," while "Evening" only got a "fair" rating. Other songs reviewed the week of March 10 were Little Richard's "Little Richard's Boogie," Charlie & Ray's "Little Fool," and the Hurricanes' "Raining In My Heart."


With the re-release of "Mary Lee," Ron Miles and John Berry decided to get some new members for the Rainbows and keep the group going. John brought in two of his friends: Don "Pretty Boy" Covay (baritone) and Chester Simmons (bass). Now, with Ronald Miles, they were a quartet.

For management, the Rainbows turned to Jay Perry, a DJ on WEAM in nearby Arlington, Virginia. Perry used them at his record hops and got them subsequent recording deals. (According to Ron Miles, they also used William "Bosco" Boyd, manager of the Clefs, for a while.)

Their next recordings were "Shirley" (led by Ronald Miles, with John Berry doing the refrain) and "Stay" (featuring Don Covay and John Berry). These two songs weren't recorded for Bobby Robinson (with whom they seem to have broken off completely), but at a New York studio and, through the efforts of Jay Perry, became their second release on Pilgrim, in June 1956.

However, the Rainbows didn't even wait for "Shirley" and "Stay" to take off (which they never did) before Jay Perry hooked them up with George Goldner's Rama Records. There, at around 4:00 AM on July 5, 1956, they recorded "They Say" (led by Ronald Miles) and "Minnie" (fronted by John Berry). These were released in September, and, once again, a Rainbows' record wasn't sent out for review.

After "They Say" met with the same lack of success as "Shirley," and because the Rainbows had received so little money for "Mary Lee" (the closest they'd ever come to a hit), the group broke up by the end of 1956.

The rumors that Billy Stewart and Marvin Gaye sang with the Rainbows arose from the fact that Stewart and Gaye were friends of the group and occasionally appeared with them when an original member was sick or could not make a show.

After it was all over, Don Covay recorded some solos for Atlantic, in mid-1957, under the name "Pretty Boy." At some point, he put together a group called the Satisfiers (personnel unknown) and recorded at least four masters: "You Broke My Heart," "Hold My Hand," "Shake That Thing," and "The Telephone Is Ringing." These were all lumped into the bootleg "Rainbows" LP that came out on "Pilgrim" in the 80s. Of course, Don Covay went on to have a string of Soul hits in the 60s and 70s, with his group, the Goodtimers.


Also in 1957, former Rainbows members James Nolan and Chester Simmons ended up in the Marquees. This is the group that recorded "Wyatt Earp"/"Hey Little School Girl" on Okeh and became Harvey Fuqua's New Moonglows.

In 1958 John Berry cut a demo entitled "If You See Mary Lee." Unreleased at the time, it finally saw the light of day in 1975 on the Firefly label. Although billed as the Rainbows, the group consisted of Berry, John Garfield, Freddy Rivera, and Gabriel Rodriguez. Berry then recorded "Oh Boy" and "Gilee" as "Sonny Spencer" for the Memo label in late 1959. There's a group on "Oh Boy" (not the flip), but Berry insisted that it's "just me" (no other explanation given). "Gilee" was written by Berry, in collaboration with Don Covay. While the song was never a hit, one of their other collaborations made it to the big time: Chubby Checker's "Pony Time" (originally recorded by Covay).

Somehow, Bobby Robinson found out about Berry's "Sonny Spencer" pseudonym, because when he reissued "Mary Lee" and "Evening" on his Fire label in March 1960, he billed the group as "The Rainbows, featuring Sonny Spencer."

By 1962, John Berry was a songwriter living in New York City. David Ford, lead of the Hollywood Flames approached him for some material and Berry ended up joining the Flames for the next several years. He would go on to write most of the songs that the group recorded for Goldie, Coronet, Vee-Jay, and Symbol.

After the Rainbows broke up, Ronald Miles joined the Air Force (1957-1961). While there, he met Layton McDonald and Joe Walls, each of whom had a singing group (they all competed in the Air Force's "Tops in Blue" contest). Since they were all from the D.C. area, plans were made to re-form the Rainbows after their enlistments were up. Thus in 1961, another group of Rainbows started to form.

When Ronald Miles got out of the service, Chester Simmons introduced him to Duval Potter and Victor English, whom he'd met at Bo Diddley's house. Potter and English had both been with the Carousels (a non-recording D.C. group that had recently broken up).


Thus, the new Rainbows were Ronald Miles (second tenor), Joseph Walls (tenor), Duval Potter (tenor), Layton McDonald (baritone), and Victor English (bass, baritone). To keep it a self-contained unit, they added Alvin Saunders (guitar) and Walter McDonald (drums).

In early 1963, the Rainbows were approached by Bobby Lee, a local promoter who was an aspiring songwriter. The Rainbows and Lee struggled at putting together a contract that both sides would accept, but the deal finally fell through. A song that Lee had written, "Gang War," was subsequently recorded by Billy Stewart's brother, Johnny.


Ron's Rainbows ended up having two releases on Dave Glascoe's Dave label. The first, in November 1963, was "I Know" (led by Duval Potter), backed with "Only A Picture" (fronted by Joseph Walls). The second, in May 1964, was "It Wouldn't Be Right" (led by Ronald Miles), coupled with "Family Monkey" (Joseph Walls). Ron feels that the songs could have seen some chart action if they had been properly promoted.


In 1975 (when this article was originally written), the five singers were still together, although their accompanist was now pianist Donald Watts (from the original Rainbows). Their repertoire included slightly modified versions of "Mary Lee," "Evening" and "They Say," as well as Motown and Top Forty.

Here's what the members of the Rainbows were doing in 1975 (per the original article): Don Covay is a more popular performer today than in the 50's and 60's. John Berry was, until recently, working with Don Covay. Chester Simmons is talent coordinator at Reflection Sound Studios in Charlotte, North Carolina; he also produces talent for his own company, Mark-Pro. Henry Womble is at the Department of Human Resources, working with adolescents and young adults; John Berry is now a co-worker. Frank Hardy drives a truck. James Nolan is living in Louisville, Kentucky. Ronald Miles is also singing in a gospel group, the Anita Jones Singers.


By the early 1990s, the group was Ron Miles (lead, first tenor), Sam Lee (first tenor), Joe Walls (second tenor), Layton McDonald (baritone), and Walter McDonald (bass). They continued performing into the new millennium. Joe Walls passed away in December 2003, but the other members were still around in 2008. Of the original group, Henry Womble died in 1996, Frank Hardy (2006), James Nolan (2007), and Don Covay (2015). I can't find any death records for Ronald Miles, John Berry, and Donald Watts, who may all still be alive in 2022.

The Rainbows had some recordings that are recognized as classics today. However, while "Mary Lee" was popular in at least some localities, none of their other records had any impact at all at the time.


Discography courtesy of Ferdie Gonzalez.



THE RAINBOWS
RED ROBIN
134 Mary Lee (JB/RM)/Evening (JB) - 11/54

UNRELEASED RED ROBIN
Love Me - 54
Honey Hush - 54

PILGRIM
703 Mary Lee (JB/RM)/Evening (JB) - 2/56
711 Shirley (RM/JB)/Stay (DC/JB) - 6/56
Re-released on Argyle 1012 - 12/61, and on Red Robin 141 (bootleg) in 1973

RAMA
209 They Say (RM)/Minnie (JB) - 9/56

FIRE (as Sonny Spencer [John Berry] & Rainbows)
1012 Mary Lee (JB/RM)/Evening (JB) - 3/60

DAVE
908 I Know (DP)/Only A Picture (JW) - 11/63
909 It Wouldn't Be Right (RM)/Family Monkey (JW) - 5/64

PILGRIM (bootleg LP) - 801 The Rainbows: Mary Lee - 80s
(Note: I'm listing the tracks out of order so that they make more sense)
Mary Lee (JB/RM) - The Rainbows
Evening (JB) - The Rainbows
Shirley (RM/JB) - The Rainbows
Stay (DC/JB) - The Rainbows
They Say (RM) - The Rainbows
Minnie (JB) - The Rainbows
You Broke My Heart - The Satisfiers (Don Covay's group)
Hold My Hand - The Satisfiers (Don Covay's group)
Shake That Thing - The Satisfiers (Don Covay's group)
The Telephone Is Ringing - The Satisfiers (Don Covay's group)
It's Terrific - Another Rainbows (possibly the Serenaders)
Can't You See I Love You So - Another Rainbows (possibly the Serenaders)
If You See Mary Lee - Sonny Spencer [John Berry] & group (1958)
Oh Boy - Sonny Spencer [John Berry] (1959)


LEADS: JB = John Berry; RM = Ronald Miles; DC = Don Covay; DP = Donald Potter; JW = Joe Walls



OTHER RECORDINGS MENTIONED IN THE ARTICLE
THE SERENADERS
(all recorded in 1952 and 1953)
ROADHOUSE
1006 Soldier In Korea/Lonesome (as the 5 Vultures) - 73
1017 Goodbye/Kola - 73
1018 My Happiness/Rockin' Man - 73
1022 Sunset/[My Heart - Ontarios] - 74

OUTHOUSE
102 Lonesome Again/[She's Too Tall For Love - Warblers] - 74

GEM (masters purchased from Lillian Claiborne; released as the Rainbows)
214 Can't You See I Love You/My Heart Is Yours - 8/53

BARON (masters by the Gem Rainbows)
100 It's Terrific/[Undertaker - Sonny Walker] - 73
105 Can't You See I Love You So/[My Love Is True - Parakeets] - 74



JOHN BERRY'S RAINBOWS
FIREFLY
313 If You See Mary Lee/[Ooh My Soul - Don Covay] - 75



PRETTY BOY (DON COVAY)
ATLANTIC
1147 Bip Bop Bip/Paper Dollar - ca. 7/57



THE SATISFIERS (DON COVAY'S GROUP)
UNKNOWN WHO THESE WERE RECORDED FOR OR WHEN
You Broke My Heart
Hold My Hand
Shake That Thing
The Telephone Is Ringing



SONNY SPENCER (JOHN BERRY)
MEMO
17984 Oh Boy/Gilee - late 59

FIREFLY ("The Rainbows" - recorded 58)
313 If You See Mary Lee (JB)/[Ooh My Soul - Don Covay] - 75





Unca Marvy's Home Page
More Articles