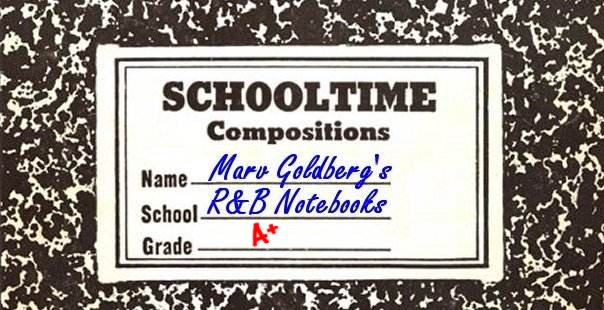 The Ravens - Part 2

By Marv Goldberg

Based on interviews with Leonard Puzey,
Warren Suttles, Maithe Marshall,
David Bowers, Tommy Evans,
Ollie Jones, and Ray Richardson

(Note: the original of this article appeared in
Discoveries #93 - 2/96)

© 1999, 2009 by Marv Goldberg


Sometime in March 1950, the Ravens had another National session, recording "I'm Gonna Paper My Walls With Your Love Letters," "Count Every Star," "Time Is Marching On," and "The Cadillac Song."

Joe Thomas, the Ravens' old vocal coach (as well as the one who introduced them to manager Ben Bart and arranger Howard Biggs), was put in charge of Decca's R&B division in April 1950.


As I said above, National was probably ready to release "Get Wise Baby" and "I'm Afraid Of You" around now, but, all of a sudden, Ray Anthony's "Count Every Star" began to take off and National rushed out the Ravens' version (led by Louis) in April 1950; the flip was "I'm Gonna Paper My Walls With Your Love Letters" (Ricky). Wait a minute! Louis? Who's Louis? Louis is Louis Heyward, who had replaced Warren Suttles. Once again, there was dissention in the Ravens, and, in early 1950, during an engagement in Chicago, Warren walked out for the second time. Leonard remembers that when they first met Louis, he was doing a comedy act. But his singing was no joke, and "Count Every Star" remains a favorite to this day (even being touted as the first of the great 50s vocal group treatments).

This time Warren didn't return so quickly. He formed his own group, the Dreamers, which recorded for Jubilee and Mercury (see Warren Suttles and the Dreamers).

At the end of April, the Ravens played a two-week engagement at the Thunderbird in Las Vegas, before going on to Honolulu (on the way, they appeared at the Oasis, in Hollywood). In July, another press agent's dream article appeared. It seems that in "I Don't Have To Ride No More," Ricks' woman decides not to throw him out because he just hit it big on the numbers (betting "694"). When the group played Atlanta, local bookies refused to take any bets on that number, since everyone wanted to play it. With articles like this in respectable papers, who needs tabloids? Also in July, the Ravens were poised to have their own radio show on WLIB (NY), wherein they would all be disk jockeys and chat between records. Did it ever happen? Not according to Leonard, who says he never even heard of the idea. They did, however, play the Piccadilly Club in Newark that month. Then it was on to Memphis, where they headlined a show to honor W.C. Handy ("The Father of the Blues," who had written "St. Louis Blues"). Of course, press agents couldn't let this opportunity pass: "The singers are currently planning a blues album, which will be the first entirely indigo grouping [that is, "blues album"] every waxed by a major quartet. The album will be dedicated to Handy." (Pittsburgh Courier, July 8, 1950.)

The July 1, 1950 New York Age had an article titled "Ricks Pens New Blues". It went like this: "Jimmy Ricks has put together words and music for a brand new blues number, a tribute to Salt Lake City, which will be recorded by the Ravens either in Chicago or New York. The new piece was authored while the quartet was featured recently at the Dixieland Club here [Salt Lake City]." Of course, since the Ravens never recorded any such tune, there are only two reasonable conclusions: (1) Ricks was a terrible songwriter and no one would let the group record the song, or (2) the entire thing was concocted just to keep the name of the Ravens in the press. Pick the one you like.

As I said above, "I'm Afraid Of You" and "Get Wise Baby", after being pushed off, were finally issued in August.

In August 1950, the Ravens held their last National session. They went out with "Phantom Stage Coach," "Please Believe Me," "I'm Afraid Of You" (a second recording of a song that they'd done back in December 1947), "I'm Gonna Take To The Road," "Get Wise Baby" (another re-recording of a tune done around a year earlier), "Comin' Back Home," "Who's Sorry Now," and "I've Got The World On A String." All but "Phantom Stage Coach" and "I'm Gonna Take To The Road" remained in the can. Also in August, the Earle Theater in Philadelphia resumed live stage shows. The Ravens and the Calvin Boze Band became the first acts on the bill.

And then it was time to move on. In mid-September 1950, Ben Bart made a deal with Columbia, in which he would bring four of his acts to them. Of course, one of them was the Ravens. The others were: Wini Brown (who had also recorded for National), Arnett Cobb (who had just returned from a two-year illness), and Herb Lance (who had recorded for Sittin' In With). Each of the acts was signed for one year, with two one-year options. The Ravens were reportedly guaranteed $15,000. Since there was no one currently in the position of a&r man for R&B at Columbia, Mitch Miller assumed that responsibility, along with his Pop chores. (This is ironic in light of the fact that later in the fifties, Miller was one of the most rabid of the anti-Rock 'n' Rollers.) That same month, the Ravens appeared with Ruth Brown at the Howard Theater (D.C.), and with Dinah Washington, Eddie Vinson, and Arnett Cobb at the Earle in Philadelphia. On September 21, they were with Calvin Boze and Anita O'Day at the Apollo.

In November, Nat Margo was replaced by Chuck Darwin as the Ravens' road manager. Darwin was another Ben Bart employee and had been road manager for Eddie "Cleanhead" Vinson. (He'd go on to be promotion man for Seeco Records as well as a&r man for Seeco's Dawn subsidiary.) National, although it had lost the Ravens, issued a few more sides by them. November saw "Phantom Stage Coach"/"I'm Gonna Take To The Road," both Ricks-led up-tempo sides. (Note that the 78 rpm label had the hilarious spelling "Phantom Stage Couch.")

The last National record was issued in February 1951. This was the way to go out! It was another 1939 Mitchell Parish/Peter De Rose song, the incredibly beautiful "Lilacs In The Rain" (Maithe). (Parish wrote the lyrics to a few other songs you might recognize: "Stardust," "Hands Across The Table," "Deep Purple," "A Stairway To The Stars," "Moonlight Serenade," and "Sweet Lorraine.") The flip was the jump tune "Time Is Marching On" (Ricky).

The Ravens had done some brilliant work on National (and there would be brilliant work to come). There were some dozen National titles that remained unreleased until the 70s and 80s:

Sylvia (Maithe and Ricky) - (by Clinton Scollard and Oley Speaks - 1914)

Who's Sorry Now (Ricky and Maithe) - (by Bert Kalmar, Harry Ruby and Ted Snyder - 1923)

It's The Talk Of The Town (Maithe and Ricky) - (by Marty Symes, Al Neiburg, and Jerry Livingston - 1933)

Please Believe Me (Louis)

Bless You (Leonard)

Tea For Two (Leonard) - (by Irving Caesar and Vincent Youmans - 1924)

Comin' Back Home (Ricky)

Without A Song (Ricky) - (by Billy Rose, Edward Eliscu, Vincent Youmans - 1929)

Moonglow (Ricky) - (by Will Hudson, Eddie DeLange, Irving Mills - 1934)

No More Kisses For Baby (Leonard and Ricky)

I've Got The World On A String (Ricky and Maithe) - (by Ted Koehler & Harold Arlen - 1932)

The Cadillac Song (with successive verses by Louis, Ricky, Maithe, Leonard, and Ricky)

The true winner here is "It's The Talk Of The Town," which is as good as anything ever released on National. "No More Kisses For Baby" features dialog between Ricky and Zeke (Leonard). And "The Cadillac Song," as Jack Sbarbori wrote, "tells a tale of financial irresponsibility in a manner which can offend at least four different ethnic minorities." (It is kind of cute, though.) "Sylvia" was a song the Ravens did to honor the wife of National owner Al Green. "Who's Sorry Now" (a later 50s hit for Connie Francis), was a popular part of the Ravens' stage show. You can see that the Ravens were heavily into old standards.


The first Raven to record for Columbia was Jimmy Ricks. On October 10, 1950, he joined a Benny Goodman Sextet session that produced three masters: "Oh, Babe," "You're Gonna Lose Your Gal," and "Walkin' With The Blues." The first and third of these were paired as Columbia 39045, with vocal by "Rickey" ("Oh Babe" also featured white pop singer Nancy Reed). "Oh Babe" (written by Louis Prima) became a big hit for Goodman, entering the Pop charts in early December and rising to #25. On the 24th of October, Ricks performed the song on the DuMont TV network's Startime variety show (Tuesdays from 10 - 11 pm), which featured the Benny Goodman Sextet as regulars. (Anyone out there remember the DuMont network?) Since the show was broadcast only two weeks after the song was recorded, the TV exposure probably helped to launch sales. (It's possible that the record had just been pressed.) Prima's original version (with Keely Smith, on the Robin Hood label) entered the charts in mid-November and rose to #12. This great rocking tune was also covered by Kay Starr (#7), the Ames Brothers (#20), and Ralph Flanagan (#27), as well as by R&B charters Larry Darnell, Roy Milton, and Jimmy Preston (all topping out at #5), and Wynonie Harris (#7).

Since Ricks' solo effort did so well, it may have precipitated some of the problems the Ravens were to have over the next year, as Ricks became more difficult to deal with.


Then someone at Columbia decided that if the Ricks/Goodman combination could sound that good, maybe the Ravens should have that type of sound too. Thus, on the Ravens' first two sessions for Columbia (on October 19 and October 30), Goodman's vibes player, Terry Gibbs, is present, with Goodman-type clarinet work done by Mike "Peanuts" Hucko (a former member of Glenn Miller's Army Air Force Band and eventual lead, in 1974, of the Miller Orchestra). Listen to such tunes as "Don't Look Now", "My Baby's Gone" and "Midnight Blues" to hear this unusual backing to R&B artists. The sessions were expensive, but in my opinion, the results were well worth the cost.

On October 19, 1950, the Ravens recorded "Time Takes Care Of Everything" and "Don't Look Now." Their next session was held on October 30, when they recorded "Midnight Blues," "My Baby's Gone," "If I Love Again," "You're Always In My Dreams," and "You Don't Have To Drop A Heart To Break It." Only a week later (on November 7), they recorded "I'm So Crazy For Love" and "Gotta Find My Baby."

The first Columbia release was in November: "Time Takes Care Of Everything"/"Don't Look Now", both with leads by Louis and Ricky. "Time Takes Care Of Everything" shows that the Ravens would lose nothing by being associated with Columbia. It was a pretty ballad with somewhat bizarre lyrics. Louis and Ricky catalog all that was done for the woman in question: "I'm responsible for everything you've got." Our hero has fed her and clothed her: "bought you a mink coat/ 'stead of that gunny sack", and taken care of her medical bills: "I bought you some new teeth, baby/ Then I fixed your nose/ Uncrossed your eyes...". This is LOVE! And what does he get for all his trouble? "Then you turned around and marry'd my brother Lou". A Great American Tragedy!


This was followed, in December, by "My Baby's Gone" (Ricky), backed with Maithe doing an excellent job on a cover version of the Cap-Tans' "I'm So Crazy For Love". Also in December, the Ravens appeared at the 25th anniversary celebration of Small's Paradise in Harlem. Note that both of their first two Columbia records were also released on 7" 78RPM discs.

And there was another roller coaster ride for the recording industry. The Korean War had started in June 1950, and there were bound to be far-reaching effects. In World War 2, there was a shellac shortage that curtailed production of 78 RPM records. Well, this time there was plenty of shellac, but the manufacturers were trying to kill the 78 anyway. Now it was feared that there would be a shortage of vinyl resins needed to make 45s and LPs. As of early August there was no problem, but the most important ingredient in vinyl is acetylene, which was, of course, an "essential war product." Naturally, to compound matters, there was a strike against the manufacturers of chlorine and chlorides, also vital ingredients in vinyl manufacture. The Bakelite Company, which shipped most of the vinyl to record manufacturers, cut back allotments of vinyl to record manufacturers because of critical war needs. This meant that records would have to be made with fillers added, instead of with pure vinyl. In December, with the cost of raw materials rising, as well as the cost of replacement parts for record presses, the price of records had to increase. Decca became the first major manufacturer to raise the price of a single (45 or 78) to 85 cents. This occurred just at the time that retail prices were going down due to a price war which had broken out between Macy's department store and other New York retailers; it was expected to spread to other parts of the country. This led Billboard to issue a classic understatement: "The situation is unique mirroring an exceptionally complicated situation in a normally complex industry."

In January 1951, National Records sued Columbia for $100,000, claiming that Columbia induced the Ravens to breach their contract. Although the contract (three and a half years, with extensions) had expired in October 1950, National claimed that since the group failed to show up for certain recording sessions within 15 days of the scheduled dates (as required in their contract), there would be additional time added on to the contract. There was supposed to have been an August 1949 session, which the Ravens didn't do until five months later and an August 1950 session, which was never done at all. Therefore, claimed National, the Ravens owed at least ten more months on the contract. Aside from the money, National sought an injunction to stop Columbia from issuing Ravens records. They also claimed that the Ravens began recording in September, while still under contract (this doesn't seem to hold up looking at Columbia's files; the first session was in mid-October, which might still have been while the National contract was in effect). Columbia's legal department, in a fine bit of weaseling worthy of today's lawyers, said that Columbia's contract with the group exempted it from any liability caused by the Ravens' prior deals.

Columbia continued issuing recordings in rapid succession (probably hoping that sales would help pay the lawyers' fees). In addition to the November and December 1950 releases, there was a release in January 1951: "Midnight Blues" (Ricky)/"You Don't Have To Drop A Heart To Break It" (Maithe), followed by "You're Always In My Dreams" (Maithe and Louis)/"Gotta Find My Baby" (Ricky) in February. I can't say I understand Columbia's thinking. They had the Ravens record nine masters in three weeks and then released a record a month for four months. The company wasn't giving any of the tunes a chance to catch on with the public before the next platter was rushed out. There wasn't much promotion either, since only "Time Takes Care Of Everything" was ever mentioned in a Columbia ad (buried among dozens of other titles).

Just to get some perspective, in February 1951, the Ravens received $2000 for a one-night performance at Middlebury College in Vermont. The Ravens were flying high. The only small problem was that they were about to disintegrate.

At a March 29, 1951 Columbia session, they recorded "You Foolish Thing," "Honey I Don't Want You," "Mam'selle," and "Calypso Song." Almost immediately after that, Maithe Marshall, Leonard Puzey, and Louis Heyward decided to quit Jimmy Ricks. As Leonard said, "He wasn't the easiest person to get along with; he was very egotistical." The three of them formed a trio, the Hi-Hatters, which existed for a short time (a matter of weeks; their only appearances were at the Baby Grand). When Leonard received his draft notice in late April, Maithe and Louis returned to the Ravens. I couldn't find any mention of Ravens appearances between April and August (there was supposed to be a tour in Texas, with Cootie Williams, set up by promoter Howard Lewis, but no specific dates were given and I can't tell if it ever took place); it's possible that they didn't replace Puzey. However, given the popularity of the Ravens, they should have had engagements booked far in advance; either there was a lull in appearances, they worked as a trio, or there was a substitute singer who remains unknown.

The next Columbia release was in May: "You Foolish Thing" (Maithe and Ricky)/"Honey I Don't Want You" (Ricky). Also in May, Columbia announced that it was reviving its Okeh subsidiary (as of June 4) to be exclusively Rhythm & Blues; all Columbia R&B acts would be shifted to Okeh. There had been no Okeh records released since 1942 (when a shellac shortage had record companies cutting back on their output). There would now be 45s and 78s (both priced at 89 cents), as well as LPs. The reasoning is that, since the R&B field was dominated by the independent labels, this would give Columbia a fresh start in trying to capture a share of the market.

To coincide with their new release, the Ravens appeared at the Apollo the week of May 18, 1951. With them were Eunice Davis and the Cootie Williams Orchestra.


Now it gets a bit complicated. The Ravens did only a single session for Okeh, on August 8, 1951 ("The Whiffenpoof Song," "I Get All My Lovin' On A Saturday Night," "That Old Gang Of Mine," and "Everything But You"). The session was set up to coincide with Leonard getting some leave from the Army. Therefore, the personnel were, once again, Maithe, Leonard, Louis, and Ricky. Then the group broke up permanently. Leonard stayed in the army until his discharge in April 1953; Louis had a single release, on Decca's Coral subsidiary, in November 1951 (#65073: "With All My Heart"/"Love Me Or Leave Me"); joined the Chestnuts on Mercury in late 1954; and then became a DJ (he was on Philadelphia's WHAT in the 60s). Maithe went off to form the unsuccessful Marshall Brothers (see Maithe Marshall).


August saw the first Ravens sides issued on Okeh: "The Whiffenpoof Song" (Maithe)/"I Get All My Lovin' On A Saturday Night" (Ricky). "The Whiffenpoof Song"??? "To the tables down at Maury's/ To the house where Louie dwells"??? The Ravens??? Well, strangely enough, the old school song wasn't done badly by the group. (If you've never listened to it, it's about a bunch of college students who are getting to the overemotional stage in their drinking. The song, based on a poem by Rudyard Kipling called "Gentlemen Rankers," contains one of the saddest thoughts ever to hit a student: "we'll pass and be forgotten with the rest." Heavy stuff.)

And then, in October 1951, after being with Columbia/Okeh for exactly a year, Ben Bart yanked them away and placed them with Mercury Records (Wini Brown also transferred over in the deal). In a way it was like old home week. Mercury's president was Irving Green, son of National owner Al Green.


However, who were the Ravens who went to Mercury? Well, Jimmy Ricks and his booming bass was still there. But now there were three new members: Jimmie Steward, (second tenor), Louis Frazier (baritone) and Joe Van Loan (top tenor). Gone were Leonard Puzey (he'll be back), Warren Suttles (he'll be back), Maithe Marshall (he'll be back), and Louis Heyward (who'd turn up in Charlie Fuqua's Ink Spots in mid-1955).

When Joe Van Loan auditioned for the Ravens, he sang "Because Of You"; he got the job on the spot. Joe would be the high tenor lead for the rest of the Ravens' recording career. (To find out where Joe came from, see Joe Van Loan's Early Career). The group's first engagement was in Yonkers, NY on October 12, 1951. A couple of 1952 reviews would claim that the revamped group was far superior to the originals.

The first Mercury session took place in October 1951 (unfortunately, none of the Mercury sessions can be precisely dated). The new Ravens recorded "Write Me One Sweet Letter," "There's No Use Pretending," "Why Did You Leave Me," and "Wagon Wheels." Since the Ravens had been appearing all over the country with Dinah Washington, one of Mercury's premier acts, they were paired for two songs at the same session: "Out In The Cold Again" and "Hey Good Lookin'."


In late October, Mercury started releasing Ravens tunes. The first of these was the pairing of the Ravens with Dinah Washington "Hey Good Lookin'" is not the Hank Williams song popular at the time (although Williams got writer credit for some reason), but some repartee between Dinah and Ricky, in which she wants to know "does your money fold, or does it jingle?." Ricky also throws in a plug for Ben Bart, when Dinah asks "who's booking all your dates?," he answers "Universal." Note that Ricks' name is spelled "Hicks" on the label.

This is just a guess, but my feeling is that this is the time that a couple of Ravens tunes appeared on the Rendition label. One side was a re-release of "Write Me A Letter"; it was backed with the formerly-unreleased "Marie" (Maithe and Ricky). (I personally never liked "Marie"; Maithe is doing a fine job, but the rest of the group seem to be doing a parody.) Since these are National recordings and the label shows National master numbers, it's reasonable to assume that it was a subsidiary of National (the label contains no other useful information). The record was never sent out for review, so it can't be accurately dated. However, since the Ravens started recording for Mercury in the fall of 1951, and Mercury was headed up by Irv Green, son of National's Al Green, I'll go out on a limb and say that "Write Me A Letter" (the Ravens' biggest hit to date) was reissued to create interest for the first Mercury recordings. (Another point in its favor is that the first song recorded for Mercury was the similarly-titled "Write Me One Sweet Letter." Possibly this was intended to be released soon after the session, although Mercury ended up holding on to it for over six months.)

Just because the Ravens were gone didn't mean that Okeh couldn't keep cranking them out. Thus, November saw another Okeh release: "That Old Gang Of Mine" (Ricky and Maithe)/"Everything But You" (Ricky). "That Old Gang Of Mine" was another old song, dating back to 1923, when it had been written by Billy Rose, Mort Dixon, and Ray Henderson. Meanwhile, the new Ravens were working the Paradise Theater (Detroit) and the Apollo (the week of November 18, with Eddie "Cleanhead" Vinson, and the 3 Chocolateers).


The next Mercury release, issued in November 1951 as both #5764 (R&B) and #8259 (Pop) was "There's No Use Pretending" (Joe and Ricky)/"Wagon Wheels" (Ricky). "Wagon Wheels" was a 1934 classic, written by Peter De Rose and Billy Hill.

In December, they played the Cafe Society Downtown (NY) for an extended three-week engagement.

The Ravens started 1952 with a gig at the Earle Theater (Philadelphia), along with Ida James. There was also a Mercury session in January, at which they recorded "Looking For My Baby," "Begin The Beguine," "Why Did You Go," "Chloe-e," and "If I Didn't Love You."

In February, Mercury released their rendition of Cole Porter's superb 1935 tune, "Begin The Beguine" (Ricky), backed with a typical Ricks-rocker, "Looking For My Baby".

In March, they played the Apollo (the week of March 7, along with Sonny Thompson and Lula Reed) and then were off on a package tour with Wini Brown and Burnie Peacock's orchestra. They played the Howard Theater (D.C.) and then a six-week stint at Cincinnati's Cotton Club. April found them at New York's Club Birdland. There was an annual softball game between Birdland musicians and Count Basie's band. The Birdland team got to wear yellow T-shirts with "Birdland" and a bird's picture on the front. Warren Suttles played for the team, and it became his habit to wear the shirt whenever he played softball. Ten years in the future, he'd be forever known as Warren "Birdland" Suttles.

April saw the Ravens' next Mercury release, "Chloe-e" (subtitled "The Song Of The Swamp"). The song dates back to 1927, and was written by Gus Kahn and Neil Moret. Although Ricks does a fine job on it, I find it difficult to take it seriously having grown up with Spike Jones' insane version. The flip was "Why Did You Leave Me" (Ricky). In May, they played the Royal Scott Social Club in St. Louis.

The final Okeh release was issued in June of 1952: "Mam'selle" (Ricky and Maithe)/"Calypso Song" (Leonard). The only Columbia song in the can was "If I Love Again" (featuring Maithe and Ricky).

Also in June, the inactive National Records sued the Ravens. The "Ravens Singers, Inc." had been dissolved when the old gang quit and replaced by "Ricks Enterprises, Inc." That entity had brought suit against National for $7615 in royalties. National countersued the Ravens for $100,000 for breach of contract (for going off to record for Columbia, as mentioned above). Columbia moved for a dismissal of the countersuit as it was identical to the suit that National had brought against them in January 1951. I imagine that even the lawyers out there are confused at this point. Presumably this whole mess was settled out of court, as these things usually are. I imagine that National was desperate for cash at this point, since they seem to have been winding down operations.

June 1952 appearances included Philadelphia's Earle Theater, this time with Dinah Washington, Arnett Cobb, Harold "Mr. Rhythm" King, and the stage debut of Leslie Uggams (all of nine years old at the time). In July, they were at Chicago's Regal Theater, with Count Basie.

More June activity included a session at which they recorded "I've Got You Under My Skin" and "Rock Me All Night Long." At the same session, Ricks recorded two solo numbers: "Love Is The Thing" and "Too Soon." "Love Is The Thing" was another oldie, having been written by Victor Young and Ned Washington back in 1933, when it was popularized by Ethel Waters.

Ricky led both sides of their July Mercury release: "Write Me One Sweet Letter," backed with "Rock Me All Night Long." "Write Me One Sweet Letter" had originally been released by Joe Liggins (vocal by Candy Rivers), as "One Sweet Letter," around March 1951. However, it was "Rock Me All Night Long" that was the smash hit, rising to #4 on the R&B charts (however, this would be the last chart hit for the Ravens).

In August 1952, Mercury released a double-sided Ricks solo effort, the pretty ballad "Love Is The Thing," backed with "Too Soon." There would be other occasional Ricks solos forthcoming, but none of them charted. On September 26, the Ravens began a week at the Apollo Theater with Bill Bailey, Betty Carter, and Duke Hampton.


A Mercury announcement in late September said that the company was going to discontinue its various numbering series (5000 for R&B, 6000 for Country, and 8000 for Pop), consolidating all further releases into a single 70000 run. They did this to allow easier "crossover" hits between the three types of music (the feeling was that now dealers could see a full list of new releases, instead of just a portion). On October 16, they opened at the Towne Casino in Cleveland (the ad showed an ancient photo of the group).

November found the Ravens at New York's Paramount Theater, along with Duke Ellington, who was celebrating his 25th year in show business. The Ravens were certainly keeping good company! (The Billboard reviewer said, on November 1, 1952: "While no great shakes as soloists, the four can come up with devilishly intricate harmonizing....") From there it was on to the Club Alabam in Los Angeles.

A Mercury session in December 1952 produced "I'll Be Back," "Don't Mention My Name," "Don't Be Mean, Be Mine," and "What Could Be More Beautiful."

Later in December, Mercury issued the Ravens' first release on the new 70000 series: "Don't Mention My Name", a beautiful ballad featuring Joe Van Loan. Its flip was the bouncy "I'll Be Back" (Ricky). What's going on in the bridge to "Don't Mention My Name" is quite similar to the Chris Powell "Johnny Echo" sides. That's Ben Webster's sax "singing lead", with the group (featuring Joe's floating tenor) backing it up.

Also in December, it was reported that Jimmy Ricks had purchased the Holiday Inn in Newark, New Jersey for $12,000. He was set to re-name it the "Ravens Den." This is another of those press-agent stories that never happened. (Even worse, the blurb called him a baritone!)

And old friends returned. Sometime in late 1952 or early 1953, Nat Margo returned as road manager, replacing Chuck Darwyn. Also, in late 1952, Warren Suttles came back, after his stint with the Dreamers. This, of course, forced out Louis Frazier. The group was now Jimmy Ricks, Joe Van Loan, Warren Suttles, and Jimmie Steward.

There was another session in January 1953. This time, they recorded "Time Is A-passin'," "Silly Heart," and "Come A Little Bit Closer." At the same time, Jimmy Ricks recorded the solo: "She's Got To Go."


Mercury released the next Ravens record in February 1953. One side, "Come A Little Bit Closer" was a typical Ricks-led rocker. The flip, a kind of torch song, was the Jimmy Ricks solo effort, "She's Got To Go" ("She's my baby and I love her so/ But she's got to go"). Why does she have to go? Simply because she can't be counted on to do the things that matter: "She won't wash, she won't iron/ She won't cook, she won't sew/ Oh no, she won't even, won't even scrub the floor." Who'd want a woman like that around? Listen for bongos and a muted trumpet in the background.

On April 3, 1953, the Ravens began another week at the Apollo Theater, this time with Willis "Gatortail" Jackson and Hindu mystic Kuda Bux.

When Leonard Puzey was discharged from the Army, at the end of April, he rejoined the Ravens, bumping Jimmie Steward from the group. Therefore, for a while, the group was almost vintage Ravens: Joe Van Loan, Leonard Puzey, Warren Suttles, and Jimmy Ricks. This lasted only two months, however, and Leonard left again (without having recorded); Jimmie Steward was then re-hired. Puzey certainly didn't sit home doing nothing, however; he was a member of the Dappers, did background session work (which was more lucrative than being in a group), and appeared with some Ink Spots groups (including Deek Watson's), into the 60s.

In May, the Pittsburgh Courier released the results of its eighth Annual Theatrical Poll. In the category of Vocal Quartets, the Ravens placed first, beating out the Clovers and the Dominoes. That same month the Ravens played the Chicago Theater.

The next Mercury session took place sometime in July 1953. The Ravens recorded "Without A Song," "Rough Ridin'," "Who'll Be The Fool," and "Walkin' My Blues Away."

The January 8, 1955 New York Age had a column called FanFare, written by Huey Long. (The guitarist/baritone for the Ink Spots in 1945, ten years later he owned the Huey Long Music Center in Corona, Queens, New York.) This column dealt with saxophonist Eddie "Lockjaw" Davis and how Huey had been a part of a Savoy Records be-bop session that Davis had arranged in 1946. It had this interesting paragraph:


Last year the Ravens (the vocal quartet) had an all-star record date and we formed anew. The Ravens were accompanied by an array of talent which included Milt Buckner on organ; Candido, bongos; Rudy Taylor, drums; Lamar Wright, trumpet; George Duvicier, bass; Eddie "Lockjaw" Davis, tenor sax; and your writer, rhythm guitar. During this date the Ravens made one of their most recent hit tunes "Rough Riding." [I don't actually understand how they could have "formed anew", when only Davis and Long were on both sessions, but at least we now know the musicians behind the Ravens.]


Mercury issued another Ravens record in August, both sides led by Ricky: "Who'll Be The Fool"/"Rough Ridin'." The top side is a different tune than the Marshall Brothers' "Who'll Be The Fool From Now On."

Almost immediately, in September, Mercury issued two more with Ricky in the lead: the Billy Rose/Edward Eliscu/Vincent Youmans 1929 standard, "Without A Song," backed with "Walkin' My Blues Away." These are two more tunes that feature bongos and a muted trumpet, although they weren't done at the same session as Ricks' "She's Got To Go." Note that "Walkin' My Blues Away" was the same song that Warren had done with the Dreamers back in October 1952; it was his own composition.

In September 1953, it was announced that the National catalog of over 600 songs would be marketed through Jubilee Records. Jubilee's Jerry Blaine said that they'd be turning out a lot of LPs and EPs with National material, on the National label, starting October 15. National hadn't, as far as I can tell, issued a record since mid-1951, but I'm unaware of anything released through Jubilee under this deal.

Remember that poll in the Pittsburgh Courier that the Ravens won (you should, it was only a few paragraphs ago)? On September 23, they appeared, along with the other winners (the Clara Ward Singers, Ruth Brown, Buddy Johnson, Dorothy Dandridge, and Arthur Prysock), in a swing concert at Philadelphia's Academy Of Music.

October found the Ravens replacing the Dominoes for an engagement at New York's Band Box, with the Sugar Ray Robinson revue. The Dominoes did, however, go on the road with the show, which turned out to be a disaster for Billy Ward, because Sugar Ray got top billing, not the Dominoes. Note that the baritone of the Dominoes at this time was James Van Loan, Joe's brother.

The final Mercury recordings were laid down in December 1953. Since there were eight songs involved, it might have taken place on two days. The Ravens recorded "Ain't Gonna Worry," "The Lonesome Road," "The Raven's Blues," "Love Is No Dream," "Going Home," "May I," and a reprise of "September Song" (the original had been done for National, with Maithe Marshall in the lead). At the same time, Jimmy Ricks did one more solo, "Escortin' Or Courtin'."

In December, the Ravens were once again on the West Coast, appearing with Marie Adams in Johnny Otis' "Jazz-O-Rama," at the Carlton Theater. While in Los Angeles, they made separate appearances with Percy Mayfield and bandleader Cee Pee Johnson (on New Year's Eve). They were back in New York in time to do a late-January week at the Apollo Theater.

Another new year; another new Ravens record. January 1954 saw the re-make of "September Song," this time with Joe in the lead. Some of the notes he hits defy belief; it's one of the Ravens' best efforts. The flip was the fun Jimmy Ricks solo, "Escortin' Or Courtin'," in which he asks a very large man "Are you escortin' or courtin'/ 'Cause she sure looks good to me," and finds out the hard way that he should have kept his mouth shut. Also in January (on the 29th), the Ravens were back in the Apollo Theater, along with Tito Puente, Al Hibbler, and Butterbeans & Susie.

February saw another Mercury release: "Goin' Home" (Ricky and Joe), a pretty song about being calm in the face of impending death. (It was based on an old spiritual, the tune of which classical composer Antonin Dvorak incorporated into his 9th Symphony.) The flip was another old standard, the 1928 Gene Austin/Nathaniel Shilkret composition, "The Lonesome Road" (Ricky). Both of these are in a quasi-religious vein, which the Orioles were also into at the time. Oddly, both sides were credited only to "Jimmy Ricks" (although the full group is present).

On March 9, Jimmy Ricks and the Ravens began a week at the Howard Theater in Baltimore, along with Mantan Moreland and Slam Stewart.

But there was trouble brewing in the Ravens; big trouble. Sometime in the Spring of 1954, the Ravens played an engagement in Detroit and stopped by the Frolic Show Bar to hear a local group called the Carols. Their lead, Tommy Evans, had a voice that was almost a carbon copy of Ricky's. Ricks walked out. After the show, road manager Nat Margo told Tommy that the Ravens were having trouble with Ricky, who was talking about leaving. Naturally, Margo was desperate to line up a replacement. Imagine being told that you were being considered to replace the most famous R&B bass in America! To find out about Tommy Evans and the Carols, see Tommy Evans).


About three weeks later, the dire forecast had come to pass: Ricks had left the Ravens. Margo then sent Tommy Evans the fare to get to New York to join the group. Tommy was given a week to learn the arrangements to 27 Ravens songs. At the time he joined, the other Ravens were Joe Van Loan, Jimmie Steward, and Warren Suttles.


Mercury saved the best for last. In June 1954, they issued the last Ravens record containing original material (these were old masters from 1952 and 1953). The top side was Cole Porter's "I've Got You Under My Skin," featuring a lead by Ricky, Joe's floating tenor, the voice of Jimmie Steward (singing "and deep in the heart of me" at the very beginning), a duet bridge with Jimmie Steward and Louis Frazier, and chiming by the entire group. I am in awe of this recording! The flip is the beautiful "Love Is No Dream," led by Joe. What a way to go!

During this period, Joe Van Loan was also singing with some friends of his, the Du Droppers. He'd record "Traveling All Alone" with them (as the Dixieaires on Harlem), released around the same time as "I've Got You Under My Skin." Either Joe felt that income from two groups was better than income from one or he may have just loved to sing (or, without Ricky, the Ravens may have fallen on hard times). Since it now gets somewhat complicated, see Joe Van Loan's Extracurricular Activities. (Note that Maithe Marshall would sometimes return to take Joe's place in the Ravens; however, he made no further recordings with them.)

On July 9, 1954, the Ravens were back at the Apollo, this time with Bette McLaurin and George Kirby.

In October, the Ravens were back on the West Coast, playing several dates with Hal "Cornbread" Singer's orchestra.



The Ravens - Part 1
The Ravens - Part 3
The Ravens - Part 4 - Discography
Warren Suttles' Dreamers
The Marshall Brothers
Joe Van Loan's early career
Tommy Evans and the Carols
Joe Van Loan's extracurricular activities
Jimmy Ricks' post-Ravens career
Warren Suttles wins an award
More Articles
Unca Marvy's Home Page