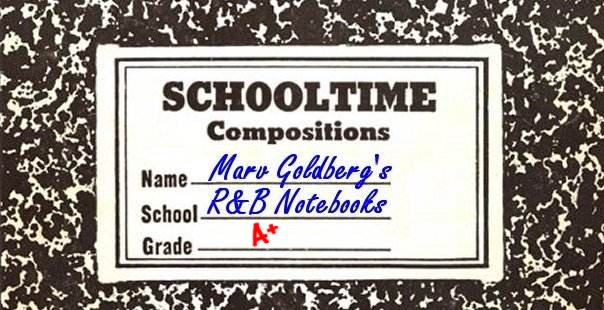 The Ravens - Part 3

By Marv Goldberg

Based on interviews with Leonard Puzey,
Warren Suttles, Maithe Marshall,
David Bowers, Tommy Evans,
Ollie Jones, and Ray Richardson

(Note: the original of this article appeared in
Discoveries #93 - 2/96)

© 1999, 2009 by Marv Goldberg


Sometime in mid-1954, Warren Suttles left, this time for good. Louis Frazier was immediately re-hired to replace him. The Ravens were now Tommy Evans, Joe Van Loan, Louis Frazier, and Jimmie Steward. Frazier's picture was pasted over Suttles' in the publicity photos.

When he left the Ravens for the final time, Warren did odd jobs, like parking cars and driving a taxi. He also put together the "Warren Suttles Trio", after borrowing a set of drums from a friend. They played in various spots, starting with the Travelers' Inn, on Boston Road in the Bronx. They were around for several years, managing to work, on weekends, 9 or 10 months out of the year. Beginning in 1961, Warren was the manager of Gene's Bar (145th Street and Lenox Avenue in Harlem), a job he held until 1972.

Since the Dixieaires that did "Traveling All Alone" were more or less the Du Droppers (J.C. Ginyard, Willie Ray, and Bob Kornegay; the fourth Du Dropper, Harvey Ray, wasn't on that record), Joe decided to make it more or less official, appearing with the Du Droppers, as a fifth member, starting in late August 1954 (although he was still singing with the Ravens at the time). However, since Harvey Ray left a few weeks later, they were down to a quartet again. There are photos of the Du-Droppers with Joe, but there were no recordings as the "Du Droppers" (unless you count the Dixieaires record, of course).

It's important to note that, back in the spring of 1954, Du Droppers' manager Paul Kapp had sold the group's management contract to Jack Angel of Herald Records for $2,000. The Du Droppers' recording contract with RCA was due to expire in October 1954 (the same month that the Ravens' contract with Mercury would run out), and Angel was ready to record the group for Herald. However, RCA announced that it was exercising a one-year renewable option clause in the group's contract. So now, Angel has J.C. Ginyard, Willie Ray, Harvey Ray, and Bob Kornegay under contract to him, but can't record them on Herald. And then, a curious thing happened. Harvey Ray quit the group and Joe Van Loan joined as a permanent member (while also being a permanent member of the Ravens). Joe signed a contract with Jack Angel, but not with RCA. We'll see in a bit how this played out.

In November, Joe Van Loan was also out of the group for a few weeks: his brother James, had walked out as baritone of the Dominoes, claiming that the death of his mother had made him despondent (which was true to some extent, but he was really sick of them). Joe (who could come down from top tenor to baritone) replaced James at a few performances. Also in November, for the holiday season: Mercury released "White Christmas" and "Silent Night," the old National masters.


Their Mercury contract expired in October 1954, and by the end of the year, Jimmy Ricks decided to return to the Ravens. He had been away for about six months, but since he was part owner, there was no stopping him. I don't know what Ricks had been doing all that time; there's only a single advertisement for him appearing at Detroit's Flame Show Bar from mid- to late October. Tommy Evans, of course, found himself out of a job.


January 1955, saw the release of the final Mercury record: "Old Man River" (not "Ol' Man River" this time) and "Write Me A Letter." These, too, were National masters. Note that there were at least nine unreleased Mercury tracks (see discography), and yet Mercury chose to release these old sides. Al and Irving must have had some motive, but I don't know what it was.

Another January 1955 event: Maithe Marshall was arrested for possession of heroin, with intent to sell. He was sentenced to a year in Sing Sing, a maximum security prison in Ossining, New York.


There's another oddball record to account for: a Rendition EP (#104), containing four National songs: "Write Me A Letter," "Old Man River," "For You," and "Would You Believe Me." This differs from the 1951 Rendition single in that it says "Chicago" on the label (the single was silent as to a location), so I'm inclined to think that the two didn't come out at the same time. My guess is that, with National going dormant sometime in 1951, Al Green moved to Chicago to be near his son, Irving (Mercury's president). Once again, there's no external source that gives a date for the record. I'll place the Ravens EP in early 1955 (as an educated wild guess), since it would tie into the release of "Write Me A Letter" and "Old Man River" on Mercury.

Then, the Ravens found a new roost, the Jubilee label. Again, sessions are maddeningly difficult to date, but the first one seems to have been in January 1955. The two known songs were "Bye Bye Baby Blues" (a reworking of one of their Hub sides from back in 1946) and "Happy Go Lucky Baby," both led by Ricks. These sides were issued in February. "Bye Bye Baby Blues" hadn't weathered too badly, but the strange-sounding "Happy Go Lucky Baby" has never been one of my favorites.

Their next Jubilee session took place around March 1955, when they recorded "Green Eyes" and "The Bells Of San Raquel."

Also in March, Joe's Du Droppers were getting ready to record for Groove again, but.... Remember that Joe Van Loan was under personal contract to Jack Angel of Herald Records (as were the other members of the Du Droppers), but, unlike the others, he had no recording contract with RCA/Groove. Therefore, Angel announced that he wasn't going to allow Joe to record with the Du Droppers. Groove hustled up a "secret lead" and even had witnesses present to swear that it wasn't Joe Van Loan (just in case Jack Angel was listening). The "secret lead" was Charles "Carnation Charlie" Hughes (who would later sing with the Drifters). To make matters more confusing, Joe was still appearing with the group and Carnation Charlie was never a member -- he was just used on the session (and can be heard as lead on "Give Me Some Consideration"). Talk about confusing.

In April, on Easter Sunday, they appeared at the Cleveland Arena. It was a show, record hop, and mambo contest rolled into one. The Ravens shared the bill with the Drifters, the Metronomes, Madeline Greene, Willie Mabon's ork., Todd Rhodes' ork., Bull Moose Jackson's ork., Rudy Brown's ork., and Vito and His Mambo Band. If you liked to dance, this was the place to be!

The Ravens held another session around April 1955, recording "On Chapel Hill" and "We'll Raise A Ruckus Tonight."


Also in April, Jubilee released "Green Eyes" (Jimmy Ricks and Jimmie Steward), backed with "The Bells Of San Raquel" (Jimmie Steward). "Green Eyes" has a special meaning to me; it's not only a great song in its own right, but it's the only Ravens song I ever heard when it was released. It seemed to me to have been a hit (certainly Alan Freed played it a lot), but isn't listed on either the R&B or Pop charts. (Well, if you really want to know, "Green Eyes" dates back to 1929, was written by Nilo Mendenez and Adolph Utrera, and in 1941 was a number one song for Jimmy Dorsey, with vocals by Helen O'Connell and Bob Eberly.) Once again, an ad was accompanied by an ancient photo (showing Maithe, Leonard, Warren, and Jimmy).

Sometime in the Spring of 1955, Joe Van Loan, Willie Ray, Bob Kornegay, and Willis Sanders (who's usually associated with the Embers) recorded for George Goldner's Rama label as the Bells. Their one record was "What Can I Tell Her Now"/"Let Me Love Love You," released in July. In June, the Du Droppers were on their way to a Canadian tour when Joe Van Loan suddenly left them cold, in order to go back with the Ravens full time.

August 1 found the Ravens at the Uptown Theater (in Cleveland), along with Les Brown, Jo Ann Greer, and Cleotha Bolton. It was a one-shot deal, three shows. Then, they were off on a tour of the Carolinas, Georgia, Alabama, and Florida, along with the Arnett Cobb Orchestra.

In September, Jubilee issued two more Ricks-led songs: "On Chapel Hill" and "We'll Raise A Ruckus Tonight" (which goes back at least to the 1939 Bette Davis movie "Jezebel").

Jubilee had the Ravens record "(Take Me Back To My) Boots And Saddles" (which should have just been "Saddle") and "I'll Always Be In Love With You" around December 1955.

And then, the end of an era: Jimmy Ricks left the Ravens for good around the beginning of 1956. There is probably no way to measure the effect Ricky had on R&B, other than to say that he was a yardstick; every R&B bass was held up to Jimmy Ricks to be measured. There were many other basses of note: Bill Brown (Dominoes), Harold Winley (Clovers), Herb Reed (Platters), Gerald Gregory (Spaniels), however, none of them was Jimmy Ricks.

Ricks was replaced, once again, by Tommy Evans. The group was now: Joe Van Loan, Jimmie Steward, Louis Frazier, and Tommy Evans. Probably because Ricks was still under contract to them, Jubilee decided not to record the Evans-led Ravens.

When the Ravens played the Apollo Theater the week of February 3, 1956 (along with Priscilla Bowman, Jay McShann, Danny Overbea, and Joe Tex), the write-up in the February 4 New York Age said: "The new Ravens are more exciting and entertaining than ever...." That says Ricky is gone.


The final Jubilee record, "Boots And Saddles"/"I'll Always Be In Love With You," was issued in February 1956. "I'll Always Be In Love With You" was another oldie, dating back to 1929, when it was written by Bud Green, Herman Ruby, and Sam Stept. "Take Me Back To My Boots And Saddle," by Teddy Powell, Walter Samuels, and Leonard Whitcup, went back to 1935. Both sides were led by Jimmy Ricks, in his last appearance on wax with the Ravens. Strangely, a Jubilee ad credits it to "Jimmy Ricks and His Men Of Rhythm."


There were two sides in the can that were finally released on a 1995 CD: "Ashamed" and "Rockin' At The Record Hop" (Ricky). (The last-named song is much better than you might guess from the title). Since their master numbers aren't known, it's impossible to even guess when they were recorded (and, of course, there might be other unreleased tunes). Unfortunately, the CD claimed that the "Ravens" and "Jimmy Ricks and the Rickateers" (see below) were the same group (which they aren't), but at least we got to hear them. The lead on "Ashamed" is a bit of a mystery. After it was suggested to me that the voice was that of Larry Harrison, former lead of the 4 Buddies (and, more recently, of the Barons on Decca and the Buddies on Glory), I had a couple of singers listen to it; both agreed that it was Harrison. I then tried to find out about it from Jimmie Steward, the only surviving member of the Jubilee group, but he basically (and suspiciously) refused to answer the question. It looks like, at least for a while, Larry Harrison replaced Jimmie Steward.

Jimmy Ricks did mostly solo work for the rest of his post-Ravens career. Why did the founding father of R&B basses go on to relative obscurity, recording for a succession of labels, some quite small, with never another hit? Leonard blames it on Ricky's personality: "It may be because of his attitude; he was very egotistical. A lot of people didn't like him." Warren says that a bass soloist just wasn't a saleable commodity. When he sang with the Ravens, the harmony acted as a fill-in, so he wasn't seen as a soloist. Whatever the reason, the only Ricks tune I remember ever hearing on the radio was his 1961 duet with Lavern Baker, "You're The Boss," although it was the flip, "I'll Never Be Free," that staggered up to #103 on the Pop charts.

March 1956 found Maithe Marshall in a load of trouble. The article in the March 22 Long Island Star Journal was headed: "8 Men Seized In Dope Raid". It told of a narcotics squad raid in Harlem that captured a ring that was doing $20,000 a day business. The last paragraph read: "The rock-and-roll musician was identified by police as Maithe Marshall, 31, of 29 Carlton Avenue, Brooklyn. Police said he was released recently from Sing Sing [a maximum security prison in New York State] after serving a year for possession of $25,000 worth of heroin." I don't know what sentence he received this time, but Maithe isn't heard of again until being with the Orville Brooks Ink Spots in late 1962.

In March 1956, the Ravens appeared at Chicago's Crown Propeller Lounge. In April, Leonard and Phil Chess announced that the Ravens (less Jimmy Ricks) had been signed to Chess' Argo subsidiary, to cut Pop material. In May, they were at the Ebony Lounge in Cleveland, with Jack Weigand and his Organ Trio (I'm not sure what kind of comment to make here).

Also in May, Jubilee released (on its Josie subsidiary), a record by Jimmy Ricks and the "Rickateers." Definitely not the Ravens, the Ricks-led sides were: "The Unbeliever" and "She's Fine—She's Mine" (Josie 796). Another, unreleased, cut from the Rickateers' March 1956 session was "Same Sweet Wonderful One."

Around May 1956, after an appearance at the Baby Grand in Brooklyn, the Ravens dissolved. By this time, there were a lot of problems within the group: Tommy Evans had a drinking problem that affected his performances; Louis Frazier didn't keep up his appearance; Joe Van Loan and Jimmie Steward didn't get along. However, Joe now needed a group of Ravens to record for Argo, and who better than the guys he'd been doing all that extra-curricular work with? So the Dixieaires/Du-Droppers/Bells also became the Ravens: Joe Van Loan, Willie Ray, Willis Sanders, and Bob Kornegay. (Now didn't I tell you to remember all those names? Didn't I?) Note that a few months later (in August) Tommy Evans would replace Bill Pinkney in the Drifters.


It was this Ravens group that recorded "Kneel And Pray," "I Can't Believe," "Jingle Jingle, Joe," and "Simon Says," around July 1956. (Amazingly, here's the third large company in a row where sessions can't be accurately dated.)


Argo released "Kneel And Pray" (Joe Van Loan) and "I Can't Believe" (Bob Kornegay) in July (with an accompanying photo showing the Jubilee group). A listen to "I Can't Believe" confirms that, while no Ricks, Bob Kornegay is certainly no slouch as a bass. Also in July, the Ravens appeared at a benefit concert, put together by Ben Bart, for Arnett Cobb. After having spent two years in the hospital with back problems from 1948-1950, he had just been in an automobile accident and was expected to be flat on his back again for at least a year. The show, held at the Savoy Ballroom in New York, also featured Sammy Davis, Jr., the Cadillacs, Faye Adams, Illinois Jacquet, Lionel Hampton, Charlie & Ray, Cootie Williams, and Dinah Shore, among others. (After this point, I can't find any further references to Ben Bart as manager of the Ravens, which is not to say that they weren't with him until the end. He'd later go on to be the personal manager of James Brown.)


After that single session, Bob Kornegay quit to pursue a solo career. He ended up recording a minor hit, "The Man In The Phone Booth", for Herald and Flair-X (in a tangled deal too complicated for even this article). Over time he was billed as "Big Bob Kornegay" (he was big!), "The Wanderer", "The Happy Wanderer", and "Big Daddy".


Once again, a bass was needed, and Nat Margo put out the call for auditions. One of those who answered was David "Boots" Bowers. Dave had started his career, in the 40s, as a high tenor with different gospel groups. When he was 17, his voice started dropping and the bass of the group he was with (the Skylight Singers) taught him how to sing bass. It worked out well, as Boots was subsequently hired as the bass of the King Odom Quartet in 1947. After they broke up, he joined with Gene Mumford, Orville Brooks, Isaiah Bing, and pianist Glen Burgess to form the Larks that recorded for the Lloyds label.

After the Larks, Dave didn't really want to get involved with another group, but he went to the audition just to prove to himself that he was good enough to be the bass of the Ravens. (Even after he was gone, Jimmy Ricks still had a mystical influence on basses.) Accompanist Bill Sanford (yes, he was still there) had Dave sing a few lines from several Ravens' tunes and then told Margo to send the rest of the hopefuls home. (Since there are no further mentions of Nat Margo with the Ravens, this is a good place to note that he teamed up with Dick Boone in booking and managing acts. In the 70s, he was the personal manager of Ted Taylor and Little Johnny Taylor.)


Joe Van Loan, Willie Ray, Willis Sanders, and Dave Bowers did a single session around September 1956 that resulted in "Breaker Of Hearts," "Surely Will," "Water Boy," and "A Simple Prayer." "A Simple Prayer" (Joe Van Loan) and "Water Boy" (Dave Bowers) were released in December 1956.


At that point, Willie Ray, Willis Sanders, and Bill Sanford all left. To keep the Ravens going, Joe brought in his two brothers, Paul Van Loan (tenor) and James Van Loan (former baritone/second tenor of the Dominoes for three years). To round out the group, there was a new pianist/arranger: Bill Chambers. Joe Van Loan, Paul Van Loan, James Van Loan, Dave Bowers, and Bill Chambers did the rest of the Argo recordings. (Bill Sanford was still around in 1960, when his orchestra recorded "Twilight" and "Drumboogie" for the Gold Eagle label.)

In June 1957, the Ravens recorded "Long Lonely Nights," "Let Me Know," "Dear One," and "That'll Be The Day" (although I can't tell if they were done at the same session). Earlier that month, Lee Andrews & the Hearts had had an instant local Philadelphia hit with "Long Lonely Nights," on Jocko Henderson's Mainline label. In fact, it was doing so well that Jocko realized he couldn't handle national distribution. He therefore approached both Atlantic and Chess about taking over the masters. Atlantic was initially interested, but ended up simply releasing a version of "Long Lonely Nights" by hitmaker Clyde McPhatter. Chess was more amenable, and it was released on the Chess label everywhere but in Philadelphia (Jocko kept Philly sales for Mainline).

To hedge its bets while waiting to see what happened, Chess had the Ravens record the tune. However, when they obtained the rights to the original, they weren't about to compete with themselves. Therefore, in a deal brokered by Nat Margo, Chess leased the master out to Baton Records (along with "Let Me Know"); Baton issued these as by the "Kings." It's amazing how quickly this all happened; it was still June when the Baton version was released. James Van Loan is doing lead on both sides. The Ravens' "Long Lonely Nights" doesn't hold up against the other two versions, but that's only because they were by Lee Andrews and Clyde McPhatter; the Ravens' version is really quite good. "Let Me Know" seems to me to be a song that would have been a big hit if Clyde McPhatter and the Dominoes had done it (don't forget that James had been with them during that era and possibly had a hand in the arranging). Note that Joe switched his mighty top tenor down to baritone whenever brother James took the lead.


In July, Argo released the other two tunes from the June session: "Dear One" (Joe and James) and "That'll Be The Day" (James). For some reason, they were also released on Checker (another Chess subsidiary) in the same month. "Dear One" was the old Fred Parris and the Scarlets song. "That'll Be The Day," a cover of the Buddy Holly and the Crickets hit, is, in my opinion, the worst record the Ravens ever made (beating out "Rooster" for the dubious honor). Since James was always clowning around on stage, there's a possibility that he was clowning around on this tune too.

In September 1957, Herman Lubinsky of Savoy Records purchased National's catalog, which had been sitting dormant since 1951. Savoy rushed out the Ravens' seasonal "White Christmas"/"Silent Night" in October (so what if the ad claimed "featuring Richie" [sic]?). At the same time, Savoy released the same tunes, back to back, by Big Maybelle.

The last Argo session took place in November 1957. The Ravens only recorded three sides: "Here Is My Heart," "Write Me A Letter," and "Lazy Mule."

November saw the release of the final Argo sides: "Here Is My Heart" (James)/"Lazy Mule" (Dave). The song about the mule wasn't a bad way to go out; it's quite reminiscent of the "country & western" songs led by Ricky (and was, in fact, a cover of the tune that Ricks had recently released on Decca). Note that there's an error in the lyrics: he says "When I say 'gee', you go right / When I say 'haw', you go left". Actually, that's exactly the way it's supposed to be. The commands to an animal were standardized and "gee" was used for right and "haw" for left. Ricks himself wrote the song (along with Luther Dixon) and they're the ones who got the lyrics wrong. The flip wasn't particularly worthy of the Ravens at all. (I place it in the same category as "That'll Be The Day"; just my opinion, though.)

There were at least five unreleased Argo sides: "Jingle Jingle Joe", "Simon Says" (both led by Joe), "Surely Will", "Breaker Of Hearts", and "Write Me A Letter". Unfortunately, there's no way to know which combination did which songs or who's doing lead on any of them, other than the first two. "Jingle Jingle Joe" and "Simon Says" surfaced in late 1999, and, in my opinion are truly ghastly (I'm actually being kind). There's no doubt in my mind why they were never released.

Most collectors seem to like Joe Van Loan's work on Argo (especially "Kneel And Pray" and "A Simple Prayer"), but I've always found them too overpowering for my taste. While Ricks might have kept Joe's power reined in, Joe sounded great on the sides by the Dixieaires and the Bells, so I really have no explanation for the shift in sound.

In December 1957, the Ravens did the holiday show given by DJ Al Benson (WGES, Chicago) at the Regal Theater. Others on the bill were the Hollywood Flames, Percy Mayfield, Ted Taylor (late of the Jacks/Cadets), Jackie Wilson, Valerie Carr, Vi Kemp, Joan Henderson, Billy "The Kid" Emerson, the 5 Satins, and the Red Saunders orchestra.

After the final Argo release, the Ravens stayed together for about a year. Their last appearance was at the Apollo Theater, in December of 1958 (probably the week of the 19th). Although Joe Van Loan said that they also appeared as "Three Brothers and a Cousin," that wasn't true. Dave Bowers said that the Van Loans made a joke about that to outsiders (Dave wasn't their cousin), but that was all.

Who were the Ravens at the end? Tenor Grant Kitchings, who'd been a member of the King Toppers (Josie) had been drafted in December 1956. He told me that when he got out of the Army two years later, he hooked up with the remnants of the Ravens: Joe Van Loan, Boots Bowers, and Aaron "Tex" Cornelius, a baritone/tenor who'd been with the Regals and the Vee-Jay Orioles.


But finally it was all over. There's an ad from July 1958 advertising Joe Van Loan, "formerly of the Ravens" making an appearance at the "T" Bar in Milmont Park, Pennsylvania.

In the fall of 1958, Joe recorded "Forever" and "Give Me Your Heart" for Philadelphia's new V-Tone label, backed by the Parliaments (Arnold Bennett, Milton Harling, James Frazier, John Gore, and Bobby Taylor).

In late December 1958, Bobby Shad (who had long ago been a&r man at Mercury) was appointed head of the Rank Record Company of America, owned by British movie mogul, J. Arthur Rank. The new corporation set up an American subsidiary, called "Top Rank." This label issued the last known sides by the Ravens.


In May 1959, Top Rank issued "Into The Shadows"/"The Rising Sun" by the Ravens. But who were these Ravens? They might actually have been the group that had been at the Apollo Theater the prior December (or some of them, with other singers thrown in; I interviewed both Grant Kitchings and Boots Bowers and neither mentioned being on either of these tunes). The personnel remain unknown. "Into The Shadows" features a duet lead and "The Rising Sun" is another Ravens' "Western."

But now it gets interesting. Remember that Willis Sanders sang with Maithe Marshall in the Marshall Brothers, and with Joe Van Loan in the Bells and the Argo Ravens (on "Kneel And Pray" and "A Simple Prayer")? After the Marshall Brothers, Willis had formed the Embers that recorded "Paradise Hill" in 1953. That same group (other members unknown) probably also recorded for Columbia in 1954. After his stint with the Bells and the Ravens, Willis had formed another Embers group (personnel still unknown) that recorded for Jupiter (with the songs re-released on Juno in October 1957). He then put together yet another Embers, this time with himself as baritone lead, Billy Adams (second tenor), Ray Richardson (baritone), Al Williams (bass), and Dave Braithwaite (piano). They recorded "I Want To Dance" for Juno (although all other Juno recordings were done by Willis' prior group) and "Honey Bun"/"Lovable You" for Millionaire (as the Fabulous Embers).


All this is leading up to the Embers then recording two songs, as the "Ravens," for Top Rank. The songs were "Solitude" and "Hole In The Middle Of The Moon," released in October 1959. According to Ray Richardson, only Willis Sanders and Dave Braithwaite knew about the "Ravens" session; the rest of the guys were given the tunes the day before they were recorded. Interestingly, this record (but not the prior one) says "Orchestra directed by Bill Sanford." I'm happy to report that they went out with an oldie: "Solitude" (led by Willis Sanders) was written in 1934 by Eddie De Lange, Irving Mills, and Duke Ellington. "Hole In The Middle Of The Moon" (fronted by Willis, with an assist from Al Williams), was a salute to the fledgling space program ("There's a hole in the middle of the moon/ Since they shot that rocket right on through"). No one would ever mistake them for the Ravens, but it isn't bad! After this, the same group went on to record for Coral and Dot as the Embers. Ray Richardson still keeps an Ink Spots group going in Canada.


In 1959, Joe Van Loan, Willie Ray, Orville Brooks, and Dave Bowers formed the Buccaneers, who toured extensively, but made no recordings. When Dave left, he was replaced by Bob Kornegay (I told you these guys were friends!). They changed their name to the Valiants and recorded "Let Me Go Lover"/"Let Me Ride", released in September 1959, on the Joy label. Orville Brooks went back a long way, having been with the Jubalaires in the early 1940s. Then it was on to the Golden Gate Quartet and the re-formed Larks (on Lloyds).


While Jimmy Ricks would appear at shows with various members of the Ravens over the years, the only "Ravens" performance I ever got to see was on February 2, 1974, when Maithe, Leonard, and Warren reunited at NY's Academy Of Music; although Ricks was still alive, bass chores that night were done by Tommy Evans. They sang "Without A Song," "Write Me A Letter," and "Careless Love," all led by Tommy, plus Maithe's "Would You Believe Me." A rehearsal for this performance was hideously recorded and released as Song Master 800. This makes it hard to appreciate the singers (since I was there, I can tell you they were a lot better than what you hear on this record). In the late 80s, Maithe, Leonard, Ollie, and Warren appeared at a UGHA show.

On July 19, 2006, 81-year old Warren Suttles accepted the Harlem Jazz & Music Festival 2006 Rhythm & Blues award for the Ravens. The ceremony was held at Gracie Mansion (official residence of the mayor of New York). (See Warren receives an award).


In 2013, all the Ravens are gone: Jimmy Ricks, Maithe Marshall, Joe Van Loan, Ollie Jones, Louis Frazier, Louis Heyward, Joe Medlin, Tommy Evans, David Bowers, James Van Loan, Paul Van Loan, Bob Kornegay, and Willis Sanders. Leonard Puzey, original second tenor passed away, at age 81, on October 2, 2007; Warren Suttles died on July 24, 2009; he was the last of the originals. The last known Raven, Jimmie Steward, died on May 18, 2013.

And that's the story of the Ravens. It's long and it's complicated, but it boils down to one important fact: the Ravens loosed Jimmy Ricks on the world of R&B, and (I'll say it again) he influenced an entire generation of bass singers. No one ever sounded quite like him (although Tommy Evans came close). The Ravens, singly and as a group, were extraordinary talents, and provided us with some of the finest music to come out of the 40s and 50s, whether R&B or Pop.



Thanks to Ferdie Gonzalez of Disco-File (for his discographical diggings), George Moonoogian and Victor Pearlin (for their archival record collections), and Jack Sbarbori (for everything he ever wrote on the Ravens). Many of the ads appeared in various editions of First Pressings (courtesy of Galen Gart). Special thanks to Tina McCarthy, Manager of the Sony Music Archives, for help with some Columbia research. Thanks also to Joe Grimaldi, for information about their appearances on Arthur Godfrey's Talent Scouts and It's Dream Time. Thanks to Dave Cummings for the recent photo of Leonard Puzey. Let's not forget Mark DeFrancisco, who brought Joe Van Loan's Sudaja recording to my attention and Pete Grendysa who helped me unravel Jimmy Ricks's Festival recordings.


The Ravens - Part 1
The Ravens - Part 2
The Ravens - Part 4 - Discography
Warren Suttles' Dreamers
The Marshall Brothers
Joe Van Loan's early career
Tommy Evans and the Carols
Joe Van Loan's extracurricular activities
Jimmy Ricks' post-Ravens career
Warren Suttles wins an award
More Articles
Unca Marvy's Home Page