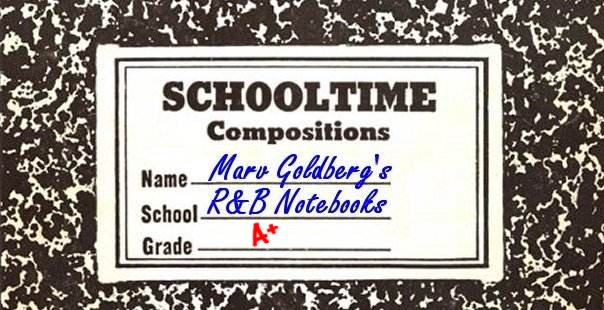 SARAH MCLAWLER
& THE SYNCOETTES
By Marv Goldberg

© 2021 by Marv Goldberg
This will be another strange one. Sarah McLawler made many recordings in an almost 60-year career. Trouble is, I can't force myself to listen to most of them.

Permit me to explain.

We all have our likes and dislikes. No one says (or should say) that you have to like what I do or that I have to like what you do. My taste in music is broad: not only R&B, but 50s Pop, Disco, Big Bands, Dixieland, Polkas, and Salsa (the last two because they're just so remarkably energetic). Of course, there are sounds I don't like: accordions, bagpipes, harmonicas, trombone solos, electric violins, and Hammond organs are all in that category. Starting in 1953, Sarah McLawler took up the Hammond organ and was (I'm assured) quite good at it. Doesn't matter; I can't stand that sound. Oh, it's fine for skating rinks and ballparks, but not R&B.

So, what am I to do? I like the early Sarah McLawler sides on Premium and King, but I'm turned off by the ones on Brunswick with Gayle Brown and Georgie Auld, as well as her solos. Even worse, she then teamed up with (and married) Richard Otto and his electric violin. Actually, he was husband number three; the first two were shadowy husbands about whom more (actually much less) later.

But, as I always say, knowledge shouldn't be wasted, so I'll cover Sarah's career both with and without the Syncoettes, up through the Gayle Brown recordings. (I'll include those for a reason that will become evident.)



Born in Louisville, Kentucky on August 9, 1926, Sarah Alberta McLawler was the daughter of minister Vol William McLawler and gospel singer Lela Yvonne "Lee" Tillery (also seen as "Talley", but "Tillery" is correct). Married around 1925, Vol and Lela were together in the 1930 census (as "Von" and "Lee U"), but would divorce the following year. Actually, he (as "V. W. Rev. McLawler" appeared a second time in the 1930 census, at a different address. In that one, he says he's married, but there's no wife. With him are his two sons, Vol William, Jr. (although he never used the "Vol") and Morris, both from a prior marriage (to Ada Bogan) that had also ended in divorce. [For all you media hounds, neither household had a radio. Hey, it was a question asked by the Census Bureau in 1930.]

In addition to those half-brothers, Sarah had a full brother, Marius Henry McLawler, who was two years younger than she (and whose name was rendered by two different census takers as "Maris").

Several Internet sources talk about her eventually going to Chicago to join her sister, a songwriter. Well, there were two sisters, but...


First, there was Agnes, from Vol's first wife; she was born in 1914, but only lived 28 days.

The second is more confusing: Daisy Yvonne McLawler was born January 3, 1936 (and therefore far too young to have been a Chicago songwriter in the 1940s). Her birth record shows her mother's name as "Lela Tillery", but who was her father? Lela and Vol had been divorced in 1931, yet Daisy's name was McLawler. Just another mystery.


And yet... When Sarah died, the New York Amsterdam News published an obituary (September 28, 2017). The only siblings listed were Rev. Thompson of Fort Worth, Texas (that was Daisy), and Dr. Johana Hudson of Chicago. I went all-out to discover who Johana was, but I've been unable to figure her out. (By this time, brothers Morris and William had died; I don't know what happened to Marius; he was living in Manhattan in 1960, but disappeared after that.)

Should I even bother to mention that the only songwriting "McLawler" registered with either ASCAP or BMI was Sarah?

Note that when Rev. McLawler died in 1975, his obituary didn't mention any of his children at all! (However, one obituary said he was the father of six. Since they wouldn't have counted Agnes, who died in 1914, I can account for William, Morris, Sarah, Marius [wherever he might have been], and Daisy. I guess the sixth has to be Johana, but again, who is she?)

Vol and Lela had met at a Baptist Convention. Naturally, then, Sarah was raised in the church with gospel music. In January 1930, Sarah's mother was called "Mrs. L. Y. McLawler, gospel singer of Chicago" (which is strange, since she was born in Texas and lived in Louisville). She was also referred to as "Yvonne McLawler".

Of interest to you law students: in December 1923, V.W. McLawler filed suit against the Louisville Railway Company for damages to his car in the amount of $254.73. While I don't know what kind of car he had, a new 1923 Ford Touring Car only cost $295.

The January 25, 1931 Louisville Courier-Journal noted some divorce decrees granted. One of them was V. William McLawler from Mrs. Lela Yvonne McLawler.

News items had Lela singing in a Louisville church in the summer of 1932 and Rev. McLawler in Philadelphia in mid-1935. Maybe he went there to get away from his ex-wife, because the February 17, 1934 Courier-Journal had this: "Other indictments returned were against William McLawler, Alfred G. Nichols and Charles N. Swann, child desertion."

But those troubles evaporated when, on August 6, 1936, Lela McLawler died in Louisville from acute myocarditis. By this time, Rev. McLawler was firmly settled in Indianapolis; Sarah and Marius went to live with him. Daisy, on the other hand, only a few months old, went to live with Lela's mother, Alberta Scott, and shows up in the 1940 census as "Daisy Scott". When Alberta gave the information for Lela's death certificate, she refused to name Lela's father.

I've seen that Sarah first joined her father in Pittsburgh, but his name was never mentioned there. He was associated with the Corinthian Baptist Church of Indianapolis in 1936 and 1937, then the First Baptist Church in West Indianapolis, and the South Calvary Baptist Church. In the 1940 census, Sarah and brother Marius were living in Indianapolis, along with Vol and his mother. It also said that all of them had been living in Indianapolis in 1935, which was incorrect, since Sarah and Marius had been living with her mother in Louisville until 1936.

Sarah received her first musical instruction at Corinthian Baptist Church, whose organist and musical director, Vestarine Slaughter, was impressed with her talent. The June 26, 1937 Indianapolis Recorder spoke of a recital to be given by Slaughter's students at the Jordan Hall of the Phyllis Wheatley Y.W.C.A. two days later. One of those appearing was Sarah McLawler.

Sarah enrolled in Indianapolis' Crispus Attucks High School in 1939. [Note: it wasn't the school of the same name in Illinois, possibly leading to the mistaken idea that's where Sarah grew up.] There, she studied music with Norman Merrifield, head of the Attucks music department, learning about European classical music. She was also a member of the school's glee club and a capella choir, graduating in June 1943.

Turns out that Sarah and Rev. McLawler weren't the only members of the family to make the news. This was from the February 29, 1940 Oakland Tribune:


Morris S. McLawler, 20, enlisted man of the U.S.S. Meade, was found guilty in police court yesterday morning of disturbing the peace. He was remanded to the custody of his superior officers, with the provision he be reinstated [sic; restricted?] from shore leave during the period his ship is in Mare Island. He was arrested in a local theater on the complaint of Mrs. A. G. Kimbrew, who testified that the sailor had annoyed her.


When father Vol McLawler filled out his draft registration in April 1942, he listed Sarah as the person who would always know where he was. And, just to be complete, Rev. McLawler had married Amanda Wallace by 1944; they were still married when she died in August 1957. By the time brother Marius filled out his registration in August 1946, he was living in New York City and working for Marvin Schwartz' Ideal Trucking Company. (Isn't it wonderful the things I can throw in?)

In May 1943, Sarah was on a list of those who'd made the honor roll at Attucks High. In August, there was a National Gospel singers' conclave at the Friendship Baptist Church in Detroit. At it, Sarah entered a debate against two other girls: "A Democracy Worth Having Is Worth Fighting For". Unfortunately, it was the girl from Cleveland who won the $150 prize.

The September 4, 1943 Indianapolis Recorder told us that: "Miss Sarah McLawler, eminent young vocalist and profound oratress will conduct the Services [at the Israelite Baptist Church]," I guess there had to be a word for a female orator, although I've never encountered it before. [For you Latin buffs, it should properly be "oratrix".]


There was an active club scene on Indiana Avenue, and that's where Sarah cut her teeth as a musician, although there are no ads that mention her. Supposedly, she regularly appeared with bandleader Gene Pope, whose band was at the Indianapolis Cotton Club. However, not only can't I find any mention of Pope and McLawler together, I can't find any mention of Pope at the Cotton Club.

The years from 1943 through 1948 are very hazy and I can't account for much of what she did. She supposedly continued studying music at Indianapolis' Jordan Conservatory, afterwards continuing her education at Fisk University in Nashville. If she graduated from Fisk (which sources say she did), she would have to have attended from the fall of 1943 through 1947, but when does Jordan fit in? Since Fisk is nowhere near Indianapolis, she couldn't have been attending college in the daytime and performing there at night. Possibly she started in clubs while still in high school.

On June 23, 1944, Alberta Tillery Scott, Sarah's grandmother, died in Louisville. She'd been born in Texas, and had chosen to be buried in Dallas. Sarah went to Dallas for the burial.

Supposedly, while in Dallas, bandleader Lucky Millinder overheard Sarah playing the piano and took her on the road with him for the summer. Problem is, I can't find Millinder playing in Dallas in the summer of 1944. Best I can do is El Paso and Lubbock in late October. In spite of that, I don't doubt the story.

At some point, probably in late 1947, she relocated to Chicago, playing at a cocktail lounge on State Street. She later said: "I liked to play late at night with gamblers and big-money people, I'd make a lot of tips. I'd be riding the subway at four in the morning with pockets full of money praying, Please God, let me get home safely."

Somewhere along the way, Sarah got married to Leroy Becton. His 1940 draft registration said that he was born in Memphis on July 12, 1916 (although he told Social Security it was 1915), now lived in Madison, Kentucky, and worked for himself (no other occupation given). However, other than being in the 1935 Memphis city directory as a student, and the 1939 Louisville one as a chauffer, there's not a single other trace of him. Of course, I have no idea when they were married. She might have met him after she'd gone to Chicago, since his Social Security number was issued in Illinois. A December 12, 1950 article about Sarah in the Washington Afro-American said: "She is the former wife of Leroy Becton, a LeMoyne College athlete." (Note: The LeMoyne college he went to was in Memphis, not the more famous one in Syracuse, NY.) They were probably divorced in early 1949 (based on something that we'll get to later). Leroy died on May 24, 1972 in Chicago.


The first performance ad I can find is for "Sarra McLawler - Singing Your Favorite Tunes The Way You Like 'Em!", at Wilpolt's Bamboo Room in Kenosha, Wisconsin in early July 1946. (Would you have gone if the ad had said "Singing Your Favorite Tunes In Ways You Don't Like"?) She was part of the show for the entire month. Of course, no one's going to hire you in Kenosha unless you have references from Chicago; yet I can't find any ads for her there.

Finally advertised in Chicago, on January 2, 1947, Sarah was booked for an indefinite run at the Club Flamingo.


By 1948, Sarah had formed an all-woman group, the Syn-Co-Ettes. Sarah had a contract with the Chicago musicians' union to perform at Paolella's Restaurant for a week, beginning on May 20. This was probably for the whole band, but the contracts only named the leader (thanks to Bob Pruter for this info). Sarah would later say that the group was the house band at Chicago's Savoy Ballroom. By 1948, the Savoy was failing (closing for good in July of that year), and they may have brought the Syncoettes in as a relatively inexpensive band (no longer being able to afford the big-name orchestras that had played there in the past). Unfortunately, there are no Savoy ads from 1948. Note that the group is usually referred to as either the "Syn-Coettes" or the "Syn-Co-Ettes", but spelled "Syncoettes" on labels. The other members were Vi Wilson, Lula Roberts, and Hettie Smith.


Violet Mae "Vi" Wilson (bassist) was born December 16, 1925 in Los Angeles, to Luther Wilson and Martha "Mattie" Jordan. She'd been a member of the Los Angeles All-City Orchestra, the International Sweethearts Of Rhythm, Eddie Durham's All-Girl Orchestra, and, in late 1945, the Darlings Of Rhythm, whose leader was Clarence Love, who'd once briefly conducted Pha Terrell's orchestra. Vi died on March 7, 2017.

Lula Roberts (tenor sax) was born on November 2, 1922 in Key West, Florida, to Eugene Roberts and Rosalie Poitier. By 1944, she was a member of the Darlings Of Rhythm (in which her name was usually seen as "Lulu Roberts"). Lula died on January 20, 1952.

Hettie Mae Smith (drums) was born February 3, 1925 in Detroit, to Henry Smith and Mary Cummings. By late 1945, she'd joined the Darlings Of Rhythm. In 1953, she'd become a member of Myrtle Young & Her Rays, another female band. (In 1954, without Myrtle, they renamed themselves the 4 Jewels.) Her name is also seen as "Hetty" (which was painted on her bass drum.). She made it to Major Robinson's useless gossip column in the September 16, 1954 Jet: "Hetty Smith, drummer with the 4 Jewels all-girls band, bought three tickets on a raffle and two of them were prize winners. She's now wearing a new mink coat and driving a new car." In spite of that silliness, she later married Floyd Pasco, moved to Buffalo, New York, and became active in the Right To Life movement. Hettie died on December 3, 2019.


On July 10, 1948, the group, plus the Joe Morris Orchestra, opened at Chicago's Pershing Ballroom. September 9 found "Sarah McFowler And Her All-Girl Combo" at the Turf Club in Columbus, Ohio.



In March, April, and May 1949, the Syncoettes were at the Blue Heaven Lounge in Chicago, replaced by Tiny Davis in early June.

There was a big article in the June 11 Pittsburgh Courier titled "Sarah McLawler Four Set For Club Harlem".


CHICAGO - Sarah McLawler and her all-star girl unit closed a successful three-month engagement at Zollie Flanagan's Blue Heaven Lounge last Sunday evening [June 5] and have already been signed to do the musical chores at the Club Harlem [Atlantic City] with Larry Steele and his brilliant "Smart Affairs Of '49" revue, starting June 16.

Having racked up a new high for attendance at Blue Heaven, the McLawler combo consisting of piano, drums, bass and tenor sax has constantly been the subject of numerous writeups in local papers.

Scintillating in the output of solid rhythmic wares, the combo has been "caught" [seen] by a number of recording company scouts and may wind up on wax. According to Miss McLawler, Sharon Pease, music teacher and writer, is manipulating a deal with Capitol Records, while Ernie Learner is trying his best to interest John Hammond of Mercury.

In the long list of potential subjects for recording are two McLawler originals, "Intoxicating Baby," a blues number, and "Heart To Heart," a ballad. "Go Love," which was written by Benny Goodman's brother, and "Jumping The Blues" also may be considered for waxing. [Note that the more indefinite a press agent is, the less trouble he gets into later. "potential" and "may" are weasel words.]

When the combo pops at Club Harlem the entire unit will be doubling. Sarah will take on the accordion, Betty [sic] Smith, drummer on vibes; Lula Roberts, tenor sax and possibly Vi Wilson, bassist on piano or violin.


That entire last paragraph was a waste of space. If they're all doubling, what's Lula going to do, since she was already the sax player? And, is Vi going to double or not? And, in spite of what the article hinted, the Syncoettes weren't part of the Larry Steele revue, but appeared in the lounge of the Club Harlem, while Steele was in the main room.


By August 6, their engagement at Club Harlem was over and they were appearing at the Club Regal in Columbus, Ohio. An article in the August 6 Ohio State News (Columbus) ended with "The Syncoettes have appeared at Club 845 in [The Bronx,] New York, Club Astoria in Baltimore, Cotton Club and Emerson's Cafe in Philadelphia, Frolic Show Bar in Detroit, Savoy Ballroom in New York, and many others."

Somewhere along the way, the group had filmed a 15-minute short called "Sarah McLawler and The Syncoettes". It was probably meant to be shown on television to take up time between programs. However, the only mention of it was when it played at the Lyric Theater (Lexington, Kentucky) on November 13-19, 1949.


We next hear of "Sarah McLawler And Her All Girl Band" when they played the Farm Dell Nite Club, in Dayton, Ohio, on May 13-14, 1950. They were at the Club Valley Ballroom in Detroit on June 23 and 25.

Sometime during the spring of 1950, they were signed by Chicago's Premium Records. These recordings are really confusing as to personnel. Sarah recorded the same two songs ("My Whole Life Through" and "It's The Truth, So Help Me") in June and July. The June session produced the released version of "My Whole Life Through", and the July session turned out the released version of "It's The Truth, So Help Me".


Here's where it gets confusing. On "My Whole Life Through", she's backed up vocally and instrumentally by the Syncoettes, although they aren't named on the label. It would be interesting to hear the unreleased version of "It's The Truth, So Help Me", to see if this was also the case. On the released version of "It's The Truth, So Help Me", there's no vocal group and the instrumentation is fuller. This is probably the Red Saunders band: Leon Washington, tenor sax; Porter Kilbert, alto sax; Mac Easton, baritone sax; Earl Washington, piano; Walter Scott, guitar; Jimmy Richardson, bass; and Red Saunders, drums. (However, it's also possible that Sarah herself was playing the piano, not Earl Washington.). Why weren't the Syncoettes on this recording? I have no idea.


Those two sides were released in October 1950. However, many sources say her first release for Premium was "My Whole Life Through", backed with "Your Key Won't Fit My Door", but the latter song was by Terry Timmons on Premium, not Sarah.


A strange photo and blurb appeared in the Columbus Ohio State News of July 12, 1950. Headed "Pleasing Regal Patrons", it said: "Terry Joy and her Syncoettes are currently pleasing patrons of Columbus' Club Regal in E. Long St. at Garfield Ave. From left are: Hetty Smith, drums, Lula Roberts, sax; Vi Wilson, bass; and leader-pianist, Terry Joy."

Only two things wrong with that. "Terry Joy" seems to be Sarah McLawler; I have no explanation as to why she's identified as someone else. Also, the same page in the paper had an advertisement from the Club Regal saying that they were closed for a week for redecoration.


The ad in the Asbury Park Press of July 17 said the Syn-Coettes were opening, for an unlimited engagement, at the Palm Gardens on July 17. They were still there in early August, when they appeared at a garden party benefit for Fitkin Hospital.

As I said before, their Premium record was released in October 1950, although not reviewed. "It's The Truth, So Help Me" is a pretty ballad, although her voice goes a bit off in places.

The Syn-Coettes opened at the Ebony Lounge (Cleveland) on October 9. Their engagement began (said the October 7 Cleveland Call And Post) "... with a rousing Blue Monday party starting at 6:00, after which they may be seen and heard nightly at 9:00."


On Sunday morning, October 15, from 3:00AM to 8:00AM, they were part of an All-Star Dawn Dance held at the Paradise Auditorium in Cleveland. Also present were Willie Lewis, Choker Campbell, and Bobby Marshall. Too early for me.

The December 12, 1950 Washington Afro-American had an article about Sarah. She was quoted as saying "The biggest handicap in being a girl band leader is that so many people think girls can't play." It said that "Her four-piece combination, known as the Syncoettes, does play music. They play from Bach, or anybody's classical tunes, right on through the boogie beat." Her hobbies, should you be interested, were reading, collecting Chinese art, horseback riding, and bicycle riding. The most useful paragraph was this:


She is the former wife of Leroy Becton, a LeMoyne College athlete. Her heart interest at present is Leon Piller, a New York realtor."


A subsequent article, which we'll get to in 1953, says that she'd married Leon in 1949. That will cause many more problems for us. While it's nice to like your husband, it's odd to speak of him as a "heart interest", a phrase more appropriate for a boyfriend.


The December 23, 1950 New York Age had a Season's Greetings ad from Walter P. Thomas, their manager, naming the acts he represented. Aside from Sarah and the Syncoettes (listed separately), they were: Peggy Thomas, Anna Mae Winburn, Vi Burnside, the Sweethearts Of Rhythm, and Morris Lane.


The first half of 1951 was a blank for the Syncoettes. While a couple of newspapers had a photo of the group (and even identified them), neither said where they were playing.

In fact, they aren't heard from again until the August 1, 1951 Variety reviewed their performance at the 400 Casino in Albany, New York. Fame being what it is, the review consistently referred to her as "McWalter".


Four-piece Negro girls band, led by Sarah McWalter, is one of the heppest heard here recently. It has played night club and theater engagements in the Midwest and Canada, but is comparatively new to the east.

Combination is piano, sax, bass and drums. Foursome pour out a steady stream of jump tunes, slow numbers, Caribbean selections and other types. They work with verve, skill and poise. A striking segment was the interpretation of a medley that included "Begin The Beguine" and went into special chord effects. Miss McWalter, who trouped with Lucky Millinder and other crews, and the drummer cut loose here. Crew's music is in the progressive vein.

Miss McWalter is the pianist and, doubling as a singer, she shapes up solidly in the performing line. Introduced numbers nicely, although the "you lovely people" salutation might be varied.


Probably in early September 1951, Henry Glover, King Records' a&r man, signed Sarah McLawler and the Syncoettes to the Cincinnati label.

Their first King session took place in New York on September 28. Known musicians were Harold Clark (alto sax), John Greer (tenor sax), Sonny Thompson (piano), Carl Pruitt (bass), Kelly Martin (drums), and Tyree Glenn (vibes). The four songs recorded were: "I Can't Stop Loving You", "I Gotta Have You", "Love Sweet Love", and "I Need You Now".

The Syncoettes sing on "I Can't Stop Loving You" and "Love Sweet Love". What were they doing on the other two songs? Why didn't Sarah use them on those? Since there was a studio band, they didn't even get to play. This is the same problem I had with Premium.


King released "I Can't Stop Loving You" (with the Syncoettes credited on the label), backed with "I Gotta Have You" in November 1951. The following month, they issued "Love Sweet Love" (also mentioning the Syncoettes), paired with "I Need You Now".


The December 7, 1951 ad for Detroit's Flame Show Bar showed Bette McLaurin, Chubby Newsom, and Sarah McLawler ("Recording Singing Star and Pianist"). There was no mention of a group. This was borne out by the December 11 Detroit Free Press: "Known for her recording of 'My Whole Life Through', Sarah McLawler, singing pianist, is an attraction at the Flame Show Bar."


By the time of the December 17 Flame Show Bar ad, Bette McLaurin had been replaced by Elaine Brent, who'd record with Herb Lance the following year. Chubby was still there, although she'd magically become "Chubby Newcomb". Sarah was still there too; as a single.

My feeling is that Sarah had broken up the Syncoettes because Lula Roberts had become ill. Lula passed away, from spinal meningitis, on January 20, 1952.

In March 1952, Sarah McLawler was signed by Billy Shaw's Shaw Artists Corporation, at the same time as Della Simpson's Enchanters, Lil Green, and Big Jay McNeely. There was no mention of any group.


While the first King record was never reviewed, both Billboard and Cash Box rated "I Need You Now" and "Love Sweet Love" on March 29, 1952:


I Need You Now (BB; 79): Thrush injects real excitement in this one. Her best to date. This might be her big one.

Love Sweet Love (BB; 75): Nice blues disking by Miss McLawler with group vocalizing reminiscent of "Pink Champagne".

I Need You Now and Love Sweet Love (CB; no ratings): Sarah McLawler gives a dramatic reading of a slow pleasurable item. Her clear, strong vocal is enhanced by an exciting orchestral arrangement that features a fancy bit of piano playing. The under level is a slow beat handled expertly by Sarah and the Syncoettes. The choral harmony of the group is expressive and highly professional. Together, the artists succeed in bringing in a likely disk.


On March 31, 1952, Sarah McLawler "And Her Sex-Sational All-Girl Band" opened at the Ebony Lounge in Cleveland. Who was in this band? I haven't a clue. It could have had Vi Wilson and Hettie Smith; or not. Considering how close March 31 is to April 7 (see next paragraph), the "or not" clause presumably kicks in.


I can tell you who was in her group when she ("and her band") appeared at the Club Trocaveria in Columbus, Ohio only a few days later: from April 7-13, 1952. Here's the whole review from the April 12 Ohio Sentinel:


When Sarah McLawler, current at Club Trocaveria, appeared here in a night club engagement two years ago, her all-girl band was being compared favorably with the all-time great International Sweethearts Of Rhythm. Only the quick temper of the then tempestuous Miss McLawler openly barred their path to wide popularity.

Marriage and a series of ups and downs have changed the brilliant young lady to the opposite extreme of serenity, a change which has done much in the way of adding luster to both her instrumental and vocal work.

Bistro fans who hissed her when she walked off the stage of another Columbus night club in 1950, many of whom were on hand at her band's Monday opening at the Trocaveria, will attest to this.

Her New York booking office sent the band out on an extended tour of the east and middle west as an all-girl outfit several months ago, but when they arrived for the Trocaveria engagement, the unit boasted three new crew members, all male, placing her in the rare role of boss of a mixed aggregation.

Addition of the male personnel, tenor saxophonist Lucky Neubold, who appeared here with Lowell Fulson last year; Howard Calendar, trumpet, and Bay Perry, drums, was brought about by illnesses and the death of saxophonist Lula Roberts. Lula died in Detroit six weeks ago after a brief illness.

The tragedy, stacked on top of other bad breaks, might have discouraged the run of the mill entertainer, but tradition-bound Miss McLawler has kept the show on the road.

The band's other femme attractions are Gloria Bell, bassist, and Delores Holmes, alto sax, each as attractive as the boss.


Let's take a look at the new members, although they really didn't last too long:


Eddie Allen "Lucky" Newble (not "Neubold"; tenor sax) was born on January 3, 1921 in Jonesboro, Arkansas, the son of Granville Newble and Inez Austin. He'd been with both Lowell Fulson and Ray Charles in 1951. Lucky died in Toledo, Ohio in 1996.

Howard John Callender (trumpet) was born in Colon, Panama on November 3, 1908, the son of Edward Callender and Isabel Decasseres. Coming to the U.S. in 1929, in 1943, he was part of Al Sears' band, and in 1946, was the director of Lil Green's band. By 1950, he had his own orchestra in Chicago. Howard died in Florida in 1977.

Bazeley Elijah "Bay" Perry (drums) was born January 22, 1920 in Boston, Massachusetts. He'd already recorded with Nellie Lutcher, Rex Stewart, and Joe Thomas. Later on, he was part of the Jimmy Smith Trio. Bay died in 2013.

Gloria Bell (bassist) was born on July 24, 1931 in New York to Richard and Ida Bell. With Hettie Smith, she'd be part of Myrtle Young & Her Rays in 1953 (renamed the 4 Jewels when Myrtle Young left). Gloria went on to join Della Simpson's Delltones in 1956. In 1958, she was part of the Queens Of Jazz and in the 1960s, she had the Gloria Coleman Quartet (with her husband, sax player George Coleman). Also adept at the piano and violin, Gloria died in 2010.

Delores Holmes (alto sax) I can find out nothing about her except that the February 4, 1950 Chicago World called her "the popular vocal artist, Miss Delores Holmes".


On May 21, 1952, Sarah had her second King recording session in New York. The musicians were: Lloyd Trotman (bass), Harold Clark (tenor sax), Eddie Allen Newble (tenor sax), Sonny Thompson (piano), Everett Barksdale (guitar), Les Erskine (drums). Note that the only member of her Ohio group present was Eddie Newble. The four songs recorded were: "Please Try To Love Me ", "Ready, Willin' And Able", "Romance In The Dark", and "I'm Just Another One In Love With You". All, except "Romance In The Dark", have an unidentified group (probably female). "I'm Just Another One In Love With You" is the same song that would be done by the Mello-Tones in 1954.


Although they didn't play on the recordings, Sarah had already put together another all-girl band. On May 26, they ("All Girl Band - Sara [sic] McLawler And Her Orch.") appeared at the Top Hatters Nite Club in Dayton, Ohio. In July, they were at the Mayfair Supper Club in Rochester, New York.


That same month, King released "Please Try To Love Me", coupled with "Ready, Willin' And Able"; they weren't reviewed.

The last ever mention of Sarah with an all-girl band was when they played a two-week engagement at the Cincinnati Cotton Club beginning on August 18, 1952.


In August, King released "Romance In The Dark", backed with "I'm Just Another One In Love With You". They were reviewed in the August 27 Billboard and the September 20 Cash Box.


Romance In The Dark (BB; 77): A good ballad is wonderfully teamed with Miss McLawler's chirping ability. Fine wax.

I'm Just Another One In Love With You (BB: 73): Miss McLawler sings like a livin' doll, but the song is a little too forced. It's still good wax.

Romance In The Dark (CB; B+): Here is another tender disking with the thrush projecting her personality in full force. This is a two-sided platter with hit potential.

I'm Just Another One In Love With You (CB: B+): Sarah McLawler waxes an excellent side as she chants a passionate vocal of a slow tempo lovely melody.


And then, Sarah took up the Hammond organ, which serves to truncate this article. She next recorded behind Gayle Brown on Brunswick, a Decca subsidiary. (She just plays the organ while Gayle sings.) I'll talk a bit about Gayle Brown, because there's some information to share. Note that Gayle's recordings were done in a brief interlude between stints as a gospel singer.

Let's start with this: "Gayle Brown" was a pseudonym. I know this because of a letter printed in the January 24, 1953 Indianapolis Recorder. It went like this:


This letter is to inform you of my progress here in New York and my recent contract signed with the Decca Recording Company on Coral Label. [I guess the songs were supposed to have come out the Coral subsidiary, but Decca switched them to Brunswick instead.] I am doing real good and the future looks bright. I have four sides and they are promising to be real, real good. I hope you'll give me a plug in your column.

I'm teaming with Sarah McLawler and her combo, and hope to open at the Apollo at the tune of $550 a week.

Thanks,
Gayle Brown (Milan Brown)
907 Greene Avenue
Brooklyn 21, N.Y.


The columnist answered: "I am glad to know that my old friend Milan Brown is now on his way to the big time. He comes from a musical family. Let's hear more from you."


That's right, gang, Gayle Brown was a man. Milan Glover Brown was born on May 4, 1920 in Waterloo, Iowa. By 1930, he was living in Indianapolis and by 1953, as he said, he'd moved to Brooklyn.

While he claimed to "have four sides", I can only account for three at this point. At a session held in New York on January 6, 1953, Gayle, backed up by Sarah on the organ, recorded: "Gone Are The Days", "Gee Baby", and "How Can".


Brunswick released "Gone Are The Days" and "Gee Baby" in early February, credited to "Gayle Brown, With Sarah McLawler At The Organ". They were reviewed in the February 14, 1953 Billboard:


Gone Are The Days (74): The warbler does an effective job on this unusual blues effort, backed in eerie fashion by Sarah McLawler and drums. Side should pull spins.

Gee Baby (65): A routine blues is sung with some spirit by Brown, but the material is weak. Organ and rhythm backing is good.


My review: He's got a nice voice, but that organ....

There was a second session, held on March 19, 1953. The five songs were: "Foolin' Myself" (vocal by Sarah McLawler), "These Foolish Things" (unreleased; unknown vocalist), "I Feel So Unnecessary" (Gayle Brown), "I'm Gonna Live The Life I Love" (unreleased; unknown vocalist), "Blues For Rex" (Sarah McLawler instrumental). My feeling is that this was scheduled as a Sarah McLawler session. However, since "I Feel So Unnecessary" has a vocal by Gayle Brown, backed by Sarah's organ, it's possibly a re-make of that fourth, unidentified, song done at their first session in January.

After this, she did a couple of sessions with saxophonist Georgie Auld, some by herself, and some with her subsequent trio, all on King.

Now, we come to another facet of Sarah's personal life: her second marriage.

The May 2, 1953 New York Age (May 2) had this: "Sarah McLawlor's [sic] hubby has bought her a 1953 specially made Lincoln Continental, as a surprise gift. Rumor is that she left him before she received it." It didn't name that husband.

You may remember (although probably not) that a December 1950 article talked about Leon Piller, a New York realtor who was her "heart interest". Well, hearts were meant to be broken, as evidenced by this May 9, 1953 article in the New York Age titled "Sarah McLawler Plays 'Can't Stop Loving You,' But Not To Her Leon".


Decca recording vocalist-organist Sarah McLawler's estranged hubby, a wealthy Washington Heights [upper Manhattan] real estate operator and booking agent, was still wailing "I Can't Stop Lovin' You" as Sarah left Monday for a three-week vacation in Indianapolis before returning to Birdland for her first Broadway appearance

Principals in one of the most tempestuous affairs in show-business are 25-year-old Sarah, daughter of Indiana's Rev. William McLawler, and her Trinidad-born hubby, 53-year-old Leon Puller of 542 W. 142nd St.

The Fisk and Butler universities' honor graduate [only time anyone ever mentioned Butler] and the wealthy property owner were married in Baltimore in 1949 after a whirlwind courtship. Puller traveled as Sarah's manager with her all-girl band. The idyll was short-lived, however, what with a clash of [sentence not completed].

So, in August, 1952, Mrs. Puller filed for a legal separation through her attorney.... [I doubt you need all the information about the attorneys]

Shortly thereafter, Sarah went to work as an organist at the Tip Top cafe, 1750 Fulton Ave. [sic; should be Street], Brooklyn. On Thanksgiving eve Puller is alleged to have entered the cafe unannounced, and made off with some integral parts of the prized Hammond.

Imagine Sarah's surprise and chagrin when she mounted the stage in front of a Thanksgiving night crowd, and found that the instrument would not play!

The irate cafe owner, Irving Felon, subsequently took Puller into court, but lost out on the damage suit when it was brought out that Puller had an absolute right to the organ parts, since he was the owner.

The breach between the couple widened even more after this incident, and Puller has tried to get friends and bigwigs in the entertainment world to effect a reconciliation. But even with his lavish apartment, flashy foreign-made cars, and lucrative booking business, Sarah's not having any.


Soon to be a minor motion picture.

Okay, so they had a little lovers' spat, but who was he? Called "Leon Piller" in the 1950 article, he's now "Leon Puller". But they gave his age, his birthplace, and his address, so how hard could it be to find out something about him? Well, first off, the only Leon Puller in New York was white and married to Sybil, so we can eliminate him. There was a Leon Puller who came to the United States in October 1924 as an assistant steward on the S.S. Saramacca, landing at New Orleans from Honduras. He was 23, black, and a British citizen. He appeared on a page in the manifest that listed crew members who were paid off and discharged. There's no other trace of him.

But then, I got lucky (has to happen occasionally). I blundered into Fergus Edgar Puller (sometimes Pullar), who lived at 524 W 142 St. in 1953. (The paper managed to transpose two of the digits.) He, too, shows up as working on various ships as an assistant steward or in the pantry. In early 1942, he was still working on a ship. His March 1942 World War 2 registration shows him born January 1, 1900 (almost certainly a fictitious date) in Kingston, Jamaica. At the time, he worked for the Alcoa Steamship Company on the S.S. Yarmouth.

A November 1, 1952 article in the New York Age was titled "Mr. Puller Could Wait; His Accusers Couldn't". The gist of it was that Fergus E. Puller, of 524 W. 142nd St., was a realtor who was being sued by three different parties for extremely shady real estate deals. However, he managed to postpone court appearances for two years and, by the time of the 1952 trial, none of his accusers showed up. He got off Scott-Free.

So why was Fergus referred to as "Leon"? I have no idea, but he was on that 1924 ship manifest under that name. When were they actually married? I have no idea. When were they legally divorced? I have no idea. (Other than the "Leon" part, it's Leroy Becton all over again. But now you know as much as I do.)


In late May, Brunswick released "I Feel So Unnecessary", paired with "How Can". They were reviewed in the June 6, 1953 Cash Box, both receiving a "B":


I Feel So Unnecessary: Gayle Brown etches a slow emotional side potently. Sarah McLawler helps out with solid organ playing.

How Can: Brown sings an infectious middle tempo tune with a stirring vocal. McLawler also provides the organ backing on this deck. Chanter makes Johnnie Ray-like sounds in portions of the platter.


A new project: on June 5, 1953, the Sarah McLawler Trio appeared at the Apollo Theater, along with Willie Mabon, Anna Mae Winburn & the Sweethearts Of Rhythm, Vi Burnside, Bobby Lucas, Ford & Harris, and Ross & Andrea.


Who were they? This time, I actually have an answer. Sarah played the organ, of course, Richard Otto played the electric violin, and Herb Friedberg was on drums. Just to get it out of the way, Sarah and Richard Otto would be together in the Sarah McLawler Trio for the next 25 years (even getting married), but the drummers came and went. Without going too crazy, they were (I don't think the list is exhaustive):


Herb Friedberg was named in a November 1953 blurb
Thomas "Bugs" Hunter from March 1954 through most of 1956
Herb Friedberg was back in a December 1956 ad
Elsa Maxwell was named on December 14, 1956
Herb Friedberg was back in April 1957 and was still there in March 1959
Robert Brooks in 1960
Sam Cox in the 1960s


Here's what Apollo Theater owner Frank Schiffman thought of their act, for which he shelled out $550 for the week:


First appearance. Not bad--not good. Really a night club act. Violinist Richard Otto was the best part of the act. Not worth repeating at this stage of their presentation and personality.


It's worth noting that when they returned to the Apollo ten years later (June 7, 1963), his review was upgraded to "Excellent opener. Girl plays and sings. Violinist is super." He also upped their remuneration to $850.

Sarah met Richard Otto, a classical violinist (Juilliard graduate) who also performed jazz, when she was playing the Tip Top Club in Brooklyn. Actually, the story, per the April 2, 1955 New York Age, was: "She was appearing at the Brooklyn spot as an organist when one night Rector Bailey [another organist] called her at the club and asked her to listen to a young violinist. She first heard Richard Otto over the telephone and was so impressed with the young man that she asked Rector to bring him to the club."

So who was Richard Otto? Again, I'm confused. I have no idea where the "Richard" came from, In the 1940 census (Manhattan), he's "Mansfield S. Otto", son of Barry and Sarah, born in New York on February 22, 1927. He set up his Social Security account in 1945 as Mansfield Otto, only changing it to "Richard Otto" in October 1974. Mansfield had married Onie Wilson in 1945; they were still married when she died, in October 1953, as the result of a cerebral hemorrhage due to a transorbital lobotomy. In at least August and September 1952, he'd been with the Bubber Johnson Quartet and Trio.


Of course, it now gets odd again. After forming the Sarah McLawler Trio, she played the Ebony Lounge (Cleveland) for the week beginning November 2, 1953 with "Her ALL-GIRL Orchestra". However, this was just an error and it was her Trio that appeared. They also appeared on the Stars In Jazz NBC radio program on November 19 and 21.

The February 10, 1955 Jet said: "Rumors are flying that jazz organist Sarah McLawler has become the bride of violinist Richard Otto, who plays with her trio. His Xmas gift to her was a baby Hammond organ." Otto was the third husband for Sarah (and the third time I can't find a marriage date). The two spent many years touring and recording together.


Once Sarah took up the organ, she was noted many times for playing it barefoot. The May 18, 1961 Jet said: "Kicking off her shoes while playing in a Baltimore night club, jazz organist Sarah McLawler had to walk home barefooted when a drunk took them for souvenirs." However, that was in Major Robinson's column, so take it with many pounds of salt.


As I said, the Sarah McLawler Trio was together for around 25 years (sometimes as the Otto-McLawler Trio) and both Sarah and Richard became respected musicians in the jazz community. When Richard Otto passed away on February 20, 1979, the obituary in the Philadelphia Daily News said he had a son, Richard, Jr., but the New York Times called him Mansfield Otto, Jr. (Both he and his sister, Janis, were children of Richard and his first wife, Onie.)

On December 15, 1996, Sarah married her fourth husband, William Kimes, in The Bronx.


In 2014, at the age of 88, she was still actively performing at the Chez Josephine in New York (a restaurant run by the son of Josephine Baker). Her nickname became "The Empress Of Jazz".

Sarah Alberta McLawler Becton Puller Otto Kimes died on September 12, 2017.

I like Sarah McLawler's style. I'd like to say wonderful things about the Syncoettes, but they really didn't do much as singers and it's difficult to determine their presence on records. Wish I could have seen them perform in person, though.


Special thanks to Jay Bruder, Dan Kochakian, Robert Campbell, Robert Pruter, and Victor Pearlin.



SELECTED SARAH McLAWLER DISCOGRAPHY

PREMIUM (Sarah McLawler)
857 My Whole Life Through [S] / It's The Truth, So Help Me - 10/50

KING (Sarah McLawler)
4495 I Can't Stop Loving You [S] / I Gotta Have You - 11/51
4513 Love Sweet Love [S] / I Need You Now - 12/51
4549 Please Try To Love Me [G] / Ready, Willin' And Able [G] - 7/52
4561 Romance In The Dark / I'm Just Another One In Love With You [G] - 8/52

BRUNSWICK (part of Decca; Gayle Brown, With Sarah McLawler At The Organ)
84003 Gone Are The Days / Gee Baby - 2/53
84008 I Feel So Unnecessary / How Can - 5/53

[S] = background vocal by the Syncoettes
[G] = background vocal by unidentified singers

Many, many more recordings over the years, but they're outside the scope of this article.




Unca Marvy's Home Page
More Articles