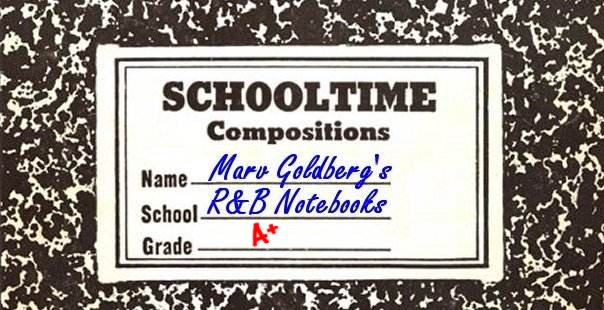 The Tornados
By Marv Goldberg

based on an interview with Stanley Mitchell


© 2009 by Marv Goldberg
[AUTHOR'S NOTE: I spoke with Stanley Mitchell in 1996 and got the beginnings of a Tornados story. Once I had written it up and formulated more questions, Mitchell decided he didn't want to talk about it anymore. Might as well set down what I have.]


The Tornados were one of the many smaller groups on the Detroit scene in the 1950s, but their lead, Stanley Mitchell, certainly got around.

Stanley Mitchell was born in Detroit on February 10, 1935. He started his singing career in the church, but by the early 50s, he was with a local group called the Cherokees (although I've seen it spelled "Cherokons"): Stanley Mitchell (lead), Dickie Cooper (tenor), Joe Miles (baritone), and Frank Holt (bass). In 1953, a Toledo newspaperman named Welton Barnett heard them and, because he knew Lionel Hampton, arranged for Hamp to see them perform in Montreal. Hampton was impressed enough to hire them for a six-week tour of Canada. At that point, however, the "Cherokees" disappeared and a new incarnation of the "Hamptones" was born. (This was a name that Hampton tended to use for his groups.)


After the tour, the Hamptones appeared with the Globe Trotters for a couple of seasons, calling themselves the "Ink Spots." They also continued to appear as the Hamptones, and the accompanying photo was run with a blurb when they played Chin Ballard's Chatterbox Musical Bar in Cleveland from Friday April 1 through Thursday April 7, 1955 (while the Hornets were appearing next door, at Gleason's). By this time, tenor Donzelos Gardner had replaced Dickie Cooper. The Hamptones, with some other personnel changes, were around at least through 1957. Joe Miles would end up in the Love-Tones on Motown (an outgrowth of the Teardrops on Sampson) and Frank Holt was part of the Fabulous Playboys who did "The Heaven And Earth" for Federal.


In early 1955, Stanley Mitchell joined the Dominoes. It seems as if Jackie Wilson had left them at that time and Mitchell (who had been very much influenced by Clyde McPhatter) was hired to replace him. It only lasted a short while, since he found Ward impossible to put up with; Jackie subsequently returned to the group. (When I asked Milton Grayson, baritone of the Dominoes, about this, he said he'd never heard of Stanley Mitchell. However, Grayson joined around May 1955, by which time Mitchell was gone. Jackie was on a Dominoes session in early January 1955, so this puts Mitchell in the group around late January through March [since we know he's back with the Hamptones in April]. Charles Sutton, of the Royals/Midnighters [whom we'll meet again in a moment], corroborated Mitchell's story about having been in the Dominoes for a while.)

At the end of October 1954, while the Midnighters were on tour, baritone Charles Sutton noticed something wrong with his voice: he couldn't hit certain notes and his throat began to hurt. He went to a doctor and was told that he had a tumor on his left vocal cord. He left the group in order to have it removed; fortunately it turned out to be benign. Charles was forbidden to talk (let alone sing) for three months; he communicated by writing.

When Charles recovered, he was, of course, eager to rejoin the group. But it didn't happen that way. They had a new manager, who asked Charles to come to New York. He was told that the group didn't want him back (the official line was that they'd worked out a lot of new dance routines which would take him too long to learn). He was given a few thousand dollars to quietly fade away.


In mid-1955, Stanley and Charles Sutton formed a new group called the Tornados. The other members were William Weatherspoon (tenor), and Ben Knight (bass; who'd been with the Imperials on Great Lakes). Another former Midnighter, Alonzo Tucker, became their manager. Both the Robinson Agency and a promoter named Frank Brown got them lots of work.

Finally, sometime in 1956, Alonzo Tucker got them a recording session for Chicago's Chess Records. They traveled to Chicago and recorded five sides: "Four O'Clock In The Morning," "Hey There," "'Don't You Know," "River," and "Papers." Stan sang lead on all of them. The first two were released in December 1956, and, although they were played on Michigan stations, promptly went nowhere. (Note that Chess almost instantly reissued the record, changing the title of "Hey There" to "Would You - Could You.")

The record got good reviews on February 16, 1957, along with the Teenagers' "Teenage Love," the Cadillacs' "Sugar Sugar," the Buckeyes' "Since I Fell For You," the Federals' "Come Go With Me," and the Squires' "Dangling With My Heart."


On April 21, 1957, the Tornados were part of the show at Detroit's Graystone Ballroom. Others on the bill were Carmen McRae, Della Reese, Sil Austin, Arthur Prysock, Lloyd Price, the Diablos, the 5 Dollars, and the Don Juans (who were also the 5 Dollars).


However, when the record failed to take off, Chess seemed to lose interest in them. In all of 1957 they weren't called back to do another session. Finally, in 1958, feeling that Alonzo wasn't taking care of business, they went to see Phil Chess themselves. It seemed like it was the right thing to have done, since it got them another session. Sometime in 1958, they recorded some more sides: "Please, Mr. Mailman," "Back To School," "Your Touch," and "That's The Way I Feel." But after getting their hopes up, Chess never released any of them!

In 1959, the Tornados did some recording for Robert West, who owned a host of small Detroit labels (like Lu-Pine and Flick, on which he recorded the Falcons). This one was called Bumble Bee, and it had Charles' old Royals/Midnighters buddy, Sonny Woods as a&r man. They cut at least two sides for West: "Love In Your Life" was a ballad with a beat, owing something to Clyde McPhatter and the Drifters, and a bit to the Impressions. It was penned by Charles and Robert Spencer, a baritone who was a utility fill-in for the Tornados whenever someone couldn't appear. The flip was "Geni [sic] In The Jug," in which the guy who rubs the lamp asks for a van so that he can bring Rock & Roll all over. It names various artists, and says "and don't forget, we'll be there too."


When that record failed to take off, Charles Sutton left, to be replaced by Bobby Eaton, and William Weatherspoon was replaced by James Abney. Finally, however, the Tornados broke up, and Stan did some solo work, singing at local clubs. Once again, there was some sort of tie between Detroit and George Goldner in New York. In 1961, Stan came to New York and did some solos for Goldner's Gone label (as "Stan Mitchell"), which were released in May of that year: "Devil In Disguise" and "Lovin' Man."

Stanley continued singing around Detroit clubs until late 1966, when he replaced Willie Jones in the Royal Jokers. This was soon after the group's final recording "Love Game (From A To Z)." The group was, at the time, Stanley Mitchell, Bobby Ruffin, Noah Howell, and Billy Lyons. He'd stay with them for around a year).

In late 1967, Stanley had a single release on Dynamo: "Quit Twistin' My Arm"/"Get It Baby." After this, he had something to do with the Soul group Peoples Choice, but I never got a chance to ask him when he joined or how long he stayed.


Stanley's final group was the Motor City Rhythm & Blues Pioneers. Formed in 2002, the other members were Joe Weaver (bandleader and vocalist for Fortune) and Kenny Martin (who had had several releases for Federal in the 50s, including "I'm The Jivin' Mr. Lee" and "I'm Sorry"). They released a CD on Blue Suit that same year.

Stanley Mitchell had a wonderful voice; I'm only sorry that he couldn't provide me with more information about his various musical endeavors. He passed away on October 13, 2006.


DISCOGRAPHY
(All Tornados leads by Stanley Mitchell)
CHESS (Stanley Mitchell & The Tornados)
1649 Four O'Clock In The Morning/Hey There - 12/56
1649 Four O'Clock In The Morning/Would You - Could You - 12/56
NOTE: "Hey There" and "Would You - Could You" are the same song

UNRELEASED CHESS
Don't You Know
River
Papers
Please, Mr. Mailman
Back To School
Your Touch
That's The Way I Feel

BUMBLE BEE (The Tornados)
503 Love In Your Life/Geni In The Jug - 1959

GONE (Stan Mitchell)
5106 Devil In Disguise/Lovin' Man - 5/61

DYNAMO (Stanley Mitchell)
111 Quit Twistin' My Arm/Get It Baby - Late 1967

BLUE SUIT 117 The Motor City Rhythm & Blues Pioneers - 2002
I'm Sorry, Blackjack Baby, Making Up For Lost Time, Soft Pillow, Reconsider You, A Memory Walked Through The Door,
Sugarlove Baby, I Found A Love, Four O'Clock In The Morning, All I Can Do, Motor City Man, I'll Be A Man For You,
Sweeter Than Honey



Unca Marvy's Home Page
More Articles