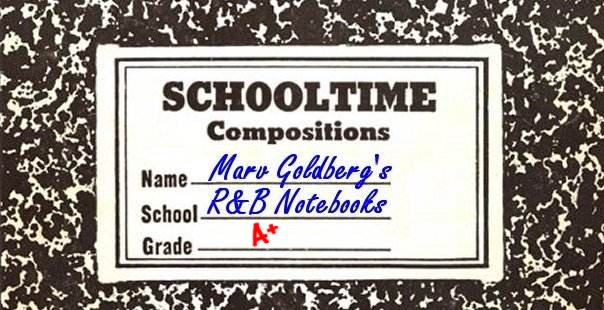 The Vibranaires

By Marv Goldberg

Based on interviews with Bobby Thomas


© 2003, 2009 by Marv Goldberg
First of all, he was a fan. One day, around August 1948, Bobby Thomas heard something new on the radio: the Orioles "It's Too Soon To Know." This one song changed his life forever; he just didn't know music could sound like that! He determined to become a singer and he determined to meet Sonny Til and the Orioles.


Eventually he did meet them, forming a life-long friendship with Sonny Til. He was there to photograph the Orioles at various appearances, and was photographed with them just after the accident that took the life of guitarist Tommy Gaither.

Later in 1948, Bobby formed a group of his own with neighborhood friends. "The Crooners" were all from Asbury Park, New Jersey, and originally were: Bobby Thomas (lead tenor), Herbie Cole (baritone; nephew of drummer Cozy Cole), Albert Smith (second tenor), Ulysses Jackson (first tenor), and Willie Busby (bass). In 1950, when Busby, Smith and Jackson left, they were replaced by Mike Robinson (second tenor, aka Louis Robinson), Roosevelt McDuffie (first tenor), and Jimmy Roache (bass). You can bet they spent a lot of time singing Orioles songs; not only did Bobby idolize Sonny Til, he also sounded very much like him. And, since Jimmy Roache had the same vocal quality as Ravens' bass Jimmy Ricks, they also practiced a lot of Ravens tunes.

Interestingly enough, it was Roache's voice that prompted the Crooners to change their name in 1950. When he sang through a powerful amplifier, he vibrated the whole club. A variant of "vibrations" was chosen: the "Vibranaires". Naturally, it doesn't hurt to remember that the idolized Orioles were originally called the "Vibra-Naires" before their recording days.


On March 7, 1953, the Vibranaires won first place in the first night of a 10-week talent contest (the "Strauss Stores Talent Night") at the Savoy Theater in Asbury Park. They made it to the finals, held on April 25, but, maddeningly, nothing ever said who won.

In 1953, they met Esther Navarro, who managed them for several months. However, she wasn't happy with their name (it is kind of clumsy to spell). One day, while in her office, they all crowded around the window to see a really flashy Cadillac downstairs. Esther realized that "Cadillacs" would be a dynamite name for a group and a quick call to a Cadillac dealer convinced her that General Motors wouldn't mind. Bobby is possession of a contract (which I saw), dated October 1953, between Esther Navarro and the Cadillacs; the names and signatures at the end are those of the Vibranaires. The guys who signed were Bobby Thomas, Mike Robinson, Jimmy Roache, Herbe Cole, and Arthur Harris (a police officer who was fascinated with the group and who drove them to the contract signing). Bobby can't remember why Roosevelt McDuffie's name wasn't on the contract. The group was taken into a studio, where they recorded two sides, backed by Jesse Powell's band. (They were Esther's compositions, the names of which have long since been forgotten.) Since she didn't put the record out right away, the Vibranaires got discouraged and wanted out. She asked them to wait, but, being young, they insisted, and she was nice enough to let them out of the contract. Esther got another group (initially called the "Carnations"), changed their name to the "Cadillacs," and, when "Gloria" was issued in July of 1954, the rest, as they say, is history.

In April 1954, the Vibranaires appeared with the Solitaires, in a New York-New Jersey battle of the groups at the Three Towers Inn in South Somerville, New Jersey.


After they'd left Esther Navarro, Joel Turnero (a DJ on Newark's WNJR and former manager of the Mello-Moods) saw them perform at the Whispering Pines Club in Somerville. Turnero introduced them to Lexy "Flap" Hanford, owner of the After Hours bar in Harlem, as well as the similarly-named record label.


Hanford set up a session, although it was more complicated than they could have ever imagined. For some reason, the night before the session, baritone Herbie Cole stole a bass from the club they were appearing at. (A bass, no less! I'm sure he considered going back the next night to get the piano.) He pawned it and, not being a master criminal, he gave his real name! Herb was arrested just as they were leaving for the session. They begged the police to put off arresting him for a day, but it was not to be. All the way to New York, they had to re-do the arrangements to fit four voices.


Finally, with new arrangements in place, the Vibranaires reported to the Mastertone Recording Studios at 709 8th Avenue, where they recorded "Doll Face," "Ooh, I Feel So Good," "Stop Torturing Me," and "Stop Jiving Baby" in a single session.


"Doll Face"/"Ooh, I Feel So Good" were released in July 1954, selling around 37,000 copies in spite of lack of promotion and poor distribution. This is a respectable showing considering the size of the label. (If you've never seen an After Hours label, you should correct that oversight as soon as possible; it's about as crudely drawn as possible - this was a real shoestring operation.) The backup musicians were Eddie Schubert Swanston and his quintet. Ironically, the Vibranaires' first record was released the same month as the Cadillacs' "Gloria."

The disc was reviewed on July 24 (with "Doll Face" ranked "good"). Other reviews that week went to the Shadows' "Big Mouth Mama," the Hollywood Flames' "Peggy," and the Treniers' "Bald Head."


Since the name "Vibranaires" gave them more grief than anything else (it was too hard to spell and pronounce), it was shortened to "Vibes." This is the credit on their second record, released on Hanford's other label, Chariot, in October 1954. But "Stop Torturing Me"/"Stop Jiving Baby" didn't even do as well as "Doll Face" (and "Jiving" was misspelled as "Jibing" on the label). Although they had only done two records, this was the end of their recording career. The record itself doesn't seem to have been sent out for review.


By the time "Stop Torturing Me" was released, Herbie Cole had, paid a fine, served some jail time, and was back with the group. The Vibes now hooked up with promoter Bobby McNeil, and got to play the Chitlin' Circuit: the Howard (DC), the Royal (Baltimore), the Regal (Chicago), the Rockland Palace, and the Audubon Ballroom (New York). However, they never played the Apollo.


In 1955, the Vibes lost Jimmy Roache to the draft; he was replaced by Joe Major. In 1957, Herb Cole was replaced by William Penha, and Mike Robinson by Lenny Welch. Roosevelt McDuffie was there all along, but for some reason doesn't appear in a 1957 photo of the group. The Vibes weathered all these changes, until later in 1958, when Bobby Thomas was drafted; that's what served to break up the group. (Lenny Welch, of course, went on to have a smash hit with "Since I Fell For You" in 1963.)

Being in the army didn't stop Bobby from singing, however. He was in a group that included ex-Du Dropper and Drifter "Carnation Charlie" Hughes.


When Bobby was discharged in 1960, he once again teamed up with his old pal Roosevelt McDuffie, who was now singing with the V-Eights (another group from Asbury Park). In April 1959 they had done their first record for Morty Craft's Most label: "Pretty Girl"/"Please Come Back." The group at the time was: Roosevelt McDuffie (first tenor), Leroy Brown (second tenor), Tony Maples (tenor), Delmar "Kirby" Goggins (tenor), and Frank Hosendove (bass).


In 1960, Leroy Brown disappeared and Bobby stepped in. The group had already recorded "My Heart" and "Papa's Yellow Tie," but manager Gervis Tilman didn't like the way they were done and had the group (now with Bobby) re-do them. They were released on Tilman's local Vibro label (shades of the Vibranaires!) in December 1960 (and re-issued on ABC Paramount in March 1961).


At this point, Delmar Goggins left, and was replaced by Henry "Stoney" Jackson, a first/second tenor who had been with Paul Himmelstein's Heartbreakers. This group recorded four more songs: "Everything That You Said," "Guess What," "Let's Take A Chance," and "Hot Water."

"Everything That You Said"/"Guess What" were released on Vibro in early 1961, followed by "Let's Take A Chance"/"Hot Water" soon after. Sometime in 1961, Stoney Jackson left, to be replaced by Bobby "Clarence" Young.


The V-Eights broke up after Bobby had been with them for less than a year. There had been no big appearances for them, only local New Jersey gigs; consequently there was no widespread recognition. Bobby then took Roosevelt McDuffie and Bobby Young, and re-formed the Vibranaires. The fourth member was first tenor Harry Accoo. They lasted through the mid-60s, with former Vibranaire Mike Robinson returning to replace Roosevelt McDuffie.

With nothing much happening with the group, Bobby was about to realize a dream cone true: he became a member of the Orioles.

In 1966, Sonny was working a solo act on the same bill as Bobby Thomas and the Vibranaires, at Piner's Lounge near Asbury Park, New Jersey. Over the years, a friendship had developed between Bobby and Sonny, who would use the Vibranaires as a backup group whenever he was in the New Jersey area.

That night, Sonny decided to form a new Orioles group, and took Bobby Thomas, Bobby Young, and Mike Robinson from the Vibranaires. Harry Accoo, who was content with just appearing locally, didn't want to travel and never became part of the group. This group of Orioles made an appearance at the Apollo Theater on December 9, 1966, along with Ruby & Romantics, Charlie & Ray, the 5 Keys, and Vivian Reed. For an appearance at Gus Gossert's "Original Rock & Roll Show" at the New York Academy of Music (on April 18, 1970), former Oriole Gregory Carroll (second tenor/baritone) was once again added, but he wasn't a permanent member of the group. The Orioles' performance was recorded and put onto a Goldisc LP called The Original Rock & Roll Show.

Bobby stayed with Sonny Til from 1966 to 1975, recording the "Old Gold/New Gold" album with him on RCA Victor in 1971 (Bobby Thomas, Bobby Young, and Mike Robinson were still the Orioles). In November, 1981, suffering from diabetes, Sonny proposed that Bobby take over the Orioles, with Sonny getting a percentage. Bobby promised to come and see him about it sometime in the following month, but before the meeting took place, Sonny passed away on December 9, 1981.


Bobby Thomas, his biggest fan, decided to form an Orioles group as a tribute. In December, 1982, Bobby and his group recorded the tracks for a 10-inch LP, The Vibranaires Live, issued on the LIRRA label in the following year. At the time, the group consisted of Bobby, Jimmy Roache (bass), Matthew McKnight (baritone), Dornell Chavous (first and second tenor), and Cleveland Dickerson (first tenor). There was also a 1983 Vibranaires single on the Terri label: "Adios"/"Please Hurt Me No More." This group consisted of Bobby Thomas (lead), Frank Green (tenor), Mike Robinson (second tenor), Bobby Young (baritone), and Willie Morris (bass).


With numerous personnel changes over the years, Bobby has kept an Orioles group together as a lasting tribute to the man who started him in the music business in the first place. There was a single release, on Clifton, in 1992: "Danny Boy"/"Don't Make It A Sad Holiday." That group consisted of Michael Hartsfield (tenor), Phil Thomas (second tenor and baritone), and Bernard Brown (bass).

In January 1995, Johnny Reed, original bass singer of the Orioles, came out of musical retirement and began to appear with the Bobby Thomas Orioles. He would remain with the group until his death in 2005.

Many, many groups formed in the wake of Sonny Til and the Orioles. The Vibranaires might just have been another one of them. But they were different. Bobby Thomas had twin dreams: to befriend Sonny Til and to be a part of the Orioles. Both came true and the music world has been better for it. Bobby Thomas, whom I considered a good friend for many years, passed away on May 3, 2012 from complications of diabetes (as did Sonny Til). Bobby was just short of his 77th birthday. I will miss him.


All photos are courtesy of Bobby Thomas.



THE VIBRANAIRES
AFTER HOURS (as the Vibranaires)
103 Doll Face (BT)/Ooh, I Feel So Good (BT) - 7/54

CHARIOT (as the Vibes)
105 Stop Torturing Me (BT)/Stop Jiving Baby (BT) - 10/54

GOLDISC (as the Orioles)
GS2-5001 The Original Rock & Roll Show - 70
It's Too Soon To Know (ST)
Secret Love (ST)
Crying In The Chapel (ST)
Medley (At Night (ST), In The Chapel In The Moonlight (ST), Tell Me So (ST), What Are You Doing New Year's Eve (ST))

RCA VICTOR (Sonny Til & the Orioles)
LSP-4538 Old Gold / New Gold - 7/71
Crying In The Chapel (ST)
It's Too Soon To Know (ST)
Back To The Chapel Again (ST)
You Are My First Love (ST)
'Til Then (ST)
I'll Be Satisfied (ST)
Love Or Desire (ST)
Memories That's All (ST)
What You See Is What You Get (ST)
I Thought About You (ST)

LIRRA (the Vibranaires)
LP-5000 The Vibranaires Live - 83
You Belong To Me (BT)
Write And Tell Me Why (BT)
Crying In The Chapel (BT)
It's Too Soon To Know (BT)
A Kiss From Your Lips (BT)
Secret Love (BT)
Doll Face (BT)
Stop Torturing Me (BT)

TERRI (Bobby Thomas & the Vibranaires)
FBP-7883 Adios (BT)/Please Hurt Me No More (BT) - 7/83

CLIFTON (the Orioles)
105 Danny Boy (BT)/Don't Make It A Sad Holiday (BT) - 92



THE V-EIGHTS
MOST
711/713 Pretty Girl/Please Come Back - 4/59

VIBRO
4005 My Heart (DG)/Papa's Yellow Tie (RMD/DG) - 12/60
Re-released on ABC Paramount 10201 - 3/61
4006 Everything That You Said (RMD)/Guess What (HJ) - 61
4007 Let's Take A Chance (HJ)/Hot Water (ALL) - 61


LEADS: BT = Bobby Thomas; DG = Delmar Goggins; RMD = Roosevelt McDuffie; HJ = Henry "Stoney" Jackson; ST = Sonny Til



Unca Marvy's Home Page
More Articles