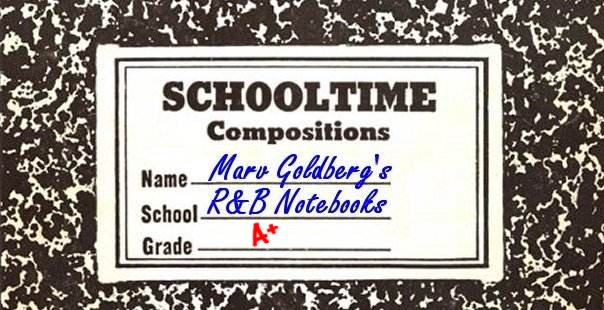 Andrew Tibbs
By Marv Goldberg

© 2020 by Marv Goldberg


Andrew Tibbs was one of those singers who was a bright star for a short while and then slipped into obscurity. I really like his melismatic voice, although he tends to garble his words (something that a couple of reviewers also complained about). ("Melisma" is the trick of singing a single syllable over several different notes. My favorite practitioner of the art was Clyde McPhatter.)

"Andrew Tibbs" was the stage name of Melvin Andrew Grayson, born in Columbus, Ohio on February 2, 1929 to Starling Andrew Grayson and Hazel Wingo. His siblings were Virginia, Starling P. (aka Paul Grayson), Robert, and Kenneth. We'll meet Robert and Kenneth again later.

Starling Grayson was a Baptist pastor who moved around a lot to different churches. Daughter Virginia had been born in New York, Starling P. and Robert in Pennsylvania, Kenneth and Melvin in Ohio. But by 1940, the family had settled in Chicago, where Starling became pastor of St. Luke's Baptist Church. (Of course, Melvin sang in the church choir.)

However, the lure of popular music was great and soon Melvin was sneaking around to Chicago's clubs to sing the blues. So as not to totally disgrace his father, he used his middle name and the name of his paternal grandmother, Mildred Tibbs. Thus, "Andrew Tibbs" was born.


One of the clubs he sang at was the Macomba Lounge at 3905 South Cottage Grove Avenue, an after-hours club owned by two Polish immigrants named Lejzor Czyż and Fiszel Czyż. (No, I can't pronounce that either, but fortunately for us, they became the slightly more manageable Leonard and Phil Chess.) The club's house band was the Wendell Owens Trio (Wendell Owens, piano; Glen Brooks, drums; and Tom Archia, sax).

Sammy Goldberg, a talent scout for Aristocrat Records, heard Andrew and was impressed, signing him to the label. (Tom Archia was already recording for them.)

Although some of this will get a bit ahead of our story, here's the history of Aristocrat Records, according to the Red Saunders Research Foundation site.


Aristocrat was officially formed on April 10, 1947 by Charles Aron ... and his wife Evelyn.... Initially, their partners were Fred and Mildred Brount [Fred Charles Brount and Mildred Freedman Brount] and Art Spiegel, none of whom took a leadership role in the business. In June, the company became more interested in signing rhythm and blues artists, and took the crucial step of hiring talent scout Sammy Goldberg.

By September 1947, Leonard Chess, the proprietor of a neighborhood bar and after-hours joint called the Macomba Lounge (3905 South Cottage Grove), had invested in the company and become involved in the sales end of Aristocrat's operations. Leonard Chess's name was first associated with the company in an item that appeared in Billboard on October 11, 1947; he was identified as a new addition to "the sales staff." He was wholesaling Aristocrat product out of the trunk of his Buick. Aristocrat had first drawn Leonard Chess's attention in June when Sammy Goldberg recruited Tom Archia, the tenor saxophonist who was working in the house trio at the Macomba, for a session led by drummer Jump Jackson. The company liked Archia's work and promptly brought him back for two more sessions as a leader. In late August or early September, Goldberg was responsible for signing Andrew Tibbs, who sang around the corner from the Macomba at Jimmy's Palm Garden, and became accustomed to dropping into the Macomba at intermission. Leonard Chess was also interested in recording an artist he believed would be a big success....

Sammy Goldberg's tenure at the company lasted only a few months; he moved on after the flurry of recording in the final quarter of 1947. [This was due to the impending musicians' union recording ban.] Over time, Leonard Chess increased his share in the firm by buying the Brounts out. Somebody bought out Spiegel, who left to run a retail store, then in 1949 became the manager of Central Music Sales, a record distributor. As Leonard became more involved in the record business, he increasingly left the day-to-day operation of the Macomba to his brother Phil. After the Arons separated in 1948, Leonard Chess and Evelyn Aron ran the firm. On December 16, 1949, Evelyn Aron married Art Sheridan and left to form American Distributing. The Chess brothers bought out her remaining share and became the sole owners, with Phil Chess now involved in the record company's operations. On June 3, 1950, the brothers changed the name of the company to Chess, and adopted a new numbering system starting at 1425, the address of their childhood home on South Karlov Street in Chicago. (In 1957, they would also begin the Chess LP series at 1425.)


In August 1947, Ruth Lee Jones (that's Dinah Washington to you) married her third husband, Robert "Bobby" Grayson, Andrew's older brother. As Ruth Jones, she'd been a member of the congregation where Starling Grayson was the minister (both as pianist and choir singer). Interestingly, Starling Grayson was the minister who had officiated at her first marriage (to John Young). (Number two was George Jenkins, who'd been a drummer with Lionel Hampton.) Dinah and Robert stayed together for just over two years, producing a son, Bobby Jr. (born August 2, 1948). Never one to stay married for too long Dinah Washington would have four more husbands after Grayson.


Andrew Tibbs' first Aristocrat session was held in September 1947, backed by Dave Young's orchestra. It was held (as were all but one of his Aristocrat and Chess sessions) at Universal Recording. The four tracks laid down that day were: "Bilbo Is Dead", "Union Man Blues", "Toothless Woman Blues", and "Drinking Ink Splink".

Theodore Bilbo was a hard-core segregationist and white supremacist who'd been governor of Mississippi and, at the time of his August 1947 death, a U.S. senator. "Bilbo Is Dead" was pure sarcasm from beginning to end, and therefore was unacceptable on most southern radio stations. Archia and Tibbs had worked out the lyrics in the back seat of a cab on the way to the session and they were written down on a paper bag.

"Union Man Blues", penned by Andrew and his mother, Hazel, starts with "Let me tell you baby / can't treat me like you used to do / 'cause I'm in the union / I just got the news." It wasn't about any particular union; it just said that he was in one and he's now protected from all his woman's fussing and fighting. While the story goes that the Chicago teamsters' union was unhappy with the song, I can't imagine what about it would have angered them (sounds like a press agent with too much time on his hands). It's got a really nice sax break.


Before Aristocrat had released anything from that session, they brought Tibbs back to the studio in October (this time with Tom Archia's All Stars) to record "I Feel Like Crying", "Going Down Fast", "Same Old Story", and "Married Man Blues". Note that companies were doing a lot of recording in late 1947, since the second "Petrillo Ban" would commence on January 1, 1948, preventing all union musicians from recording; it would be in effect for most of 1948.


"Bilbo Is Dead" and "Union Man Blues" became the first Andrew Tibbs release, in December 1947. Most of the Aristocrat artists were assigned their own record number series; Tibbs' was 1100.

The December 20, 1947 Cash Box had this:


Aristocrat Records out with a new release titled "Bilbo's Dead" waxed by the well known race artist Andrew Tibbs. Milt Salsone and Jimmy Martin, distribs for Aristocrat tell us to watch this in the ten top race tunes, "it's sure to be right up there", say the boys.


I can't say I understand their "well known race artist" comment. This was Tibbs' first record and he wasn't famous at all, even in Chicago.

The December 27 Billboard reviewed the record:


Union Man Blues (49): Blues shouter Tibbs garbles most of the race lyric. Fair ork backing. [I have to say that I agree with their "garbling" criticism; several of his songs have lyrics that are very difficult to understand.]

Bilbo Is Dead (68): Sarcastic blues chant about "friend" Bilbo at an insinuating tempo.


Aristocrat played up the record in an "Aristocrat Welcomes CMI Members" ad in the January 24, 1948 Billboard. CMI was "Coin Machine Industries", a trade group of juke box operators (those who owned juke boxes).

Never a national hit, by February 21, "Union Man Blues" was #2 on Cash Box's "Hot On Chicago's South Side" chart. It would stay on that chart for six weeks.


In March 1948, Aristocrat released "Toothless Woman Blues", backed with "Drinking Ink Splink". They were reviewed in the April 3 Cash Box:


Rapidly rising as featured name on phonos in race spots throughout the land Andrew Tibbs sets a pair here that should come in for come heavy coin play. Top deck ["Toothless Woman Blues"] is some heavily laden blues weaving throughout the wax in slow time, with the vocal spot round all the way. Tibbs gives with loads of tricks that echoes beautifully. Flip shows with the metro [metronome] at a faster pace, with the ork chiming in for a vibrant spot. Both sides should draw loads of coin although the top deck shines very brightly.


The disc was also reviewed in the Record Parade column of the May 1 Cleveland Call And Post:


Toothless Woman Blues: Warm quality, expressive words, deep low tones. Mellowness; but a low down blues. To be distinguished by Andy's stye-wise [sic; style-wise?] singing.

Drinking Ink Splink: An energetic routine, a fair side.


Note that "Drinking Ink Splink" was clearly based on "Ink Splink", a song done by Marion Abernathy on Melodisc in 1946. However, the lyrics are almost completely different. Hers were penned by bandleader Ulysses "Buddy" Banks; Tibbs claimed credit for his.

According to the April 17 Indianapolis Recorder, Andy was currently the featured performer at Chicago's Club DeLisa.


In June 1948, Aristocrat issued "Married Man Blues", coupled with "I Feel Like Crying". They were reviewed (but without any ratings) in the July 7 Billboard:


Married Man's Blues [sic]: Orking smartly cleffed and played, but bad balance smothers the blues vocal.

I Feel Like Crying: Compelling blues warbling with unusual ululating, drawn-out phrasing.


On September 11 and 12, Tibbs appeared at Chicago's Rose Bowl, along with Tom Archia's band. A little blurb in the September 11, Indianapolis Recorder said: "Speaking of Andy Tibbs whose Aristocrat records are top sellers we find that he is not receiving the royalty checks from these records although thousands have been sold. It seems that the 'kid' has too many managers and is compelled to make guest appearances for certain people who have plugged his records once or twice." Ain't show business wonderful?

The following week, he and Jo Jo Adams, appeared at the Pershing Ballroom in Chicago.


With no chart action on his latest record, Aristocrat released "Going Down Fast", coupled with "Same Old Story" in October 1948. This time, the label identified him as "Andy Tibbs". That same month, brother Kenneth Grayson appeared (as "Kenneth Tibbs") at The Corner (Chicago) along with Jump Jackson's Band. The November 6, 1948 Indianapolis Recorder said that Chicago DJ McKie Fitzhugh was planning a battle of the blues between Andy and Ivory Joe Hunter, but I can't find any evidence that it actually took place.


By the fall of 1948, the musicians' strike was easing (although it wouldn't be officially over until mid-December) and Tibbs was brought back for a session in October, this time with the Oett "Sax" Mallard' Combo: "He's Got Her And Gone", "Telephone Blues", "The Holidays Are Over", and "One-Sided Affair".

Note that, due to a later label error, the "group" on "He's Got Her And Gone" was identified as the Dozier Boys. In fact, it wasn't a group at all, just band shouting.


However, now that I've mentioned the Dozier Boys, a bit later in October, Tibbs had another Aristocrat session, this time backed up by that group. The session started with "Big Time Baby", which was purely a Dozier Boys song; Tibbs isn't on it. The only reason I bring it up is because it turned up on an Andrew Tibbs CD from Classics Records in 2002.

Tibbs recorded four songs with the Dozier Boys: "In A Traveling Mood", "In Every Man's Life" "I Want To Be Loved", and "This Is Always". On these, the Dozier Boys also provide the instrumentation. Added to the mix was the piano of Herman "Sonny" Blount (the future "Sun Ra").

Now booked by Universal Attractions, Tibbs appeared all over Chicago: the Ritz Show Lounge, the Club DeLisa, the Pershing Lounge, Martin's Corner, the Regal Theater, and the Indiana Theater. In fact, for a short while, he was Aristocrat's biggest artist. Strangely, although there were lots of mentions of him appearing at various venues, I could only find two appearance ads in his whole career.


In December 1948, Aristocrat released "In A Traveling Mood", backed with "The Holidays Are Over". On these, it's back to "Andrew Tibbs". Note that the label of "In A Traveling Mood" credits Tibbs as the writer. However, the song had been done in 1946 by Johnny Moore's 3 Blazers on Modern Music. At that time, it was credited to "Moore, Brown, Williams", the members of the 3 Blazers. The Dozier Boys not only back him up, but are an integral part of the song, with bass Ben Cotton having some lines to himself. This has always been one of my favorite recordings.

But June's "I Feel Like Crying" hadn't disappeared yet. I don't know where it had been for six months, but it turned up on Billboard's "Most-Played Juke Box Race Records" for a single week (at #13) in their January 22, 1949 issue. It would be Andrew's only visit to a national chart.


"In A Traveling Mood" was Cash Box's "Race Disk O' The Week", receiving a glowing review in their February 12, 1949 edition. On the other hand, Billboard thought both sides were mediocre at best:


The Holidays Are Over (61): Blues shouter and small combo knit a moderate indigo mood out of conventional material.

In A Traveling Mood (65): Tibbs is augmented by vocal group here, with lead bass growling out a bottom passage in the manner of the Ravens' Rickey. Failure to find a unifying conception holds this one down, however.


This brings up an interesting question. Assume you're a music op (that is, you own a number of juke boxes and have to decide which records to stock them with). What do you do when the trade papers are at odds over a record? If they both love it or both hate it, you're fine, but now what?


In this case, Cash Box was a lot closer than Billboard. On March 19, 1949, "In A Traveling Mood" entered the Chicago charts at #9; it would eventually reach #5 in a 7-week run. Although never a national hit, it was also #8 in Baltimore, #9 in New Orleans, #4 in Harlem, and #9 in Pittsburgh.

On April 29, 1949, Tibbs appeared on a West Side Urban League show in Chicago. It was called "Varieties At Midnight" and, strangely, Andrew Tibbs was listed as a speaker, rather than a performer. At the time, he was appearing at Chicago's Ritz Lounge, along with Goon Gardner & His Swingeroos.


Back to "Andy Tibbs": Aristocrat issued "In Every Man's Life" and "He's Got Her And Gone" in July 1949. Remember that "He's Got Her And Gone" has band shouting and not the Dozier Boys, as it says on the label.

"In Every Man's Life" is a wonderful song in which he passes along some wisdom that his father told him: "There's three women in a man's life: the woman that loves him, the woman he loves, and his wife". Once again, the Dozier Boys' Ben Cotton gets some lyrics to himself.


There was another Aristocrat session in July 1949. Backed up by Leo's Trio (led by guitarist Leo Blevins), he recorded "How Long" and "I Know" at United Broadcasting. They marked a stylistic change for Tibbs, being less bluesy and more of a nightclub combo sound.

"How Long" was a real oldie. It had been written and recorded by Leroy Carr (Vocalion; 1928). It would also be recorded by Al Hibbler (Aladdin; 1946) and Ray Charles & the Maxin Trio (Down Beat; 1949). "I Know" was more recent, having been recorded by the Jubilaires (two of whose names appear as writers) with Andy Kirk's Orchestra in November 1945 and released in February 1946.

A large article in the August 13, 1949 Pittsburgh Courier told of a Southern tour being planned, to include dates in Georgia, Louisiana, and Texas. "Fresh from a series of triumphs in the Midwest, Andrew Tibbs, blues singer par excellence and Tom Archia, the star tenor sax artist, and his band, are setting a tour of the South under the Charles Lee banner. Tibbs is noted for his soulful renditions of the blues, his latest Aristocrat records including 'I'm In A Traveling Mood.' Tibbs is a clean-cut young man who knows how to sell a song and keep his audience asking for more." However, I can't find any instances of Archia and Tibbs having any triumphs in the Midwest (or anywhere else, for that matter). I'm sure they were appearing somewhere, but their movements weren't reported.

That same August 13 edition reported on a huge fire at the Aristocrat offices that had taken place on August 1:


A mystery blaze completely destroyed the general offices and store rooms of the Aristocrat Recording Company, 5249 Cottage Grove Avenue last week. According to officials of the company, damages estimated at $35,000 were suffered in the loss of equipment and close to 40,000 records of a long list of recently pressed tunes which had not been released.

Officials stated that robbers broke into the offices, ransacked the premises looking for cash and probably set fire to the place after a futile search which netted nothing.

Late pressings by Andrew Tibbs, blues singer; Tom Archia and his combo, Duke Jenkins, Muddy Waters and others, were destroyed in the blaze. Fire officials have not been able to determine the origin.

Temporary offices are being set up at 5253 Cottage Grove Avenue, and according to Dave Clark, public relations executive, the huge backlog of orders will be filled within the next week.


When it was mentioned in Billboard (also on August 13), the damage was estimated at only $12,000. Furthermore, the Billboard article said: "No shipments of Aristocrat platters were delayed, because deliveries to distributors are handled direct from pressing plants." We're definitely getting conflicting stories here. Wonder who really started the fire. Strangely, the incident didn't seem to have been reported in Chicago papers.

Since that whole "robbers" story sounds concocted to me (how would they know that the place had been ransacked if everything had been destroyed?), I was more interested in the little article that followed that story. It told that the Ravens had to suffer two weeks of inactivity while baritone Warren Suttles had his tonsils removed.

The September 17 Indianapolis Recorder reported that Andy and Tom Archia were playing a series of one-nighters in Ohio before going into the Top Hat Club in Louisville.


Back in business, Aristocrat released "How Long", backed with "I Know" in October; another credit to "Andy Tibbs". Also in October, Tibbs was at the Midtown Hotel in St. Louis (which also featured a glass bar and the Dick Davis Combo).

The warring trade papers did it again. The October 29, 1949 Cash Box gave the record a great review:


Andy Tibbs pitches his pipes on this coupling to turn up with a pair of hot items for music ops. Top deck, titled "I Know" is a tune that has been around a bit. It's slow blues, handled to perfection by Andy. The flip keeps the same pace and has the balladeer coming thru for music ops once again. Tune is extremely infectious and should have music fans humming and singing the melody in no time at all. Platter rates a top spot in music ops' machines.


The November 11 Billboard disagreed:


How Long (71): Tibbs sings the pretty standard blues in able fashion. An accompanying trio offers sympathetic backing.

I Know (53): Strictly second rate is the Tibbs job on this familiar ballad. He leaves hardly a note unbent.


On November 24, Andy was in Milwaukee for a Thanksgiving night dance. The paper neglected to mention where it was.

Tibbs opened at the Club DeLisa on February 17, 1950 as part of the Happy Times Review. The Hi-De-Ho Boys were there too, as was the Red Saunders Orchestra.


The March 2 California Eagle had a list of singers under the heading of "Aladdin Clicks With Galaxy Of Top Artists". There was Herb Kenny, Amos Milburn, Charles Brown, Big Jay McNeely, Lil Green, Calvin Boze, Mr. T., and the Trumpeteers. Oh, yes, it also included Andrew Tibbs ("destined to become an outstanding vocalist"). This is the only time I've ever seen his name associated with Aladdin Records.

Sometime in April 1950, Tibbs was at the Apex Country Club in Robbins, Illinois, along with the Al Smith band.


Finally, an appearance ad. He was at Detroit's Flame Show Bar in mid-May 1950, along with Kitty Stevenson, Big Bertha, and Maurice King & His Wolverines. The May 26, 1950 Detroit Free Press said: "Song star of the Flame Show Bar, Andrew Tibbs plans to cut some new records. Among the numbers will be I Know and Only Lovers. Of course, it didn't bother to say who they'd be cut for. The "Only Lovers" title is intriguing. It's a specific title and doesn't seem to be a corruption of any song he ever recorded.

On July 10-13, at the Palmer House in Chicago, the National Association Of Music Merchants (NAMM) held a convention. NAMM describes it as "the global gathering of the music, sound and entertainment technology industries". (It's still being held in 2019.) A little blurb in the July 22, 1950 Billboard said that Randy Wood ("big mail order retailer of Gallatin, Tenn., and owner of [the] Dot label") supervised an Andrew Tibbs session during the convention. Backed by Sax Mallard and his Sextet, Andy recorded "You Can't Win", "Aching Heart", "She's My Baby", and "Crying The Blues".


"You Can't Win" and "Aching Heart" were released in August 1950, but not on Aristocrat, which was pretty dormant (although they'd keep selling product until the beginning of 1951). By now, the Chess Brothers had taken over the operation and their new label was called [... wait for it ...] Chess Records (aren't you glad it wasn't Czyż Records?). The switchover to the new label had been announced on June 3. "You Can't Win" is very bluesy and both see him back to his old style (although "Aching Heart" is more memorable for the orchestration than his singing). It doesn't look like the record was sent out for review and Chess dropped him soon afterward.

That same month, Andy was at Joe's Rendezvous Lounge in Chicago.


We don't hear of him again for an entire year, until he's advertised as being at the Sunset Terrace Ballroom in Indianapolis on June 10, 1951. The ad claims he'll be with "his famous orchestra", whoever they might have been.


On August 30, 1951, Andy recorded four songs for Savoy Records, backed by Dud Bascomb's band: "I'm Riding And Riding", "Pleading", "Do You Wanna Come Home", and "Dearest Pretty Baby". True to industry tradition, his signing wasn't announced until September (that is, after the songs had already been recorded). However, none of these were ever released.

This confusing blurb was in the September 22, 1951 Billboard: "Irv Marcus, national sales manager for Peacock Records, was in New York last week and reported that the diskery had inked several new artists, including Joe Fritz and spiritual singer Robert Anderson. He also said the diskery would issue sides by blues singer Andrew Tibbs, who reportedly has been inked by the Savoy firm."

That last sentence isn't at all clear. It didn't say that Peacock had signed Tibbs or would even record him, just that they were going to release songs by him. Billboard thinks he'd been signed by Savoy, but what has that to do with Peacock? Is it possible that the songs he'd recorded for Savoy had been acquired by Peacock? Unfortunately, there are no answers to these questions.

Here's something even more confusing, courtesy of the October 20, 1951 Pittsburgh Courier: "... Andrew Tibbs, talented young blues singer, has just returned from a four-and-a-half month stay at Lexington and completely cured, is currently working at the Baby Grand in Brooklyn."

At some point, Andrew Tibbs had been arrested for a drug-related crime (never specified in the media). He was sentenced to the rehab center at Lexington, Kentucky, to be treated for a heroin addiction. It worked; kinda. As far as we know, he was off heroin for life. However, he then took up drinking (and I doubt it was ink splink). But when did this all happen? Considering the normal lag between a weekly newspaper getting information and printing it, doing a little math has him in Lexington from around mid-May 1951 to the end of September. But that doesn't work. He's appearing somewhere in June and recording in August. If I had to make a guess, his Lexington stay would have been sometime between August 1950 and June 1951, a period during which there's no mention of him. If that's true, it doesn't explain why the notice of his return wasn't printed until October 1951. Ah, sweet mystery of life....

Then it was off to the Bronx, where he appeared, in November, at the Club 845, along with Edgar Sampson's band. (Unfortunately, my parents told me I was too young to go and see him.)

On January 9, 1952, Andrew recorded a single song ("Leap Year Blues") with the Sax Mallard Orchestra, as part of a Mallard session for Mercury in Chicago. Never on a single, it later turned up on a 1996 album: The Mercury Blues 'N' Rhythm Story 1945-1955.

Later in January, he was at the Club Harlem (Manhattan), along with Etta Jones and the Duke Wright band.


Remember when a September 1951 Billboard blurb talked about Peacock releasing Tibbs recordings? The February 9, 1952 Billboard now said that he'd actually recorded for Peacock in a New York session that was supervised by saxophonist Teddy "Cherokee" Conyers (known as "the little man with the big horn"). In June 1952, Peacock released "Rock Savoy, Rock" (about Harlem's Savoy Ballroom, known as "The Home Of Happy Feet") and "Mother's Letter". However, the main artist (per the label) was the Cherokee Conyers' Orchestra. In truth, the orchestra completely overshadows Tibbs on "Rock Savoy, Rock".

Billboard reviewed them in its June 28 edition:


Mother's Letter (75): Mournful blues about death is read with feeling by Tibbs. Cherokee Conyers' ork sets strong background in keeping with material.

Rock Savoy, Rock (77): Jump blues is given an exciting shout vocal by Tibbs. Side builds strongly after a slow start. Cherokee Conyers ork shows up well. Should catch coin.


The Cash Box review was printed on the same day:


Rock Savoy, Rock ("B"): Andrew Tibbs belts out a moderate fast tempo item in spirited manner. Orking helps out with a hopped up accompaniment.

Mother's Letter ("C+"): Flip side is a slow, low down number with Tibbs giving out smoothly and dramatically. The Cherokee Conyers ork assist in strong style.


At this point, Andrew Tibbs begins to fade from the scene. He's not heard from again for a full two years. In late July 1954, he, Jo Jo Adams, Shirley Harvey, and Armand "Jump" Jackson's band appeared at the Flame Club in Chicago.

And that's the last we hear from him for two more years. On May 13, 1956, he recorded some duets with his brother, Kenneth Grayson, who performed as "Kenneth Tibbs". (He'd been vocalist for Jump Jackson's Combo back in 1948.) Their signing by Atco wasn't announced until the June 23 Billboard.


Released by the "Tibbs Brothers" on Atco Records in July, the songs were "I'm Going Crazy", backed with "(Wake Up) Miss Rip Van Winkle", both written by Doc Pomus and Mort Shuman. (A third song from the session was "Blues For Sale".) "I'm Going Crazy" is nothing special considering the duos that were around at the time. On the other hand, "Miss Rip Van Winkle" is a solid rocker, although Kenneth seems to be able to garble his lyrics as adroitly as Andrew.

Kenneth Tibbs had a subsequent 1958 release on Federal ("Darling I Want Your Love" / "No More Tears"). However, he's not the Kenny Tibbs who was on Viking and Jin.

The songs were reviewed in the August 11 Cash Box (both receiving a "B+"):


I'm Going Crazy: The Tibbs Brothers team up on a slow rhythmic novelty with a solid lyric. The brothers pack a lot of entertainment into the powerful material. Looks like one to be watched carefully.

(Wake Up) Miss Rip Van Winkle: The Tibbs back with a swinging jump that is for the kids, no doubt about it. It is rocked with a solid arrangement and reading. Good coupler.


In December (exact date unknown) there was a second Tibbs Brothers session. The four unreleased tracks were: "You Ought To Be Ashamed", "No More Love", "All She Wrote Was A Note", and "Heading Back Home".

Supposedly Andrew Tibbs continued appearing in clubs for the rest of the 1950s, but there are no further mentions of him for the next nine years.


There's a 1959 photo showing Dinah Washington with her two sons, George Jenkins, Jr. and Robert Grayson, Jr. (Jenkins, Sr., Dinah's second husband, had been a drummer with Lionel Hampton, among others.)


Andy's last foray into the music field was a single record for George Leaner's M-Pac label, released in October 1965: "I Made A Mistake" and "Stone Hearted Woman". He still sounds like Andrew Tibbs.

But, with dwindling appearances, he got himself a day job. Most sources say it was with West Electric, but I'm willing to bet it was actually Western Electric (the manufacturing arm of AT&T). He would still occasionally appear in small Chicago clubs.

Andrew Tibbs died on May 15, 1991 in Chicago. As is too often the case, I can't find an obituary.

I've always liked Andrew Tibbs. In spite of being somewhat difficult to understand at times, he's got a pleasing voice. If you're not familiar with "In A Traveling Mood" and "In Every Man's Life" - what are you waiting for?


Special thanks to Victor Pearlin, Billy Vera, and Robert Campbell.



ALL AS ANDREW TIBBS
(unless otherwise noted)

ARISTOCRAT
1101 Bilbo Is Dead / Union Man Blues - 12/47
1102 Drinking Ink Splink / Toothless Woman Blues - 3/48
1103 Married Man Blues / I Feel Like Crying - 6/48
1104 Going Down Fast / Same Old Story - 10/48 (as Andy Tibbs)
1105 In A Traveling Mood* / The Holidays Are Over - 12/48
1106 In Every Man's Life* / He's Got Her And Gone** - 7/49 (as Andy Tibbs)
1107 How Long / I Know - 10/49 (as Andy Tibbs)

UNRELEASED ARISTOCRAT
Telephone Blues (recorded October 1948)
One-Sided Affair (recorded October 1948)
I Want To Be Loved* (recorded November 1948)
This Is Always* (recorded November 1948)

* With the Dozier Boys
** Label says Dozier Boys, but it's just some band shouting.

CHESS (Sax Mallard & His Sextet, vocals by Andrew Tibbs)
1430 You Can't Win / Aching Heart - 8/50

UNRELEASED CHESS
She's My Baby (recorded July 1950)
Crying The Blues (recorded July 1950)

UNRELEASED SAVOY (recorded August 30, 1951 with Dud Bascomb's band)
I'm Riding And Riding
Pleading
Do You Wanna Come Home
Dearest Pretty Baby

UNRELEASED MERCURY (recorded January 9, 1952 with the Sax Mallard Ork)
Leap Year Blues
Included on the 1995 album The Mercury Blues 'N' Rhythm Story 1945-1955

PEACOCK (with Cherokee Conyers' Orchestra)
1597 Rock Savoy, Rock / Mother's Letter - 6/52

ATCO (Tibbs Brothers - Andrew & Kenneth)
6074 I'm Going Crazy / (Wake Up) Miss Rip Van Winkle - 7/56

UNRELEASED ATCO (Tibbs Brothers)
Blues For Sale
You Ought To Be Ashamed
No More Love
All She Wrote Was A Note
Heading Back Home

M-PAC
7228 - I Made A Mistake / Stone Hearted Woman - 10/65




Unca Marvy's Home Page
More Articles