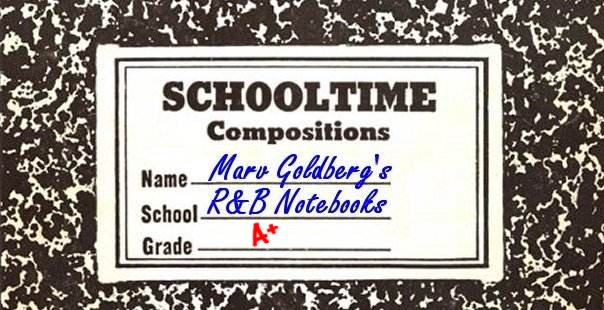 The Gentlemen
By Marv Goldberg

based on interviews with Clifford Dale


© 2013 by Marv Goldberg
The Gentlemen, from Newark, New Jersey, had a tight, professional sound, yet success eluded them.

The Gentlemen got their start in Clifford Dale's kitchen, on Jelliff Avenue, probably in the autumn of 1953. A friend of his, pianist Roland Davis, introduced him to tenor Theodore Lawrence "Larry" Bogar, who was interested in forming a group. They sang together for a while and decided it was worth pursuing. At that point, Larry introduced Clifford to second tenor Alonzo "Lonnie" Johnson and a bass named Leroy. Clifford was originally the baritone of the group, all of whom were in their early 20s.

The first song Clifford remembers them coming up with an arrangement to was the Drifters' "Money Honey." Then, they began working on an arrangement of "A Sunday Kind Of Love." Alonzo Johnson and Harptones lead Willie Winfield were friends and one day they got to talking about it. Willie was intrigued and decided that it would make a fine choice for the Harptones debut Bruce recording in November 1953.


To practice, they hung out on the corner of Avon and Badger Avenues. After they'd been together a while, a tenor named Rufus began hanging out on their corner and finally insinuated himself into the group. "He wanted to start singing with us and did a couple of gigs." However, his voice "couldn't hold water," according to Clifford and they let him go, remaining a quartet. (However, he does survive in the only photograph ever taken of the group.) Someone else who listened to them practice on that corner was the owner of nearby Welch's Barber Shop. They must have really impressed Welch: he bought the five of them their first outfits, for $50 apiece.


The guys made the rounds of the myriad clubs in Newark and began honing their skills. Along the way they attracted the attention of Bill Cook, who hosted the Musical Caravan on Newark's WAAT. Although mostly tied up with managing Roy Hamilton, who had a #1 R&B hit with "You'll Never Walk Alone" in the spring of 1954, Cook agreed to manage them.

The big Newark label was Herman Lubinsky's Savoy Records, and that's where the guys, under their original name of the Orchids, made their first recordings. Their audition went well and, on April 1, 1954, they had a session, at which they did a couple of songs: "My Story" and "Darling Is It True" (both led by Larry Bogar). However, Savoy didn't release them.

After this session, bass Leroy dropped out (after also having been in their only photo) and they replaced him with Sam Coleman. Alas, Sam didn't last too long. His replacement was a reluctant Lucius Harris. ("He didn't want to sing with us, but we talked him into it!")

Also after the Savoy recordings, there was talk of another Orchids group around, so that name had to go. (The culprit probably wasn't the Orchids on King, since no one on the East Coast ever heard of them in 1954, and the Parrot group hadn't formed yet.) Bill Cook decided that their new name should be the "Gentlemen," which never sat well with Clifford. ("It didn't catch with me," he said. "It just had no life.")

While Bill Cook did have them on his "Caravan Of Stars" TV show, that was about all he did for them, since he really had no time for anyone except Roy Hamilton. They soon found that they needed another manager who could concentrate on them and turned to Joe Letterman.

The first thing Letterman had to do was to get them out of their Savoy contract. Just because Lubinsky wasn't releasing anything by them didn't mean that he was willing to release them! Letterman got an attorney involved and, I imagine, some money changed hands. Finally, they were free. Letterman even took them to a liquor store and bought a bottle of champagne to celebrate.

Then, Letterman got them an audition with Bess Berman's Apollo Records, across the river, at 457 West 45th Street in Manhattan. Another session, but this time with better results.

On September 29, 1954, the Gentlemen recorded four songs for Apollo: "Tired Of You," "Something To Remember You By," "Don't Leave Me Baby," and "Baby Don't Go." All the songs were led by Larry Bogar, except "Something To Remember You By," fronted by Clifford Dale.


Apollo released "Tired Of You," backed with "Something To Remember You By" in October 1954. The record was reviewed on November 6 (both sides rated "good"). Other reviews that week were for Marvin & Johnny's "Sugar," the Royal Jokers' "Someday We'll Meet Again," the Cues "Forty 'Leven Dozen Ways," Big John and the Buzzards' "Oop Shoop," the Charmers' "I Was Wrong," and the Singing Wanderers' "The Wrong Party Again."

Later that month, "Something To Remember You By" was touted as making some noise in Atlanta. Because of it, Apollo actually paid them $25 each in royalties. Was Clifford happy about this? "The song was Bill Cook's idea. He tried to get close to 'Work With Me Annie.' I never liked that, because I was singing out of voice [high above his normal baritone]. We used to sing 'Work With Me Annie,' but it's hard to imitate someone and I was never satisfied with it. It wasn't what I wanted to do."

But records wouldn't make noise if DJs didn't play them. Bill Cook did, because of his prior association with the group. [The fact that he'd written "Something To Remember You By" probably had absolutely nothing to do with it.] However, Georgie Woods (WNJR, Newark) wouldn't, because he and Larry Bogar had had a disagreement over something.

The Gentlemen began the rigors of appearances. They played Atlantic City, Harrisburg, Pittsburgh, the Dreamland Ballroom (in Taunton, Massachusetts), as well as a lot of local work in Newark (including the Three Towers Club). One of the biggies was at the Rockland Palace (at 155 Street in Harlem), with the Cadillacs, the Solitaires, the Hearts, and the Charms, as part of Dr. Jive's "Easter Ball" (on April 10, 1955). Appearances or not, it was never full-time work for the Gentlemen. ("We would have starved," said Clifford.)


In spite of good beginnings, nothing much happened with the first record. In March 1955, Apollo released the other two titles, "Don't Leave Me Baby" and "Baby Don't Go." Both sides were ranked "fair" in the March 12 trades. Other reviews that week were for Gene & Eunice's "My Story," the Dodgers' "Cat Hop," the Moonlighters' "Hug And A Kiss," the 5 Royales' "Mohawk Squaw," Percy Mayfield's "Baby, You're Rich," the Debs' "Shoo Doo Be Doo," and the Dukes' "Oh Kay."

Around this time, high tenor Richard Baker (a friend of Lonnie's) was discharged from the military and brought into the group as its fifth member. Clifford was opposed to having him in the group, feeling that "this guy should be singing opera." That aside, Richie had a problem with his timing. Once the instrumental portion of a song started, he could never remember when to start singing again. So Clifford "went up a couple of scales" to tenor, in order to help guide Richie back, and put Lonnie down at baritone.

The five-man group practiced a while and then recorded a couple of a cappella demos for Apollo: "My Story" (the song they'd recorded for Savoy as the Orchids, led by Richard Baker) and "You're Driving Me Crazy" (fronted by Larry Bogar). When these were found and released, on Relic, in the 1980s we could see that "You're Driving Me Crazy" was a work in progress (it's extremely short). On the other hand, "My Story" (which, for some reason, was entitled "Story Of A Love Gone Cold" on the tape box), is an incredible recording. It's done with such a passionate lead and tight harmony that it could tear your heart out. The first time I heard it, it became (and remains) my favorite a cappella song. Unlike "You're Driving Me Crazy," they'd done a lot of work on it and it times out at almost three and a half minutes. I can't imagine what kind of instrumentation Apollo could have added in order to improve it.

But, after nothing at all happened with their second release, that was it for Apollo. They continued with their appearances and with increasing their repertoire.


One of the songs they learned was "I Want To Be Loved (But Only By You)," which had been written in 1946 by Savannah Churchill. One night they sang it in a club at the Jersey Shore and who should be headlining the show, but Savannah herself. (While the guys knew that she'd written the song when they'd added it to their repertoire, they didn't know that she'd be on the show.) She was so taken with their performance that she asked if she could lead the song during their second set. When that went over well, she raised the possibility of them touring with her. She wrote down a phone number, but when they subsequently called it, it turned out to be a gas station. Unfortunately, Clifford simply couldn't remember when this happened. It either occurred before Savannah's 1956 accident or, more probably, during her comeback attempt. [In 1956, Savannah was appearing at the Midwood Club in Brooklyn, when a drunken man fell on top of her from the balcony, causing severe debilitating injuries from which she would never fully recover. She subsequently tried a comeback, and even did some recording for Jamie in 1960, but by then, her singing style was long out of date.] Note that Savannah was very comfortable with groups, having recorded with the 4 Tunes, the 5 Kings, and the Striders, as well as having toured with the King Odom Quartet.


As the years rolled on, the Gentlemen kept together. By the early 60s, Joe Letterman told Richard Baker that "Ronnie Baker" sounded like a better name, so when it came time to record "I Want To Be Loved" and another attempt at "My Story," the group was "Ronnie Baker and the Deltones." These were probably done in a Letterman-produced session and then leased to New York's Laurie Records, which released them in March 1962. This actually answers my question as to what "My Story" would sound like with instrumentation: sadly, while the band isn't bad, the entire arrangement had been changed and was no longer the tour de force that the original had been. As a consolation, "I Want To Be Loved" is an excellent job.


"I Want To Be Loved" was released again a few months later (in August) on the tiny Jell label of Newark (possibly owned by Letterman himself); it's the same master as on Laurie. This time, the flip was "You've Got What It Takes" and the group wasn't the "Deltones," but the "Beltones."

Then, there was the last, fateful session, at which they were going to record some more demos. Someone did something funny that caused the guys to giggle uncontrollably. Every time one looked at another, they'd crack up. While this has happened to most of us at one time or another, sessions do cost time and money; arrangements, studio time, and bands aren't cheap. At that point, Letterman, who'd paid for all of this, got disgusted, took Richard aside, and told him that from then on, he'd be recorded as a soloist. "I don't blame Joe Letterman," said Clifford. "Setting up a recording session was expensive, so I don't blame him in the least."


Letterman had Richard (as "Ronnie Baker") record a few things for Laurie, one of which was a version of "See You In September" that promptly went nowhere (probably due to the fact that it was released in April!). However, to give him his due, Ronnie's voice (at least on "See You In September") is easily comparable to Johnny Mathis'.

So, the guys finally threw in the towel. "We couldn't get off the ground," said Clifford. Although Clifford says Letterman was "a hell of a nice guy," he probably didn't have the connections to really be able to push his group. There was disappointment and it was just time to move on with their lives.

The Gentlemen were definitely a group with talent that should have made it bigger than they did. In 2013, as far as is known, Clifford Dale is the only member still alive.


Special thanks to Ferdie Gonzalez, Jeff Beckman and Bruce Woolf.



THE GENTLEMEN
UNRELEASED SAVOY (as the Orchids)
My Story (LB) - 4/54
Darling Is It True (LB) - 4/54
The above were released in 1972 as Savoy 964, a counterfeit record.


APOLLO (as the Gentlemen)
464 Tired Of You (LB)/Something To Remember You By (CD) - 10/54
470 Don't Leave Me Baby (LB)/Baby Don't Go (LB) - 3/55

UNRELEASED APOLLO DEMOS
Story Of A Love Gone Cold [My Story] (RB) - 55
You're Driving Me Crazy (LB) - 55
Both appear on the Apollo Acappella Audition Album - Relic 7129


LAURIE (as Ronnie Baker & the Deltones)
3128 I Want To Be Loved (RB)/My Story (RB) - 3/62


JELL (as the Beltones)
188 I Want To Be Loved (RB)/You've Got What It Takes (RB) - 8/62



LEADS
LB = Larry Bogar; CD = Clifford Dale; RB = Richard (later Ronnie) Baker



RONNIE BAKER SOLOS
JELL
200 The Big Wide World/Glory Be - ca 1/63

LAURIE
3164 Land Of Love/Tina Told Me - 2/63
3250 See You In September/Young At Heart - 4/64




Unca Marvy's Home Page
More Articles