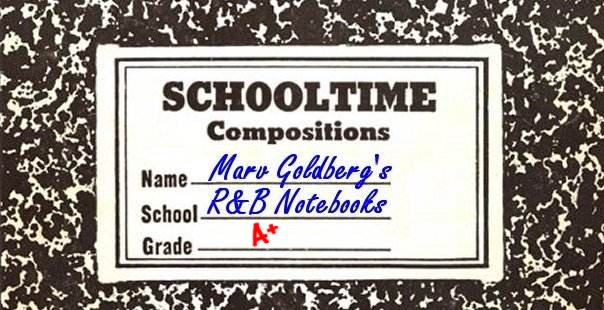 The Jewels

By Marv Goldberg

Based on interviews with Rudy Jackson,
Johnny Torrence, and Don Sampson

© 2000, 2009, 2012 by Marv Goldberg
Many of the East Coast's R&B vocal groups of the early 50s went directly from gospel singing to the more commercial world of Rhythm and Blues. The Jewels were one of the few West Coast groups that seem to have had an analogous tie-in with the gospel music field.

Second tenor Johnny Torrence sang with several "jubilee" groups, most notably the Kinsmen and the Hollywood Rising Stars, and had appeared with his own group in a movie titled "Voices Of The Southland." By 1953, however, he had left gospel music behind and was operating some record stores. Through his contacts in the music business, he booked local vocal groups, and even did a solo effort ("Sad Day"/"Bad Habit") for Imperial Records, released in March 1953.

The following year saw Rhythm and Blues vocal groups becoming hot commodities. Torrence got together with two former gospel singers (tenor Dee Hawkins and bass James Brown), and they began to practice harmonizing on both popular songs and spirituals. When the trio happened to hear a smooth-voiced San Bernadino disc jockey singing along with some R&B platters he was spinning (all DJ's are probably frustrated musicians), they recruited him and made it a quartet.


This new member was second tenor Rudy Jackson, and the resultant group called itself the Marbles. In March of 1954, they cut one disc for John Dolphin's Lucky label ("Golden Girl," led by Rudy, backed with "Big Wig Walk," fronted by Johnny). Torrence had known Dolphin from the time he had sung gospel for the record label entrepreneur.

A few months after "Big Wig Walk" was released, the group added a fifth singer, baritone Vernon Knight. They had also, in the interim, renamed themselves the Jewels, after Rudy's sister (because they felt that they were going to sparkle). Through their manager, Cliff Harrison, they hooked up with Larry Goldberg and Al Schlesinger, owners of R And B records in Hollywood. At their first session, the group cut "Hearts Of Stone," a tune Rudy had written (along with Eddie Ray). The quintet had initially taken the tune to Art Rupe of Specialty Records, but he assured them that the song would never make it.

It made it.


Unfortunately for the Jewels, however, the song was covered by Otis Williams and the Charms on DeLuxe. Because of the superior promotion and distribution of the King-Federal-DeLuxe complex, the Charms' version vastly outsold the Jewels' original on a national level, although the Jewels dominated the West Coast charts. The Charms took the song to #1 on the R&B charts (where it stayed for nine weeks), as well as #15 on the Pop charts. That in itself was quite an achievement, since the Fontane Sisters cover became a #1 Pop hit. "Hearts Of Stone" became the overall #6 R&B song on Billboard's 1954 charts. (Once, at a show in Cleveland, Ohio, the Jewels found themselves on the same bill with the Charms -- and it was the latter group which got to sing "Hearts Of Stone." It's hard to think of anything sadder to a singer.)

On September 11, the Jewels' "Hearts Of Stone" was listed as a Territorial Tip in Los Angeles (along with Shirley Gunter's "Oop Shoop" and the Medallions' "Buick 59").


The next R And B release was "Oh Yes I Know," backed with "A Fool In Paradise" (a song written by Johnny Torrence, on a ladder, while he was working for the telephone company). It was issued in October 1954 (before "Hearts Of Stone" really took off). That same month, the Jewels signed with the Ben Waller Agency and started a tour of Arizona. Also in October, it was reported that their "Hearts Of Stone" was doing well in Harlem.

"Oh Yes I Know" received an "excellent" rating on October 16, 1954, along with Fats Domino's "Don't You Hear Me Calling You," Charlie & Ray's "I Love You Madly," the Penguins' "Earth Angel," Richard Berry's "The Big Break," Lee Andrews & the Hearts' "Bells Of St. Mary," the 5 Keys' "Ling Ting Tong," the Flairs' "Hold Me, Thrill Me, Chill Me," the Bees' "Toy Bell," and the Blue Dots' "God Loves You, Child." On November 20, it was a Tip in Los Angeles, along with the Capris' "God Only Knows" and Joe Houston's "All Night Long."

In December, the third and final Jewels record was issued on R And B: "Rosalie," backed with "Living From Day To Day." The latter was the first time Johnny Torrence got to lead since "Big Wig Walk."


Also in December, R And B released a record by "Rudy Jackson and the Mel-O-Aires": "I'm Crying" and "Enfold Me." The Mel-O-Aires were Vera Potts, her sister Hattie, and Gladys Jackson, three girls Rudy had grown up with.

With the Fontane Sisters' version of "Hearts Of Stone" entering the Pop charts, it was reported in January 1955 that the Jewels and the Charms were battling it out on the Harlem R&B charts.

On January 28, 1955, the Jewels appeared at Los Angeles' Shrine Auditorium as part of Norman Granz's Rock And Roll Jamboree. They shared the stage with Chuck Higgins, Joe Houston, Oscar McLollie, Richard Berry and the Dreamers, Marvin & Johnny, Shirley Gunter and the Queens, the Medallions, Gene & Eunice, and T-Bone Walker. The MCs were three of the biggest local DJs: Hunter Hancock, Huggy Boy, and Charles Trammel (who is credited with exposing the L.A. area to "Earth Angel").


In April 1955, R And B label owners Al Schlesinger and Larry Goldberg sold the Jewels' contract to Lew Chudd of Imperial Records, and on April 27, the Jewels recorded "Angel In My Life," "Hearts Can Be Broken," and "Keep Your Feet On The Floor." Imperial was said to be so impressed with "Hearts Can Be Broken" (a blatant rip-off of the Jewels' own "Hearts Of Stone"), that they pressed up DJ copies overnight and had the song on the air the very next day.

On May 13, the Jewels began a 3-day stint at Billy Berg's 5-4 Ballroom, along with Joe Houston, Marvin & Johnny, and Jesse Belvin. On May 14, in addition, they also did a show at the Torrance Civic Auditorium. Later that month (the 22nd), they played a gig in Las Vegas, with Bill Doggett.

On June 11, 1955, "Angel In My Life" was a Tip in Los Angeles. In July, they appeared as part of Gene Norman's Jazz Concert (at the Shrine Auditorium), along with the Clovers, the Meadowlarks, Marvin & Johnny, the Voices, Earl Bostic, and Chuck Higgins.

While they were in town, on July 11, they recorded "Please Return" and "Natural, Natural Ditty" for Imperial; the tunes were issued the following month.

They were back in the studio on August 19, when they recorded "Goin', Goin', Gone" and "Rickety Rock."

"Natural, Natural Ditty" was reviewed on September 3, 1955 (both sides "good"), along with the Royal Jokers' "You Tickle Me Baby," the Du Droppers' "You're Mine Already," the Tangiers' "Tabarin" (written by Murry [sic] Wilson, father of the Beach Boys), and the 5 Dollars' "Harmony Of Love." That same month, they appeared at the 400 Club in San Diego.

There was another session held on November 14, 1955, at which they recorded "No Shoulder To Cry On" and "How."

"How" was paired with "Rickety Rock" for a January 1956 release. They were reviewed (both "good") on January 21, along with Johnny Ace's "I'm Crazy Baby," Fats Domino's "Bo Weevil," the Treniers' "Rock 'n' Roll Call," the Royal Jokers' "Don't Leave Me Fanny," and the Jaguars' "You Don't Believe Me."

Also in January (exact date unknown), they held their last session for Imperial. This time they recorded "One Night," "Everybody Needs A Little Lovin'," "My Baby," and "Skid Row."


Around this time, bass James Brown left, to be replaced by Willie Willingham. Both Johnny and Willie came from San Bernardino, so it's probable that they knew each other from the club circuit.

In February 1956, they journeyed to Detroit, where they appeared at the Riviera Theater, in a show hosted by DJ Robin Seymour (WKMH). The others on the bill were the Bonnie Sisters, Frankie Lymon & the Teenagers, the Teen Queens, the 5 Keys, and Ivory Joe Hunter. There were two shows, held on February 20 and 27. In the interim, the whole cast traveled to Cleveland, where they appeared at Keith's 105th Street Theater, with DJ Phil McLeon (WERE) hosting the show. While there, they also appeared on Bill Randle's show on WERE.

The final Imperial record was issued in April: "Goin', Goin', Gone," backed with "My Baby." Not too long after this, however, the Jewels broke up.


There's an intriguing photo, sent to me by Jean-Cristophe Piazza, showing Johnny Torrence and Jesse Belvin in a group that's wearing the same jackets that the Jewels wore in both their photographs. I can't identify anyone else in the photo (other than Don Harris, from Don & Dewey, who's not wearing the same jacket), but I'd love to know what this is.

Not willing to quit that easily, however, Johnny Torrence got another group of Jewels together and recorded "She's A Flirt" and "B-Bomb Baby" for the Bihari's RPM Records. Unfortunately, not much is known about this group. There was a tenor named "John," a baritone named "Sam," a bass named Arthur Wilson, and a fifth, unremembered, member (who sings lead on "B-Bomb Baby"). The tunes were released in September, 1956, and reviewed on the 22nd (both "good"). Other reviews that week went to Fats Domino's "Blueberry Hill," the Clovers' "From The Bottom Of My Heart," Frankie Lymon & the Teenagers' "The ABCs Of Love," Shirley Gunter & the Flairs' "I Just Got Rid Of A Heartache," Young Jessie's "Hit, Git, and Split," Artie Wilkins & the Palms' "Darling Patricia," the Flairs' "Aladdins' Lamp," and the Jayhawks' "Love Train." According to Don Sampson (who'll turn up shortly), this group had gotten into a bad car accident and three of them could no longer perform.

February 1957 saw a Rudy Jackson release on Imperial: "Give Me Your Hand," coupled with "Teasing Me." "Teasing Me" was rated "excellent" on March 16 (with "Give Me Your Hand" ranked as "good"). Other reviews that week went to Chuck Berry's "School Day," Bobby Marchan's "Chickee Wah-Wah," the Heartbeats' "I Won't Be The Fool Anymore," the Continentals' "Picture Of Love," the Pretenders' "Close Your Eyes," the Chestnuts' "Who Knows Better Than I," the Sophomores' "Is There Someone For Me?," the 5 Satins' "Oh Happy Day," the Dominoes' "Rock, Plymouth, Rock," and the Mellows' "Moon Of Silver." (Note that the 1962 Angletone release of "Careless Love" by Rudy Jackson and the Tradewinds was by a different singer with the same name.)


There was an odd record released on Knight (a subsidiary of Imperial) in January 1959. One side had the Jewels' "Angel In My Life" and the other Rudy Jackson's "Give Me Your Hand" (the label even has the original Imperial master numbers). However, both sides were credited to "Allen Roberts." It was reviewed (both sides "fair") on March 2, along with the Vibes "Misunderstood," the Channels' "My Love Will Never Die," the Orioles' "At Night," Don & Dewey's "Farmer John," Howie & Sapphires' "Rockin' Horse," the Checker Dots' "Alpha Omega," and the Flamingos' "Whispering Stars." (Thanks to Billy Vera for this information.)

1958 saw Johnny Torrence as lead of the Pentagons (Kenneth Goodloe, Theodore Goodloe, William James, and Carl McGinnis), another group from San Bernardino. However, his only appearance with them was on "It's Spring Again"/"Silly Dilly," released on Specialty in September.


In 1959, Johnny Torrence decided to form a third Jewels group. Johnny, who was from San Bernardino, started visiting all the local clubs to see what talent was around. He encountered Willie Willingham again, who was now singing with a non-recording group called the Episodes. Once Willie was in, he brought in the Episodes' lead singer, Don Ray Sampson. "I was really excited," said Don, "because I was just out of high school and singing in some niteclubs." (Don and Willie had known each other since Don was in the sixth grade; they both sang in the San Bernardino Boys Choir.) Then Torrence saw the Wilson brothers, Al and Eddie, performing and added them to the roster. The Jewels were now Don Ray Sampson (lead), Johnny Torrence (second tenor), Willie Willingham (bass), Eddie Wilson (tenor), and Al Wilson (baritone). Don even remembers wearing the dark jackets with the white crosshatching that you see in earlier photos of the group.

The new Jewels recorded two songs that Don Sampson had written ("The Wind" and "Pearlie Mae") for Buck Ram's Antler label. Released in March of 1959, the record was reviewed on April 6 (both sides "good"), along with Brook Benton's "Endlessly," Little Richard's "Kansas City," the Ideals' "Knee Socks," the Velours' "Blue Velvet," and the Shirelles' "Dedicated To The One I Love."

The third Jewels remained together for about a year and a half, but then Johnny Torrence drifted away. This was due, according to Don, to the group not wanting to sing the Jewels' old songs. (Don says that the only one he'd ever heard of was "Hearts Of Stone.")

The rest of the Jewels decided to remain together and hooked up with Dallas Frazier, author of "Alley Oop." He told them that they sounded somewhat like the Coasters and should have a new name. The one he picked out for them was the "Rollers" (which sounded somewhat like "Coasters").


Frazier was tight with producers from Liberty and got the Rollers an audition. This resulted in three records between January and August 1961, including "The Continental Walk" (written by Don Covay and also recorded by Hank Ballard & the Midnighters), which reached #28 on the R&B charts. Another effort was "The Bounce," which did nothing for the Rollers, but was to be a #23 hit for the Olympics in 1963. In 1962, the Rollers had one further record on Bel-Star (see discography). An added incentive to see them in person was Don's imitations of Louis Armstrong, Nat "King" Cole, and others.

The Rollers did a show with B.B. King and so impressed his manager that he offered them a chance to do a Southern tour with King. However, Eddie Wilson's wife was pregnant and he didn't want to leave her. The group did make a lot of appearances, including several carnivals.


While that was it for the Rollers' recording career, they would remain together until around 1966, when Willie Willingham was diagnosed with cancer. Both Al and Eddie Wilson had subsequent solo careers (with Al having a 1973 #1 Pop hit: "Show And Tell"). Don Ray Sampson then hooked up with the Incredibles, starting as one of their background singers for a while, before replacing Carl Gilbert in late 1967 (he's a regular member by the time of "Standing Here Crying"). Don would go on to have a totally different career: first as a movie stunt man, then an actor. He can be seen (as Don Ré Sampson), in (among others) "Revenge Of The Ninja," "A Hobo's Christmas," "China O'Brian," "Far And Away," "Mortal Fear," "Nobody's Baby," and "Whisper Island."

1962 saw another Johnny Torrence record on Imperial: "Your Lover Man," backed with "Rat Race." His last known record was "I Had A Dream," coupled with "Strawberry Peak," which was issued on Monogram around 1976.

The Jewels were equally adept at singing straight R&B and rollicking Rock and Roll, during a period when the distinction between the two styles was becoming blurred. If it hadn't been for the Charms' recording of "Hearts Of Stone," the Jewels might have had that elusive national hit that all groups dreamed about.




THE JEWELS
LUCKY (as the Marbles)
002 Golden Girl (RJ)/Big Wig Walk (JT) – 3/54

R AND B
1301 Hearts Of Stone (RJ)/ Runnin' (RJ) – 9/54
1303 A Fool In Paradise (RJ)/ Oh Yes, I Know (RJ) – 10/54
1306 Rosalie (JT)/ Living From Day To Day (JT) – 12/54

IMPERIAL
5351 Angel In My Life (RJ)/ Hearts Can Be Broken (RJ) – 4/55
5362 Natural Natural Ditty (RJ)/ Please Return (JT) – 8/55
5377 How (RJ)/ Rickety Rock (JT) – 1/56
5387 Goin', Goin', Gone (RJ)/ My Baby (RJ) – 4/56

UNRELEASED:
Keep Your Feet On The Floor (JT)
One Night (JT)
No Shoulder To Cry On (JT)
Skid Row (JT)
Everybody Needs A Little Lovin' (??)

RPM (second group)
474 She's A Flirt (JT)/ B-Bomb Baby (??) – 9/56

KNIGHT (subsidiary of Imperial; as "Allen Roberts")
2009 Angel In My Life/Give Me Your Hand – 1/59
("Angel" is the Jewel's master; "Hand" is the Rudy Jackson master - see text)

ANTLER (third group)
1102 The Wind (DS)/ Pearlie Mae (DS) – 3/59


LEADS: RJ = Rudy Jackson; JT = Johnny Torrence; DS = Don Sampson



THE ROLLERS (The Antler Jewels without Johnny Torrence)
LIBERTY
55303 Got My Eye On You (all)/Bonneville (AW) – 1/61
55320 The Continental Walk (EW)/I Want You So (EW) – 3/61
55357 The Bounce (all)/A Teenagers' Waltz (EW) – 8/61

BEL-STAR
102 The Bug (EW)/Troubles (EW) – 10/62


LEADS: AW = Al Wilson; EW = Eddie Wilson



JOHNNY TORRENCE
IMPERIAL
5230 Sad Day/ Bad Habit – 3/53
5897 Your Lover Man/Rat Race – 62

SPECIALTY (as lead of the Pentagons)
644 It's Spring Again/Silly Dilly – 9/58

MONOGRAM
117 I Had A Dream/Strawberry Peak – ca. 76



RUDY JACKSON & THE MEL-O-AIRES
R AND B
1310 I'm Crying (RJ)/ Enfold Me (RJ) – 12/54



RUDY JACKSON
IMPERIAL
5425 Give Me Your Hand/Teasing Me – 2/57




Unca Marvy's Home Page
More Articles