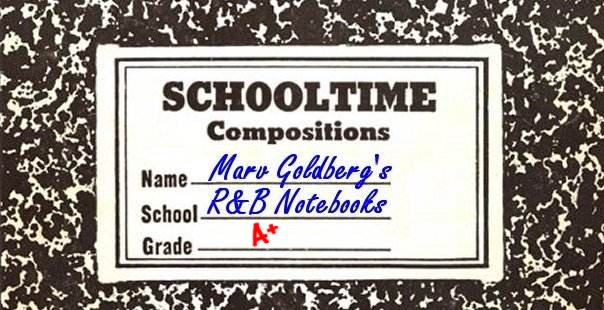 The 4 BLUES
By Marv Goldberg



© 2015 by Marv Goldberg
[AUTHOR'S NOTE: This is going to be another one of those articles that has sound and fury, signifying nothing. The 4 Blues existed for over twelve years, but didn't really leave much of a mark anywhere. I'll try to unravel what I can of their career. Unfortunately, Billboard has only been digitized starting from 1942, so I can't easily track their movements before that time. (In going through old newspapers, I was surprised at how many times the term "four blues" came up. However, it almost always refers to someone winning four blue ribbons.)]


The 4 Blues seem to have gotten together in either 1939 or early 1940 with original members Joseph Gardner (piano and vibes), James "Doc" Starkes (bassist and trombone), and Baxter White (vocals, although they all sang), all Philadelphians; and Ganzyetter Thompson, Junior (electric guitar) of Springfield, Massachusetts. Since no one ever thought of interviewing them at the time, I have no idea how Thompson met the others.

NOTE: This is the correct spelling of "Ganzyetter", born around 1914 in Tennessee, to Ganzy and Rosie Thompson. A hard name to spell, he appeared in the 1930 census as "Anizette", although listed as male. I don't know how he ended up in Massachusetts.

The only ones whose prior careers I can find any trace of are Baxter White (part of the Duke Ellington revue that played the Apollo Theater in September 1936 and a guitarist/vocalist with Cab Calloway two years later) and Joseph Gardner (a member of the 3 Ebony Notes in 1934).

In a 1978 interview, Doc Starkes said that he came to New York and joined the 4 Blues, the house band at McDougall's Tavern in Greenwich Village. Unfortunately, he didn't give a year for that, but he did name the others as Baxter White, Joey Gardner, and Ganzy Thompson. This, of course, implies that there was a bass player before him. He said that they'd played night clubs and auditoriums across the country, but had nothing else to say about them.


We learn from the New York Age of June 29, 1940, that "The Four Blues are heard nightly at the Mimo Club [in Harlem]." And the Brooklyn Daily Eagle of July 25 said, "Henry Armstrong, the boxing champion, making his debut as a singer by chiming in with the Four Blues at Carrie's duBust [sic] Inn at Gay New Orleans in the World's Fair." Gay New Orleans ("a huge village where every day is Mardi Gras time") was run by Michael Todd. The pavilion had several restaurants and Todd had put floor shows in all of them. By August 1, the Four Blues had transferred to Todd's Cafe Louisianne, along with Una Mae Carlisle. Moving into the "Do Bust Inn" (the correct spelling) were Tiny Kaye and the Steppes Of Rhythm, and the Old Absinthe House had the Basin Street Boys. It must have been a hectic time for the 4 Blues, who were shuttling between the World's Fair in Queens, and the Mimo Club in upper Manhattan. (I'm sure you'll be interested to know that it was called "Carrie's Do Bust Inn" ["the rowdiest joint in Gay New Orleans"] because of stripper Carrie Finnell, a tassel-twirler who was the main attraction there.)

The Pittsburgh Courier had this to say in a November 23, 1940 article headed "Mimo Signs The 'Four Blues': "With an eye towards getting into the proper groove for its pending night life career, the Mimo Professional Club, starting next week will present the Four Blues as the nucleus of a compact bit of personal entertainment. Former features of the late New York World's Fair, the singing Four enjoy a wide reputation and appeal in this section and have been booked at the Mimo for an indefinite run. Another feature of the show will be Eddie Barefield and his orchestra, Rodney Sturgis, the singing master of ceremonies, and Betty Cobb." They were still there in December, reported the New York Age on December 14: "The Four Blues featured nightly at the Club played for the enthusiastic dancers assembled throughout the room."

[To explain some of the above: The Mimo Professional Club, founded by Bill "Bojangles" Robinson and bandleader Don Redman in early 1938, was in the basement of the old Lafayette Theater in Harlem, at Lenox Avenue and 132 Street. It was meant to be an exclusive "members-only" dinner club, and was originally conceived, not as a cabaret, but as a place where the members would make their own music "in impromptu fashion". At the time of our story, however, it was converting to a cabaret setting, with booked entertainment, finally receiving a liquor license in December 1940. It became Murrain's in April 1942.]

In late 1940, they began their recording career at Decca Records. On December 3, copyrights were filed for three songs: "Bluer Than Bluer Than Blue", "Honey Chile", and "Jitterbug Sadie". Author credit was given to Ganzyetter Thompson, Joseph Gardner, James Starkes, and Baxter White, plus Emmett Brown (not a member of the group, I can't find out anything about him). The next day, the 4 Blues recorded those three songs, plus "Easy Does It". As a general note, the names on the copyright filings might not match the writer credits on the label itself (for example, "Honey Chile" was credited, on the label, to "Brown - Fletcher - White").


On February 4, 1941, the 4 Blues replaced the Beale Street Boys at Irv Wolf's Rendezvous in Philadelphia. "In their seats will sit the famed Four Blues, booked by Irv Wolf after weeks of negotiations" said the January 31, Philadelphia Inquirer.

The only personal blurb about the group that I could find appeared in a February 1941 Pittsburgh Courier (exact day unknown): "Katherine Jones of L.I. has changed her maiden name to White, enhanced by a Mrs. in front of it all. You can lay the blame on the left-end syncopator with the Four Blues, 'ex' of the Mimo." In English (which entertainment columnists seemed to have quite a bit of trouble with): Baxter White (semi-unnamed) married Katherine Jones, of Long Island, New York. At that point, the 4 Blues were no longer appearing at the Mimo. I'm not sure what a "left-end syncopator" is, unless he normally stood at the left when they performed.


The months went by, but Decca was in no hurry to release anything from their session, finally issuing "Easy Does It" and "Jitterbug Sadie" in April 1941.

In the summer of 1941, the 4 Blues traveled to sunny California. From the August 7 California Eagle: "The Four Blues of New York have hit our coast and have begun to set Hollywood on fire with their marvelous rendition of popular swing and ballard [sic] songs."


March of 1942 found them at the Irving Vaudeville Theater in Wilkes-Barre, Pennsylvania. The March 4 Wilkes-Barre Record had this to say about them: "Heading the stage show at the Irving Theater, starting tomorrow and playing through Saturday are 'The Four Blues' ... coming here after having completed record breaking attendance records [redundancy and hyperbole theirs] throughout the country. They are a quartette of musical fanatics presenting music in a most modern different style." Also on the bill (and probably more interesting to the audience) was a 10-piece orchestra called Hermine's Midgets. A review of the show in the March 10 Record said "The Four Blues with syncopation, rhythm and jive instrumentally gave one of the best liked vehicles of song and music that has been brought here in a long time and they are generous with their numbers. Current hits are played as only these colored boys can corral rhythm. They had the audience swaying with them in almost every beat of the number being wafted over the footlights." (I really hope they didn't pay the writer too much for that barely-intelligible purple prose.) Of course, the big headliner of the show was Sammy Cohen ("You remember him as Mike Murphy in 'The Fighting 69th'" went the copy); they failed to mention that Sammy had only gotten 13th billing in the film, so you could be forgiven for not remembering him.


On May 9, 1942, they were part of the entertainment at the Phonograph Operators' Association Of Eastern Pennsylvania And New Jersey. ("Phonograph operators" were the owners of juke boxes.) At the time, the Blues were appearing at the Kaliner Brothers' Little Rathskeller in Philadelphia. They were back there in June, when this blurb appeared in the June 6 Billboard: "Victor Hugo, maestro at the Little Rathskeller [and, presumably, not the writer of "The Hunchback Of Notre Dame"], penned a new war ballad [now I'm not so sure], Write That Letter Tonight, which the Four Blues will introduce on the Decca label." However, there's no mention in the Decca files of any recording by that name (or, for that matter, a song with that title being recorded by anyone for any company).


Finally, the Big Time: on June 19 they began a week at the Apollo Theater. The headliners that week were Claude Hopkins and his band, dancer Bill Bailey (Pearl's brother), and comedian Tim Moore (the future "Kingfish" on "Amos & Andy"). A few weeks later, they were at the Biltmore Surf Club in Wildwood, New Jersey.


A July 4, 1942 blurb in Billboard said, "'Easy Does It,' 'Honey Chile,' 'Jitterbug Sadie,' and 'Bluer Than Blue' [sic] have all been waxed on Decca by the Four Blues." This is strange, because, while true, they'd all been recorded a year and a half previously. It probably had something to do with "Honey Chile" and "Bluer Than Bluer Than Blue" finally being released in August 1942.

One reason for the August release might have been the "Petrillo Ban". James Petrillo was head of the Musician's Union and, as of August 1, musicians were out on strike (as far as making recordings). Most record companies had stockpiled as many masters as possible in order to have product to sell during the (they hoped) short strike. In Decca's case, they didn't settle with the union until September 18, 1943, thirteen months later. My feeling is that, if it weren't for the strike, the second 4 Blues record would never have been released.

An October blurb said that the Gale Agency (which handled the Ink Spots and Ella Fitzgerald) had set up a special department to handle cocktail units (small combos), called "Gale Miniature Attractions". One of its acts was the 4 Blues.


The October 30, Philadelphia Inquirer reported that the Blues, who had been "delighting the customers in Hollywood with their vocal and instrumental efforts, return to Philadelphia Monday to open at Lou's Germantown Bar."


On November 14, Billboard said, "The Four Blues, now at Lou's Germantown Bar, return to Hollywood for retakes on a recent flicker chore." However, I can't find any listings for them being in any movies. They (and pianist Sammy Price) were at Lou's Chancellor for New Year's Eve (and they'd be held over through February). From there, they went to Wilson's Musical Bar (also in Philly), along with the Freddie Baker Quartet.


On March 20, 1943 Billboard reviewed the March 15 "Victory Caravan" radio show, broadcast on WIP (Philadelphia) on Monday nights from 9:15 to 9:45. It starred Edythe Wright (formerly with Tommy Dorsey), the Merry Malones, and Joe Frasetto & his WIP Orchestra, as well as the 4 Blues (these acts were all regulars on the series). "For the jump and jive singing, also adding much to the show's peppery pace, are the Four Blues, sepia combo culled from the musical bars. Held fast to the Harlem tradition for their singing of Ride, Red, Ride and Amen, sprucing up the selections with their instrumental licks on, guitar, vibes and string bass."

In May, the group went into Herb Spatola's Flanders Grille in Philadelphia. On July 17, they opened at Irvin Wolf's 500 Club in Atlantic City for two weeks. Then it was on to the Cove, in Philadelphia, along with Marjorie Hyans & the Melodiers and the Freddie Baker Quartet.


The August 21, Billboard reported, "Four Blues set for the Lou's Bars circuit next season." (Lou Lantos and Sam Domsky operated a chain of three musical bars in Philadelphia: Lou's Moravian, Lou's Chancellor and Lou's Germantown.) In November, the 4 Blues and DeLloyd McKay were back at Kaliner's Rathskeller.

But they weren't back at Decca. The strike had been settled in mid September, but Decca didn't seem to have much interest in recording the Blues again.


Billboard reported on November 20, 1943 that, "Baxter White, formerly with the Four Blues, steps out as a single at Philadelphia's Hotel Normandie Grille." He had an engagement at the Music Bar of the Manhattan Club (Troy, New York) in December 1945, and then teamed up with Gerald Cook (they played Lou's Moravian Bar in February 1946, when Bon Bon Tunnell was also there). As far as I can tell, he was never heard from again.

Baxter's replacement, was bass/baritone Carroll Jones, who also seems to have played the cocktail drums.

In April 1944, the 4 Blues, along with pianist Nan Jones, were at Carmen's Lido Venice in Philadelphia; they were still there in June. December found them at Philadelphia's Swan Club.


And then, Decca gave them a second chance. It was reported that they were due to record "Thirty-one Miles On A Nickel" [sic} and "We Two On A Cloud". The session took place on December 4, 1944 (four years to the day after their first session), when they waxed "Ride Thirty-one Miles For A Nickel" and "Why Can't I Be Like Everyone Else". While "We Two On A Cloud" seems to have floated away, it didn't really matter too much, since Decca never again released any 4 Blues songs.

One of the writers of "Ride Thirty-one Miles For A Nickel" was Deek Watson, who, at the time of the Blues' session, was between groups (he was out of the Ink Spots and hadn't yet formed the Brown Dots). Once the Brown Dots had come into existence, the tune was included on their first record in May 1945.

"Why Can't I Be Like Everyone Else" was copyrighted on December 13, 1944 by G. Thompson, C. Jones, J. Gardner, and as they put it: "Doc [i.e. J.] Starkes". (From the "Catalog Of Copyright Entries: Musical Compositions, Part 3", for the year 1945.) The fifth collaborator was Bill Tennyson, Jr., who was full or part writer of "Thirty-one Miles For A Nickel"; the Orioles "Getting Tired, Tired, Tired", "Every Doggone Time", and "Waiting"; the Ravens' "Time Takes Care Of Everything"; the Checkers' "I Promise You"; Cab Calloway's "Hey Now, Hey Now"; and even the Mighty Jupiters' "Hy Wocky Toomba".

There were two songs copyrighted on January 20, 1945: "Day By Day" and "Play It Smooth". Both were credited to Ganzyetter Thompson, Carroll Jones, James Starkes, and Joseph Gardner. Were these recorded for Decca? Were they recorded at all?


A few months later, the 4 Blues began recording for David and Jules Braun's DeLuxe Records of Linden, New Jersey (years before the label was bought up by King Records). A May 12, 1945 blurb in the Afro-American said they were recently discovered by DeLuxe in Baltimore (and the article seems to imply that they actually were from there). It continued that they'd been booked into the Little Rathskeller; they'd already cut some records for DeLuxe; and the members were "James Stokes" (bass), "Ganzetter Thompson" (electric guitar), Joseph Gardner (piano and vibes), and Carroll Jones (vocalist). Note that this is where the common misspelling of Ganzyetter's name comes from.

Their first DeLuxe session, held in April, produced five masters: "I Need You Now", "Baby, I Need A Whole Lot Of Everything", "I'm Gone", "Bell Bottom Trousers", and "Chittlins And Pigs Feet". There was a second session (possibly held over two days) not too long after that, when they laid down seven more tracks: "The Things You Want The Most Of All", "Oh Daddy, Please Bring That Suitcase In", "I Couldn't Hear Nobody Pray", "Study War No Mo'", "Noah And The Ark", "When The Old Gang's Back On The Corner", and "The Blues Can Jump".


"I Need You Now" was copyright April 10, 1945 by Ganzyetter Thompson, Joseph Leibowitz, Joseph Gardner, "Carroll James", and James Starkes. Joseph Leibowitz (on the label as "Leib") was DeLuxe's Musical Director. "Baby, I Need A Whole Lot Of Everything" and "I'm Gone" were copyright, by the same five, on May 30.


"I'm Gone" and "Bell Bottom Trousers" became their first DeLuxe release in May 1945; it was listed in Billboard's May 26 Advance Record Releases column. "Bell Bottom Trousers" was a smash hit for Guy Lombardo, Tony Pastor, and Kay Kyser, although not, alas, for the 4 Blues.


In June, the 4 Blues were at Charlie Goodman's New Nomad in Atlantic City, along with Charles Johnson. That same month, DeLuxe released "Baby, I Need A Whole Lot Of Everything", backed with "Chittlins And Pigs Feet" (misspelled "Chittlin's" on the label). These were mentioned in the June 23 Advance Record Releases column.


In August, the 4 Blues were at The Spa in Baltimore and DeLuxe released "The Things You Want The Most Of All", coupled with "Oh Daddy, Please Bring That Suitcase In". For some reason (never explained), it was considered a Big Deal that "Oh Daddy, Please Bring That Suitcase In" (but not the flip) also had the talents of Ann DuPont, a white clarinetist. To me, it was a bigger deal that the song only makes sense when sung by a woman, not a man.


The record was reviewed in the November 13, 1945 Billboard: "Banking bary [baritone] pipes against the sustained harmonies of the others, the Four Blues sing it smoothly enough for The Things You Want Most Of All, a sentimental ballad, without causing any real interest in the song or their singing one way or the other. There's more of a sparkle in their brighter singing of a race novelty, Oh Daddy, Please Bring That Suitcase In, which spins out to greater advantage because of the blues clarinet blowing in back of the voices by Ann DuPont."


The spiritual "I Couldn't Hear Nobody Pray" was released in October, but instead of another 4 Blues tune on the flip, DeLuxe used the decidedly non-spiritual "I Got A Date With Rhythm" by Billy Eckstine. The pairing was also issued, in the same month, with the 4 Blues' side credited to the "Golden Echo Quartet".


"When The Old Gang's Back On The Corner (Singin' Sweet Adeline Again)" and "The Blues Can Jump" were also issued in October. Billboard reviewed the disc on December 22: "Dripping with sentiment and nostalgia, the Four Blues harmonize smoothly for When The Old Gang's Back On The Corner, doubling the tempo to make it a rhythm stanza to spin out the side. The Blues Can Jump, a lively boogie blues that gives a turn to the piano, bass and electric guitar when the boys aren't singing it in straight rhythm or scat." Overall review: "May well be worth the try to put both of these sides in the music box [juke box]." (I have to admit that I'm not exactly sure how you'd put just one of them in.)

On December 15, 1945, DeLuxe threw a big party for all its distributors at the Ritz-Carlton Hotel in Philadelphia. The 4 Blues were part of the entertainment.


"Study War No Mo'" and "Noah And The Ark" were released in December and reviewed in Billboard on January 12, 1946: "With an infectious rhythmic beat to their spiritual singing, the Four Blues impress on Study War No Mo' and Noah And The Ark, giving both a bright and modern rhythm setting." In the same issue, the same record, with the artist credit changed to the "Golden Echo Quartet", was included in the Advance Record Releases column. (Their three spiritual sides were released, seemingly simultaneously, as both the "Four Blues" and the "Golden Echo Quartet".)

February 3 found them as part of a benefit for the March Of Dimes in Harlem. Others on the bill were Bob Howard, the Billy Moore Trio, and Clarence Hunt's Red Devils.


On March 16, 1946, Billboard reviewed the show at Tony Pastor's Uptown in NYC. The overall review of the show, which had at least a half-dozen acts was: "Owners bought a ripe lemon in this show which is anything but right for the Stem [Broadway]." Of the 4 Blues, they wrote: "The Four Blues have a disk public and maybe on wax their strictly cornfield jive grooves sell. On the floor they force too much and their hep routines, Ride, Red, Ride and The Wild Boogie-Woogie, just don't click as fast numbers." Their summation: "... it's all better forgotten."


The summer of 1946 started normally: June found them at the Club 845 in the Bronx, New York. Then, something happened, since this enigmatic blurb appeared in the September 14, Billboard: "Doc Bagby, erstwhile maestro [bandleader], leaves the Roscoe Fretz Quartet to hit the keys [become pianist] for the Four Blues unit undergoing renovations." That would mean that Joseph Gardner had left, to be replaced by Harry "Doc" Bagby. However, since Gardner's name is on many soon-to-be-written songs and he's in a subsequent photo, he wasn't gone all that long. But for a time, the 4 Blues had two members nicknamed "Doc".

On December 18, 1946, Ganzyetter Thompson, Carroll Jones, James Starkes, and Joseph Gardner (who'd returned by this time) copyrighted "Betty (Oow-ee)", "The Monkey Had The Donkey", "The Night I Discovered You", and "Lovely! Lovely! Lovely!". On December 23, when they copyrighted "A Friddle-A-Dee", Jones, Gardner, and Starkes were listed as being from Philadelphia; Ganzyetter Thompson from Springfield, Massachusetts. On January 24, 1947, the same four, along with Donald Scarpa (an Atlantic City violinist who appeared with the orchestra at Babette's Cafe), copyrighted "There's Nothing To Live For". Those five also had "Forgotten Love" (February 2); "It Ain't Whatcha Had" (February 4); as well as "The Golden West" and "I'm Just A Nomad" (March 7). Usually this activity would mean that the songs had just been or would very soon be recorded, but if they were, there's no existing clue as to who they were recorded for; after 1945, the 4 Blues never had another session (as far as is known) for DeLuxe.


In February 1947, the Four Blues and Bob Bell were at the 500 Club in Atlantic City. (He doesn't seem to be the same Bob Bell who was with the 3 Peppers.) The rest of 1947 is quiet until November 17, when they copyrighted "Re-Bop-De Boom-Rip Bam" (words by Gardner & Thompson; music by Jones, Starkes, and Ben Smith). Smith was a bandleader, clarinetist, saxophonist, drummer, and singer, soon to form the Ben Smith Quartet.


On December 13, Ike and Bess Berman's Apollo Records announced the signing of the 4 Blues. This was kind of strange, since it was a common industry practice not to announce signings until the results of at least one session were in the can. Their first Apollo session, however, wasn't held until the 17th, when they recorded six tracks: "It Takes A Long Tall Brown Skin Gal", "Re-Bop-De Boom-Rip Bam", "The Vegetable Song", "I'd Rather Have You Fat And Happy", "It Ain't What You Had", and a re-recording of 1940's "Honey Chile". The prominent clarinetist on most of these was probably Ben Smith.

Strangely, this time around, the writer credits for "Honey Chile" only included James Starkes, the still-enigmatic Emmett Brown, and the long-gone Baxter White, but not Ganzyetter Thompson and Joseph Gardner, who were still with the group.


The January 10,.1948 Washington Afro-American had a photo of the group and said that they were now at the Powelton Cafe in Philadelphia, having recently been at the Club Nomad in Atlantic City.


"It Takes A Long Tall Brown Skin Gal (To Make A Preacher Lay His Bible Down)" and "Honey Chile" (which was led by Carroll Jones) were paired for an April 1948 release. They appeared in Billboard's April 10 Advance Record Release column. However, it took Billboard until July 3 to review them: Of "It Takes A Long Tall Brown Skin Gal", they wrote "Hand-clapping stomp shout. Rhythmic job of chirping and orking with fair get-off clary [clarinet] solo spotted." (they gave it a 74). The flip, "Honey Chile", didn't do so well: "Slow ballad in Ink Spots style. Drags." (and they rated it only a 54).


"It Takes A Long Tall Brown Skin Gal (To Make A Preacher Lay His Bible Down)" was an ancient song, having been recorded by Arthur Collins, on Emerson, in 1917. There were also sheet music covers with photos of various singers, such as Rae Samuels and "Princess Jne Quon Tai", from that era. However you define "hit" for those days, it certainly was one. It had huge sheet music and piano roll sales, as well as being part of innumerable concert programs, well into the 1920s. It was revived by Louis Prima, on Majestic, in 1946 and the Carolina Playboys (a Country & Western group), on Sonora, the following year. The 4 Blues did a great job with it.


For some reason, DeLuxe re-released "The Blues Can Jump" in September 1948, pairing it with "Am I Asking Too Much" by Lee Richardson. It was reviewed on October 30: "The blues can and do jump in a rather deliberate attempt to make rhythm vocally." (They gave it a high mark: 77.) (Richardson's flip was really downgraded, receiving only a 50.)


On April 9, 1949, Billboard announced that "Clarinetist Arthur Davy left the Red Caps and joined the Four Blues at Atlantic City's Club Nomad." Of course, he may have been appearing with them long before this, since Red Caps musicians tended to come and go at a bewildering rate. Also, it doesn't actually say that he joined the group, just that he joined them at that venue; both acts were booked by the Jolly Joyce Agency. When Arthur Davy and the 4 Blues are mentioned together, it's always somewhat noncommittal, usually as "Arthur Davy with the 4 Blues". Was Davy so well known that it made sense for his name to come first? While he did get written up on occasion in the late 30s and early 40s as a bandleader, I wouldn't have thought so. (On the other hand, in the one photo of him with the group, he seems to be wearing the same suit as the others, although a different tie. Note that whenever I see that photo, the man pointing to the drum is identified as Slim Gaillard; it's really Carroll Jones.)


Also in April, Apollo released "Re-Bop-De Boom-Rip Bam", backed with "The Vegetable Song". Billboard said (on June 4) of "The Vegetable Song": "song's funny - a succession of outrageous puns on various vegs. But the group does it dead serious, making for an incongruous, humorless job." (65), and of "Re-Bop-De Boom-Rip Bam": "Utterly inconsequential nonsense song isn't worth the trouble." (50). Actually, I've always found "The Vegetable Song" to be unbearably stupid (my own opinion, of course) and have kinda liked "Re-Bop-De Boom-Rip Bam".

According to the label, "The Vegetable Song" was led by Ben Smith. While he was one of the writers of "Re-Bop-De Boom-Rip Bam", there's nothing else linking him to the 4 Blues. Why was he at their session (other than that they did seem to have a fondness for clarinetists)? Even more confusing is that you can hear the clarinet on "The Vegetable Song" behind the lead singer. (Either there was another clarinetist present and Smith sang the vocal or this is a label error based on Smith being at the session.) This is just another of the mysteries surrounding the 4 Blues during their Apollo years.

Over the summer of 1949, with small combos ("cocktail units") the big thing in clubs, the 4 Blues settled into the Atlantic City's Nomad. With them were Arthur Davy and Earl Plummer. Plummer, a lead tenor, was another former member of the Red Caps. However, just like with Arthur Davy, it's hard to tell if he was actually a member of the 4 Blues or just booked into the same venues by the Jolly Joyce Agency (which handled all three acts). In either case, both were certainly de facto members for a while. A July 23, 1949 blurb in the Pittsburgh Courier, refers to them as "Arthur Davy and Earl Plummer with the Four Blues"; that doesn't seem to me as if it's a single act.

An August 1949 blurb talks about Arthur Davy singing "Missing" with "the Blues" at the Club Nomad. This is the first I ever knew that he sang. Even more intriguing, is this the same song as "Missing You", soon to be recorded by the 4 Blues?


In a large ad (December 3, 1949), Earl Plummer was mentioned by Jolly Joyce, but not the 4 Blues. In December, he's at the Willows in Wilmington, Delaware ("formerly featured vocalist with Steve Gibson's boys [the Red Caps]"). The 4 Blues with Arthur Davy went into Chubby's (in Collingswood, New Jersey) for three weeks, beginning January 6, 1950. A February 4 ad for the Jolly Joyce Agency mentions the 4 Blues ("with Arthur Davy - Apollo Records"); Earl Plummer was listed separately, as a soloist.

They were advertised as "The Four Blues, with Arthur Davy" either to account for there now being five of them or to convey that they were really two separate acts, booked together by the same booking agency. However, a February 22 ad has Davy "famous vocalist and instrumentalist" appearing on his own. His credentials: "formerly with the Red Caps" (not "formerly with the 4 Blues" or "formerly with the Red Caps and the 4 Blues"). The Red Caps were always a Big Deal; the 4 Blues weren't.


A Jolly Joyce ad from April 1, 1950 has both the 4 Blues and Earl Plummer appearing at the Quonset Inn, Sliver Spring, Maryland (there was no mention of Arthur Davy). The copy says "4 Blues and Earl Plummer", which makes it sound like they're two separate acts, not one. Unfortunately, the Joyce Agency always made it ambiguous.


Around a week later (April 10), the 4 Blues had their second Apollo session, along with Earl Plummer. This time they recorded three tracks: "As Long As I Live" (led by Earl Plummer), "I Need You" (fronted by Carroll Jones), and "Missing You". "Missing You" and "As Long As I Live" were released in May.

Since the second Apollo session took place while both the 4 Blues and Earl Plummer were appearing at the Quonset Inn, this tells me that either (1) Plummer was part of the group (although that's not exactly what the ad says), or (2) they both appeared together and decided to record together (and he was never actually a member).

Note that there's nothing whatever to associate Plummer with the 4 Blues in December 1947, when they held their first Apollo session. In fact, an August 8, 1947 Jolly Joyce ad has him as a member of the Red Caps (although I know how quickly their personnel turned over).

Conclusion: I don't think, after all my research, that Earl Plummer was really ever a member of the 4 Blues. The Joyce Agency seemed to go out of its way to be unclear about it (and I've started to take it personally).


"Missing You" presents another mystery. The label credits the authorship to "Starker - Peterson", with the vocal by James Peterson; BMI has the authors as Charlotte Easley (a vocalist from Olean, New York; I have no idea how she got mixed up in this), Carroll Jones, and James Peterson; the copyright was filed (on April 11, 1952) for James Peterson and James Starkes (music) and Carroll Jones (lyrics). (Trust the music business to make anything more complicated.) "Starker" is easy, it's just "Starkes" misspelled. But who is the James Peterson in each of these lists? I can't find anyone by that name associated with either the 4 Blues or Jolly Joyce. (Note that I always see the lead on both "As Long As I Live" and "Missing You" credited to Earl Plummer, although they're clearly sung by different people. Not having that great an ear, however, I checked that statement with some singers, who agreed.) One simple explanation is that Peterson wrote a song that he wanted the 4 Blues to record. At the session, he wasn't happy with the way it was being done and decided to lead it himself. ("My Heart's Got The Blues" by the 5 C's was recorded in exactly this way.) Or, he might have actually been another Jolly Joyce act who was thrown into the session the same way I think Earl Plummer was. Or, since we know the label copy was already incorrect with "Starker", maybe this was an error too. I doubt we'll ever know.


However, if I had to make a guess, I'd say that this is pianist Jimmy Peterson who would become part of Louis Jordan's Tympani Five from the middle of 1951 to early 1953. A resident of Philadelphia, he was killed in a car accident in February 1953. Another member of Jordan's unit at the same time was bassist Bobby Bushnell, who would end up, in 1954, in Romaine Brown's Romaines, another Philadelphia unit booked by Jolly Joyce. Just one big happy family.


Finally, my confusion ends: By September 1950, Earl Plummer was back with the Red Caps and a Jolly Joyce ad in November called the group "Ganzy Thompson & His 4 Blues" (the only time I saw that designation used). Arthur Davy drifted away too, taking his vague status with him. After being booked as a soloist in 1950, by June 1951, at the latest, he was with Plink, Plank And Plunk. (His status there was somewhat hazy too. A July 16, 1951 ad has "Plink - Plank n' Plunk, featuring Arthur Davies [sic] (formerly with the Red Caps)". The accompanying photo shows four members, with Davy's head pasted in. Throughout all of July, he was billed as "Davies". The good news? It's not the 4 Blues and I'll let someone else try to figure them out!)


The April 26, 1952 Afro-American reported that old friend Doc Bagby had just closed at the Comedy Club in Baltimore and "the original Four Blues move in on Monday." The May 3 Afro-American said that they'd been held over. The last mention that I can find of the group is when they played the Casino in the Allentown/Bethlehem area of Pennsylvania in late December 1952.


There's one more photo that I found of the 4 Blues. This was an advertising sheet put out by the Gale Agency, which pictures a later group. The 4 Blues had been with Gale in the early 40s, but it looks like they left Jolly Joyce to go with Gale again. Ganzyetter Thompson is at left and Carroll Jones is definitely third from left; I don't know who the other two are. By this time, Doc Starkes is gone. (By early 1954 he'd briefly be with the Piccadilly Pipers and then go on to form the Nite Riders/Night Riders.) Dan Kockakian provided me with another photo of that same group that had appeared in the May 3, 1952 Baltimore Afro-American. I can't find any mention of them at all after 1952. (There's a tantalizing ad for a 4 Blues act appearing at the Twin Pines, in Kittanning (western Pennsylvania) in March 1958, but I don't really believe this is them.)

The 4 Blues were an inconsistent group, based on performance and record reviews. Dismal failures with their recordings, they still must have pleased a lot of people in shows, since they were together for at least a dozen years.


Special thanks to Tony Fournier, Victor Pearlin, Bob Stallworth, Neil Hirsch, and Billy Vera. Discography courtesy of Ferdie Gonzalez and Disco-File.




THE 4 BLUES
DECCA
8517 Easy Does It/Jitterbug Sadie - 4/41
8637 Honey Chile/Bluer Than Bluer Than Blue - 9/42

DECCA UNRELEASED
Ride Thirty One Miles For A Nickel (rec. 12/4/44)
Why Can't I Be Like Everyone Else (rec. 12/4/44)

DELUXE
1000 Bell Bottom Trousers/I'm Gone - 5/45
1001 Baby, I Need A Whole Lot Of Everything/Chittlins And Pigs Feet - 6/45
1002 The Things You Want The Most Of All/Oh Daddy, Please Bring That Suitcase In - 8/45
("Daddy" features the clarinet of Ann DuPont)
1003 I Couldn't Hear Nobody Pray/[I Got A Date With Rhythm - Billy Eckstein] - 10/45
(1003 also issued as the Golden Echo Quartet)
1004 When The Old Gang's Back On The Corner/The Blues Can Jump - 10/45
1005 Study War No Mo'/Noah And The Ark - 12/45
(1005 also issued as the Golden Echo Quartet)
3195 The Blues Can Jump/[Am I Asking Too Much - Lee Richardson] - 9/48

DELUXE UNRELEASED
I Need You Now (rec. 4/45)

SONGS COPYRIGHTED BY THE GROUP AND PRESUMABLY RECORDED FOR SOMEONE
(copyright date given - see text)
Betty (Oow-ee) (12/18/1946)
The Monkey Had The Donkey (12/18/1946)
The Night I Discovered You (12/18/1946)
Lovely! Lovely! Lovely!" (12/18/1946)
A Friddle-A-Dee (12/23/1946)
There's Nothing To Live For (1/24/1947)
Forgotten Love (2/2/1947)
It Ain't Whatcha Had (2/4/1947)
The Golden West (3/7/1947)
I'm Just A Nomad (3/7/1947)

APOLLO
398 It Takes A Long Tall Brown Skin Gal/Honey Chile - 4/48
1145 Re-Bop-De Boom-Rip Bam/The Vegetable Song - 4/49
1160 Missing You/As Long As I Live - 5/50

APOLLO UNRELEASED
I'd Rather Have You Fat And Happy (rec. 12/17/47)
It Ain't What You Had (rec. 12/17/47)
I Need You (rec. 4/10/50)




Unca Marvy's Home Page
More Articles