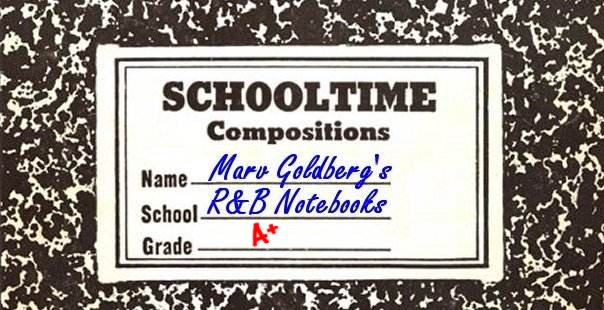 The King Odom Quartet

By Marv Goldberg

Based on interviews with David Bowers,
Cleveland Bing, and Isaiah Bing

© 2004, 2009 by Marv Goldberg
Although the name David "Boots" Bowers isn't a household word, he was certainly one of the finest bass voices around in the late 1940s and 1950s. While you may never have heard of him, he sang with three groups you probably have heard of: the King Odom Four, the Lloyds Larks and the Argo Ravens. [In the late 1940s, he had a girlfriend who called him "Bootsie" and that nickname (or its later derivative, "Boots") stayed with him for most of his singing career.]

Originally from South Carolina, Boots came to New York in 1944 (when he was around 15) and joined a gospel group called the Southern Trumpeters as lead tenor. The Trumpeters' second tenor was Isaiah Bing, who was one of Boots' boyhood friends. Isaiah had sung with the "Bing Brothers" gospel group and was biding his time with the Trumpeters until the others (his three brothers and an "outsider") got out of the service. When they were discharged in late 1945, Isaiah left the Trumpeters to rejoin them. Boots quit the Trumpeters too, switching over to the Skylight Singers.

[Considering that Isaiah was one of 17 children in the Bing family, it would be strange if they hadn't had enough singers for a group. The Bing Brothers consisted of brothers Cleveland, Columbus, Randolph, and Isaiah, along with childhood friend Henry McCastle. While they never recorded, they did a lot of radio work in Augusta, Georgia.]

In the Skylights, Boots replaced a lead tenor named Sonny. The other members of the group at the time were: Bill Barren (tenor), Larry Harper (baritone), Jimmy Brown (bass) and Clem Ross (guitar). The group had a contract with Regis/Manor/Arco and Boots did tenor lead on several of their recordings.

In January 1946, the Skylight Singers went on a tour that took them through the South. It was then that Boots first met Gene Mumford, who was singing with the Four Interns in Durham, North Carolina. They'd end up singing together many years later.

Because spiritual singing didn't pay much (they got small flat fees for recording and there were no royalty contracts), the group took their voices, their songs, and their arrangements to another company (Boots didn't remember which) and recorded as the Bible Tone Gospel Quartet. It was hoped no one would notice.

When Boots was around 17, his voice started dropping. At this point, Jimmy Brown trained him to be a bass singer. On one of their recordings ("Tell Me What More Can Jesus Do"), Boots is singing bass and Jimmy is singing tenor!


Finally, with families to feed, second tenor Isaiah Bing and his brother Cleveland "Bill" Bing (a baritone) decided to form a pop group in order to make some decent money. They recruited Boots Bowers for the bass, and, as lead singer, David "King David" Odom. When Bill had gotten out of the service, he attended music school in New York (the Anthony Scotti Studio) on the G.I. Bill; King Odom, whom the Bings knew from South Carolina, was another student there. As a promotional effort, the new group did a radio show every Saturday morning from the school's studio. They even made it to one of Scotti's ads.

A little more digging turned this up: although he was "David Odom" in both the 1920 and 1930 censuses, on both his Social Security registration (in June 1938) and his October 1940 World World War 2 draft registration, he gave his legal name as "King David Odom". He was even listed in a 1940 column of draft numbers as King David Odom. His 1988 obituary also had him by that name. In none of these cases is the "King" used as a nickname. Amazingly, he wasn't the only King David Odom from South Carolina; there was another one who was 10 years older.


The group called themselves the King Odom Quartet, regardless of what record companies would call them. In addition to the four voices, Boots Bowers played the bass and Bill Bing played guitar. In time, they added pianist Clarence Johnson, who was quickly replaced by Glenn Burgess (who had relocated to the U.S. from Barbados in 1927).


October 20, 1947 found the group on the Arthur Godfrey Talent Scouts radio show. They sang "Oh, She's A Beauty," a little-known song by Stephen Foster. While I don't know how they did (I'm sure someone would have mentioned to me if they had won), the newspaper blurb actually had all their names correctly spelled. (In those days, the newspapers printed the names of all the contestants that were to appear that night; the others were ventriloquist Kae Karole [and her dummy "Tommy"], concert pianist Sherman Frank, and singer Jimmy Farrell.) I'll presume they didn't win because acts usually played this up in subsequent press releases. The blurb said that they'd formed in the Army in 1943 and, as civilians, re-formed the group in early 1947. (At least that's what their press agent believed.)

In late 1947, the new group secured a recording contract with Paul Puner's Musicraft label (located at 245 East 23 Street in New York City). They were recruited by Dick Stutz, an aspiring songwriter, who somehow set up the Musicraft deal, probably to promote his songs. He co-wrote (with someone named Rick French) three of the four songs done at their first session: "Who Struck John," "I Found A Twinkle," and "Moonlight Frost." The fourth song done that day was "Pickin' A Chicken." All were led by King Odom, but none was immediately released.

Their second session, held in January 1948, resulted in another four songs: "They Put John On The Island" and "I'm Livin' Humble" (two gospel tunes, led by Bill Bing), "I'm Looking Over A Four Leaf Clover" and "Mary Lou" (both fronted by King Odom). However, on January 1 of that year, the American Federation Of Musicians went on strike. Both Boots (who played bass) and Bill (a guitarist) were members of Local 802, and therefore couldn't play on the recordings. No problem. Musicraft got the Harmonicats, an all-harmonica band, none of whom belonged to the union. Just to be on the safe side, the Harmonicats recorded as the "Polka Dots".

This time, however, there were some releases: "I'm Looking Over A Four Leaf Clover"/"Mary Lou" were released in February. "Clover" was one of at least 15 covers of the tremendous Art Mooney hit. Also, on February 7, the King Odom Quartet appeared on WOR's Harlem Hospitality Club emceed by Willie Bryant. They sang "Pickin' A Chicken" and also "I'll Dance At Your Wedding," to which Bill "Bojangles" Robinson tap danced (not bad for radio).


In March, Musicraft released "They Put John On The Island"/"I'm Livin' Humble". On the 5th, they appeared at the Apollo Theater, along with Cootie Williams, the Nat Towles Band, Mae Gaddy, Hicks & Berry, Jacqueline Hurley, and the Spider Bruce comedy trio.


On April 30, 1948, the King Odom Quartette was at the Binghamton (New York) Vaudeville Theater. I definitely would have gone to the show, but probably to see Welde's Performing Bears (I hope they ride unicycles while juggling flaming chainsaws).


On May 10 and 11, 1948, the King Odom Four were at the Oxford Theater (Bridgewater, New Jersey (advertised as a vaudeville act). From there, they played the Broadway Theater in Kingston, New York (as the "King Odem Four"). Then, it was the Congress Theater in Saratoga Springs, New York. Later that month, the group was featured at Le Ruban Bleu, a New York club that was famous enough to be mentioned by Phil Silvers' character in the movie Top Banana. Owner Julius Monk sometimes billed them as the King Odom Quartet, other times as the King Odom Four, and even King Odom And His Men. Here's the Billboard review of their performance at Le Ruban Bleu:

The King Odom Quartet, four-part harmony, sound a little like most of the other Negro quartets around. When they do Shadrack, they resemble the Golden Gate Boys; other times they remind of the Ink Spots (particularly when the tenor lets go). The four lads blend their voices competently, look nice and sell fairly well, tho they need better numbers. Their They Put John On The Island and I'm Living Humble, both of which they've done for Musicraft, are ok but aren't projected with enough bounce for a visual audience. However, the lads sing well enough at present and with more experience will probably acquire a selling style to make them distinctive.

In June, Musicraft released the lovely "Moonlight Frost," backed with "Who Struck John." Then, in July, the last Musicraft record was issued: "Pickin' A Chicken"/"I Found A Twinkle."

On July 7, they became part of a weekly radio broadcast (with Lucky Millinder's Orchestra, Jackie "Moms" Mabley, the Hall Sisters, Paul Breckenridge, and emsee Noble Sissle) called Swingtime At The Savoy. It was heard on NBC on Wednesday evenings between 8-8:30, as a summer replacement show for Dennis Day. This was a sustaining program, which meant it had no sponsor. It was called the "... first all-colored script show ever attempted in the varied history of NBC ..." by the New York Age. On July 28, the guys sang "Uncle Ned" on the show; on August 4, 1948, they gave us "Hand Me Down My Walking Cane" and "Basin Street Blues." In an article from June (before the first program had been broadcast), Lucky Millinder was proud to proclaim that there'd be no racial stereotypes on the program (he probably forgot that the show's title, until the night it first aired, was The National Minstrel Show; it was changed when the NAACP objected). The show did so well that NBC extended it one week past August 18 (after which Dennis Day was supposed to have returned). However, it couldn't become a regular show since it didn't have a sponsor. The show had, as guests, acts like Ella Fitzgerald, the Ink Spots, Billie Holiday, and W.C. Handy. Strangely, its last performance (August 25) was listed in the newspapers as just the "King Odum Quartette," with no mention of Swingtime At The Savoy.

The article in the August 28, 1948 New York Age tried to put the best possible light on the defunct show. With typical understatement, they said: "Adjudged the greatest audience show on radio [that is, a show with a live studio audience], the musical opus played to an overflowed house every broadcast, despite the fact that it emanated from the largest studio in the NBC building." The cast included, it said, "the King Odum Trio" (so much for fame [and accurate reporting]). It continued: "... the show has been assured a spot for next summer." Of course, that never happened.


However, there was supposed to be one more Musicraft record. Billboard listed advance record releases, and in the August 7, 1948 issue there was a mention of Musicraft 585: "Down By The Old Mill Stream"/"I Like My Chickens Frying Size." It even gave the Polka Dots as the back-up band. Presumably this record was never actually released. (However, I'm not sure if record companies sent actual records that just hadn't been generally released yet or if it was just a notice to Billboard that these records were coming.) Other unreleased Musicraft cuts were "I Got It Bad (And That Ain't Good)," "Route 66," "So Long," and "She's A Beauty."

There were also several other transcription recordings, probably from 1948, but who they were recorded for remains a mystery: "What's Happened Between Us," "Shadrack," "Just A Dream Of You," "My Last Goodbye," "Because Of You," "Ducky Wucky," and "Ring Them Bells." All were led by King Odom, except "Ring Them Bells" and a particularly uninspired version of "Shadrack" (both led by Cleveland).


On Labor Day weekend in 1948, the guys were on a Vaudeville show at the Broadway Theater in Kingston, New York. The blurb almost accurately reported their beginnings as having formed from "southern farm workers." From there, they went on to the Esquire Cafe in Montreal. On November 26, it was back to the Apollo, this time with Illinois Jacquet and Hot Lips Page.

A Billboard blurb from December 1948 mentioned that Joe Thomas (the Ravens' vocal coach and someone who seemed to be all over the music industry) had some King Odom Quartet masters that hadn't appeared on any label. No titles were given.


Ciro's

Barbary
Coast
Club
Cal-Neva
Bowery

Regal
Theater
Bill
Green's
In 1949, they got the opportunity to do a country-wide tour with Savannah Churchill. The first mention is at the Thunderbird Hotel in Las Vegas (on January 25, but as the "King Odem Four"), then the Cricket Club (Hollywood; ad said "King Odum Trio") in February. Right after that, it was Ciro's (Hollywood). In March, the Barbary Coast (Oakland). Early April found them at the Club Cal-Neva (Reno, Nevada), followed by Frank Barbaro's Bowery Cafe in Detroit. They closed out April with a week at the Paradise Theater (Detroit), before moving on to the Regal Theater (Chicago). From there, it was the Kiel Opera House (St. Louis, where they were billed as the "Kingdom Quartet") and Chubby's (West Collingswood, New Jersey; owned by a former boxer named Chubby Stafford). Then it was into the Apollo Theater (New York) the week of June 3, before finishing up at Bill Green's (Pittsburgh) in the middle of June.

While they were in Detroit, April 23 found them as part of the entertainment at the Michigan Automatic Phonograph Owners' Association. They were billed as "... the King Odom Trio, from the Bowery". The Bowery in question was Detroit's Bowery Café. However, unless one of them was ill, I don't understand the billing of "trio."

After talking about Savannah, this is what a reviewer (June 11, 1949 Billboard) said about the group's appearance at Chubby's:

Moreover, the gal has the decided advantage of an excellent vocal bank provided by the King Odum [sic] Quartet, four lads with their own bass and guitar accomps.

The King Odum [sic] Quartet, with smartly tailored harmonies developed around a male soprano voice and deep bass, also make a marked impression on both the torch ballads and the rhythm spirituals.

On June 3, 1949, they, and Savannah Churchill, appeared at the Apollo Theater for a week. Also on the show were Dizzy Gillespie, Johnny Hartman, the 3 Brown Buddies, and comedian Pigmeat Markham. Apollo owner Frank Schiffman summed up their appearance: "Savannah appeared with the King Odum [sic] Four. Not too well received."


In September, they were back at Le Ruban Bleu, along with Bibi Osterwald, Paula Drake, Michael Brown, and the Norman Paris Trio. This time the reviewer said that "... they have fine voices, good arrangements and seem to enjoy their work." November 3 found them at the Capitol Theater in Scranton, Pennsylvania. On November 16, they opened at the 20th Century Theater in Buffalo. In late December, they played the Paramount Theater in Syracuse, New York, as part of its Vaudeville show.


In January 1950, they appeared at Hamilton's Nite Club in Wilkes-Barre, Pennsylvania. That same month, they signed with Larry Newton's Derby label. The signing was announced in February, by which time they'd already cut "I'm Glad I Made You Cry" (led by King Odom), "Lover Come Back To Me" (Boots Bowers), "If You Didn't Love Me" (King), and "Walkin' With My Shadow" (King).


Starting in June 1950, the group began touring extensively in Canada (playing the Morocco Club in Quebec, as well as the Gatineau, in Ottawa, twice during the summer of 1950 (June and August). However, when they were replaced at the Gatineau by the 3 Riffs, the June 19 Ottawa Citizen said: ".... [the 3 Riffs] are terrific in anything they do. They are better rehearsed and more polished than the King Odom Quartet." A blurb in August praised pianist Glenn Burgess and his vocal contributions to their version of "Rag Mop."

Derby issued "I'm Glad I Made You Cry"/"Lover Come Back To Me" in March 1950. However, gone was the "King Odom Quartet"; all of the Derby sides were by the "King Odom Four." The trades rated both sides of this disc as "good." The other two sides ("If You Didn't Love Me" and "Walkin' With My Shadow") were released in July, while they were at the Morocco Club in Val d'Or, Quebec.

Their second Derby session was held around November 1950. The four tracks recorded were: "What A Wonderful Feeling," "My Heart Cries For You" (both led by King), "Rain Is The Teardrops Of Angels" (King and Boots), and "All Of Me" (Boots).

"What A Wonderful Feeling" and "My Heart Cries For You" were released in January 1951 (with both rated "good"). The label on this one misspelled King's name as "Odum." In February 1951, they appeared at the Little Rathskeller in Philadelphia. The final two Derby masters, "Rain Is The Teardrops Of Angels" and "All Of Me," were issued in March. Also in March, they appeared at the Blue Angel in Manhattan.

In October 1951, the guys were back at the Gatineau Club in Ottawa. They also made a successful appearance at the Cambridge Community Center in that city, for which they received a scroll of appreciation.

While the King Odom Four are usually credited with backing up Savannah Churchill on a couple of songs recorded for RCA Victor: "My Affair" and "I'm So Lonesome I Could Cry" (released March 1952), the group behind her is actually the Striders. More interesting was that, in the early 50s, Boots and Isaiah became brothers-in-law when they married two sisters.


In early 1952 they cut some sides for Peter Doraine's Abbey label (released as the "King Odom Four"). "Lucky" and "Don't Trade Your Love For Gold" (both led by King) are the known titles. However, since the master numbers aren't quite consecutive, there must have been a couple of others too. These were issued in March 1952, and were, once again, rated "good." Also in March, they appeared at the 33rd birthday of the Huntingdon (Pennsylvania) American Legion.


June 1952 saw them appear at the annual Richland Carnival (in Lebanon, Pennsylvania). In September, the "King Odum Four" were at the Fairmont Golf And Country Club in Ottawa for a week. November found them at the Penn Theater in Wilkes-Barre, Pennsylvania.

On February 5, 1953, they appeared on "Chance Of A Lifetime", a television show that featured young talent that had already appeared professionally. The winner was chosen by the studio audience and received $1000. Even the losers could find themselves with new bookings. I assume, from lack of mention in subsequent write-ups, that they didn't win.

In April 1953, they were the featured singers at an American Legion banquet in Huntingdon, Pennsylvania. They had just completed an engagement at the Palace Theater and had spent two weeks on the Kate Smith television show (they'd be back at least twice more that year). The article about them appearing in the show was actually featured on the first page of the local newspaper. After this, however, the group began to crumble. As usual, money (or more accurately, the lack of it) was the cause. Says Isaiah: "We didn't make it. We didn't sell records or get the big dollars. Just kind of fizzled out. We had financial responsibilities." The last appearance I can find for them is in September 1953 at the Morocco Club in Val d'Or, Quebec.

By 1953, pianist Glenn Burgess had joined the Golden Gate Quartet (which then consisted of Clyde Riddick, Orlandus "Dad" Wilson, Eugene Mumford (former lead singer of the Larks), and Orville Brooks (formerly of the Jubalaires). Later that year, Gene Mumford decided to return to secular music. He recruited fellow Gates Orville Brooks and Glenn Burgess and set about looking for some other singers. By then, the King Odom Quartet had reached the end of its days, and Burgess persuaded Boots Bowers and Isaiah Bing to join with Mumford and Brooks. These five took the name of Mumford's old unit, the "Larks." An April 1954 blurb in the trades had the "newly-formed" Larks appearing at Le Ruban Bleu in New York. This is the group that would go on to record for Apollo's Lloyds subsidiary.

In a way, there was a trade-off. Bill Bing was immediately grabbed up by the Golden Gate Quartet as a replacement for Orville Brooks.

King Odom wasted no time in forming a new group (whose members remain unknown; when Boots listened to the songs, he said that he couldn't recognize any voices and that neither side was led by Odom). After a few months of practice, the "King Odom Quartette" recorded "Amazin' Willie Mays" and "Basin Street Blues" for Perspective. This label was owned by two unlikely people: Sam Florman (an engineer) and Henry Engel (a furrier). Florman and Engel were ready to release "Amazin' Willie Mays" (which they had written) in June or July 1954, when the New York Giants stepped in to squash it, claiming it would invade Mays' privacy. This didn't seem to bother the Treniers, who released "Say Hey (The Willie Mays Song)" for Epic in July. (We know it didn't bother them because they even had Mays himself on the record.) While the Treniers song was rated "good," when "Amazin' Willie Mays" was finally issued in August, it was rated "poor." The Billboard reviewer said "But this is no homer; on this one Willie didn't get to first base."


The only small clue we have to the personnel of this group is a little article from the April 6, 1957 New York Age, which talks about the new La Salle Record Company. One of their artists is David Brown, who claimed to have sung with the King Odom Quartet. Could be; that's an odd group to insert yourself into if it weren't true.

Here's a strange article from the July 16, 1954 Flatbush Times:


Charlie La Verne, a Flatbushite who is fast taking over Irving Berlin's laurels. He has put his furst popular release on platter through the Herald label. His new number, "All Through The Years", has a most unusual and pleasant beat containing four rhythms. On the reverse side is another Le Verne composition, "If You Should Need Me", sung by the King Odum group.


"All Through The Years" was released on Herald, but by Day, Dawn & Dusk (and La Verne was credited as one of the writers). But the flip was another DDD side, "The Kiss (That Broke My Heart)". I suppose it's possible that the King Odom group did record "If You Should Need Me" for Herald; if so, it was never released.

After the Perspective record went nowhere, King gave up the music business, becoming a machinery repairman. David "King" Odom passed away in November 1988.

The Lloyds Larks group lasted less than two years. Afterwards, Glen Burgess went back to the Golden Gate Quartet, Gene Mumford joined the Dominoes, and Boots Bowers became a member of the Ravens. (After the Larks broke up, Boots didn't really want to get involved with another group, but he went to the mid-1956 audition just to prove to himself that he was good enough to be the bass of the Ravens. After Dave had sung a few lines from several Ravens' tunes, rest of the hopefuls were sent home.)

The Ravens (with Joe Van Loan in the lead) remained together until the end of 1958. (During this time Boots did lead on "Water Boy" and "Lazy Mule.") In 1959, Joe Van Loan, Willie Ray (a pal of Van Loan's, formerly of the Du Droppers), Orville Brooks, and Boots Bowers formed the Buccaneers, who toured extensively (including Argentina!), but made no recordings. After that, Boots, tired of being on the road, opted to stay home. Except for some minor work with a combo (for weddings and other functions), he pretty much gave up singing. David "Boots" Bowers died in October 1995. Glenn Burgess passed away in May 2006. Orville Brooks died in August 1997. Isaiah Bing passed away on September 1, 2008; older brother Bill Bing died on January 22, 2014, at the age of 91.

Trying to classify the sound of the King Odom Four could drive you to drink. On "Mary Lou" and "I'm Looking Over A Four Leaf Clover" they're backed by the Harmonicats (a harmonica trio recording as the "Polka Dots"); "I'm Living Humble" and its flip are gospel tunes; "Moonlight Frost" is a beautiful R&B ballad; "My Heart Cries For You" is Pop (and, in my opinion, much better than the Larks' version); "What A Wonderful Feeing" is part waltz, part jump; "Lucky" has violins, as does "Don't Trade Your Love For Gold," which is uptempo besides. Boots said they were "fishing for a sound to get a hit." It's a shame they never got it.


Special thanks to Ferdie Gonzalez, George Moonoogian, and Tony Fournier.



KING ODOM DISCOGRAPHY
MUSICRAFT (as King Odom Quartet)
543 Mary Lou (KO) /I'm Looking Over A Four Leaf Clover (KO) - 2/48
554 I'm Livin' Humble (CB)/They Put John On The Island (CB) - 3/48
575 Moonlight Frost (KO)/Who Struck John (KO) - 6/48
579 Pickin' A Chicken (KO)/I Found A Twinkle (KO) - 7/48
585 Down By The Old Mill Stream/I Like My Chickens Frying Size
[mentioned in the 8/7/48 Billboard, but never actually issued]

UNRELEASED MUSICRAFT
I Got It Bad (And That Ain't Good) (KO)
Route 66 (KO)
So Long (KO)
She's A Beauty (CB)

Note: four Musicraft sides by the King Odom Quartet were included on an album (Todd Duncan and the Gospel Singers Sutton LP SU-285; date unknown-Sutton albums are pretty much undatable). These ("I'm Living Humble," "Moonlight Frost," "Who Struck John," and "I Found A Twinkle") were not credited to anyone in particular on either the label or the jacket (although King Odom's name is mentioned on the jacket). Strangely, in spite of the album's title, only "I'm Living Humble" is a gospel song. [For those of you interested in such stuff, Todd Duncan played "Porgy" in the original 1935 production of "Porgy And Bess."]

HARLEM HOSPITALITY CLUB RADIO SHOW - performed Feb 7, 1948
Pickin' A Chicken (KO)
I'll Dance At Your Wedding (KO; tap dancing by Bill "Bojangles" Robinson)

SWINGTIME AT THE SAVOY RADIO SHOW
Uncle Ned - performed July 28, 1948
Hand Me Down My Walking Cane (KO) - performed August 4, 1948
Basin Street Blues (KO/DB) - performed August 4, 1948

UNKNOWN ORIGIN (presumably recorded in 1948)
What's Happened Between Us (KO/DB)
Shadrack (CB)
Just A Dream Of You (KO)
My Last Goodbye (KO)
Because Of You (KO)
Ducky Wucky (KO)
Ring Them Bells (CB)

DERBY (as King Odom Four)
736 I'm Glad I Made You Cry (KO)/Lover Come Back To Me (DB) - 3/50
743 If You Didn't Love Me (KO)/Walkin' With My Shadow (KO) - 7/50
754 What A Wonderful Feeling (KO)/My Heart Cries For You (KO) - 1/51
(this record as "King Odum Four")
757 All Of Me (DB)/Rain Is The Teardrops Of Angels (KO/DB) - 3/51

ABBEY (as King Odom Four)
15064 Lucky (KO)/Don't Trade Your Love For Gold (KO) - 3/52


LEADS: KO = David "King" Odom; DB = David "Boots" Bowers; CB = Cleveland "Bill" Bing




KING ODOM QUARTETTE
(KING ODOM AND AN UNKNOWN GROUP)
PERSPECTIVE
5001 Amazin' Willie Mays/Basin Street Blues - 8/54




Unca Marvy's Home Page
More Articles