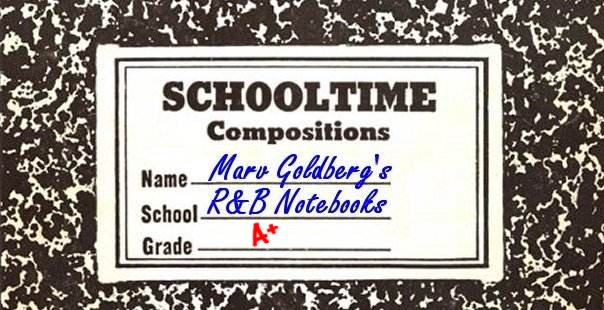 The Thrashers
By Marv Goldberg

based on an interview with Bernard Felton


© 2011 by Marv Goldberg

Bernard Felton always wanted to be an entertainer. In his high school yearbook, he said that he aspired to be a "professional recording and performing artist." He got his wish.

Bernie began singing "here and there" on the street corners of Brooklyn's Bedford-Stuyvesant section, where "there was a group on every corner." Eddie Tinsley, who lived in Bernie's building, introduced him to a friend named Ray Corbin. Probably in 1956, Bernie and Ray formed a group called the Melodaires ("we were just fooling around") that lasted for about six months before disbanding.

Ray was also part of another group (whose name Bernie doesn't remember) that sang gospel. This was a "family affair," consisting of Wilbert "Pop" Corbin (bass), his son Ray Corbin (tenor), another son Edward "Rip" Corbin (first tenor), his brother Leroy Corbin (baritone), and cousin Gilbert Fauntleroy (baritone). They all lived in Bedford-Stuyvesant, except for Gilbert, who was from Manhattan (however, since the whole family loved to play pinochle, Gilbert was always there on weekends).


Since Bernie and Ray had become such good friends, in 1957 17-year old Bernie was assimilated into the group. However, at that point, they turned to Rock 'N' Roll (although, without Bernie, they continued to sing gospel). For their secular adventures, someone chose the name "Thrashers."

For inspiration, they turned to the harmonies of the Teenagers, the Moonglows, the Flamingos, the Drifters, the Cleftones, the Harptones, the Heartbeats, and the Dells. Can't beat that batch. Bernie's personal favorite was Johnny Ace. They sang all the songs of their idols, while Bernie and Ray dueted on Everly Brothers tunes.

Somewhere along the line, they met a comedian/singer named "Mistreated Eaddy" (spelling approximate), who introduced them to a record company owner, an older black man, the Reverend A.L. Mason, (As we'll soon see, calling Mason a "record company owner" is being kind.) Mason listened to the Thrashers sing two songs that Bernie had written ("Jeannie" and "Forever My Love") and decided to record them.


Actually, "Jeannie" had started out as "Joannie" (written for the girl whose family owned the apartment building that Bernie lived in; in 2011, he's still married to her). However, the rest of the group felt that "Jeannie" just sounded better and the name was changed. (Joannie says that after 50 years of marriage, it's still a thrill to know that someone wrote a song for you.)

There are all sorts of techniques for recording. RCA Victor had state-of-the-art studios in several cities; there were big independent studios (like Bell Studios or Universal Recording) that many companies used; recordings could be done on-premises (like Fortune's garage-like atmosphere); or a bit more crudely (Atlantic piling up the desks in its business office for the first several years of its existence - and still managing to get a quality professional sound). But Mason was a true visionary: eschewing all those fancy methods, he recorded the Thrashers in the back room of a Harlem candy store (which had no acoustic properties whatever)!

Mason got the Joe Ruffin Band to back up the Thrashers, but the group only met them the day of the recordings and had little chance to rehearse with them. Ruffin was the guitarist on the Bob Gaddy Old Town session that produced "Paper Lady" and "Out Of My Name."

I tried to figure out what time of the year the recordings were done, but Bernie only remembered that, regardless of the weather, he was all heated up because he was finally entering show business, singing lead on songs he'd written.

The recordings may have been made in 1957, but Bernie is certain they were released in 1958 (it "took a while" for them to come out).


When the record was finally issued (in both 78 and 45 RPM formats), it wasn't sent out for review, so dating it more precisely is impossible. What we do know is that the record label proudly proclaimed "Mason's Recording Co., 1630 Amsterdam Avenue, N.Y.C." and has the strange number 0-1/0-2 (each of the other known Mason records that I've seen has a wildly different record number, company name, and address; see discography). Both copies that I've seen have "SAMPLE" (or in one case "SAMPIE") hand-stamped several times on the labels. These were probably sent out to DJs (or, more probably, hand-delivered by Mason himself). It seems strange that the initial production run was 78s, but it's possible that Mason simply didn't know that 78s were all but extinct at this time (nothing about the operation suggests that he knew what he was doing). Even so, you'd think that someone at the pressing plant would have told him.

"Jeannie" had some potential. It's "bunny bunny" background was quirky enough to have garnered airplay, but it's incredibly poor production values would have worked against it. The group obscures the lead voice and you can only understand snatches of the lyrics. (That was always a problem to me personally; most record buyers didn't seem to care much about being able to understand the words.) This turned out to be a mixing problem, since Bernie had his own microphone; the group's sound was just turned up too high. On the other hand, "Forever My Love" is a pretty ballad which has a decent balance between the lead and the background. Bernie said that he never heard either side played on the radio.

One day, not long after the record was released, with hope in their hearts, the Thrashers journeyed back to that candy store to see about royalties (no sense recording if you can't get rich from it). They found the place empty and untenanted (and never could locate Mason again). At least Mason had given the guys a few 78s as their freebies.

So let's take a stab at dating all this. The 1957 Manhattan phone book has "Mason Recording Services" at 1630 Amsterdam Avenue (phone TO 2-7656). In 1959, it's "Mason's Recording & Photo Co" (same address). The 1960 book has "Mason's Recording Co" at 2122 8th Avenue (MO 2-4444). Looking at the discography, you'll see that these are exactly the addresses that appear on all the Mason releases (that I've seen), except for the Love Larks. Since there was a long lead time in producing a phone book, the addresses would have been current as of (my guess) no later than late summer of the year before the date on a phone book. This means (to me) that Mason was at the Amsterdam Avenue address up until late 1958 or early 1959, at which time he moved to Eighth Avenue (and was there in mid-1959 when information for the 1960 book was compiled). My conclusion is that the Thrashers record was released around the middle of 1958 (to get the Amsterdam Avenue address), after which he moved. ((I can also infer that, because the Love Larks record is the only one I've seen that has no specific address, it was released after the Thrashers, but before the move to the new world headquarters of Mason Records.) After that, all Mason records (again, ones I've seen) have the Eighth Avenue address.

Soon after this, Bernie became depressed with the whole experience: he'd finally gotten a chance to record and the result was a big, fat nothing. Arguments ensued and he ended up leaving the Thrashers. (Ray Corbin left soon afterward too. He went on to sing with the Charmers/Original Charmers in the 60s and 70s. They would record for Co-Rec, Angletone, Stuyvesant, and Blue Sky over the years. One of the other members was the same Eddie Tinsley who'd introduced Bernie and Ray all those years before.)

Did the Thrashers ever make any appearances? "Maybe a bar; I don't even remember," said Bernie. But then he did recall performing at the Moulin Rouge nightclub in Brooklyn, at which they sang their two recorded songs, as well as several others in their repertoire.


In 1961, Bernie became the vocalist for the Early James Rock 'N' Roll Band, a position he held for most of the rest of the decade. He then went on to sing with a succession of soul groups, some of which recorded: Soul Groove Exchange, Magnetism, Top Shelf ("Dracula's Boogie"/"Goin' Through The Motions" - 1979; "Love Is Gone"/"Lady Madeline" - 1980; "Night People"/"Born Too Soon" - 1980), Master Force ("Hey Girl"/"Don't Fight The Feeling" - 1981), Sweet Revenge ("Fired, Laid Off, Terminated, Let Go"/"Reagonomics" - 1983), and Au Baru ("You're The One" - European release). He was also in the cast of the off-Broadway musical "Mama I Want To Sing" and did a commercial for the Marines. From about 1995 to 2005, he was the singer for Ron Anderson's band, the Versatiles (Ron had been the bass of the Fi-Tones).

And what of "Jeannie"? Slim Rose, of Times Square Records, had it reissued, around May 1961, on red vinyl. Presumably Slim found Mr. Mason, because the label design is a bit different: the word "Mason's" is in much larger type; different fonts are used; it says "Mason's Records" instead of "Mason's Recording Co."; there's a different address (267 Franklin Avenue, Brooklyn 5, N.Y.; this might have been his home); single line dividers instead of double line; a publishing company listed (Kentucky Music, which had also been rubber-stamped on one release of Mason's other group, the Love Larks); "45 RPM" is on the right instead of the left, etc. In 1964, Wayne Stierle reissued it on his Candlelite Records. It's difficult for me to figure out how anyone even knew about the record in order to have it re-pressed, but they did.

This is what Wayne Stierle remembered about the Candlelite issue: "When I acquired the master from Mr. Mason, I also received the original stampers, which is why the Candlelite release sounds just like the Masons release. Unfortunately the quality of the original recording was so insane (bad) that I doubt anyone noticed that the Candlelite version sounded so good. ('Good' meaning the exact sound of the original 45). Mr. Mason was very old and was a preacher of some sort. He did a prayer session of a few minutes with Donn [Fileti] and me before we left his home. He was a nice man who didn't really seem to remember anything about his records."

There was also a counterfeit copy of the original pressed in the 1980s (it looks very much like the original, except that the type used is a bit thicker) and another issued around 2000.


So he did it; Bernard Felton fulfilled his high school ambition to become a professional entertainer (in spite of the Mason's Recording Company, not because of it). This is more than most ever do. Bernie, the last survivor of the Thrashers, passed away in September 2012.


Special thanks to Lou Sylvani, Philip Noce, Joe Marchesani, Gordon Skadberg, Frank Gengaro, Bob Leszczak, Bob McGuiness, Elaine Wade, Bill Price, Wayne Stierle, Tony D'Ambrosio, Bruce Grossberg, Val Shively, Donn Fileti, and Victor Pearlin.



THE THRASHERS
(Leads by Bernard Felton)
MASON'S (Mason's Recording Co., 1630 Amsterdam Avenue, N.Y.C.)
0-1/0-2 Forever My Love/Jeannie - 58

MASON'S (Mason's Records, 267 Franklin Avenue, Brooklyn 5, N.Y.)
0-1/0-2 Forever My Love/Jeannie - ca. 5/61
The 1961 red plastic re-issue.

CANDLELITE
421 Forever My Love/Jeannie - 64



WHAT THE HECK, HERE'S THE REST OF THE KNOWN MASON DISCOGRAPHY
NOTE THE DIFFERENT COMPANY NAMES AND ADDRESSES
(additions, including label shots, welcome)
Love Larks
Love Larks
Gospel
Ambassador
Gospel
Ambassador
Amazing
Mentholiers
Amazing
Mentholiers
Morning
Doves
Morning
Doves
Rev. Otis E.
Sampson
Rev. Otis E.
Sampson
Gospel
Inspiratory
Gospel
Inspiratory
Gospel
Express
Gospel
Express

MASON (Mason Records, 1630 Amsterdam Ave., N.Y.C.)
094-65/094-66 Jesus I Love You/I Am A Witness - Gospel Ambassador - 58 (s/b "Ambassadors")

MASON (Mason Records, 1630 Amsterdam Ave., N.Y.C.)
108-68/108-69 Tide Of Life/Jesus Is All I Need - Gospel Express - 58

MASON'S (Mason's Record Co., New York City, N.Y.)
3-070/3-071 Diddle-Le-Bom/More And More - Love Larks - late 58

MASON (Mason Records, 2122 Eight [sic] Ave,. N.Y.C.)
125-58/125-59 The Love Of God/To Walk With Me - Gospel Inspiratory Of Newport News, Virginia - 61?

MASON
80-43/80-44 25 Minutes/Give Me - Joe Palmer - 61?

MASON (Mason Records, 2122 - 8th Ave,. New York, 26, N.Y.)
169-13/169-14 No Friend Like Thee/Lord Help Me To Stand - The Morning Doves - 61?

MASON (Mason Records, 2122 - 8th Ave., New York City)
188-80/188-81 Lord Come By Here/Race To Run - Amazing Mentholiers - 61

MASON (Mason Records, 2122 - 8th Ave,. New York City)
269-26/269-27 Joy Bells/A Spot Light On My Soul - Rev. Otis E. Sampson (The Gospel Singing Torch) - 61?




NOTE: There's also this item on a Mason label. However, you can see by the label scans that it's a totally different record company and issued years earlier..

MASON
M-105/M-106 I'll Find My Way In Prayer/Will There Be Any Stars In My Crown - Crite Mason, Jr. - ca. 50




Unca Marvy's Home Page
More Articles