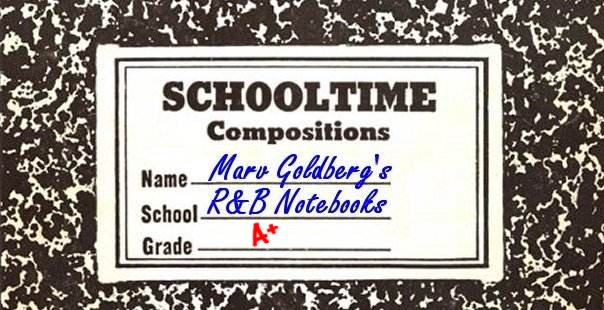 THE CALDWELLS
By Marv Goldberg



© 2016 by Marv Goldberg
The Caldwells were another group that existed for many years while seemingly covering their tracks, so that little could be discovered about them.


The group that was to become the Caldwells began life as the "St. Louis Four" in, possibly, early 1944. There's an advertisement in the California Eagle of June 22, 1944 for "The Famous St. Louis Four in a musical" to be performed at St. Stephens A.M.E. Church in Los Angeles on June 25. I find it strange that the first mention of a "famous" group from St. Louis should be in a California newspaper, but these things happen. On the other hand, this was wartime and travel was somewhat restricted, so I would think that, if they actually went to California, there'd be many other mentions of appearances. I was only able to find one other: at the Universal Evangelical Church on January 22, 1945, seven months later! As it turns out, these are the only two mentions of the group I could find before late 1945, when they came to Philadelphia to really start their career. However, could they have begun as a gospel group? Just another of life's little mysteries.

This is probably the best time to mention that, in spite of their name, they really weren't from St. Louis, Missouri, but from East St. Louis, Illinois, directly across the Mississippi River. (The clubs in East St. Louis could legally stay open later than those in St. Louis, so they became a favorite with performers.)


So who were the original members of the group? I really don't know. There was nothing ever written about them and only a single known photograph, probably taken in late 1946. At that time, the members were Alex Caldwell (baritone and bassist), Oleatha Granger (tenor), Helen Stewart (lead), and a guitarist whose name isn't mentioned anywhere.


Alex Caldwell (born June 27, 1909 in West Point, Mississippi) lived in East St. Louis, and, because a later blurb considered him the "genius" behind the group. I'll assume that he was there from the beginning, probably starting the group with three other members, now lost to history. (It's reasonable to suspect that the personnel changed dramatically over the next couple of years.) According to the 1940 census, Alex was a public school teacher (fittingly, he taught music). For a short while in 1940, he'd had a radio show, heard over WTMV. The July 7, 1945 Pittsburgh Courier praised Alex Caldwell for his work with the Carver Teen Age Center in East St. Louis.

Oleatha Granger (born October 17, 1929 in Meridian, Mississippi) would have been too young at the time the St. Louis Four formed. But in late 1946 she was 17 and that's when she probably joined (she's in that 1946 photo). She's never mentioned in the press prior to 1948, and I don't know how she became a member.

Helen Stewart [Thanks to DeadWax's blog, I realized that I had the wrong information about Helen. He also pointed me to her later career.] The correct one was born on December 6, 1927 in East St. Louis, Illinois and attended Lincoln High School there. She would have been around 19 in that 1946 photo (although, I have to say, she easily looks twice that age). It wasn't easy to find, but she's in the 1940 census, living with her widowed father. Just like Oleatha Granger, she's never mentioned in the press and I don't know how she became a member.


By late 1945, the St. Louis Four (with or without Helen and Oleatha) began appearing in the Philadelphia area. This was probably because they were handled by the Eddie Suez Theatrical Agency, which was based in Philly. In December, they were at the Hopkins Rathskeller on North Broad Street (still there at the end of January 1946). In July 1946, they began a run at the Blue Mirror Room, in nearby Camden, New Jersey.


By the time they appeared at Emile's Cocktail Lounge in Mt. Ephriam, New Jersey (in January 1947) Helen Stewart and Oleatha Granger were definitely present (since the ad ran the group's one and only photo). The ad said they ("America's Outstanding Instrumental-Vocal Quartet") had just completed six weeks at Ciro's, in Philadelphia. They featured "their original compositions - 'I Don't Worry Anymore', '[I] Just Found Out', and 'You Gotta Go' [possibly they meant 'I Gotta Move']."

Sometime in the fall of 1947, they recorded several sides for Philadelphia's tiny Algene Records: "Strange It May Seem" (led by Helen Stewart and Oleatha Granger), "There Is No Greater Love" (fronted by Helen Stewart and Alex Caldwell), "I Just Found Out", "I Want A Little Boy (Girl)", and at least one other, unknown, title. "There Is No Greater Love" is the same song that had been done by Johnny Moore's 3 Blazers the prior year and Billie Holiday a few months earlier (and which would be done, over the years, by Bull Moose Jackson, Chris Powell & the Blue Flames, Al Hibbler, Nat King Cole, and the Wanderers).

The Algene Sound & Radio Co. had been started by Miriam Alter, Albert M. Battis (Al), and Eugene J. Speitel (Gene) in March 1937. (There was an Algene Radio Corp. in Brooklyn, New York in the mid-40s, but I don't think they were related.) The August 1943 edition of Radio Retailing Today reported that "Algene Sound & Radio Co., 140 So. Juniper St. [Philadelphia], installed the public address system at Robin Hood Dell, the open-air symphony concert hall in Fairmont Park, seating 6500 people." [Knowing that doesn't really help with the Caldwells, though, does it?] At the time of these recordings, Algene had recently moved to 1915 Walnut Street. I've mentioned Algene once before: in my 5 Kings article (in September 1948 Algene purchased some 5 Kings masters from Baggy Hardiman, and then turned around and sold them to Mercury).


When the first Algene record ("Strange It May Seem" and "There Is No Greater Love") was released, however, there was no hint of the "St. Louis Four" on the label; instead, they were now billed as "The Caldwells". Was it their decision to change the name from the old-fashioned and not-terribly-salable "St. Louis Four", or was that the work of the Eddie Suez agency, or even Algene Records? We'll probably never know. (I don't want to bore you with how many sports articles I had to wade through that mentioned "St. Louis four" or how many real estate ads touted four-room apartments in St. Louis.)


In spite of the name change, however, in late October they appeared at the Cedarwood Log Cabin (Malaga, New Jersey) as the St. Louis Four (probably because they'd been booked, in advance, under that name).

By the time of the Algene session, the unknown guitarist had departed, to be replaced by bass/baritone/pianist John Dennis, whose playing can be prominently heard in the songs.


John Dennis (born March 28, 1929 in Philadelphia) was the first of several pianists the Caldwells would have over the years, but he, Alex, Oleatha, and Helen were on all their recordings. All photos of the Caldwells, up to 1950, show him in the group.


The second Algene Record, "I Just Found Out", backed with "I Want A Little Boy (Girl)", was released later in 1947. The strange title of "I Want A Little Boy (Girl)" is because Helen is singing "I want a little boy", but all the other versions of the song are sung by males, so they're titled "I Want A Little Girl". (The song was, or would be, done by Jim Wynn's Bobalibans in 1945, the Scamps and the Progressive Four in 1947, the Radars in 1952, and Ray Charles in 1957.) "I Just Found Out" (with Oleatha, Helen, and Alex) is the same song that they'd release on Rainbow in January 1949 (in a re-sung version).

It didn't take long for the Caldwells to abandon Algene for RCA Victor and, on November 24, 1947, the Caldwells held their first RCA session. They only recorded two songs that day, both written by Alex Caldwell: "I Don't Worry Anymore" (led by Helen Stewart and Oleatha Granger) and "I Gotta Move" (led by Alex Caldwell and John Dennis). Following industry tradition, their signing was announced by RCA only after they had made some recordings. Fortunately, that mention, in the December 13 Billboard, is what linked them to their former name: "Late week additions to the RCA Victor talent roster included ... the Caldwells, a Negro instrumental and vocal group formerly known as the St. Louis Four."

On December 20, they recorded eight more songs for RCA: "Within Your Heart" (led by Helen Stewart and John Dennis), "I Wanna Do What I Wanna Do (When I Wanna Do It)" (Alex Caldwell and John Dennis), "I'd Rather Be Wrong Than Sorry", "My Man Friday (On Saturday Night)" (Helen Stewart), "Honest I Do", "Give Me My Flowers While I'm Livin'", "Dearest Darling", and "It's Like Taking Candy From A Baby" (Helen Stewart and Oleatha Granger)


Two days later, RCA released "I Don't Worry Anymore" and "I Gotta Move". Strangely, although RCA advertised the record, they didn't send it out for review.


There was a photo of the group in the January 17, 1948 Pittsburgh Courier, and the caption read: "The Caldwells are rated by the Note Book ["Billy Rowe's Note Book", a syndicated column appearing in that paper] as the most sensational new act to hit Broadway in years [although there's not a single indication that they ever played any venue on Broadway]. Voice and instrumental, the group has been working in Philadelphia since coming East from East St. Louis, Ill. Each member plays bass fiddle and guitar and has a distinctive style of singing the blues. Most of their numbers are originals and composed by Alex Caldwell." It went on to name the members, although Oleatha was mangled to "Aletha". Also, it implied that the whole group was from East St. Louis, although Helen Stewart was from New York and John Dennis was from Philadelphia.


The January 25, 1948 Cincinnati Enquirer talked about their new RCA record: "THE COLDWELLS (Victor), a small singing group with guitar, string bass and piano, are an interesting boogie group from St. Louis. ALEX CALDWELL, bass player is the composer and lyricist. The girl member of the trio has an expressive voice for 'I Don't Worry Any More,' in which the men hum an accompaniment." Only three sentences and yet they managed to spell the group name "Coldwells"; give their origin as St. Louis, instead of East St. Louis; call them a trio; and misspell the name of the song. Impressive reporting!


On February 16, the "Four Caldwells" opened at Mercur's Musical Bar in Pittsburgh. It's possible that they'd switched from Eddie Suez to the Jolly Joyce agency by this time (since Joyce was mentioned in the February 14 Billboard blurb that talked about Mercur's). However, they never appear in any Jolly Joyce ads, nor was a management company ever again named.

Probably in early 1948, the RCA cuts of "I Don't Worry Anymore" and "I Gotta Move" were included on an AFRS BML disc. While tunes were once specifically recorded for Armed Forces Radio Services records, the BML series used already-existing masters.


In May 1948, RCA issued the second Caldwells record: "I Wanna Do What I Wanna Do (When I Wanna Do It)", backed with "My Man Friday (On Saturday Night)". The record was reviewed in the June 19 Billboard, which said "Group handles both vocal and instrumental chores ably...." Both sides were ranked "good". Note that "I Wanna Do What I Wanna Do" was written by Bob A. Davis of the Beale Street Boys.


The third (and last) RCA release was November 1948's "It's Like Taking Candy From A Baby", backed with "Within Your Heart". These were reviewed in the December 4 Billboard (once again, both "good"), which said of "Candy": "Pashy prose intro [Oleatha's passionate talking introduction] leads into falsetto piping on a pleasing plug ditty [that is, the A side]." Of "Heart": "Same sexy switch on the familiar Ink Spots formula. For dimly lighted spots."

The Cincinnati Enquirer of December 12 compared the Rosemary Clooney/Tony Pastor version of "It's Like Taking Candy From A Baby" to theirs and said: "The Caldwells (Victor) make it a vocal with piano, introduced, radio style, with a feminine mike whisper while the men hum. The whisper is succeeded by a contralto which is almost a falsetto, while the men harmonize." The song had been written by members of the Al Russell Trio (now calling itself "Do Ray And Me"), and their version was released around the same time as the Caldwells'.

However, as good as the reviews were, RCA wasn't happy. The December 11 Billboard reported that "Rainbow diskery signed the Caldwells, vocal group which had previously cut wax for Victor. Four sides purchased from the group will be released immediately." It took until January 22, 1949 for Billboard to report that RCA had dumped them: "Released from the race list were Bill Johnson [and the Musical Notes], [pianist] Eddie Heywood, and the Caldwells." Remember that 1948 had seen a ban on union musicians doing any recording, so, in preparation for that strike, record companies had hired everyone in sight and stockpiled recordings to be released throughout 1948. Now, with the ban lifted (it officially ended on December 14, 1948), companies were free to clean house and get rid of acts that weren't profitable.

Possibly in anticipation of being let go by RCA, the Caldwells had recorded four songs on their own and sold them to Eddie Heller's Rainbow Records. The tunes were: "I Just Found Out" (led by Helen Stewart and Oleatha Granger), "I Still Feel The Same About You" (Helen Stewart and Alex Caldwell), "Bring It On Down To My House" (Helen Stewart), and "Exactly Like You" (all, with the closing by John Dennis). All except "Exactly Like You" had been written by Alex.


Rainbow released "I Just Found Out" and "Bring It On Down To My House" in January 1949 and they were reviewed in the January 29, Billboard. Of "Bring It On Down To My House", they said: "Helen Stewart shows herself a stylish, insinuating chirper here, with the beat and voice. Tune is a slight switch on the [Nellie] Lutcher 'Hurry On Down.' Lyrics too purple for the ether." [In English: the song is too risqué to be played on the radio.] "I Just Found Out" was rated lower: "Caldwell group gets off a smoochie hunk of note-bending, but doesn't project quite enough feeling this time." The label credits read "Featuring The Caldwells" on "I Just Found Out" and "Helen Stewart, Featuring The Caldwells" on "Bring It On Down To My House".

As they said, the Alex Caldwell-written "Bring It On Down To My House" was loosely based on Nellie Lutcher's "Hurry On Down", which began "Hurry on down to my house, baby, ain't nobody home but me". Aside from that, however, the lyrics were completely different. And, risqué lyrics aside, it's sung much better than Nellie's version, since she seemed to be eager to race through the song as quickly as possible.

It took Cash Box until April 30, 1949 to review the record, but they liked it (although they seemed to think it was the group's first release): "Some cute stuff by The Caldwells, who bow into the wax spotlight via this Rainbow platter turn up with some grade A wax for music ops [juke box owners] in this offering tagged, 'I Just Found Out' and 'Bring It On Down To My House.' Top deck, in slow, moody tempo, features a girl vocal that shines brightly. Gal's voice is rich and pure from start to finish, and should be greeted with wide enthusiasm. The flip is just what the title indicates, with the tempo picked up a bit. Ops may have to be wary of this side. Listen in."

"I Just Found Out" was a sleeper hit (that is, it didn't take off immediately) that did well in East Coast markets. For example, the August 6 Cash Box had it as the number one song on Bill Cook's WAAT (Newark, New Jersey) show. Although it had been released in January, Rainbow ads didn't start to appear until June.


However, by that time, Rainbow had released their second record (in late April 1949): "I Still Feel The Same About You" coupled with "Exactly Like You". Billboard (May 7) gave "I Still Feel The Same About You" a very high 83: "Strong race ballad gets the mellow treatment most of the way with gal leading in flavorful style. Rocking finale is a pleasant surprise." However, "Exactly Like You" was only ranked a 70: "Vocal group gets a different sound, but even with a neat shuffle bounce the oldie is unlikely to step out at this time. Tempo breaks don't help." The credit on "I Still Feel The Same About You" was "Featuring Helen Stewart With The Caldwells"; "Exactly Like You" was just "Featuring The Caldwells".


June 1949 found the Caldwells ("2 BOYS and 2 GIRLS") at the Town House in Utica, New York. Then, they were off to Detroit, where they opened at the famed Flame Show Bar on August 5. Also on the bill was "America's New Queen Of Song" Dinah Washington, Kitty Stevenson, and Slam Stewart. They were back there at the end of August, this time in company with the Ravens.


In August or September 1949, the Caldwells had an actual session for Rainbow (remember that Rainbow had purchased the first four songs). They only recorded two songs that we know of: "After My Laughter Came Tears" (led by Helen Stewart and Oleatha Granger) and "Loving Up A Solid Breeze" (Helen Stewart and Alex Caldwell). This went along with a September 17 Cash Box article titled "The Caldwells Sign New Rainbow Pact":


NEW YORK - Eddy [sic] Heller, president of Rainbow Records, Inc., this city, this past week announced the signing of the Caldwells to a new recording contract.

The vocal group, who have been attracting heaps of attention, have been recording for Rainbow for the past year. Altho terms of the contract were not revealed, it was learned that the group pacted a long-term deal.

Heller originally signed the Caldwells to a recording contract last year while attending a dealer convention in Philadelphia. Their first release on Rainbow, 'I Just Found Out,' has been a big hit from the start. Latest sales figures reveal that the platter has already passed the 50,000 mark. Music operators [juke box owners] throughout the nation have reported peak play with 'I Just Found Out'.

Heller disclosed that the Caldwells' latest Rainbow platter, 'I Still Feel The Same About You' will be issued shortly, altho samples have already gone out to key distributors and operators.


Pushing aside the hype (50,000 sales would have been a monster hit for an R&B record back then, but "I Just Found Out" didn't even make the national charts). I imagine that their "latest Rainbow platter" wasn't actually "I Still Feel The Same About You", since that one had been issued some five months previously Probably they made a mistake and should have named "After My Laughter Came Tears" or "Loving Up A Solid Breeze". It didn't matter much. That disc was released sometime in the fall of 1949, but was never sent out for review, nor (in spite of their "long-term deal") was there ever another Rainbow record or session. In fact, as far as is known, the Caldwells never again recorded for anyone. Both sides were credited to "Helen Stewart Featuring The Caldwells".


In mid-November 1949, the Caldwells appeared at the Club Regal in Columbus, Ohio. They were named in the November 12 Ohio State News: Alex (I'm just a natural clown) Cadwell [sic], Helen (the voice) Stewart, Othelia [sic] (the look) Granger, and Fritz (George Shearing the second) Jones. The November 19 Ohio State News talked about their appearance:


Sunday featured a recurrence of the carnival atmosphere with the clubs being given a heavy play for the third successive night. About the biggest drawing card in town was the Regal show ... altho the poor Caldwells could hardly be heard because of the incessant chatter and shrill laughter. Those close enough to hear were very enthusiastic and confirmed an expert's opinion that their Happiness Is Just A Thing Called Joe was pure happiness.


Pianist Fritz Jones seems to have been a temporary replacement at this time, but we'll meet him again later.

"After My Laughter Came Tears" soldiered on for a bit. The March 15, 1950 Cash Box reported that it was the number 6 song on the Mary Dee show (on WHOD, in Homestead, Pennsylvania).


On August 30, 1949, they checked into Louis & Alex's in Washington, D.C. Also on the bill was Herb Lance.

In December, when the group was back at the Town House in Utica, New York, they were swept into a union dispute. They had offered to play, free of charge, for the local Rotary Club's New Year's Eve party. However, a representative of the local musician's union called at the last minute to bar their performance and, if they persisted, he was ready to have all the waiters at the function go out on strike. It turned out that, under union regulations, union members couldn't play two simultaneous engagements in the same town unless they were members of the local union. The Caldwells were classified as a "traveling unit" and therefore weren't eligible. Bereft of the Caldwells, the Rotarians had to settle for phonograph records at their party. (Remember that I said Alex had been a public school teacher in the 1940 census? This particular article elevated him to "former professor of music".)

According to a little blurb in the July 29, 1950 Pittsburgh Courier, "Oleatha Caldwell [sic] post-carded from Philly. 'Twas closing time for her RCA-Victor Recording foursome, which enjoyed a bang-up fifteen-week stanza at the Stage Door in Detroit. Group now heads for Chicago's Brass Rail, thence to Canada." It's so sad that press agents, so intent on using barely-intelligible language, can't even get a singer's name right. Also, why would she send a post card from Philadelphia to say that they were finishing up in Detroit and going on to Chicago? [I know (cynic that I am) that the notice really came from their Philadelphia management agency (either Eddie Suez or Jolly Joyce).]

In the April 1950 census the inhabitants of 336 South 52nd Street, in Philadelphia, were Alexander Caldwell, his wife, his three daughters, and two lodgers: Helen Stewart and Oleatha Granger. The three all said they were musicians. John Dennis ("pianist - entertainer") lived nearby at 4921 Market Street.


In October 1950, John Dennis got married; the happy event seems to coincide with him leaving the group. We may never know exactly how many replacements there were, but the first one that I know about was pianist Frederick Russell "Fritz" Jones, who returned in late 1950; he'd been there for a while in late 1948. (Actually, you may know him better under his later name, Ahmad Jamal.) Jamal had a strange way of looking at the Caldwells. In a 2012 interview, discussing his inspiration for "Ahmad's Blues", he told an interviewer::


I was working with a song-and-dance team called the Caldwells, out of St. Louis, again, and I guess I was blue because I had to be the drummer, I had to be the guitarist, had to be the pianist, everything, because they just held instruments. They didn't play them, so you had to be really on the job to support this group. And the pianist that followed me was one of my favorites: Ray Bryant, the late Ray Bryant. So Ahmad's Blues was written when I was 18 years old in Philadelphia [close, he would have been 20], when we had a layover and I was very sad. <laughs> And I wrote Ahmad's Blues then. The catalyst was my career with the song-and-dance team, the Caldwells.


It's kind of bizarre that he refers to the Caldwells as a "song-and-dance team" (which he also did on other occasions); it really seems like he's belittling them. What's even more bizarre is that he says that none of the others actually played their instruments: they just held them. I find that very hard to believe, since blurbs about the group's appearance mention the instruments that they played. Maybe he just meant that, in his opinion, they didn't play them well. Unlike John Dennis, Jamal didn't sing (he refers to the others as "those three singers").

Considering his explanation of its inspiration, I expected "Ahmad's Blues" to be a really depressing piece of music,. However, it's actually quite upbeat and pleasant.


Although there's no other documentation for this, Jamal says that when he left, he was briefly replaced by another soon-to-be-famous pianist, Philadelphian Ray Bryant, who had recently been with Tiny Grimes. Another short-timer, he was, in turn, replaced by pianist Val Thompson. At least Val would stick around for a couple of years. (There was a "Val Thompson" who had many songs copyrighted in 1948-9; I've been unable to determine if they're the same person.)


April 1951 found the Caldwells at the Marine Room of the Commodore Tavern in Windsor, Ontario (just across the river from Detroit). They were advertised as being "Direct From Washington" and "RCA Victor Recording Artists". Even though they'd been dropped by RCA a couple of years previously, the name still had magnetic appeal (unlike Rainbow, which was only mentioned in connection with a single appearance: the Sport Lounge, below). The ad trumpeted: "Rendering songs you like to hear in a musical style that compares favorably with famous artists as the Ink Spots, King Cole Trio and The Mills Brothers". Grammatically questionable, but at least these are the kinds of acts you wanted to be compared to.


The Pittsburgh Courier of June 16, 1951 said they were playing a venue (unnamed) in Sherbrooke, Quebec. (It turned out to be the Sport Lounge.) The ad named Oleatha, Helen, and Alex; it's possible they were only a trio at that point. In September, they were back at the Commodore Tavern in Windsor, "singing nightly, except Sunday" From there, it was on to Parker's Stage Door in Detroit. By the time Ida James joined the revue on December 26, the Caldwells had been there for 14 weeks..


In February 1952, they ("RCA Victor Recording Artists") were at the Tropical Inn in Port Ewen, New York. (Nope, I never heard of it either. It's on the Hudson River, near Kingston and Rhinebeck.)


The next time they're documented is in early January 1953, when they're at Bill Green's Route 51 in Pittsburgh. One ad said "The Caldwells, featuring Oleatha Granger". Another blurb (January 16, 1953 Pittsburgh Post-Gazette) said: "The Caldwells, Oleatha Granger and Alex, continue their entertainment in the lounge [of Bill Green's Route 51] Monday through Saturday evenings." The same paper (on January 28) said: "Add ear-ease: The singing of Oleatha Granger and Helen Stewart, the two girls with the Caldwell foursome at Bill Green's cocktail lounge." A less-than helpful sentence, although we know from these three blurbs that Alex, Helen, and Oleatha are still around.

The January 30 Pittsburgh Post-Gazette announced that "Caldwells Heldover [sic] In Green's Lounge". This time, it named all four of them, except that Val Thompson was referred to as "Van".

The May 16, 1953 Pittsburgh Courier had this: "Eastern impresarios are missing a good bet by not latching on to the Caldwells. This team is right on the well-known ball. Style, class, everything. Helen Stewart can chirp awhile and so can Oleatha (Whispering) Granger. This girl is a beauty and she likes poetry. Well now!" What the pathetic first sentence of this press agent nonsense tells me is that the group is working, but not as steadily as their booking agent would like.


A better article (although still press agent drivel) appeared in the May 30, 1953 Pittsburgh Courier. It was headed "The Fabulous Caldwells":


We had our first look-see at the fabulous Caldwells, the foursome of terrific talent, who are currently repeating a sell-out engagement at the Flamingo [Hotel]. Of course you know the Flamingo is the cozy spot zooming into social prominence because of its entertainment, good food and big-town atmosphere. Well, the Caldwells fit into that spot like a hand in the well-fitting glove . . . they sparkle and scintillate and are as sophisticatedly smooth as a creamy sauce spiked with a dash of tabasco. Oleatha Granger . . . Helen Stewart, Alex Caldwell and Val Thompson make up the crew . . . and when they embark on one of their cleverly presented numbers, the Joyce Room swings right back at 'em . . . and you!

Oleatha is the exotic foreign type with slanting eyes and a provocative appeal that reaches out beyond the spotlight and when she whispers her song into the mike, you just know she's talking right to you. Helen, a stunning bronze girl with a South Sea Islands appeal, can really peddle a song (as the boys on swing row say), Alex, the genius behind the trio, plays the bass fiddle . . . sings tunefully and puts over terrific personality . . . and behind them all is the magic piano fingering of Val Thompson . . . who sounds like four hands instead of two. The girls both play the guitar and the tom toms and moraccas [sic]. Irving Johnson, the Flamingo owner, is holding them for another week . . . to carry through his seventh anniversary . . . which comes up May 30.


Note that they're called both a foursome and a trio; it isn't easy being a press agent. I would interpret this to mean that Val didn't sing. (Also note that all the ". . ." were in the original article; I didn't leave anything out.) "The Caldwells leave the Flamingo Hotel in Pittsburgh after a four-week run for the cool climes of Toronto. This act is big-time material." (So said the June 6 Pittsburgh Courier.)

While nothing ever told us where in Toronto they were booked (why waste space on unimportant details?), the August 1, 1953 Pittsburgh Courier had this to say: "Oleatha Granger and Helen Stewart, the two stunners with the Caldwells, came all the way from Canada to appear in a fashion show staged in the Joyce Room [of the Flamingo Hotel] in Pittsburgh."

That sounds harmless enough (although I can't imagine why they'd travel all the way from Canada to Pittsburgh just for a fashion show), but there was more to it than that. Two weeks later, the August 15 Pittsburgh Courier said: "'Tis also rumored that Helen Stewart has left the Four Caldwells. How come?" Unfortunately, just like the Courier, I have no answer to that. (However, she'd be back with them in late 1954, when they played the Commodore in Windsor, Ontario.)

[There's a mention of Helen Stewart is in the January 16, 1954 Pittsburgh Courier, which reported: "Helen Stewart, a sock singer, was due to appear with Slam [Stewart] but she was reported ill." There are many other mentions of "Helen Stewart" in the New York Age over the years, but it's not an uncommon name, and, because they don't mention singing, I don't know if it's her. There were no further mentions of Helen Just either.]


Something must have happened in the Caldwells, because Val Thompson also left around the same time as Helen. His replacement was pianist Cornelius "Neenie" Waters, who had been with the Ginger Snaps in 1946. He'd been with Blanche Calloway in 1939 and played twin pianos with Erroll Garner in 1947.


Helen Stewart wasn't replaced and the Caldwells continued on with just Alex Caldwell, Oleatha Granger, and Neenie Waters. In late November through mid-December, "Oleatha and the Caldwells" appeared at the Rainbow Grill in Pennsauken Township, New Jersey (near Camden).

A January 2, 1954 Afro-American blurb named them as Alex, Oleatha, and "Neil Watters [sic] (piano)". It also said that they'd been together for 8 years, which would make their origin in 1945. Close enough. The January 2 Pittsburgh Courier said that they were back at the Joyce Room of the Flamingo Hotel.

The January 9, 1954 Pittsburgh Courier had this unintelligible blurb: "Alex Caldwell gave his beauteous featured singer, Oleatha Granger, a clock for Christmas. But Oleatha knows what time it is all the time. Scene: Pianist Neenie Waters featuring a plaid cummerbund (that's a sash, fellow)." I don't know; maybe I'm the one who can't write in English. [A good press agent keeps your name in circulation, even if what he writes is inconsequential, unintelligible, misleading, a wild flight of fancy, or even a downright lie.]

On February 6, the Pittsburgh Courier said: "It says here that Lionel Hampton is interested in the Caldwells, a fine and foxy singing group. Oleatha Granger, known as 'Pretty Face' is one of the big lures in Alex Caldwell's outfit. I'd say she was beautiful and let it go at that."


Oleatha's photo graced the cover of the April 17, 1954 Pittsburgh Courier Magazine Section. The caption (which sounds like it was written by the same guy who wrote the last one) read: "Oleatha Granger is one of the most startlingly pretty young women you'll see anywhere. In truth, this picture does not do full justice to Miss Granger's patrician features. She is a star member of the famed Caldwells, a popular night club act. We could quit being conservative and say that Oleatha is just beautiful." (There was no accompanying article, just the caption.) However, only a month later, the May 15 Pittsburgh Courier pondered "This corner would like to know what happened to Debbie Andrews, Jeanne Dunne and the Caldwells. All very promising acts, but where?"

Sometime in the first half of 1954, Helen Stewart recorded a couple of songs with the Chuck Tillman Trio: "A Smile Will Drive Your Frown Away" and "I Want To Meet Santa At Home". She was credited as "Helyne Stewart", a name she'd continue to use when on her own (although she'd be in and out of the Caldwells for a while). These were released on George Wood's Nu-Tune label from St. Louis.


In May 1954, Oleatha Granger and the "Cauldwells" appeared at the Esquire Show Bar in Montreal; no others were named. But now I get confused. The Windsor Star (Windsor, Ontario) of November 23, 1954 talked about the Caldwells at the Commodore: "One of the brightest spots about town is the Commodore where the Fabulous Caldwells are in their second week and going strong. Alex Caldwell, bass expert and singer, leads the musical trio with charming Oleatha Granger, classy singing star, and Boyd Dunlap [sic; should be "Boyd Lee Dunlop"], master of the keyboard." They specifically call them a trio and name three members. However, only a week before, the ad in the November 15 Windsor Star was for the "4 Caldwells" and named them as Alex Caldwell, Helen Stewart, Oleatha Granger, and Robert Greene (presumably a pianist).


Friday January 7, 1955 found the Caldwells at the Boulevard Casino in Niagara Falls, New York. They were there for three days, although the ad was unclear if they'd be playing on subsequent weekends.


In April, the "Caldwell Trio" was playing the Black Orchid in Miami. The ad said it was the first time for them in that city. Also on the bill was Richard Cannon, a former member of the Ravens.

But soon, Oleatha, too, was gone from the Caldwells. The California Eagle of August 11, 1955 said: "Oleatha Granger is the feature [sic] dancer in the casino of the Moulin Rouge [in Las Vegas]." Except for a single 1964 ad, her name never made the papers again. According to her brother, Robert, when she finally came back to East St. Louis a few years later, she gave up the entertainment business entirely and worked for the local school board. However, she must have come out of retirement for a while, since she and Alex appeared together in 1964.

Neenie Waters was gone by June of 1956 when he and Max Tarshis were at the 3 Brothers restaurant at the Haddon Hall Hotel in Pittsburgh. ("Your favorite 2 fat men at the twin pianos".)


The July 1, 1957 Billboard had a review of an LP called "New Piano Expressions" by our old friend John Dennis (on the Debut label). They called it "a refreshing jazz experience".


Alex soldiered on, changing the name of the group to the "Caldwell Trio". Alex, Helen, and a third, unidentified, member appeared at the Interprovincial Hotel (Ottawa) in July 1957. They were at the Standishall in Ottawa, Canada from August 1958 through early October.


One probable member at this time, according to an interview he gave to Chuck Robie Booth (in his "Jazz Beat" column, which appeared in the Utica Daily Press, on March 13, 1961), was future jazz great Freddie Roach (piano and organ). The article said: "Then, in 1957, he moved to Canada and worked a couple of years with a group called The Caldwells. 'We played the Chez Paree, El Morocco and a lot of good spots.'" I've learned, over the years, to distrust performers' memories of just when and for how long they were with a group, but the timing for this one feels right. The Caldwells were certainly making a lot of appearances in Canada during this period (and the interview was only a couple of years after the fact).

[Interestingly, although the Caldwells never really amounted to much (let's be honest), they provided a growth environment for their pianists: John Dennis, Ahmad Jamal, Ray Bryant, and Freddie Roach all went on to be acclaimed musicians.]

In 1959, Helen Stewart (as "Helyne") recorded an album with bassist Charlie Burrelli and His Trio. Called Man On First Bass [cute], it contained nine songs, including "Bring It On Down To My Houes" (I guess the proofreader was off that day). The LP was released on Mickey Sherman's Sight And Sound Records from Denver.

In April 1962, the Caldwell Trio appeared at the Beau Brummell in Pittsburgh and the April 6 Pittsburgh Post-Gazette had this to say: "The Caldwell Trio at the Beau Brummell might look familiar to some people with long memories. The group played at Bill Green's nine years ago." Of course, only Alex had been in that long-ago group, but at least someone remembered. In June, they were at Myhalyk's, in Elmira, New York.

Another 1962 event was the release of Helyne Stewart's jazzy Love Moods LP on Los Angeles' Contemporary Records. Released around April, it contained 12 standards like "How Deep Is The Ocean" and "My Heart Belongs To Daddy". On these she's accompanied by saxophonist Teddy Edwards' Septet (recorded January 1961) and Quartet (recorded August 1961). Four of the songs ("Why Don't You Do Right", "My Heart Belongs To Daddy", "This Can't Be Love", and "I Hadn't Anyone Till You") were released as singles in 1962. I've listened to most of them and she has a really nice voice.


November 1964 found Oleatha and Alex appearing at the Sahara Dining Lounge in Edmonton, Alberta. No other names were mentioned and they might have just been a duo.


The last known mention of the group is when they appeared at the Stadium Steak House in East St. Louis in April 1967 ("relax to the wonderful songs of the Caldwell Trio"). Note that this is the only mention of the Caldwells ever playing in East St. Louis (or, for that matter, anyplace in the mid-west other than Chicago and Detroit). All of their other documented appearances from 1944 to 1967 were in Pennsylvania, New Jersey, New York, Ontario, Edmonton, and Quebec (plus the initial two in California).

There are further mentions of "The Caldwell Trio", but they reference one or more different groups. For example, the Caldwell Trio that appeared at the Free Will Baptist Church in Oak Grove, Illinois in October 1975 was from Texas. Also, there was a Caldwells record on C.M.P. ("Empathy"/"Let Yourself Grow"), probably from 1972; in the short clip I heard, it seems to be a Latin-flavored jazz instrumental.

Having nothing to do with the group, the March 29, 1973 Edwardsville [Illinois] Intelligencer had an article on the Miss Black Madison County contest. One of the judges was Alex Caldwell, "a music instructor in the East St. Louis Schools."

Of the recording group, John Dennis died in Philadelphia on November 10, 1963; Helen Stewart died in Los Angeles on January 29, 1978; Alex Caldwell died in East St. Louis in November 1985; and Oleatha Granger died in East St. Louis on August 9, 2006.

On the whole, I like the recordings of the Caldwells, even though they weren't particularly successful (other than "I Just Found Out", their records didn't do well at all). But Alex Caldwell was a trouper and kept a group going for over 20 years.


Special thanks to Tony Fournier, Neil Hirsch, Victor Pearlin, Bob Halverson, Joel Scherzer, and Robert Granger.




THE CALDWELLS
ALGENE
1920 Strange It May Seem/There Is No Greater Love - fall 47
1922 I Just Found Out/I Want A Little Boy (Girl) - 47

RCA VICTOR
20-2613 I Don't Worry Anymore/I Gotta Move - 12/47
20-2906 I Wanna Do What I Wanna Do (When I Wanna Do It)/My Man Friday (On Saturday Night) - 5/48
20-3179 It's Like Taking Candy From A Baby/Within Your Heart - 11/48

UNRELEASED RCA VICTOR (all recorded 12/20/47)
I'd Rather Be Wrong Than Sorry
Honest I Do
Give Me My Flowers While I'm Livin'
Dearest Darling

AFRS (these are the RCA Victor cuts)
BML 908 - 48
I Don't Worry Anymore
I Gotta Move

RAINBOW
10094 I Just Found Out/Bring It On Down To My House - 1/49
10097 I Still Feel The Same About You/Exactly Like You - 4/49
80025 After My Laughter Came Tears/Loving Up A Solid Breeze - 49


NOTE: The following songs were written by Alex Caldwell:
Bring It On Down To My House
I Don't Worry Anymore
I Gotta Move
I Just Found Out
I Still Feel The Same About You
Loving Up A Solid Breeze
Within Your Heart




Unca Marvy's Home Page
More Articles