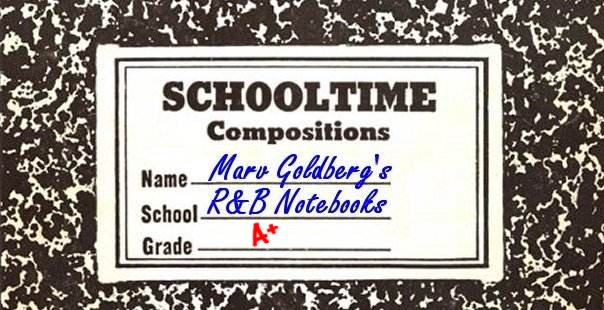 BIXIE CRAWFORD
By Marv Goldberg



© 2016 by Marv Goldberg

[AUTHOR'S NOTE: We live in the age of "Reality TV" (in which nothing you see on the show is actually real, so the meaning of the name escapes me). I guess it had to happen that I'd end up writing a "Reality Article".]



Bixie Crawford was one of the minor lights of the R&B world, turning out only nine singles over a 30-year period. Vocalist with several bands, she usually didn't stay with them very long.

The singer best known as "Bixie Crawford" was born Birdie Marjorie Hairston on August 2, 1920 in Guthrie, Oklahoma, about 35 miles north of Oklahoma City. She was the only child of Everett Lee Hairston, a dentist, and Juanita Cassius Hairston, a cafe owner (and future teacher). By 1930, the family had moved to Tulsa.

Just to get it out of the way, Birdie went by many names, but not always consistently. Here's what she told Social Security over the years:

Birdie Marjorie Hairston (July 1943)
Birdie Mar. Crawford (January 1944)
Birdie Bixie Crawford (November 1954)
Bixie Harris (September 1955) - this is a name she'd used in the 40s, at the beginning of her musical career, and reverted to for a while in the mid-50s
Birdie Bixie Wyatt (September 1958) - even though she was usually known thereafter as Bixie Crawford Wyatt
Birdie M. Wyatt (August 1988)
Note that she didn't necessarily notify Social Security immediately about name changes (I suppose most people didn't). For instance, she first became "Wyatt" in November 1957.

The January 3, 1936 Tulsa World reported that: "Birdie Hairston, Negro vocalist who has served as soloist for the Booker T. Washington high school glee club, was painfully injured when struck by a car on North Greenwood Avenue."

In 1937, when her grandmother died, the obituary told us that she and her mother ("popular teacher and club woman") were still living in Tulsa. That obituary, in the April 8, 1937 Oklahoma City Black Dispatch, called her "Miss Birdie M. Hairston, popular co-ed of Fisk University [in Nashville], and known throughout Oklahoma by her sweet voice....". For unknown reasons, she and her mother were listed in the 1938 Colorado Springs city directory and Colorado is where she received her Social Security number.


After a couple of years at Fisk, Birdie attended Lincoln University, in Jefferson City, Missouri, from 1938 to 1942. The Pittsburgh Courier ran a photo of her (along with some other Lincoln students) in February 1940, but the online copy is too dark to make out any faces. The May 16, 1951 Lincoln Clarion ran an article about her after she'd signed with RCA. Among other things, it said that she'd been voted the "most outstanding personality" in her graduating class. Starting as a vocalist, she was also a member of the string ensemble (playing the cello), chorus, and choral society. Her major was sociology, probably with a minor in music.

While in college, Birdie got married. On September 26, 1941, she wed Robert Pitts in Tulsa. The marriage couldn't have lasted too long since she told Social Security that she was Birdie Hairston in July 1943.


The March 7, 1942 Oklahoma City Black Dispatch ran her photo with the title "State Girl Given State Dramatic Lead":


Miss Birdie M. Hairston, popular Lincoln University co-ed has been selected for the leading role in the school's annual Stage Craft production. Miss Hairston, a graduate of the Booker Washington high school of Tulsa, possesses a rare coloratura soprano voice.

The talented young woman attended Fisk University for two years, where her voice received commendation from the noted Mr. Work. She is a versatile musician, playing most all [?] musical instruments.

Miss Hairston spent several months in Oklahoma City last spring, recuperating from an illness. While here, she became very popular with the younger set. Her mother, Mrs. Juanita Hairston, prominent in state social and civic circles, is one of the state's leading dieticians. Mrs. Hairston is employed at the Down Town Chamber Of Commerce.

Miss Hairston is a Delta Sigma Theta pledge. She is also a member of the Lincoln University spring graduating class.


Supposedly, saxophonist Benny Carter heard her sing at a picnic sometime in 1945 and hired her as his band vocalist. Exit "Birdie Hairston"; enter "Bixie Harris". Years later, in the December 13, 1962 California Eagle, she credited Benny Carter with changing her name from Birdie to Bixie.

Her last name is more difficult to unravel. She told Social Security that she was "Birdie Hairston" in July 1943 and "Birdie Crawford" in January 1944. What happened, within that six month period, to have her go from Hairston to Crawford? I don't know; I've been unable to learn the origin of the "Crawford" name. If there was a husband involved, there's no marriage record that I can find. The only possibility is William and Birdie Crawford, who were in the 1945 Denver City Directory (he was in the Army). However, I can't find out anything else about them.

But where did the "Harris" come from? The easy explanation is that "Harris" is a simpler version of "Hairston" and was probably adopted for that reason. She'd remain Bixie Harris until 1949, when she (mostly) changed over to Bixie Crawford. As an alternative, the "Harris" name might have had something to do with her parents. They must have separated for a while, which could explain why both Birdie and mother Juanita were living in Colorado Springs in 1937 (although that's a long way from Tulsa just for a separation). The whole family was back together in Tulsa by the time of the April 1940 census ("Berdie Harrston" was marked "absent", since she was away at Lincoln University). But the reconciliation didn't last: Juanita appears by herself in the 1941 and 1942 Oklahoma City directories, and, by the time of his 1942 WW2 draft registration, Dr. Hairston gave someone other than Juanita as the "person who will always know your address". Juanita (also spelled "Jaunita" about half the time) and Everett got divorced and she subsequently married William D. Macklin in Detroit in 1945, and then the Rev. William P. Mitchell in Los Angeles in 1958. Since Bixie always remained close with her mother, "Harris" might have been used to somewhat divorce herself from the "Hairston" name.


The only mention of her appearing with Benny Carter is when his band played the Apollo Theater the week beginning December 21, 1945. "Bixie Harris" was mentioned in the blurb about the show in the December 22 New York Age, but her name doesn't appear in the Apollo ad itself. It's therefore very difficult to know how long she was with him. (I always see "about a year", but that seems highly unlikely. It was probably only a few months.)


The only other known association with Benny Carter is the single recording she did with him. On January 5, 1946, Benny and Bixie Harris share the vocals on "Patience And Fortitude" (the flip was the instrumental, "Jump Call"). Released on the Braun Brothers' Deluxe label in late January, it was reviewed in the February 2, 1946 Billboard, which said, "The Walter Fuller arrangement has the quality that has made other Negro hits and the Benny Carter-Bixie Harris vocals carry it out in the same vein." The overall review: "For race locations this disk is a cinch and it just might catch on in the ofay [white] spots as well."


Almost immediately after this session, however, she was gone from Carter's band. By late January, Bixie Harris was on her own as part of the show at the Club Sudan on Lenox Avenue in Harlem ("Formerly Known As The Internationally Famous Cotton Club"). She was replaced by Lucy "Lu" Elliott, who was appearing with Carter by early February (and who would record a livelier version of "Patience And Fortitude" with Carter in November for AFRS Jubilee #203). (Although I read that Bixie was with this band for so long and that band for so long, with a single exception, she only remained with a band for a very short time. And, with that same single exception, it was never reported if partings were amicable.)

The Pittsburgh Courier of January 26, 1946 said of the Club Sudan revue: "Bixie Harris, another newcomer to these parts, did well with several superb songs composed by Babe Wallace [another member of the revue]. With the theater in dire need of singers with both voice and looks, she should have no trouble finding a place among the theatrical horizon [that's a bizarre phrase]. Her efforts would get more response, however, if her background music would take on a quieter tone. She looks and sings well." The revue ran through the week of March 9 and there are no further appearance listings for her in 1946.


Probably in the spring of 1947, she joined Jimmie Lunceford's Harlem Express Orchestra, but again, I don't know when. There are no Lunceford advertisements that mention her, although several later blurbs say that she had been with him at the time of his death. (One blurb said that she was the first female vocalist who had ever toured with him. Actually, if this is true, she would have been the only one.) On July 17, 1947, while the band was on tour in Oregon, Jimmie Lunceford died suddenly. A few days later, it was announced that the Harlem Express would be disbanded.

At this point, Bixie went solo for a while. The September 13, 1947 Pittsburgh Courier reported that, "Birdie (Bixie) Harris, former Jimmy [sic] Lunceford band thrush opened for a month's engagement at the Swanee Inn [Los Angeles]. Cyral [sic] Haynes, intermission pianist is her accompanist. Also entertaining at the cozy lounge is the inimitable Slim Gaillard Trio. The show is broadcast nightly at midnight over KXLA."

[You'll have to forgive that I can't precisely follow Bixie's movements. She simply wasn't a big enough star to rate many mentions in the news. All I know is that, by late 1947, she'd been signed by the Count Basie Orchestra.]

The January 24, 1948 Oklahoma City Black Dispatch had a blurb about her:


"Birdie Harris", vocalist for count Basie and his orchestra, was the house guest of her aunt Mrs. Effie Harrison, 806 N. E. 6th St., during the orchestra appearance here on Jan. 12th and 13th.

"Birdie" is a former Tulsa girl, also a graduate of Lincoln University. Her friends will remember her as Birdie Hairston. She now resides in Los Angeles.


However, the Lunceford band didn't dissolve after all; it was kept going, from at least September 1947, by pianist Eddie Wilcox and saxophonist Joe Thomas. At some point in early 1948, after being with Basie for some two months at the most, Bixie rejoined it. A Billboard blurb on March 20, 1948 said: "New thrush with the Jimmie Lunceford ork (under direction of Eddie Wilcox and Joe Thomas) is Birdie Harris." Note that she's now bouncing between "Bixie Harris" and "Birdie Harris".

Since the musicians strike was in effect during most of 1948, the Lunceford aggregation made no recordings.


I don't know why she left the Lunceford band, but by the end of 1948, she'd joined Louis Jordan and His Tympany Five. While with Jordan, she started calling herself "Bixie Crawford", the name she'd use for the rest of her professional life. Jordan's band was recorded during their February 3, 1949 show at the Empire Room in Hollywood. In August, that performance became an AFRS Jubilee record. (AFRS discs were broadcast to America's troops over the Armed Forces Radio Service network; they weren't intended for commercial sale.) Bixie's contribution was a duet with Jordan: "Daddy-o" (a song he and Martha Davis had recorded for Decca the prior year).

The February 3, California Eagle said of Louis Jordan's impending show at the Avodon Ballroom on February 7: "Just back from the Pacific Northwest where he set new records at the box office, ... Jordan will unveil some new tunes that he has recently discovered, and will feature his charming songstress, Bixie Crawford, in some of the old numbers that bear the successful stamp of fans the nation over."

She didn't remain with Jordan long after that session. I usually see that she was with Jordan in 1949-50, but there's this blurb in the Carolina Times (Durham, North Carolina) from September 17, 1949 to disprove that:


NOTICE TO ALL DISC JOCKEYS: Bixie Crawford of 215 West 45th Street left Jordan's Band about four months ago and wants you to plug her King label record "Be Fair With Me" and "Maybe Some Rainy Day" all on her own now. Give the kid a break and write and tell her what you are doing. She'll appreciate and won't forget you.

The blurb didn't lie (although it was closer to six months previously); those King label recordings (plus the unreleased "Tell Me (You Really Love Me)" and "I Got Your Water On") had been waxed on April 2, 1949. On them, Bixie was backed by Ulysses "Buddy" Banks and his Notes (although they weren't credited on the label). This is the first commercially-released record that credits "Bixie Crawford".


[Another "Buddy", Norman "Buddy" Baker, had previously released a song called "Be Fair With Me", on Exclusive in December 1946, with a vocal by white songstress Emma-Lou Welch. Sometimes, however, the two Buddys get confused and this recording erroneously works its way into Bixie Crawford discographies. While I haven't heard Emma-Lou, I don't believe that it was the same song. Emma's credits Leon Rene as writer; Bixie's was composed by Fletcher Smith. Another interesting coincidence is that Emma-Lou was backed up by the Benny Carter Orchestra on "You'll Never Break My Heart Again", a March 1948 release.]

The tunes were released in August 1949 and Billboard reviewed them on August 13, with both sides receiving a 67. Comments for "Be Fair With Me" were: "Vocal group and ork lend adequate support to the new gal chirp who can gliss 'em just right. So-so tune, tho." Of the flip, they said: "Material seems to be holding back the breathy style of Crawford gal.".

On August 31, she was part of the show at Los Angeles' South Park in the second annual "Health Festival". Bixie shared the stage with the Buddy Banks Sextet, the Flames (probably the future Hollywood Flames, who were just starting out), and Esvan Mosby (late of the 3 Chocolateers). Note that nothing ever said whether she was the singer with Buddy Banks' band, although I'm sure they did her new King releases at this gig.

The Pittsburgh Courier ran a photo of her on November 12, 1949, saying "Birdie Harris [she's definitely in the middle of an identity crisis], former Louis Jordan band vocalist who lives in Los Angeles, appeared recently as guest artist on 'Adams Alley' television show. She has also cut several recordings." (It escapes me how anyone was supposed to buy her Bixie Crawford recordings when the blurb identifies her as Birdie Harris.) "Adams Alley", on KLAC, was hosted by Joe Adams, who'd go on to a 45-year career as Ray Charles' manager.

In the 1950 census, Birdie Crawford was living in Los Angeles with her mother, Juanita Macklin (widowed). Birdie is 29 and divorced.


At some point in 1950, she hooked up with the Gene Gilbeaux Orchestra (he was the pianist and bandleader for the Trenier Twins). With him (and a vocalist named "Choo Choo Trane", who was actually Claude Trenier) she recorded "I've Got What It Takes", another tune composed by Fletcher Smith. This (and the instrumental "Dynaflow") was released on RCA in July 1950.


Probably based on this, she got a recording session with RCA in early 1951. Recording with Ernie Freeman's Orchestra, she cut four masters: "Please Let Me Be", "Tonight Of All Nights", "My Man's A Devil (All Men Are)", and "Waitin' Around". Frank Terry, an RCA salesman gushed about how great she was and claimed that he'd heard her at a benefit show and convinced her to record for RCA. (Seems to me, that if you knew you had any talent at all, no one would have to "convince" you to record for RCA.)

The May 16, 1951 Lincoln Clarion article, already mentioned, talked about her new record deal. Entitled "Birdie Hairston, '42 Grad, Signs With RCA Victor", it claimed that the signing was part of an "aggressive move to strengthen the company's position on the West coast."


RCA released "Please Let Me Be" and "Tonight Of All Nights" in April 1951. They were listed in Billboard's Advance Record Releases column on April 14, but strangely, they appeared in the Country & Western section. After the big buildup, the results were discouraging. "Please Let Me Be" was rated fair (68; "a sophisticated quality a la Sarah Vaughan on a routine blues item") and "Tonight Of All Nights" got a poor 63 ("a slow, plodding blues ballad"). Other reviews that week were for the Dominoes' "Sixty Minute Man", the 5 Keys' "With A Broken Heart", Jackie Brenston's "Rocket 88", Charles Brown's "Moonrise", Billy Wright's "Stacked Deck", Dinah Washington's "I'm So Lonely I Could Cry", and the 4 Dots' "You Won't Let Me Go".


When nothing happened with that disc, RCA issued "My Man's A Devil (All Men Are)" and "Waitin' Around" in June. The ratings this time were almost a repeat of the prior record (although each side scored one point higher). "My Man's A Devil" received a 69 ("a rather contrived torcher") and "Waitin' Around" got a 64 ("an opus which wanders all over the place"). The other reviews that week went to Little Esther & Dominoes' "Heart To Heart", the Ray-O-Vacs' "My Baby's Gone", the 4 Cleffs' "Get Happy", and Bobby Smith's "Wee Gee Blues".

In spite of little sales action with either record, the July 24 Baltimore Afro-American bought into the hype (provided by a press agent, of course). The blurb was titled "Bixie Crawford Hit with Latest Waxing". It went on to say that she'd "scored" with her first RCA platter and the new one was "another top-flight coupling".

And hype it was. The Valley Times (North Hollywood, California) of August 20 reported that "Last month we predicted three RCA Victor record artists would be "axed" from the label. Don Cornell and Bixie Crawford have just been dropped. Singer Mindy Carson, who has turned out to be a mild flop as a record seller, has excellent chances of being the third."

You'll remember that Bixie had briefly been with Count Basie back in 1948. By March 1951, Basie had put a new band together, and, probably in early September, Bixie joined as female vocalist. Her first documented appearance with him was at the Earle Theater (Philadelphia) the week of June 6, 1952. After that, it was a week at Chicago's Regal Theater (billed as "the ex-school teaching blues singer"), along with the Ravens.


On September 12, 1952, the Count Basie Orchestra, the George Shearing Quintet, and Billy Eckstine appeared at the Shrine Auditorium in Los Angeles. A Billboard review of the show (September 27) had this to say: "In fact, this jazz concert would profit if George [Shearing] sheared the chirp [Teddi King] from the program, and Basie dropped Bixie Crawford, another fem who fails to inspire a lyric. Eckstine can capably handle the word department for this three-hour package."

On her own, Bixie was part of a September 29 show at the Olympic Auditorium in Los Angeles. Hosted by DJ Hunter Hancock, it also featured Floyd Dixon, Peppermint Harris, Duke Henderson, Cecil "Count" Carter, Ernie Andrews, and Big Jay McNeely. Fortunately, the show was recorded and Bixie's "I Get The Blues When It Rains" turns up on a 1985 Route 66 LP.

The Basie band played the Savoy Ballroom (Harlem) in late October.

Sometime in 1952 Basie had a session for Clef Records (actually, since I don't know any master numbers, the songs could have been recorded over several sessions). She recorded at least eight vocals, but none of them appeared on singles. The tunes were: "Fallen", "I Got Your Water On", "I'm Still In Love With You", "Like A Ship At Sea", "Maybe Some Rainy Day", "My Man's A Devil", "Never To Cry Again", and "Three Little Words".


On May 9, 1952, Bixie and the Basie band began another week at the Apollo Theater. This time they were with Joe Turner and the 5 Keys ("the 'Glory Of Lane' boys").

The Basie band went on tour at the end of January 1953. They started at the Blue Note in Chicago, for a couple of weeks in February, and then toured through most of March. Returning to New York, they appeared at the Band Box and then the Apollo Theater the week of April 17 (along with the 4 Step Brothers and Pigmeat Markham). The New York Age of April 18 referred to Bixie as a "lush thrush" and went on to say: "Talented Bixie Crawford, who set the West Coast on its ears with her terrific vocalizing, will be in front of the Count's band." However, Bixie wasn't listed separately in the Apollo ad, being lumped in with "Other Headliners". On May 16, Basie and Bixie appeared at the Howard Theater in Washington, DC, along with Big Joe Turner and the 5 Keys.

Bixie had a session for Chicago's United Records on February 12, 1953. She later recalled that she was backed up by musicians from Basie's orchestra (but not Basie himself). Present were Joe Newman (trumpet), Ernie Wilkins (alto sax), Eddie "Lockjaw" Davis (tenor sax), Charlie Fowlkes (baritone sax), Gene Ramey (bass), and Gus Johnson (drums). However, she couldn't remember the name of the Chicago pianist who was used in place of Basie.


The four songs she recorded for United were "I'm Still In Love With You", "Never To Cry Again", "Fallen", and "Bixie's Blues". (She'd recorded all but "Bixie's Blues" for Clef a year earlier.) United issued "I'm Still In Love With You" and "Never To Cry Again" in August 1953. It wasn't reviewed and sank without a trace.

On September 17, Bixie, Count Basie, Billy Eckstine, Dizzy Gillespie, and Ruth Brown all appeared at the Georgia Auditorium in Vancouver, British Columbia.

On November 11, 1953, the Basie Band, Sugar Ray Robinson (who'd gone from boxer to performer), the Dominoes, Margee McGlory, and Emitt Slay played the 16th Street Auditorium in St. Petersburg, Florida, in a revue called "Rhapsodies Of 1954". A review in the St. Petersburg Times (November 11) singled out Bixie: "Featured female vocalist with the Basie band is lovely Bixie Crawford. She is rated among the country's leading vocalists. Bixie deserted the night club circuit to join the band." (Sounds suspiciously like a press agent wrote that, doesn't it?)

Actually, here's proof of how much fun press agents had. Was she really "among the country's leading vocalists"? Considering that Count Basie's band placed fourth in the Pittsburgh Courier's annual Theatrical Poll for 1953 (behind Buddy Johnson, Ernie Fields, and Duke Ellington), Bixie wasn't even on the list of Female Singers (27 names, from Dolores Parker to Edna McGriff) or Female Blues Singers (20 names, from Ruth Brown to Lula Reed). Of course, the other side of that coin is that I don't actually trust those polls. For example, that year's winner in Male Blues Singers was Nickie Lee, whom I never heard of. He overwhelmingly beat out second place Wynonie Harris 5870 points to 780. (I've since found out that Nickie was so successful that, by 1960, he'd become a disc jockey when he could no longer find work as a singer.)

On November 23, the "Rhapsodies Of 1954" show was at the Municipal Auditorium in San Antonio, Texas. The November 24 San Antonio Express said of Robinson: "Robinson stood out in front, pranced gaily about, and pretended to direct the orchestra, which obviously did not need his help and paid no attention to him. He also danced, but his dancing, while it would pass for excellent footwork in the ring, was hardly half as good as the dancing of Robinson's stooge, a rubber-jointed little fellow named Joe Scott." Their only mention of Bixie is that she was Basie's "diminutive singer".


The Basie Band spent Christmas Eve 1953 at Morris Levy's Birdland in Manhattan. On February 11, 1954, they appeared at the Mansfield Armory in Mansfield, Ohio, On the 22nd, they were at the Capitol Theater in Rochester, New York. Interestingly, the ad for the Capitol said "America's Incomparable Rhythmic Stylist! Count Basie And His Orchestra, Starring The Du Droppers, and featuring Bixie Crawford, Song Stylist". That makes it sound like the Du Droppers were part of his orchestra (which, for all I know, they were at this time).


In the spring of 1954, Basie's band went on a European tour: from March 11 to April 10 they played Sweden, Norway, Germany, Holland, Belgium, France, and Switzerland. On April 10, a press agent gushed (in the New York Age): "Bixie Crawford, curvaceous song stylist with the Count Basie orchestra, is currently the talk of European music centers where she has been appearing with the Count on his current tour of the continent. Music critics have gone out for the lovely Bixie, 'hook, line and sinker'. She returns to the good old U.S.A. next month." (Close. They [Basie, his wife Catherine, Birdie Crawford, and the rest of the band] flew home the day after that blurb appeared.)


An April 6 article in the Washington Afro-American referred to her as "Bixie (Oklahoma Girl) Crawford". It said, "Bixie has been with the Count Basie band for more than two and one half years by now, was formerly a member of Jimmy [sic] Lunceford's, Benny Carter's and Louis Jordan's aggregations. Her favorites: 'My Man's A Devil' and 'Three Little Words'." She may have bounced around from one band to another, but they were Big Names that looked good on her resume.

On March 15, while in Sweden, Bixie recorded a couple of songs with Basie, the aforementioned "My Man's A Devil" and "Three Little Words". These were released on a Jazz Society LP in 1987. The band actually might have been recorded wherever they went: there are recordings from The Hague (Netherlands) made on March 27. Bixie again sings "Three Little Words".

When the band returned, they went into the New Trianon (Chicago) on May 28. The venue was re-opening under new management and the ad billed Bixie as the "vocalovely" with the band.

There was an article about her in the April 23, 1954 Lincoln Clarion, which had this:


A former Lincolnite is included with the 15-piece Count Basie aggregation which recently returned from a 28-day European tour from Norway to Southern Sicily.

She is Bixie Crawford, in private life Mrs. Birdie M. Hairston Crawford. Bixie, who received a B.A. degree in sociology with a music minor from the University in 1942, has been singing with the band about two and a half years....

Prior to her enrollment at Lincoln, Bixie attended Fisk University from 1936-38. She also attended the 1941 summer session at Langston University.


The California Eagle of June 17 1954 had a small article about Bixie, which started out by calling her "Vocaluscious". She was due to appear with Basie on June 20th in Los Angeles' annual Cavalcade Of Jazz program at Wrigley Field.


On July 2, the Basie Orchestra was at the Evergreen Ballroom in Tacoma, Washington for a single night. They were back at the Georgia Auditorium, in Vancouver, British Columbia, on the 5th.

["But wait", you cry, "didn't you promise us a Reality Article thousands of words ago?" OK, gang, hold on; here it comes.]

For reasons never disclosed in the press, Basie gave Bixie her notice in early July 1954, when the band was finishing up a San Francisco engagement. Of course, her press agent let it be known (for example in the Pittsburgh Courier of July 10) that she "has decided she wants to try her luck as a single and will give up her spot in front of the Count Basie aggregation."


Soon after, one fateful August day, the Count's wife, Catherine (a former singer and dancer, to whom Bill Basie had been married since July 1942), was preparing some of his clothes for the cleaners, when she came across a letter from Bixie to Basie. It was, in the parlance of the time, "compromising". In it, she excoriated him for firing her, when she had been "wife, mother, and sister" during her time with the band. Basie later claimed he'd received the letter, put it in his pocket, and had promptly forgotten about it.

Catherine immediately called Basie at work (he was now at Birdland) and confronted him. She basically told him not to bother to come home, since she wasn't prepared to believe any explanation he could dream up.

Well, he stayed away for a couple of days and then showed up at their house (in St. Albans, Queens, New York) with a brand-new Cadillac for her ($5500 in those days; about $48,500 in 2016 dollars). But Catherine was in no mood to listen (although she did keep the car, while throwing Bill out). He returned the next day and, in the ensuing fight, he ripped out the phone, threw it at her, and wrecked some furniture. She somehow managed to call the police, who showed up and arrested the Count for disorderly conduct. The judge let him go as long as he promised to stay away from Catherine, who declined to press charges. However, a few days later, some friends interceded, took them out for a steak dinner, and that, according to the press, did the trick.

[All this probably dampened the joy Basie should have felt at being named the top jazz band in Down Beat magazine's second annual poll of jazz critics on August 8. It probably also threw some cold water on his August 21 birthday celebration.]

What helped a bit more was that Bixie then admitted that she was so mad at Basie for firing her that she had concocted the letter as revenge. In front of Catherine (and her attorney), she signed a statement to that effect, saying (as reported in the September 2 Jet) "It was just a malicious act on my part."

A couple of weeks later, Basie told Jet Magazine (September 16) that "Girl singers aren't nothing but trouble. From now on, I'm letting my horns do the singing." In spite of this, it was widely reported on October 21 (for example, in the Terre Haute Tribune) that part of the reconciliation deal was that Catherine had the final say on any new band vocalists.

Dorothy Kilgallen, in her September 22 syndicated column, said: "Bixie Crawford, storm center of Count Basie's recent marital woes, is tossing in the towel, professionally speaking. She's decided to give up the hectic life of a band singer to return to the more placid career of school teaching." [Don't worry; it didn't happen.]

Now, let's see how many of you are cynics, as I am. If you were innocent of cheating on your spouse, would your first reaction be "Why don't I blow a bundle on a Cadillac for her?"? That screams out as being the actions of a guilty man and makes the signed statement somewhat suspicious (like possibly something she and Basie made up to throw Catherine and/or the press off the trail).

But the fun wasn't over yet.

On May 6, 1955, Basie started another engagement at Birdland. Who should show up on opening night but both Catherine and Bixie. They kept it casual (until Catherine threw a drink into Bixie's face and spit on her). Catherine told Jet (May 26) "It was just something I wanted to do." Bixie took it well, only asking for $25,000 in her June 24 lawsuit against Catherine. For her part, Catherine said, "I welcome a suit by Bixie Crawford because then I can introduce some very juicy letters she wrote to my husband before he fired her." Notice that now it's "letters", and ones that were sent "before" the firing. Still think Bill is the innocent party here?

(Just to put all this into a timeline, over the summer of 1955 Basie, with vocalist Joe Williams, had a smash hit with "Every Day". Presumably, few people who bought the record had any inkling of the drama surrounding Basie.)

By September, Catherine had filed a counter-suit against "Bixie Harris" for $50,000. (Note that she seems to have gone back to using the Harris name for a brief period. It's what she told Social Security during that time.) As is usually the case, the dispositions of these suits were never reported.

And that was that. The unpleasantness was never referred to in the press again. By Christmas 1955, Alan Freed had the Basie orchestra in his Academy Of Music Holiday Jubilee show. All was forgiven.

Here's what Catherine Basie said years later (in Jet, April 5, 1982). For her, the key to a successful marriage was to avoid each other as much as possible. "I haven't lived with him. The longest we were together any one time until recently was four months while he was recuperating from his heart attack. When he'd come back off the road, it would be like a honeymoon. I'm sure I couldn't have lived with him every day for 40 years."

[In the interest of fairness, I have to make this disclaimer: The events I reported actually happened. Bixie was fired. There was at least one letter. The Basies went through a rough patch. There was a suit and counter-suit between Bixie and Catherine. As for the details, I can't say how much they were embellished or played down by press agents. I've learned to take what's printed about entertainers with a lot more than a grain of salt. One curious thing I noticed: the events were reported almost exclusively in East Coast papers.]

Well, let's leave Reality and come back to reality.


In March 1956, Bixie released not one, but two records. The first was on the C Note label: "Go 'Way Blues", backed with "Let Me Know"; the back-up band was the Fletcher Smith Quartette. Pianist Smith had been part of Buddy Banks' group when Bixie had recorded with them back in 1949 (and had written "Be Fair With Me"). I usually see this as a 1955 release, but the delta numbers in the wax put it squarely in March 1956. It was never reviewed in the trades.


Her second March release, on the Empire label, was "How Big A Fool (Can You Be)", coupled with "Rock And Roll Wedding" (a song also done by Sunny Gale and Ella Mae Morse). On these, she was backed by Ernie Freeman's Orchestra. Both sides were given "good" ratings by Billboard in its March 24 edition ("Rock And Roll Wedding" got a 76 and "How Big A Fool" received a 72). Other reviews that week were for the Robins' "Cherry Lips", Little Tommy Brown's "The Thrill Is Gone", Chris Powell's "The Poor People Of Paris", the Sheppards' "Mozelle", the El Capris' "Oh But She Did", and the 5 Swans' "Lil Tipa-Tina".

Finally, Bixie made it to the Pittsburgh Courier annual Theatrical Poll. When all the votes had been tallied for 1956, she was #12 in the "Girl Popular Singer" category (340 votes), right behind Julie London and just ahead of Patti Page. The winner was Gloria Irving, with 30,750 votes, some 5000 votes ahead of Sarah Vaughan. [This is a wonderful example of what I mean when I doubt the validity of these polls: Gloria Irving seems to have done nothing whatever in 1955 or early 1956 to win that poll, other than to win it. (In all of 1955 and the first few months of 1956, I can find no recordings for her and only a single appearance). In the last week of voting for the prior year's poll, Gloria was #16 out of 18 in the "New Finds" category (who was #18? Clyde McPhatter!).]


On November 29, Bixie and Timmie Rogers appeared at the Women's Sunday Morning Breakfast Club at the Fox-Figueroa Theater in Los Angeles.

Things were quiet for most of 1957. Then, Bixie was part of a talent and charity show (as reported by the December 2 California Eagle):

Prince of Wales Club Plans Elaborate Show Nellie Lutcher, the Real Gone Gal, will highlight the first annual talent and charity show to be given by the Prince of Wales Club Inc., Sun., Dec. 8, at the Los Angeles Breakfast Club. An array of amateurs and local professional artists of stage, screen and radio will donate their time and talent to the show with the proceeds going to the Exceptional Children's Opportunity School [the school run by Bixie's mother]. The home and school are supported through public appeals. Those attending this affair will be helping the youngsters enjoy a wonderful Christmas as well as enjoying a first class show with top entertainers: J. Hodges and his groovy band [presumably Johnny Hodges] will provide the music and the following stars have promised to appear on the show with Lillian Randolph as mistress of ceremonies: Bixie Crawford, Jessie Belvin, Mabel Scott, Jack Thompson, Clydie King, Ted Taylor and dancer Lady Latosca.

But, of more interest, the same issue reported:

Juanita Cassius Macklin, prominent civic and social figure, announced the marriage of her daughter, Birdie Bixie Crawford, to James Christopher Wyatt, in Las Vegas, Nevada, recently. A wedding reception will be held Sunday afternoon, Dec. 22, from four until seven at the Wilfandel House, 3425 West Adams Blvd. [The wedding had actually occurred on November 16, 1957. Wyatt was a civil engineer for the Los Angeles Board Of Education.]

Bixie probably went back to teaching for a couple of years. There's no mentions of her in the press until June 1960, when a record appeared on Hollywood's Indigo label: "I Miss Those Lonely Nights", coupled with "I Hear My Baby". The review, in the June 27 Billboard, was odd. Of "I Miss Those Lonely Nights", they said "Thrush sells this rockaballad sweetly over a simple backing". Sounds good, but they only ranked it "fair". The flip, also rated "fair" received a more comprehensive review: "Same comment."

On July 29, 1961, Bixie was part of a moonlight cruise in Los Angeles, a benefit to raise money for handicapped children. Also on the cruise were the Ink Spots (it's anyone's guess which group).


In the early 60s, she returned to education full-time, under the name Bixie Crawford Wyatt (sometimes Birdie M. Wyatt). When her mother took ill in 1962, Bixie Crawford Wyatt "vocalist with the Count Basie band for 10 years" (reported Jet on August 30), "has been named second assistant director of the Exceptional Children's Opportunity School House in Los Angeles." Juanita Hairston Macklin Mitchell, founder of the school, died within a week of the announcement. (Bixie's father, Everett Lee Hairston, passed away in 1989, a year after Bixie.)

There were more blurbs about her over the years, but they all dealt with education and committees.

On August 13, 1969, she copyrighted a drama called "Askia Mohammed I & Hatshepsut". It was "prepared by Bixie Crawford, pseudonym of Birdie M. Wyatt." Askia Mohammed I was the ruler of a vast empire in western Africa at the time of Columbus; Hatshepsut was a queen of Egypt in the 17th Century BC. Although they lived about 3000 years apart, Bixie must have connected them somehow, but I really have no idea what this was about.


There was one more record left in Bixie: a reprise of United's "I'm Still In Love With You", coupled with "What Will I Tell My Heart". These were released on Randy Wood and Lawrence Welk's Ranwood label in 1976.

On August 2, 1984, she copyrighted "Never To Cry Again", the song she'd recorded back in 1953, as "Bixie Crawford, aka Birdie M. Wyatt" (it seems to have originally been copyright in 1950). The next day, she filed a copyright for "Why Did You Do This To Me".

Bixie Crawford (as Birdie Wyatt) died in Los Angeles on August 12, 1988.

So what can we say about Bixie Harris/Crawford? I tend to agree with most of the mediocre reviews her records received. She's a competent singer, but I find that there's nothing particularly outstanding about her. But at least I got to do a Reality Article.


Special thanks to Victor Pearlin, Bob Halverson, and Andy Bohan.




BIXIE CRAWFORD DISCOGRAPHY
DELUXE (Bixie Harris, with Benny Carter & His Ork)
1008 Patience And Fortitude/[Jump Call - Benny Carter Ork] - 1/46
"Patience And Fortitude" is a duet with Benny Carter

AFRS JUBILEE (Bixie Crawford, with Louis Jordan & His Tympany Five)
338 Daddy-o - 8/49
A duet with Louis Jordan
Note that #338 was re-issued as #355 in October 1949. It had a different announcer doing the voice-overs,
but this had no effect on the "Daddy-o" track.

KING (Bixie Crawford, with Buddy Banks and his Notes)
4309 Maybe Some Rainy Day/Be Fair With Me - ca. 8/49
Only Bixie is credited on the label

UNRELEASED KING
Tell Me (You Really Love Me) (K5714 - recorded April 2, 1949)
I Got Your Water On (K5716 - recorded April 2, 1949)

RCA (Bixie Crawford and Choo Choo Trane, with the Gene Gilbeaux Orchestra)
50-0091 I've Got What It Takes/[Dynaflow - instrumental] - ca 7/50

RCA (Bixie Crawford, with the Ernie Freeman Ork)
50-0119 Please Let Me Be/Tonight Of All Nights - 4/51
50-0135 My Man's A Devil (All Men Are)/Waitin' Around - 6/51

CLEF (Bixie Crawford, with the Count Basie Ork)
Fallen
I Got Your Water On
I'm Still In Love With You
Like A Ship At Sea
Maybe Some Rainy Day
My Man's A Devil
Never To Cry Again
Three Little Words
All recorded in 1952, not released at the time

UNITED (Bixie Crawford)
155 I'm Still In Love With You/Never To Cry Again - 8/53
Recorded using several of Basie's musicians, but not Basie himself.
Both were songs she'd done with Basie on Clef in 1952

UNRELEASED UNITED
Fallen (recorded February 12, 1953)
Bixie's Blues (recorded February 12, 1953)

C NOTE (Bixie Crawford, with Fletcher Smith Quartette)
106 Go 'Way Blues/Let Me Know - 3/56

EMPIRE (Bixie Crawford)
102 How Big A Fool (Can You Be)/Rock And Roll Wedding - 3/56

INDIGO (Bixie Crawford)
104 I Miss Those Lonely Nights/I Hear My Baby - 6/60

RANWOOD (Bixie Crawford)
1063 I'm Still In Love With You/What Will I Tell My Heart - 76

ROUTE 66
KIX 1200 "Hunter Hancock Presents Blues & Rhythm Midnight Matinee - 1951" - 85
I Get The Blues When It Rains - Bixie Crawford
From a September 29, 1951 live performance at the Olympic Auditorium in Los Angeles

JAZZ SOCIETY
AA 526/527 "Americans In Sweden - Count Basie - 1954" - 87
My Man's A Devil
Three Little Words
Recorded in Sweden, March 15, 1954, with the Basie Orchestra





Unca Marvy's Home Page
More Articles