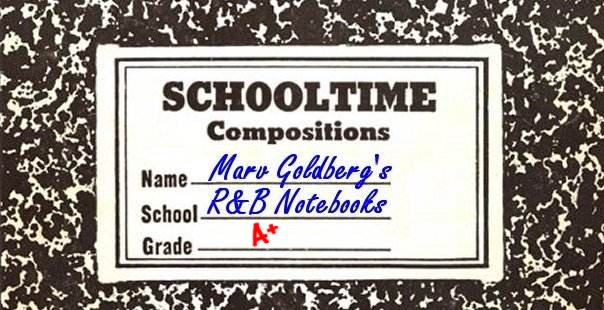 Duke Henderson
By Marv Goldberg

© 2021 by Marv Goldberg
Duke Henderson is another singer who seemed to make a career out of not appearing anywhere. In an 8-year R&B career, there's only one 1948 ad and a couple of late 1951 mentions of him singing somewhere.

I've written about many artists who've recorded for a multitude of labels, but they usually do it serially (that is, one after the other). Duke, on the other hand, seemed to leap from company to company, recording for one within only weeks of recording for another. This leads me to suspect that he rarely had a contract. Was he difficult to get along with? What was he looking for?

On record, Duke sounds like he was heavily influenced by Wynonie Harris and Joe Turner, as well as occasionally using Eddie "Cleanhead" Vinson's squeak.

Researcher's Blues: Duke Ellington, Duke Snider, Duke University, Doris Duke, and the Duke Of Windsor took up a lot of room in papers. Let's not forget ballplayer Duke Henderson of the Kansas City Monarchs.



Sylvester Clarence "Duke" Henderson was born on April 5, 1925, in Liberty, Missouri to John F. and Lillie Henderson. He had a younger brother, Leonard, born December 6, 1927. Of little note is that, after their World War 2 draft registrations, there's not a further trace of John F. or Leonard (or Lillie either, for that matter).

When Sylvester registered for the draft (on July 1, 1942), he added a year to his age (claiming a birthdate of April 5, 1924). He said he was living in Liberty and working for Mann Brothers, but I've been unable to find out what kind of business that was. There was a notation that he was late in registering (it should have been on his birthday) and he was "working as grader House Potatoes", whatever that means.

I don't know if he enlisted or was drafted, but it was on February 15, 1943. It didn't work out for some reason and he was released on December 16 of that year.

On March 21, 1944, Sylvester applied for a license to marry Daisy Marie James (born July 27, 1924). The license has the notation "not issued", although, according to her Social Security record, she was Daisy M. Henderson in 1944.


For reasons never disclosed, Duke Henderson relocated to Los Angeles by the fall of 1945. (I assume he sang in Kansas City, but I've been unable to find any mention of him there as either Sylvester or Duke.) He somehow hooked up with saxophonist Jack McVea, who'd have a hit with "Open The Door, Richard!" in 1947. Supposedly New York's Apollo Records had been scouting Los Angeles to find some talent worthy of being recorded, and McVea (who was one of Apollo's finds) recommended Duke.

Duke's first Apollo session took place on or around November 28, 1945. The six recordings were: "Don't Keep Me Waiting", "Mama Bear Blues", "S. H. Blues", "Not Worth A Dime", "Fool Hearted Woman", and "H. D. Blues".

Another Apollo session was held on December 4, 1945. This time the songs were: "Let's Get Vooted" (I've seen it as "Vootin'", but they're saying "Vooted"), "Boogie Man Blues", "Don't Slam The Door", "Blues In The Background", "Don't Forget I'm A Married Man", "Women's Blues, Part 1", "Women's Blues, Part 2", "Don't Fall In Love With Me Baby", and "Home Coming Blues".

The next day (the 5th) there was a third Apollo session: "Oo' Wee Baby, Oo' Wee", "Get Your Kicks", "Lottery Blues", and "Wiggle Wiggle Woogie".

So, when the dust had settled, Duke Henderson had recorded 19 masters in the space of a week. Fewer than half would be released and he'd never record for Apollo again.

A prolific songwriter, Duke wrote 25 of his released tunes (and probably most of the unreleased ones too). He also penned Dinah Washington's "No Voot, No Boot" and "My Lovin' Papa", both recorded for Apollo.


Finally, a record: in February 1946, Apollo released "Oo' Wee Baby, Oo' Wee", backed by "Wiggle Wiggle Woogie". It was credited to Duke Henderson, with Jack McVea and his All Stars. In fact, all but one of the Apollo records would be credited to someone and his "All Stars" (and you should know by now how empty a term "all stars" is).


Not letting any grass grow under his feet, he recorded "Did You Ever Love A Woman" for Modern Music in February 1946, this time backed by drummer Al "Cake" Wichard and His All Star Band. Released in March, the flip, "Slow Down Baby", has a vocal by Jesse Perry.

Cash Box reviewed "Oo' Wee Baby, Oo' Wee" and "Wiggle Wiggle Woogie" on March 4, 1946:


A good disk for the race spots with Duke Henderson yodeling out the vocals on both sides. Here again the lyrics are a little on the purple side, but the work of Jack McVea and his All Stars make the record a good buy for the race spots. They do a nice background job on both sides. On "Wiggle" they beat it out in a fashion that will have the listeners jumpin'


For a change, Billboard agreed in its March 30 review:


For some real sultry and sex-inciting blues singing, the wailing of Duke Henderson means much on the wax for the wordage he fashioned as Oo' Wee Baby, Oo' Wee [in English, he wrote the song]. It's the Oo' Wee race blues that count for much more in the Duke's chant. At a faster clip, it's a boogie blues for Wiggle Wiggle Woogie. Jack McVea's small band matches the mood musically. Sides are solid spinners for the race locations.


Did I mention that Duke didn't let any grass grow under his feet? By the time that Billboard review was printed, he'd already recorded "G.I. Blues" and "Leona Of L. A." for the Globe label, backed by the Tiny Webb Trio (Mitchell "Tiny" Webb, guitar; George Mason, piano; and Orville Austin, bass). The sides, both of which he wrote, were released in April 1946.


Nothing much happened with any of these records and, in June, Apollo released "Fool Hearted Woman", backed with "Lottery Blues". Once again, the back-up band was credited as Jack McVea and his All Stars. These were reviewed in the July 27, 1946 Billboard:


A husky blues shouter, at the expense of diction, Duke Henderson cries out these characteristic race blues of his own origin in good style. [Yes, he wrote these too.] Wails the wordage about his two-timing Fool Hearted Woman, but more effectively for an equally slow Lottery Blues as he bemoans the fact that his girl always plays the lottery but never wins. Jack McVea's small band provides a fetching jump riff setting for the singer. With wordage that strikes home, Lottery Blues should get the players at race spots.


Duke took a short break from recording, until early 1947, when he turned up at Otis Rene's Excelsior Records. This time, it was with the "King Perry Orchestra" (Oliver "King" Perry, alto sax; Maxie Ward, trumpet; Ralph Bowden, trombone; Earl Payton, piano; Ike Brown, bass; and Al "Cake" Wichard, drums.) Sometime in February, they recorded four sides: "Leona's Boogie", "18th & Vine St. Blues", "I Am The Blues", and "San Quentin Quail". Guess what? He wrote all four songs.

Did you notice that he's now written and recorded two songs about "Leona" in less than a year? "Leona's Boogie", much of which is difficult to understand, has the line "she used to be married, but now she's mine". We'll find out more about her in about a year.


"I Am The Blues", coupled with "San Quentin Quail" came out on Excelsior 505 in March 1947. (While that record was never reviewed, Excelsior 504 was also from March). When nothing happened with those, "Leona's Boogie", paired with "18th & Vine St. Blues" (a song about Kansas City) were released in April. They weren't reviewed either.


(Later that year, both Excelsior records were re-released on the United Artist label with the same numbers that Excelsior used. For an explanation of United Artist, see my Fluffy Hunter article.)


Also in April, Apollo issued "Women's Blues" (parts 1 and 2). These are actually two different songs; part 2 isn't a continuation of part 1. This time, Duke was backed up, per the label, by John "Shifty" Henry and his All Stars. (Presumably bassist Shifty was given credit because he'd written the song.)

A photo of Duke appeared in the April 5, 1947 Pittsburgh Courier. The caption identified him as: "Duke Henderson, talented blues singer from Kansas City, Mo., who is proving popular with Southern California devotees of swing and jazz. He recently waxed a series of original tunes on the Excelsior label in Hollywood."

Billboard reviewed "Women's Blues" in their August 9, 1947 edition:


A lusty blues shouter with John (Shifty) Henry and his All-Stars providing a bright and jam-packed rhythmic support. Duke Henderson takes both sides of the spin to sing the maestro's Women's Blues [a clumsy way of saying Shifty wrote the song]. For the starting side, he sings a goodbye to all his women since he's leaving town. And gets more righteous, as does the band in making the rhythms and solo ridings more pronounced on the mated side where he sings of his search for a woman he can trust to share his happy home. Part II side spins brighter for the phono play.


In late 1947, possibly in November, Duke recorded "Trouble In Mind" and "In The Evening When The Sun Goes Down" for Modern. On these, he's backed by famed piano man Kermit Holden "Pete" Johnson. There's a good chance that a third song, "Hard Luck Women And Strife", was also recorded then. At the same session, Pete Johnson recorded "Sunset Romp" and "Johnson's Boogie".

In late December, he recorded some more sides for Modern, backed by the Al Wichard Sextette: "Gravel In My Pillow" and "His Majesty's Boogie". [Note: someone wrote down the title as "Gravels", which is incorrect; he only says "gravel" in the song.]


In March 1948, Modern issued "His Majesty's Boogie", backed with Wichard's "That's Your Red Wagon (with a vocal by Jimmy Witherspoon). They weren't reviewed.

Beginning on January 1, 1948, James C. Petrillo, head of the musicians' union, called for a ban on union musicians doing any recording. While it took most of the year to finally be resolved, it didn't stop Duke and some unidentified musicians from recording four tunes for the Down Beat label around June: "Get Your Mind Outta The Gutter", "Blues In The Morning", "Old Maid's Prayer", and "Dr. Dukes Boogie" (which should have an apostrophe, but doesn't). The musicians would have incurred some hefty fines had they been identified.


Down Beat released all four tunes in or around August: "Get Your Mind Outta The Gutter", backed with "Blues In The Morning", and "Old Maid's Prayer", paired with "Dr. Dukes Boogie". They were credited to Duke Henderson and orchestra. At some time in the future, they'd be re-released on Swing Time, with the same record numbers.


The August 12, 1948 California Eagle ran his photo with this caption: "Duke Henderson, better known (and billed) as 'His Majesty Of The Blues,' has been held over indefinitely at the Last Word Cafe, and is scoring a smash hit with the guys and gals. Duke, a product of Kansas City's cradle of Swing, has a new and different style of blues singing, and his latest recording, 'Early Morning Blues,' [they meant 'Blues In The Morning'] is due out August 15." This is a new meaning of the word "indefinitely"; he was mentioned in the August 12 and August 19 ads, but no others. Therefore, he was only there for two weeks and was gone when Little Miss Cornshucks arrived on August 25. These are the only ads he ever appeared in. Note that I've lost track of how many artists have been described as having a "new and different" style of singing, even if they sound like everyone else.

[This is probably a good time to say that I searched for "Sylvester Henderson" and "Duke Henderson" appearing in Kansas City prior to showing up in Los Angeles. There was nothing, although I have to believe that he did appear there.]

Remember "Leona"? The 1948 California Voter Registration listings have "Mrs. Leona Henderson" living at the same address as Sylvester C. Henderson. (The deadline for registering was April 22.) At least we now know there really was someone he wrote those two songs for. What happened to Daisy? I don't know; I can't find any evidence that Daisy had ever gone to California with him in 1945 (nor can I find a marriage record for Duke and Leona - at least not yet).


The September 18, 1948 Cash Box, in an article about Apollo Records, mentioned that Duke's "H. D. Blues" would be coming out "this week". It was about time; it (and its flip, "S. H. Blues") were from his first Apollo session back in November 1945. The backup was credited to "Lucky Thompson and His All Stars". "H. D." (hot dogs) was a song in the same vein as the 5 Royales' "Laundromat Blues" and Roy Brown's "Bootleggin' Baby".

The sides were reviewed in the October 9, Billboard:


H. D. Blues (79): Blatantly suggestive lyric well-shouted and smartly backed is earmarked for strong coinbox play.

S. H. Blues (66): Conventional blues here, with orking up too much, muffling most of the vocal. [They're right about the lyrics being difficult to understand. And, I'm sure you've guessed that "S. H." is for Sylvester Henderson.]


And then, another company. In November 1948, with the musicians' ban over, Duke recorded for Capitol Records. (Some masters a couple of numbers after his were recorded on November 23). The songs were: "Low Down Dog", "Bewildered", "Proposition Baby" (a Joe Turner-ish sound), and one other, which could be either "K. C. Boogie" or "I'm Not Fooling". (Whichever it was, the other is probably from a subsequent Capitol session.)


Capitol released "Bewildered", backed with "Low Down Dog" in early December (it was mentioned in a list of artists who'd recorded the song that appeared in the December 11 Billboard). However, the artist wasn't "Duke Henderson", but, for some reason, "Studs Henderson". "Bewildered" was an oldie, first recorded by Tommy Dorsey in 1938. Now, it was having a renaissance, having been recorded by the Red Miller Trio (Bullet) and Amos Milburn (Aladdin), both of which would become #1 R&B hits the following month. It was also waxed, at that time, by Hadda Brooks (overdubbed by the Ebonaires), the James Quintet, and Joe Medlin (backed by the 3 Riffs).

Duke was back in the Capitol studios on December 23 to record "Studs' Boogie" and "Louse In The Henhouse".

On January 15, 1949, Billboard reviewed "Bewildered"; it didn't fare well:


Bewildered (62): Note-bending warbler does the race sleeper, with good-enough phrasing but a too shaky vibrato. Side doesn't figure to push other versions of tune.

Low Down Dog (58): Boogie woogie blues with warbler singing in a throaty Joe Turner style. Treatment too casual to impress.


Also in January, Modern released "In The Evening (When The Sun Goes Down)" and "Trouble In Mind". They weren't reviewed.



Realizing that Duke's "Bewildered" could never compete with Amos Milburn's and Red Miller's versions, Capitol rushed out "Proposition Boogie" and "Studs' Boogie" by the end of January. They fared even worse in Billboard's February 19 review:


Proposition Baby (51): Novelty blues doesn't add up. Vocal doesn't sock, and orking, boppish and ornate is out of the mood.

Studs' Boogie (56): Jump boogie blues with same inconsistencies and no-feeling as flip, but with a beat that raises listenability.


One final Capitol session, on March 2, 1949. The only known recording was "I Hung My Head And Cried".


For some reason, Apollo dug into its vaults and came up with "Home Coming Blues", issued in March 1949, with Wild Bill Moore's "Boulevard Boogie" as the flip. Actually, it made no sense at all for them to issue it at this point. When it was recorded, in December 1945, it was relevant, as G.I.s were heading home from Europe. But not now.

It was reviewed in the April 2 Cash Box: "Just listen to this new Apollo platter and hear Duke Henderson pipe the lyrics to the topside, 'Home Coming Blues,' and you'll know you've got something that has lots and lots of coin culling possibilities." I really get the feeling that they hadn't listened to it.

The April 16 Billboard begged to differ, giving the tune only a 57: "Duke Henderson shouts the lyric of this several-year-old disking. It's about a soldier coming home from the war and therefore rather dated." Told you.


The next Studs Henderson Capitol release was from June 1949: "Louse In The Henhouse", coupled with "I Hung My Head And Cried". "Louse In The Henhouse" is a bizarre song about a "louse in the henhouse eating up all the chickens". Strangely, it seems to actually be about a louse (who rides a rooster). This is another one that wasn't reviewed. Considering how big Capitol was in the trade, their Studs Henderson releases were ratings disasters, so I guess they didn't even bother sending this one out.

But all was not lost. The September 3, 1949 Cash Box reported that London Records was entering the jazz and blues fields. They'd already signed Rudy Render, Paul Bascomb, and, of course, Duke Henderson.

This appeared in the Legal Notices column of the September 12 Los Angeles Times: "Not responsible for any debts but my own. Sylvester Henderson, 2117 Santee, Los Angeles. Sept. 8, 1949." What was that all about? My guess is that his marriage to Leona was is trouble. This is backed up by her name appearing at a different address than his on the 1950 Voter Registration list. However, they made up, because the 1952, 1954, 1956, 1958, 1960, and 1962 California Voter Registration listings all have "Mrs. Leona Henderson" living at the same address as Sylvester C. Henderson. But wait a bit; there'll be more.


In January 1950, Duke waxed a couple of sides for London: "Mama's Clock Stopped Ticking" and "Worried And Blue". These were released in February as by "Duke" Henderson - "His Majesty Of The Blues", but weren't reviewed.

Around May 1950, Capitol tried once more with "I'm Not Fooling", coupled with "K.C. Boogie". It, too, wasn't sent out for review.


Another London session, held sometime in April, gave us "Situation Blues" and "Rock Me In Your Chair". Released in May, they were reviewed in the May 20 Billboard:


Rock Me In Your Chair (76): Shouter generates some excitement on a beat-full jump opus. Honking tenor helps build it up.

Situation Blues (71): Slower, hard-luck blues is shouted with guts by the high-voiced warbler.


Here's what the June 10 Cash Box had to say:


Blues styled by Duke Henderson, and the set-up of "Rock Me In Your Chair" and "Situation Blues" in the offing for music ops. Both sides have the Duke in the vocal spot, and make for fairly pleasant listening time. Wax is the sort that you have to listen to in order to fully appreciate it - we suggest just that.


By the end of the year, there was some more recording and a [... wait for it ...] new company. On December 6, 1950, Duke recorded for Imperial Records: "Live My Own Life" (parts 1 & 2), "Kinfolks", and "Ten Days Of Agony", all backed up by pianist Ernest Monroe Tucker's Orchestra. The latter two were released later that month.

The December 30 Cash Box said: "Lou [sic; should be "Lew"] Chudd of Imperial figures he's got a year of joy in 'Ten Days Of Agony,' with Duke Henderson vocal and Monroe Tucker ork (of 'Two Years Of Torture' fame)." [Tucker's orchestra had backed up Percy Mayfield on "Two Years Of Torture".]


When that one went nowhere, Imperial released both parts of "Live My Own Life" in April 1951. As was the case with the prior record, these sides weren't reviewed in the trades either.

Here's a blurb from the October 10, 1951 Billboard that marks the first time Duke Henderson is mentioned as having appeared anywhere since the Last Word back in August 1948:


Floyd Dixon, Betty Jean Washington, Madeline Perkins, Smokey Linn, Maxwell Davis, Ernie Andrews, Duke Henderson, Charles Norris and Freddy Simon worked a recent "Midnight Matinee" at Olympic Auditorium. Shows, staged weekly, are co-emseed by Hunter Hancock and Ray Robinson, local r. and b. disk jockeys.


Another record; another company; another mystery. In December 1951, Dootsie Williams' Dootone Records released "Hard Luck Women And Strife", by "Big Duke with Pete Johnson and his All Stars". The flip was Bobby Nunn's "Anticipating Blues". Since Dootone didn't provide master numbers on the label, I have no idea when this was recorded. I've read that this track was actually done at the late 1947 Modern session that produced "Trouble In Mind" and "In The Evening (When The Sun Goes Down)". Since Pete Johnson was the pianist on those and actually gets credit here, I'll go along with that.

On December 1, 1951, Duke was on another of those late night shows. According to the December 8 Billboard:


A flock of rhythm and blues talent, previously a weekly feature at Olympic Auditorium, appeared Saturday (1) at the Orpheum Theater. It marked the first time the Orpheum stage has been lit since the house halted flesh acts [live performances] last May. Revue was produced by Mel Roberts, who rented the theater from the Metropolitan Theater chain. Show, tagged "Rhythm and Blues Jubilee," was co-emseed by disk jockeys Hunter Hancock and Ray Robinson. On the bill were Big Jay McNeely's ork, Three Dots and a Dash, Jacqueline, Freddie Simons, Maurice Simons, Duke Henderson, Madeline Perkins, Jimmy Huff and Smilin' Smokey Linn. House was scaled at a flat $1.20.


Suddenly, Duke was busy. The North Hollywood Valley Times had an article about an upcoming December 28, 1951 concert:


Jazz concert fans of the Valley receive a big inducement Friday night at Valley Garden Arena [North Hollywood] for the "Rhythm and Blues Parade," which will be studded with a number of outstanding artists in the entertainment field....

Featured in the show will be Freddy Simon and his band, Bob White on the drums, Milt Bernhardt on trombone and vocals by Duke Henderson, Jimmy Huff, Hollywood Four Flames and many others.

This is a benefit show for the popular orchestra leader Cecil "Count" Carter, who was recently taken to Mt. Olive T.B. Sanitarium. All proceeds to Carter and his family.


On January 4, 1952, they held another "Rhythm And Blues Parade" show at the same venue. This time, it would feature Big Jay McNeely, Smilin' Smokey Linn, Jimmy Huff, and Duke Henderson. A press release referred to him as the "Duke Of Henderson". This, however, seems to be the last time R&B singer Duke Henderson would ever be mentioned as appearing anywhere.


Oh look, another label. On September 11, 1952, Duke recorded a couple of songs for Specialty: "Lucy Brown" (one of his own compositions) and "Country Girl". These were released in early October, and Billboard reviewed them on October 11:


Lucy Brown (80): The blues shouter hands this driving novelty a powerful reading, backed solidly by the ork. This is an exciting jump blues disk and should catch coin.

Country Girl (77): Henderson shouts out the story of an ungrateful country girl on this interesting new waxing. Ork furnishes a dramatic setting.


And then, Duke recorded the song that should have propelled him to the top. A biologist named Alfred Kinsey had recently published "Sexual Behavior In The Human Female" (males had gotten their book back in 1948) and the so-called "Kinsey Report" was Big News. So big, in fact, that Duke was inspired to write "Hey Dr. Kinsey", which he recorded (along with "Hello Baby") for Flair in September 1953. They were released the following month.

He wasn't alone. The October 17 Billboard had an article titled "Tin Panners Give Sex Stuff A Whirl". It began:


The eminent Dr. Kinsey is on his way to immortality, or perhaps notoriety, in Tin Pan Alley. For the third consecutive week, a new record has been waxed which concerns the co-author of the literary thesis "Sexual Behavior In The Human Female." The titles of the tunes indicate the popularity of the good doctor's work - "Kinsey's Book," a country disk with [Talkin'] Charlie Aldrich on Intro.; "Hey, Dr. Kinsey," rhythm and blues record featuring Big Duke on Flair, and the forthcoming "What's Her Whimsy, Dr. Kinsey?" with Stomp Gordon on a Mercury rhythm and blues cutting.


Big Duke's "Hey Dr. Kinsey" was rated a Best Buy in the same Billboard issue. Note that most accounts of the record correctly included a comma after "Hey", although the label didn't.

The record was reviewed by both Billboard and Cash Box on October 24, 1953:


Hey, Dr. Kinsey (BB; 82): Big Duke quotes percentages about female behavior in a lusty blues effort. Performance is forceful, and the ork supports him solidly. Side could be a big one, earning plenty of loot. A solid juke waxing.

Hello Baby (BB; 72): Another good performance by the chanter, but material is routine.

Hey, Dr. Kinsey (CB; "B+"): Big Duke blames Dr. Kinsey for all his troubles. A rocker with a chuckle in the lyrics.

Hello Baby (CB; "B"): Big Duke tells the girls he is back in town and how lucky they are. He boasts of his loving prowess. A rocking side.


As topical as they were, none of the Kinsey records became hits, including Duke's.


There was one more Flair session, held in late 1953. It produced "Beggin' And Pleadin'" and "Baby Beat It". (However, I don't think Flair "master numbers", as shown on record labels, can be trusted. It's possible, even probable, that these were recorded at the "Dr. Kinsey" session.) Released in February 1954, they weren't reviewed and became Duke's final R&B effort.

And then, Duke Henderson disappeared, to be replaced by "Brother Henderson", a gospel DJ, advertised on KFVD in early November 1954. From here on, all his activities would be in the gospel field. He even became an ordained minister.


His last known record (by Brother Henderson's Spiritual Lambs) was issued on the R And B label around January 1955: "I Made Up My Mind", backed with "Pass Me Not".

Okay, now, I'm confused. California marriage records show that, on April 28, 1960, Sylvester C. Henderson married Leona Williams in Los Angeles. (A second record, with the same date and certificate number, calls her Leona Henderson.) I suppose it's possible that they divorced after the April 1958 voter rolls were compiled and then re-married in 1960, but she's Mrs. Leona Henderson on the 1960 rolls and voter registration closed some two weeks before the marriage date. Also, there's no divorce record that I can find. [Do you think I get too wrapped up in these things?]

Born March 21, 1920, Leona was some five years older than Duke. Had they ever actually been married previously? While I can certainly understand them living together up to this point, would she really lie about being married to him as far back as 1948 (as well as from 1952 onward) when she was on California Voter Registration listings as "Mrs. Leona Henderson"? Whatever the answers, they'd remain married for the rest of his life. As hard as I've tried, I can't find out anything else about Leona Williams; she only seems to exist in that marriage record, on voter rolls, and on a death record.

I don't know how many children Duke and Leona had, but I'm willing to bet that Sylvester C. Henderson, born in late 1955 to a mother whose maiden name was "Williams", was one of them.

[There was a 1968 Los Angeles marriage record between Sylvester Henderson and Anne Cargile Smith, but that turned out to be a different Sylvester Henderson, who was two years older than Duke.]

On August 30, said the July 28, 1960 California Eagle, "Brother Henderson will present the 'Voices Of The Valley' in a big musical...."

The November 13, 1960 Valley News reported on new business licenses issued. One of those was to Sylvester C. Henderson and Milton R. Rose, for an establishment at 5328 South Central Avenue. This would turn out to be a record store, the Gospel Corner, at 54th and Central Avenue. It was also referred to as Brother Henderson's Record Store.

On August 30, 1969, Billboard published the International Music-Record Directory. In it, we learn that there's an organization called Brother Henderson's Religious Entertainments (at that same 5328 S. Central Avenue address). The owner of record is S. C. Henderson, the manager is Brother Henderson, the sales manager is Nick Henderson, and one of the promotional people is Dot Henderson.

Also listed (separately) was Proverb/Gospel Corner Records (same address). Its president is S. C. Henderson, A&R is Duke Henderson, Publicity Manager is Nick Henderson, and Promotion Manager is Dot Henderson.

Another listing was for "Brother Henderson's All Religious Music Store" (same address). This one has Owner: S. C. Henderson; Mgr.: Dot Henderson; Buyer: Brother Henderson.

While "S. C.", "Brother", and "Duke" are all the same person, I don't know who Nick and Dot are (his only known sibling was Leonard). There was a Nicholas Henderson who was born in September 1946 and could be Duke and Leona's son. Dot could be Duke's daughter, Nick's wife, or some other relative.


On May 26, 1970, in the Grand Ballroom of the International Hotel, Brother Henderson was given a testimonial dinner in recognition of having founded the Watts Community Choir the previous year (and not for "Wiggle Wiggle Woogie", for some reason). By this time, he'd also been a gospel DJ on Mexico's XERB, the same insanely powerful (50,000 watts) station that broadcast Wolfman Jack. He'd also been on KPOP, XPRS, and KGFJ.

Sylvester Clarence "Duke" Henderson passed away on April 9, 1973; he was only 48. Considering how big he'd become in the community, I'm surprised that there wasn't any mention of his death in Los Angeles papers. The only obituary I could find was a nice one in the May 3 Jet, although it didn't mention his "Duke Henderson" career at all:


Sylvester Clarence Henderson, renowned promoter of gospel music and religious disc jockey on his popular "Glory Bound Train" broadcast over several southern California radio stations, was found dead in his Pacoima, Calif., home recently, the victim of an apparent heart attack. He was 48.

Henderson, widely known as "Brother Henderson," was a native of Liberty, Mo. He moved to Los Angeles in 1945 from Kansas City, Mo., and opened the first gospel music store in Los Angeles. The corner where the store was located is commonly referred to as "The Gospel Corner."

Additionally, Henderson worked as producer, organizer and promoter of many gospel groups, including The Mighty Clouds Of Joy and The Inspirational Souls. He was a producer and executive director of Kent Gospel Records and an ordained minister of the Apostolic faith.

Henderson's survivors include his wife, Leona, a daughter, Lill Etta, and his parents, Mr. and Mrs. Johnnie Henderson of Liberty, Mo.


Note that there's no mention of his son, Sylvester, Jr., who doesn't show up anywhere but in a 1955 birth record. However, there's a daughter I didn't know about. Born in March 1960, her name is either "Lil Etta" or "Liletta". On top of that, his parents were still alive. His grave, next to Leona's only says "Kansas - PVT US ARMY WORLD WAR II". Leona would die in March 1999; her grave says "Beloved wife and mother".

It's difficult to sum up Duke Henderson. With all the label-hopping he did, he didn't give anyone's publicity department a chance to really support him. (And why should they if he didn't support them?) He also didn't really have his own sound, trying to be a substitute for Wynonie Harris, Joe Turner, or Cleanhead Vinson. But, if you liked Wynonie Harris, he was actively recording; if you liked Joe Turner, he was actively recording; and if you liked Cleanhead Vinson, he was actively recording too. Duke Henderson was a good singer; it's just that his normal voice simply wasn't distinctive enough to catch on.


Special thanks to Gérard Herzhaft and Victor Pearlin.



APOLLO - Duke Henderson with Jack McVea and his All Stars
367 Oo' Wee Baby, Oo' Wee / Wiggle Wiggle Woogie - 2/46

MODERN MUSIC - Duke Henderson with Al Wichard and His All Star Band
130 Did You Ever Love A Woman / [Slow Down Baby - voc Jesse Perry] - 3/46

GLOBE - "Duke" Henderson with the Tiny Webb Trio
108 G.I. Blues / Leona Of L.A. - 4/46

APOLLO - Duke Henderson with Jack McVea and his All Stars
373 Fool Hearted Woman / Lottery Blues - 6/46

EXCELSIOR - "Duke" Henderson with King Perry Orchestra
(also released on United Artist, with the same record numbers)
505 I Am The Blues / San Quentin Quail - ca 3/47
507 Leona's Boogie / 18th & Vine St. Blues - ca 4/47

APOLLO - Duke Henderson with John "Shifty" Henry and his All Stars
384 Women's Blues, Pt 1 / Woman's Blues, Pt 2 - 4/47

MODERN - Duke Henderson with the Al Wichard Sextette
573 His Majesty's Boogie / [Your Red Wagon - voc Jimmy Witherspoon] - 3/48

DOWN BEAT (also released on Swing Time, with the same record numbers)
146 Get Your Mind Outta The Gutter / Blues In The Morning - 8/48
Duke Henderson With Orchestral Accompaniment
147 Old Maid's Prayer / Dr. Dukes Boogie - ca. 8/48
Duke Henderson & His Orchestra

APOLLO - Duke Henderson with Lucky Thompson & His All Stars
400 S. H. Blues / H. D. Blues - 9/48

CAPITOL - Studs Henderson And His Band
15332 Bewildered / Low Down Dog - 12/48
15376 Studs' Boogie / Proposition Boogie - 1/49

MODERN - Duke Henderson and Orchestra
632 In The Evening (When The Sun Goes Down) / Trouble In Mind - ca 1/49

APOLLO - "Wild" Bill Moore and his orchestra, vocal by Duke Henderson
789 Home Coming Blues / [Boulevard Boogie - Wild Bill Moore] - 3/49

CAPITOL - Studs Henderson And His Band
70021 Louse In The Henhouse / I Hung My Head And Cried - 6/49

LONDON - "Duke" Henderson - "His Majesty Of The Blues"
17004 Mama's Clock Stopped Ticking / Worried And Blue - ca 2/50
17011 Situation Blues / Rock Me In Your Chair - 5/50

CAPITOL - Studs Henderson And His Band
978 I'm Not Fooling / K.C. Boogie - ca 5/50

IMPERIAL - Duke Henderson with Monroe Tucker and his orchestra
5109 Ten Days Of Agony / Kinfolks - 12/50
5121 Live My Own Life, Pt 1 / Live My Own Life, Pt 2 - 4/51

DOOTONE - Big Duke with Pete Johnson and his All Stars
302 Hard Luck Women And Strife / [Anticipating Blues - Bobby Nunn] - 12/51

SPECIALTY - Duke Henderson and Orchestra
442 Country Girl / Lucy Brown - 10/52

FLAIR - Big Duke and His Orchestra
1018 Hey Dr. Kinsey / Hello Baby - 10/53
1029 Baby Beat It / Beggin' And Pleadin' - 2/54

R and B - Brother Henderson's Spiritual Lambs
1312 I Made Up My Mind / Pass Me Not - ca. 1/55


UNRELEASED APOLLO
Don't Keep Me Waiting (November 28, 1945)
Mama Bear Blues (November 28, 1945)
Not Worth A Dime (November 28, 1945)
Let's Get Vooted (December 4, 1945)
Boogie Man Blues (December 4, 1945)
Don't Slam The Door (December 4, 1945)
Blues In The Background (December 4, 1945)
Don't Forget I'm A Married Man (December 4, 1945)
Don't Fall In Love With Me Baby (December 4, 1945)
Get Your Kicks (December 5, 1945)

UNRELEASED MODERN
Gravel In My Pillow (late December 1947)





Unca Marvy's Home Page
More Articles