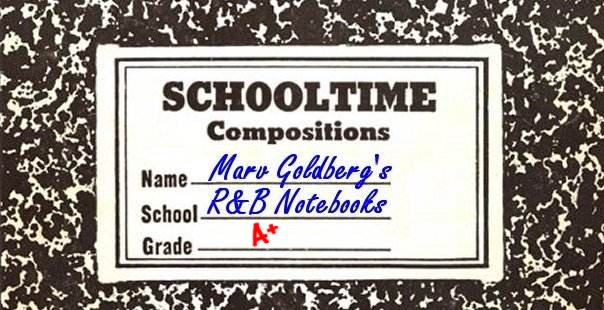 Little Miss Cornshucks
By Marv Goldberg

© 2020 by Marv Goldberg
No matter how good you are, it doesn't hurt to have a gimmick. Sonny Til made love to the microphone; the 5 Keys wore bright-colored suits; Ida James had a little-girl voice; Betty Hall Jones sported funny hats. Some were glamorous; Little Miss Cornshucks went in a different direction.

Ahmet Ertegun, president of Atlantic Records, was quoted as saying that Miss Cornshucks was "the best blues singer" he'd ever heard. He went so far as to record her (before he even had a record label), after he saw her at a Washington, D.C., nightclub. Sadly, those recordings were never issued and no longer exist. Ahmet wrote (in his 2001 book, What'd I Say: The Atlantic Story):


In 1943, when I was 19 or so years old, I went to a nightclub in the northeast black ghetto section of Washington and heard a singer whose name was Little Miss Cornshucks and I thought, "My God!!!" She was better than anything I'd ever heard. She would come out like a country girl with a bandana around her head, a basket in her hand, and so forth, which she'd set aside fairly early on into the show. She could sing the blues better than anybody I've ever heard to this day. I asked her that night if she would mind if I made a record of her for myself. We cut "Kansas City" along with some other blues and she also sang a song called "So Long". She had such a wonderful sound and I remember just thinking, "My God! My God!" And I didn't have a record company, I just made those records for myself. [NOTE: The 1943 date is almost certainly incorrect; 1945 is much more probable, as will be explained in due course.]


A NOTE ON THE PHOTOS: Keep in mind that, regardless of how young she looks, Little Miss Cornshucks is at least 20 years old in all the photos.




So who was "Little Miss Cornshucks"?

Mildred Elizabeth Cummings, the future Little Miss Cornshucks, was born on May 26, 1923 in Dayton, Ohio, the daughter of John Saylor Cummings and Charlotte Thomas.

Hers was a large family and she was the next-to-youngest of 12 children: George E. (born around 1906), Weltha (1909), Dorotha (1911), Evelyn (1914), Mary (1915), John Saylor, Jr. (1917), Almeda (1919), Emma (1920), Charles (1921), Charlotte Ann (1922), Mildred (1923), and Phyllis (1924). However, by the time sister Evelyn passed away in 1942, George, Dorotha, Mary, Emma, and Charles had already died.

Mildred herself had three children: Francey, Chauncey, and Phyllis. Mildred would marry Cornelius "Rocky" Jorman, Jr., but that wasn't until after all three children had been born.

As a child, Mildred was part of the Cummings Sisters. Most of what I read says that they sang spirituals, but none of the accounts of the time were specific as to what kind of music it was. The first mention I can find is in the January 19, 1933 Dayton Daily News. They were among many performers who entertained at the first Linden Center amateur night (which would become a monthly event).

The May 6, 1933 Dayton Daily News called them "radio stars". (Things were a lot looser in those days. If you sang one song as a guest on someone's program, you could be called a "radio star"; there were no listings for them on any Dayton radio station in the first half of 1933.) The May 15 edition mentioned the "three Cummings sisters". Thereafter, they were always called a trio, but nothing ever mentioned their names.

Making me suspect that they didn't always sing spirituals, the June 16, 1935 Dayton Daily News called them a "singing dancing trio". Their last mention was in the May 4, 1937 Dayton Herald, when they were in a series of local talent shows. They then faded into history, never having had their members named. However, the Show Biz Bug had bitten, and Mildred was determined to become a performer.

In the 1940 census (taken in April), Mildred was 16, single, and living at home. She had only completed the eighth grade, while her sister Phyllis (a year younger) had finished the first year of high school. Why? The last member of the household was 8-month-old "Francy Jarman" (the best the census taker could do with the name of Mildred's daughter, Francey Jorman), who had been born in July 1939.

In 1940, future husband Cornelius Jorman, Jr., a 17-year-old high school student, was living in Dayton with his family. [Cornelius was the son of a bootlegger who'd made the papers in 1923 when he was caught and jailed; he'd be refused a pardon by the governor of Indiana the following year. By 1928, he was back in business and jailed once again, this time for 2 to 14 years (paroled in 1931). Although Prohibition was over, he was arrested again in 1938 for transporting illegal liquor, and again in 1942, when he was actually operating a still in Dayton!]

Mildred's son, Chauncey (always known as Chauncey Cummings), was born in January 1941. He was Mildred's son by William Henry Lett, who also lived in Dayton. In the 1940 census, William Lett was a 19-year-old WPA laborer; the next year, he was convicted of receiving stolen property. Never wed to Mildred, he married someone else in 1946. When he died (April 3, 1990), his obituary said that Chauncey Cummings was his son. When Chauncey died in 2004, his obituary said that William Lett was his father.

Mildred's third child, Phyllis, was born in March 1943. While lots of biographies talk about 1943 appearances for Miss Sharecropper, I can't find a single one documented in any contemporary paper that I have access to (although I concede that there could have been some local gigs while she developed her persona). Also, she now had three small children to take care of, so it would be a while before she performed on a regular basis.

Mildred had a wonderful voice and really knew how to put a song over, but she realized that it wouldn't be enough. There were plenty of singers out there with wonderful voices; she needed something else. So she considered her audience. Starting at the time of World War 1, thousands and thousands of southern blacks had migrated to the north in search of better lives. Maybe she could appeal to them.


When she began to form her on-stage persona, she found that a rural costume seemed to resonate with her black southern migrant audience. Her outfit consisted of a gingham dress covering long pantaloons, a wig with pigtails, a straw hat (or just ribbons in her hair), a basket, and bare feet. She became "Miss Cornshucks". (A "cornshuck" is the husk; the outer covering of an ear of corn.) Along with her singing, she'd also tell jokes and sometimes throw in a dance routine. In spite of that, she wasn't singing gut-bucket blues at all, but sophisticated ballads. Like several other comedian/singers, her voice didn't match her persona (Jim Nabors and Frank Fontaine come to mind). She'd sometimes sing while sitting on the edge of the stage. It actually borders on cruel that there's no visual record of her performances.

In the 1944 Dayton city directory, Cornelius Jorman was living in Dayton, but wasn't married ("Jorman Cornelius jr" read the entry). If he and Mildred had been married at that point, his entry would have been "Jorman Cornelius jr (Mildred)". He was a laborer at Leland Electric Company.

In that same 1944 directory, she was still Mildred Cummings, living at the same address as her parents, and a janitor (also at Leland Electric Company). By this time, she had three children to feed and needed steady work.


The first ad I can find for her is when she appeared at Cleveland's Cedar Gardens ("Lowest Price Night Club In Ohio") in October 1944. She was billed as "Miss Corn Shucks - Mildred Cummings, Comedienne, Blues Singer, Eccentric Dancer". (An "eccentric dancer" was one who didn't follow strict dance routines.) A 1947 article in the Detroit Tribune (which will be quoted below) said that this was "her first solo appearance". However, why would a club in Cleveland hire someone from Dayton (over 200 miles away), unless there had been at least some local performances whose worth could be gauged?


In late January 1945, "Miss Cornshucks, blues delineator" was part of the cast appearing at the American Legion Canteena in Columbus, Ohio. She was still there a month later. In June 1945, she made her first documented appearance at Mike DeLisa's Club DeLisa in Chicago, a racially-integrated night spot.


On October 6, 1945, she was mentioned in the Chicago Defender: "Arthur Bryson [a black Broadway theatrical agent] is being offered 'heap much' for Little Miss Cornshucks to make a return engagement to a Chicago nitery... No wonder, with her act being so unique - singing those blues in that million dollar costume of a pair of 30th century bloomers and a big greasy hat... Watch the climb to stardom of Little Miss Cornshucks." What I don't understand is the phrase "30th century bloomers", which crops up from time to time. Why weren't they "19th century bloomers"? Ah, well.


A blurb in the October 20, 1945 Billboard said: "Arthur Bryson has taken under exclusive management Little Miss Cornshucks, blues singer; Shim Sham Shimmy, tapper and comic; and Rene Collins, vocalist." (They probably meant Rena Collins.)

The article in the October 13, 1945 New York Age read: "Miss Cornshucks Makes Hit In Washington Nitery":


That bundle of melody and cornshucks, Miss Cornshucks, who makes her stage entrance at Club Star Dust in a typical "cornshucks" costume (a big hat a pair of 30th century bloomers, and carrying a straw basket) is being acclaimed as the newest Blues sensation. [I'll bet you never used "cornshucks" three times in one sentence!]

Miss Cornshucks made her "real" club debut at the DeLisa in Chicago, and remained there until discovered by Arthur Bryson this summer.

Bryson placed the sensational singer at the D. C. club and from her first night she was a hit.


As I've stated many times before, the word "acclaimed", in usages like this, is press-agent-speak that has no meaning whatever.

If I had to make a guess, this is probably when Ahmet Ertegun recorded her (remember the quote that I started this article with). At the time, he hadn't begun either Quality Records or Atlantic Records, so that fits in with his recollection of having recorded her, but not yet owning a label. There's no record of her ever having been in DC prior to this.


Finally, Mildred Cummings married Cornelius Jorman, Jr. The union took place on December 1, 1945, in Indianapolis. (The Jorman family seems to have come from there.) At times, her new husband worked as her manager, although there were several other managers mentioned over the years.


In early May 1946, "Little Miss Corn Shucks - Nation's Beloved Comic" was back in Washington, D.C., starring at the Club Caverns (in the basement of a drugstore). On her return to Chicago, she starred at the Club DeLisa from May 10 through August 29, and again from September 27 through October 11 (her replacement for the remainder of that show was Big Joe Turner). In mid-July, the show ("Sammy Dyer's Dude Ranch Revue") consisted of (among others) Cornshucks ("Miss Blues Herself"), George Kirby (man of a thousand voices), vocalist Lurlean Hunter, and Fletcher Henderson's Club DeLisa Orchestra. Henderson was a pianist, but at the time he mostly concentrated on leading the band, turning the piano spot over to Marl Young.


For several years, Marl Young had had a recording company (Sunbeam Recording & Music Studio), which he owned with his brothers. Now, he decided to form a record label, too. The result was Sunbeam Records, which lasted from around September 1946 to September 1947. (You can read the Sunbeam story at the Red Saunders Research Foundation site.)

As Henderson's pianist, Young had been backing Little Miss Cornshucks and she was the first artist he signed to his new label. When she was back at the DeLisa, Young recorded her.

In late September 1946, at Chicago's Bachman Studio, Cornshucks recorded "Gonna Leave Here Walkin'", "Have You Ever Loved Somebody", and "So Long" (her signature song). Once again, these weren't country bumpkin songs, regardless of her stage persona. "Have You Ever Loved Somebody" was a home-grown song, copyright February 16, 1947, words by Mildred Jorman, music by Marl Young.

There was a second session in October 1946, this time at United Broadcasting Studio, that produced "For Old Time's Sake", "When Mommy Sings a Lullaby", and "I Don't Love You Any More".


The first Sunbeam release was "So Long", backed with "Gonna Leave Here Walkin'" in November 1946. Note that All of the Sunbeam releases have Marl Young's Orchestra as the main artist, with vocal by Little Miss Cornshucks (identified as Mildred Cummings on the first release).

"So Long" was a 1940 song partially written by bandleader Russ Morgan, who used it as his band's closing theme. However, the way he played it was bouncy, so, while the lyrics are sad, it didn't really sound it in his version. But it sure did in hers. "Gonna Leave Here Walkin'" is a nice ballad with Marl Young adding some pretty piano work to the bridge. Now that I think about it, all Miss Cornshucks ever sang were ballads (at least on record); there's not a single uptempo recording.

The "Theatrically Yours" column in the January 25, 1947 Ohio State News (Columbus, Ohio) said:


A little further down the street where the Club Rouane holds nightly sessions, we had the extreme pleasure of renewing acquaintance with Little Miss Cornshucks and husband. "Miss Blues" herself was just finishing a visit home before heading back to Chi for recording dates. Her latest releases hasn't [sic] hit this town, but when they do, pick up on "So Long,", "I'm Gonna Leave Here Walkin'," and "Have You Ever Loved Somebody?" She was enthused about a possibility of a return engagement to Columbus where she had made a host of friends.


The March 9, 1947 St. Louis Post-Dispatch said that: "Ernie Fields and his orchestra opened Friday [March 7] at the Riviera Club, Negro night spot. Mel More is top vocalist. Others in the show are "Little Miss Cornshuck, [sic]" gingham clad blues singer, the Nite Steppers, male dance team, and Hortense Allen and her chorus dancers. Spizzie Canfield is M. C." The April 5 Pittsburgh Courier talked about that show:


Bringing her blues singing to St. Louis' Club Riviera last week, gingham-clad little Miss Cornshucks captured the hearts of the Mound City.

Almost unknown in this section, the diminutive Dayton, Ohio singer entered the club fresh from more than a year's consecutive run at Chicago's famed Club DeLisa.


Also in March, Sunbeam released her second record: "For Old Time's Sake", coupled with "Have You Ever Loved Somebody". "For Old Time's Sake" (written by Marl Young and his brother, Harry) is another pretty ballad and is definitely the inspiration for the Diablos' song of the same title (even though Nolan Strong claimed to have written it). "Have You Ever Loved Somebody" is [... wait for it ...] another pretty ballad.

The record was reviewed in the March 29 Billboard (although only "Have You Ever Loved Somebody" was named):


This enterprising diskery, master-minded by Chi ork leader Marl Young, has a pair of sides worthy of attention, wherever Negro trade is big. Young is doing a Midwest Otis Rene, having written both these tunes, arranging them and leading the band on this date. An enterprising publisher, looking for a novice writer, should give both sides a hearing. "Have You" gets musical treatment, similar to arrangements done by Gillespie for early Billy Eckstine blues sides, while reverse is done in more standard manner. Miss Cornshucks, rising as a blues singer, gives both tunes fine treatment. Mark these two for future reference.


The next month, she journeyed to New York to appear at the Apollo Theater the week of April 11. Also on the bill were Joe Liggins and the Honeydrippers, trumpeter Cat Anderson and his band, the Clark Brothers, Jimmy Butts, Pigmeat Markham, Sybil Lewis, and John Bunn.


I can't really date this, but probably around this time (since she was in New York), Little Miss Cornshucks was a guest on Willie Bryant's Harlem Hospitality Club, a radio show originating from Harlem's Savoy Ballroom. On it, she sang "Keep Your Hand On Your Heart", a song she'd record in the future. Bryant mentions that she'd also been there the week before. Many of these shows were recorded and put on a special "Harlem Hospitality Club" series for the AFRS (Armed Forces Radio Service) to be played for servicemen. This show became #11 in the series. The reason I'm comfortable with this show being from April is that, on it, the Loumell Morgan Trio sang "Linda" (a song which became a hit in early 1947).


Then, it was off to Washington, DC, where she appeared at the Music Hall along with Eddie "Cleanhead" Vinson on April 26-27. The ad called her (in really small print) "The nation's newest blues sensation. Direct from a smash engagement at the Apollo theater in N.Y."


In May, Sunbeam released her third record "I Don't Love You Any More", paired with "When Mommy Sings A Lullaby". The label of "I Don't Love You Any More" also credits Nick Cooper with a trumpet solo and Melvin Moore with the trumpet riffs that "answer" Cornshucks near the end of the song. Note that, except for the last stanza, she sings "I don't live here any more". "When Mommy Sings A Lullaby" is possibly her prettiest tune to date.


A big article in the May 24, 1947 Pittsburgh Courier was titled "'National Negro Day' Slates Stars Of Stage, Screen And Radio". This was a show to be held on May 27 at Madison Square Garden in New York. Those appearing included the Brown Dots, the Ravens, Canada Lee, Arthur Lee Simpkins, Mantan Moreland, Pigmeat Markham, and Doc Wheeler. Also, "Little Miss Cornshucks, sensational newcomer to the stage, who, in recent appearances in New York theaters and night clubs, gained high plaudits from critics, will appear at the Garden to aid the committee's program." If she'd actually appeared at any theater or nightclub in New York, other than the Apollo, it went unrecorded.


After that, it was off to Detroit, where Cornshucks opened at the Frolic Show Bar on June 6, 1947. The June 7 Detroit Tribune had this:


For "good times sake" the show world's newest and most sensational star, Little Miss Cornshucks makes her night club debut at Frolic Show Bar on Friday, June 6. She is assisted in [the] entertainment program by the music of Ted Buckner's Four, the songs of Jimmy Mills, and other star acts.

Miss Cornshucks, an Ohioan whose rise in the entertainment world has been amazing, is a comedienne at heart. She makes you laugh at her antics and then puts you in a romantic mood with such songs as the juke box favorite, "For Old Times Sake."

With the music of Ted Buckner's Four offering the musical background, Little Miss Cornshucks and her "for good time's sakes" are a must entertainment for those who enjoy something novel and different when they visit their favorite cabaret.


Note that baritone (and MC) Jimmy Mills is the same singer who, as "Jimmy Milner", was a member of the Drifters on their 1958 "Moonlight Bay" session.

The June 21, 1947 Detroit Tribune had an article titled "Lil Miss Fills Show Bar Tables":


Whatever the weather outside might be, it's always 20 degrees cooler inside the Frolic Show Bar. Two 5-ton refrigeration units, which were recently installed, make this possible.

"We had so many people in to see Little Miss Cornshucks and hear her sing that we had to make them as comfortable as possible," owner [Hymie] Gastman said. Little Miss Cornshucks is the gal who has made "doing what comes naturally" pay off in big dividends.

Her recordings of "Evil Gal" and "Salty Papa Blues" [naming two songs recorded by Dinah Washington, but not Cornshucks] were her introduction to the public. Since then, the singing comedienne has been well on her way towards certain fame and success.

Miss Cornshucks makes the most of a straw hat, basket, gingham dress, and a fine blues voice. She is a former member of the Three Cummings Sisters, a vocal trio.

Since her first solo appearance in Cedar Gardens in Cleveland, Ohio, she has become one of the nation's topflight stage and recording artists.


Talking about Detroit happenings, the June 28, 1947 Ohio State News (Columbus, Ohio) said: "Biggest local nitery attraction is an Ohio gal, who vocalizes under the moniker of 'Miss Cornshucks' (must remember to dig the gal's correct name one of these days), appearing at the Frolic Bar, one of the town's bigger after darkeries. Caught her act last ante meridian [sic; should be "ante meridiem" - that's AM to you] and she's terrif. Oh yes - she's from Dayton."

The Pittsburgh Courier of July 5, 1947 had this less-than-helpful notice: "Clarence Robinson has been called in to dance and direct a new beige featurette. It will star the Zanzies, Miss Cornshucks and Earl Bostic's fine little band." If this was ever made, which is doubtful, she wasn't in it.


On August 15, Cornshucks ("Bashful, Barefoot Gal With Blues") began a week at the Regal Theater in Chicago, along with Andy Kirk's Orchestra. On August 31, she started an eight-day stint at the Club Riviera in St. Louis, along with comedian Dusty Fletcher (doing his Open The Door, Richard routine). On September 13, the whole troupe appeared at Sulphur Dell Park in Nashville for a single show.


Taking her act to a new location, Mildred went to Los Angeles to appear at the Last Word Cafe (a new club that had only opened in July) for a 6-week engagement starting in early November. The November 6, 1947 California Eagle said: "The Last Word playing to packed houses with Little Miss Cornshucks, song and comedy star. The crowds love her rendition of the number "So Long" and her comedy is side-splitting."

While in Los Angeles, she recorded at least seven sides for Roy Milton's Miltone label: "Cornshucks Blues", "In the Rain", "He's Funny That Way", "True (You Don't Love Me)", "Why Was I Born", "Keep Your Hand On Your Heart", and "Teardrops". On these, she was backed by the Blenders, a house band, including saxman Maxwell Davis, built around musicians from Roy Milton's Solid Senders.


Quickly, Miltone released "He's Funny That Way", backed with "Keep Your Hand On Your Heart" (the tune she'd sung on Harlem Hospitality Club earlier in the year). "He's Funny That Way" is a 1929 torch song, written to tear your heart out. In the November 13 Los Angeles Sentinel, "Keep Your Hand On Your Heart" was already the #9 tune on East Los Angeles jukeboxes. The record was advertised in the Nov 13, 1947 California Eagle, which said that she was appearing at the Last Word Cafe and the Million Dollar Theater. Note that the labels featured those wonderful William Alexander illustrations.


Considering that she started at the Last Word in early November, a recording session had to be set up with Miltone (at which she recorded seven sides, probably implying that there was more than one day involved), the cartoon labels for the records had to be drawn and approved, as well as printed, and one of the songs was already on local charts by November 13, my guess is that the session actually took place in October, prior to the start of the Last Word engagement. Her whereabouts in October weren't recorded anywhere, so she probably was in Los Angeles then.

By this time, Marl Young had moved to California. He was quoted as calling the Miltone staff "crooked S.O.B.s." Roy Milton even ended up suing them at the same time that Cornshucks was recording. Marl Young also said, "She was not a sophisticated, educated woman; she was having all sorts of trouble then, being taken advantage of."

Cornshucks was part of the entertainment at Los Angeles' Meadowbrook Gardens on November 28, 1947. She shared the stage with Lionel Hampton, Madeline Greene, Jimmy Grissom, Effie Smith, Al Hibbler, and Maxwell Davis, among others.


On top of all this, she was in a Monogram Pictures movie. It was originally called "Death On The Downbeat", but renamed "Campus Sleuth" when it was released on April 4, 1948. (Possibly because there had been a 1943 Robert Avery novel by that name with an entirely different story.) It had, among others, Freddie Stewart, June Preisser, Donald MacBride, Bobby Sherwood's orchestra, and Noel Neill (who would first appear as "Lois Lane" in the July 1948 "Superman" serial). Billed as Little Miss Cornshucks (as played by Mildred Jorman), she ran a hay wagon ride and sang "Cornshucks Blues", one of the songs she'd recorded for Miltone. It's possible she also sang "Jump For Joy", but not on camera.

At the time, she was having an affair with Henry Ramsey, a dancer she'd met in Detroit. It would last for several years.


A Last Word ad from November 20, 1947 says she's in her third week there. Others on the bill were Gene Phillips and his band, Amos Milburn, and Ginger Smock ("the lovely lady with the violin", who'd be in the Red Caps for a while in 1954).

Cornshucks appeared simultaneously at the Million Dollar Theater for a week, as part of DJ Bill Anson's Hollywood Bandstand Revue. While papers would rave about how sensational she was there, the November 29 Billboard was more forthcoming. The title was: "Anson Poor 15G at Mil $": "Disk Jockey Bill Anson's Hollywood Bandstand revue pulled a chilly $15,200 at the Million Dollar (2,400 seats, 55-98 cents admission) despite the Armistice Day holiday biz boost. However, the house is happy, as this was a low-budget stage package. Bill included Herb Jeffries, Kay Starr, Little Miss Cornshucks, the Mulcays, D'Varga ork plus Anson as emsee." In other words, not all that many people showed up, but on the bright side, the theater didn't pay the performers much.


On December 12, she and saxman Buddy Floyd's orchestra appeared at the Elks Hall for something called the High School Howdy Hop. The ad said it was her farewell appearance. She'd be replaced at the Last Word by Hattie Noel on December 14.

The December 20, 1947 Pittsburgh Courier splashed "Miss Cornshucks Leaves W. Coast" as a headline. The article went:


Having captured the hearts of Southern California nightlifers with her ability and winsome charm, Little Miss Cornshucks departed Los Angeles Sunday [December 14] en route to Detroit, where she opens at the Frolic Show Bar on Dec. 19.

While in Los Angeles, Miss Cornshucks scored a smash hit at the Last Word Cafe, did a guest appearance at Billy Berg's, recorded several hits on the Miltone label and crashed the gates of Hollywood by doing a bit in Monogram's "Death On The Downbeat".

She sandwiched in a week at the Million Dollar Theater, where she scored a man-sized hit and but for attractive bookings in the East, would have remained on the Coast.


The exact same blurb was printed in the January 3, 1948 Indianapolis Recorder, but they added a final paragraph: "Jimmie Hazel, former Naptown [Indianapolis] boy, and personal representative of Little Miss Cornshucks, passed through the city last week en route to Detroit." Always good to play up the locals.


When she started at the Frolic Show Bar on December 19, she shared top billing with Dinah Washington. Also appearing were Ted Buckner's band, Rhythm Willie, and Jimmy Mills. By the end of the year, Dinah was gone and dancers Lorus & Lorraine had been added.

The January 24, 1948 Ohio State News (Columbus) was painfully behind the times with their "Cornshucks Toast Of LA" article, which would have even been out of date a month before:


A diminutive gal from the middlewest who calls herself "Little Miss Cornshucks," is creating just about the biggest sensation of the season in Los Angeles these nights.

"Miss Cornshucks" has an act which brings her out on the stage bare footed in a gingham dress which hardly illustrates the "new look." [Christian Dior's fashion line for 1947 was called the "New Look".] She carries a little straw basket in one hand and her hair is entwined with a large colorful ribbon. With a crack sense of pantomime, she then starts singing. What comes out is reminiscent of the 1936 Ella Firzgerald.

Recently featured at the L. A. Million Dollar theater, she's been working - and busting box office marks - at the Last Word Cafe on Central ave, near 42nd st. Gene Phillips' band supplies dance music. But it is "Little Miss Cornshucks" who packs 'em in.


The January 10, 1948 Detroit Tribune said: "When little Miss Cornshucks romped on the stage [at the Frolic Show Bar] hearts all over the place skipped beats with her. And the one who said that this is a singer's age must have spoken while watching her act. So tender, so sweet, the petite artist sang blues that had the packed house refusing to allow her to leave the stage. She is really big-time."


By January 26, Gatemouth Moore had been added to the show.



Her second Miltone record, "Cornshucks Blues", coupled with "In The Rain" was issued in February 1948. In "Cornshucks Blues", the band starts out a bit up-tempo, but she slows them down and turns it into a ballad, on which Maxwell Davis delivers a nice sax solo. "In The Rain" is the 1923 song by George Gershwin that was also done by Dinah Washington, the Charmers, the 4 Fellows, and the Joylarks.


From Detroit, she went to Cincinnati to appear at the Latin Quarter beginning on March 12. The Cincinnati Enquirer of March 7 said:


Little Miss Cornshucks, the sepia "little girl with the big blue voice" who wowwoed [sic] movie goers recently with her work in "Murder On The Down Beat" [didn't anybody know it had never been released under that title?], comes to the Latin Quarter Friday night as the star of a new revue. The occasion will mark the Cincinnati debut for this comedienne who has just completed a whirl around the leading clubs on the Pacific Coast.


The paper's March 13 edition reviewed the show:


Lotsa tiny gals have big voices for moanin' out the blues. But Little Miss Cornshucks has a voice as big as they come in Junior Miss physiques. And she's got a style of jazzy lamentation that's unique. In fact, she's worth a trip to Latin Quarter (where she opened last night) for a once-over.

Miss Cornshucks does her work plantation style. She works in her bare feet. She's togged out in [a] red, battered, straw hat, checkered bloomers and dress. She puts a touch of spoofery in her bluesy "So Long" and "Cornshuck Blues" [sic] with some clever pantomime of pigtailed naivete.


The last Miltone record, issued in April 1948, was "True (You Don't Love Me)", backed with "Why Was I Born". Lloyd Glenn's "True (You Don't Love Me)" had been a recent hit by both Paul Gayten and Camille Howard. However, the "(You Don't Love Me)" part was left off the Miltone label, which only showed "True" as the title. "Why Was I Born" was another oldie, having been written in 1929 by Jerome Kern and Oscar Hammerstein II; it was introduced by Helen Morgan in the show Sweet Adeline.


Mildred was back in Chicago in May 1948 to appear at the Beige Room. On June 12, she started a week at the Astoria Musical Bar in Baltimore. It was Chicago again for the holiday season, when she appeared at Club Silhouette with Dick Davis's Combo.


For whatever reasons, Miltone started leasing masters to Deluxe (presumably to get some distribution; not one of the Miltone records was ever even sent out for review). In June 1948, Deluxe released "Cornshucks Blues" and "In The Rain". In July, they released "He's Funny That Way" and "Keep Your Hand On Your Heart".

Both records were reviewed in the July 31, 1948 Billboard:


In The Rain (66): Hip thrush belies her pseudonym with heavily race-styled phrasing, but nasal quality hampers.

Cornshucks Blues (73): Bent note blues crying that should grab nickels.

He's Funny That Way (56): Weakly piped.

Keep Your Hand On Your Heart (53): Little to recommend here.


On June 23, 1948, she appeared, along with the Johnny Otis band, at The Hangar, in San Angelo, Texas.


The August 28, 1948 Pittsburgh Courier told us that Cornshucks had opened again at the Last Word in Los Angeles on August 25. The club was operated by Esvan Mosby, formerly of the 3 Chocolateers. With the paper's usual flair for hyperbole, we learn that "A recent addition to the theatrical world, Miss Cornshucks has taken the country by storm with her inimitable renditions of songs." Also at the Last Word were the 5 Bits Of Rhythm (up from 3).

Some bad things happened during her appearance at the Last Word, but California Eagle columnist J. T. Gipson confused the reporting so badly that I won't even bother with trying to unscramble it (mostly because I can't). I'll just give some of his favorable or neutral reportage.

The only useful thing to come out of his September 2 column was that, at that time, she was living in Chicago.

His September 9, 1948 column said, she'd be appearing at the Congo Club, the night of September 12, along with the International Sweethearts Of Rhythm, Joe Turner, Smiley Turner, and the Flennoy Trio. I guess I could spring for the 50 cent door charge.

Also on September 12 (in the daytime), she, the Sweethearts, and Joe Turner were three of the acts at the Fourth Annual Cavalcade Of Jazz at Wrigley Field in Los Angeles. Dizzy Gillespie would also be there, as would Joe Liggins & the Honeydrippers, Jimmy Witherspoon, and Frankie Laine. (Get your tickets at Karl's Cut Rate Drug Store.)

Gipson's September 16 column started the incomprehensible story about her missing some shows at the Last Word. He started out by believing everything she said, but by September 23, he'd changed his mind. However, the reporting was so wordy, convoluted, and impenetrable that little of it made any sense to me.

It couldn't have been all that bad, because, on September 23, she opened at Billy Berg's in Hollywood.


What does make sense is that Deluxe released "True (You Don't Love Me)" in October 1948. However, for some reason they paired it with "Lonely Blues" by Annie Laurie & Paul Gayten. Whereas the original Miltone label only said "True", the Deluxe re-release only said "You Don't Love Me".

"Little Miss Cornshucks Headliner At Frolic Show Bar" read the headline in the December 18, 1948 Detroit Tribune.


Since last year about this time, Detroit night lifers haven't heard too much about that little hillbilly with the scintillating voice, Little Miss Cornshucks. That little lady is scheduled to open at the Frolic Show Bar on Friday, Dec. 17.

The management of the Frolic says that all should be milk and honey as far as hearing the songs you love to hear is concerned, sung by the one who sings them best.

Miss Cornshucks has a unique style of putting her tunes over.

Unlike the glamorous singing stars who sometimes depend on their looks to "take" with the audience, Little Miss Cornshucks gets by on her voice alone. Instead of dressing up for glamour, she dresses up for laughs.

Her country frocks or overalls and country hair-do are always good for a laugh. When she starts to sing, the audience is already sold.


While Mildred and Cornelius were definitely drifting apart, they show up, married, in the 1949 Indianapolis City Directory. They're living with his mother, Cora, and his brother, Kenneth. (No idea where his father is.) It says that Cornelius is an agent of the Supreme Liberty Life Insurance Company.

By the end of January, Cornshucks was headlining at Chicago's Club DeLisa again, replacing blues singer Gatemouth Moore, who'd left to enter the ministry.


The week of May 13, 1949 found her back at the Apollo Theater, along with the Red Caps, the Joe Thomas Ork, Dottie & Sonny, and Jack LaRue ("the screen's #1 villain").



By this time, Ahmet Ertegun and Herb Abrahamson had started up Atlantic Records in New York. While they remembered Cornshucks fondly, Ertegun explained that now: "We didn't know then even where to find her. And at that time, we didn't have money for things like finding people!" This is total garbage. Ruth Brown recorded "So Long" on May 25, 1949; from May 13-19, Cornshucks was at the Apollo Theater, less than four miles away. Ertegun had to have seen that show. (Record company executives in New York routinely attended at least the Wednesday night amateur shows looking for new talent. Don't tell me he didn't see the rest of the show, read the lobby cards, or even look at the Apollo's weekly ad.)

"You've heard Ruth Brown's record of 'So Long'?" Ertegun asks. "Well, that doesn't even sound like Ruth; she sounds like a different singer! And it doesn't sound like any other recording she made ever after, either. We signed her at first because she could sound like Cornshucks!"

At least Ruth Brown acknowledged the debt: "I stole that from her! It was a big hit for me - and it should have been hers." The July 23, 1949 Indianapolis Recorder wanted to agree: "Funny thing about her voice, though. On both sides, especially the 'So Long' effort, one immediately thinks of Little Miss Cornshucks. Careful listening however, shows Ruth Brown to have a deeper, richer tone, uniqueness of phrasing, and a veritable wealth of expression (that tear-jerking quality seems a 'natural' for her)."

Another recording session, once again in Los Angeles. On August 12, 1949, Little Miss Cornshucks recorded some sides for Aladdin records (which, in a couple of weeks, would also purchase the Miltone sides). The new recordings were: "How Long" (a version of Leroy Carr's "How Long Blues"), "Waiting in Vain", "You Turned Your Back on Me" (released the prior month by Ivy Willis), and "Time After Time" (a 1946 hit for Frank Sinatra).

Aside from that session, per Jay Bruder, "According to postwar Blues Records, Aladdin bought six Miltone masters on September 1, 1949, but only one, 'Keep Your Hand On Your Heart', was released on both labels."


Two of the old Sunbeam masters ("So Long" and "For Old Time's Sake") also turned up on Chicago's Old Swing-Master label in September 1949. They got terrible reviews in the September 17 Billboard:


So Long (51): Draggy job on the smart slow ballad. Bad balance to blame, as thrush gives it a noble try.

For Old Time's Sake (51): Another dull one.


On the other hand, Cash Box (also September 17) said:


Little Miss Cornshucks comes up with her rendition of "So Long" and turns in a very effective performance. The gal's sultry pipes pitch with loads of style, as she spoons the lyrics to this current hot item. She keeps the tempo on the flip, "For Old Time's Sake," spooning another romantic torch tune. Ork backing by the Marl Young gang is fair enough and rounds out the side effectively. Ops who have a call for this brand should listen in.


So you're an operator who owns and stocks jukeboxes. Do you buy the record or not?

The Los Angeles Sentinel of September 29, 1949 said that she'd signed with Decca (actually, their Coral subsidiary) and that "She is at present making her home in California"). This could mean that, in spite of the 1949 Indianapolis city directory listing for Cornelius and Mildred Jorman, they were actually separated at this time. For the next year, the only appearances I can find for her are in California. (At any rate, the 1949 directory would have been prepared in late 1948.)

In October, she was appearing at the Down Beat Cafe in Los Angeles, along with Pee Wee Crayton. The M.C. was Ray Wheaton, a member of Dusty Brooks' 4 Tones. Both Cornshucks and Crayton appeared at a dance at the Avadon Ballroom on November 18.

However, the November 19, 1949 Indianapolis Recorder reported that: "On the night club front, Little Miss Cornshucks failed to draw the crowds in the Down Beat as she did the first time she hit the coast."


On December 25, she was part of the Xmas Dance And Jamboree at the Shrine in Los Angeles. Also on the bill were Delores Parker, Ernie Andrews, the Robins, Floyd Ray, the Ebonaires, Maggie Hathaway, and the Trenier Twins.


Sometime in December, Aladdin released "You Turned Your Back On Me" (another weeper), coupled with "Keep Your Hand On Your Heart" (the side they'd purchased from Miltone). These were credited to "Little Miss Cornshucks And Her All-Stars", whatever that was supposed to mean.

The record was reviewed in the January 7, 1950 Cash Box:


We've missed Little Miss Cornshucks for sometime [sic] now, but, here comes that gal with an aggregation of all stars behind her that will start the old blues a-rollin' 'round the land when you listen to the gal spin "Keep Your Hand On Your Heart." The way this gal sells the tune is just about tops in anyone's book. And that ain't all, just listen to the flip, "You Turned Your Back On Me," just as grand as the topside. In fact, either side here is topside. Listen in.


Once again, Billboard begged to differ:


You Turned Your Back On Me: Miss Cornshucks is a most effective stylist and shows it as she hollers her way thru a pretty obvious albeit not unpleasant ballad.

Keep Your Hand On Your Heart: Poor ditty serves in ill stead for the strong Cornshucks' styling.


Sounds as if they at least wanted to like it.

Remember that back in September 1949 she'd signed with Coral Records, the Decca subsidiary. Now, on February 10, 1950, she finally got to record for them (in Los Angeles). Strangely, Coral seemed to be neither eager to record her nor to release any of her songs.

That day, she recorded five songs with Benny Carter's Orchestra: "I'm Such A Fool", "Papa Tree Top Blues", "Forgive And Forget", "That Ain't It", and "Rock Me To Sleep".

J. T. Gipson's column in the March 9, 1950 Los Angeles Sentinel said that she was hospitalized after being sidelined by illness. Was the illness real or was this the beginning of her drinking, brought on by her deteriorating relationship with husband Cornelius Jorman? He was, reportedly, unfaithful (although so was she) and just hanging around to get money from her.

Another possibility is that she had growths in her nasal cavity, which made her sound, at times, like she had a cold. Scared to have them removed (not knowing what it would do to her voice), she got injections as treatment. She supposedly also suffered from asthma, exacerbated by the dusty environment of nightclub stages.


On May 12, 1950, she opened again at the Down Beat. The ad claimed she was "Back In Town!!", although I can't find any appearances anywhere else since the prior December. Note that, while write-ups called it the "Down Beat", the ad spelled it "Downbeat".

On May 29, Ivin Ballen announced that Gotham Records had purchased 300 Miltone masters. However, Gotham never released anything by Cornshucks.

"Little Miss Cornshucks," said the June 30, 1950 California Eagle, "one of the top entertainers drawing them in today, and the dansational band of maestro Joe Lutcher, will be the attractions at the dance to be held at the Elks Auditorium, next Saturday, July 8. Beginning at 8 p.m., Miss Cornshucks and the Lutcher music makers will turn the evening into a melody and harmony carnival for the patrons. The Elks Auditorium is at 4016 S. Central Ave. Admission is one dollar." Seems to me it's worth a buck to attend a "melody and harmony carnival".

The Big Time: the July 15, 1950 Billboard told us that "Red Saunders's ork, with Joe Williams and Little Miss Cornshucks on vocals, cut four sides for Columbia." Well, almost the Big Time. They confused her with Little Miss Sharecropper (the persona, at the time, of Lavern Baker). But they were close.


Miss Cornshucks ("And Her Chicago Revue") appeared at the Handy Theater (Memphis, Tennessee) on September 1-2, 1950.



Mildred was back in Dayton for a show at the Gay 90s Nite Club on October 15, 1950. It also featured Snooky Young and his orchestra. The October 21 Ohio State News, speaking of the show, said: "Mildred 'Miss Cornshucks' Cummings with her comedy and songs came back for encores."


In February 1951, Coral released "Papa Tree Top Blues" and "Rock Me To Sleep", two songs that had been recorded a year earlier. The label credited "Miss Cornshucks". "Papa Tree Top Blues" had been written and recorded by Albennie Jones, on Decca, in 1947. It contains the wonderful line: "if you've gotta love your neighbor, you'd better live next door to me". "Rock Me To Sleep" had also been recorded by Helen Humes in 1950. This is the closest Cornshucks would ever come to an uptempo song (it's a fast fox trot).

On April 13 she was a guest on the "Talent Night" program at the Wogoman School in Dayton. She was due to sing "So Long", "Why Was I Born", and "Cornshucks Blues".

The Pittsburgh Courier of June 30, 1951 had this, titled "In Comeback":


Little Miss Cornshucks, who seldom answers to the name Mildred Jorman, according to her manager, Jimmie Daniels, has recovered from a long siege of illness and is scoring in a new comeback attempt at the Poinciana in Atlanta, Ga. She has been booked for four days in St. Louis, beginning July 1, and on July 15, she will grace the New York Apollo stage. Between the St. Louis and New York dates, she will appear on Dave Garroway's television show over WNBQ in Chicago."


I don't really know how much of that actually happened. There are no 1951 ads for her in St. Louis; she wasn't at the Apollo on that date (which should be July 13 anyway); and there's no record of her being on Garroway's show.

In late July, she was back at the Frolic Show Bar in Detroit. The July 28, 1951 Detroit Tribune said: "Ralph Walker's Frolic Show Bar has returned Little Miss Cornshucks and Billy Allyn Mutcherson (Billy Allyn-Eddie Lewis) for a few nights. Cornshucks fizzled at the Frolic not long ago when they brought her out of Ohio before she had recovered from her breakdown. They say she's back in that old singing form again and is definitely worth hearing."

To confuse show bar patrons, the August 11, 1951 Detroit Tribune said: "Little Miss Cornshucks ... closes her third long stay at the Frolic Show Bar here Thursday night [August 16] while Little Miss Sharecropper also leaves the Flame for Chicago and Milwaukee." In other words, Mildred Jorman was at the Frolic and Lavern Baker was at the Flame.

There was a big article about her in the October 6 Detroit Tribune, titled "Miss Cornshucks: Show World Enigma":


The comeback trail for many entertainers is often a rocky, precarious and nebulous [one].

For some, it is a road with a rainbow's pot of gold at the end. For others - a winding pathway that often reverts to the original starting point and never reaches any set destination. [It then talks about Charlie Parker and Walter Brown]

Then there is the diminutive little girl from Ohio, who once astounded and enthralled the nation as she stood forlornly on night club and theater stages, clad in skimpy rags, her feet as bare as they were the day she came into the world, and sang her heart out on songs like "He's Funny That Way," "Just For Old Time's Sake," "Keep Your Hand On Your Heart" and "So Long."

Miss Cornshucks overnight became a queenly singing sensation in Detroit. Her recordings began to appear on all local juke boxes and her records sold all over the nation.

Some say Cornshucks met up with the wrong person, and that he led her astray. Anyway, soon Little Miss Cornshucks got married, and a child was born to the couple.

And also pretty soon, Miss Cornshucks had returned to her native Dayton, Ohio, for a "rest" cure. Many months passed before word came out of the whereabouts of the barefoot little singer.

A few months ago, Ralph Walker, co-owner of the Frolic Show Bar, journeyed to Ohio "for some new talent" for the Frolic shows.

When, later, word hit the papers that the "new talent" was Little Miss Cornshucks, the John R club [John R. is the name of the street that the Frolic was on] bristled anew with heavy patronage. A night spot only a few doors away with highly paid, nationally lauded entertainment went a-begging as the crowds headed for the Frolic to hear and see Little Miss Cornshucks.

But the words that came out during the next few days were highly discouraging. It was swiftly rumored that the little Ohio recruit had "cracked up" again. She reputedly missed shows, stopped singing in the middle of performances and left her small daughter alone in their hotel room long hours unattended. On several show occasions, the singer stopped in the middle of a song and burst into tears in full view of the audience.


It seems like the article should have wandered on to a conclusion, but that really was the end of the piece. Again, the "nervous breakdown" was probably a euphemism for her drinking.

In spite of her personal problems, she had a second session for Coral on December 20, 1951: "Try A Little Tenderness", "'Cause I Lost My Helping Hand", "Don't Marry Too Soon", and another version of "So Long".

After that session, she supposedly moved to Kenosha, Wisconsin, but there's not a single Jorman in that city until her daughter, Francey, turns up there in 1958. (She's also not there under the name Cummings.)


Taking a chance, Coral released "'Cause I Lost My Helping Hand" and "So Long" in January 1952. The label credited "Lil" Miss Cornshucks. "'Cause I Lost My Helping Hand" is another torch song, written by Dave Bartholomew. "So Long" is a more orchestrated version of her signature song.

The tunes were reviewed in the February 9, 1952 Billboard:


So Long (78): The familiar Russ Morgan pop tune is handed a superior go by the persuasive chanter. Truly a forceful performance. Ruth Brown had a hit with this song a couple of years back.

'Cause I Lost My Helping Hand (72): Fem chanter, who is the forerunner of the "new" Johnnie Ray style, is still one of the better singers in the business. Material here is an okay pop blues.


Note that Johnnie Ray credited both Cornshucks and Lavern Baker with helping him develop his style.

The March 27, 1952 Jet had a little blurb that mentioned the "amazing similarity" of Kay Starr's voice to that of Little Miss Cornshucks.


For whatever reason, Aladdin dug into its vaults and released 1949's "Time After Time" and "Waiting In Vain" in April 1952. "Time After Time" is the standard written by Sammy Cahn and Jule Styne in 1946 and first recorded by Sarah Vaughan (although when Cornshucks recorded it, it wasn't yet a standard.). Both tunes have some nice sax work.

They were reviewed in the April 12 Cash Box:


Little Miss Cornshucks gives a warm reading of a slow blues [Waiting In Vain] as she and her All Stars sell a pretty tune. Miss Cornshucks' mellow handling of the cute lyrics is solidly backed by the instrumentalists. The under deck is a similar tune tastefully arranged, and dramatically projected by the artist. We think the top plate could break and advise ops to listen.


The April 26 Billboard had this to say:


Time After Time (74): Miss Cornshucks, the gal who had a lot to do with the Johnnie Ray style, does a good job on this pleasant ditty, over a quiet musical arrangement.

Waiting In Vain (68): The thrush comes thru with an effective vocal on a rather routine weeper blues, backed smoothly by the ork.


The final Coral release was from June 1952: "Try A Little Tenderness" and "Don't Marry Too Soon". Once again, the label credited "Lil" Miss Cornshucks. "Try A Little Tenderness" is a wonderful version of the 1932 song. She sings it with a tear in her voice. "Don't Marry Too Soon" was another one written by Dave Bartholomew.

They were reviewed in the June 14, 1952 Billboard:


Try A Little Tenderness (77): Here is one of the best waxings the thrush has brought out in a long time. She socks this one over in her own individualized style, displaying the phrasing that had a great influence on Johnny [sic] Ray. The ork backs her discreetly. A good disk.

Don't Marry Too Soon (69): This one is more of a sermon than a ballad. The gal seems uncomfortable singing it, and the side is weak.


And the Cash Box of the same date (both received a "B"):


Don't Marry Too Soon: Lil Miss Cornshucks pipes a slow soft ballad with sad lyrics feelingfully. Musical backdrop is easy and subdued.

Try A Little Tenderness: The slow oldie is given an r & b treatment by the talented thrush. Miss Cornshucks sings the sentimental lyrics with ease and warmth.


Although records were being released, where was Miss Cornshucks? It's been around a year since she'd appeared anywhere. Maybe Ahmet Ertegun once wanted to hire her for Atlantic Records, but now he took that other Little Miss ("Sharecropper", that is), Lavern Baker.

Finally, another appearance. In March 1953, Cornshucks appeared at the Flame Show Lounge In Detroit.

In the 1954 Indianapolis directory, Cornelius Jorman, Jr is listed by himself. He's living at the same address as his parents.


A little blurb in the April 24, 1954 Billboard said that Little Miss Cornshucks, "Decca recording artist", would be part of the cast of "Silas Green From New Orleans". This was a famous tent show that had been going since 1904. It was described as part minstrel show and part revue, with dumb slapstick jokes (my favorite kind), relating the misadventures of Silas Green and Lilas Bean. It was to begin its season at Valdosta, Georgia on April 15, but the first mention I can find is July 8 in Danville, Virginia. Since no other write-up ever mentioned the cast, I don't know if Mildred was actually in it.

Cornelius and Mildred were divorced at some point and he then married Mary Helen Johnson, probably around 1958. His other three sons (Cornelius, Ronald, and Bobby) seem to have been with Mary.


The August 18, 1956 New York Age said that Cornshucks was currently at Budland (formerly the Beige Room) in Chicago. They called her "one of the nation's great artists and tops in comedy and song". On September 7, she opened again at the Flame Show Bar in Detroit for a week. The ad called her "Rock 'N' Roll Recording Star on King Label [Deluxe was a subsidiary of King] - Direct from the Blue Note". (It didn't say where the Blue Note was.)

In spite of that August blurb saying that she was at Budland, a subsequent ad said its "Grand Opening" would be on October 25. It would star Cornshucks and Eddie "Five Long Years" Boyd and his band. (And my personal favorites: "other acts".)

Barry Mazor wrote in No Depression magazine (#45; May-June 2003):


There were also, increasingly, unscheduled "bad day" appearances that were a little bizarre. Denizens of South Side [Chicago] clubs remember Miss Cornshucks showing up where she wasn't booked and wandering onstage singing, interrupting ongoing acts.

"We'd be in a place, playing, and she'd come by and do some nutty things," musician and local historian Charles Walton recalls. "First thing she'd do is throw her wig at you. She'd take her dress over her head…all kinds of nutty things."


All that the January 5, 1957 Pittsburgh Courier had to say was "Odd name for an entertainer is one handled by Joe Glaser, called Miss Cornshucks." Regardless of her erratic behavior, Glaser was head of Associated Booking Corporation, one of the biggest booking agencies. It also sounds like the columnist had never heard of her.

In June 1958, she was back at Budland, this time along with the Spaniels.


After a three-year absence (at least in ads), August 15, 1960 found Cornshucks at the Pink Poodle (Cocktail Lounge and "Cut Rate" Liquor Store), in Indianapolis, for six nights. The August 20 Indianapolis Recorder said of her performance: "The young lady has been really wailing awhile since opening at the spot, and should attract large crowds this weekend."

On July 20, 1960, she appeared at the Roberts Show Lounge in Chicago. This quote from Barry Mazor's No Depression article explains how it came about and its aftermath:


As she had done in many places before, Cornshucks wandered into Chicago's spacious Roberts Show Lounge one night. Charles Margerum, who was temporarily managing shows there under contract, recalls, "She was all screwed up drinking, getting into crying jags. She just walked up on the stage, unannounced, but people knew her - and she hushed that crowd!"

This time, instead of tossing her out, they booked her for a week, in a show with young comic Dick Gregory as MC. On the last night, as both Margerum and the late writer Marc Crawford have related, among the curious who showed up to see her most publicized show in nine years was Rock and Roll Hall of Famer Ralph Bass.

Bass had known Cornshucks back on Central Avenue in her Los Angeles days, and had since become a major record producer - he was the hipster who signed James Brown to King Records.

"She was sitting there on the edge of the stage singing, and Ralph said she still sounded good," recalls Margerum who was now representing Cornshucks despite misgivings about her condition. He suggested to Bass that it might be really interesting to try recording her with strings.


And they did ("they" being Chess Records, with whom Ralph Bass was now connected). Cornshucks recorded at least ten songs for them around October 1960. She sang by herself; the musicians were in another studio. There were five songs with minimal instrumentation: "Never Let Me Go" (the Johnny Ace song), "Why Was I Born", "You Turned Your Back On Me", "Lonesomest Girl In Town" (Dolores Martin & the Striders had done this in 1949), and "Don't Deceive Me" (a Chuck Willis song which had reached #6 in 1953). The second five all have more orchestration, including violins: "Try A Little Tenderness", "No Teasing Around", "So Long", "It Do Me So Good", and "To Be Hurt".


All these songs ended up on a Chess LP, released in March 1961. It was called Little Miss Cornshucks - The Loneliest Gal In Town, although the title of the song on the album was "Lonesomest Girl In Town". Two of the songs ("It Do Me So Good" and "No Teasing Around") were also issued as a single in April.

Her voice had gotten more mature over the years, but I don't really care for these as much as her earlier work. Some of them feature really strange phrasing, which I find discordant. Also, the cover shows her in one of her "Cornshucks" outfits. If I didn't know who she was (and in those days, I didn't), I wouldn't be tempted to buy the album, just from the picture alone. The character had run its course.

Part of the liner notes said: "This album marks the first recording effort in a dozen years for Miss Cornshucks, who learned to sing at her mother's knee, got a great big soul in church and the blues by living 37 difficult years. Last summer ('59), she ventured into Chicago from her home in Kenosha, Wis, and did a week-long engagement at Robert's Show Lounge, partly for sentimental reasons, partly to see if she still had that 'thing' that makes a comeback possible."

The Chess single was reviewed in the May 6, 1951 Cash Box:


It Do Me So Good ("B"): Blues lark touchingly portrays the feelingful romantic. Backing includes now-and-then string comments. A fine blues-ballad sound, culled from an LP by the performer.

No Teasing Around ("B"): More of a wailing stint from the LP. Both ends display an impressive warbler.


However, they had so much fun reviewing the record that they did it again, this time in the November 11, 1961 edition.


It Do Me So Good ("B+"): Blues thrush offers an affecting vocal of the fine number, also cut by Victor's Ann-Margaret. A fine string-included sound backs-up. This version should also be eyed, especially in R&B areas.

No Teasing Around ("B"): Feelingful stint from the talented performer. Both ends are from an LP.


The December 11, 1961 New York Daily News showed that the columnist had his finger on the pulse of popular music history: "Who's Little Miss Cornshucks? She's a new singer on the way up."

But (from the No Depression article again):


"After the record was made," says Margerum, flatly, "I sent her to a couple of places, but I would have had to go with her and monitor her all of the time. She couldn't make it on her own. Wherever she would go, she'd get some booze, and once she got into booze - well, I had other clients."


Something must have happened in late 1962, since her Social Security record says that she made a claim in that month.

It took the Tampa Bay Times (St. Petersburg, Florida) a year to get around to reviewing the LP (on February 26, 1962):


"Little Miss Cornshucks" is a Chess mono album that presents a great comeback by a blues singing personality who bowed out of the picture in 1949 when she was just a young girl. She is now a mature singer with a great flair for blues. You'll enjoy: Why Was I Born, Try A Little Tenderness, So Long, Lonesomest Girl In Town and Never Let Me Go." At least they remembered her.


In July 1963, Cornshucks appeared at McKie's Lounge (a Chicago club owned by DJ McKie Fitzhugh), along with Ruth Brown. In 1966, she appeared at the Golden Peacock, another Chicago jazz club. This is her last known appearance.

The Akron Beacon Journal of February 20, 1998 had an interview with Ruth Brown. It said, in part:


The first time Brown heard So Long, it was sung by a woman known as Little Miss Cornshucks, not to be confused with Little Miss Sharecropper, which was the name Lavern Baker used.

"I often think about the young woman I heard sing it first, where she is today. She's one of the most fascinating little entertainers I've ever seen. I don't know if she's alive or dead. I'd like to pay tribute to her," Brown says of the straw-hat-wearing singer who used to sit with her legs dangling over the stage.


One more quote from Barry Mazor's No Depression article:


Mildred did show up again, with startling effect, at the 1980 Chicago wake for the famed "sepia" dance troupe producer Larry Steele, with whom she had appeared years before. Much of the black show business community had gathered to memorialize Steele; the A.A. Raynor Funeral Home was packed. Lester Goodman relates what happened.

"She just walked in, from the back - already singing. She came all the way up the side aisle, singing. It could have been her song 'So Long'..."

"So long, hope we'll meet again someday..."

"... and she finished it just as she reached the funeral bier at the front. The place was hushed. It was such a surprise that she was there; she had faded out, you know."


Sometime after this, Mildred had a series of strokes, which finally killed her. Little Miss Cornshucks passed away on November 11, 1999. Her death certificate gave lots of causes: cardio-renal failure, hypertensive cardiovascular disease, and cerebrovascular disease.

Strangely, although they'd been divorced for over 30 years, Mildred's obituary called her Cornelius' widow. (He'd died in 1976, but by then he'd remarried.)

Up until the Chess LP, I really like Little Miss Cornshucks. My one regret is that there's no visual record of one of her performances.


Special thanks to Jay Bruder and Victor Pearlin. Quotes from Little Miss Cornshucks - A Soul Forgotten by Barry Mazor, which appeared in No Depression #45 (May-June 2003), were used by permission of No Depression.



LITTLE MISS CORNSHUCKS
SUNBEAM (Marl Young's Orchestra; vocal - Little Miss Cornshucks)
S 104 So Long / Gonna Leave Here Walkin' - 11/46
S 105 For Old Time's Sake / Have You Ever Loved Somebody - 3/47
S 106 I Don't Love You Any More / When Mommy Sings A Lullaby - 5/47

AFRS HARLEM HOSPITALITY CLUB
11 Keep Your Hand On Your Heart - 47

MILTONE (with the Blenders ork)
242 He's Funny That Way / Keep Your Hand On Your Heart - 11/47
243 Cornshucks Blues / In The Rain - 2/48
246 True / Why Was I Born - 4/48

UNRELEASED MILTONE
Teardrops (recorded November 1947)

DELUXE (Little Miss Cornshucks and the Blenders; all are Miltone cuts)
3178 Cornshucks Blues / In The Rain - 6/48
3186 He's Funny That Way / Keep Your Hand On Your Heart - 7/48
3192 You Don't Love Me / ["Lonely Blues" - Annie Laurie & Paul Gayten] - 10/48

OLD SWING-MASTER (Little Miss Cornshucks with Marl Young Orchestra; Sunbeam masters)
26 So Long / For Old Time's Sake - 9/49

ALADDIN (Little Miss Cornshucks And Her All-Stars)
3034 You Turned Your Back On Me / Keep Your Hand On Your Heart - 12/49

UNRELEASED ALADDIN
How Long (recorded August 12, 1949)

CORAL (Decca subsidiary)
65045 Papa Tree Top Blues / Rock Me To Sleep - 2/51 [as Miss Cornshucks]
65077 'Cause I Lost My Helping Hand / So Long - 1/52 [as "Lil" Miss Cornshucks]
65090 Try A Little Tenderness / Don't Marry Too Soon - 6/52 [as "Lil" Miss Cornshucks]

UNRELEASED CORAL
I'm Such A Fool (recorded February 10, 1950)
Forgive And Forget (recorded February 10, 1950)
That Ain't It (recorded February 10, 1950)

ALADDIN (Little Miss Cornshucks And Her All-Stars)
3126 Time After Time / Waiting In Vain - 4/52 (recorded in 1949)

CHESS (Little Miss Cornshucks)
LP 1453 Little Miss Cornshucks - The Loneliest Gal In Town - 3/61
Never Let Me Go
Why Was I Born
You Turned Your Back On Me
Lonesomest Girl In Town
Don't Deceive Me
Try A Little Tenderness
No Teasing Around
So Long
It Do Me So Good
To Be Hurt

1785 It Do Me So Good / No Teasing Around - 4/61




Unca Marvy's Home Page
More Articles