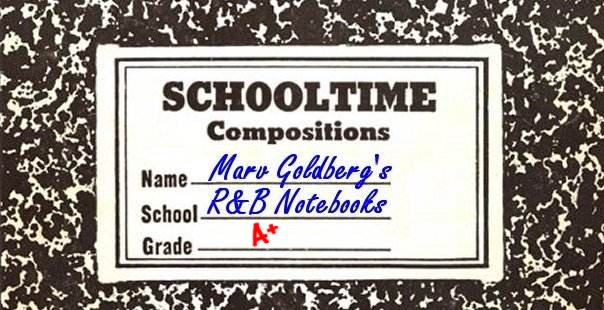 The Wanderers

By Marv Goldberg

Based on an interview with Bob Yarborough


© 2004, 2009 by Marv Goldberg
The Wanderers are one of the most popular New York groups with collectors. This is in spite of their never having had a hit that charted higher than #88!

The Wanderers began in 1950, around 113th Street and 5th Avenue in Harlem. Tenor Bob Yarborough was friendly with Alfonso Brown, a high tenor who idolized the Ink Spots. Alfonso, in turn was friends with baritone Frank Joyner. Somewhere along the way, they met bass Sheppard Grant.

As the "Barons," the guys began doing amateur shows, which culminated with a first-place win at the Apollo Theater (for which they got a small amount of money).

Along the way, the Barons added a girl singer named Elizabeth, becoming "The Barons And Betty." This only lasted a few months, however, and then the Barons became "The Larks." While this was a pretty good name, the guys soon found out that an upstart group had relocated from North Carolina and was using "their" name. By mid-1951, Gene Mumford and the Larks had become an R&B force to be reckoned with, and "our" Larks faded into history, becoming, through Sheppard's suggestion, "The Singing Wanderers."

The Barons/Larks/Wanderers sang all over Harlem, typically in bars. They mostly sang Pop standards and Broadway show tunes, such as "Mam'selle" and "Birth Of The Blues," songs inspired by the Ink Spots, the Ames Brothers, and the Mills Brothers. "We wanted to be different," says Bob. "We wanted to do night clubs and supper clubs." They did Apollo amateur shows often enough to become friendly with the Orioles, who gave them tips on advancing their career.

One other thing that was advancing was Bob Yarborough's voice: it was advancing downward, from tenor to baritone. So he and Frank Joyner switched voice parts, with Frank moving up to second tenor.


By 1953, there were some personal problems with Alfonso Brown, who left the group. This happily coincided with the discharge from the army of Frank's friend, tenor Ray Pollard. Ray joined the Wanderers, and, until the group's demise a decade later, there would be no further personnel changes. (Ray had been in action in Korea, where he had lost his left hand. The hand that you see in photos is a prosthesis.)


Another association was made at the same time. They met Bill Campbell, a songwriter and pianist with a rehearsal studio, who became their music coach. He would also play behind them whenever they performed at the Apollo. As their manager, they got Tommy "Dr. Jive" Smalls.

It didn't take them long, once they'd acquired Ray Pollard, to think about recording. They somehow got to Herman Lubinsky's Savoy Records (in Newark, New Jersey, right across the river from Manhattan), where their signing (as "The Wanderers") was announced in October 1953.

Of course, under the music industry's "hedge your bets" theory, the Wanderers had already recorded their first session for Savoy. On August 26, 1953, they'd laid down "We Could Find Happiness," "Hey Mae Ethel," "Tell Me How" (aka "How Can I Get Along Without You), and "Don't Do Nothing I Wouldn't Do."


"We Could Find Happiness" (led by Ray) and "Hey Mae Ethel" (with each of the guys getting some lines) were released in October 1953. They both got good reviews on October 24, along with the 5 Royales' "I Want To Thank You," Savannah Churchill's "Peace Of Mind," Otis Blackwell's "Daddy Rollin' Stone," the Royals' "I Feel That-a-Way," and the Blue Jays' "White Cliffs Of Dover." The next month, they played the Club Baby Grand in Harlem, along with Big Maybelle (Nipsey Russell was the emcee). In fact, they were semi-regulars there in the early 50s, from the time they formed until around 1955.

On November 27, 1953, they began a week's stay at the Apollo, along with Ella Fitzgerald and Peg Leg Bates. At this point, they had "wanderers" costumes (patched clothing to make them look like vagabonds). While this probably made them stand out in an age of red and yellow suits, Frank Schiffman, owner of the Apollo, let them know that he wasn't happy with their sartorial choices.


Their second Savoy session was held on December 8, at which time they recorded "What Do I Do," "Did You See That," and "My First, Last, and Only Gal," none of which was ever released. However, while they were in the studio, they were used to back up Dolly Cooper on "You Gotta Be Good To Yourself" and "Love Can't Be Blind," both of which were released in January, 1954 (but with the Wanderers uncredited on the label). (Later in their career, they'd also back up Al Alberts and Dakota Staton.)

In February, 1954, the Wanderers wandered out to Detroit, to appear at the famed Flame Show Bar with Gladys "Glad Rags" Patrick. March found them doing a series of one-nighters in Ohio, along with Tiny Grimes.


In June, it was reported in the trades that Lee Magid, who had been Savoy's head of A&R, had become the Wanderers manager (he also handled Gladys Patrick, therefore it's probable that this, too, was reported long after the fact). They had met Magid at Savoy before he'd left there in the late fall of 1953 to set up Central Records with Larry Newton (who'd buy him out in mid-1954).


The first thing Magid did was to get them away from Savoy. He brought them to Decca, where the Wanderers were signed by Milt Gabler (who produced both Louis Jordan and Bill Haley) at the beginning of July. Now known, once again, as the "Singing Wanderers," they held a single session on July 12, at which they waxed "Say Hey, Willie Mays," "Don't Drop It," "Three Roses," and "The Wrong Party Again." (Strangely, a publicity photo of the Singing Wanderers on Decca gives their manager as Don Angelo, a name that Bob Yarborough didn't even remember!)

In early July, it was reported that the Wanderers Decca recording of "Say Hey, Willie Mays" was being rushed out to compete with the Treniers "Say Hey" and the King Odom Quartet's "Amazin' Willie Mays."

"Say Hey, Willie Mays"/"Don't Drop It" were reviewed on August 21, 1954 (with both sides ranked "good"). Other reviews that week went to Bunny Paul & the Harptones' "Honey Love," Willy & Ruth's "Love Me," Charlie White's "Rock, Moan & Cry," Shirley Gunter & the Queens' "Oop Shoop," and Snookum Russell's "Juke Box Boogie Woogie Chick."

In November, 1954 Decca released "Three Roses" and "The Wrong Party Again." They were reviewed on November 6 (with both sides ranked "fair"), along with Marvin & Johnny's "Kiss Me," Willie Mabon's "Say, Man," the Royal Jokers' "Someday We'll Meet Again," the Cues' "Forty 'Leven Dozen Ways," the Gentlemen's "Tired Of You," Big John & the Buzzards' "Oop Shoop," and the Charmers' "I Was Wrong."

At this point, the Wanderers almost completely disappear for two years. They were out there making appearances, but there were no recordings, and very few mentions of them in the trade papers. At one of these gigs, they were seen by Julie and Roy Rifkin, who offered to manage them and get them better appearances. (Julie Rifkin would later own Dome Records.) The parting with Lee Magid (now involved with Seeco and Dawn Records) was amicable.


The Rifkin brothers were as good as their word, getting the Wanderers a spot in Rockin' The Blues, a movie being filmed at the Sunset Studios on 125 Street in Harlem. This film had the thinnest of plots, used to connect DJ Hal Jackson introducing several acts of varying popularity (although not singing their current releases). The story line centered around comedians Mantan Moreland (who had played "Birmingham Brown" in many of the Charlie Chan movies) and Flournoy Miller (who had written the musical "Runnin' Wild," which had introduced the Charlston). The two were ineptly attempting to sneak into a show, which also featured the Harptones, the Hurricanes, the Miller Sisters, Connie Carroll, Pearl Woods, Reese La Rue, Linda Hopkins, and Teacho Wiltshire's Band (with musical supervision by Andy Kirk). The movie was produced by music impresario Fritz Pollard (who had been the first black All-American football player, and who was currently the manager of the Solitaires and Leslie Uggams). It contains some incredibly primitive editing (for example, much of Hal Jackson's speech is out of synch with the picture, and the scenes with Moreland and Miller seem to be inserted almost at random, instead of in any logical order). There is also some unintentional comedy when black actors and actresses are filing into the theater as the "audience," and then the camera cuts to a spliced-in stock scene of an all-white audience.

The Wanderers only spent one day working on the film. They sang two songs on their own: "My First, Last, And Only Gal" (led by Sheppard Grant in a more spirited version than the one which had been cut for Savoy back in 1953) and "My Love Comes Oozing Down." They were also used as backup to Pearl Woods on "I Can't Wait."


Unlike the Hurricanes, whose tunes were pre-recorded the same day, the Wanderers sang their songs "live" for the cameras. They made the film on their way to Atlantic City, where they'd been booked into the Paradise Club (along with Pigmeat Markham and the Red Prysock Orchestra). While there, showman Larry Steele caught their act and hired them to join his "Larry Steele's Smart Affairs" tour. This show played Las Vegas and Miami Beach, remaining for several months in each location (at places like the Deauville in Miami and the Dunes in Las Vegas). The Wanderers worked with Steele from 1956 to at least 1958. One time while they were in Las Vegas, they had a radio show with big band great Charlie Barnett.

Rockin' The Blues opened at the Apollo Theater on October 19, 1956, when the acts onstage were the Wheels, Sugar & Spice, Marie Knight, and Pigmeat Markham.


In late 1957, the Wanderers hooked up with Jerry Winston's Onyx label, where they had a single release in November: "Thinking Of You"/"Great Jumpin' Catfish." Actually, they signed with Winston just at the point when Onyx was preparing to go out of business.

"Thinking Of You" received a "good" review on December 16 (the flip was only "fair"). Other reviews that week went to the Sophomores' "Charades," the 3 Playmates' "Sugah Wooga," the Turbans' "Congratulations," the Rays' "Second Fiddle," the Dominoes' "September Song," Bobby Mitchell's "I'm Gonna Be A Wheel Someday," and La Fets & Kitty's "Christmas Letter."

On January 31, 1958, the Wanderers began a week at the Apollo Theater as part of a Dr. Jive show, along with Joe Turner, the 5 Satins, Lee Allen, the Turbans, Clay Tyson, Tiny Topsy, and Robert & Johnny.

In March 1958, MGM started Orbit Records and purchased two unreleased Onyx masters by the Wanderers: "A Teenage Quarrel" and "My Shining Hour." MGM also hired Jerry Winston as a producer for Orbit. (Morty Craft was in charge of A&R.)

However, as apropos as the new company's name was (with Sputnik having been orbiting the Earth for about six months), MGM blundered by calling their new label "Orbit." It turned out that there were three other Orbits around at the time: Richard Vaughn's Los Angeles company, Fred Marshall's Miami company, and one in Kent, Washington (which, in mid-year became "Pleasant Peasant"). Therefore, on March 31, after only three weeks in existence, "Orbit" was officially renamed "Cub" and "A Teenage Quarrel" was re-released, using the same record number.


On May 5, "A Teenage Quarrel" and its flip were rated "excellent," along with the Coasters' "Yakety Yak," Don & Dewey's "Bim Bam," Shirley & Lee's "Don't Leave Me Here To Cry," Titus Turner's "Way Down Yonder," the Sensations' "Romance In The Dark," and the Titans' "Arlene." To me, it seems like Ray Pollard's voice was simply too powerful for a throwaway "teenage angst" song like "A Teenage Quarrel"; whatever the reason, the audiences weren't buying it.

Also in May, the Wanderers once again appeared as part of Larry Steele's "Smart Affairs of 1958" at the Casanova Room of the Deauville Hotel in Miami Beach. Others on the bill of this 90-minute revue were singer Rose Hardaway, dancers Flash Gordon and the Leonard Brothers, Sir Lionel Beckers, Lon Fontaine, Mickey Adams, and the Beige Beauts.

October 3 saw the Wanderers back at the Apollo again, this time with Illinois Jacquet, Mickey & Sylvia, Bunny Briggs, Andy Rose, and Pigmeat Markham. Although Bob couldn't be more specific, he remembers that the Wanderers played all over Canada in the late 50s.

In November, Cub issued "Two Hearts On A Window Pane," backed with "Collecting Hearts," but the record doesn't seem to have been reviewed.


In January 1959, Cub released the gospel-flavored "Shadrach, Meshack And Abednego," coupled with "Please." They were reviewed on February 2, and, just in time for Groundhog's Day, "Shadrach" received an "excellent" (which it deserved, although it's difficult to imagine why Cub thought that it would sell, as a Pop record, in 1959; the flip was rated "fair"). Other reviews that week were for Sam Cooke's "Everybody Likes To Cha Cha," Marie & Rex's "I Can't Sit Down," Frankie Lymon's "Up Jumped A Rabbit," the Genies' "Who's That Knocking" (rated "poor"), and the Foster Brothers' "Trust In Me."

The Wanderers were part of another Dr. Jive show at the Apollo, beginning on March 27. This time they shared the stage with Buddy Johnson, Big Maybelle, the Fiestas, Eugene Church, the Genies, the Channels, the Ebonaires, Sam Hawkins, Marv Johnson, and Frances Burnett.

June 1959 saw the release of "I'm Not Ashamed," coupled with "Only When You're Lonely." They were reviewed on July 13 (both sides "excellent"), along with Fats Domino's "I'm Gonna Be A Wheel Someday," Lavern Baker's "So High, So Low," the Olympics' "(Baby) Hully Gully," the Cadillacs' "Romeo," Otis Williams & Charms' "Funny What True Love Can Do," and Champion Jack Dupree's "Frankie & Johnny."


In mid-1959, the Wanderers toured with Eartha Kitt, including an appearance at Chicago's Regal Theater on July 3. They were back at the Apollo on September 25, along with Sam Cooke, Bunny Briggs, Redd Foxx, and Barbara McNair.

In November, Cub released the quasi-religious "I Walked Through A Forest"/"I'm Waiting In Green Pastures," both sides of which were rated "fair" on November 23. That week's other reviews included the Coasters' "Run, Red, Run," Dee Clark's "Blues Get Off My Shoulder," and the Red Caps' "San Antone Rose."


On February 7, 1960, the Wanderers appeared on the Ed Sullivan Show. There would be at least three other appearances: July 3, 1960; February 12, 1961; and September 17, 1961. They sang two songs each time. (On one of these, they sang "The Whiffenpoof Song" while dressed in 1920s-style raccoon coats.)

The Apollo beckoned again the week beginning April 29, 1960. Other acts that week were Sam Cooke, Abbey Lincoln, Clay Tyson, and Bobby Ephriam.


There was only a single release in 1960: in August, Cub issued "I Could Make You Mine," backed with "I Need You More." By this time, the Wanderers' material was incredibly over-produced, with lush violins and heavy arrangements. This might have been good news for the studio musicians, but it certainly wasn't what the kids were buying.


In March 1961, Cub released the Wanderers' remake of Ed Townsend's 1958 smash, "For Your Love." This would become the first time that the Wanderers would make the national charts (although it only rose to #93 Pop). The flip was a Coasters-type tune, "Sally Goodheart," about a "Dear Abbey"-type advice columnist.


Then, in June, they had their second chart hit with the old standard "I'll Never Smile Again." While it only rose to #107, you take any hit that comes along. (It must have made an impression on the folks at Mercury, however, because they rushed out the Platters' 1958 recording of the song to compete.) The flip, "A Little Too Long," sounds something like a Marcels arrangement.

The third release of 1961 was September's "Somebody Else's Sweetheart," an early collaboration between Hal David and Burt Bacharach (whose first pairing was probably on the Gallahads' "The Morning Mail" in 1956). The flip was "She Wears My Ring."

And then, the big time. Charlie Rapp, their booking agent, started placing them in hotels all over the Catskills (the Concord, Grossinger's, the Nevele, Brown's). This was a mountainous region of New York State that wasn't all that far from New York City. Nicknamed "The Jewish Alps," it was filled with hotels, and many of the finest acts of the 30s, 40s, and 50s honed their skills there. The Wanderers even added some Yiddish songs to their repertoire.


The final Cub release was issued in May 1962. This time, there was a "golden oldie" on both sides. "As Time Goes By" had first made the charts in 1931, and the flip, "There Is No Greater Love" was an Isham Jones hit from 1936. At this point, Cub was discontinued and the disk was reissued, in June, on the parent MGM label. "There Is No Greater Love" made it to #88, becoming the Wanderers biggest chart hit.

In September 1962, while the Cuban Missile Crisis was being played out back home, the Wanderers flew to Okinawa to entertain troops on this island just south of Japan. From there, they started a several-months tour of Japan itself, along with Sam "The Man" Taylor, Screamin' Jay Hawkins, and thrush Anita O'Day.

After four years, the Wanderers left MGM and went over to United Artists. There were two releases in 1963: "After He Breaks Your Heart"/"Run Run Senorita" (in February) and "I'll Know"/"You Can't Run Away From Me" (in October).

In 1963, the Wanderers toured with Ethel Merman for a while. In August, they became the first black group to play the Cabana in Dallas. Later that year, they went back to Japan for a few months; Bob remembered that they were touring in Japan when president Kennedy was shot.

The Wanderers appeared at the Apollo, one last time, on February 7, 1964. On this Symphony Sid show, they shared the stage with Gloria Lynn, the Jimmy Smith Trio, and Kenny & Warren.

And that was pretty much that. The last appearance of the Wanderers was in Kew Gardens (Queens, New York) late in 1964. While they'd always been known as the Wanderers, now there was talk of "Ray Pollard and the Wanderers." This didn't go over too well with Bob, Sheppard, and Frank, causing the dissolution of the group.

Not too long afterward, in 1965, Sheppard Grant tried a solo career and released a couple of nice sounds on Musicor, as Shep Grant: "You'll Cry Tomorrow" and "You Found My Lonely Heart A Home." It's possible that a record from around early 1967 by "Shep" is also him: "I'm Sitting In" (TNT 282). [The flip, "Fool To Fool" seems to be a different singer, although also credited to "Shep"; all I can say is that it's not by Don Gardner (that info from Don Gardner himself).] Unfortunately, he then had a brain hemorrhage and died (as far as I can tell, in April 1970). Frank Joyner wandered off and hasn't been seen since. Bob Yarborough, while really wanting to remain in show business, began working for Ilford, a British film manufacturer, instead.


The only other Wanderer who had a subsequent musical career was Ray Pollard. In 1966-7, he was the singer with the Latin-Soul Hector Rivera Orchestra - see discography. (Note that Ray was not Hector Rivera, who'd been recording throughout the 50s and 60s.) In 1970-71, he was a cast member of the Broadway show "Purlie." It starred Cleavon Little as Purlie (with Morgan Freeman as his understudy). Milton Grayson (Dominoes) and Tony Middleton (Willows) were in the chorus too, and the play (written by Ossie Davis) was produced and directed by Phil Rose (who'd been the owner of Glory Records). After this, Ray joined the Joe Cuba sextet, before becoming lead of an Ink Spots group in the 80s.

There was a group called the New Wanderers that had a couple of Soul records on the Ready label at an unknown date. It's uncertain if this has anything at all to do with the Wanderers (although the name would suggest it). Certainly Ray Pollard wasn't part of it, nor was Bob Yarborough.

In November 1989, Ray Pollard and Robert Yarborough reunited for a UGHA show. Ray got some other singers, including Eddie "California" Jones (of the early Solitaires and the Demens/Emersons), to appear as the rest of the Wanderers. The Wanderers were inducted into the UGHA Hall of Fame in 2000, although Ray and Robert didn't show up to get their awards until May 2001. Ray Pollard passed away on January 26, 2005; Robert Yarborough died on July 7, 2007.

The Wanderers didn't produce chart smashes, but, with their talent, they managed to survive for a decade. Along the way, they made better appearances than most R&B groups of the day.


Discographies courtesy of Ferdie Gonzalez.



THE WANDERERS
SAVOY
1109 We Could Find Happiness (RP)/Hey Mae Ethel (All) - 10/53
1121 You Gotta Be Good To Yourself (DC)/Love Can't Be Blind (DC) - 1/54
(the Wanderers are uncredited on the above two Dolly Cooper songs)

UNRELEASED SAVOY
Tell Me How (aka How Can I Get Along Without You) (??)
Don't Do Nothing I Wouldn't Do (RP/SG)
What Do I Do (??)
My First, Last And Only Gal (SG)
Did You See That (SG)

DECCA (as "The Singing Wanderers")
29230 Say Hey, Willie Mays (All/SG/RP)/Don't Drop It (SG/All) - 8/54
29298 Three Roses (RY/RP/SG)/The Wrong Party Again (RP/SG) - 11/54

ONYX
518 Thinking Of You (RP)/Great Jumpin' Catfish (All/RP) - 11/57

ORBIT
K9003 A Teenage Quarrel (RP)/My Shining Hour (RP) - 3/58

CUB
K9003 A Teenage Quarrel (RP)/My Shining Hour (RP) - 4/58
K9019 Two Hearts On A Window Pane (RP)/Collecting Hearts (RP) - 11/58
K9023 Please (RP)/Shadrach, Meshack And Abednego (RP) - 1/59
K9035 I'm Not Ashamed (RP)/Only When You're Lonely (RP) - 6/59
K9054 I Walked Through A Forest (RP)/I'm Waiting In Green Pastures (RP/SG) - 11/59
K9075 I Could Make You Mine (RP)/I Need You More (RP) - 8/60
K9089 For Your Love (RP)/Sally Goodheart (RP) - 3/61
K9094 I'll Never Smile Again (RP)/A Little Too Long (RP) - 6/61
K9099 Somebody Else's Sweetheart (RP)/She Wears My Ring (RP) - 9/61
K9109 As Time Goes By (RP)/There Is No Greater Love (RP) - 5/62

MGM
K13082 As Time Goes By (RP)/There Is No Greater Love (RP) - 6/62

UNRELEASED CUB/MGM:
Special One
Gonna Live Till I Die
Mam'selle
Daybreak
Makin' Whoopie
Where Can I Go
Sweet Sweet Love
Count On Me
Miss Fine
Mr. Satan
I Cried For You
Baby Don't You Cry
Blue Prelude
Thinking Of You

UNITED ARTISTS
570 After He Breaks Your Heart (RP)/Run Run Senorita (RP) - 2/63
648 I'll Know (RP)/You Can't Run Away From Me (RP) - 10/63


LEADS: RP = Ray Pollard; SG = Sheppard Grant; RY = Robert Yarborough
DC = the Wanderers backing up Dolly Cooper




NEW WANDERERS
(unknown if these have anything to do with the above group)
READY
1001/1002 Let Me Render My Service/Ain't Gonna Do You No Harm - ?
1005/1006 Adam And Eve/This Man In Love - ?



RAY POLLARD SINGLES
(probably not a complete listing)

SHRINE
103 No More Like Me/This Time (I'm Gonna Be True) - early 65

UNITED ARTISTS
856 Darling Take Me Back/My Girl And I - ca. 4/65
916 The Drifter/Let Him Go (And Let Me Love You) - ca. 8/65
50012 All The Things You Are/It's A Sad Thing - 66

BARRY (as vocalist with the Hector Rivera Orchestra)
1011 At The Party/Do It To Me - 66
1012 Playing It Cool/I Got My Eye On You - 67
1020 I Want A Chance For Romance/Hueso (We So) - 67
(It's possible that "Hueso" is an instrumental

DECCA
32111 Lie, Lips, Lie/This Is My Song - 67
32189 This Is No Laughing Matter/Wanderlust - 8/67

OMNIPOTENT
1001 - Soulmate/I Am Now - 73




SHEP GRANT
MUSICOR
1074 You'll Cry Tomorrow/You Found My Lonely Heart A Home - 3/65



SHEP (may be Sheppard Grant)
TNT
282 I'm Sitting In/Fool To Fool - early 67
The songs are done (to my ears) by two different singers. "I'm Sitting In" is a bass and is possibly Sheppard Grant.
The flip side is not by Don Gardner, which is all I can say.




Unca Marvy's Home Page
More Articles