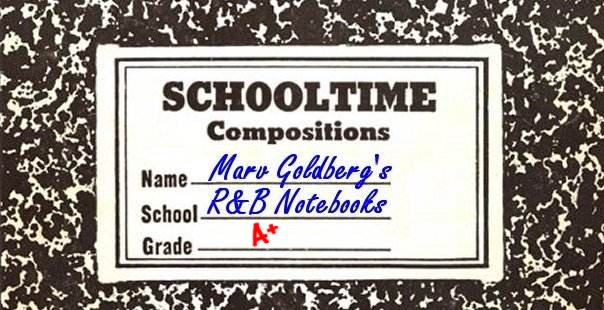 Jimmy Ricks


Part of the Ravens Article By Marv Goldberg

© 1999, 2009 by Marv Goldberg


After he left the Ravens in 1955, Jimmy Ricks did mostly solo work for the rest of his career. He made many recordings, but without much success, through the end of the 60s.

The only place where we get into real trouble is with the recordings that Ricks did for Festival in the 60s. These were actually independently produced by Herb Abramson (the Ravens' old publicist from National, who had subsequently been president of Atlantic Records and then head of Atco, from its inception, until 1958). Backing Ricks are a variety of singers, many of whom had been in the Ravens.

On November 10, 1961, Ricks recorded three masters: "Daddy Rollin' Stone" (the Otis Blackwell classic), "Deep River," and "Umgowa Twist." On these, Ricks is backed up by Leonard Puzey, as well as Howard Guyton and Derek Martin, both original members of the Pearls.

In December 1961, "Daddy Rollin' Stone" and "Umgowa Twist" came out on Abramson's Festival label (credited to Jimmy Ricks & the Raves). "Daddy Rollin' Stone" showed that Ricks still had it, but "Umgowa Twist" is an embarrassment reminiscent of "Rooster." Presumably Atco thought so too. Before they reissued "Daddy Rollin' Stone" in February 1962, they decided it needed a new flip. Thus, on January 23, 1962, Ricks, along with Joe Van Loan, Paul Van Loan, and Jimmie Steward, recorded "Cecilia," "You've Got Just What I Need," and "Homesick." "Homesick" was the track chosen for the Atco release.

On June 6, 1962, Ricks recorded another two masters: "Ol' Man River" and "Oh What A Feeling." This seems innocuous enough, but it isn't. Let's go back to January 10, 1960, when Ollie Jones, Abel De Costa, Robie Kirk, and Eddie Barnes, all former members of the Cues, had reunited to record "Ol' Man River" for Abramson. It, and its flip, "Always Remember," had bass Eddie Barnes in the lead and were leased to Jubilee in July 1960 (with only Barnes credited). In 1966, Abramson decided to release a version of Jimmy Ricks singing "Ol' Man River," but presumably he didn't like the track that Ricks had recorded in 1962. Therefore, on August 31, 1966, Abramson removed Barnes' lead vocal from the Cues' version of "Ol' Man River" and had Ricks lay down a new lead track. The end result, released as a promotional record only, is basically Jimmy Ricks leading the Cues. (It doesn't help, of course, that both of Ricks' versions were given the same master number.)


On July 14, 1973, Ricks, backed by unidentified singers, recorded "Sixty Minute Man," "Tears Don't Care Who Cries Them," and "Fine Brown Frame" for Abramson. "You've Got Just What I Need" (from 1962) was paired with "Sixty Minute Man" for a 1993 Festival release. The record sleeve claims that it's by the "Ravens," but the label credits "You've Got Just What I Need" to the "Ravens II" and "Sixty Minute Man" to the "Ravens III."


In the early 70s, Ricks worked as the vocalist for the Count Basie orchestra. There are a few existing recordings, that were supposed to be released on Norman Grantz' Pablo label in December 1998, but apparently the CD never materialized. The listed Ricks titles for Blues At The Philharmonic: The Basie Blues Singers were: "I'm Gonna Sit Right Down (And Write Myself A Letter)," "It's Only A Paper Moon," "Willow Weep For Me," and "C.C. Rider" (the CD was also to contain tracks by Joe Turner and Eddie "Cleanhead" Vinson).

Jimmy Ricks, the inspiration to an entire generation of bass singers, died on July 2, 1974.



JOSIE (with the Rickateers)
796 The Unbeliever/She's Fine—She's Mine - 5/56

UNRELEASED JOSIE (with the Rickateers)
The Same Sweet Wonderful One

PARIS
504 Do You Promise/The Sugar Man Song - 4/57

BATON
236 Bad Man Of Missouri (backed up by the Suburbans)/I'm A Fool To Want You - 1957

DECCA
30443 Lazy Mule/What Have I Done - 1957

FELSTED
8560 Secret Love/If It Didn't Hurt So Much - 1959
8582 Here Come The Tears Again/Leaning On Your Love - 1959

SIGNATURE
12013 Goodnight My Love/At Sunrise - 10/59
12040 I Needed Your Love/Timber - 1960
12051 The Christmas Song/Love Is The Thing - 1960

ATLANTIC (duets with Lavern Baker)
2090 You're The Boss/I'll Never Be Free - 1961

ATCO
6193 Young At Heart/Hi-Lili, Hi-Lo - 1961

FESTIVAL (Jimmy Ricks & the Raves; see text, above)
25004 Daddy Rolling Stone/Umgowa Twist - 12/61

ATCO (Jimmy Ricks & the Raves; see text, above)
6220 Daddy Rolling Stone/Homesick - 2/62

FURY
1070 I Wonder/Let Me Down Easy - 1962

ARNOLD
1011 Change Of Heart/Canadian Sunset - 1963

ATLANTIC
2223 Double Crossing Blues/Hello Walls (duets with Little Esther) - 1964
2246 Romance In The Dark/Trouble In Mind - 8/64

FELSTED (as Mr. Bass (Jimmy Ricks))
8694 Anytime, Pt. 1/Pt. 2 - 1964

MAINSTREAM
625 Girl Of My Dreams/Glow Worm - 1965
6050 Vibrations - 1965
Girl Of My Dreams, Glow Worm, Willow Weep For Me, And The Angels Sing, Sophisticated Lady, Teach Me Tonight,
Sixteen Tons, Moonlight In Vermont, It's A Good Day, If I Should Lose You, I Get The Blues When It Rains, If I Didn't Care

SURE SHOT (as Ricky Ricks)
5021 Chained And Bound/Why Did I - 1966

FESTIVAL (see text, above)
703 Ol' Man River/Oh, What A Feeling - 1966

JUBILEE
5559 Lonely Man/If You Ever Loved Someone - 1967
5561 Wigglin' And Gigglin'/The Long Long Arm Of Love - 1967
5579 Don't Go To Strangers/Lonely Man - 1967
5608 It's All In The Game/Baby Don't Leave Me - 1967
5619 Wigglin' And Gigglin'/Snap Your Fingers - 1968
JGS 8021 Tell Her You Love Her - 1969
Kansas City, Tell Her You Love Her, Home On The Range, Please Send Me Someone To Love, God Bless The Child,
It Won't Be Love, I'm Gonna Sit Right Down And Write Myself A Letter, It's All In The Game, Darling Je Vous Aime Beaucoup,
Pledging My Love, Green Eyes, Tomorrow Night

FESTIVAL (Jimmy Ricks & the Ravens II and III; see text, above)
60 You've Got Just What I Need/Sixty Minute Man - 1993




The Ravens - Part 1
The Ravens - Part 2
The Ravens - Part 3
The Ravens - Part 4 - Discography
Warren Suttles' Dreamers
The Marshall Brothers
Joe Van Loan's early career
Tommy Evans and the Carols
Joe Van Loan's extracurricular activities
Warren Suttles wins an award
More Articles
Unca Marvy's Home Page